In an era where social distancing has become the norm, many international destinations are essentially off limits to American visitors, and people are forced to quarantine for 14 days upon entering certain US states, staycations are becoming increasingly common.
Which isn't necessarily such a bad thing! It's much more eco-friendly to stay close to home, not to mention more affordable.
But with many state parks getting overcrowded this year, there's also a lot to be said for the benefits of backyard camping.
Camping in your backyard was pretty common when I was growing up. We'd set up the tent in our backyard, build a campfire for roasting marshmallows, tell ghost stories, and basically have an outdoor sleepover that felt like a mini-vacation.
But having a backyard campout isn't just for kids these days. So here's a look at some great backyard camping gear, from backyard tents and bedding to grills, camp cooking tools, and more!
READ MORE: 20+ Camping Tips & Tricks for Responsible Travelers
The Best Backyard Camping Gear
Tents

Big Agnes Big House 4
With a trail weight of 11 lbs, 2 oz, the redesigned Big House 4 from Big Agnes is a great backyard camping tent that's also perfect for car/base camping trips.
This behemoth offers 57 sq ft of floor space and 70″ of headroom, with an accessory vestibule sold separately for those that want even more space. Interior storage includes 4 mesh pockets, 2 removable corner pockets, 2 media pockets, and multiple loops for attaching gear, lights, etc.
Color-coded webbing and buckles make the tent quick and easy to set up, with pole-securement points providing added stability. Both doors have widows with mesh-only (for ventilation) or full-closure, and the Quick Stash door keeper makes stowing unzipped doors easy.
But the coolest feature is that the Big House 4 offers a Shelter Mode set up option. This allows you to create a large, open shelter (using fly, poles, and webbing harness) that makes an ideal shady spot on hot summer days.
Whether you're in your backyard or camping alongside your favorite lake, it's an impressively roomy and versatile family tent.
READ MORE: The 15 Best Camping Tents for Families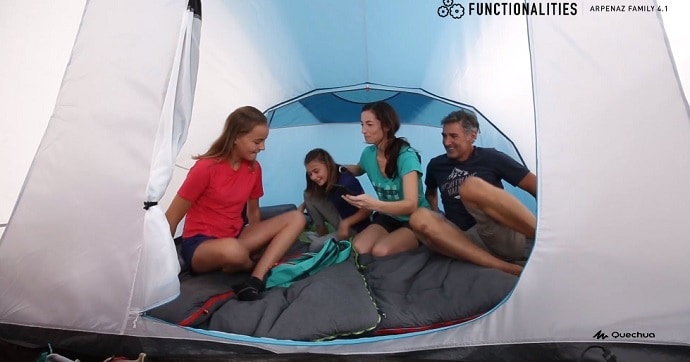 Quechua Arpenaz Camping Tent 4.1
For families on a budget, the Quechua Arpenaz Camping Tent 4.1 from Decathlon offers an impressive amount of space (53 sq ft of floor space, 6'2″ height) for the price point.
It's designed for four people, with a small bedroom area and a larger living room area. But for us broad-shouldered folks, limiting it to 3 people adds a bit more elbow room.
This is a great tent for beginning campers, with colored markers on the poles for quick and easy assembly. It's also surprisingly durable, with decent waterproofing and noteworthy wind resistance (up to around 30 mph).
However, the poles are a bit flimsy compared to other models we've tested, and we recommend using an additional footprint groundsheet or tarp to prevent leakage in case of heavy rains.
But despite these minor complaints, it's still a fine backyard or car camping tent for the price.
READ MORE: 60+ Cool Camping Gear Reviews

Eureka Copper Canyon LX4 Tent
By far the heaviest (17+ pounds) and largest (64 sq ft, with 84″ headspace) of the backyard tents we've tested this year, the Copper Canyon LX4 from Eureka is like having a portable apartment!
Our favorite features of this ginormous 3- to 4-person tent include the nearly verticle walls, huge mesh windows (with waterproof "curtains" that can be zipped up in bad weather), and the new expanded rain fly design (which helps keep the entry way dry).
The set up is easy enough for one person, with a solid steel and fiberglass frame, pole sleeves, corner hubs, and quick clips.
Other cool features for backyard camping include a zippered E! Powerport that allows you to run an extension cord inside, and stash pockets and a gear loft for interior organization.
The only downside is the floor of the tent, which seems very thin compared to other models. We did not get a chance to test it in rainy conditions, but would recommend using a tarp for ground cover as well as an outdoor rug inside.
READ MORE: What is Glamping? A Guide to Luxury Camping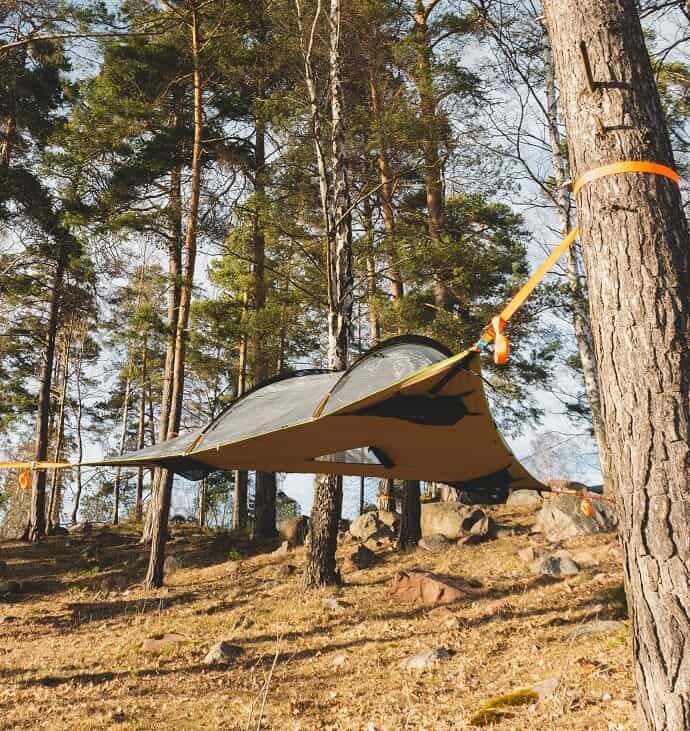 Tentsile Safari Stingray 3-Person Tree Tent
Weighing in at a whopping 33.1 pounds, with a triangular shape that's 13.5 feet in diameter, the Safari Stingray 3-person Tree Tent from Tentsile is one of the coolest backyard tent ideas we've seen.
With an 880-pound weight capacity and a rugged UV-resistant material that can withstand being left up for months at a time, this is arguably the best backyard camping tents on the market.
It's ultra-comfortable, thanks to the patented 3-point anchor system and anti-roll straps that allow you to create separate sleeping bays. These prevent the sagging you often get from hammock tents, and the problems that you'd expect when putting people of different weights in a tree tent.
It's suitable for 4-season forest camping, thanks to a removable waterproof rainfly and built-in no-see-um insect mesh. There are also 3 internal storage pockets and 3 mesh underfloor nets for stashing gear.
Best of all, because you set the tent up about 4 feet in the air, if doesn't matter what condition the ground is in. You can even hang a hammock below it, or spread out camp chairs for a covered seating area.
READ MORE: The 20 Biggest Forests in the World
Bedding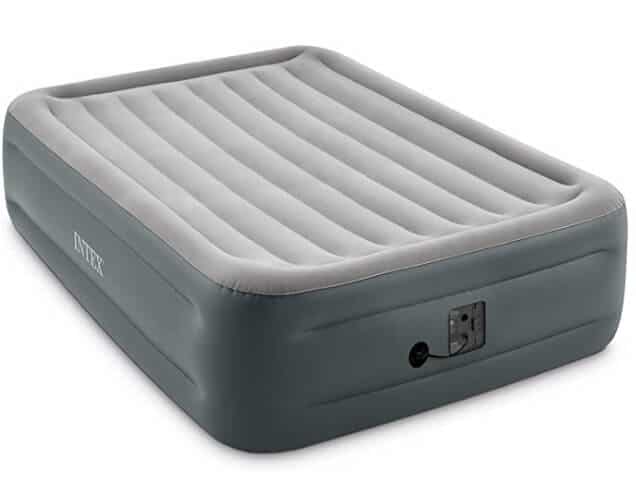 Intex Dura-Beam Series Essential Rest Airbed
For beginning campers, sleeping on the ground can sometimes be a bit of an obstacle. So when I first introduced Mary to car/base camping, we took an airbed rather than sleeping pads.
The Dura-Beam Series Essential Rest Airbed from
Intex
is a perfect example for couples, with the Queen size measuring 60″ X 80″ X 18″ and holding up to 600 pounds.
The bed boasts an awesome internal pump that makes inflation and deflation a breeze, taking about 4 minutes to fill.
There's a unique edge and bottom ring construction that keeps the bed sturdy even on uneven ground. And the solid back support and velvet-like sleeping surface make it ultra-comfortable, even for a lifelong insomniac like me.
Therm-a-Rest MondoKing 3D
If you're looking for a more portable alternative, the MondoKing 3D from Thermarest offers an ultra-comfortable middle ground between a simple sleeping pad and a deluxe air mattress.
The MondoKing is made with 4.25 inches of premium cushioning foam. There's a plush feel to the supple stretch knit fabric, which provides excellent breathability.
The self-inflating pad uses StrataCore construction to provide firm support, with alternating ridges of air and foam and vertical sidewalls to maximize the total sleep surface. There's also an XXL sizing option for big guys like me.
What we love most about the pad is the ease of inflation/deflation, the ease of compression, and the ease of transport using the included stuff sack. It's great for backyard or car/base camping.
READ MORE: The Best Gifts for Travelers (125+ Ideas)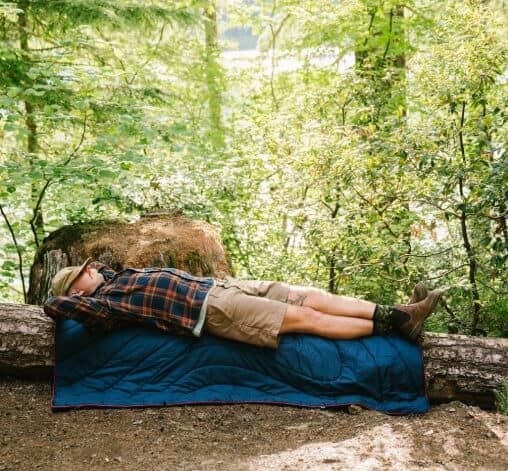 Rumpl Original Puffy Blanket
I've never been a big fan of sleeping bags. Primarily because most of the camping I've done was in the North Georgia mountains in the late spring, summer, and early fall, when it's usually hot and humid.
But this reimagined version of the Original Puffy Blanket from Rumpl offers a more lightweight and comfortable alternative that brings the coziness of a couch throw to your backyard campout.
Made from 100% post-consumer recycled materials, the blanket's technical features include 30D ripstop polyester fabric and Durable Water Repellent (DWR) treatment to protect you from the elements.
With an array of colors and prints to choose from and a cape clip for hands-free warmth while making S'mores and such, it's perfectly suited to backyard camping or snuggling by the fireplace in winter.
READ MORE: The Most Comfortable Walking Shoes & Hiking Shoes for Women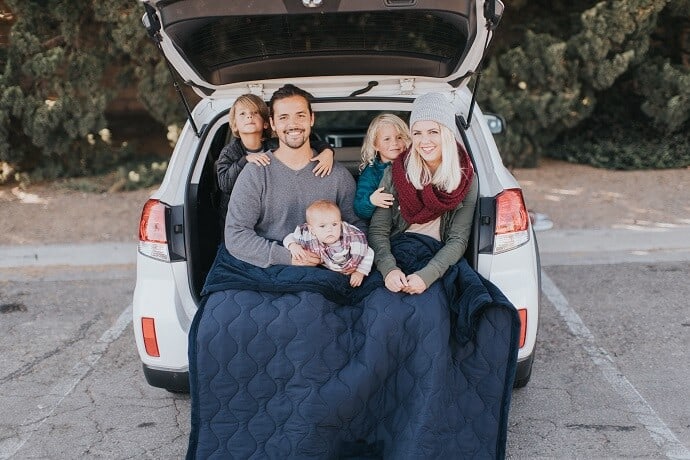 Cozee Battery Powered Heating Blanket
Where I tend to burn hot, Mary and my daughter tend to get a bit chilly. For them, the Cozee Battery Powered Heating Blanket is a great option for the cool nights of early sping and late autumn.
The Cozee was created by Paul and Carolynne LaRue for their daughter Brianna, who was born with poor circulation due to Cerebral Palsy, but loved spending time outside.
After being unable to find anything like it on the market, they developed their own battery-powered indoor/outdoor blanket.
Made with exceptionally soft micro fleece, the Cozee blanket uses a cordless heating system inside a space-grade insulated exterior to generate 5+ hours of low, medium, or high heat on one charge.
The rechargeable battery pack includes two USB ports for charging personal devices, and the weather- and water-resistant blanket includes two extra pockets to keep hands warm.
Camp Cooking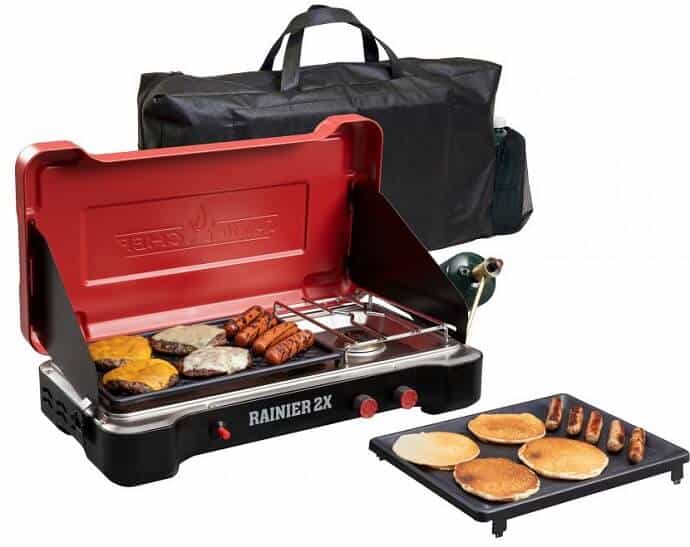 Camp Chef Rainier 2x
One of my favorite things about camping is getting a chance to work the grill. There's just something about cooking in the great outdoors that seems to make everything taste better.
Whether you're in your backyard or at a campsite in state or national parks, the Rainier 2X Combo from Camp Chef makes it easy to cook up delicious meals without needing to gather firewood.
The unique 23.5″ x 12″ x 4″ stove includes one traditional burner, plus one 14″ x 9″ burner with a non-stick coated aluminum griddle. So you can cook bacon and eggs on the griddle while heating water for coffee, or grill fish/steaks/veggies while boiling some pasta on the side.
Noteworthy features include a folding lid with a 3-sided wind barrier, a stainless steel drip tray, and a durable bag for carrying the 16-pound set.
READ MORE: The Best National Parks in USA for Wildlife Watching
Fire & Flavor HERO Portable Charcoal Grill
At 16 pounds, the Camp Chef stove isn't the most portable camping grill we've tested. But the HERO Grill, which weighs just 9 pounds, offers a considerably lighter option.
Created by Fire & Flavor out of Athens, GA, the HERO is the world's first portable grill made to go in the dishwasher for easy clean up.
It requires a single-use charcoal pod for fuel, which provides an hour of cooking time. The elimination of the need for lighter fluid is a plus, but the fact that each additional pod costs $10 is a definite downside.
Still, it's a pretty good grill for the price, and it comes with a multi-function thermometer, bamboo spatula, bamboo cutting board, and a rugged, waterproof case that makes it easy to carry.
We also love the quick-lighting charcoal pod (which is ready to cook in 10 minutes), the non-stick ceramic coated grilling surface, and the fact that the pods can be composted after you're done grilling.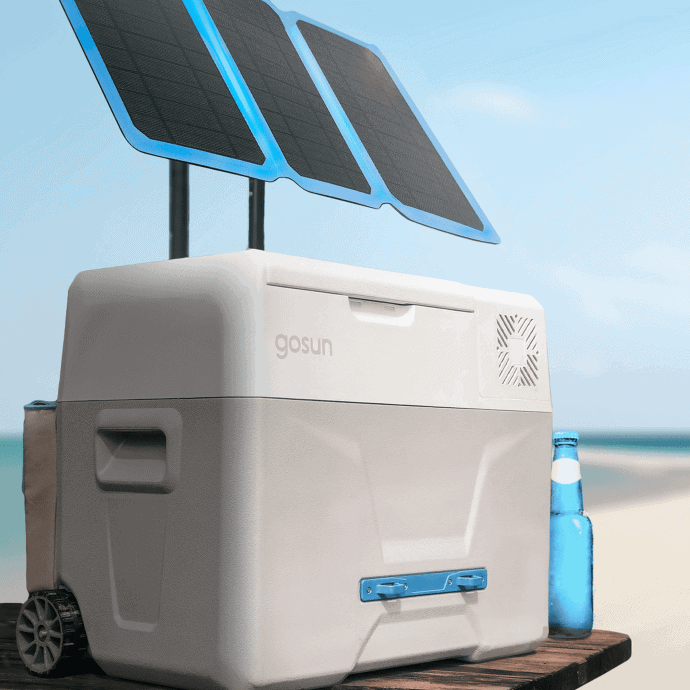 GoSun

Chill Portable Solar Fridge

We've been writing about innovative products from GoSun for years. They were the first brand we know of to market a portable solar oven, then later unveiled a lighter and more affordable solar cooker.

While they're best known for using the sun to heat things up, the GoSun Chill is designed to cool things down. Think of it as a solar-powered refrigerator that doesn't require a noisy generator to keep your food cold (or even make ice).

Measuring 23.5″ x 19″ x 16″ and weighing 28 pounds, the 40-liter cooler uses a 12V PowerBank that is powered by the sun. You can set the temperature anywhere from -4º to 68ºF, and the Chill will do its thing for up to 14 hours on an 80ºF day.

The rechargable PowerBank also boasts 3 USB ports and a lighter port, allowing you to charge your laptop, phone, and other tech devices.

At 28 pounds, the Chill is a bit too heavy to schlep into the backcountry. But for backyard camping, tailgating, or a day at the beach, it's a unique way to keep your food and drinks cold.

READ MORE: The Ultimate Beach Vacation Packing List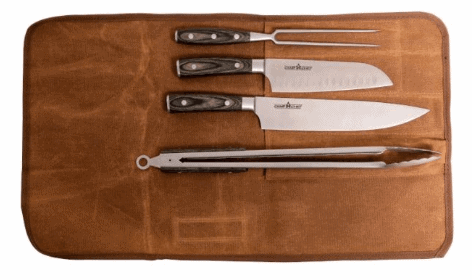 Camp Chef 4 Piece Carving Set
Mary and I don't eat much red meat these days. But there's something about the flavor of steaks and chops grilled outdoors that really makes us salivate.
Especially when we cook over our big fire pit, where we'll often grill a week's worth of meat and veggies using wood from the Bradford pear tree (an invasive species) we cut down earlier this year.
This 4-piece set from Camp Chef is great for backyard grilling. It features high-quality stainless steel tools, including a 10-inch chef knife, santoku knife, a pair of tongs, and a carving fork, all wrapped in an attractive canvas roll knife case.
With beautiful Pakkawood handles, it's a handsome set for chefs of all stripes, whether at the campsite or in the kitchen at home.
READ MORE: 10 Destructive Invasive Species You Can Eat
Camp Comfort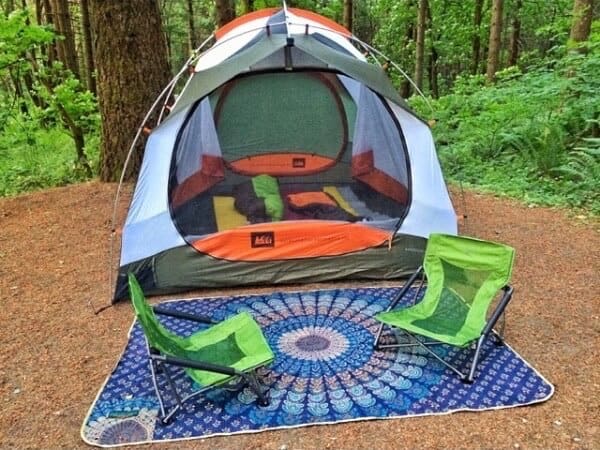 Tarpestry
As its name suggests, the Tarpestry is an outdoor blanket with the durability of a tarp and the artful aesthetic of a tapestry.
It's available in a diverse array of attractive styles, with materials ranging from ultra-soft 100% cotton to weather-resistant polyester. Each one includes a Velcro pocket in the corner for storage.
What we love most about the 7.5' x 4.5' Tarpestry is its versatility. It's a great blanket for backyard camping, picnics, or days at the beach. Or you can use the four grommet rings to hang it up for shade from the intense summer sun.
The only downsides of the product are its weight (4 pounds for the full-size model) and price ($149-$192), which is a bit on the spendy side. But they do offer a 4.5' x 3' Mini version for around $90.
READ MORE: The World's Most Colorful Beaches Bucket List

Crazy Creek Aluminum Roll-Up Table
In this Covid-19 era, the the Crazy Legs Aluminum Roll-Up Table from Crazy Creek has really revolutionized our social life.
We're both immuno-compromised and avid social distancers, so the idea of having guests in our small home isn't appealing. And while our 22-foot pontoon boat is large enough to keep our distance, the tiny table makes mealtimes difficult to navigate.
So this sturdy but portable aluminum table has been a game-changer. We can set it up in the backyard, or on a beach at our local lake, then spread out our chairs and wait as each person serves themselves.
It's easy to assemble in minutes, offering adjustable legs for leveling on uneven ground. When we're done, we can simply rinse the sand off the legs and put it back in the included carrying case for storage. Next to the Thermacell Radius Zone, it's the one item we use most often!
Big Agnes Big Six Armchair & Crazy Creek Quad Beach Festival Chair
Camp chairs have been a camping gear staple for decades, and are also common at beaches, tailgate parties, etc. These days you can buy them at almost any grocery store or big box retailer.
But as we increasingly spend more and more of our time outdoors, we've gradually learned that a good camp chair can make a major difference in your level of comfort for all-day outings.
As a big guy who often feels squished by camp chairs, I really love the Big Six Armchair from Big Agnes, which is taller and wider than most. The short-cord poles make it much more comfortable to sit in, with two cup holders and quick and easy set-up making it great for travel.
The Quad Beach/Festival Chair from Crazy Creek is a more affordable option for smaller folks. With a 230-pound weight limit, it measures 22″H x 22″W x 20″D and sits just 6 inches off the ground. It's a perfect option for chilling by a backyard fire pit, on the beach, or at all-day festivals. –by Bret Love; lead photo via Canva