As overtourism (the seemingly inevitable result of mass tourism) continues to wreak havoc on popular summer travel destinations around the world, more and more travelers are seeking out less destructive alternatives.
If you're wondering how you can travel more responsibly this summer, why not consider camping? Spending time in the great outdoors allows you to skip the massive carbon footprint of air travel, avoid overpriced meals, and lessen your stress by avoiding big crowds and keeping things simple.
This year, millions of people taking their summer vacation will go wilderness camping, take a backpacking trip, or spend a weekend hanging out in a local state or national park with friends.
They'll get the earth under their fingernails and in between their toes. They'll spend time reconnecting with friends and/or family while reconnecting with nature, embracing simplicity by cooking fresh food over a crackling fire.
They'll explore the world's biggest forests and deserts, its most beautiful lakes and mountains. They'll fall asleep beneath big skies full of stars. In the process, whether they realize it or not, they'll be strengthening their bonds with these natural environments that need our attention and protection.
If you follow these camping tips and tricks, all of which are designed to help you camp responsibly, you'll be doing both the world and yourself a favor. And who knows? You and your crew might just have even more fun in the process!
READ MORE: 60+ Cool Camping Gear Reviews (For Every Camping Style)
Eco-Friendly Camping Tips
As with any form of responsible travel, campers must be aware of the choices they make and the actions they take in order to minimize their impact on the ecosystem. Here are a few environmentally friendly camping tips that may help:
• The classic Leave No Trace principles offer a foundation of understanding responsible travel concepts. It's important to familiarize yourself with the details of the philosophy. In short, Leave No Trace means that you should always try to minimize your negative impact when you travel and leave a place as you found it (or better).
• Take out everything you brought in with you. This means even the tiniest bits of garbage that easily fly away from you when the wind picks up during campsite meals, or when you're unpacking your backpack and a sneaky gum wrapper falls out on the ground.
• If you want to be a true eco warrior, take it a step further by bringing an extra bag along to your campsite and on your hikes and picking up the garbage left behind by others as well.
• Following campground rules is another important element to camping responsibly. The rules aren't there to restrict your fun: They're meant to protect the environment and your fellow campers.
• Certain campgrounds don't allow dogs, or require dogs to be on a leash, because of delicate wildlife in the area. Be aware of these rules in advance to avoid fines or uncomfortable confrontations with other campers (or animals).
• Other campgrounds do not allow open fires– especially during the later, drier summer months– due to a high risk of forest fire. You should always read the campground rules at the entrance, and check in with the campground host or a ranger if you have any questions.
• Stay on the marked hiking trails around your campground, so as to not trample the surrounding flora. Bushwhacking might sound like a fun, adventurous activity, but it's also potentially damaging to the ecosystem and the animals that inhabit it.
• You can have a more meaningful camping experience by doing advance research on the area in which you're camping. This is a great opportunity for kids (and adults!) to learn fun facts about animals and local plants. For instance, did you know that squirrels' back legs are double-jointed, allowing them to quickly scamper up trees? Or that trees can communicate and share nutrients with other trees?
• Education is also a matter of safety, particularly if there are potentially dangerous animals such as bears in the area. Learning how to react and protect yourself in the event of a bear encounter can literally be a matter of life and death, both for you and the bear!
• Educating yourself on the area should also include the history of who originally called that land home. While U.S. National Parks have been coined "America's best idea," countless native peoples were forcibly removed from many parks in order to establish them for the enjoyment of settlers. Knowing the dark history of how Native Americans have been treated is a big part of learning to respect the land.
READ MORE: List of National Parks By State (An Epic Guide to "America's Best Idea")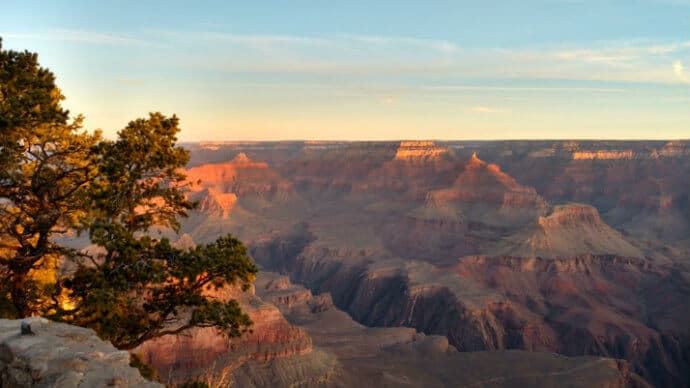 How To Find The Best Campground For You
Finding a campground can be a challenge. Many campground websites still look and operate as if they were made in the era of "You've got mail!" And, unlike hotel or vacation rental websites, it's often difficult to get a sense for what your campsite will look like before you arrive.
Luckily, there are people working to solve this problem. The Dyrt is a new camping app that allows you to search for campgrounds and campsites and view user-generated photos and reviews. Think of it kind of like a Yelp for camping, with great camping tips from real travelers like you.
This allows you to get a sense for what the campsites are really like, what recreational activities there are in the area, and what you should keep in mind for the best camping experience.
There are also a number of other things to consider when searching for the right campground, whether you're looking online or finding them along the way as you travel.
READ MORE: 40 Green Travel Tips (The Ultimate Guide To Sustainable Travel)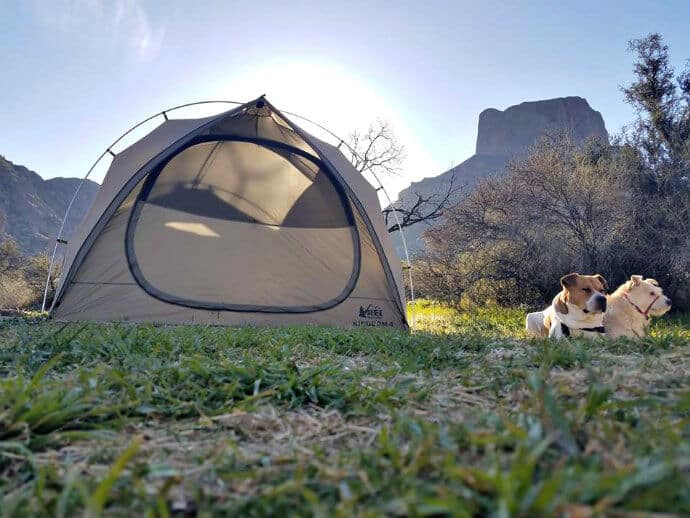 Camping in National Parks
Campgrounds are managed by a variety of organizations, depending on where they're located. And the type of land often dictates what type of camping is available there.
Some of the most popular campgrounds are found in National Parks, which, in the United Stated, are governed by the National Park Service. National parks provide campers with access to some of the top outdoor destinations in the world.
Are you looking to scale the iconic slope of Half Dome? Camp at Little Yosemite Valley in order to cut down on mileage, and sleep among the California black oak and Jeffrey Pines.
Itching to stand on the edge of the Grand Canyon at sunrise? You'll find convenient camping at Mather Campground, with easy access to the park's shuttle service. Or you can spend a night down in the heart of the canyon at Cottonwood Campground.
Whatever sort of experience you're looking for, national park campgrounds offer an array of different camping (and sometimes glamping) options.
READ MORE: Pitch Your Park! Rangers Plug Six of the Best US National Parks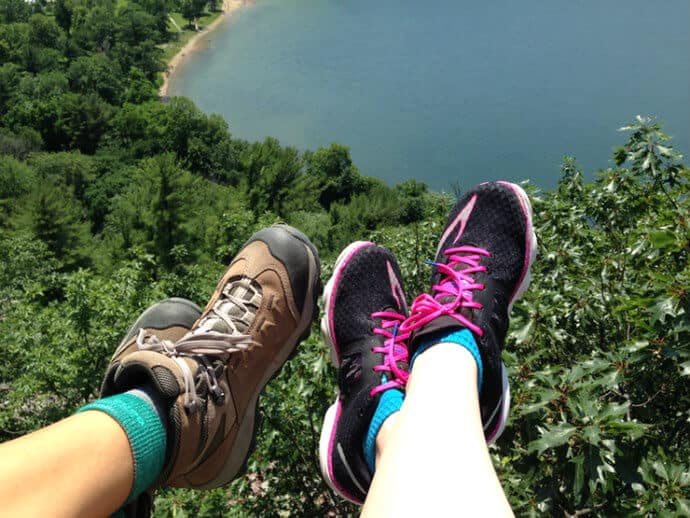 Camping in State Parks
You don't have to travel across the country and visit one of America's famed national parks in order to have a memorable camping experience.
A "staycation" camping trip can be just as rewarding, not to mention more affordable and eco-friendly! There are over 10,000 state parks in the United States, so there's likely to be at least one within a few hours drive of where you live.
Discovering a campground close to home can help you learn more about the local ecosystems and discover the unexpected natural beauty that can be found in your own backyard.
You can walk behind a 177-foot waterfall at Silver Falls State Park in Oregon, visit the wildflower sanctuary at Raccoon Creek State Park (located just 30 minutes outside of Pittsburgh), or visit Gerogia's Amicalola Falls State Park to hike to the beginning of the Appalachian Trail.
READ MORE: Finger Lakes Waterfalls: A Visitors Guide

Camping on BLM Land
Truth be told, both national and state parks can get a bit crowded in the summer months. So if you're looking for a little more peace and quiet, national forest and BLM land can offer a sense of solitude in the seemingly untouched wilderness.
By branching out and camping in these more remote areas— provided we treat them with care— we can help alleviate the over-visitation problems that are plaguing our most popular parks.
National forests are protected by the federal government. Unless otherwise noted, you can usually camp for free within their boundaries. Free camping in national forests is referred to as "dispersed camping," which means you probably won't be at an established campground with toilets and showers.
To find campsites in national forests, follow the forest access roads. You might find established spots, with a visible clearing for a tent and a fire pit. Sticking to these spots helps to minimize impact on the forest. But if you can't find one, you can camp just about anywhere in the woods, as long as you're at least 100 feet away from the road and any water source.
BLM land is similar to national forests, in that you can typically camp for free. BLM stands for Bureau of Land Management, which manages grazing, farming, mining, and recreation on the land they oversee. Most BLM land that has been established for recreation offers free camping for up to 14 days.
To find these off-the-beaten-path camping options in National Forests or on BLM land, simply visit the nearest ranger station. Or you can always take a chance and explore the wild on your own.
You'll likely find some unexpected corners of camping paradise, if you're patient and well-prepared. But be careful: Bring plenty of water and food, some form of communication that's not reliant on a cell phone signal, and fill up on gas before venturing down any dirt roads to find camping spots.
READ MORE: 20 Biggest Forests in the World (For Your World Travel Bucket List)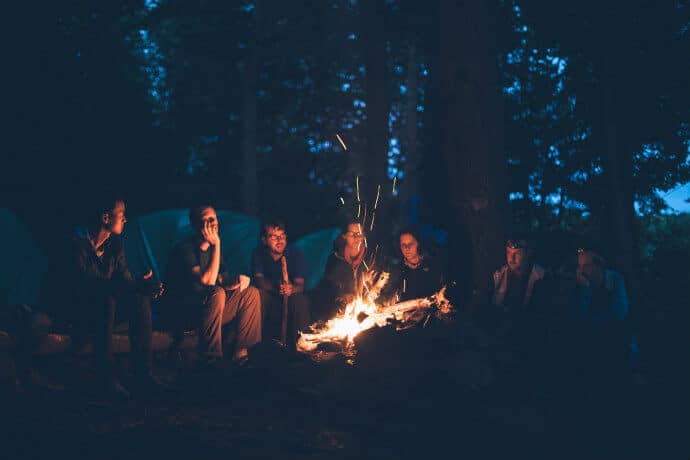 How To Find The Perfect Campsite For You
If you've decided to camp at an established campground, your next step will be to pick a campsite.
Many campgrounds offer both reservable and walk-in campsites. That means that you can book some of them in advance, while others are reserved for those who arrive each day without a reservation.
Some popular campgrounds, such as South Campground in Zion National Park for example, see long lines of cars awaiting the first-come-first-served sites. So you'll have to arrive early or risk being met with a "Campground Full" sign when you get to the entrance.
If you're on a strict travel schedule, reserving a campsite ahead of time is always a good idea. But if you have some flexibility (or know that a campground doesn't often fill up at the time of year you're visiting), you can always play it by ear.
The perfect campsite isn't the same for everyone, and you'll find positives and negatives to most of them. But there are certain things you should always look for when picking a site.
READ MORE: What is Glamping? (The Top 10 Glamping Resorts in the World)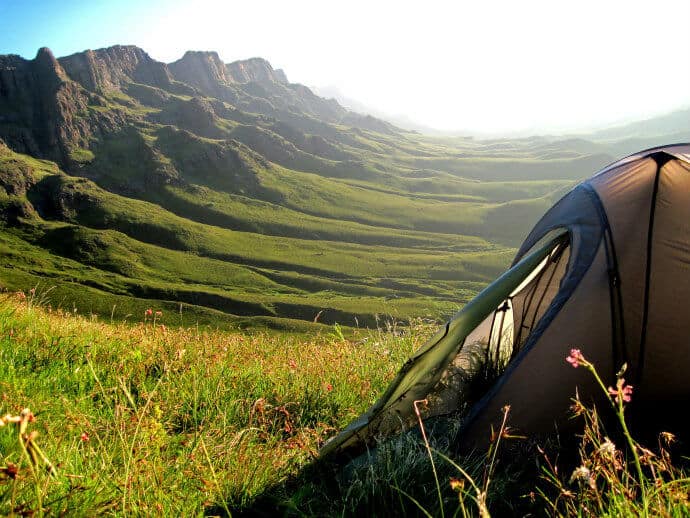 More Tips for Finding the Best Campsites
• Look for a campsite that's on relatively level ground with natural boundaries, such as trees and large rocks, for a sense of privacy.
• If you're bringing small children or pets along that might want room to run around without bothering your neighbors, it can be helpful to pick a corner site. You can also look for a more secluded, hike-in option, where there are inevitably fewer people around.
• That being said, you'll also want to consider how much stuff you're carrying, and how far you'll have to carry it, for hike-in sites. Nothing puts a damper on a camping trip faster than being exhausted before you've ever set up camp.
• Is your family hauling a grill, multiple tents and canopies, camp chairs, and other heavy items designed to make the camping experience more fun? If so, you'll probably want to find a campsite where you can drive directly to the spot where you'll ultimately pitch your tent.
• Remember that the joy of camping often lies in the unexpected. You can do your research, find the perfect campsite, and diligently follow a well-organized packing list. But, in the end, you simply can't plan for every possible contingency. From rainy weather to a hidden field of wildflowers, nature has a way of surprising us.
But in reconnecting with nature through outdoor activities like camping and hiking, we can better appreciate the many challenges and thrills those experiences provide.
Camping this summer isn't just a more responsible way to travel. It's also a guaranteed way to take home shared memories that will last a lifetime, and to show our respect and appreciation for the environment along the way. -Britany Robinson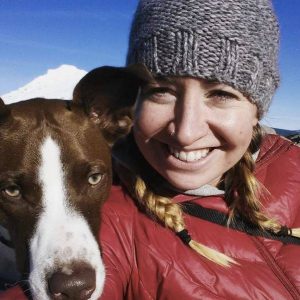 A former contributing writer for Green Global Travel and Green Travel Media, Britany Robinson's freelance work has also included bylines in The Washington Post, BBC Travel, Curbed, and many other outlets. Based in Portland, Oregon, she is now the managing editor for The Dyrt, an increasingly popular app that allows users to find awesome campgrounds and campsites for tent and RV camping across the United States. You can check out her full writing portfolio here.