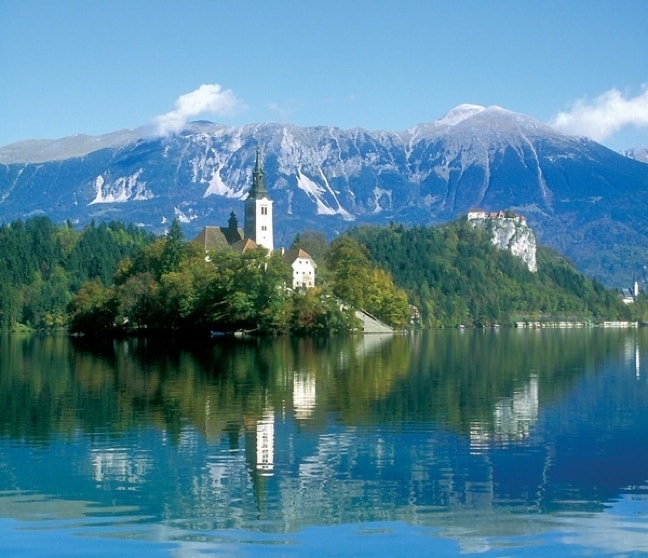 10 Best Lakes In The World For Your World Travel Bucket List
Widely regarded as one of the world's best lakes, there's a quiet section of Lake Superior in Duluth, Minnesota, that's absolutely gorgeous. Polished rocks at your feet. Soft breezes in your hair. Nothing but calm waters as far as the eye can gaze. But, believe it or not, there are even more awe-inspiring bodies of water around the planet, just waiting for ecotourism lovers to discover them. Read on to see our picks for the 10 Best Lakes In The World, all of which somehow make Superior seem a tad… well, inferior.
LAKE BLED  (Slovenia)
If Lord of the Rings director Peter Jackson needed an opening shot for his next film, he needn't look any further than this glacial masterpiece in northwest Slovenia. The only natural lake in the country, the fairytale-like Bled is a sportsman paradise (home of the 2011 World Rowing Championship) and a photographer's dream (the Julian Alps rest just off in the distance). Still, the main reason the lake is of such movie quality is because of Church of the Assumption, a precious 17th century house of worship that sits on tiny Bled Island.
LAKE GENEVA  (Switzerland/France)
The Swiss can boast that they named the lake and are responsible for overseeing nearly 60% of it. On the other hand, the French can brag that even though they have just 40% ownership, they created a worldwide bottled water brand, Evian, from it. Thankfully, both sides can agree that the crescent-shaped glacial lake, with all its stately pines and grandiose castles dotting the shore, is splendid to the eye.
LAKE NAKURU  (Kenya)
"Nakuru" means "dusty place" in the Maasai language. Clueless visitors might expect to see dull shades of brown if they ever visited the rift valley lake. What they'd actually see instead would be a feast of green algae, miles of blue water and an impressive collection of endangered black rhinos at the national park. It's because of all the algae that the lake's other major color, pink, is so abundant. When plant-grubbing flamingos, sometimes in the millions, line Nakuru's shores, it creates one of the planet's most vibrant sights.
PLITVICE LAKES  (Croatia)
If you can imagine steps leading to some enchanting place in the sky, that's the finest description of the 16 cascading rivers and lakes working together in this natural knockout. Now sprinkle in some of the sharpest azure or boldest green into the picture and you begin to understand why some call Plitvice Lakes the most beautiful place on earth. We'd love to go into more details on the connecting mountains and caves, but our jaws are still on the floor.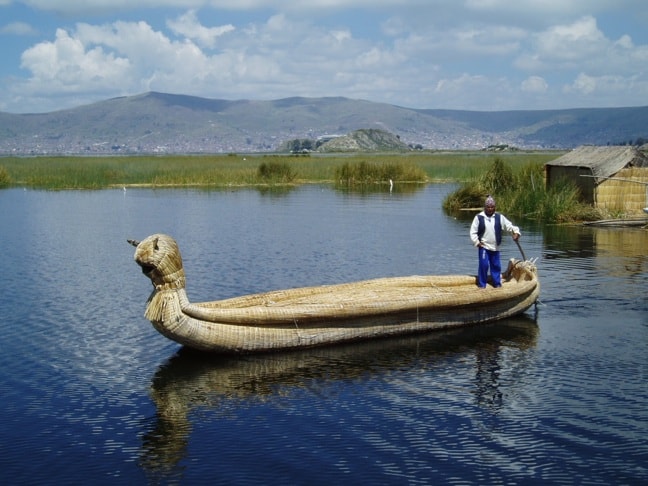 LAKE TITICACA  (Bolivia/Peru)
Off sheer water volume, this impressive body is the largest lake in South America. According to local lore, it's also one of its most mysterious. There's long been speculation that this is where the Incan civilization started. There's concrete evidence that the area is one of the last places to see the Titicaca Water Frog. If you don't see the elusive amphibian while there, fret not. The breathtaking lake, which uses the Andes as a backdrop, is more than an eyeful.
LAKE MATHESON  (New Zealand)
Mother Nature appears to have been just showing off a bit with this one. It wasn't enough that the tranquil, Nikon-worthy lake was surrounded by the snow-capped Mount Cook and Mount Tasman. Because of the brown-tinted waters, Lake Matheson casts a near perfect reflective surface, granting visitors amazing photo opps and leaving Mother Nature with endless opportunities to bask in her own work.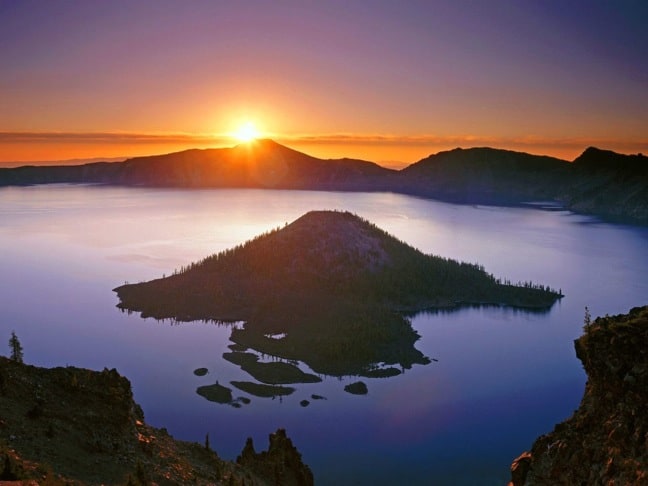 CRATER LAKE  (Oregon)
Ah, so this is what a 12,000-foot volcano looks like after its top has been blown off. As one of the deepest lakes in the world, Crater Lake serves as the main attraction in Crater Lake National Park. With strikingly blue waters, the towering Cascade Mountains and a bobbing tree called "Old Man of the Lake," it's clear why it's so beloved by locals, tourists and a group of Native Americans who consider Crater to be a spiritual place.
LAKE GARDA  (Italy)
Italy's largest lake is also its most magnificent. You'll find a host of exclusive resorts and terra cotta-roofed villas along the southern coast. To the narrow north, you'll still see more timeless architecture, only these views are backed by Monte Baldo. Because of some sensational winds that work their way through the Italian Alps, the northern area is renowned for its sailing sports.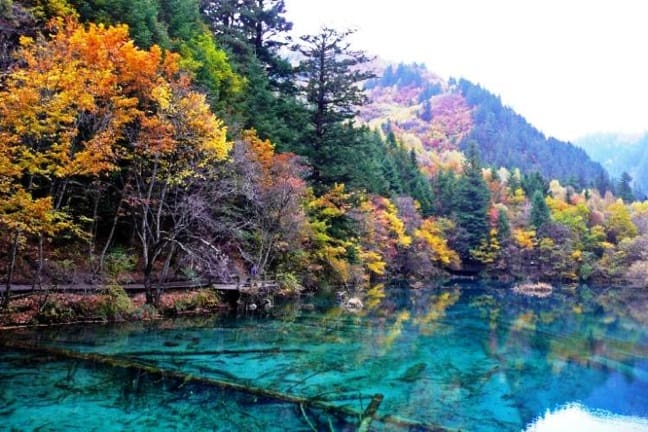 FIVE FLOWER LAKE  (China)
Did your second grade teacher ever tell you what combining yellow and blue would make? If you're drawing a blank, this unmistakable beauty can help. As if a clumsy painter spilled gallons of yellows, blues and greens over Jiuzhaigon National Park, Five Flower Lake pops with a vibrancy few places can match. And on top of that, the water is so clear you can see all of the tree trunks that have fallen in over the years.
PEYTO LAKE  (Canada)
It's ironic that the person the lake was named after, Bill Peyto, was a travel guide. Because of Peyto Lake's turquoise color, admirers from all over the globe travel to Alberta's Banff National Park to see the magnificence for themselves. The lake gets clean water from Peyto Glacier. It also gets "rock flour" from the river that feeds the lake. Said flour floats in the water, reflecting the light and causing a color so dazzling your digital images will look like they've been Photoshopped.  –DeMarco Williams
 If you enjoyed reading our 10 Best Lakes In The World For Your World Travel Bucket List, you might also like:
10 Festivals For Your World Travel Bucket List
10 Eco-Friendly European Islands
The Best Coffee in the World: A Gourmet's Guide
What is an Eco Lodge? A Guide to "Green" Accommodations
Easy Ecotourism: 10 Simple Steps to More Sustainable Travel
The Benefits of Ecotourism: 20 Travel Bloggers on the Importance of Nature Travel