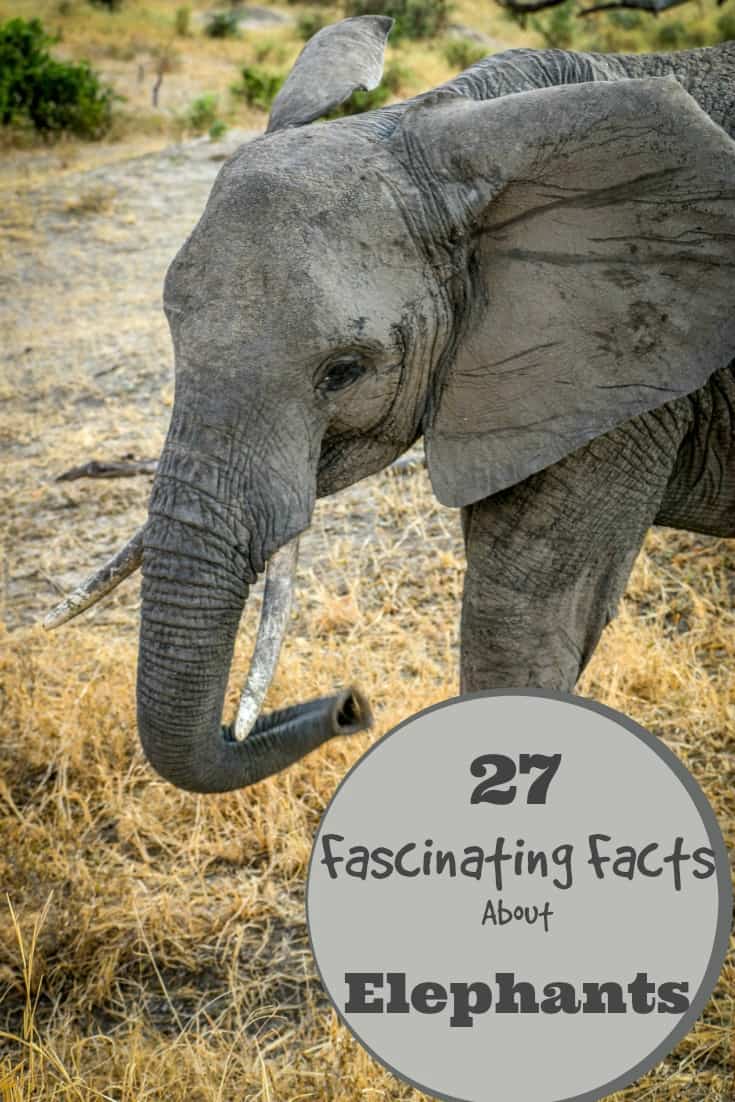 27 Fascinating Facts About Elephants
for World Elephant Day 
August 12 is World Elephant Day– a day to celebrate one of the planet's most beloved animals and draw attention to the challenges they face. There are two extremely important facts about Elephants you won't find in our story below: Populations have declined by 62% over the last decade, with 24,000 Elephants poached last year in Africa alone.
We've written about the importance of Elephant conservation for years, from the story about how an Elephant inspired GGT back in 2000 to our fundraiser for Thailand's Elephant Nature Park in 2014. We hope to inspire our readers to take actions to help Elephants, such as:
– Do not buy ivory or other wildlife-related products.
– Visit Elephants in countries where they live in the wild. Ecotourism benefits the economy, provides jobs, and deters poachers and abuse.
–  Choose ecotourism operators who support local elephant conservation projects and who treat elephants with respect and dignity.
–  Support organizations that are working to protect habitat for wild elephants and stop the illegal poaching and trade of ivory, and finding solutions for human-elephant conflict.
– Do not support organizations that exploit or abuse elephants and other animals for entertainment and profit.
– Support healthy, alternative, sustainable livelihoods for people who have traditionally relied on elephants, wild animals and natural resources. Learn about indigenous cultures that have traditionally lived in harmony with elephants.
Now, onto our 27 Fascinating Facts About Elephants, which we hope will give you an even greater appreciation for the beauty, intelligence, and emotional capacity of these amazing animals!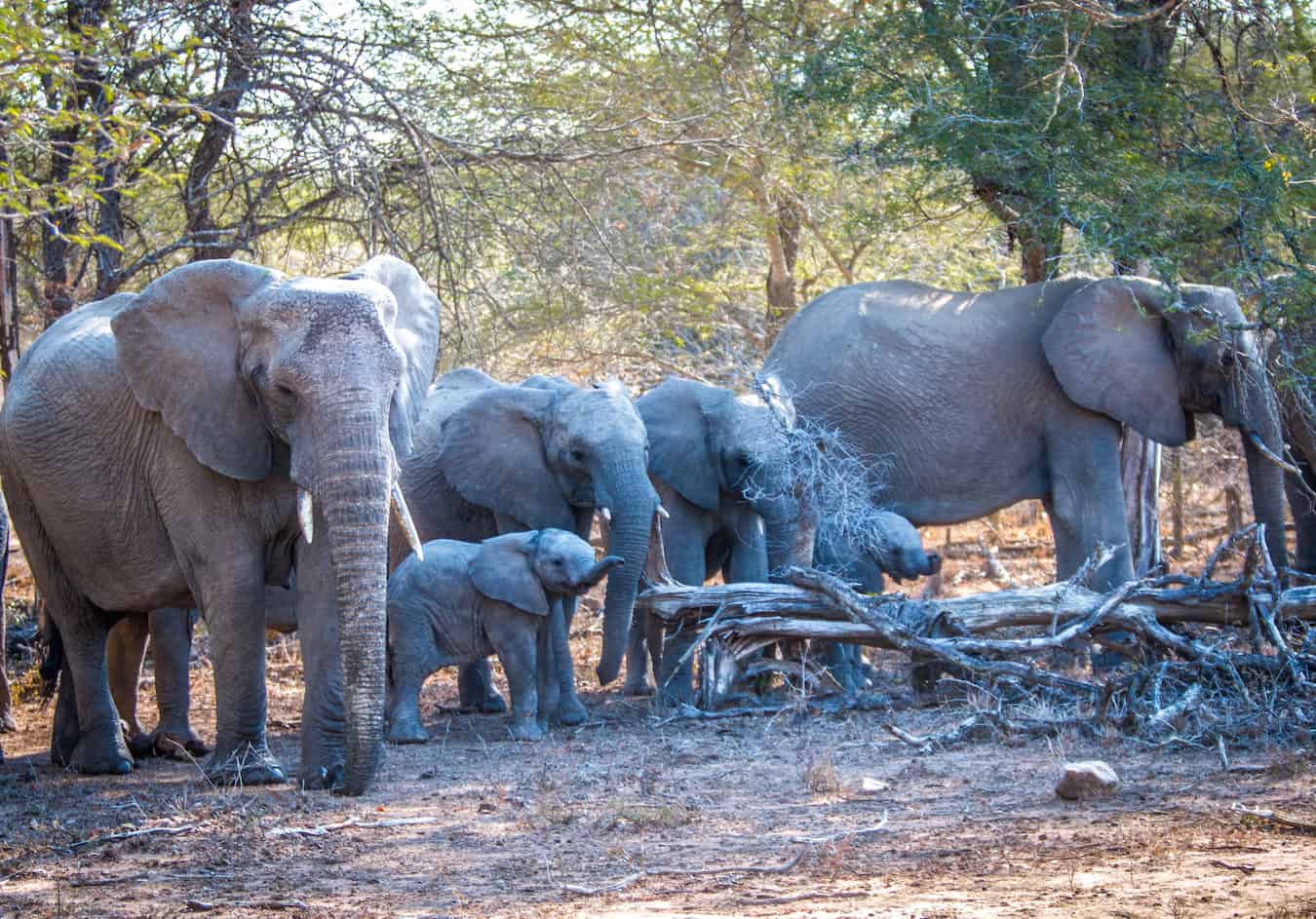 Facts About Elephants' Bodies
1) African Bush Elephants are the largest land animals in the world. Males can grow up to 13 feet tall at the shoulders, measure up to 30 feet from trunk to tail, and weigh up to 14,000 pounds. Perhaps that explains why Elephants are the ONLY mammals that cannot jump!
2) An elephant's trunk weighs around 400 pounds and contains around 100,000 different muscles. But, thanks to finger-like appendages at the tip, they're also nimble enough to pluck a single blade of grass.
4)  Unless you're ambidextrous, you probably prefer to use one hand over the other. Elephants are the same way about their tusks: Some are "lefties," others are "righties." They'll favor that tusk when fighting other Elephants, picking things up, or stripping leaves and bark off trees. Because of constant usage, their preferred tusk gets shorter over time.
4) Elephants have highly developed brains, not to mention the largest in the entire animal kingdom. Their brain is 3 or 4 times larger than that of humans, although it is smaller in proportion to their enormous body weight.
5) Elephants have an extremely slow pulse rate, around 27 beats per minute. Compare that to the average human (80 bpm), or Canary (1000 bpm).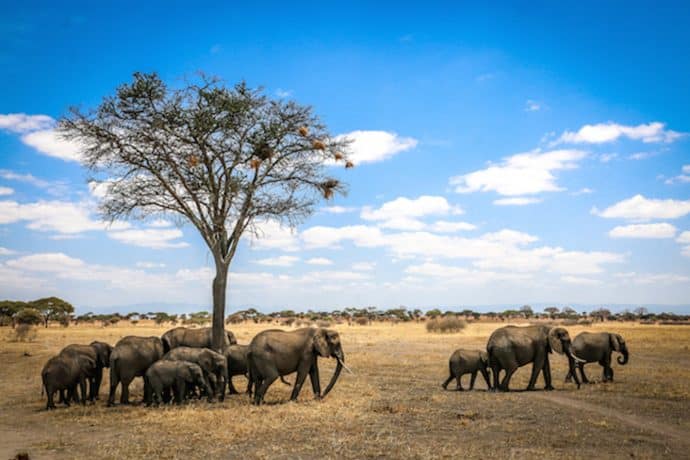 Facts About Elephant Communication
6) Elephant skin is over an inch thick. But because it's loaded with nerve endings, their skin is also highly sensitive. Elephants from the same herd will often use touch to greet each other, either wrapping their trunks around each other or giving each other friendly "hello" taps on the body.
7) In addition to the familiar trumpet blast sound they're known for, Elephants also purr much like cats do.
8) Research has shown that Elephants communicate over long distances using a sub-sonic rumble that can travel over the ground faster than sound through air. Other Elephants receive these messages through their feet and trunks. Scientists believe that this is how potential mates and social groups communicate with each other.
9)  Elephants are highly sensitive and caring animals. If a baby Elephant complains, the entire family will go over to touch and caress it to soothe it.
10) Elephants often pay homage to the bones of their dead, gently touching their skulls and tusks with their trunks and feet. When an Elephant walks past a place where a loved one once died, it will stop in its tracks. This silent pause often lasts several minutes.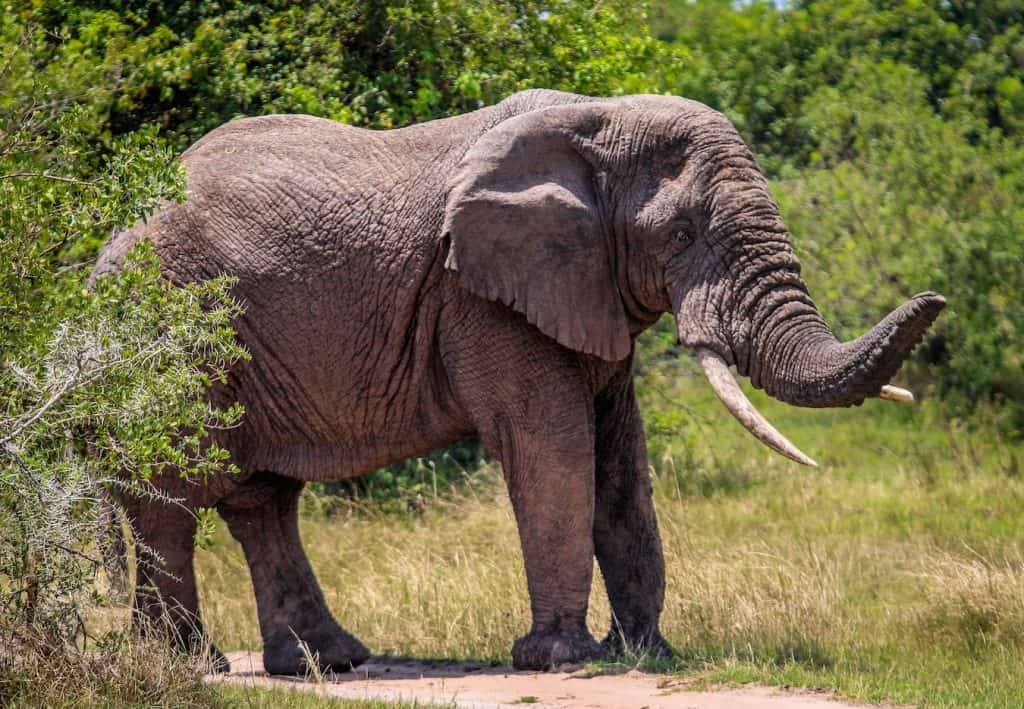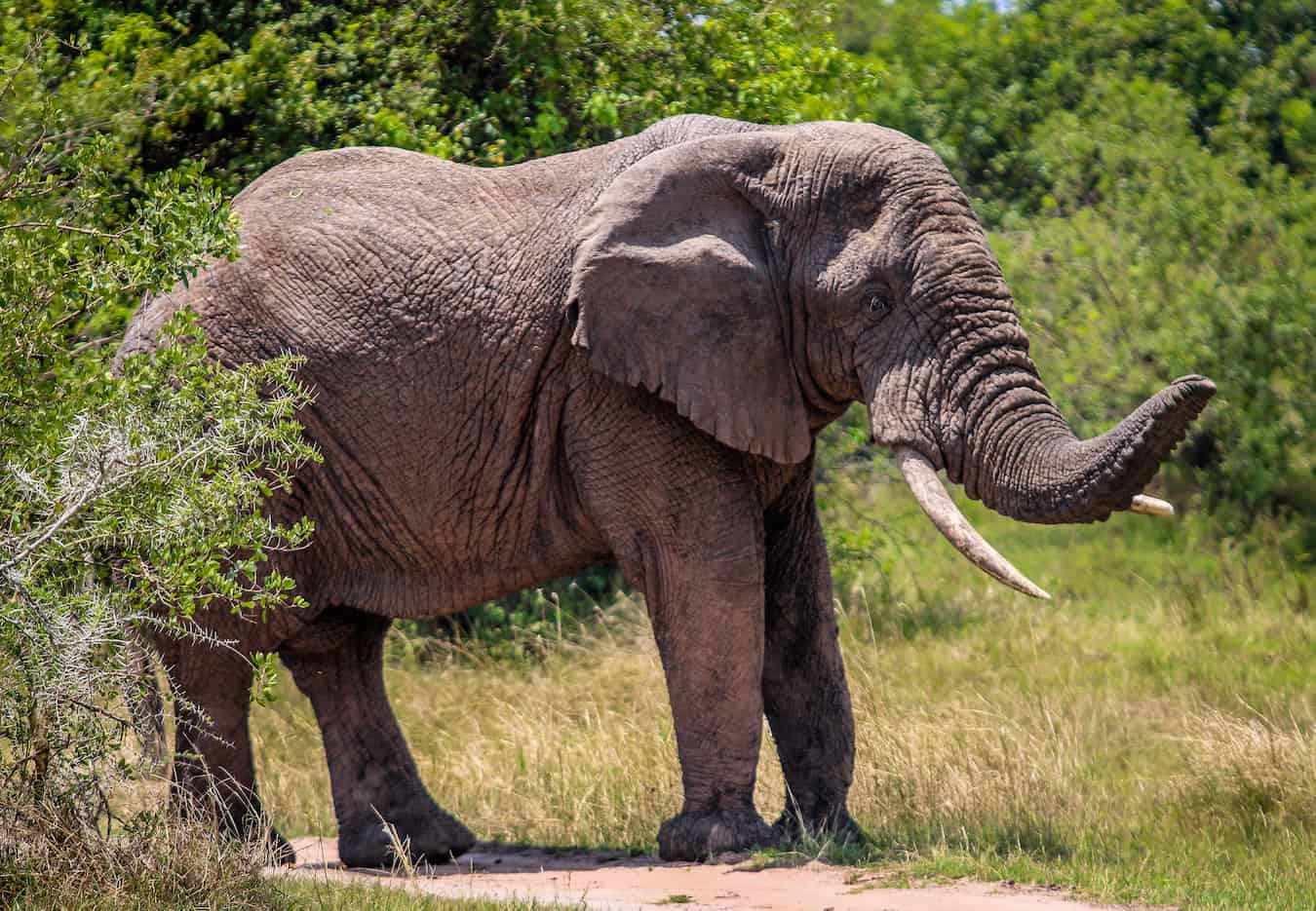 Facts About Elephant Behaviors
11) Elephants have deep family bonds and tight-knit groups of related females and their offspring.  Each herd consists of anywhere from 8-100 Elephants, all led by the oldest (and often largest) matriarch. When a calf is born, it's raised by the whole herd. Males usually leave the herd between the ages of 12 to 15, living solo or temporarily hanging out with other males.
12) You know how they say "an Elephant never forgets"? Research has proven that they are extremely intelligent. And their memories are vital during the dry season, when matriarchs guide their herds– over for countless miles– to watering holes they've visited in the past.
13) Elephants are herbivores and need to consume 300-400 pounds of food per day. In additions to grasses, leaves, bamboo, bark and roots, they also known to eat crops like banana, sugarcane and– the African Elephant's favorite– sweet marula fruit.
14) Elephants can give birth until they're 50 and can live to be over 70 years old. The oldest on record– an Asian Elephant named Lin Wang– died at the ripe old age of 86.
15) In addition to smelling, trumpeting, drinking and grabbing things, Elephants can use their trunks to breathe (like a snorkel) in deep water. In this way, they can swim fairly long distances.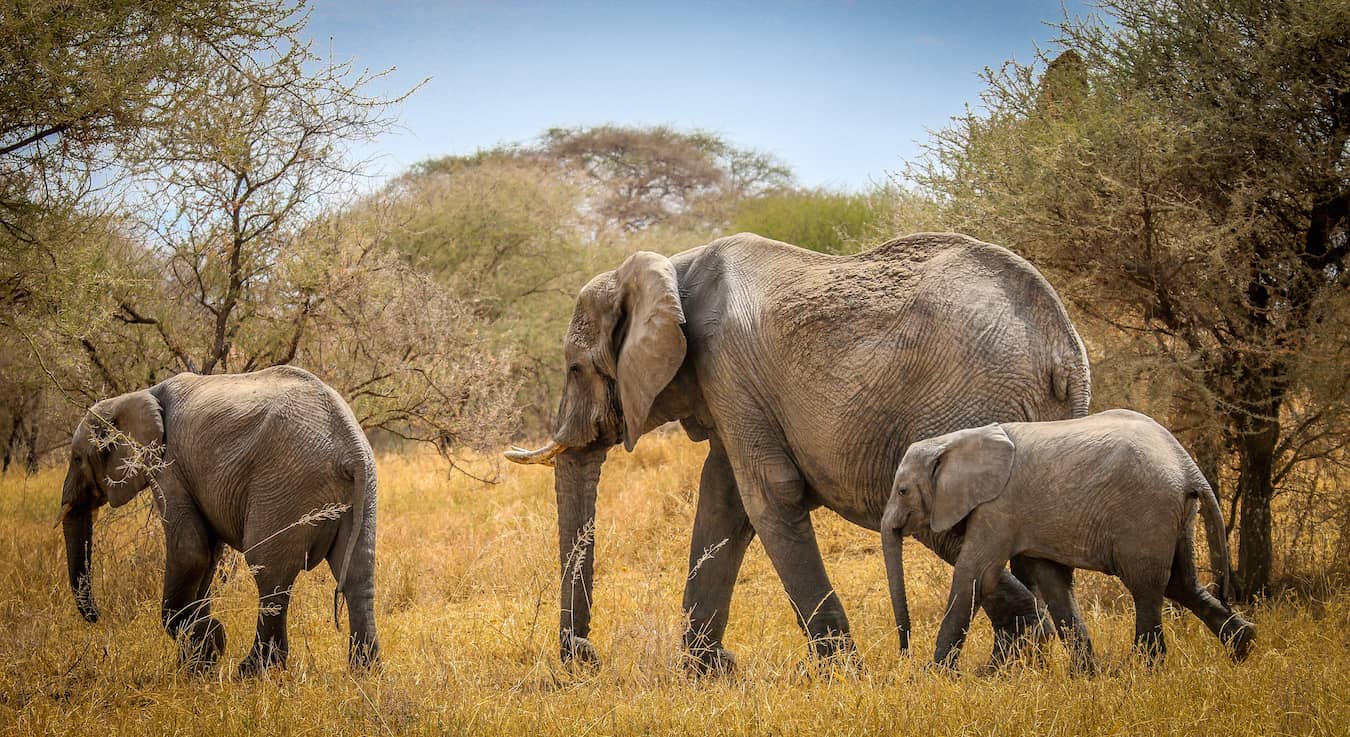 Facts About Elephant Conservation
16) In the early 1900s African Elephant populations were estimated to be in the millions, while there were around 1oo,000 Asian Elephants. According to World Wildlife Fund, today there are around 700,000 African Elephants in the wild, and just 32,000 Asian Elephants.
17)  In 1989, CITES (Convention on International Trade in Endangered Species of Wild Fauna and Flora) banned the international ivory trade. Yet poaching for ivory has been steadily increasing, with 800,000 African elephants killed over the last three decades.
18) An Elephant's tusk can weigh up to 22 pounds. Each one is worth $10,000-$15,000 on the black market in Asia, where they are used to make everything from billiard balls and piano keys to chopsticks.
19) In addition to poaching, habitat loss and conflict with human populations are key threats facing Elephant populations. Climate change projections suggest key Elephant habitat will become hotter and drier, so poor foraging conditions may threaten the survival of more calfs in the future.
20) Most Asian Elephants used in the logging and tourism industries (including those offering rides, performing in circuses, or painting in the streets) have been tortured in a horrifically cruel training regiment known as phajaan. The process involves tying a wild Elephant up for several days, beating them into submission, and leaving them to starve, with the goal of crushing their spirit.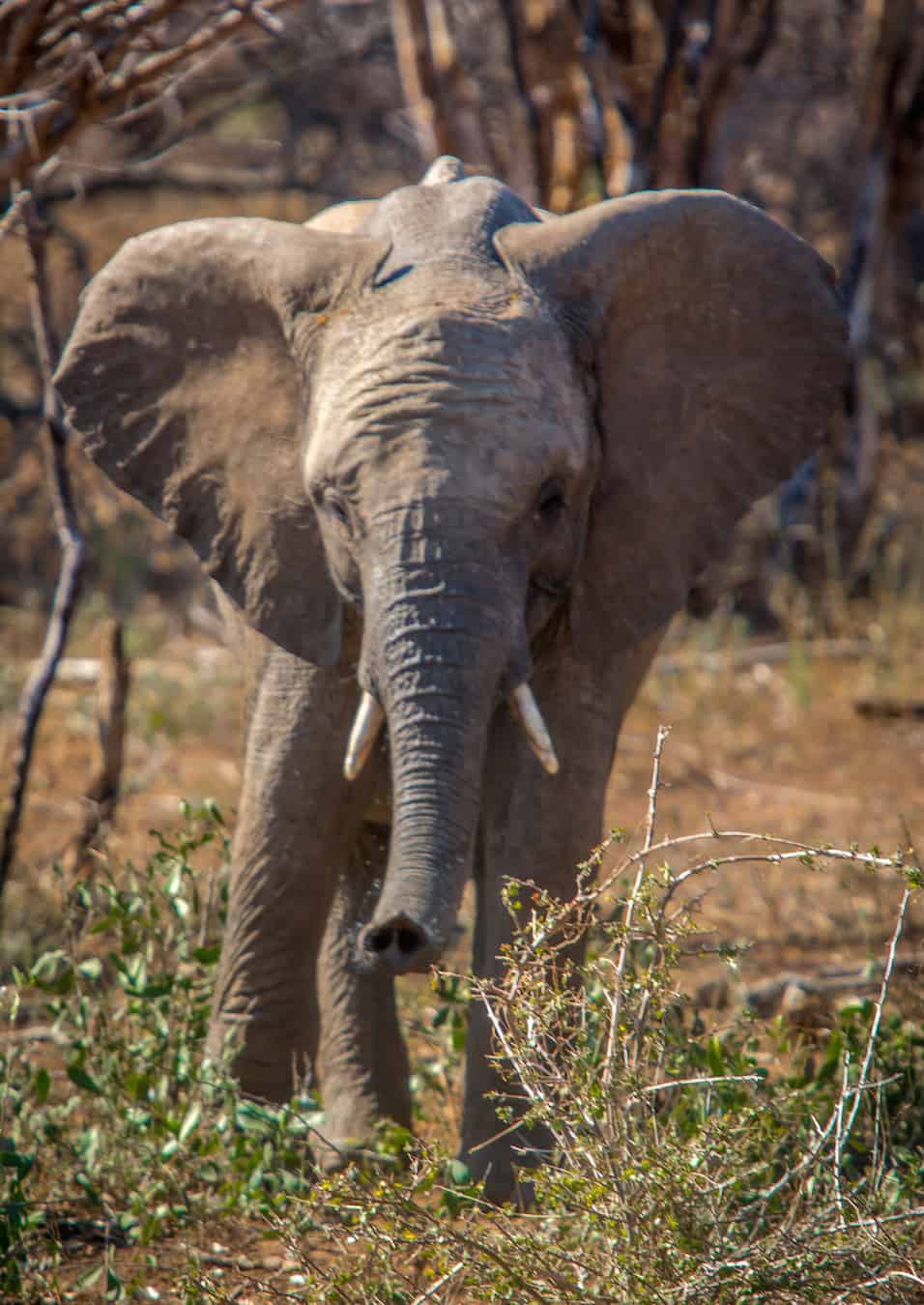 Miscellaneous Facts About Elephants
21) Elephants have the longest pregnancy in the animal kingdom, lasting 22 months from conception to birth. Elephants can give birth every three to four years, but will typically only have four calfs in their lifetime.
22) Elephants have four molars– two on top and two on bottom, located on the side of their mouths. Each molar weighs around five pounds and is the size of a brick. They can only grow 6 sets of molars over their lifetimes. When the last set is lost, the animal is unable to eat and eventually dies.
23) If you're on safari and see an Elephant lift its trunk in your direction, it's probably smelling you. Elephants have terrible eyesight, but a very keen sense of smell.
24) Elephants have large, thin ears that contain a complex network of blood vessels that help to regulate body temperature. The average ear of a male African Elephant weighs over 100 pounds.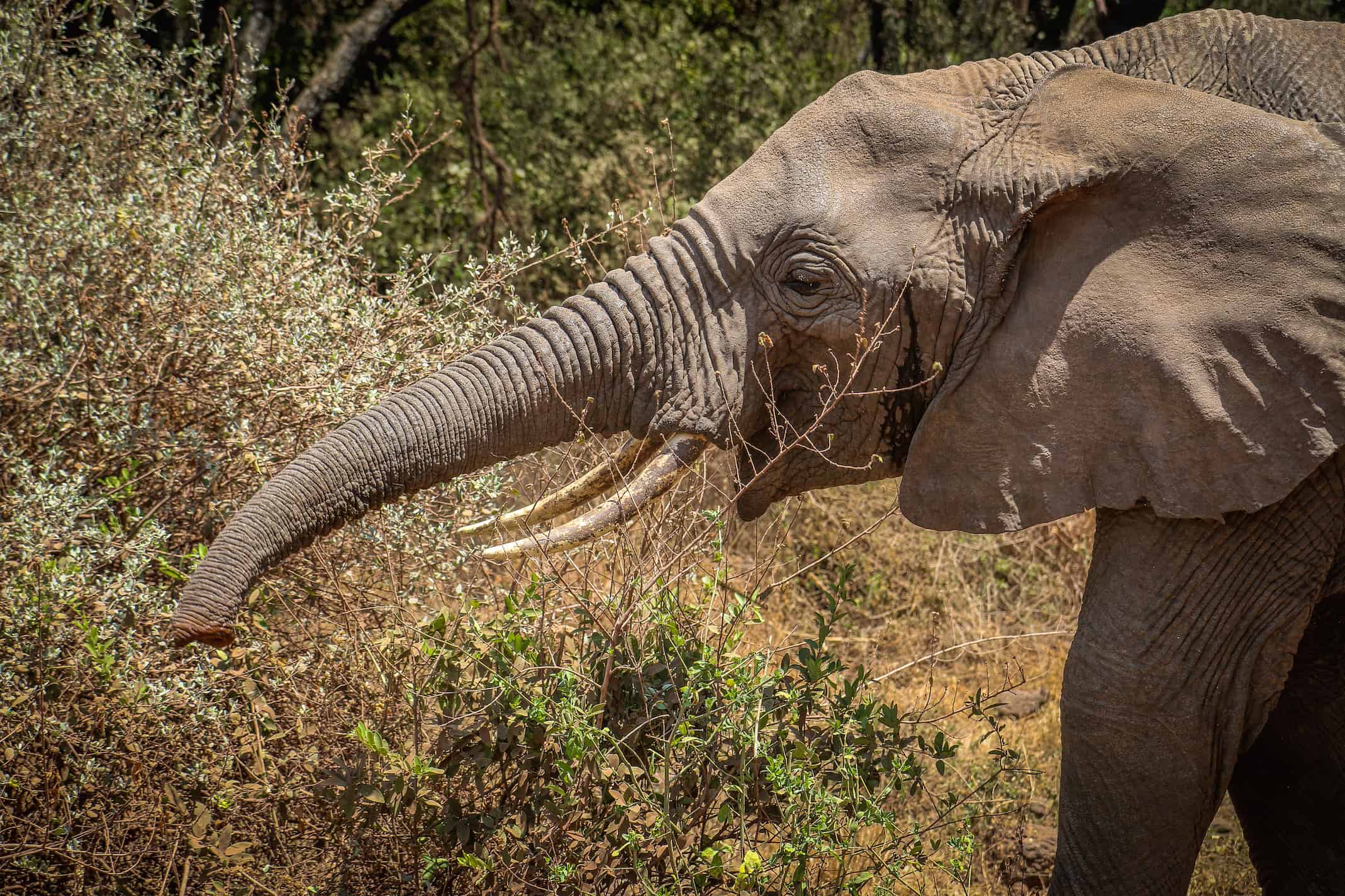 25) All baby Elephants are born blind, but they can stand up almost immediately.
26) We've all seen the videos of Elephants playing in the water. It's not only fun for them, but it also provides health benefits. The buoyancy they experience when swimming gives their leg joints a much-needed break.
27) An Elephant's tusk will continue to grow throughout its lifetime. An adult male's tusk will grow about 7 inches each year on average. –Bret Love & Mary Gabbett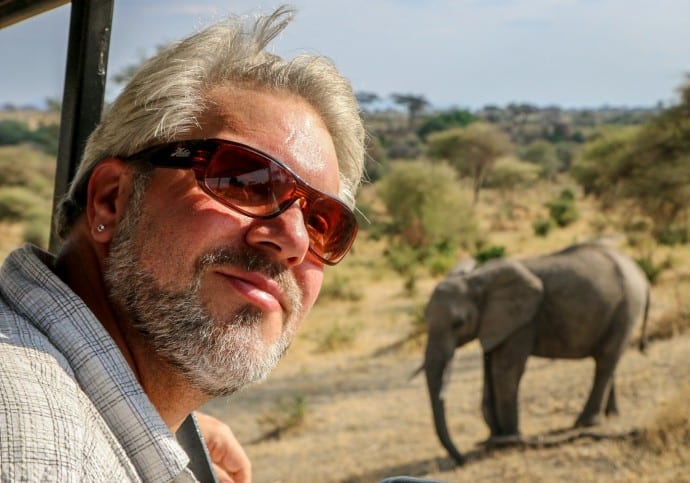 The co-founder of Green Global Travel and Green Travel Media, Bret Love is a journalist/editor with 21 years of experience. He's been published in  100+ publications, including the Atlanta Journal-Constitution, National Geographic and Rolling Stone. He's an in-demand public speaker, covering topics from branding and content marketing to responsible travel and how DMOs can work with bloggers. He's also a prominent marketing strategist, advising companies such as Discover Corps and International Expeditions. 
If you enjoyed our 27 Fascinating Facts About Elephants, you might also like: 
ENDANGERED SPECIES SPOTLIGHT: Sumatran Elephant
Endangered Elephants of East Africa
Lek Chailert, the Elephant Whisperer of Elephant Nature Park
Amazing Animal Facts 2: Animal Olympians