Mary and I have been fortunate to visit 50+ countries and hundreds of different regions around the world since we started traveling together in 2009.
But India is one of a small handful of countries that remain at the top of my personal world travel bucket list. And Kerala (a.k.a. "God's Own Country")– located on southwest India's
Malabar Coast–
is a dream destination because of its rich traditional cultures and wealth of
ecotourism
attractions.
Known as a cultural melting pot whose history of trade (especially spices) dates back to at least the year 3000 BCE, Kerala, India offers an array of picturesque landscapes every bit as diverse as its people.
Just as the region blends North and South Indian, Arab, and European influences, Kerala travel can encompass beautiful
beaches
, tranquil backwaters,
mountains
, ancient ports, and
waterfalls
.
Although it's only the 23rd largest of India's 28 states (at 15,005 sq miles), there are a whopping 14 Kerala wildlife sanctuaries, six National Parks, and two Tiger Reserves.
In short, there's a lot of wild spaces you can explore on a Kerala trip. Here's an overview of the highlights we hope to experience when we finally get a chance to visit Kerala…
KERALA WILDLIFE SANCTUARIES
There are 14 wildlife sanctuaries in Kerala, each of which boasts an array of Indian animals. Here's a look at some of the state's most popular ecotourism attractions, and the highlights they have to offer:
Aralam Wildlife Sanctuary
Encompassing 55 sq km of tropical forests in the Western Ghats, this picturesque part of the Kannur district is home to Kerala wildlife such as Barking Deer, Nilgiri Langurs, Malabar Giant Squirrels, and Asian Elephants. Don't miss Aralam's countless species of endemic butterflies, or a chance to trek to Meenmutty Falls and Katti Betta, the area's tallest peak.
Chinnar Wildlife Sanctuary
Another sanctuary in the beautiful mountains of the Western Ghats, Chinnar is an important part of a 458 sq mi block of pristine forests straddling the Kerala-Tamil Nadu border. Within its boundaries you'll find 28 mammal species (including Indian Leopards and Bengal Tigers), 225 species of birds, 156 butterflies, 53 reptiles (including the gorgeous Indian Star Tortoise), and 15 amphibians.
Muthanga/Wayanad Wildlife Sanctuary
Established in 1973, this is the second largest wildlife sanctuary in Kerala, and part of the vast, UNESCO-protected Nilgiri Bisophere Reserve. The 345 sq km forest is home to a stunning array of animals, but is best known for huge herds of Asian Elephants. It's managed by Project Elephant, launched by the Indian government in 1992 to protect Elephants and mitigate conflict between humans and wildlife.
Thattekkad Bird Sanctuary
Though it covers just 25 sq km of lowland forest along the Periyar River (the longest of Kerala's rivers), Thattekkad was described by ornithologist Salim Ali as having "the richest bird habitat in peninsular India." The birdwatcher's paradise features species such as the Ceylon Frogmouth, Indian Pitta, Malabar Grey Hornbill, Malabar Parakeet, and numerous types of Cormorants and Cuckoos.
READ MORE: Indian Animals (A Guide to 40 Indian Wildlife Species)
KERALA NATIONAL PARKS & TIGER RESERVES
If you're visiting any of these wildlife sanctuaries during your Kerala vacation, there are also some tiger reserves and national parks nearby that you might want to add to your Kerala tour itinerary:
Eravikulam National Park
This 97 sq km park is known for several things, including the tallest peak in Southern India (Anamudi, at nearly 2700 meters) and rare endemic animals such as the Indian Porcupine, Nilgiri Langur, Nilgiri Marten, and Small-clawed Otter. But its most popular attraction is its 900-1,000 Nilgiri Tahr, the largest population of this endangered
goat-like ungulate
.
Parambikulam Tiger Reserve
Parambikulam Tiger Reserve (which includes a wildlife sanctuary of the same name) encompasses 391 sq km in Kerala's Palakkad district. It's home to around 39 mammal species, 16 species of amphibians, 61 species of reptiles, and 250 species of birds. But its claim to fame is population of Tigers, which has grown over the past decade to 35-40. The sanctuary is also home to indigenous tribes including the Kadar, Malasar, Muduvar and Mala Malasar, many of whom work in the tourism trade.
Periyar Tiger Reserve
Located in the Cardomom Hills of Thekkady, this stunning sanctuary is one of the oldest tiger reserves in India. The forests of Periyar are home to endangered and endemic species such as White Tigers, Lion-tailed Macaques, Dholes (a.k.a. Indian Wild Dogs), and more than 250 bird species. There are lots of activities for visitors, including boat tours, hiking trails, eco lodge glamping, and more!
Silent Valley National Park
This part of the Nilgiri Biosphere Reserve became a national park thanks to India's largest environmental movement of the 1970s. The planned dam across the Kunthipuzha River would've further endangered the park's population of Lion-tailed Macaques, not to mention 34 other mammal species, 138 bird species, etc. Today it's a great place to meet the indigenous Irula, Muduga, and Kurumba peoples, many of whom work as forest guards, tourist guides, and porters in the park.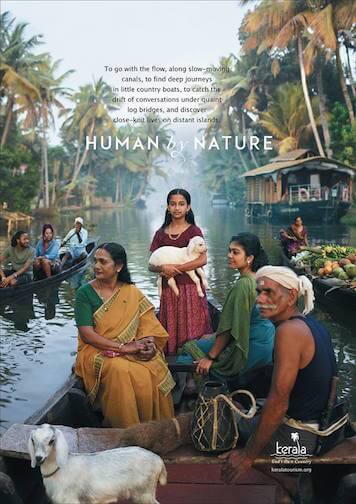 OTHER KERALA ATTRACTIONS
Kerala Backwaters
The most world renowned of Kerala's tourism attractions are its backwaters, a 1500 kilometer network of brackish lakes and lagoons sprawled along the Malabar Coast of the Arabian Sea. Kerala backwater tours typically involve Kettuvallam (a houseboat with thatched roofs over wooden hulls) rides. Taking one of these small ship cruises immersed in romantic picture postcard views is #1 on most people's Kerala travel bucket list.
Beaches, Waterfalls & More
When it comes to the inextricable connection between man and nature, Kerala is India's top ecotourism destination, attracting more than 16 million visitors each year.
There are beautiful beaches, such as Marari Beach (one of NatGeo's Top 5 Hammock Beaches in the World), Varkala Beach, and the world famous Kavalam Beach. There are dozens of waterfalls, from the 300-foot Palaruvi Falls and the 656-foot Soochipara Falls to the 984-foot Meenmutty Falls. There are picturesque hill stations, lighthouses, and
festivals
celebrating an array of ancient religions.
But at the heart of it all is Kerala's unique
Indian culture
, with its diverse influences, its rich history, and its harmonious balance between humans and nature.
–Bret Love
This post was brought to you in partnership with Kerala Tourism. But our opinions remain our own, and we will never compromise on the integrity of our commitment to our readers.