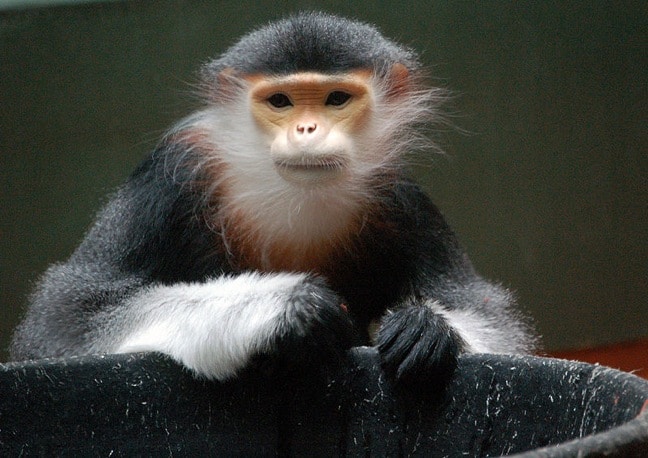 SPECIES- Gray-Shanked Douc Langur (Pygathrix Cinerea)
CURRRENT RANGE- Central Vietnam
CURRENT THREAT- Habitat Loss, Hunting
CURRENT STATUS- Critically Endangered
WHERE YOU CAN SEE THEM- Wooded habitats in Vietnam
WHAT IS IT?
The douc langur is a primate that comes in three species– gray-shanked, red-shanked and black-shanked— and it's equally breathtaking to watch at a standstill and in motion. Arboreal by nature, the douc (an ancient Vietnamese word thought to mean "monkey") swings through the forests of Vietnam in groups of 4-15. While each species has a tail about the same length as its body (56-76 centimeters), the endangered red-shanked has a maroon-like hue running from its knee to ankle. The black-shanked douc, also endangered, has a greyish-blue face. The critically endangered gray-shanked douc has a golden face, white chin and gray coat covering most of its body.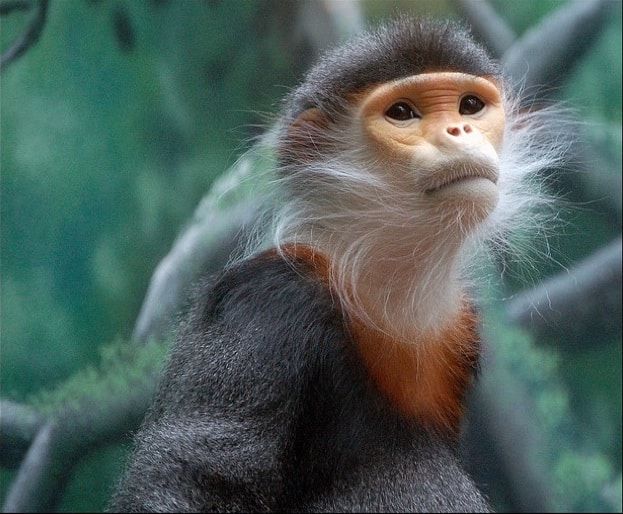 WHY ARE THEY ENDANGERED?
Because of their colorful hair, doucs are occasionally called "costumed apes." Sadly, little about the vibrant mammal's past 30 years has offered much to cheer about. During the Vietnam War, soldiers reportedly used the douc for shooting practice, drastically reducing the species' population. Today, humans remain the chief reason numbers of the gray-shanked douc have plunged to around 600. Due to illegal logging, forests are disappearing at an alarming rate. And then there are hunters, who sell the animals as food, medicine and exotic pets, who are still very much on the prowl. In fact, on July 26 three Vietnamese soldiers were arrested for the brutal torture and killing of two gray-shanked doucs after one of the men, Nguyen Van Quang, posted a disturbing series of photos of the heinous act on his Facebook page.
WHAT"S BEING DONE TO SAVE THEM?
Global response to the douc's decline has been profound. The WWF is working in Southeast Asia to conserve the natural ecosystems through the Greater Mekong Programme. The Frankfurt Zoological Society spearheads the Vietnam Primate Conservation Programme, whose objective is to protect the langur in the country. There are also a host of other smaller dedicated outfits like the Douc Langur Foundation, an organization that gathers locals to confiscate doucs, disarm wire traps and raid markets, restaurants and private homes that benefit from the animal's capture. If there's any upside to the recent uproar over the douc torture and killing in Vietnam, it's that interest in saving the adorable primate species has never been higher. –DeMarco Williams
If you enjoyed our story on the Grey Shanked Douc Langur, you might also like:
ENDANGERED SPECIES SPOTLIGHT: Dhole
ENDANGERED SPECIES SPOTLIGHT: Iberian Lynx