[Updated 11/15/2019] Led by the Plastic Free Foundation, Plastic Free July is a campaign launched in 2011 to encourage people to refuse single use plastics and limit their plastic waste.
Started by Rebecca Prince-Ruiz and members of her local government in Western Australia, the annual challenge is now undertaken by millions of people around the globe each year.
The result is more and more people wanting to reduce plastic waste, seek out plastic alternatives, and move towards plastic free living.
The question is, how do we use less plastic when practically everything we buy seems to be made from plastic or comes with plastic packaging?
How much difference can we as individuals make when there's already a massive patch of plastic pollution in the ocean twice the size of the state of Texas?
The truth is, most of us can't directly do much about the impact plastic in the sea has on the marine environment. What we can do is look for alternatives to plastic products and plastic packaging, use items made from recycled plastic, and try to avoid plastic whenever we can.
To that end, we sought out an array of plastic free products, from BPA free water bottles and food containers to reusable straws and eco friendly bags. For even more options, check out our personally curated Plastic Free Shop on Amazon!
READ MORE: The Best Gifts for Travelers (125+ Ideas)
ALTERNATIVES TO PLASTIC BAGS
If you want to reduce your reliance on single-use plastic, but still keep food fresh, check out the Lotsa Style line. Their broad range of plastic-free items not only helps reduce plastic use, but they also reduce waste in general since they're all reusable.
We tried out their Reusable Beeswax Food Wrap, a brilliant alternative to cling wrap. Made from organic cotton and beeswax, the wrap is washable and works well for all kinds of foods.
We also loved their Reusable Silicone Food Bag, a sustainable version of the classic sandwich bag. These high-quality bags lock airtight, keeping food fresh and preventing leaks. It's safe for microwaves and freezers, doesn't hold odors, and (best of all) can be washed in the dishwasher.
But our favorite Lotsa Style products are their Wheat Straw Plates. They're a green alternative to plastic plates, which we use for our family picnics at Lake Allatoona. They're BPA free, stain-resistant, and safe for dishwashers.
GGT readers can get 30% off when you buy any of Lotsa Styles' plastic free products on Amazon and use Promo Code: greenbts30.
As a divorced single dad for many years before Mary moved in, I always found packing lunches a pain. Lids got lost, plastic wrap was wasteful (not to mention bad for the environment), and getting it all into my daughter's lunchbox was difficult.
ECO Lunchbox's 3-in-1 Splash Box makes making lunch easy and eco-friendly. The 3-piece set is made from durable stainless steel, with leak-proof silicone lids. It's both dishwasher- and oven-safe, which makes heating and cleaning up afterwards a breeze.
But the feature we like the most is how the 3 pieces (which hold a total of four cups of food) nest together. Once you're done eating, the mini snack container fits inside the top container, with a silicone strap to hold it all together.
Arguably the item on this list we use the most frequently, the Lotus Trolley Bag is an awesome replacement for the mess of random tote bags we used to use when we went grocery shopping. We actually got compliments and questions the first time we used it!
The Lotus Trolley Bag is actually four separate bags, all different sizes and easily connected with strong velcro. While shopping, you simply hang them on the cart handle using the velcro strap.
Once you're done, the bags go inside the shopping cart, with long wooden dowels at the top to keep them in place. There's one cooler bag, and one bag with dedicated pockets for holding wine bottles and eggs. You can also order reusable produce bags separately.
Our only initial complaint was that the dowels weren't quite wide enough for the carts at wholesale warehouses, where we tend to do a lot of our shopping.
Fortunately, Lotus Trolley Bags now offers a Large Club Cart version specifically sized for Costco, Sams, BJ Wholesale, etc. They make a great alternative to plastic bags for groceries!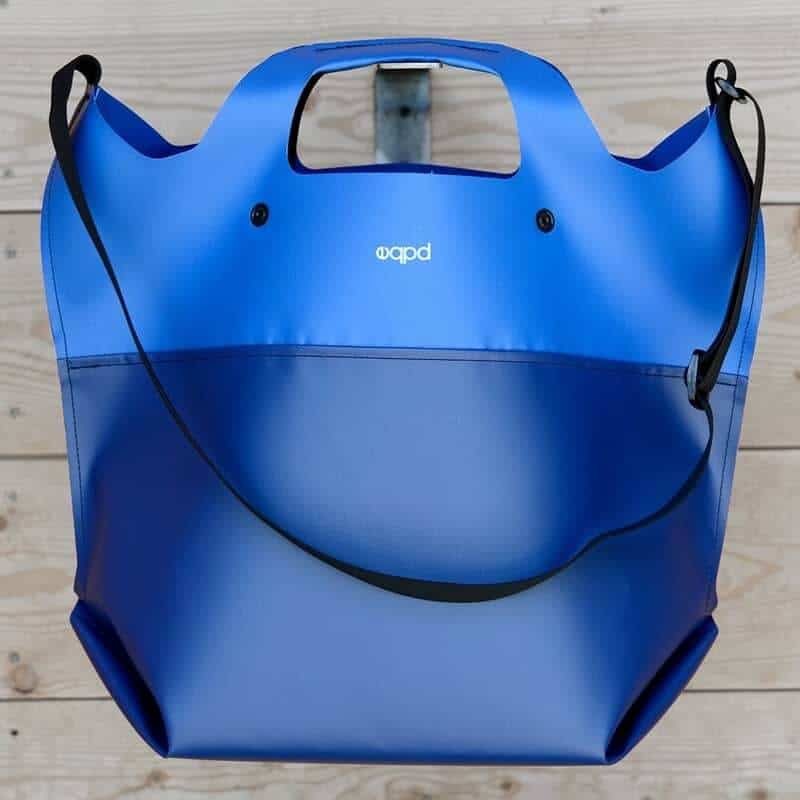 EQPD LastBag
In an effort to eliminate single-use plastic bags, Eqpd (pronounced "equipped") took it upon themselves to create the ultimate solution.
The company is based in rural Twisp, Washington, in the Cascade mountains. Founded by formally trained industrial designer Jonathan Baker, the 8-member team focuses on durable construction and sustainability.
Their LastBag is intended to be precisely that– the last tote-style bag you'll ever need for grocery shopping, picnics, day trips to the beach, etc.
This virtually indestructible waterproof bag is made from the same rugged materials used in whitewater rafts, parachutes, and military backpacks.
They come in 17" or 21" sizes, a range of colors, and have adjustable shoulder straps and reinforced snapping handles for easy carrying. Best of all, each LastBag is guaranteed for life. Use the promo code "GREENGLOBAL" at Eqpd to get 20% off LastBags thru 12/1/19
READ MORE: The 40 Best Backpacks for Travelers
BPA FREE WATER BOTTLES
Wondering how to use less plastic? Weaning yourself off the plastic bottle is arguably the perfect place to start, given the major role they play in the global plastic pollution problem.
There are tons of BPA free water bottles on the market, but the Bindle Bottle is noteworthy for its innovative twist.
Made from stainless steel, the bottle has a hidden waterproof, scent-proof storage compartment. It measures 3.2″ H x 2.75″ W, so it's large enough to hold your cash, credit card, ID, and more.
The new 20 oz Slim version is small enough to fit in cupholders or on a bike rack, with dual-walled, vacuum-insulated construction to ensure your drink stays cold (or hot) for hours.
Insulated water bottles make great gifts for travelers because it's something you can use every morning (for portable coffee or tea) and all day long (for water and other beverages).
These stainless steel water bottles from Takeya are great for keeping cold liquids cold (up to 24 hours) or hot liquids hot (up to 12 hours). They're available in either 24 oz or 40 oz sizes, and in a variety of colors.
Thanks to their insulated Spout Lid, the bottles allow for easy and controlled drinking, even with just one hand. The BPA-free water bottles are easy to clean and safe to use, with no metallic aftertaste.
The wide mouth allows ice to fit in, and the double powder coated exterior protects your hands from extreme hot and cold conditions. The removable silicone bumper also ensures fewer dents and bumps on the bottle's exterior. We use ours literally every single day!
As a teen I went hiking in Georgia's Cloudland Canyon, ran out of drinking water, and filled my canteen from the crystal-clear stream.
The dysentery that resulted remains one of my worst travel memories. Now I know better, and thanks to these microbiological water bottles I'll never drink dirty water again.
The Lifestraw Go has a 2-stage filtration process that removes 99.9999% of all waterborne bacteria and parasites from up to 264 gallons before needing a new filter.
READ MORE: 60+ Cool Camping Gear Reviews
If you have ever been frustrated by spilling water everywhere after pouring from a water filter device, ZeroWater's 12-cup water filter jug has features to prevent any messes.
ZeroWater solved the problem by creating a sealed lid and reservoir system which allows you to pour filtered water into your water bottle while water waiting to be filtered remains in the reservoir instead of all over the counter.
Besides this great feature, ZeroWater's filtration system itself is amazing. If you were to pour red wine through the top, pure water would come out! With a system powerful enough to turn wine into water, it removes dangerous substances from water like lead, asbestos, salts, mercury, runoff, fluoride, and other chemicals.
If you drink from plastic water bottles, there is a risk of plastic flavoring and contamination by the bottle. The ZeroWater 12-cup filtration system not only saves money but prevents tainted water quality and flavor while also avoiding more pollution.
Using the ZeroWater 12-cup filtration system instead ensures clean and safe hydration and stores enough water for everyone in the family.
REUSABLE STRAWS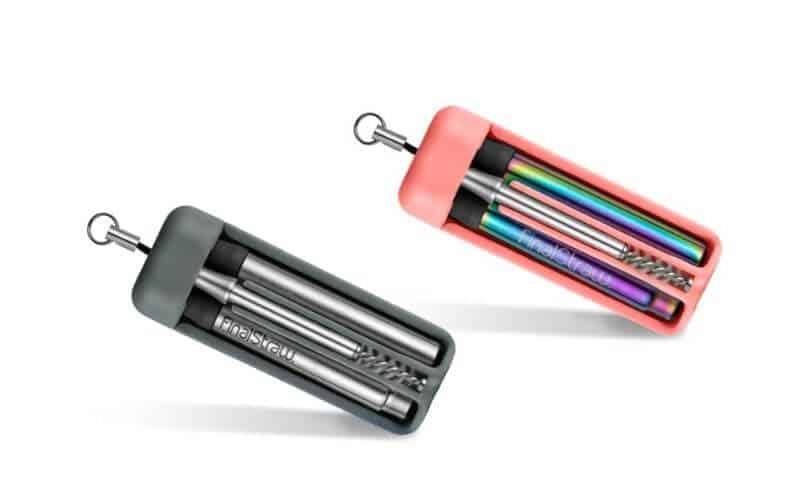 Final Straw (Shark Butt Gray & Coral Cases)
FinalStraw has found an awesome answer to the world's plastic straw problem, which has proven increasingly dangerous for sea turtles and other marine life.
They've created a foldable, reusable metal straw in order to help reduce the need for disposable plastic straws.
These straws fit into their own special carrying case, which holds a straw cleaner and attaches to a keychain. They fold up to fit into the case and expand to the size of a normal straw when in use.
The straw is made of stainless steel, and the mouthpiece tubing at each end is made from medical-grade TPE. They're available in silver or rainbow, and the cases come in four colors (we have the Shark-butt Grey and Healthy Coral cases).
READ MORE: 5 Rare Sharks Worth Saving
The FinalStraw is an excellent choice for individual use, but what if you need straws for a big family gathering or dinner party?
NaturalNeo's Organic Bamboo Straws are 100% natural, reusable, and biodegradable, with no inks, dyes, or bleach used in the manufacturing process. So they're a great alternative to plastic straws, of which over 500 million are used in the U.S. every day!
The 8″ bamboo straws are available in packs of 10, or you can get a 16-pack with eight 8″ straws and eight 5.1″ straws. All sets come with a handy coconut fiber cleaning brush, and for just a few dollars more you can add a handy natural fiber carrying case.
READ MORE: Top Foods to Buy Organic (& When It's Not Necessary)
PRODUCTS MADE FROM RECYCLED PLASTIC BOTTLES
Combining their fascinating outdoor graphic tees with a plastic-free mission, American Backcountry recently unveiled their newest line of T-shirts. The REPREVE shirts are made using recycled bottles, and each shirt contains up to seven plastic water bottles.
The T-shirts made from the REPREVE fabric are cotton tees, and so they don't have the usual moisture-wicking properties of other American Backcountry products. However, they still feature the epic graphic designs.
American Backcountry prides itself in celebrating America's public lands, and these shirts help keep those public lands clean as well.
They're also quite stylish, with the Bearly design reminding us of an adorable Black Bear family we recently photographed in Alaska!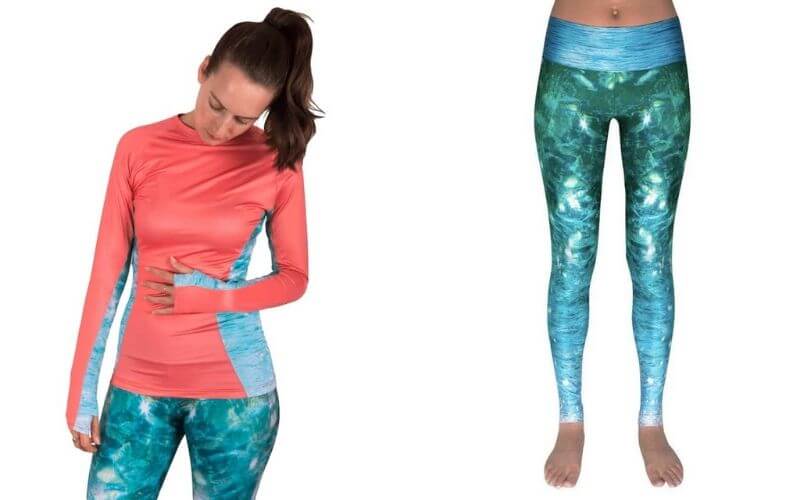 Waterlust's Sun Kissed Sea Leggings & Rash Guard
Purchasing this matching set of "Sun Kissed Sea" leggings and rash guard from Waterlust will save up to 20 plastic bottles from the planet's landfills/oceans!
Not only that, but 10% of the profits from your purchase are donated to University of Miami research on air-sea interaction.
The rash guard is made from 92% RPET, while the leggings are made from 86% RPET. They both have colorfully stunning ocean-inspired patterns, which are created using eco-friendly printing methods.
Both of the products provide 4-way stretch comfort and are quick-drying, breathable, and moisture-wicking. They also feature UPF 50+ sun protection, making this the perfect outfit for activities such as Scuba diving, snorkeling, canoeing, and stand-up paddle boarding.
READ MORE: 10 Best Places to Scuba Diving (World Travel Bucket List)

Flexi Lexi Fitness Sassy Seahorse Crop & Pant
The Sassy Seahorse Crop and Pant feature a colorful and playful seahorse design made by Flexi Lexi Fitness. This set is one of 5 eco-friendly designs, each created from a combined 35 recycled water bottles. The recycled polyester is as soft and stretchy as their existing fabric, so you'll want to wear them all the time, not just to the gym or yoga class.
The Crop has "The Sassiest Seahorse In The Sea" printed on it to remind you to feel your best while making an impact on the environment.
Each purchase comes a canvas zipper bag, made by local Thai artisans. With phrases like "Vitamin Sea" and "Mermaid Vibes," they make an environmentally friendly lifestyle even more fun.
By wearing the Sassy Seahorse set design, you are not only helping reduce plastic water bottle waste, but you'll be comfortable and stylish too.
Yoga Democracy
The Joey Yoga Short in Coral My Name and the Root to Rise Printed Yoga Leggings are created by Yoga Democracy. Both products, like the rest of Yoga Democracy's items, are made with a zero-water process. In addition to using recycled water bottles for their materials, scrap fabric is often repurposed to minimize waste.
The Joey Yoga Short in the Coral My Name pattern features an under the sea design with colorful coral and even an octopus!
The Root to Rise Printed Yoga Leggings has a mystical tree design reaching from root around the ankles up to tree leaves at the legging's high waist.
Both of these fun prints are made from a non-toxic dying process and will certainly show off your love for the earth.

Rothy's
The Rothy's pointed toe flat in Chili Red makes a statement in both fashion and the environment. With their bright red color, they make any outfit pop. Not only will you stand out, but you'll also feel good about wearing shoes made by a company that has repurposed 37+ million single-use plastic bottles.
The soles of the shoes are made from vegan, recyclable, carbon-free rubber and TPU, with safe adhesives that are created with low environmental impact. The shoe insoles are made from bio-based castor oil and recycled materials while the uppers are knitted from recycled plastic water bottles.
These shoes also cut down on waste since they can be washed. Instead of tossing out shoes due to grime or stains, the Rothys flats shoes and insoles can be popped into the washing machine for easy care and clean up. They will be sure to remain as red as day one since you won't have to hand scrub the entire shoe every time you want them clean.
The Rothys flat in Chili Red is an easy choice for the fashionista and environmentalist. Once you wear them out, be prepared to answer a lot questions about where you got them!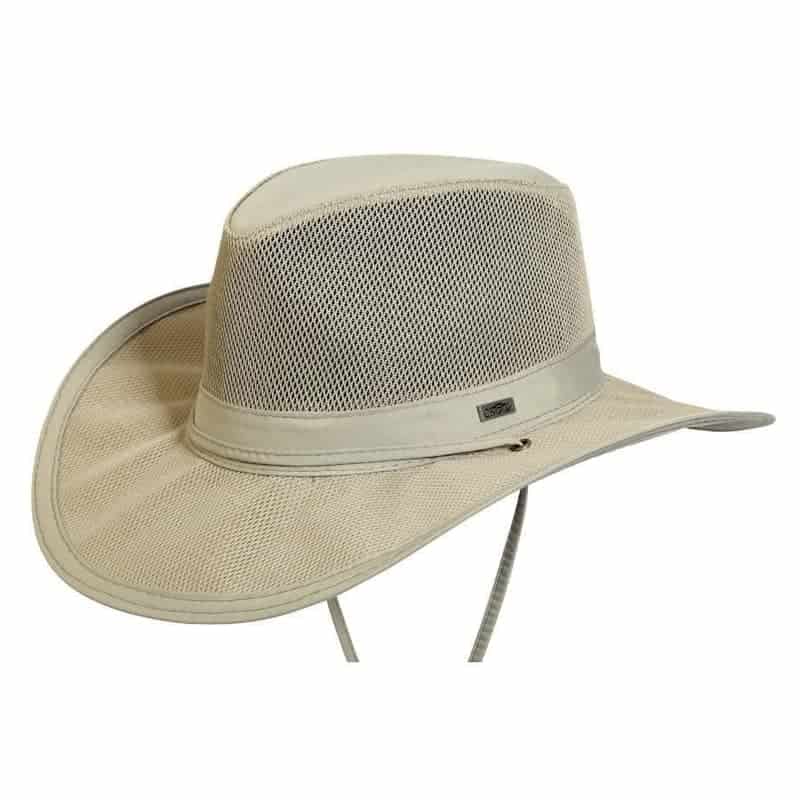 Connor Airflow Outdoor Hat
Not many companies are as committed to the zero waste lifestyle as Conner Hats. Their products are handmade with organic and recycled materials, and their warehouses are all 100% solar-powered. They even use recycled paper tags and biodegradable packaging!
The Airflow Outdoor hat is a fantastic purchase for those who enjoy outdoor recreation such as hiking and fishing, or those heading off for adventures on exotic islands with harsh sun.
The hat looks a bit like something Indiana Jones or Crocodile Dundee might wear. The breathable mesh crown is made from recycled plastic bottles and is sturdy but flexible.
The hat is waterproof, has an organic cotton sweatband, and biodegradable tag connectors. These hats also come in seven sizes, ranging from kids' sizes to XXX Large.
READ MORE: The 2o Best Caribbean Islands to Visit
CLOTHES MADE FROM RECYCLED PLASTIC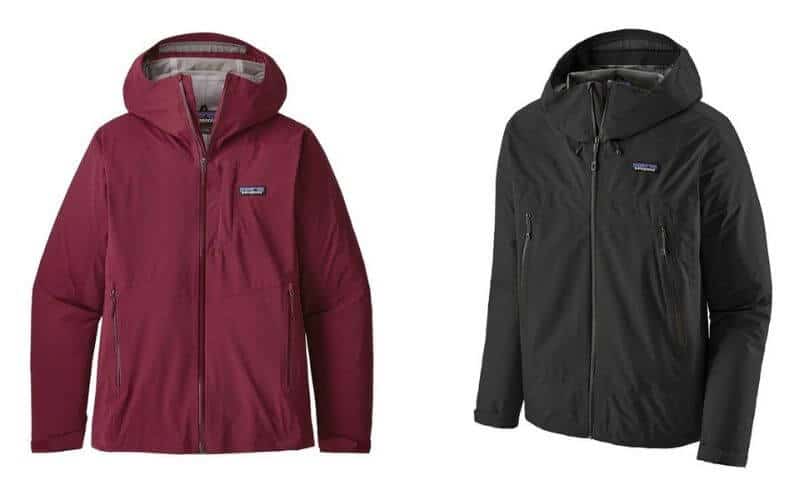 Patagonia Men's Cloud Ridge & Women's Stretch Rainshadow Jackets
Patagonia clothing is always striving to be more sustainable and eco-friendly. They'll help you move one step closer to plastic-free living with their new rain jacket styles, which are made from 100% recycled face fabric.
We've tried out two of these styles, the first being the Men's Cloud Ridge jacket. The 3-layer recycled polyester shell is waterproof/breathable and offers next-to-skin comfort. This jacket is ideal for adventuring through humid tropical forests and cool (but not cold) mountains.
For the ladies, the Stretch Rainshadow Jacket keeps you warm and dry no matter what. It's made from recycled nylon stretch ripstop, which includes nylon from discarded fishing nets. The jacket is waterproof, breathable, comfy, and designed to fit your form stylishly as well.
As an outdoor company, Orvis works hard to help with sustainable campaigns and making the planet a cleaner place. This is evident in their long-standing commitment to donating 5% of all pre-tax profits to environmental conservation projects.
Now they've done even better with this eco-friendly flannel shirt for men. The shirt is made from recycled oyster shell/spandex and recycled PET plastic polyester/cotton. This blend of recycled and virgin materials makes for a handsome shirt that's also soft and comfy.
The Flat Creek Tech flannel has a classic fit, is soft to the touch, and provides moisture-wicking capabilities. Who knew sustainable menswear could be so stylish?
Always at the forefront of sustainable fashion, Royal Robbins recently caught Mary's eye with their Jammer Knit clothing range. Their dress and pants are both made from 79% RePET polyester, which is created using recycled PET plastic.
The dress features an internal shelf bra, princess seams for flattering shape, and a hidden side zipper pocket. It's available in jet black, ink-blue floral print or asphalt floral print, and goes well as a casual outfit or dressed up for a day out.
The jammer pants are comfy and offer the flexibility of leggings with the durability of hiking pants.
They are the perfect item for everything from lazing at home to exploring jungles and mountains. Available in jet black and asphalt, these make a great base for any travel outfit.
READ MORE: The Best Travel Clothes for Women & Men

Indigo Swimwear's Olivia Top & Bottom in Jungle Tropic
The plastic bottle is the most common form of plastic pollution in the ocean. But Indigo Swimwear also recycles old fishing nets and other ocean waste into this sexy, sustainable swimsuit.
Made from ECONYL regenerated nylon, the Olivia bikini looks great, with its single shoulder crossover top, cheek-baring bottom, and lush tropical flower print.
It's also great for the environment and marine conservation, with a portion of proceeds donated to beach clean-ups via the R.O.L.E Foundation's "Zero Waste to Oceans" initiative and the Surfrider Foundation.
READ MORE: The Ultimate Beach Vacation Packing List
The Untangled Collection from Costa del Mar is a revolutionary line of sunglasses. The glasses' frames are made completely from discarded fishing nets, and created to be fully recyclable.
Not only are these shades a sustainable product, but they're helping to create a cycle of plastic reuse as well. The Bio-Resin raw material process is part of the company's Kick Plastic initiative to reduce carbon footprint and protect the Earth's oceans.
There are five ocean-inspired shapes, but we're especially loving the Baffin for men and the Victoria for women.
The masculine, textured Baffin is named after the cold current that brings in the old, discarded fishing nets they used in creating these manly sunglasses. The curvier, sleeker Victoria gets its name from the port city in British Colombia.
Adidas created their Terrex Two Parley sneakers in collaboration with the Parley for the Oceans, a marine conservation NGO.
Since 2015, this partnership has helped keep more than 2800 tons of plastic waste out of the ocean. In 2019, Adidas has committed to producing 11 million pairs of shoes from recycled ocean plastic.
These shoes feature Parley Ocean Plastic, which is created from recycled plastic found on remote beaches. The uppers are made using recycled marine plastic waste, which includes illegal deep-sea fishing gillnets.
Aside from their sustainable features, the Terrex Two Parley shoes also have a foot-hugging design. They're perfect for everything from trail running to city walking tours.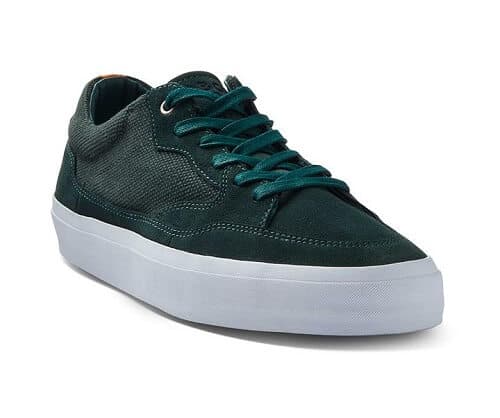 Arbor Collective Foundation Shoes
These stylish shoes are created with Arbor's ongoing commitment to sustainability and durability.
Each pair features reground rubber soles made from recycled materials, free-range and hormone-free leather lining, and all locally-sourced materials.
Designed for the active man, with a great blend of comfort, style, and performance, these shoes are the perfect companion for any journey. The responsive polyurethane sock liners help to keep your feet comfy all day long.
The classic lace-up look, combined with added premium details, allows these shoes to go well with almost any outfit. If you don't want to "go green" with the pair we tested (pictured above), you can opt for the more vintage black & off-white option.
READ MORE: The Best Travel Shoes for Women & Men
ECO FRIENDLY BAGS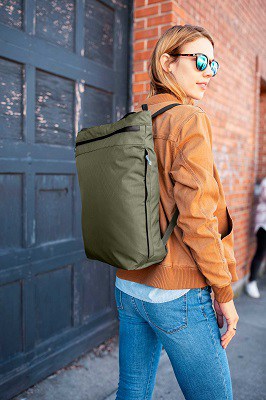 Seeking a versatile alternative to plastic bags?
Mostly made from recycled plastic bottles (25 of them, to be precise), the Pivot Tote from Camelbak is one of the most eco friendly bags we've tested.
The 20-liter bag is made from 70% repurposed materials, and can quickly change from a tote to a backpack, with stowable straps.
It has lots of storage features, including a 15″ padded laptop pocket and a zippered side pocket big enough for water bottles. It comes in black, but of course we love the olive green color option!
Sand Cloud Ambassador Plus Bundle
You don't have to be a travel blogger or "Instagram influencer" to get this excellent collection of eco friendly products.
The Sand Cloud Ambassador bundle includes a two-toned laptop sleeve backpack, whale tail baseball hat, a reusable glass bottle that says "SAVE THE FISHIES," a silver metal straw, two bamboo toothbrushes, and organic reef safe sunscreen.
Best of all, 10% of all profits are donated to NGOs, including Marine Conservation Institute, Pacific Marine Mammal Center, Hawaii Wildlife Fund, Ocean Connecters, Surfrider Foundation, and more!
Purchasing anything from United by Blue means you're receiving a high-quality product, and contributing to cleaner oceans.
This is thanks to the company's promise to remove one pound of trash from the ocean for every product bought from them.
Their 25L Rift Pack backpack is also made from 100% recycled polyester, making it an awesome buy for those looking to cut down on their plastic waste.
The bag is available in five stylish designs, all of which are lightweight enough to carry all day, and feature ample pockets and extra compartments. From everyday use to exploring the wild, this bag will become your new best adventure friend!

Tortuga Setout Backpack 35L
Check Price on Tortuga Backpacks
The Tortuga Setout backpack offers the space-saving convenience of rolling luggage with the practicality of a backpack. Now that convenience is combined with the added benefit of being eco-friendly.
While the brand is not well-known for eco-friendly products, they have recently joined the movement. Both the 35L and 45L Setout backpacks (which are available in navy and black) are now being made from recycled PET polyester.
This backpack offers a large compartment with space for clothing, as well as smaller sections for accessories and a safe compartment for your laptop.
Thanks to a suspension system that keeps the bag feeling lightweight on your back as you move, the Setout is definitely one of the best backpacks for travel we've tested in 2019.
Using CORDURA Eco, a long-lasting polyester made from recycled and discarded plastic water bottles, OGIO has created the ideal carry-on luggage.
Not only is CORDURA tougher than normal polyester, but it's stain-resistant, tear-resistant, and more lightweight as well. Producing recycled polyester also helps to lower energy consumption and reduce waste, making this an all-round sustainable material.
The Alpha Convoy 520S is available in black, charcoal, and woodland camo. The bag is perfect as a carry-on, and complies with all international airline requirements.
The 4-wheel spinner offers a large primary storage space as well as numerous smaller pockets, allowing for convenient organization during your trip.
READ MORE: The Best Carry-on Luggage (Backpacks, Duffels & Rollers)
OTHER RECYCLED PLASTIC PRODUCTS
Orvis has really gone above and beyond with this eco-friendly filled dog bed. Not only do they want our furry family members to be comfortable, they want to help save our environment by using 100% recycled filling.
This cozy dog bed comes in four different sizes to fit dogs of all sizes (0-120 lbs.) and it is available in five different colors/patterns. This particular dog bed is made with your dog's comfort in mind. There are three sides, similar to a couch, that our sweet fur friends can rest their head and slumber away.
The Comfortfill-Eco filling is made with an average of 146 recycled plastic bottles per bed. This amazing filing is extremely comfortable, springy, plush, and resilient. It is exactly what our furry friends would ask us for if they could talk.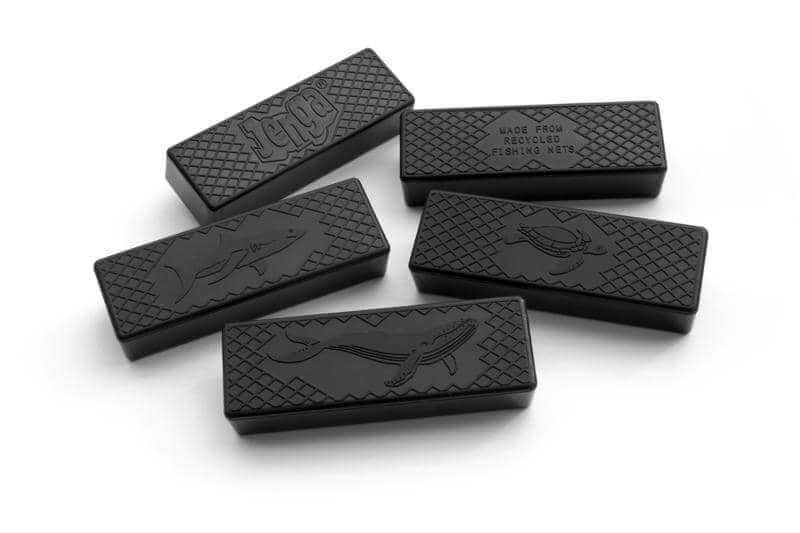 Jenga Ocean Game
Enjoy the fun side of zero-waste living and purchase this Jenga Ocean game from Bureo.
This new version of the longtime family-favorite game has been created using only recycled plastic, made from discarded fishing nets.
Each game contains over 25 square feet of recycled nets, which are all sourced through Bureo's recycling program, Net Positiva. This translates to over 2 pounds of plastic fishing nets in each Jenga game sold.
The individual Jenga Ocean blocks all have cute ocean-inspired artwork, hand-drawn by artist Lake Buckley. From family game nights to barbeques with friends, there is never a bad time to bring out Jenga, especially when it helps contribute to a plastic free environment!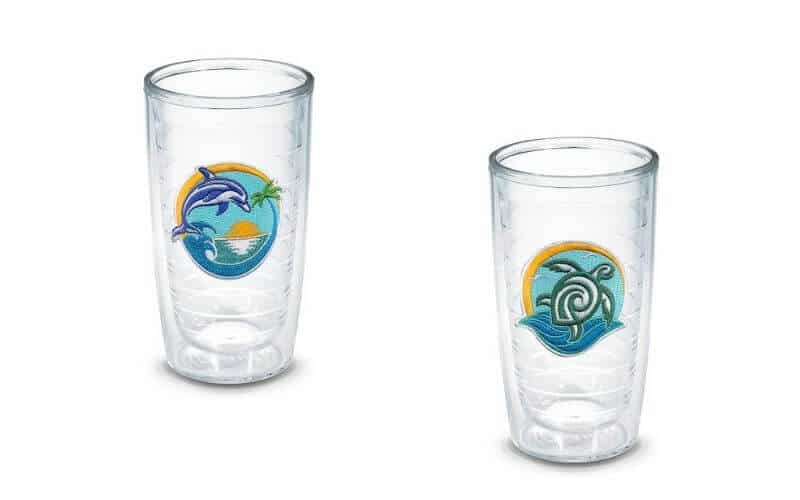 Tervis Tumblers Limited Edition
When you buy these reusable tumblers from Tervis, you're joining the fight to protect our oceans. That's because 100% of the tumbler's proceeds (and no, that's not a typo!) go towards organizations that work to protect the oceans.
The limited edition ocean-themed tumblers are made from at least 50% recycled materials, and they are BPA-free. With a choice of two charismatic marine animals– either a Dolphin or a Sea Turtle– you can enjoy sustainable living and show your love for wildlife.
You can even purchase a matching tumbler lid from Tervis if you want avoid a lifetime of disposable plastic bottles and styrofoam cups.
READ MORE: 10 Simple Wildlife Photography Tips
PRODUCTS WITH PLASTIC FREE PACKAGING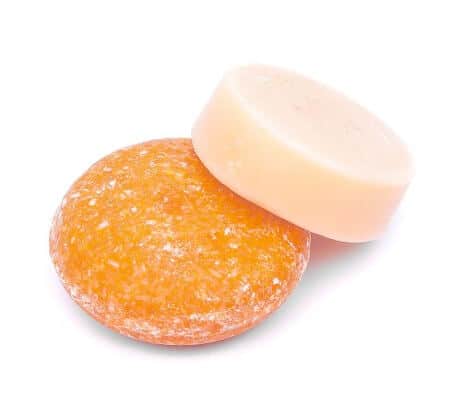 Unwrapped Life Shampoo & Conditioner bar
When you think about it, it's incredible how much plastic there is in packaging the everyday items we all need. Plastic wrap, plastic bags, and plastic bottles have become so ubiquitous, it's easy to forget how utterly unnecessary they are.
As their name implies, Unwrapped Life is a company dedicated to eliminating this unnecessary waste, offering hair care, toiletries, and household products free from plastic packaging.
The zero waste brand offers 7 different dry Shampoo & Conditioner Travel Sets, with names like the Balancer, the Detoxifier, and The Hydrator. Each bar is vegan (made with 100% essential oil), color-safe, and packaged in reusable tins in a compostable paper box.
The only downside of Unwrapped Life's eco friendly products is that they're a bit on the expensive side. The travel sets run $40 Canadian, which is about $30 US.
However they should last around 50 to 75 washes, depending on hair length, which is the equivalent of two to three 16-ounce bottles of liquid shampoo and conditioner.
READ READ: 10 DIY Natural Travel Toiletries & Personal Care Products
Repurpose Compostables' wide range of compostable kitchenware is taking the plastic free world by storm.
Perfect for picnics and camping, Repurpose has created non-toxic plates, bowls, cups, and utensils. They're all made from sustainable plants, such as corn, sugar cane, and eucalyptus.
The bowls, plates, and cups are all designed to withstand food and beverages of varying temperatures (even hot coffee!), and won't leak. The utensils are also tough enough to be used for everything from boiling soup to cutting tough meat.
These Repurpose products are all durable and can be reused countless times. But once you're done with them, it takes just 180 days for each product to decompose in an industrial composting facility. –Bret Love & Tammi Dooley