Australian National Parks easily rank among the most diverse in the world. Their protected landscapes are so varied, you could dedicate years of your life to exploring them.
The country's 500+ National Parks span over 28 million hectares of pristine land, which comprises nearly 4% of the country. These parks protect delicate ecosystems ranging from alpine regions and lush green forests to red sandy deserts and the purest of white sand beaches.
While these are highly sensitive environments, Australia's national parks are remarkably accessible, having been set up to accommodate ecotourism.
Most Australian National Parks offer a mixture of educational programs and adventurous pursuits. You can meet with local Aboriginal elders at Uluru, snorkel the Great Barrier Reef, hike through the wilderness in Tasmania, or take a 4WD across sand dunes on islands off the Queensland coast.
In addition to those 500+ national parks, there are also 14 World Heritage sites in Australia (most of which are classified as natural wonders) and 13 stunning marine parks.
In fact, a full one-third of the world's protected marine areas are located on the continent. So you can imagine the difficulty in narrowing down your must-see list down to just a few.
With the main mission of "protecting significant sections of landscape, delicate ecosystems and precious cultural heritage for future generations," the following are my personal picks for the Top 10 Australian National Parks for your World Travel Bucket List.
READ MORE: Complete List of National Parks By State (U.S.)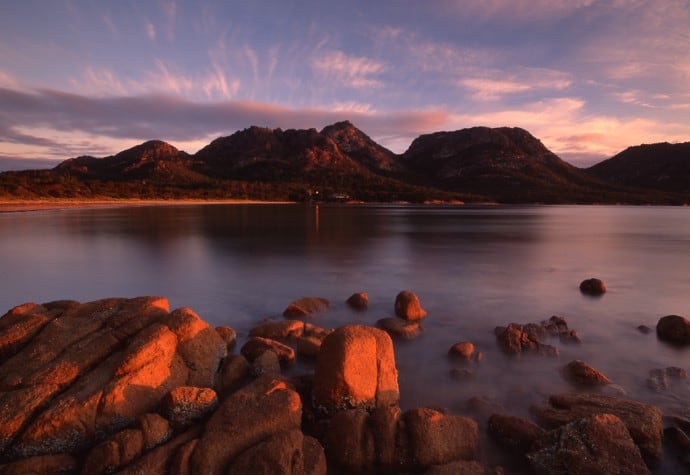 Located on the east coast of Tasmania, Freycinet National Park is set against a peninsula of pink granite mountains, pure white beaches, and turquoise sea. This 65 square mile park is arguably the best place to discover the rich natural beauty of Tasmania.
It's also home to Wineglass Bay, which is often named one of the top 10 beaches in the world.
A hike over the Hazard Ranges will offer a spectacular panorama of Wineglass Bay, a flawless curve of pristine white sand backed by sparkling sapphire waters and pink and grey granite peaks.
It is one of the most beautiful natural environments in the world, though there are also beautiful secluded beaches on the Western side of the peninsula facing Great Oyster Bat.
Popular activities in Freycinet National Park include surfing, sea kayaking, rock climbing, bushwalking, swimming with dolphins, taking a 4WD to a historic lighthouse, and enjoying fresh oysters overlooking Great Oyster Bay.
There are plenty of scenic trails packed with wildlife, such as White-bellied Sea Eagles, Quolls, Wallabies, and Wombats. If you're lucky, you might just spot the world-renowned Tasmanian Devil (which is perhaps best seen on Maria Island).
Camping options are available, and there's a luxury eco lodge in the park which offers an intimate connection with the stunning scenic environment. This has become a popular honeymoon destination for couples looking for a romantic getaway. Freycinet National Park is a two-hour drive north from Hobart, or south if coming from Launceston.
READ MORE: Tasmanian Devil Conservation on Maria Island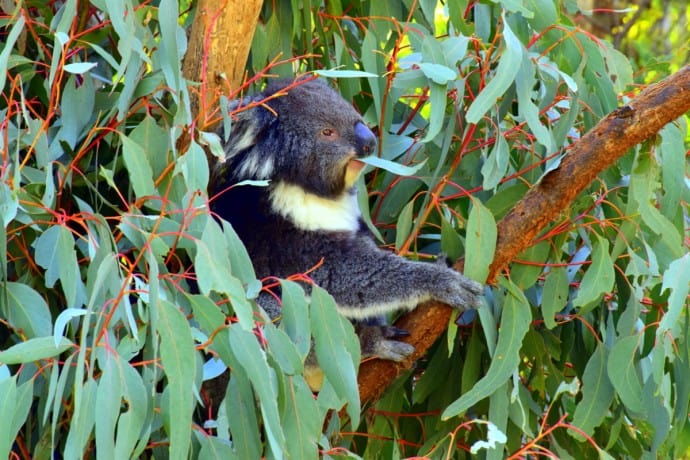 Located in Victoria, approximately 100 miles southwest of Melbourne, Great Otway National Park is a popular stop along the Great Ocean Road. It was created in 2004, when Otway National Park, Angahook-Lorne State Park, Carlisle State Park, Melba Gully State Park, parts of the Otway State Forest, and a number of Crown Land reserves were combined.
Now encompassing around 40 square miles, Great Otway provides ample opportunities to immerse yourself in nature. The park features beautiful sandy beaches, lush green hinterland, pristine rivers, and a rugged coastline that offers spectacular ocean views.
Hiking and mountain biking trails lead into the rainforest and wind thought tall trees, fern gullies, and tranquil lakes. Head to Mait's Rest, where there's a 30-minute loop walk through lovely rainforest. Great Otway National Park also includes a number of beautiful waterfalls, including Hopetoun Falls, Triplet Falls and Beauchamp Falls.
The park offers a lot for wildlife lovers to see, both on land and at sea. It's been named an Important Bird Area by BirdLife International for its populations of species such as Pink Robins, Rufous Bristlebirds, and Striated Fieldwrens.
Make a stop in the Kennet River area to see wild Koalas in the eucalyptus forest along Grey River Road. Look for Glow Worms in the gullies of Mait's Rest during nighttime walks. And if the annual migration is passing through, you can often see Whales and Dolphins from various lookouts accessible along the main road.
READ MORE: 10 Awesome Australian Road Trips (For Your World Travel Bucket List)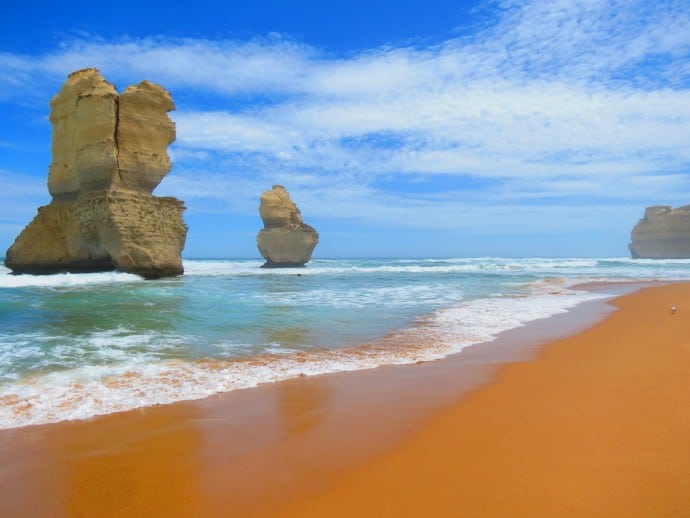 Another popular stop along the Great Ocean Road, Port Campbell National Park is located in Victoria, around 120 miles southwest of Melbourne. Encompassing approximately 4,300 acres, Port Campbell is next to both Great Otway National Park and the Bay of Islands Coastal Park.
Port Campbell is best known as the site of two of Australia's most iconic natural landmarks– the 12 Apostles (a collection of limestone stacks just off shore, of which there are only 8 left) and the London Arch (which was known as London Bridge before its collapse in 1990).
But it's also home to many other famous natural attractions, including the cliffs of the Gibson Steps, the sinkhole known as the Grotto, and the stunning beach of Loch Ard Gorge. Most of the area is characterized by striking geological formations, with arches, blow holes, and other attractions which arise from the sea.
Make sure to leave time to stop at the various viewpoints as you drive along the road. The best viewpoints are signposted with information boards, boardwalks, and parking for easy access. The park also has pull-offs for clifftop walking tracks, as well as trails ascending to gorges and a number of beautiful beach walks.
The park has become increasingly attractive to birdwatchers. On land you'll find a diverse array of species including Fairy Wrens, Honeyeaters, Southern Emu, Swamp Harriers, Rufous Bristlebirds, and Peregrine Falcons.
Along the shore you may see Egrets, Hooded Plovers, Penguins, and Terns. There are also Echidna and Southern Brown Bandicoots in the park.
Trivial tidbit: This part of the Australian coast has claimed more than 700 shipwrecks, and is now commonly known as the "Shipwreck Coast."
READ MORE: Volunteering at an Australian Kangaroo Sanctuary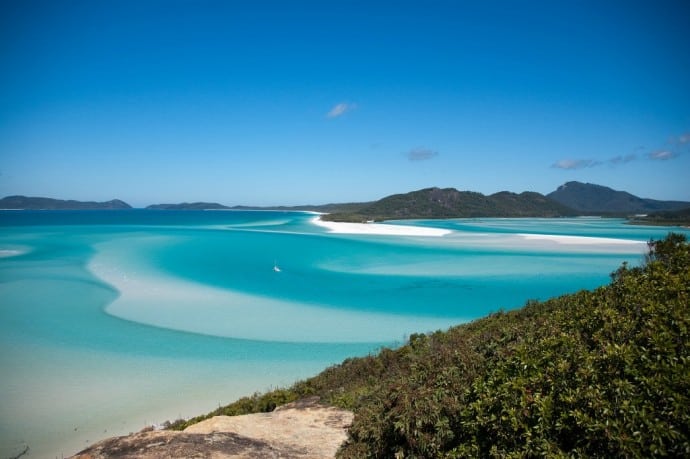 The Whitsunday Islands are a collection of 74 islands (only eight of which are inhabited) spanning some 109 square miles along the beautiful tropical coast of Queensland, Australia. Located 570 miles northwest of Brisbane, the 65.6 square mile national park encompasses 32 of those islands.
The National Park is situated smack dab in the middle of the Great Barrier Reef, made up of stunning natural landscapes of coast and islands dotted with secluded beaches and friendly towns. It's fairly remote, accessible only by boats coming in from Airlie Beach or Shute Harbour.
Sun-worshipping visitors can opt to laze out on the area's beautiful beaches while enjoying the clear skies and crystal clear water.
The most popular is the 7 km Whitehaven Beach, which was named the most Eco-Friendly Beach in the World by CNN in 2010. The beach is known for its gleaming white sands (which are 98% pure silica) and offers camping and picnic facilities.
More active travelers can go snorkeling to explore the diversity of marine life underneath the surface of the sparkling sea, or cruise through the islands and drop anchor for an incredible Scuba dive. The area is a popular calving ground for migrating Humpback Whales, who visit annually between May and September every year.
READ MORE: 10 Best Places to Scuba Dive (For Your Bucket List)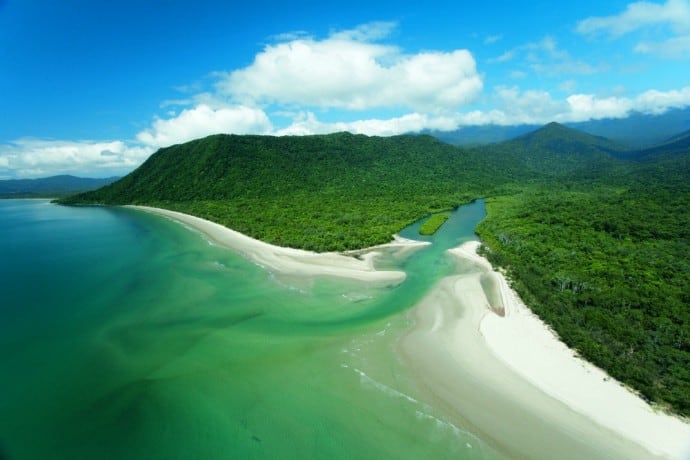 From the Whitsunday Islands, you can easily hop over to Daintree National Park, where the world's oldest tropical rainforest meets the Great Barrier Reef. Located two hours north of Cairns, Daintree is one of the top ecotourism attractions in all of Australia.
At an estimated 110 million years old, Daintree's forest pre-dates both the Amazon Rainforest and the dinosaurs! But don't let the area's old age fool you: The National Park has aged incredibly well. It was founded in 1981 as part of the Wet Tropics of Queensland, and in 1988 it became a UNESCO World Heritage Site.
The park consists of two sections, with a settled agricultural area between them which includes the towns of Mossman and Daintree Village.
The Daintree Rainforest Discovery Centre is a great place for visitors to start. There's a huge canopy tower located at the center and, with nearly 3000 feet of elevated boardwalks, it's possible to explore the forest at all levels.
The towering trees have become the home to a host of unique wildlife species. These include more than 430 species of birds, 23 species of reptiles, 13 species of amphibians, and weird animals such as the Bennett's Tree Kangaroo, Brown Bandicoot, Daintree River Ringtail Possum, Platypus, Short-beaked Echidna, and Swamp Wallaby.
The most spectacular and oldest part of the Daintree rainforest is north of the Daintree River. After crossing the river on an old fashioned cable ferry there is a range of boardwalks and untouched beaches to explore, and the endangered Cassowary can be encountered anywhere.
READ MORE: Meeting the Local Wildlife on Kangaroo Island, Australia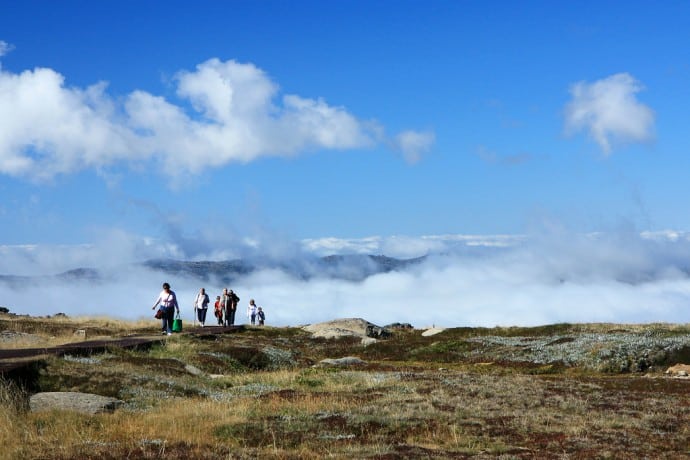 If you're looking to climb mainland Australia's highest peak, you'll find it in 2,700 square mile Kosciuszko National Park, which is located approximately a five-hour drive away from Sydney. Situated in southeastern New South Wales, it's one of 11 areas that constitutes the Australian Alps National Parks and Reserves.
The park is home to Mount Kosciuszko, the continent's highest mountain at 7,310 feet, as well as notable peaks such as Bimberi Peak, Gungartan, Mount Jagungal, and Mount Townsend. So it's no surprise that one of the park's most popular activities is alpine skiing.
Because it is part of the larger Snowy Mountains area, Kosciusko experiences temperatures during the winter which dip to below freezing. But in summertime the wildflowers are in full bloom, and there are fantastic opportunities for hiking and mountain biking.
The trek to the top of Mount Kosciusko is actually more of an easy stroll, especially for those who opt to take the chairlift up the steep part from Thredbo village. But there are other, steeper mountains and hills in the area for those who are looking for a bit more of a challenge. The alpine scenery here is absolutely spectacular.
The park is also home to an impressive array of rare and endangered animals, including the Corroboree Frog, Dusky Antechinus, and Mountain Pygmy Possum. There's also an ever-expanding herd of wild horses, which by some estimates currently number around 15,000. Efforts to cull and relocate them have proven highly controversial.
READ MORE: 10 Best Mountains in the World (World Travel Bucket List)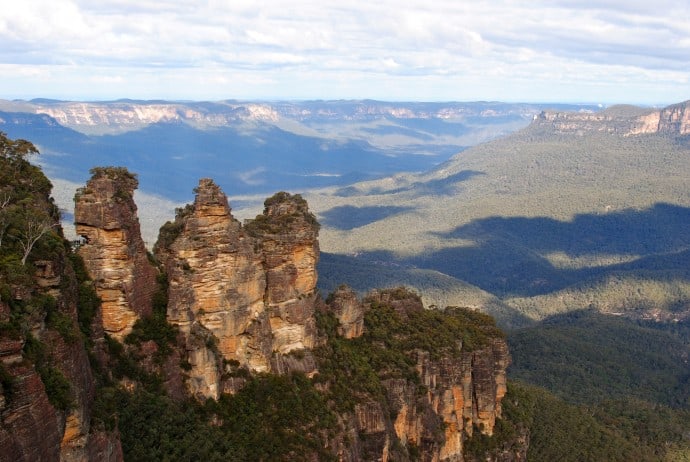 Located approximately 50 miles west of Sydney in New South Wales, Blue Mountains National Park encompasses around 662,130 acres in New South Wales. It's one of eight protected sections of the Greater Blue Mountains Area, which was inscribed as a UNESCO World Heritage Site in 2000.
Aptly named for the blue haze emitted by the eucalyptus forests which cover the valleys of the region, it makes sense why Blue Mountains is one of the most popular Australian National Parks.
This is a true nature-lover's paradise– an uplifted plateau of wilderness dissected by numerous rivers– which can be admired from many different lookout points.
The highest point in Blue Mountains National Park, Mount Werong, looms large at nearly 4,000 feet above sea level. The park also includes four large rivers– the Wollangambe River in the north, the Grose River in the center, and the Coxs and Wollondilly rivers in the south.
The park offers numerous waterfalls, rainforests, and a huge range of 37 bushwalking trails. These diverse trails cater to every interest and ability level, from those looking for a casual half-hour stroll to those seeking a full-on backcountry expedition exploring the wild terrain.
Those seeking adventure can explore the park by horseback riding or even cliff-climbing. There's also a Scenic Skyway featuring a boardwalk with a glass floor, which runs for 3 kilometers through the rainforest and looks down over the ravines.
READ MORE: 10 Threatened Rivers (World Travel Bucket List)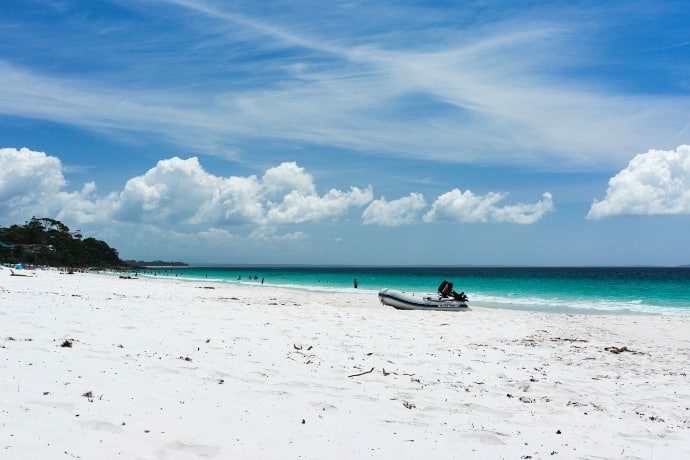 Jervis Bay is a stunning 18.8 square mile coastal park located in southern New South Wales, which offers bushwalking and pretty coastal views.
It is not to be confused with nearby Booderee National Park, which is also located in the Jervis Bay Territory. There's also a Jervis Bay Marine Park, which is contained within the national park's boundaries.
Perhaps the park's biggest claim to fame is world-famous Hyams Beach, which is frequently ranked among the world's most colorful beaches. White sand typically defines most people's traditional notion of what a perfect beach should be.
Hyams is arguably the whitest sand beach in the world. And that's not just an opinion: The beach is actually listed in the Guiness Book of World Records as having the whitest sands in the world!
Other activities available within the park include fishing and kayaking in Coonemia Creek, birdwatching along the Hyams Beach Trail, and diving and snorkeling off Hammerhead Point. Visiting Jervis Bay and Shoalhaven from May to November offers a great chance to see whales during their annual migration.
READ MORE: The World's Most Colorful Beaches (World Travel Bucket List)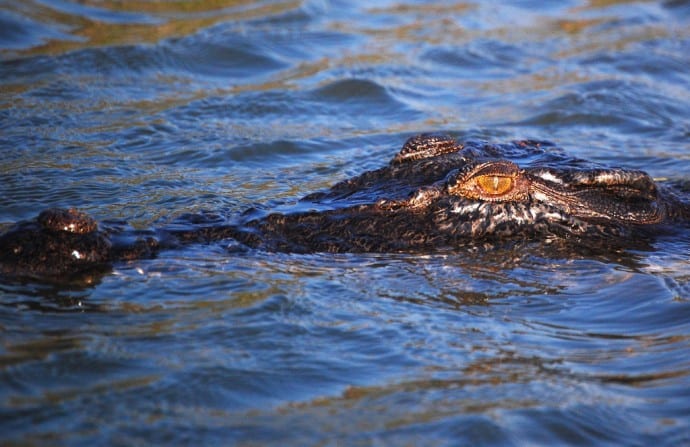 Widely considered one of the world's greatest national parks, Kakadu offers an excellent combination of attractions that have made it a favorite among lovers of nature, history, and indigenous culture alike. Located in the Northern Territory, Australia's largest national park (12,427 square miles) offers a diverse array of ecosystems to explore.
For cultural enthusiasts, there are ancient aboriginal gathering places such as Nourlangie, Nanguluwur, and Ubirr, which are filled with ancient rock art. This is arguably the best national park in Australia for seeing authentic aboriginal art.
For nature-lovers, there are ecosystems ranging from wetlands full of wildlife to stone escarpments, swimming holes, rivers and billabongs. Although it's located just 171 km from Darwin, the national park boasts an amazing array of fauna and flora.
It's home to around 2,000 species, including mammals such Agile Wallabys, Antiloine Kangaroos, Black Flying Foxes, Dingoes, Black Wallaroos, Northern Quolls, and much more. There are also Flatback Turtles and hundreds of different bird species.
The park also boasts incredible Barramundi fishing, crystal clear coastal waters perfect for snorkeling and Scuba diving, and impressively intimidating Saltwater Crocodiles. While there, plan for a visit to Arnham Land, which borders the national park and is home to the oldest living culture in the world (dating back 50,000+ years).
READ MORE: Top 5 Australia Ecotourism Destinations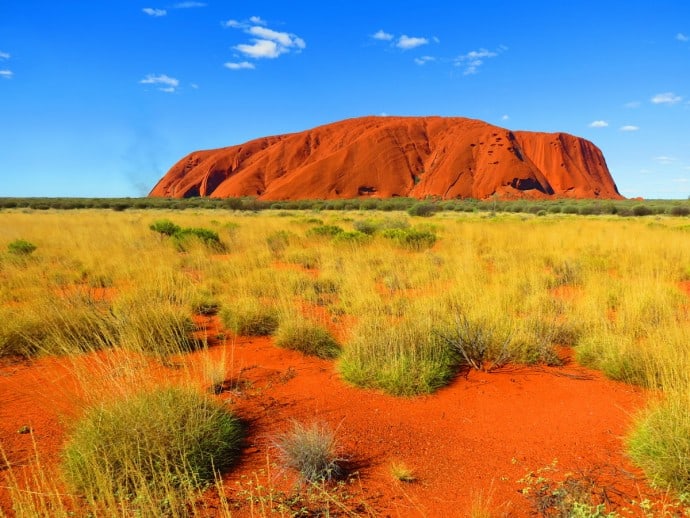 This national park is home to the most iconic natural attraction in Australia: Uluru (a.k.a. Ayers Rock), a historically cultural landmark which is internationally recognized as a symbol of the Australian outback.
Uluru ("island mountain"), a UNESCO World Heritage Site, is the sacred mountain of Australia's indigenous Aboriginals, who decorated it with myriad paintings and engravings over the course of centuries.
It takes roughly 3 hours to walk around the base of Uluru. Out of respect for the aboriginal people, who view the rock as sacred, responsible travel ideals suggest that tourists do not climb Uluru.
Kata Tjuta is close by, and it's easy to include a visit there on the same day you visit Uluru. Kata Tjuta is also known as the Olgas, which is of extensive spiritual and cultural significance for the native Anangu people (who own the land).
Visit this park for a taste of some of the country's most awe-inspiring outback scenery: The Northern Territory is where all of the most common Australian clichés were born! –Megan Jerrard; photos by Mike Jerrard unless otherwise noted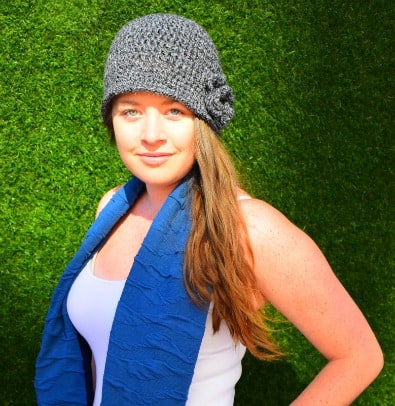 Megan Jerrard is an Australian Journalist, and the founder and Senior Editor of Mapping Megan, an award-winning travel blog bringing you the latest in adventure travel from all over the globe. With a mission to inspire others to embark on their own adventure, Megan and husband Mike believe that travel has the potential to inspire change in people, and in turn inspire change in the world. They embraced travel as a lifestyle in 2007, and are dedicated to documenting their journey and observations through entertaining, candid articles and brilliant photography. You can follow their journey on Facebook, Twitter, Google+, YouTube, Pinterest and Instagram.
If you enjoyed Top 10 Australian National Parks (For Your World Travel Bucket List), then you might also like: