From Machu Picchu and the Sacred Valley to colonial cities such as Cusco and Lima, Peru has no shortage of ecotourism attractions.
But the Amazon in Peru is easily the biggest of them all, encompassing approximately 60% of the country.
The fourth largest rainforest in the world, the Peruvian Amazon boasts remarkable biodiversity.
In terms of flora, the area has 700 types of ferns and more than 7,300 different species of flowering plants.
The rainforest is also home to some 180 reptiles, 262 amphibians, 293 mammals, 697 fish, 806 birds, and 2,500 butterflies.
In short, the area is an increasingly popular hotspot for nature/wildlife lovers for a very good reason.
But it also offers rich indigenous cultures, excellent food, and numerous other pleasures for adventurous travelers to discover.
Here are some great reasons why we think everyone should consider taking a Peruvian Amazon river cruise…
READ MORE: 70 Cool & Weird Animals Around the World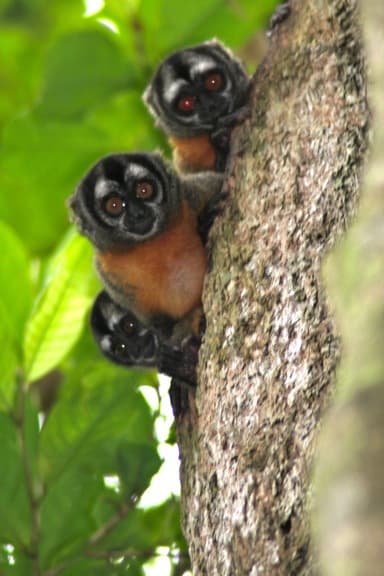 1. Amazing Amazon Rainforest Animals
Taking a cruise down the mighty Amazon River (and its many tributaries) is a once-in-a-lifetime trip for many Amazon wildlife lovers.
Whether on land or in water, the rainforest that surrounds you is positively teeming with life.
Eagle-eyed naturalist guides watch with binoculars for any sign of motion in the forest.
They can help you spot wildlife in the trees that you'd never see on your own, and will gladly angle the boat to help the wildlife photographers on board get the perfect shot.
The Amazon Basin is one of the largest and most biodiverse places on the planet.
The Peruvian portion of the rainforest is second only to Brazil's in terms of size, covering approximately 60% of the country's total territory.
So perhaps it's no surprise to realize that Peru has the largest number of birds and the third largest number of mammals in the world.
From tiny Poison Dart Frogs and Pink-Toed Tarantulas to Giant Armadillos and Giant Otters, the Amazon Rainforest Animals you're likely to see during a luxury river cruise are both diverse and plentiful.
We saw hundreds during our week-long trip to the region, including Amazon River Dolphins, Caiman Lizards, Iguanas, an Ocelot, and so many different kinds of monkeys (Red and Black Howlers, Saki Monkeys, Night Monkeys, and more) that we ultimately lost count.
READ MORE: 21 Incredible Animals that Live in the Amazon Rainforest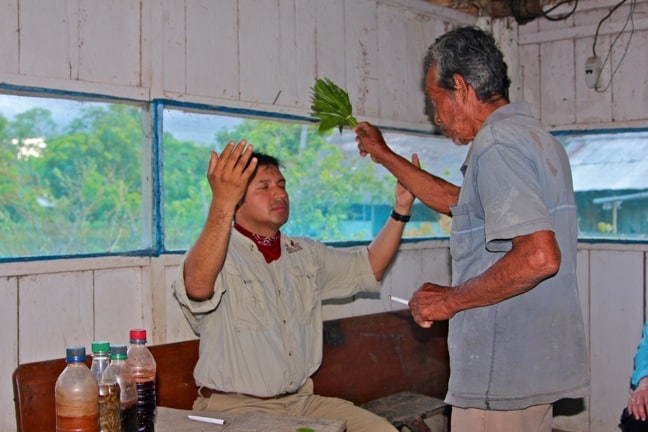 2. Amazon Shamanism
One of our favorite parts of our trip to the Peruvian Amazon was a chance to spend time with a traditional Amazonian shaman, which are known locally as curanderos.
In the Amazon, shamanism has been passed down from generation to generation for centuries.
With our naturalist guide as his translator, "Maestro" Don Juan taught us about the oral tradition of shamanism.
He told us how every plant in the Amazon rainforest serves a purpose, many of which have been co-opted by Western pharmaceutical companies to create familiar drugs.
He also lamented that the tradition is in grave danger of dying out, as he has trouble finding students willing to undergo the strict regimen required to study shamanic healing practices.
Later the Maestro offered us the opportunity to participate in a sacred shamanic blessing ceremony.
He came around to each of us, waving a small bundle of herbs above our head and chanting melodically as we held our hands up as if in prayer.
He inhaled from a cigarette and blew tobacco smoke on our heads, then blew it into our hands for us to rub all over our bodies.
The intended effect was to remove impurities and leave you feeling cleansed.
Perhaps not surprisingly, most Ribereños (or river people) will go to a shaman for healing first before they seek help from traditional Western medicine.
READ MORE: The Peruvian Amazon: Sloths, Toucans, and Pink Amazon River Dolphins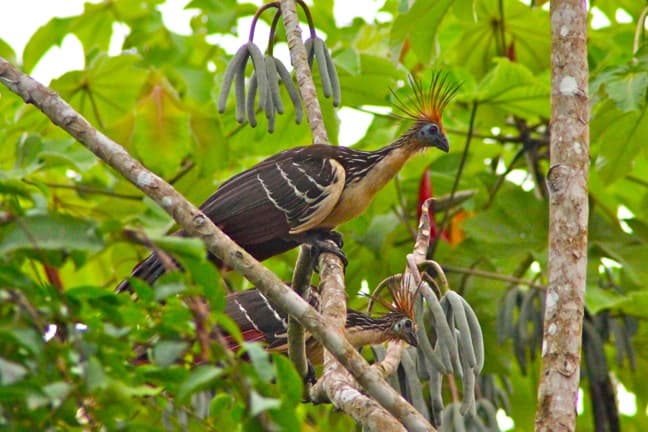 3. Beautiful Peruvian Birds
With over 1,800 species, of which around 140 are endemic, Peru has more birds than any other country in the world.
The Peruvian Amazon is a particular hotbed of avian activity, with some 575 species identified within just one 5,500-hectare section of the rainforest.
By comparison, only 700 bird species are found in all of North America!
Birdwatching is a daily focus of cruising the Peruvian Amazon. Most days we would be out on the water before breakfast, groggily scanning the trees for their tell-tale colors.
Our guides, armed with binoculars and detailed birding guides, were excellent at both spotting and identifying the hundreds of bird species we saw along the way.
Birds in the Peruvian Amazon come in all shapes, sizes, and colors. There are small birds, such as hummingbirds, bee-eaters, manakins and puffbirds.
There are the immensely popular tropical species, including macaws, parakeets, parrots, and toucans.
And of course there are majestic birds of prey, such as the Black-collared Hawk, Grey-headed Kite, King Vulture, and Spectacled Owl.
But my favorite bird we saw in the Peruvian Amazon was the bizarre Hoatzin, which is also known as the Canje Pheasant (or, more commonly, the "punk-rock bird" due to its mohawk-like crest).
This colorful pheasant-sized bird, whose chicks possess claws on two of their wing digits, is colloquially referred to as the Stinkbird because of the pungent, manure-like odor caused by its unique digestive system.
The noises they make are just as weird, including a freaky variety of groans, croaks, hisses, and grunts.
READ MORE: 25 Beautiful Birds in the Amazon Rainforest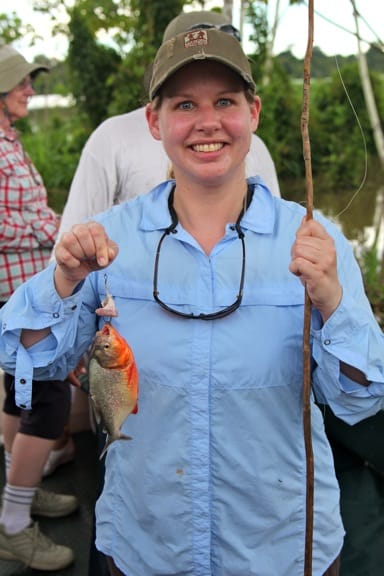 4. Catch (and Eat!) Amazon River Piranha
Found throughout the Amazon basin, Red Belly Piranha are a beautiful fish who average anywhere from 5.5 to 10.25 inches in length.
Their reputation as ferocious predators is somewhat fake news: Research has proven them to be timid opportunists who school mostly for protection.
But they are omnivores and will resort to cannibalism if the opportunity arises.
Fishing for them was one of our favorite parts of our Peruvian Amazon adventure.
The process was simple: you skewer a piece of raw chicken onto a hooked line attached to a thin pole (no reel needed), then wait for the toothy buggers to bite.
One person on our boat landed five fish in fairly rapid succession.
We only caught two or three each, but loved the experience, which included lots of near misses and a few fish flopping around the boat after they managed to wiggle off the hooks.
The best part, though, if when you get back to the ship and the chef fries up the day's catch. Though most of the ones we caught were fairly small and bony, they were bursting with flavor.
Red Belly Piranha tastes very similar to any other light, flaky, white fish. But the tender bits of meat were moist and succulent and seemed especially good to us because we knew we'd worked for our supper!
READ MORE: Amazon River Piranha Fishing in Peru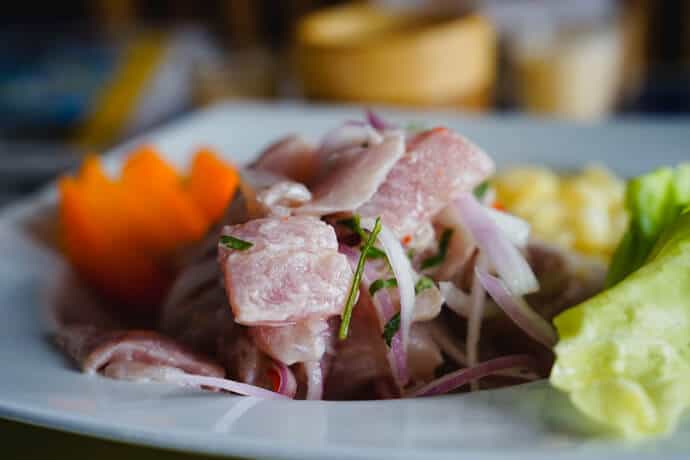 5. Delicious Peruvian Food
When most people imagine the ideal foodie paradise, Peru probably isn't the first travel destination that springs to mind.
But anyone with their finger on the pulse of current culinary trends knows that Peruvian cuisine has advanced by leaps and bounds in the last five to ten years.
Peruvian cuisine is widely regarded as some of the best in the world, incorporating influences from Africa, China, Italy, Japan, and Spain.
Food in the Peruvian Amazon is generally much simpler and less culturally diverse than what you'll find in big foodie cities such as Lima.
Yet its flavors are as fresh and flavorful as any indigenous cuisine we've ever sampled.
Juane is among the most popular dishes in Peru: Made from rice, beans, meat, olives, and hard-boiled egg wrapped in bijao leaves and boiled, it's traditionally served during the Catholic Feast of San Juan.
You'll also want to try tacacho (fried plantain mashed with chicharones and served with chorizo), patarashca (fish marinated with local spices, then wrapped and grilled in bijao leaves).
But our favorite Peruvian food is ceviche, one of the country's most famous dishes. At its most basic, the dish is a combination of raw fish, hot chilies, and onions marinated in lime juice.
But there are many combinations that various chefs are trying out to give this quintessential slice of Peru a new twist.
Paired with a delicious Pisco Sour, it's the perfect introduction to the best that Peruvian cuisine has to offer!
READ MORE: Traditional Food Around the World: 30 Famous Dishes You Can Make at Home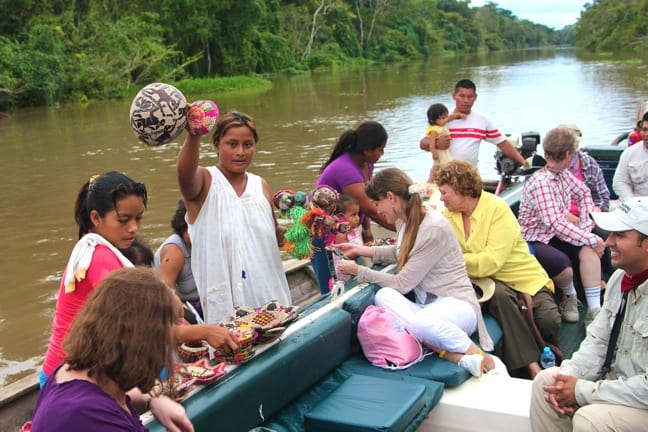 6. Giving Back to Local Communities
As amazing as the flora and fauna of the region are, the memories we will always treasure most from our trip to the Peruvian Amazon are of the time we spent getting to know the indigenous peoples who live there.
The company we traveled with supports several of the local villages along the Peruvian Amazon, helping to fund water treatment plants, donating school supplies, teaching the villagers about the importance of responsible tourism and wildlife conservation, and bringing in tourist dollars from the sale of handmade crafts.
There's also an Adopt-A-School program coordinated with CONAPAC, which supports a variety of schools ranging from one-room schoolhouses to combined kindergarten, primary, and high schools.
The program "encourages intercultural awareness and exchanges of friendship and goodwill among Peruvians and visitors from around the world."
If you're feeling particularly generous as you prepare to visit the Amazon, consider packing some school supplies to leave with the children's teacher when you visit the village.
Commonly needed items such as paper, pencils, crayons, inflatable globes, etc. are always appreciated.
It's an easy way to give back when you travel and say thank you for their warm hospitality.
READ MORE: Our Encounter with a Rare Amazon Manatee in Peru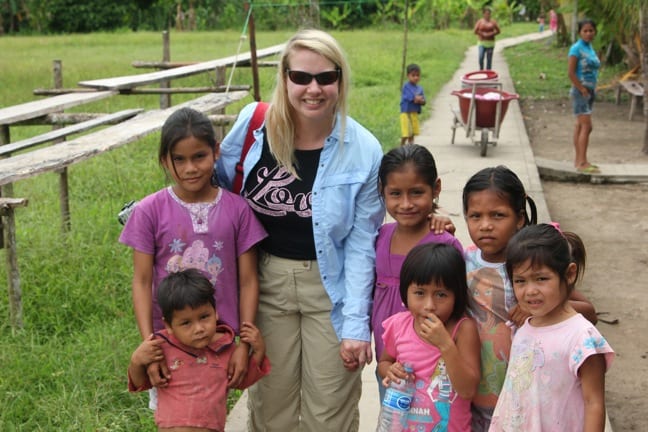 7. Meeting the Ribereños (Amazon River People)
Most people are aware that the Amazon rainforest basin is home to some of the planet's most impressive biodiversity, including more than one-third of the world's known wildlife species.
But significantly less well known are the Ribereños (or "river people"), who inhabit villages spread out along the banks of the mighty river.
The Ribereños are among the friendliest and most welcoming people we've ever met during their travels.
We'll never forget how the children ran out to greet our boat, using it as their personal jungle gym and hamming it up for photos.
We loved being welcomed into a family's home to learn more about their traditional way of life.
But our favorite memory was visiting the one-room schoolhouse for an engaging cultural interaction that resulted in big smiles all around.
Especially when the kids taught us a simple song in their native language, and our group of travelers gamely demonstrated the fine art of doing "The Hokey-Pokey."
READ MORE: The Faces of Peru (Photo Gallery with Video)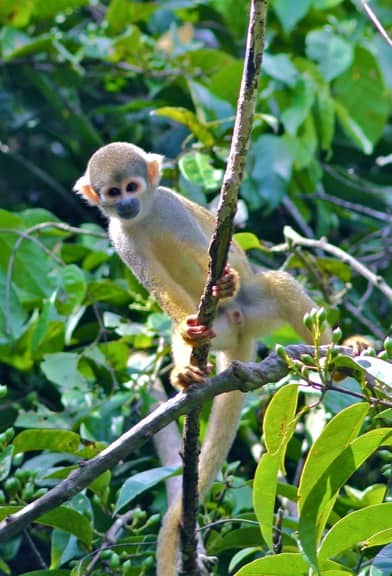 8. Relatively Pristine Rainforest
Deforestation has been a huge issue in the Amazon River basin for decades now.
By 2004, the forest was being decimated by an average of 10,000 square miles a year, mostly due to logging, short-sighted slash 'n' burn approaches to agriculture, and cattle ranching.
The growth of the "Save the Rainforest" movement helped encourage conservation of the region's precious natural resources and biodiverse ecosystems for a while.
But a recent New York Times story suggests that deforestation in Brazil and Bolivia are once again on the rise.
The good news is that the Peruvian Amazon is much more pristine than other areas of the rainforest.
In 2014 the Peruvian government announced a plan to conserve around 80% of its primary forest, which comprises some 54 million hectares.
When you visit, you can explore some of the most wildlife-rich areas at the forest, knowing that a portion of your tour costs help fund community-based conservation initiatives.
READ MORE: Exploring the Peruvian Amazon Jungle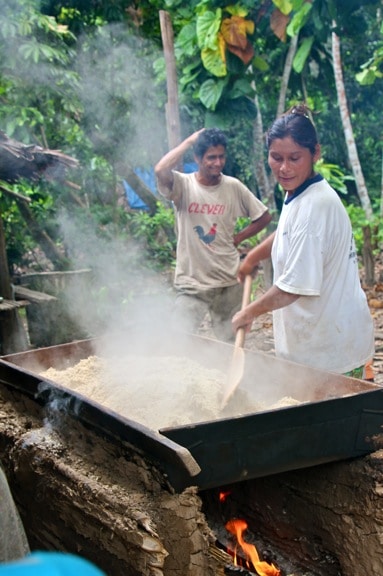 9. Traditional Knowledge of the Peruvian Amazon
In recent years, scientific researchers have become more aware and appreciative of the vast array of information and the deep understanding indigenous populations have about the natural environments in which they live.
Commonly known as traditional knowledge, this wealth of info has been developed and passed down over countless generations.
Most of this priceless knowledge is based on individual and collectively learned experiences, and guided by the principles of experiential learning.
Though efforts are now being made to formally document this traditional wisdom, historically it was passed down orally, from elder to apprentice, as in the shamanic tradition.
Today, traditional knowledge provides a treasured source of information for archaeologists, biologists, climatologists, ecologists, ethnobotanists, and other scientists looking to better understand how our planet's ecosystems work.
From learning the medicinal properties of certain plants to gaining insights into the value of biological diversity, the cross-cultural sharing of knowledge helps to benefit everyone.
READ MORE: The Peruvian Amazon: Sloths, Toucans, and Pink Amazon River Dolphins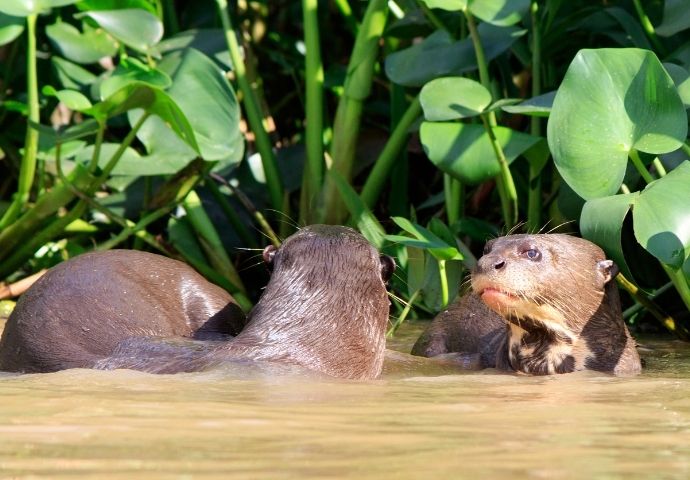 10. Visit the Maijuna People
There are less than 500 Maijuna people left in Peru, most of whom live in four villages between the Napo and Putumayo Rivers.
The 977,600-acre Maijuna-Kichwa Regional Conservation Area was established in 2015, largely to protect these indigenous people and the area they inhabit from the encroachment of deforestation by the logging industry.
Travelers have a chance to spend several nights in this biodiverse conservation area, which is home to an array of animals that includes Giant River Otters, Jaguars, Tapirs, and many others.
They'll visit the ACTS Research Facility, take a canopy walk through the forest, and drift downriver on a nighttime boat tour in search of Caiman and other nocturnal species.
But the trip's highlight is arguably a day spent in the Maijuna community, getting to know these guardians of the rainforest and learn more about their forward-thinking conservation efforts.
The Maijuna territory is what's known as a carbon sink– meaning it absorbs more carbon from the atmosphere than it releases in carbon dioxide– which is increasingly important in this era of climate change concerns.
Guests will have an opportunity to learn about sustainable projects ranging from honey production using a strain of stingless bees to using GPS and camera traps to track the movements animals and hunters alike.
They'll also learn more about the rich (but rapidly disappearing) Maijuna culture, including their ceremonies, songs, and ancient stories. –by Bret Love