As a college student in my 20s, with no disposable income for travel, eating different foods from around the world offered a chance to explore other cultures affordably.
For years I lived off the renowned Buford Highway in Atlanta, which is lined with some of the city's most impressive international restaurants.
So I was always sampling traditional dishes from around the world: From Ethiopian, Middle Eastern, and Moroccan to Russian, Thai, and Vietnamese, no cuisine was too exotic.
Once Mary and I launched Green Global Travel in 2010, we finally had a chance to explore traditional food around the world.
From Greece, Spain and Peru to the Phillippines, Japan, and Jordan, we were blessed to try famous foods from 50+ different countries.
Of course COVID has put a temporary hold on everyone's world travels, and who knows when we'll be able to explore internationally again. But in the meantime, we've gained a new appreciation for making dishes from around the world at home.
To that end, we've enlisted a number of our travel blogging friends to assemble this epic guide to traditional foods from 30 different countries. Each includes links to recipes, so you can add a taste of global culture to your dinner table at home!
READ MORE: The Best Food Gifts From Around the World
TRADITIONAL FOOD AROUND THE WORLD GUIDE
TRADITIONAL FOOD IN AFRICA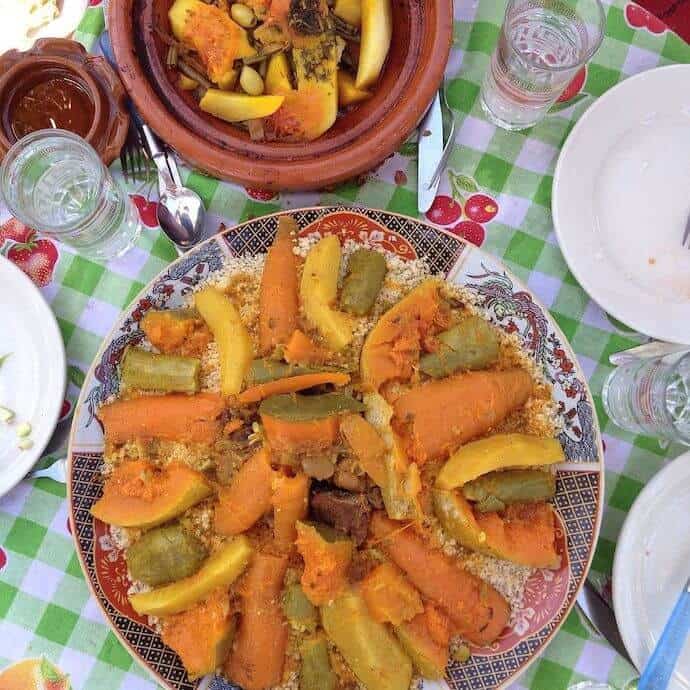 Couscous (Morocco)
Couscous is an integral part of the Moroccan diet, and one of the dishes most visitors are familiar with. However, few know the story of the dish, or how much effort goes into the preparation.
You'll find couscous all across North Africa– each country has its own preparation and slight twists that set it apart. Just this year, couscous was named one of the intangible cultural heritage practices that UNESCO protects.
The word couscous comes from the Amazigh (Berber) word k'seksu, and it has been prepared for hundreds, if not thousands of years! The base of the dish is most often made with semolina flour, but you can find couscous made with millet flour, barley, or corn (among other things).
The secret to good couscous is that these grains are steamed– NOT boiled– in a special pot, which gives them a pillow-y soft texture. The meat, vegetables, and broth are boiled below, so the flavors are infused into the couscous above.
When this traditional Moroccan dish is ready to serve, couscous grains are spread out across a large plate. The meat and/or vegetables are arranged on top, and the extra liquid is ladled into small soup size bowls that you can add to your portion to taste.
Couscous is not served as a side dish: It is the main dish. It is usually made in large quantities, and is meant to be a celebratory dish shared among many people. Couscous Friday is a staple in Morocco, as it is the day of communal prayers: People will go to the mosque and then have lunch.
If you're visiting Morocco, the best place to have couscous is in someone's house. But if you can't snag an invite, try to seek out where local working Moroccans go for lunch.
The couscous will likely be far closer to what you'd eat at home than in a restaurant that primarily serves tourists. This recipe for Moroccan Seven Vegetable Couscous is one of my family's favorite meals! -Amanda Ponzio-Mouttaki of MarocMama
READ MORE: A Journey into the Atlas Mountains of Morocco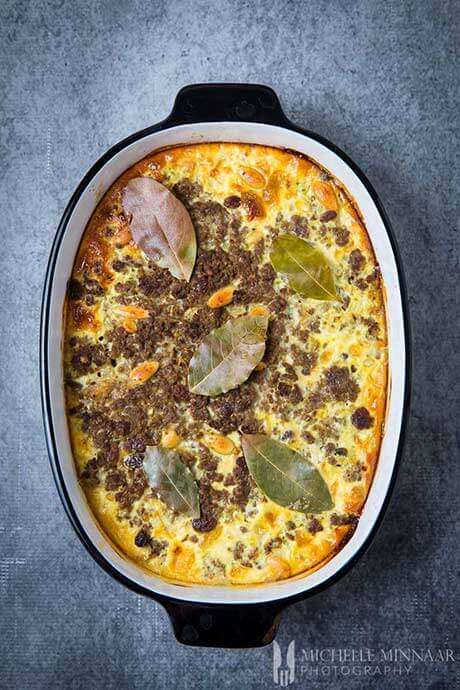 Bobotie (South Africa)
What happens when you throw British, Dutch, French, Indian, Indonesian, Malaysian and Portuguese cuisine into one pot? You get South African food, of course!
Bobotie is one of many excellent traditional South African dishes that came out of the melding of cultures in this country.
The ancient Romans were making Patinam ex lacte (which featured meat layered with pine nuts and herbs, then topped with an egg/milk mixture and baked) over 2 millennia ago.
The modern name for the dish derives from the Malaysian word boemboe (curry spices) or the Indonesian bobotok (which is really nothing like Bobotie).
Regardless, the curried beef mince with sultanas and nuts is South Africa's national dish, enjoyed regularly by families all over the country!
If you're visiting South Africa, your best bet is to look for a local restaurant in the Cape region that serves Bobotie. But this curried ground beef casserole is fairly simple to make at home, so why not give this recipe for Bobotie a whirl? -Michelle Minnaar of Greedy Gourmet
READ MORE: The 25 Best National Parks in Africa for Wildlife Safaris
Ugali Na Maharage Ya Nazi (Tanzania)
Ugali is considered to be the national dish of Tanzania and a common staple of Tanzanian cuisine. Ugali originated in Kenya, but is popular in many East African countries and known under various different names.
Ugali is a simple dish made out of white cornmeal cooked in water. It has an elastic consistency, so it's easy to mold in your hand when you eat it. It's not considered a main dish, but rather an accompaniment for meals.
Ugali is generally served alongside most traditional Tanzanian dishes and it's free of charge in most restaurants. To eat ugali, you must break off small pieces, press it in your hand and then use it to scoop up meat, vegetables or sauces.
Maharage ya nazi is also considered to be the national dish of Tanzania, and is often served with ugali. Maharage ya nazi is a red kidney bean stew that's cooked in coconut milk, with tomatoes and Tanzanian masala spices.
Using a traditional recipe for Ugali Na Maharage Ya Nazi, you can make both dishes in about 45 minutes. -Joanna of The World in My Pocket
READ MORE: Top 10 Tanzania National Parks & Reserves
TRADITIONAL FOOD IN ASIA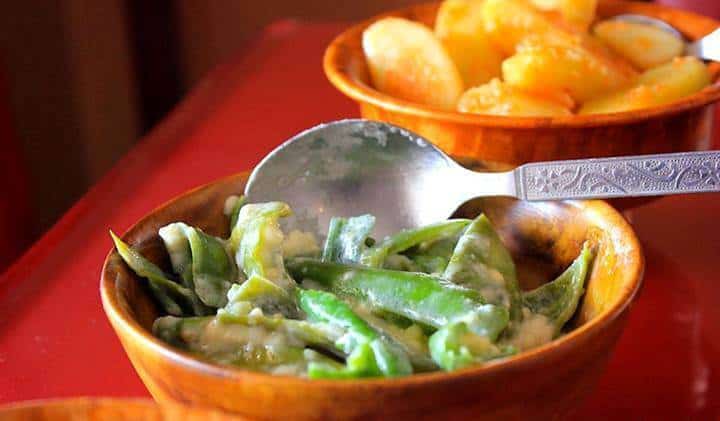 Ema Datshi (Bhutan)
Bhutan is one of the world's great tourist destinations. Hidden among the highest mountains in the world, and protected by strict tourism policies, the country has managed to retain its authentic culture despite the onslaught of modernity.
Bhutan and happiness go together because of the country's famous Gross National Happiness Index. It's an enthralling place to visit for many reasons, but it's not known as a culinary destination.
That being said, there are some dishes in Bhutan unlike anything found in neighboring Nepal, China, or India. The most ubiquitous and unique of these is Ema Datshi.
Chilies (Ema) and cheese (Datshi) cooked together may seem like an odd combination, but you get used to it fast in Bhutan. In fact, chilies are essential to nearly every dish in Bhutan, and cheese is also very common. Either fresh green or dried red chilies are used, and usually sliced lengthwise.
Ema Datshi is the national dish of Bhutan, and is a staple of almost every meal. You can find it all over the country, though it will vary from place to place, and from cook to cook. Some versions are lighter, while some are more rich and decadent, with lots of butter and sticky with cheese.
The recipe for Ema Datshi comes in many variations: Some include adding mushrooms, green beans, or potatoes, or using yak cheese instead. Ema Datshi is often served with rice or buckwheat pancakes, and makes for a filling and flavorful meal. -Mariellen Ward of BreatheDreamGo
READ MORE: 10 Steps to Bhutan Happiness: A Nature Lover's Travel Guide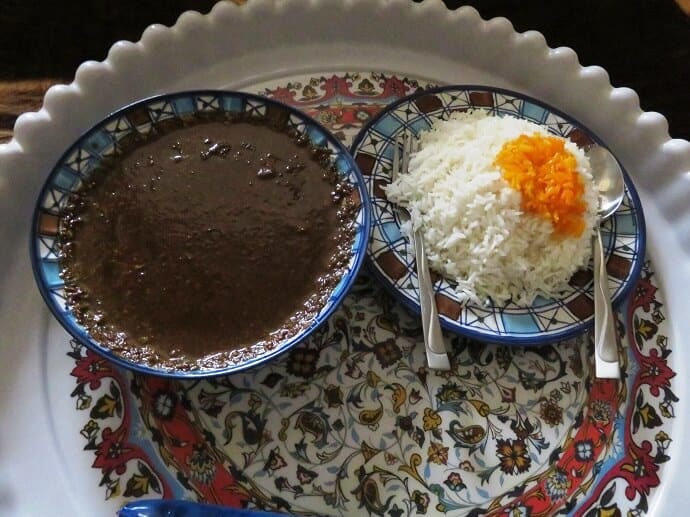 Fesenjoon (Iran)
Fesenjoon is considered a jewel among Persian food, which often doesn't get the attention it deserves outside Iran. As a result, even the few Western travelers that visit Iran each year might leave the country without trying its most delicious culinary treat.
Fesenjoon originates from Iran's lush Gilan province, which is famous for its green rolling hills and Caspan Sea shore. Here it was usually eaten with duck (which is readily available in the region), but elsewhere in the country chicken is more common.
There are many variations on the Fesenjoon recipe, and every family has its own secrets to improve its flavor. But its key ingredients include some of the most prized food items in Persian cuisine, namely walnuts and pomegranate juice.
The dish is often eaten at special occasions, such as the Nowruz Festival or the winter solstice celebration known as Yalda.
Fesenjoon preparation isn't difficult, but it does time, as the chicken needs to stew in a ground walnut and pomegranate syrup sauce for hours. So it needs to be stirred and tasted frequently in order to ensure the sauce doesn't get too thick or stick to the bottom.
As a result, the dish is not easy to find on the average restaurant's menu in Iran. The Orient Hotel Restaurant in Yazd is a good place to try it, as well as Ehsan House in Kashan. -Ellis from Backpack Adventures
READ MORE: The 20 Best Festivals in the World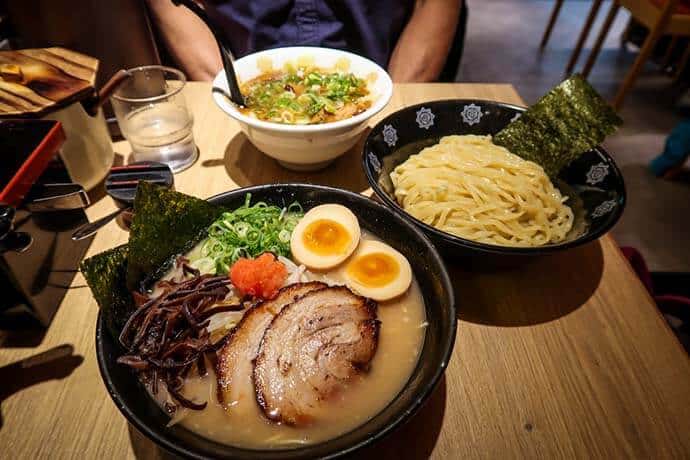 Ramen (Japan)
Forget the cheap, sodium-filled packets from your college days! Real ramen in Japan is a different world— rich and complex broth paired with perfectly chewy noodles and topped with slices of pork belly, scallions, and a soft egg.
There are many different types of ramen, including regional variations, but there are essentially four main styles of broth:
Shoyu: soy sauce
Shio: salt
Tonkotsu: pork bone
Miso: miso based
Ramen is one of the most famous Japanese foods, but the truth is that the noodles we know and love actually originated in China. They first made appearances in Japanese homes and noodle shops in the mid-1800s, and the rest is history.
Ordering ramen in Japan can be a little intimidating at first, as you typically must purchase your "ticket" from a vending machine and give it to a staff member.
Ramen is one of Japan's staple "fast foods," and is typically served quickly, piping hot and ready to slurp. Speaking of which, while slurping may be impolite in your home country, it's expected when eating ramen. It cools down the broth and shows your enjoyment of the dish. So slurp away!
Can't travel to Japan? Try making this great recipe for ramen at home. -Katie Diederichs from Two Wandering Soles
READ MORE: Japan Photos: 15 Pictures from a Dream Come True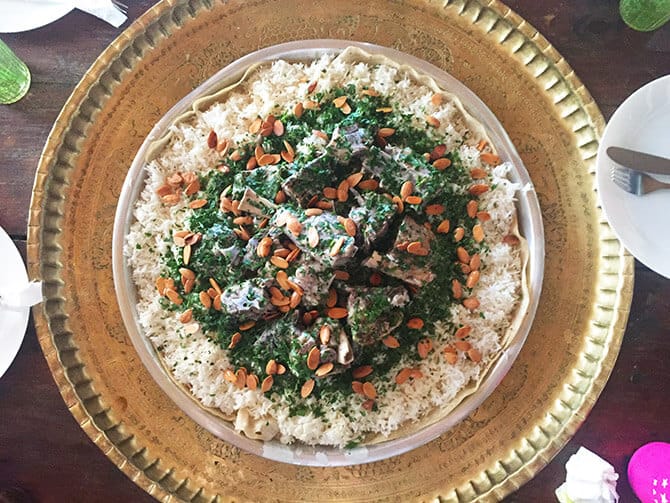 Mansaf (Jordan)
If you ask any Jordanian what food you should try while visiting their country, mansaf will almost always be the top answer.
The national dish of Jordan, mansaf is traditionally served on a large platter. A thin flatbread is topped with a bed of rice, lamb, and a fermented yogurt sauce called jameed, with nuts and other garnishes placed on top.
Drawing from Bedouin traditions, Jordanian hosts often prepare mansaf as a show of appreciation for their guests. It is also commonly served for special occasions, such as weddings or births, and on holidays like Eid ul-Fitr, Eid ul-Adha, Christmas, or Easter.
Eating mansaf involves scooping rice into the right hand and forming it into a ping pong-sized ball.
You can pop the ball into your mouth by balancing it on two fingers and flicking it with your thumb. Typically, the host will continually drench the rice with jameed so guests can enjoy moistened bites.
Most Jordanians say the best place to get mansaf is in Al-Karak, but you can also make it at home with a traditional Jordanian Mansaf recipe. -Lindsay Nieminen of Step into Jordan
READ MORE: The Ultimate Guide on Travel to Jordan (Ecotourism Guide)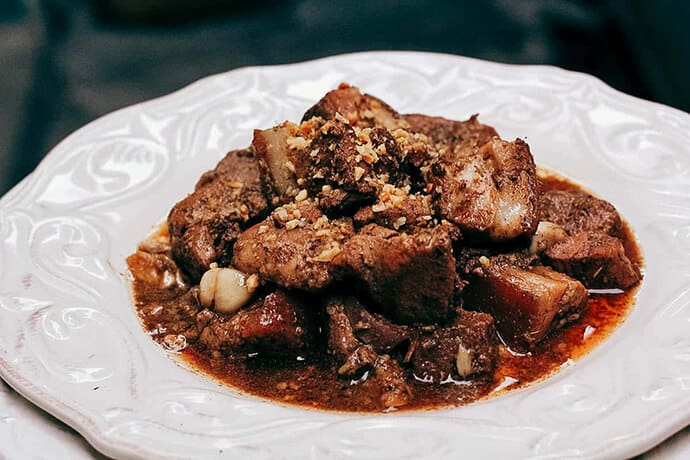 Adobo (Philippines)
Widely considered the unofficial national dish of the Philippines, adobo involves marinating meat in a braising mixture of soy sauce, vinegar, garlic, black peppercorn, and bay leaf.
It's most commonly made with chicken and pork, though it can be made with other types of meat, seafood, and vegetables as well. The meat is simmered over low heat in a rich, flavorful sauce until it breaks down and becomes fork-tender.
Adobo comes from the Spanish word "adobar," but it isn't a Spanish dish. In fact, the adobo cooking method actually pre-dates the Hispanic period.
When Spanish colonizers were in the Philippine islands in the 16th and 17th centuries, they encountered the cooking process and named it adobo de los naturales ("adobo of the native peoples").
You can find adobo at many Filipino restaurants, but it's a dish that's really best prepared at home. Every Filipino mother has her own family adobo recipe! -JB Macatulad of Will Fly For Food
READ MORE: The Top 15 Things to do in Coron, Palawan (Philippines)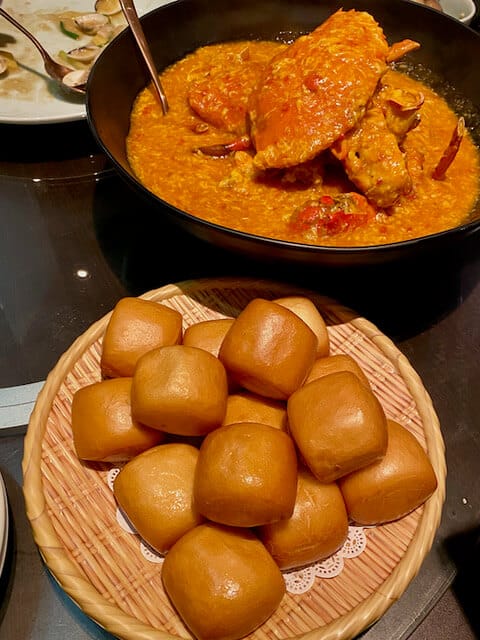 Chili Crab (Singapore)
If you visit the formerly Malaysian island city-state, you simply must try Chili Crab. The national dish of Singapore was reportedly created in the 1950s by street hawkers.
Despite its name, chili crab is generally not very spicy. The fresh crab is served in a thick, sweet, savory sauce with just a touch opf heat. Make sure to get it with lots of mantou (a deep fried Chinese bun) for dipping.
Many people travel to the east coast of Singapore just to experience Chili Crab at Jumbo Seafood or Long Beach. Locals often go to No Signboard, or one of the neighborhood hawker centers.
Native Singaporeans somehow manage to eat the dish without making a mess. But for your first experience, bring lots of tissues or wipes and expect to get your hands full of sauce. You can also make the dish at home with a simple Singapore-style Chili Crab recipe.
If you're not that adventurous, some supermarkets offer a boxed chili crab kit that will contain everything but the crab. We've used them many times, and the sauce is very close to what you'll find in Singaporean restaurants. -Sue Davies of Travel for Life Now
READ MORE: Invasive Species List: 10 Destructive Species You Can Eat
TRADITIONAL FOOD IN EUROPE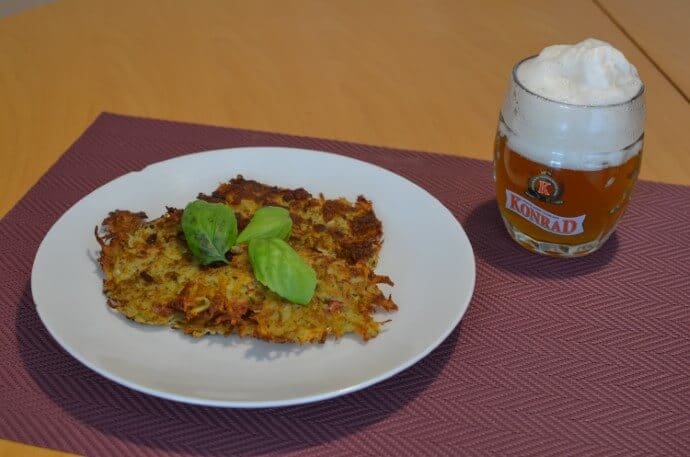 Bramboráky (Czech Republic)
Bramboráky– pan-fried potato pancakes made of dough from shredded potatoes– is one of the most popular traditional dishes in Czech Republic.
The dish is common throughout Central Europe, but each country has a slightly different recipe. In Poland it's called Placek ziemniaczny, and is usually eaten with sugar and cream. In Germany, they call it Kartoffelpuffer.
The Czech version of these potato pancakes is unique, adding marjoram and garlic to the mix. Bramboráky can be served plain, or as a side dish (usually with cabbage and/or meat). This way of serving it is called Cmunda po Kaplicku, and is available in many Czech restaurants.
Bramboráky are best accompanied by local Czech beer. It's also a very popular street food at festivals and Czech Christmas markets.
Bramboráky are also easy to make at home with an authentic bramboráky recipe. You only need to shred potatoes, add milk, egg, and seasoning, and then fry that mixture in oil.
It's quite a carb-heavy food, but that's the nature of Czech cuisine. Most traditional Czech dishes are delicious, but you shouldn't eat them every day! -Adriana Plotzerová of Czech the World
READ MORE: Weekend in Prague: The Best Things to Do in Prague in 3 Days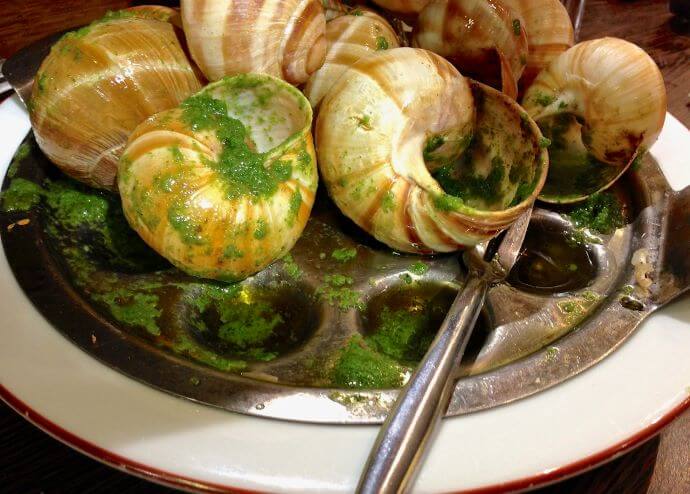 Escargot de Bourgogne (France)
There's not really one national dish of France, but many. One of France's most popular foods is the humble Helix pomatia, or snail. Its prepared form is properly known as the Escargot de Bourgogne– the snail from Burgundy.
Snails have been eaten in France since the hunter-gatherers of prehistory. But their present incarnation dates back to 1814, when Talleyrand (a senior minister under Napoleon) invited Czar Alexander of Russia to his home for dinner.
His chef, the renowned Carême, devised a dish of escargots seasoned with butter, garlic, parsley, salt and pepper. The basic recipe for Escargots has remained relatively unchanged over time.
But there is another story of origin: It would seem the (same) party was in Burgundy and late for dinner at a restaurant. The chef, who found his larder empty, rushed out to the yard and scooped up some snails, stuffed them, and threw them into the oven.
Either way, once the Czar returned to Russia, he raved about the escargots until, eventually, word got back to France. And the rest, as they say, is history.
Today, the species has grown so scarce that it is protected, so it's not always easy to find authentic Burgundy escargots. If they're in the shell, just be sure to use the proper utensils– a special two-pronged fork and a pair of snail tweezers. –Leyla of Offbeat France
READ MORE: 5 Weird French Foods Worth Trying
Schäufele (Germany)
Schäufele is a traditional pork roast that is very popular in the south of Germany. Pork roasts are one of the main staples in the German diet.
They are often served with skin on, resulting in a fatty-crispy layer of pork cracklings around succulent meat. This cut of meat comes from the shoulder of the pig, and includes the shoulder blade bone.
The Schäufele is roasted in the oven and basted with German beer until the meat becomes sweet and tender and the skin crispy.
Side dishes are usually potato dumplings or crispy roasted potatoes with lots of dark brown beer gravy, and some sort of cabbage (either Sauerkraut, Red cabbage, or creamed Savoy cabbage).
The best Schäufele can be found in the northern part of Bavaria– a region called Franconia– at a traditional German Wirtshaus. In some restaurants, this is only offered on special occasions rather than a daily menu feature.
Use a traditional Schäufele recipe if you want to try making the dish at home. It's perfect for any meat lover who is not too worried about their waistline. -Maria Haase of Maria Abroad
READ MORE: German Christmas Cookies/Lebkuchen Recipe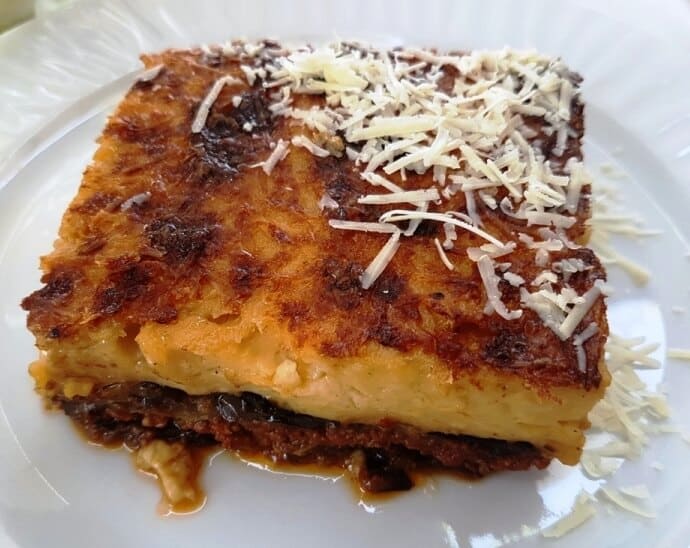 Moussaka (Greece)
Regional variations of this popular Greek dish can be found all over the Balkans and Middle East. But the most famous of all is Moussaka, the national dish of Greece.
The original recipe for Greek Moussaka was created in the 1920s by a French-trained Greek chef, Nikolaos Tselementes. His recipe consists of three layers, which are prepared separately and then assembled in a large dish before cooking in the oven.
The bottom layer is comprised of sautéed slices of eggplant and potato. The middle layer is ground lamb or beef cooked with chopped onions and tomatoes, seasoned with cinnamon and black pepper. The top layer is a creamy béchamel sauce, flavored with plenty of nutmeg.
Moussaka is then baked until the sauce is golden brown. The dish is left to sit for a few moments before serving, accompanied by a big bowl of Greek salad.
The most delicious moussaka can be enjoyed in family-run traditional tavernas all around the country. -Chrysoula Manika of Athens and Beyond
READ MORE: The Best Places to Visit in Greece in 40 Fantastic Photos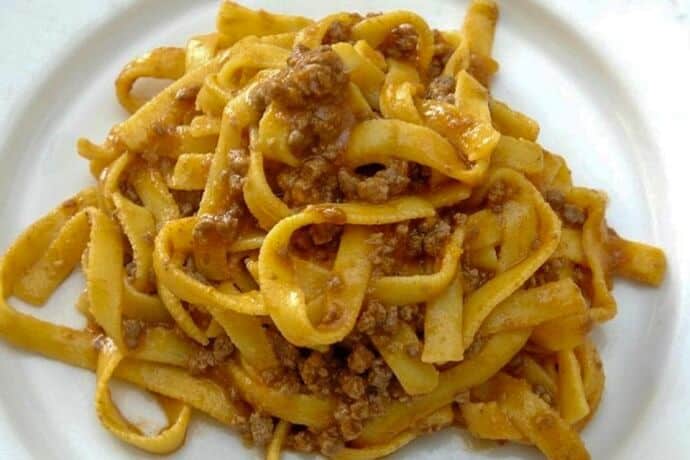 RAGU ALLA BOLOGNESE (Italy)
It may surprise you to learn that Ragu Alla Bolognese, not pizza or lasagna, is the national dish of Italy. Ragu is the term used for all meat sauces, while alla Bolognese means from Bologna, a town of the Emilio-Romagna region.
The history of the dish dates back to the late 18th century, when it was created by master chef Alberto Alvisi. But it wasn't until 1982 that the Academia Italiana della Cucina officially registered the recipe in the Chamber of Commerce.
This "original" Ragu Alla Bolognese recipe contained soffrito (a blend of celery, onions and carrots) mixed together with ground beef, pancetta, tomatoes, milk and white wine. The dish has been adapted countless times since, but the authentic recipe remains the best.
Traditionally, Ragu alla Bolognese is served with tagliatelle or thicker pastas like fettucine or pappardelle. But expert chefs and purists would never serve it with spaghetti.
As time passed, tourists asking for spaghetti Bolognese gradually changed demand, and many restaurants in Italy now offer Ragu Alla Bolognese with spaghetti. Just don't ask for that in Bologna itself, or you may be chased out of the city! –Dave Chant
READ MORE: Le Marche, Italy: A Locals 7 Favorite Places to Visit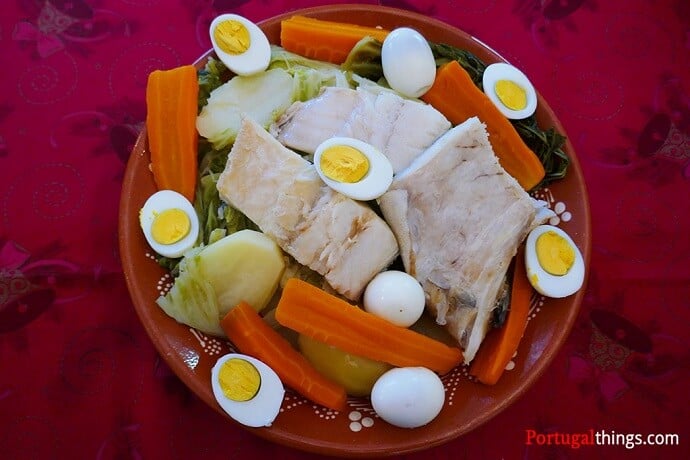 Dry Cod Bacalhau (Portugal)
The national dish of Portugal isn't just one dish, but rather an ingredient that's cooked in hundreds of different ways and used in every major celebration.
Dry cod– or bacalhau as it is known in Portugal– is such an important dish that it is nicknamed "the faithful friend." But note that traditional Portuguese cod is salted and dried, not fresh.
Portuguese have been eating cod ever since the Vikings first introduced it throughout Europe. But it became especially relevant during the 20th century dictatorship, when cod was considered the "bread of the tides."
If we had to choose the most traditional cod dish it would be "Bacalhau com todos" (cod with everyone). This dish is made with boiled cod, potatoes, eggs, Portuguese and/or Galician cabbage, sometimes carrots and chickpeas, and drizzled with plenty of olive oil.
It is very simple to make, but it's a Portuguese favorite for celebrating Christmas, New Year's Eve, and most other special occasions.
You can find cod in every Portuguese restaurant. In fact, cod is so important that sometimes it is not even considered fish, but has its own section in the menus! -Jorge & Cláudia of Travel Drafts
READ MORE: 8 Things to Do in Portugal for Nature Lovers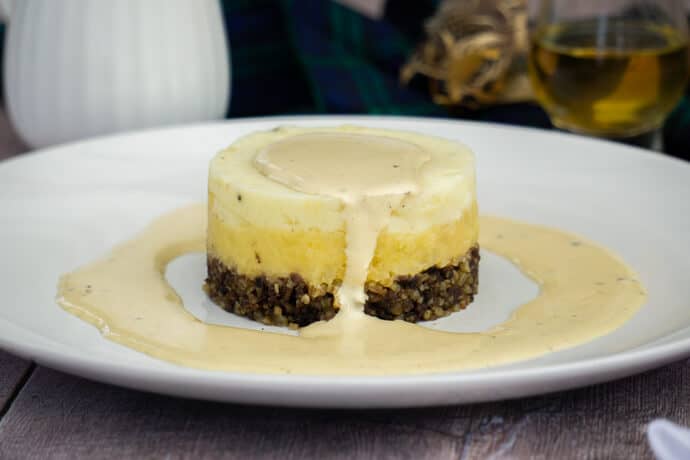 Haggis (Scotland)
Haggis has a texture a bit like coarse crumbled sausage, with a delightfully peppery taste. But it is what's actually in the national dish of Scotland that puts some people off trying it.
The people of Scotland often quip that Haggis is actually a small four-legged animal that lives in the Highlands, with two legs shorter than the others so that it can run around mountains more easily.
But in fact, Haggis is a centuries-old dish made from sheep pluck (liver, lungs, and heart), oatmeal, onion, spices, stock, and suet. It's all stuffed inside a sheep's stomach and boiled, then most often served with mashed tatties (potatoes) and neeps (rutabaga).
It's considered the national dish of Scotland thanks in no small part to the beloved Scots Poet, Robert Burns. His "Address to a Haggis" is recited across the country on Burns Night every January, as the Haggis is brought out to be served.
Traditional Haggis can be found in restaurants across Scotland in its original form. You'll also find deep fried "Haggis Bon Bons" served with whisky dipping sauce, Haggis on top of pizza or in burritos, and as part of any decent full Scottish breakfast.
Not many folks are brave enough to attempt to make their own, but if you wanted to do so you can find a Haggis recipe here. Otherwise stick to buying the ready-made stuff and create a Haggis, Neeps, and Tatties Stack of your own! -Sonja Bolger of Scottish Scran
READ MORE: The Top 10 Things to Do on the Isle of Skye, Scotland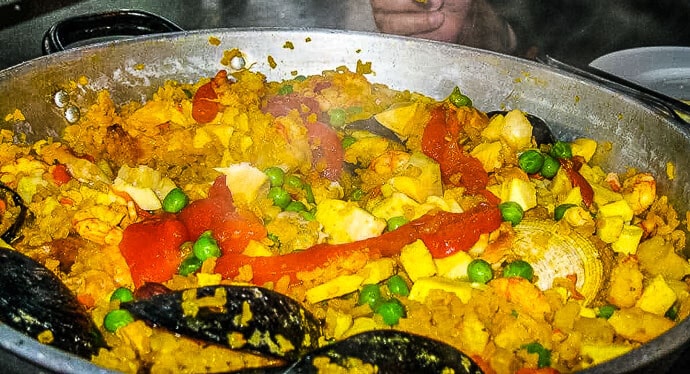 PAELLA (Spain)
You can find paella wherever you are in Spain. But, in reality, it is only native to the northeast region that includes Valencia and Barcelona, the heart of Spain's rice-growing region.
Paella began as peasant fare that was originally cooked for the lunch of field workers. So in the authentic Valencian version you'll often find rabbit, chicken, sausage, and sometimes even snails.
The Barcelona version of paella is strictly seafood, and will usually include squid, mussels, shrimp, and langoustines. That's the version that has spread across Spain and all around the world.
The best places to get seafood paella are in the restaurants that line the port of Barcelona, in the neighborhood known as Barceloneta.
Before Barceloneta was renovated (prior to the 1992 Olympics), you could walk past the restaurants that lined the beach and see the catch of the day sitting out front on ice-filled paella pans.
If you want to make it on your own, try this excellent paella recipe from Spanish Sabores. In some parts of the United States, you might have trouble finding authentic Spanish rice. But Arborio rice from Italy makes a good substitute. -Tom Bartel of Travel Past 50
READ MORE: The Top 15 Things to Do in Tenerife (Spain's Canary Islands)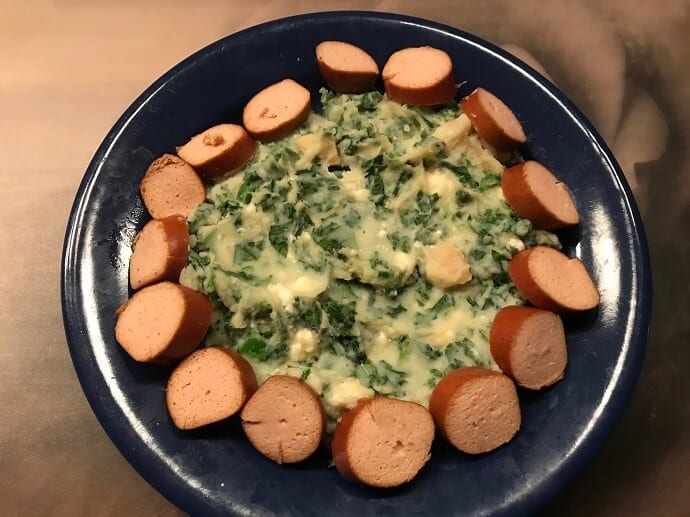 Stamppot (The Netherlands)
The Dutch dish stamppot goes way back.
A potato-less version of hutspot (a variation on stamppot) was eaten at the Leidens Ontzet Festival in 1574, and potatoes were added to the list of ingredients in the 18th century.
Stamppot has been the Netherlands national dish ever since, partly because it can be made to everyone's taste, and at every social level. It's a dish for both the elite and the hard-working laborer.
Stamppot is made by boiling potatoes with vegetables– Brussels sprouts, kale, sauerkraut, and so on– then it's drained and mashed. Milk is added to make it smooth, while cheese and bacon can be added for stronger flavors.
The dish is traditionally made at home much more than it is served at restaurants. My Red Beets Endive Stamppot recipe is a family favorite.
Stamppot is traditionally served with a smoked sausage (rookworst) and a thin gravy (jus). When potatoes, carrots and onions are the ingredients, the stamppot is called hutspot.
Don't search for this traditional Dutch dish in summer, as it's really more of a warming winter comfort food. -Cosette from KarsTravels
READ MORE: An Ethical Guide to Eating When you Travel
TRADITIONAL FOOD IN OCEANIA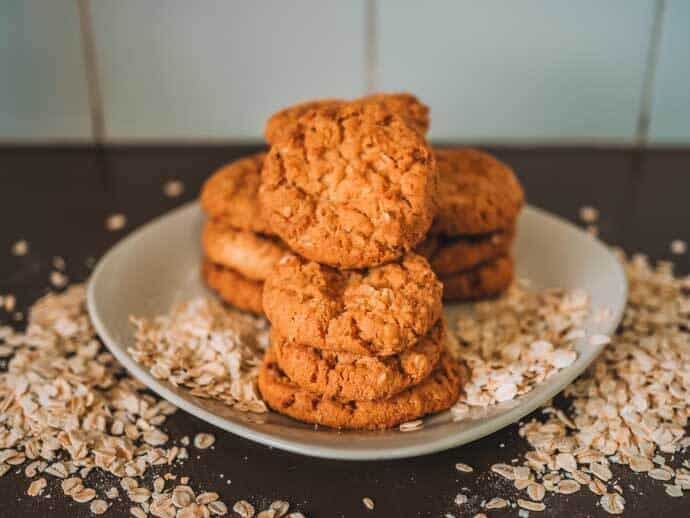 Anzac Biscuits (Australia & New Zealand)
ANZAC stands for Australian & New Zealand Army Corp. The cookies known as Anzac Biscuits were introduced around 1917, during World War I.
Their exact origins remain up for debate. Some say they were sent by wives to the soldiers during this period, while others say they were sold by civilians left at home to raise funds for the soldiers. Regardless, they were created for the War efforts and remain a popular biscuit today.
The recipe for Anzac Biscuits is very easy to make, so easy that young children are often taught how to make them in cooking classes at school.
You simply combine dry ingredients like rolled oats, sugar, flour and sometimes coconut. Butter and golden syrup are heated to boiling, with bicarbonate soda added. Then the wet and dry ingredients are mixed together, rolled into balls, and put in the oven to flatten out.
If you visit Australia or New Zealand, you'll find ANZAC biscuits all over the place, including local supermarkets, bakeries, cookie stores, and farmers markets.
These cookies also travel well, lasting up to 2 weeks when stored in an airtight container. -Chris Fry of Aquarius Traveller
READ MORE: 10 Awesome Australia Road Trips
TRADITIONAL FOOD IN NORTH AMERICA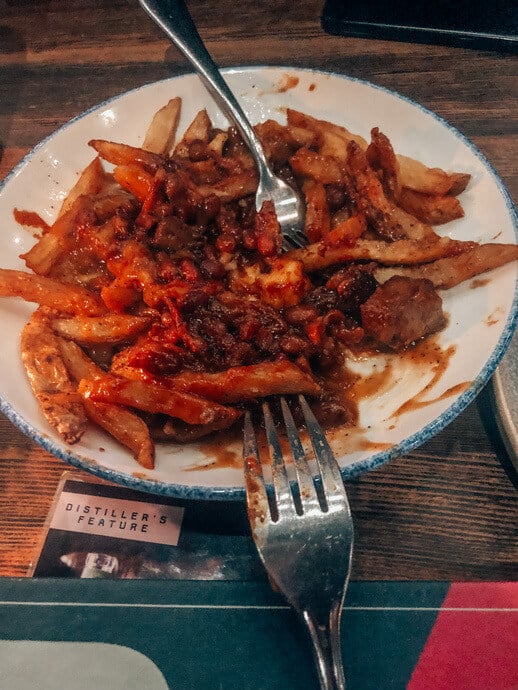 POUTINE (Canada)
The origins of Poutine, Canada's national dish, date back to the 1950s.
A trucker named Fernand Lachance invented the dish, which is named after the Québécois slang word for "mess," by adding cheese curds to French fries.
Poutine is largely associated with the French-Canadian province of Quebec, and the most expensive poutine can be found in Montreal at Au Pied de Cochon.
Authentic Canadian poutine recipes consist of fresh-cut fries topped with cheese curds and gravy. It will also have melted cheese on top of it, which makes it gooey, stretchy, and inherently messy.
Restaurants all across Canada offer their own version of poutine, with special gravy or add-ons such pulled pork or butter chicken.
If you visit Canada, head to Montreal or Quebec City to try the best version of traditional poutine. Popular restaurants in Quebec for poutine include La Banquise and Montréal Poutine. -Mayuri Kashyap from ToSomePlaceNew
READ MORE: Artic Animals: 30 Species of Arctic Birds, Mammals & Whales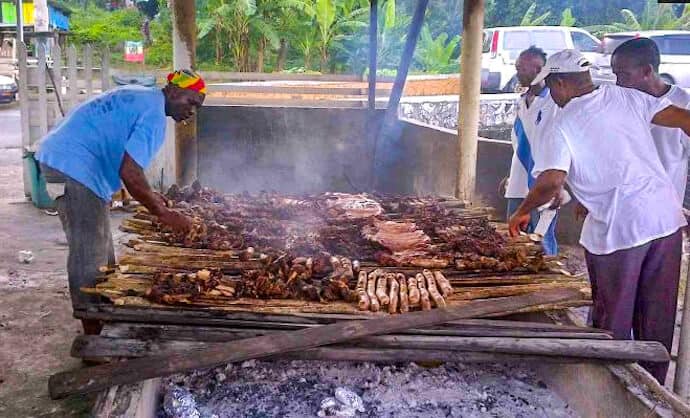 JERK CHICKEN (Jamaica)
Jerk Chicken is a traditional dish you can find throughout much of the Caribbean, but in our experience Jamaica definitely does it best.
The history of Jerk Chicken dates back to the 18th century, when the escaped former slaves known as Maroons settled in the mountains of Jamaica.
They combined traditional African grilling techniques with local Jamaican ingredients and spices favored by the Arawak Indians (who immigrated to Jamaica from South America more than 2500 years ago).
According to historians, the word jerk comes from the Peruvian word "Charqui," which refers to dried strips of meat (what we now know as jerky). The Maroons used similar techniques to smoke and dry meat over a slow fire, with pork being more popular in the early days.
The classic Jamaican Jerk Chicken recipe is fairly simple. It's all about the marinade, which combines sweet and Scotch bonnet (or habañero) pepper, onion, tomato, garlic, ginger, paprika, lime juice, rum, orange juice, olive oil, and other herbs to give the meat a distinctive sweet/spicy flavor.
Eating this dish alongside some rice, beans, and plantains takes us back to our time in the islands, devouring fresh-grilled jerk chicken from a roadside stand while listening to Jamaican music and feeling irie. –Bret Love & Mary Gabbett of Blue Ridge Mountains Travel Guide
READ MORE: The History of Jamaican Music Genres, From Ska & Reggae to Dub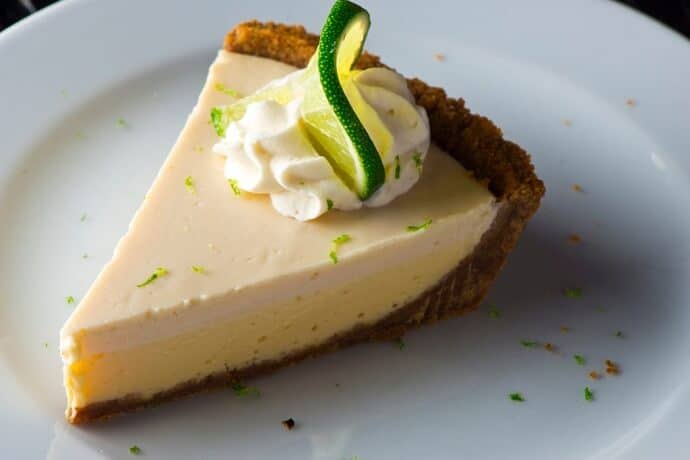 Key Lime Pie (Florida, USA)
Key Lime Pie– a tasty custard pie using Key limes, egg yolks, and sweetened condensed milk– is a traditional culinary staple in Florida.
It is believed that Key Lime Pie was invented in the late 1800s, but the actual origin of the popular American dessert is unknown. Some say it was created by a woman known as Aunt Sally, while others say it was invented by local fisherman William Curry. Even local historians aren't 100% sure!
The recipe for Key lime pie is surprisingly simple, making it easy to adjust for those with gluten intolerance, dairy allergies, or vegan diets.
Key lime pie is easy to find in restaurants all across the state of Florida. But if you're looking for the best and most authentic version, you will want to try Key Lime Pie In Key West, where the delicious dessert originated. -Victoria J. Yore of Follow Me Away
READ MORE: Top 10 Things to Do in Sanibel Island, Florida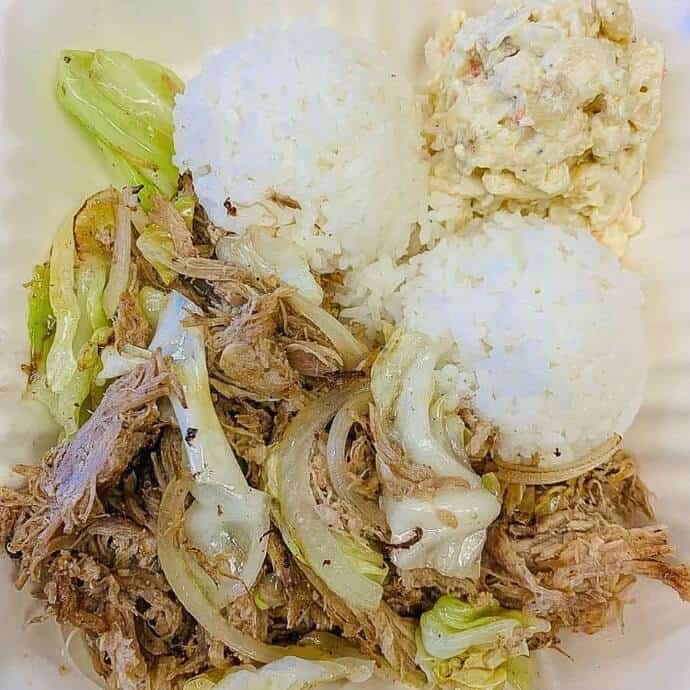 Kalua Pork (Hawaii, USA)
Kalua Pork is one of the best traditional Hawaiian foods, served at most pot lucks, luaus, and other special gatherings in Hawaii.
Based on recipes brought by the ancient Hawaiians from the Polynesian islands, Kalua pork was originally cooked in open pits. An entire pig was placed inside and covered with banana or ti leaves, then steamed to perfection.
Today, the dish is usually cooked in an oven, but baked in foil or some other cover to seal in moisture. To make it even easier, you can cook it in an Instant Pot!
The crock pot Kalua pork recipe is very simple: You just the rub the pork with sea salt and herbs, then slow cook it until the meat is tender enough to fall off the bone.
Typical sides served with Kalua pork include traditional Hawaiian dishes like poke, taro, or poi, grilled local fish, baked ulu or eggplant, and salty opihi or limpets harvested fresh from the ocean.
Check out these traditional Hawaiian foods for more inspiration, to learn about all the wonderful dishes you can find on the islands. –Noel Morata of This Hawaiian Life
READ MORE: The 20 Best Things to Do in Kauai, Hawaii (for Nature Lovers)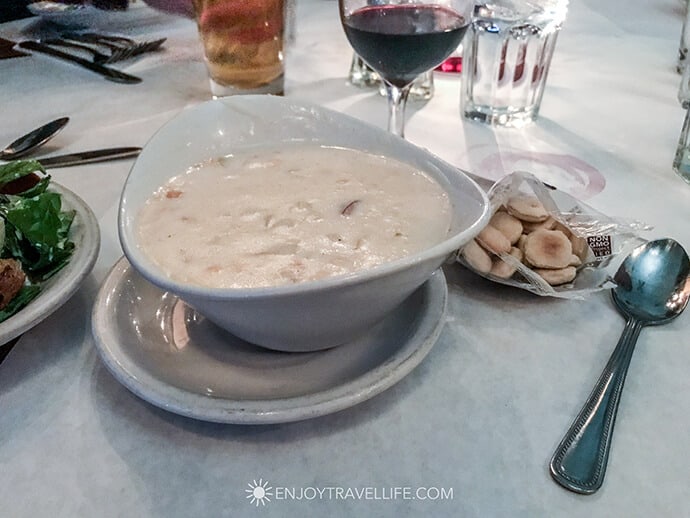 CLAM CHOWDER (New England, USA)
Eaten all year-round, Clam Chowder is a cream-based soup and New England staple that's best enjoyed on a cold winter day.
Served by the cup or bowl, the main ingredients are clams, potatoes, onions, milk or cream, bacon or salt pork, and clam juice.
The thickness of the broth is really a matter of preference, but a good "chowda" should be neither too thin or too thick. It's most often served with small, salted oyster crackers.
This hearty dish was made popular by settlers to colonial America in the 1700s, presumably based on the scant ingredients available locally. By 1836, New England Clam Chowder was a popular offering at Ye Olde Union Oyster House in Boston, the country's oldest operating restaurant.
To try some of the best New England Clam Chowder, look to the results of regional contests, which are held annually. Legal Seafoods is known to make an excellent chowder, but award-winning recipes can also be found from smaller, lesser known eateries.
You can easily make the dish at home using this slassic New England Clam Chowder recipe from Yankee Magazine. -Jackie Gately of Enjoy Travel Life
READ MORE: Top 10 Living History Museums in America

HOPPIN' JOHN (Southeast USA)
A longtime soul food staple in the Southeastern United States, Hoppin' John has West African and European influences that date back to the Middle Ages.
People in Africa have eaten the rice and beans combo for as long as anyone can remember, and eating beans on New Year's Day to bring good fortune was common in places like France and Spain.
These two traditions were fused in the New World to create Hoppin' John, which traditionally consists of black eyed peas, rice, bacon or ham (ham hock is especially popular). Some people also put cheddar cheese on top for an added dash of decadence.
Generally eaten on January 1, the dish is believed to bring good fortune for the year ahead. The peas symbolize coins (one of which some chefs add to the pot!), and the dish is typically served with collard greens (to symbolize money) and cornbread 9gold).
Our family's Hoppin John recipe is an update of The Joy of Cooking classic, with smoked cheddar and smoked ham giving it an amazing flavor we look forward to savoring every New Year's Day! –Bret Love & Mary Gabbett of Blue Ridge Mountains Travel Guide
READ MORE: Appalachian Culture & History of the Blue Ridge Mountains
TRADITIONAL LATIN AMERICAN FOOD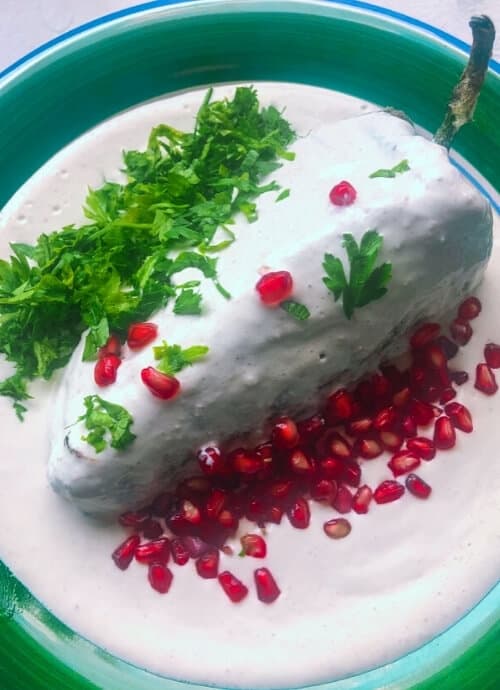 Chiles en Nogada (Mexico)
Although not officially the national dish of Mexico, Chiles en Nogada is one of the most iconic traditional dishes of Mexico for two main reasons.
First, because its colors mimic those in the Mexican flag, with white sauce, red pomegranate, and green parsley. And secondly, because it is usually prepared around Mexican Independence Day, which is September 16th.
Chiles en Nogada is originally from Puebla, and stands out among the unique dishes of Puebla's delicious cuisine for its peculiar taste, seasonality, and historical importance.
In truth, the reason why it's only prepared from July through September is that the dried fruits it's made with are only available at that time of the year.
The traditional Chiles en Nogada recipe combines different flavors and textures, with a breaded sweet pepper stuffed with a mix of meat, dried fruits, and lots of spices. The white sauce (made with nuts) entirely covers the pepper, and the entire dish is decorated with pomegranate and parsley.
Because it's an elaborate dish that requires costly ingredients and at least 6 hours of preparation time, it should be fairly expensive.
So stay away from cheap restaurants if you wish to savor an authentic Chile en Nogada. Among the most highly rated restaurants in Puebla are Porfirio, Casareyna, and Casa Barroca.
Just make sure you plan your visit to Puebla, Mexico during the right months! -Isabella Biava of Lets Travel To Mexico
READ MORE: Top 20 Things to Do in Cancun (for Nature & History Lovers)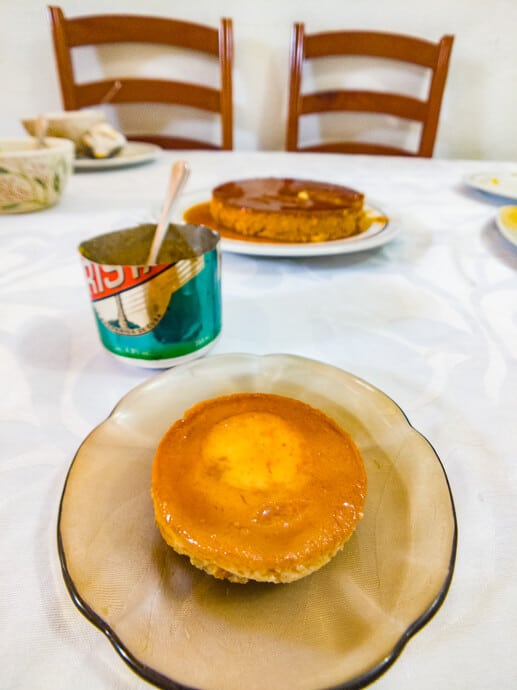 Flan Cubano (Cuba)
There's no official national dish of Cuba. But if there's one dessert you'll find on every menu in the country, it's Cuban flan. Every Cuban grows up learning how to whip up this easy recipe.
Flan Cubano is different from other recipes you'll find in Mexico, Latin America, or Spain because of Cuba's unique challenges regarding access to a steady supply of ingredients.
So while other flans may call for fresh milk or cream cheese, Cuba's version uses canned ingredients and sugar (which the country depended on for many years prior to the Cuban revolution).
Some people think fresh is always best, but this flan de leche uses canned condensed milk, canned evaporated milk, eggs, and sugar to create a creamier, sturdier flan. And with the caramelized sugar on top, it feels more unctuous, almost like a creme brulée or cheesecake.
Everyone in Cuba eats flan. And while you can go to a high end paladare (private restaurant) in Cuba, one of the more unique places to experience the dish is a local Cuban cafeteria.
Cubans always try to reduce waste by reusing anything they can, and this dish is a great example. Instead of expensive ramekins, they cut the tops off beer or soda cans and cook flan in it. To serve, they simply turn the can upside down onto a plate! -Ayngelina Brogan of Bacon is Magic
READ MORE: The 20 Best Caribbean Islands to Visit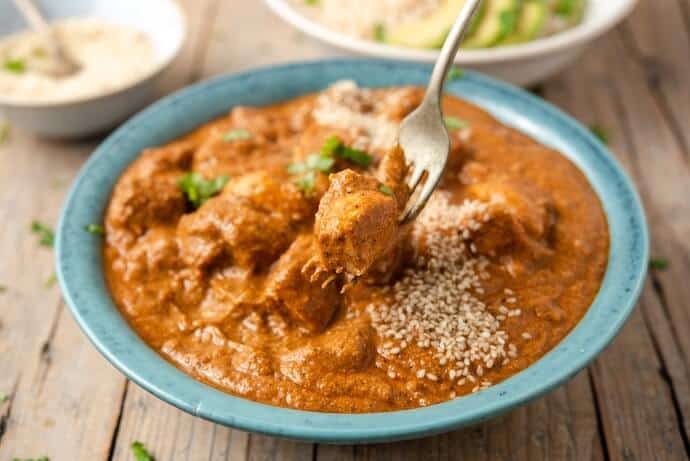 PEPIAN DE POLLO (Guatemala)
One of the most popular traditional dishes of Guatemala, pepián de pollo (chicken in red sauce) originates from the indigenous Maya peoples in the country's cool, misty highlands.
While other hearty stews (including pulique, subanik, and kak-ik) can only be found regionally, pepián de pollo is available throughout the country. Widely considered the national dish of Guatemala, it draws its name from the word pepitas (squash seeds), which is a key ingredient.
To make pepián, squash and sesame seeds are toasted on a traditional clay griddle until deep brown. Then they're ground into a fine powder and combined with charred peppers, chiles, onions, tomato, and other ingredients according to the cook's personal recipe for pepián de pollo.
The mixture is then pureed until velvety smooth. The fragrant, lightly spiced sauce is then simmered with chicken in broth and served with rice and corn tortillas.
Since it is somewhat laborious to make, pepián is often enjoyed on weekends or special occasions.
However, it's possible to find tasty versions at traditional restaurants in Antigua, the colonial capital, or Huehuetenango, a city in the western highlands that is home to diverse Maya peoples. -Michele Peterson of A Taste for Travel
READ MORE: The 16 Best Mayan Ruins to Explore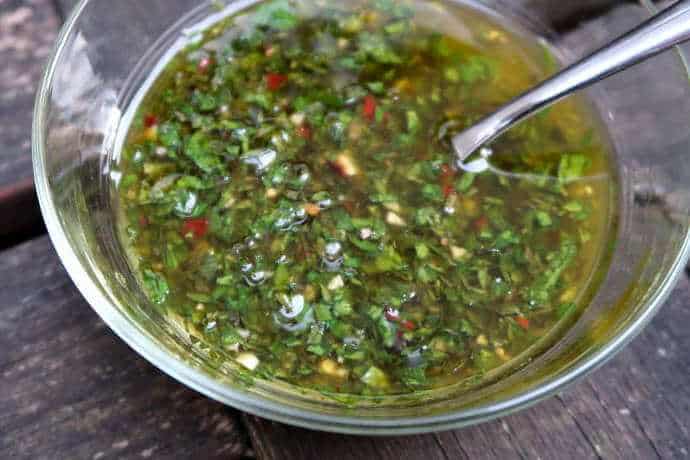 Argentine Chimichurri Sauce (Argentina)
Move over, BBQ sauce… In Argentina, it's all about chimichurri. The Argentines have mastered the art of barbecue, and chimichurri sauce is the go-to companion for their fabulous grilled meats.
With beef being a national specialty, chimichurri sauce is found at every steakhouse, asado (barbecue), or wherever meat is grilling.
This simple sauce combines parsley, oregano, garlic, olive oil, and red wine vinegar. Red pepper flakes, salt, and pepper give it an additional punch. The sauce gets better with age: In Argentina, they say "today it is good, tomorrow it is even better."
The historic origins of this South American grilling staple are not known. It has been attributed to an Irish or English soldier, and even Basque settlers in Argentina. Another version credits Argentine cowboys (gauchos) for concocting the sauce while grilling outdoors.
Regardless of how it came to be, chimichurri sauce is really the only acceptable sauce for grilling. Ketchup, mustard, and BBQ sauce really have no place at any Argentine barbecue.
The recipe for authentic Argentina Chimichurri is quite simple to make, and this versatile sauce enlivens any dish. –Rosemary Kimani & Claire Rouger from Authentic Food Quest
READ MORE: The 20 Best Things to Do in Patagonia, South America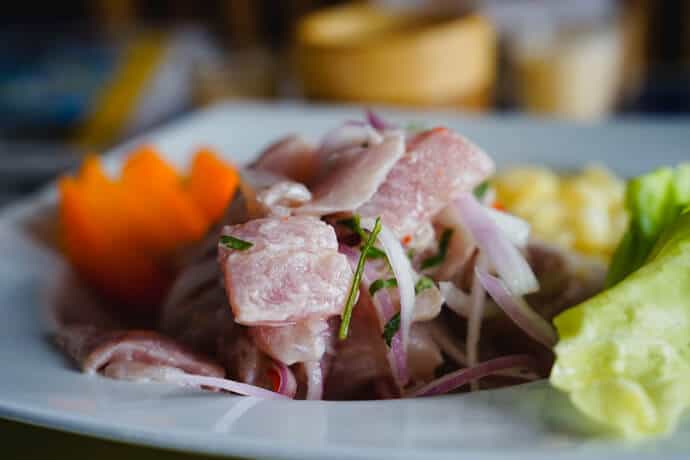 CEVICHE (Peru)
When it comes to sampling Peruvian food, you mustn't miss ceviche, the national food of Peru. While there are many kinds of ceviches in the world, none is as tasty as the Peruvian variant.
Due to the abundance of high-quality seafood available on the country's Pacific coast and the native green limes (known as limón), Peruvian ceviches bring forth a robust freshness and flavor that would make Gordan Ramsey forget all his profanities.
Though delightful, the traditional recipe for Peruvian Ceviche is not at all difficult to make. The main ingredients are fresh fish, limes, onions, spicy peppers, and fresh cilantro.
The fish is marinated in fresh limes: Their acidity essentially "cooks" it, killing the bacteria and anything harmful in the fish. That's why the freshness of the seafood and the quality of the limes are so essential in making the perfect Peruvian ceviche.
If you're looking to try the best Peruvian ceviche, you really must visit Lima, the capital of Peru. Its geographical location on the Pacific Ocean virtually guarantees that all its seafood is top-notch. -Sean Lau of LivingOutLau