Whether you don't quite have the budget, are too busy, or stuck in quarantine, sometimes it isn't always an option to hop on a plane and travel to all the places you want to.
Fortunately for us, we live in a day and age where technology can teleport you to other worlds with just a quick search, exposing you to other countries and their culture, sights, sounds, and history.
To satisfy your wanderlust, we compiled a list of some of the best ways to travel the world without leaving home so keep reading and get ready for your virtual adventure!
Ways You Can Travel the World Without Leaving Home
Best Virtual Tours and Online Exhibits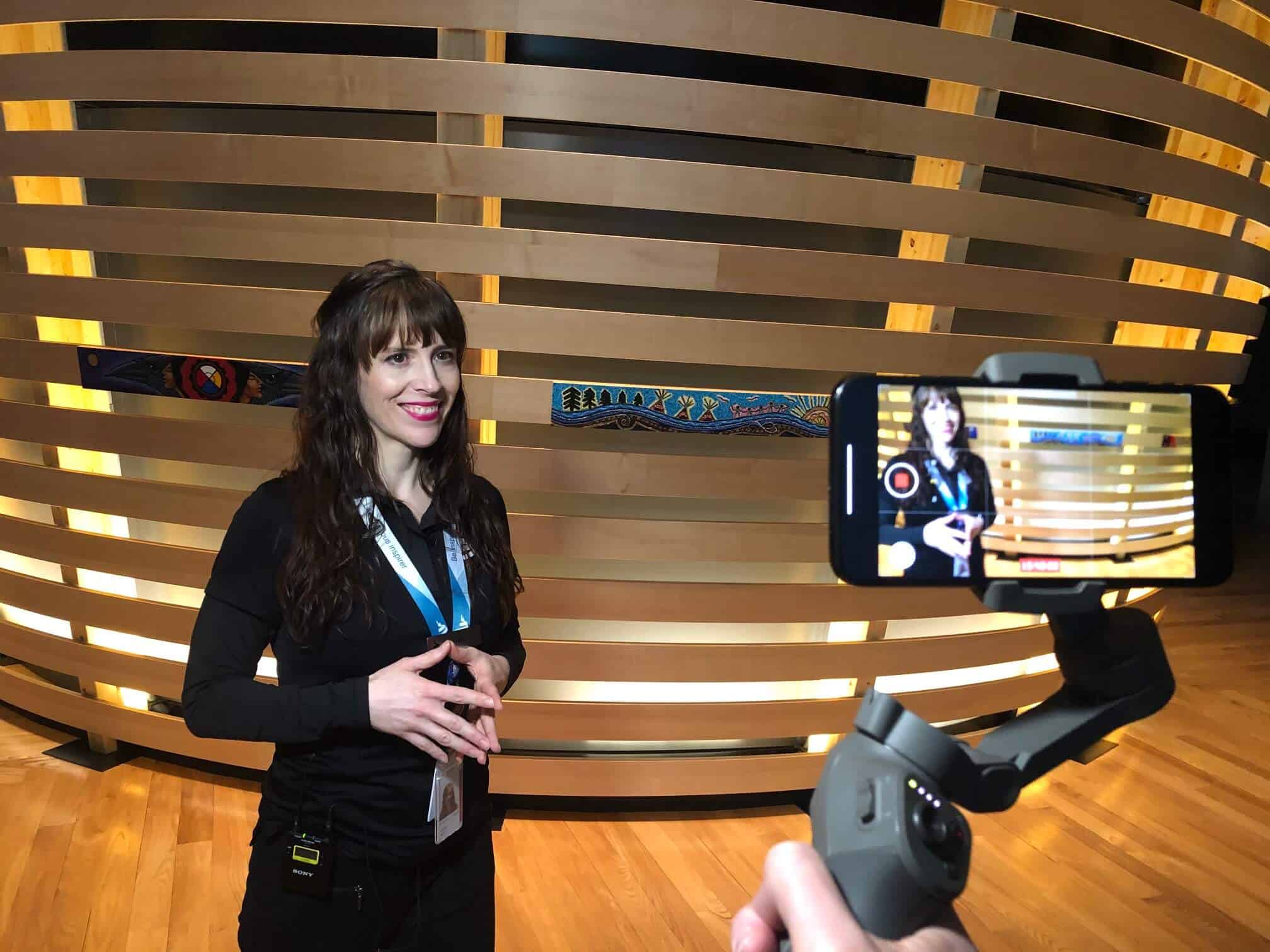 In this virtual tour you will get to explore both the Indigenous People's Perspectives and Canadian Journeys gallery of the Canadian Museum for Human Rights.
Throughout the 20-minute video you will be led by a Museum guide who will describe the various displays and how they relate to different perspectives and ideas surrounding human rights.
You will get to see the 360-degree "basket" theatre made up of 13 Spirit Panels inspired by Indigenous youth, glowing alabaster rampways, artifacts like an 800-year-old moccasin print, and hear the bold story of Viola Desmond, a Canadian human rights defender.
Cost: Free
READ MORE: Arctic Animals: 30 Species of Arctic Birds, Mammals & Whales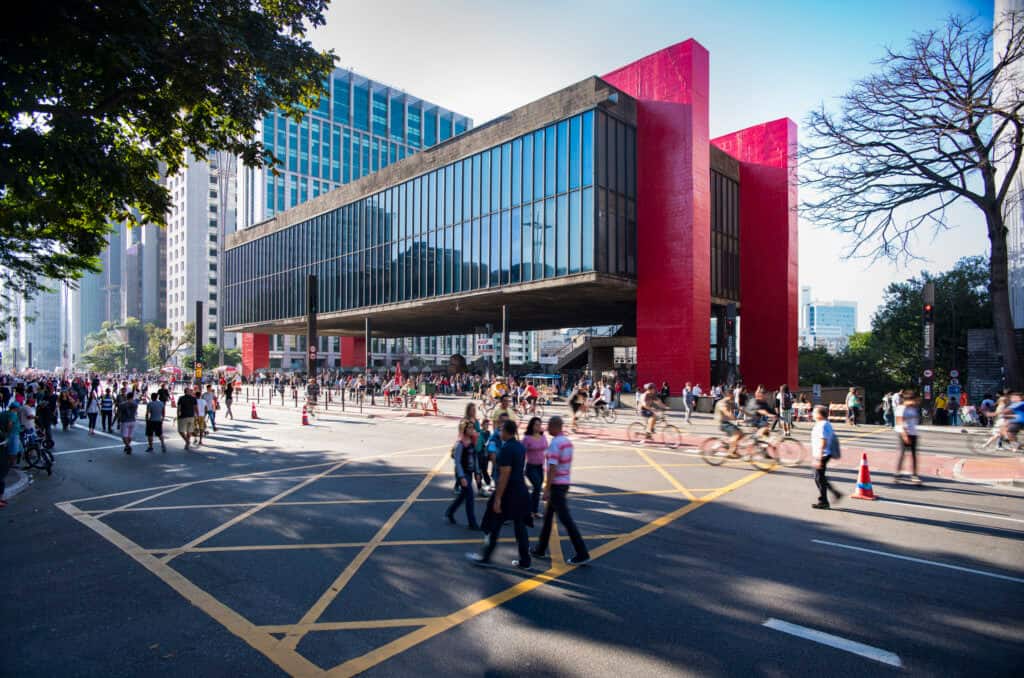 The Museu de Arte de São Paulo was founded in 1947 and is Brazil's first modern museum featuring more than 8,000 paintings, sculptures, photographs, costumes and objects from various periods of African, Asian, European, and American history.
With online exhibits like Art in Fashion: MASP's Rhodia Collection, Art from Brazil until 1900, and Histories of madness: the drawings of Juqery, there's hundreds of artworks for you to admire.
Another cool thing about this museum that can be experienced through the virtual tour is the way some of the artworks are held up by clear Perspex frames making them appear as if they are floating.
Cost: Free
READ MORE: Caribbean & Latin American Art: History & Travel Guide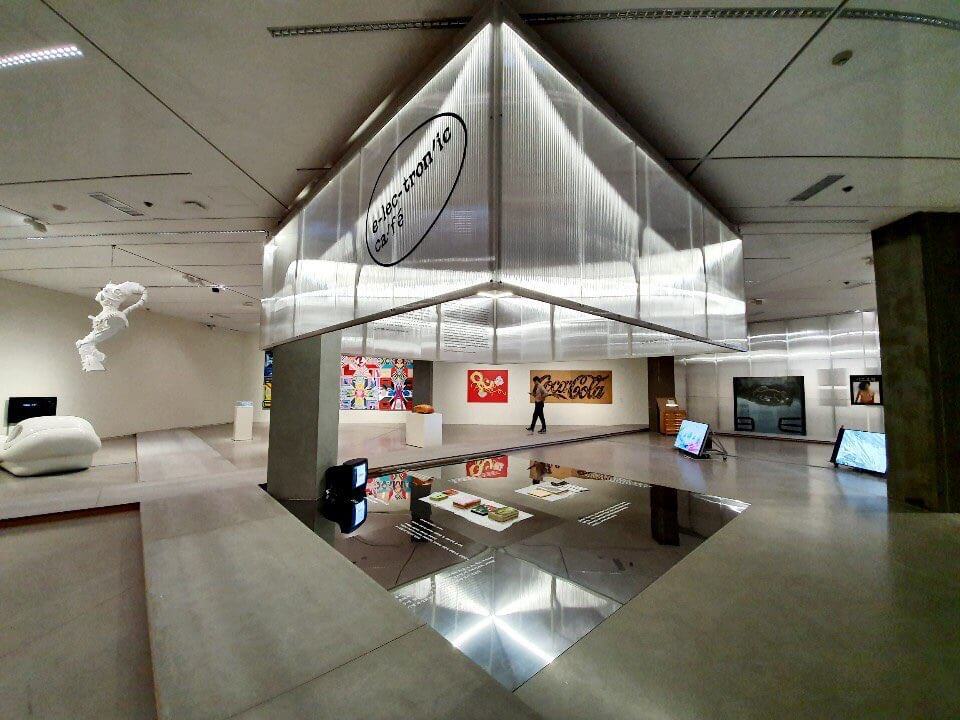 One of Korea's most popular and beloved museums, the National Museum of Modern and Contemporary Art (MMCA) is filled with contemporary art from around the globe.
Google's virtual tour allows you to examine different art pieces spanning across six floors of the museum.
As you go through the tour you can zoom in to better appreciate the intricate details of each piece and get a description telling you about the art including the artist, date of creation, and facts about the piece.
Cost: Free
READ MORE: 12 Odd Intangible Cultural Heritage Practices UNESCO Protects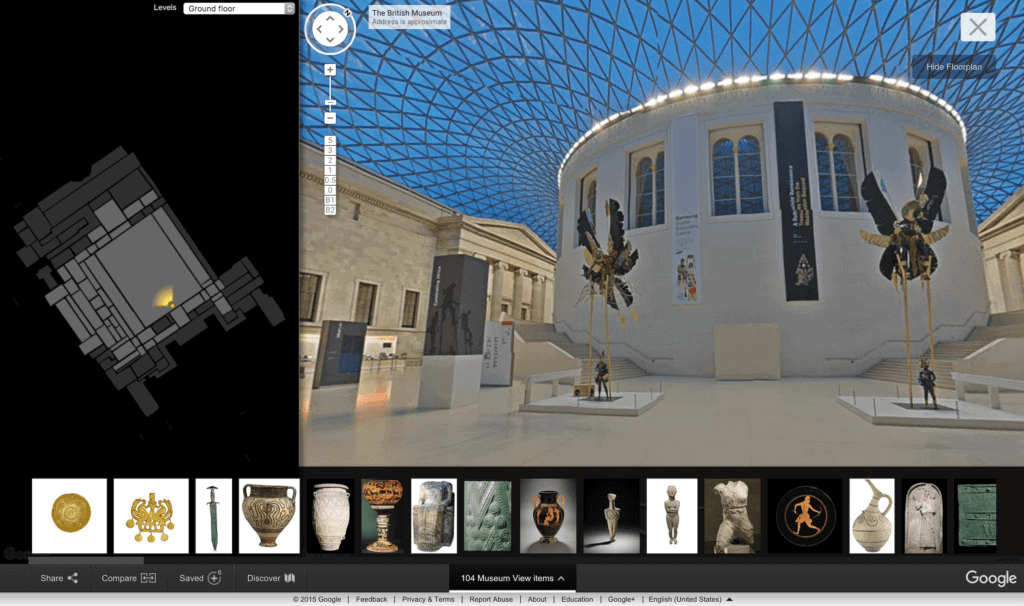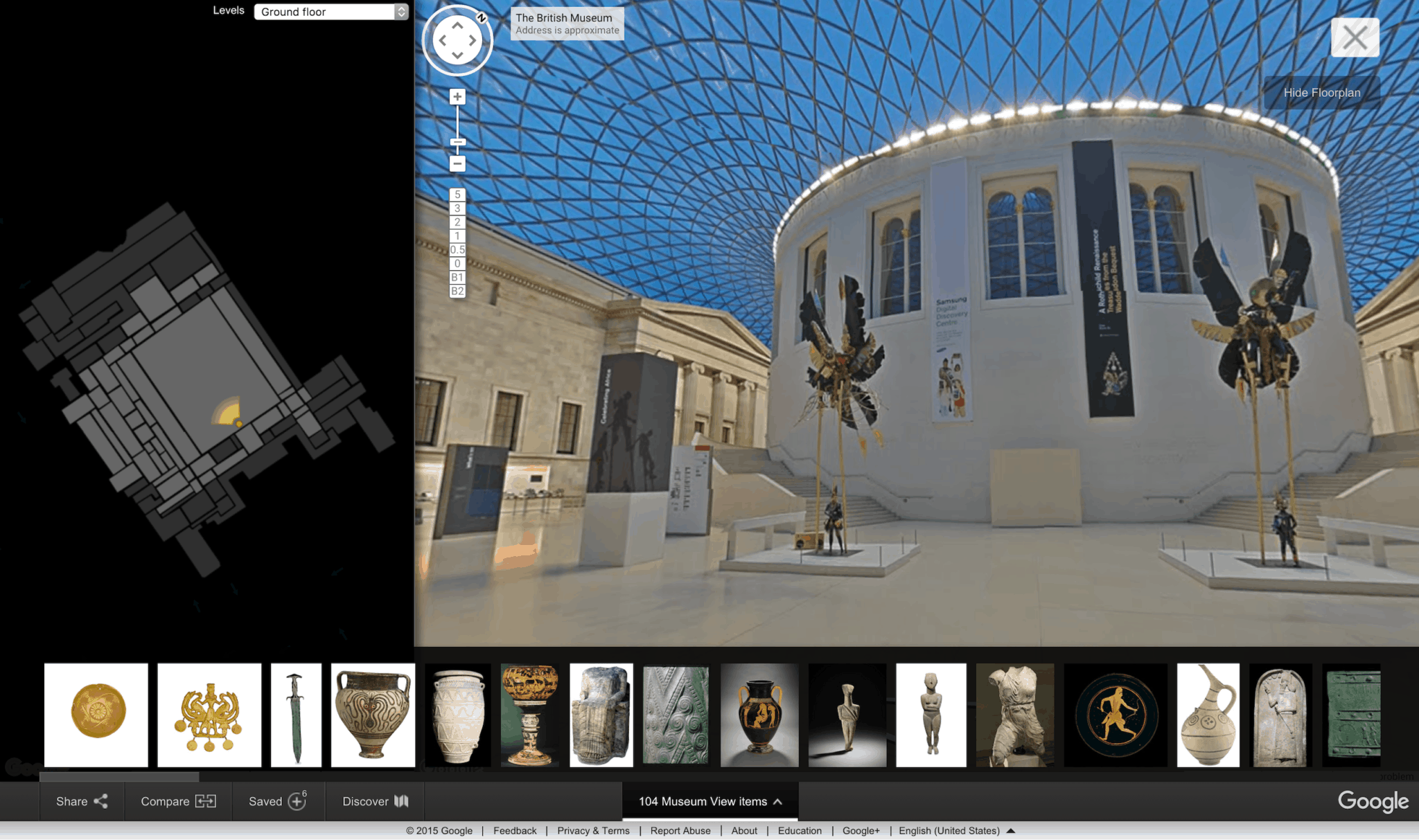 The British Museum in London offers a virtual tour allowing you to view hundreds of different artifacts up close.
Through the tour, you can pick different regions of the world and different time periods as far back as 2,000,000 BC to discover everything from Egyptian mummies to African rock art and more.
Along with a photograph of the artifact you can read a description about the piece along with listening to an audio file describing facts surrounding its history.
Google Street View also provides other ways to virtually experience the British Museum.
Cost: Free
READ MORE: The 25 Best Places to Spend Christmas in Europe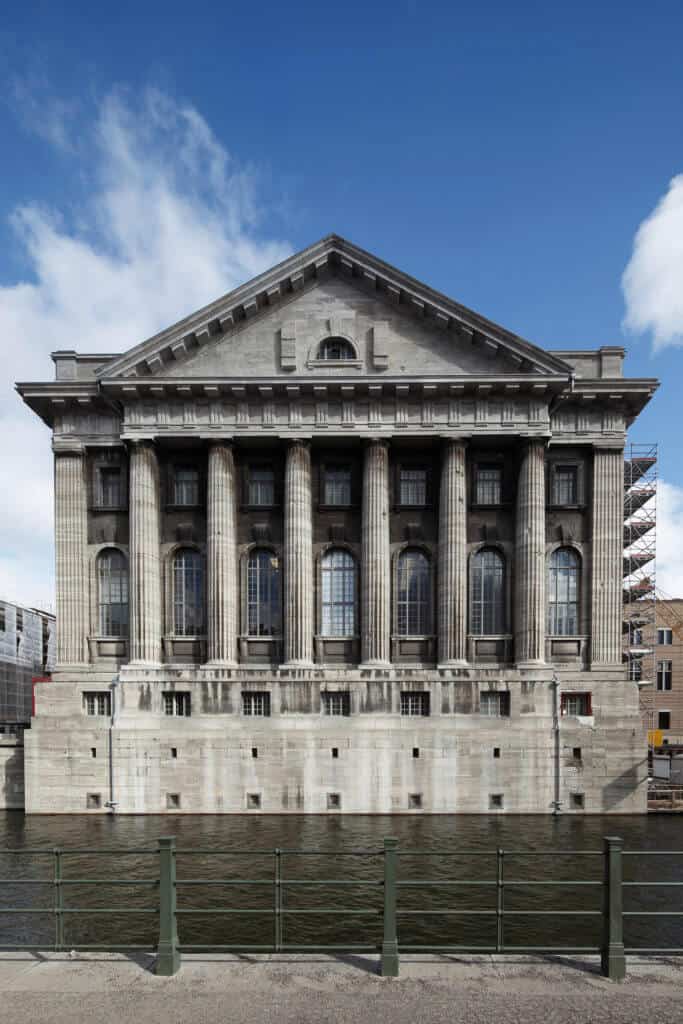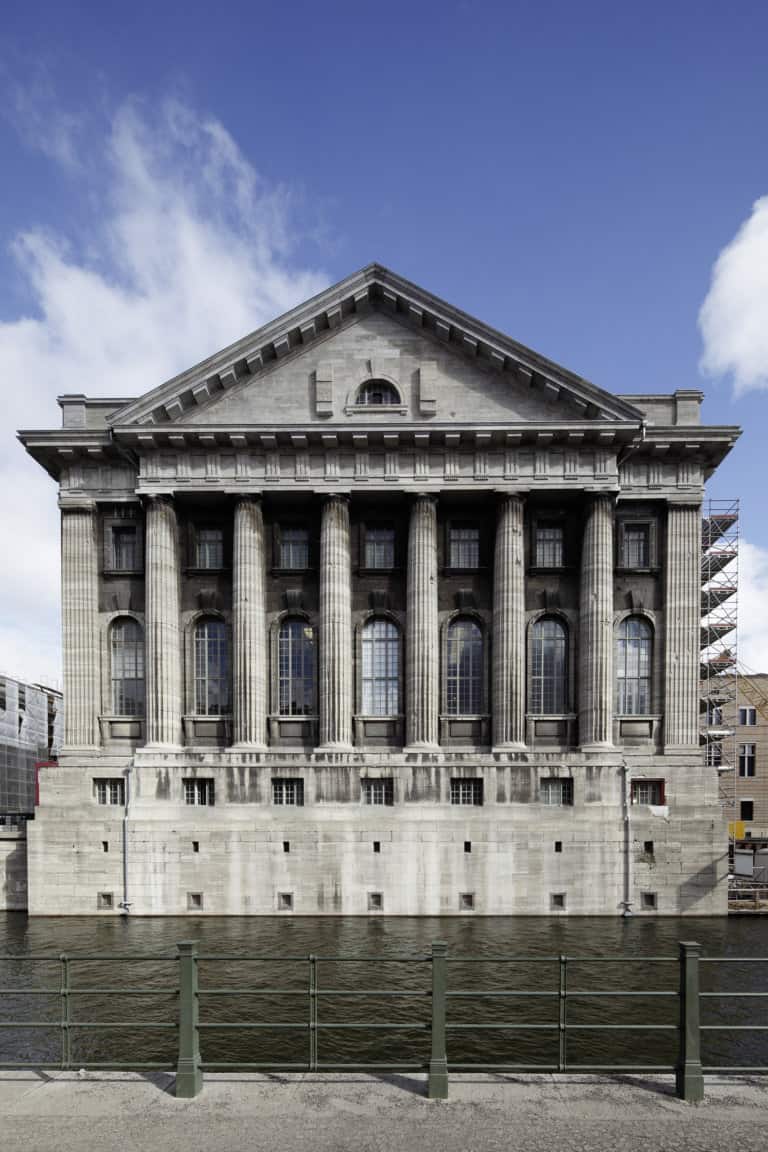 Museum houses three of the Staatliche Museen zu Berlin's collections: the Antikensammlung, Vorderasiatisches Museum, and the Museum für Islamiche Kunst.
With this virtual tour you will get to experience pieces from the Pergamon Museum, one of Germany's largest and most visited museums.
Home to magnificent ancient artifacts including the Market Gate of Miletus, the Pergamon Altar, the Ishtar Gate and Processional way from Babylon, and the Mshatta Façade, the history is endless.
Experience centuries of masterpieces and learn about their origin as you scroll through more than 1,500 different artifacts, paintings, sculptures, and more.
Cost: Free
READ MORE: Exploring the 2000-Year-Old Roman Ruins of Jerash, Jordan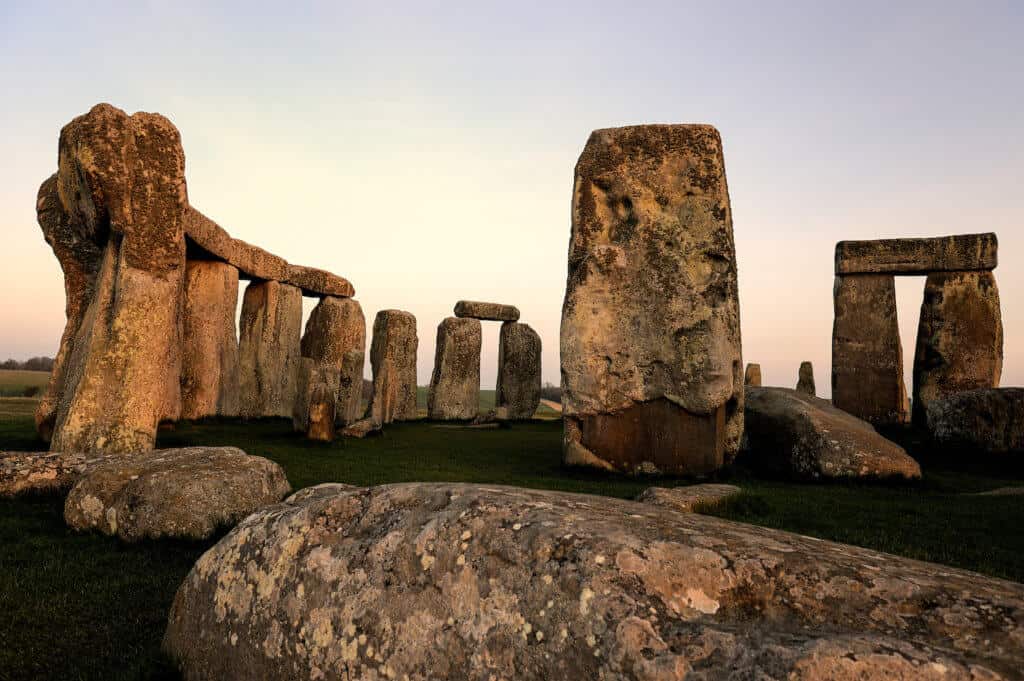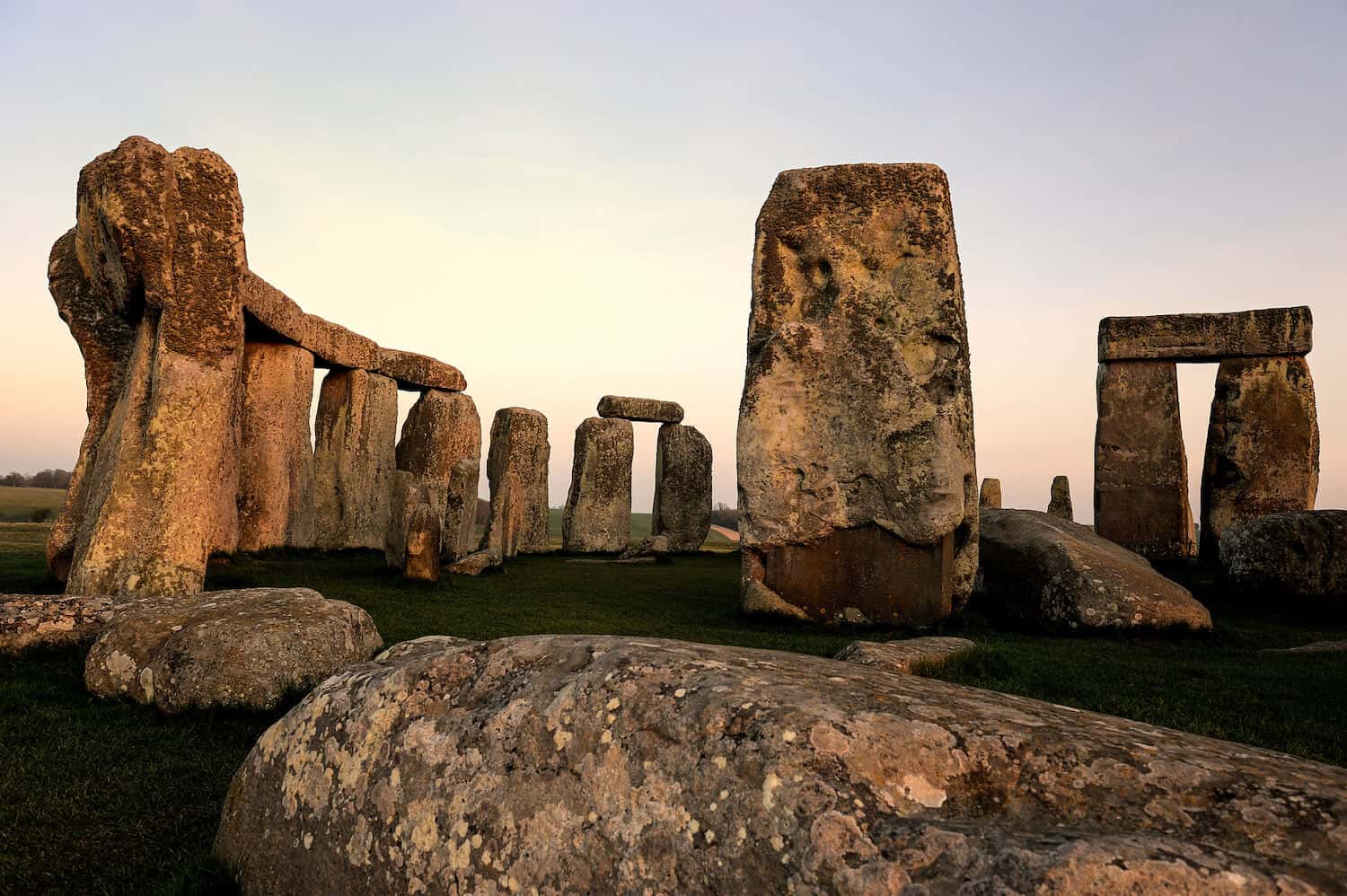 Often regarded as one of the world's most famous prehistoric monuments, Stonehenge is believed to have been constructed from 3,000 BC to 2,000 BC and is located in Wiltshire, England.
English Heritage has created an interactive tour complete with videos, descriptions, and photos that allow you to dive into the history of this incredible monument.
Along with the tour, you can switch to a live view where you can experience the skies above the stone circle and the movements of the sun, moon, and planets.
The website also offers an abundance of reading where you can learn more about Stonehenge's history, landscape, reconstruction, building process, and more.
Cost: Free
READ MORE: 10 Ancient Archaeological Sites (for Your World Travel Bucket List)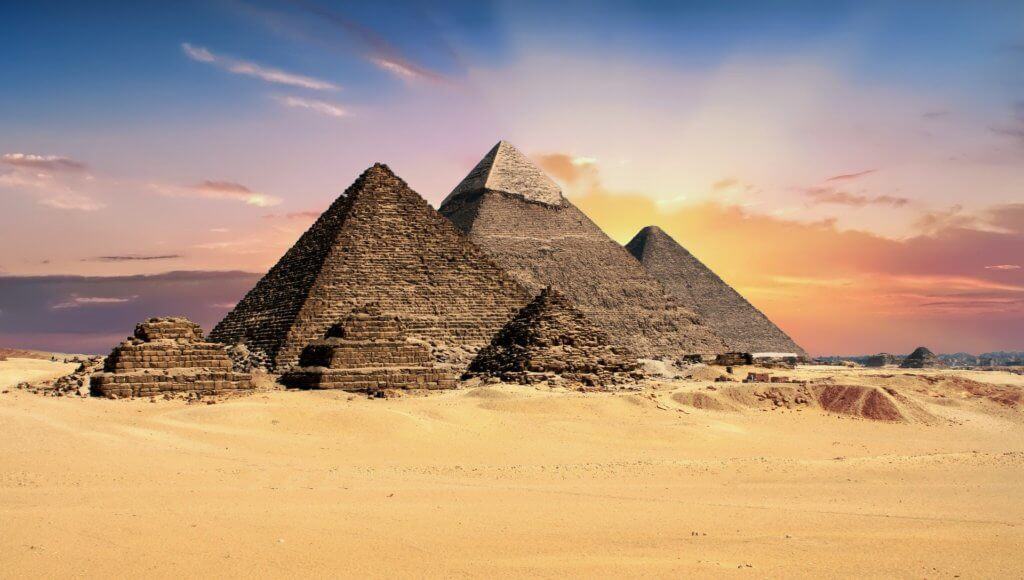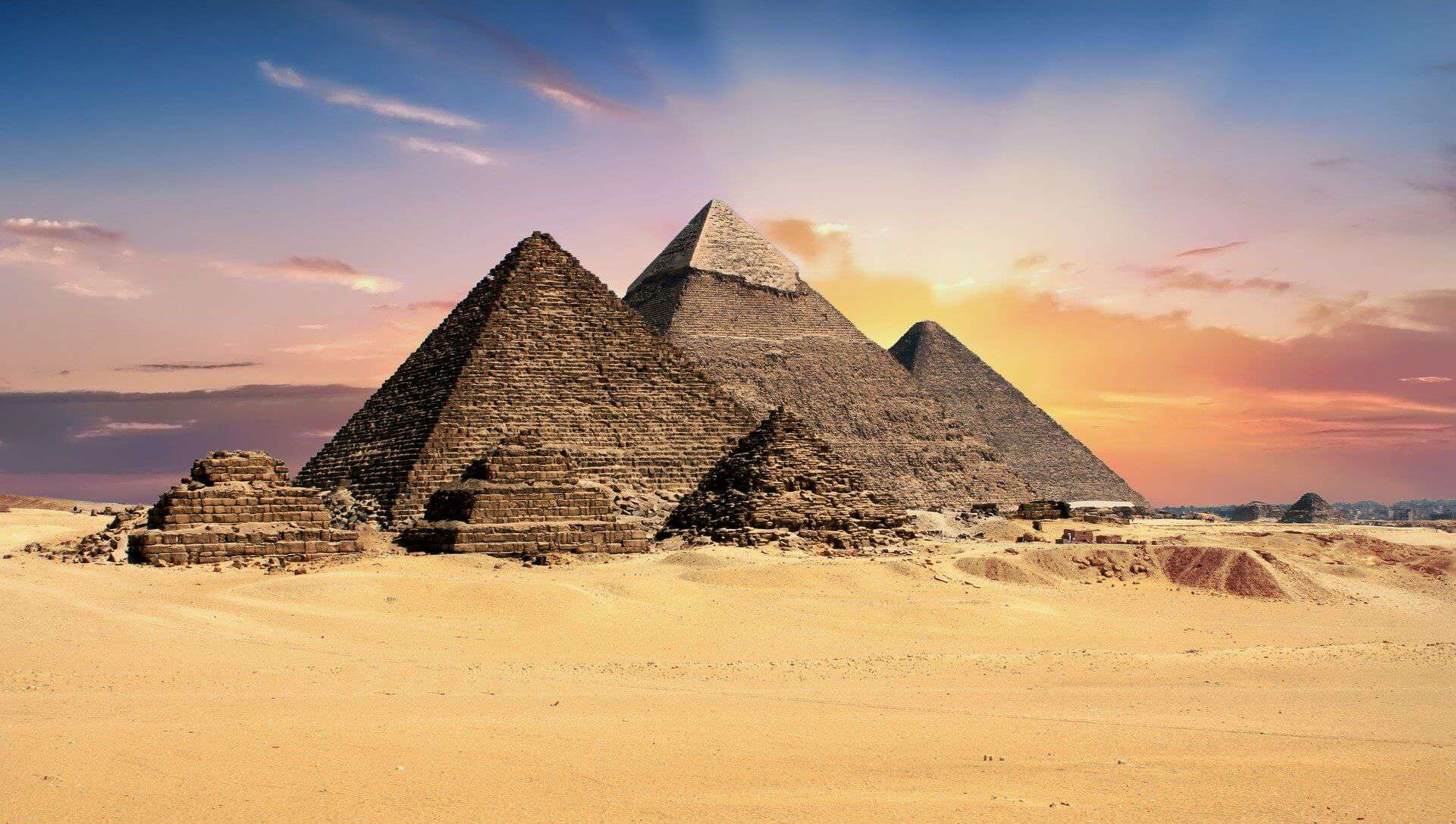 Travel to Egypt to explore the last standing wonder of the ancient world with Google Maps' virtual tour of the Pyramids of Giza.
Through the self-guided virtual tour, you can zoom in to see photos of the stunning structures and learn facts about them like how over 2 million blocks were used in the pyramids creation and in its entirety took over 20 years to build.
You can also virtually walk around the area on street view to feel as if you are actually standing at the sight to get magnificent views of the pyramids of Khufu, Khafre, Menkaure, and more.
Cost: Free
READ MORE: The 20 Safest Countries in Africa to Visit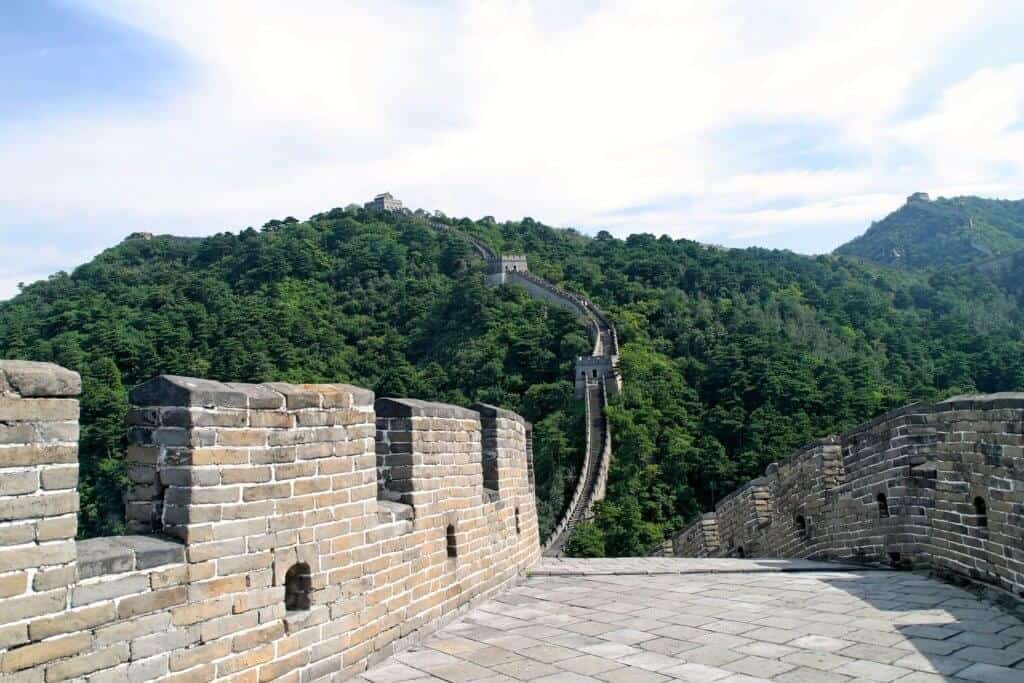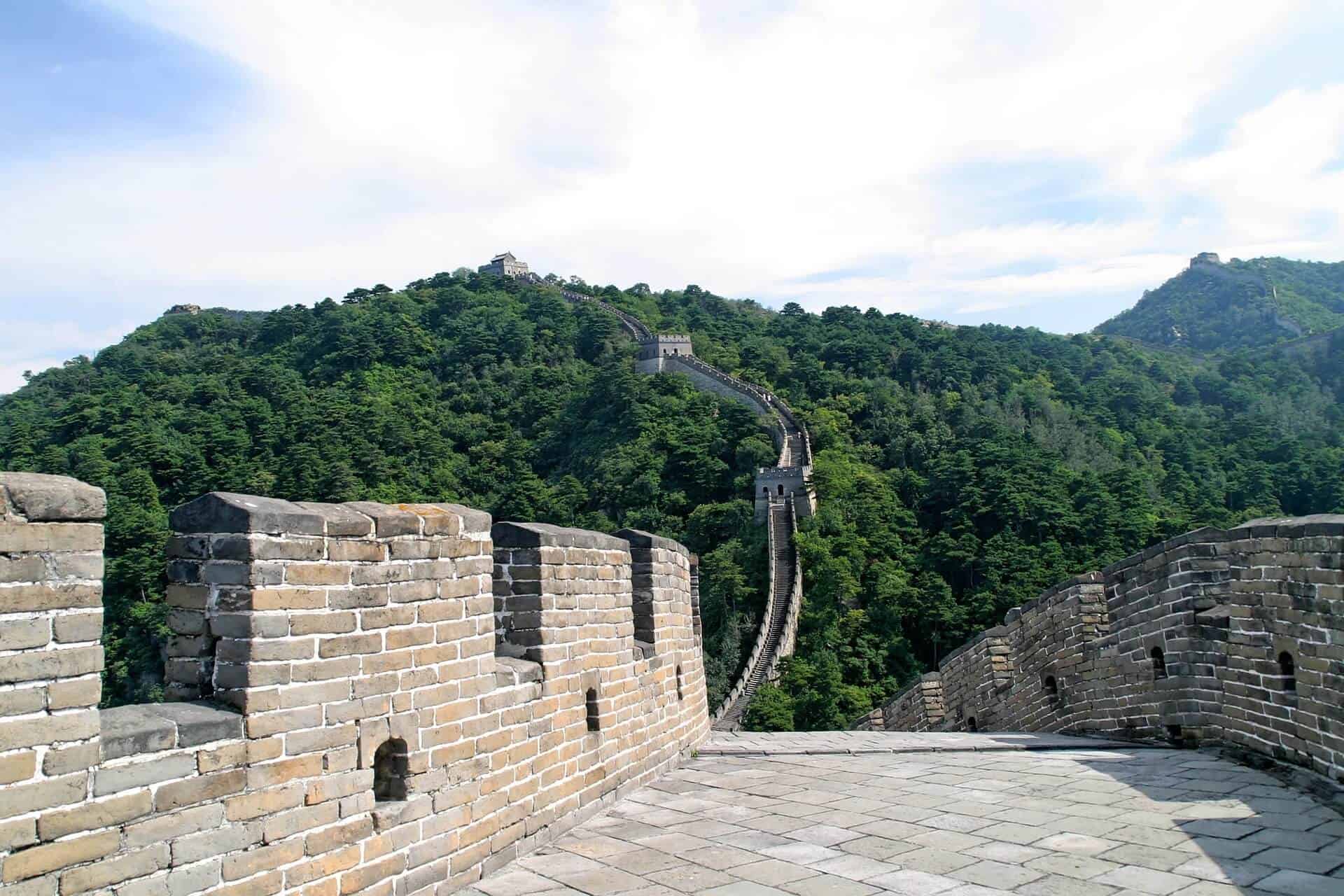 Get a chance to experience walking along one of the most remarkable ancient structures in the world with this virtual tour of the Great Wall of China.
Believed to be the only human-made structure visible from space, the Great Wall covers over 3,000 miles across various provinces in northern China.
Through this virtual tour you will get 360° views of the breathtaking scenery as you travel from Jinshanling to Simatai and experience over 2,000 years of history.
Cost: Free
READ MORE: Top 7 Things To Do in China for Nature Lovers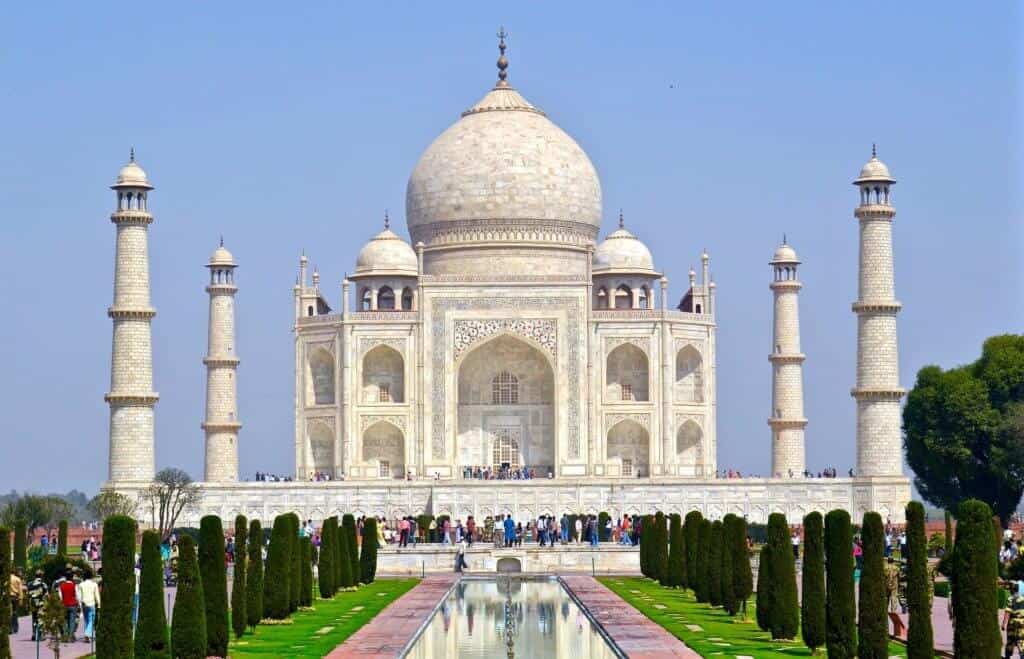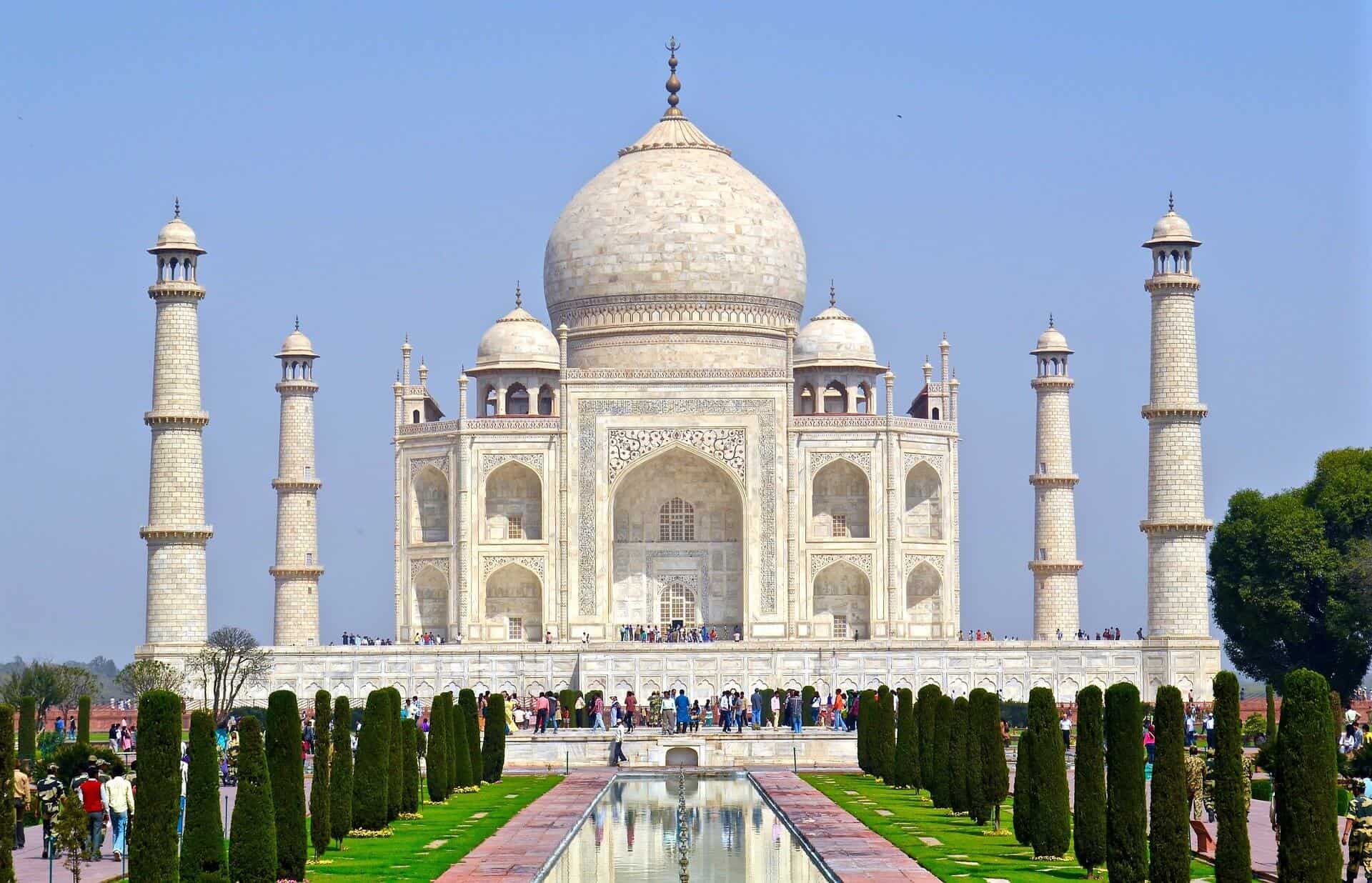 Known as the crown jewel of India, the Taj Mahal is a gorgeous display of architectural design, history, and culture that can now be experienced through a virtual tour.
As you take the 360° tour around the Taj Mahal you will be able to get an up-close view of the intricate, hand-carved details that help make the structure so beautiful as well as the immaculate landscapes that surround the site.
Built over 350 years ago and recognized as one of the new seven wonders of the world, this is a virtual tour sure to have you in awe.
Cost: Free
READ MORE: 50 Fascinating Facts About Indian Culture (by Region)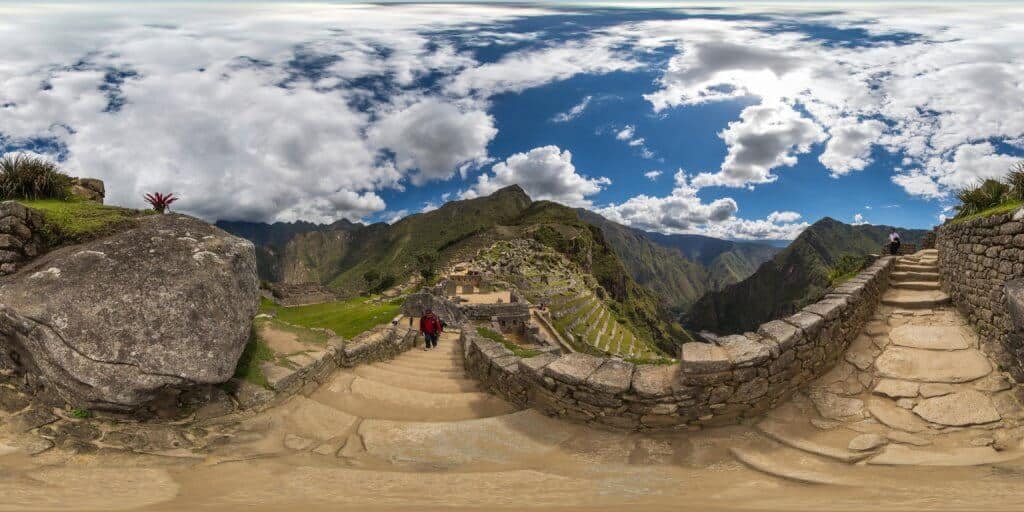 A sort of architectural mystery, Machu Picchu is an Incan citadel nestled 2,430 meters above sea level and was built around 1450 AD, before the Inca had access to iron, steel or wheels.
The impressive structure can be experienced through YouVisit's virtual tour where you are led by an audio guide who explains the sites history as you travel through different overlooks.
As you are led through the different sections, be sure to take advantage of the 360° tool to take in the gorgeous views of the tropical mountain forest that surrounds the site.
Cost: Free
READ MORE: The Effects of Mass Tourism (How Overtourism is Destroying 30+ Destinations)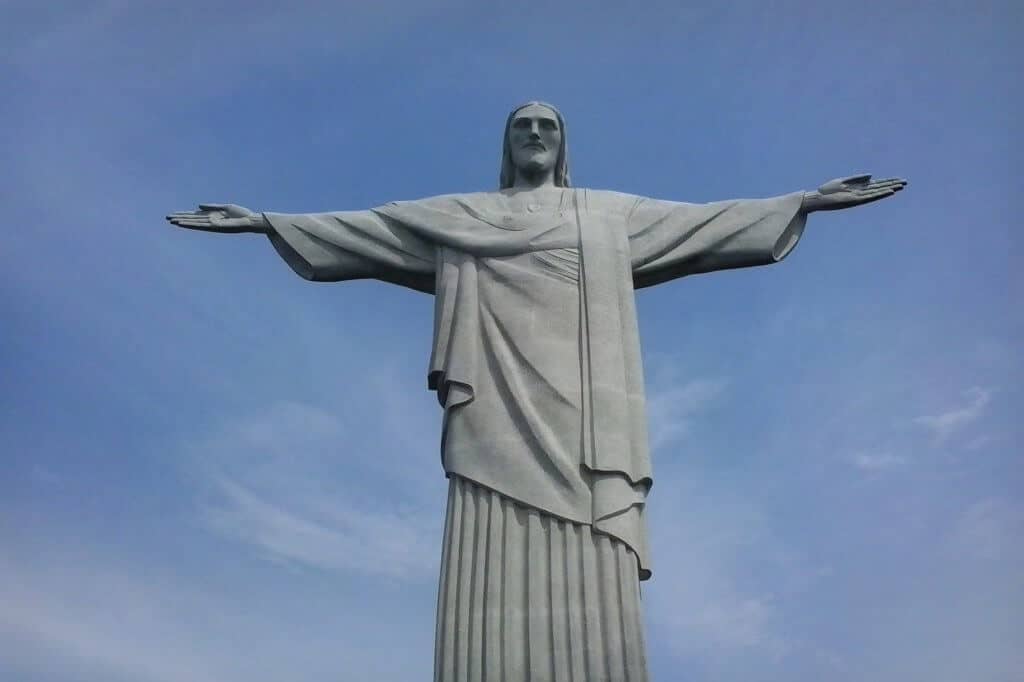 One of the new seven wonders of the world, the Sanctuary of Christ the Redeemer is an incredible monument symbolizing faith, love, and the history of the Brazilian people.
Through Google Arts & Culture's two online exhibits you can learn about the icon and its history as well as seeing up close photos highlighting the artistry that went into the creation of the world's largest art deco statue.
If you scroll to the bottom of the page you can also take a virtual tour of the monument and surrounding area through street view to take in the incredible sights and views of Rio de Janeiro.
Cost: Free
READ MORE: 20 Best Festivals in the World (for your World Travel Bucket List)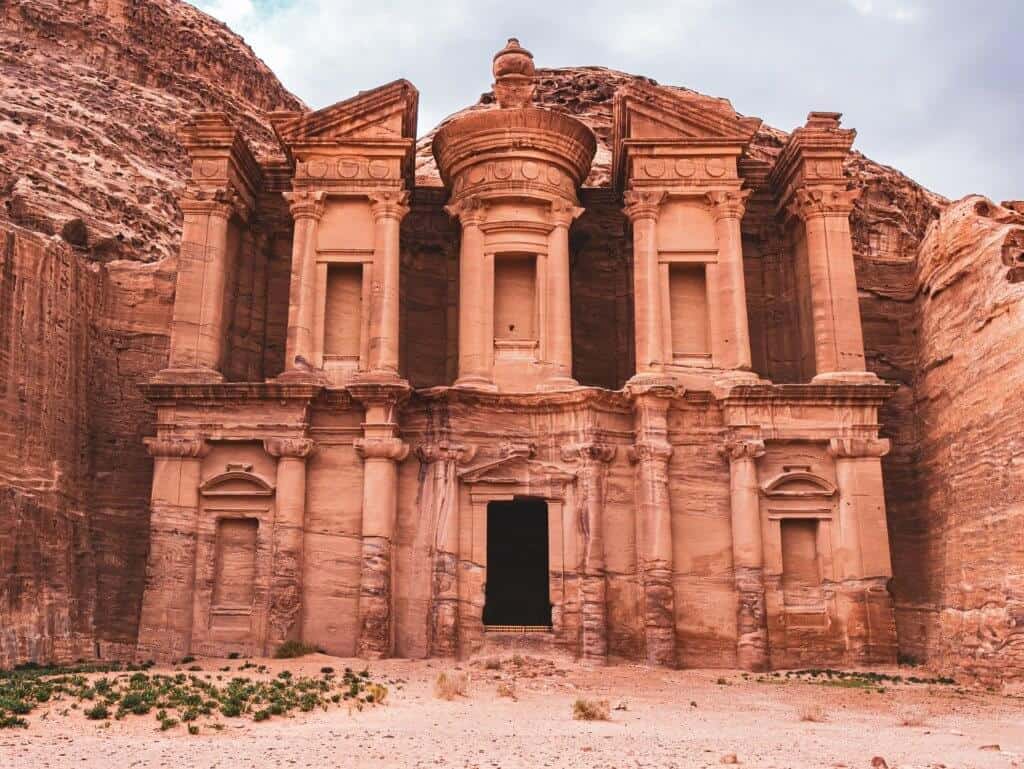 Whether you are interested because of its incredible history or just to see where Indiana Jones stood in the Last Crusade, this virtual tour shows one of the oldest, and most captivating cities in the world.
As you are led by an audio guide throughout the city of Petra you will get to see and learn about some of the most well-known areas like the famous Treasury, the Great Temple, the Urn Tomb and more.
As you take in these magnificent monuments and look in awe at the incredible detail and architectural work that went into creating them, keep in mind they were all built in the 3rdcentury BC!
Cost: Free
READ MORE: The Secret Petra Treasury Trail (The Ultimate Petra Tour)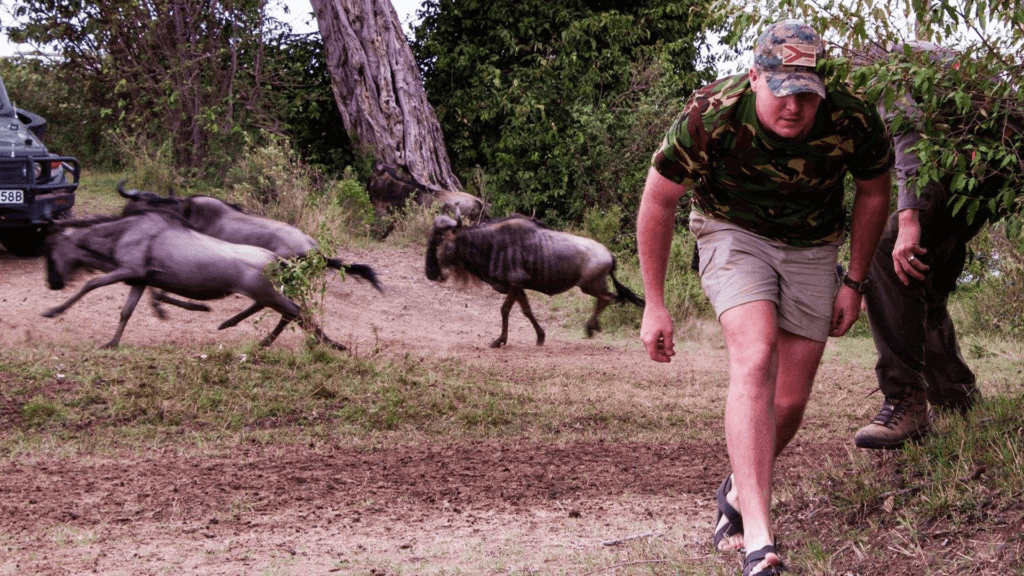 Habitat XR is the only studio in the world that is dedicated to immersing people in nature and wildlife through extended reality or XR technologies.
They produce award-winning virtual reality experiences that connect people to the natural environment and offer the thrill of the outdoors through your computer screen.
Their work includes 360° virtual videos where you can see incredible animals like hyenas, fish eagles, rhinos and more as if you are standing in their habitat just a few feet away.
Cost: Free
READ MORE: Top 10 Tanzania National Parks & Reserves (The Ultimate Tanzania Safari)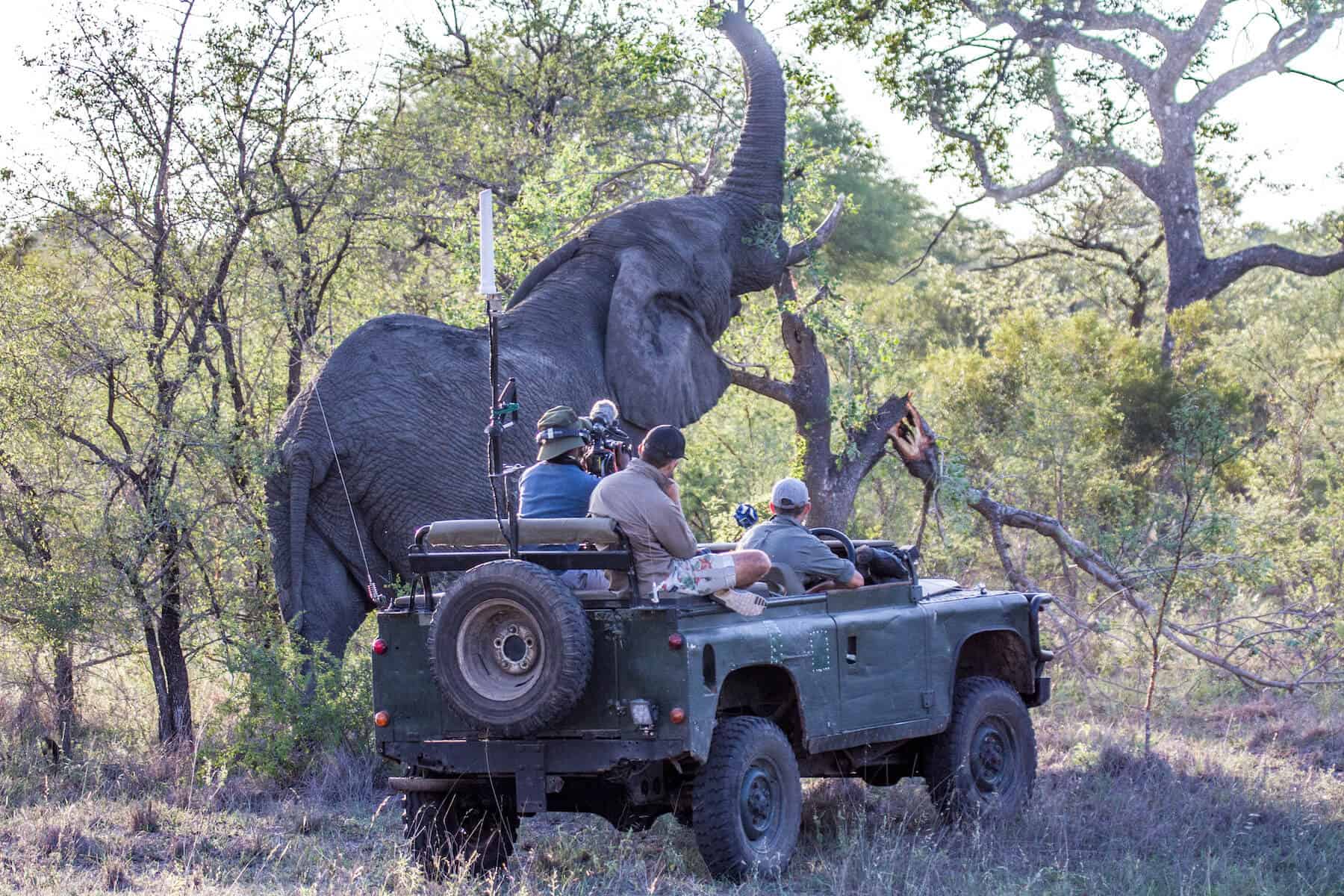 Experience the thrill and wonder of the African wilderness from the comfort of your own home through WildEarth's SafariLIVE.
This broadcast allows you to interact with an expert game ranger in real time as you travel through the Sabi Sands in the north-east Corner of South Africa or the Maasai Mara National Reserve in south-western Kenya, completely unscripted and real.
When you're not tagging along on their expeditions check out the rest of the website to see cool highlight and behind the scene videos.
Cost: Free
READ MORE: Animals in Kenya: A Guide to 40 Species of Kenyan Wildlife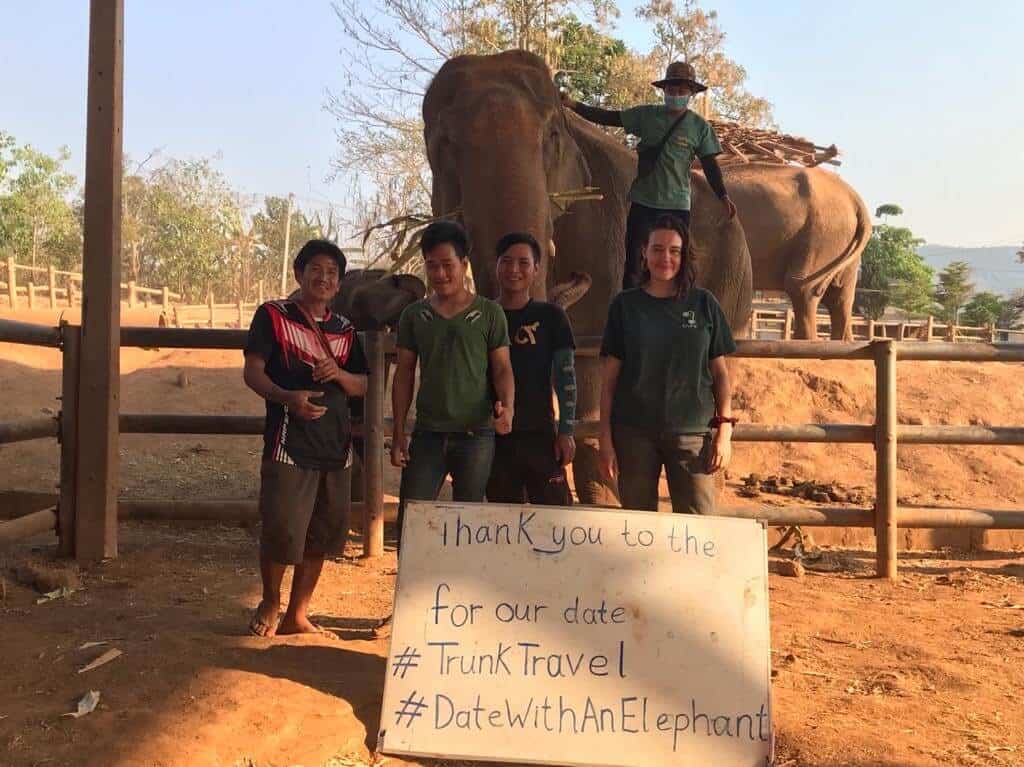 Get ready for the date of your life with Trunk's new "date with an elephant" campaign.
You can book a private 30-minute date with elephants in several sanctuaries across Thailand, Vietnam, Cambodia and India that focus on ethical tourism and creating a space that positively benefits the elephants.
During your date, you will get to meet all the elephants, virtually feed them and guess their ages, along with playing interactive games and learning quizzes to find out more about the sanctuaries and elephants themselves.
Cost: $60 US
READ MORE: 55 Interesting Facts About Elephants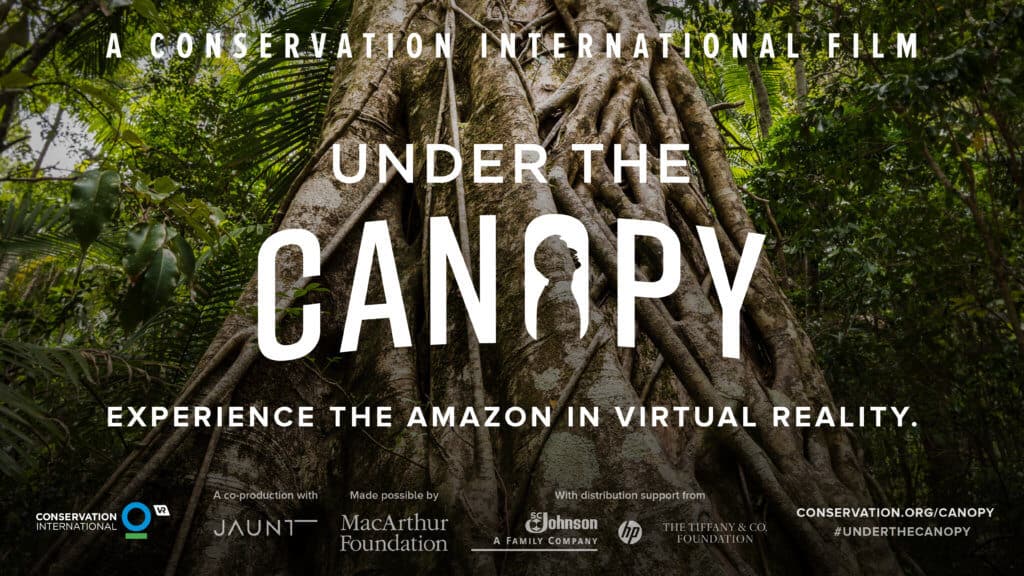 Experience the Amazon in virtual reality with Conservation International's 360° video showcasing gorgeous scenes from one of the most biodiverse and beautiful places on earth.
Amazonia, which is the forests and wetlands of the Amazon River basin and Guiana shield in South America is home to 10 percent of the world's known species, 20 percent of the worlds fresh water, and creates 20 percent of the Earth's breathable oxygen.
To save these valuable resources, Conservation International is working with their partners to hopefully achieve zero net deforestation in Amazonia by 2020.
Cost: Free
READ MORE: 20 Longest Rivers in the World by Continent (for your World Travel Bucket List)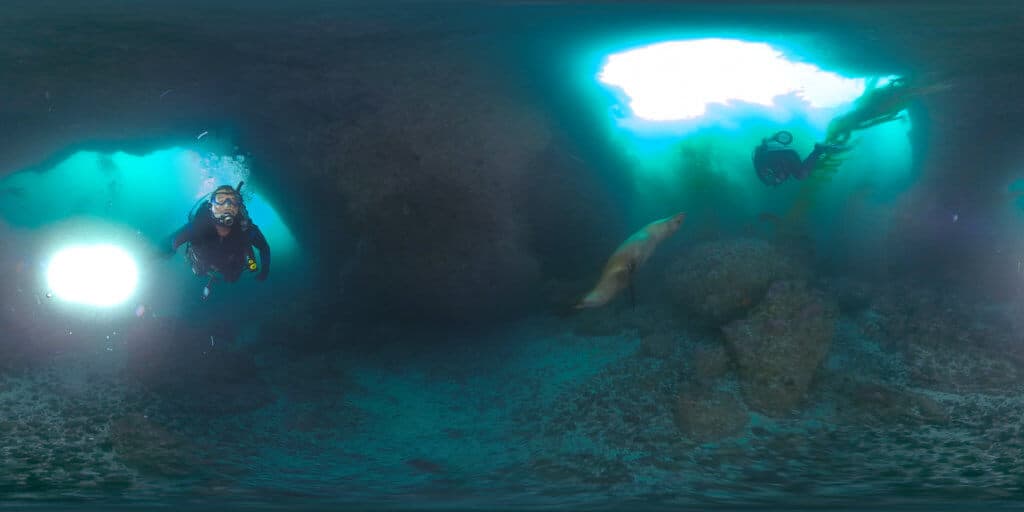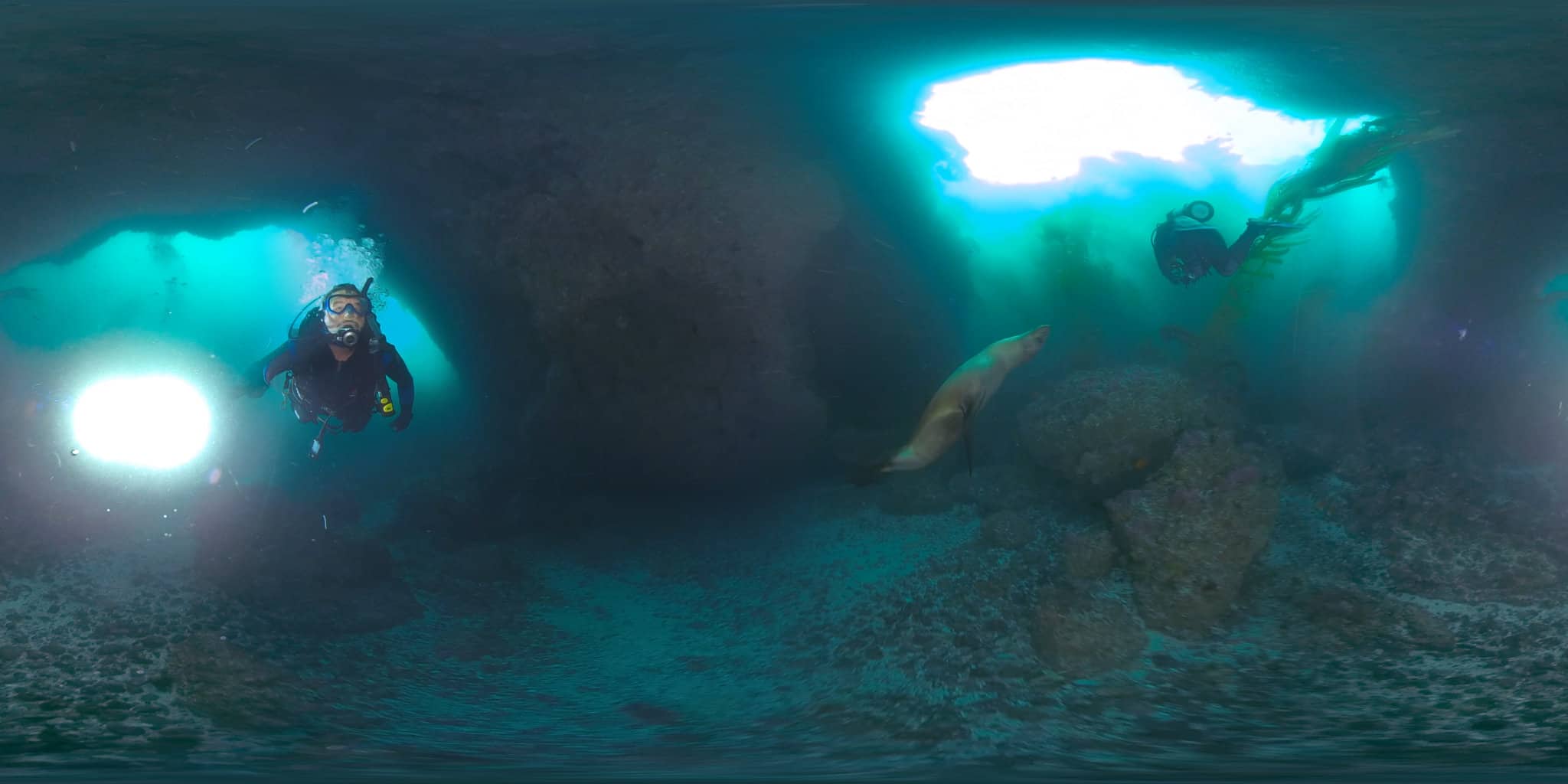 Dive deep into the ocean and explore the incredible habitats and animals that live in various national marine sanctuaries with these 360° virtual dives.
To go on one of these virtual dives, all you have to do is pick which sanctuary you want to visit like the American Samoa, Olympic Coast, Gray's Reef, Monterey Bay, etc. scroll through the gallery and select a panorama.
From there you will get an incredible 360° view of the sanctuary. These dives can be enjoyed on a computer or smartphone, but for an even more immersive experience try pairing it with a virtual reality headset.
Cost: Free
READ MORE: 10 Best Places to Scuba Dive (for your World Travel Bucket List)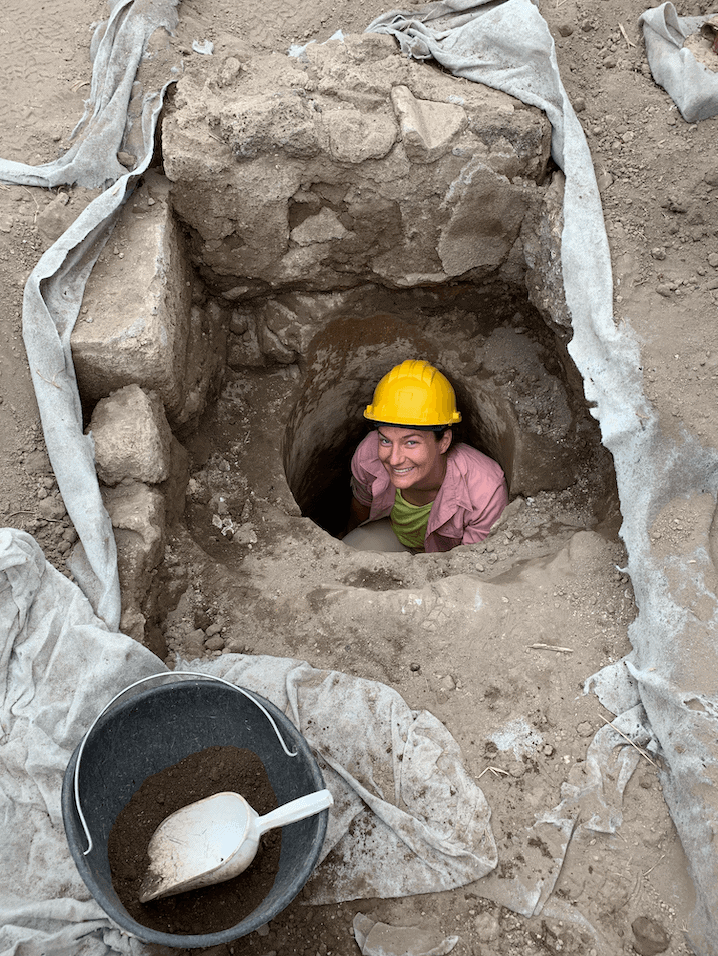 Explore striking lands and uncover historical artifacts as you embark on virtual excavations with the Archaeological Institute of America's Interactive Digs.
Whether studying the Sanctuary of Venus at Pompeii, exploring the Ferrycarrig Ringwork in Ireland, or searching throughout the highlanders on the route between Knossos and Ideon Cave on Minoan Crete in Greece, these interactive digs will make you feel as if you are actually a part of the team.
Week by week you will get information about the expedition along with videos discussing the entire process from lab work to reconstruction and more.
You will be able to see photos and read entries about what life is like in the field all the while furthering your knowledge about different cultures and histories.
Cost: Free
READ MORE: Museo Maya de Cancun – Cancun's Mayan Museum of Archaeology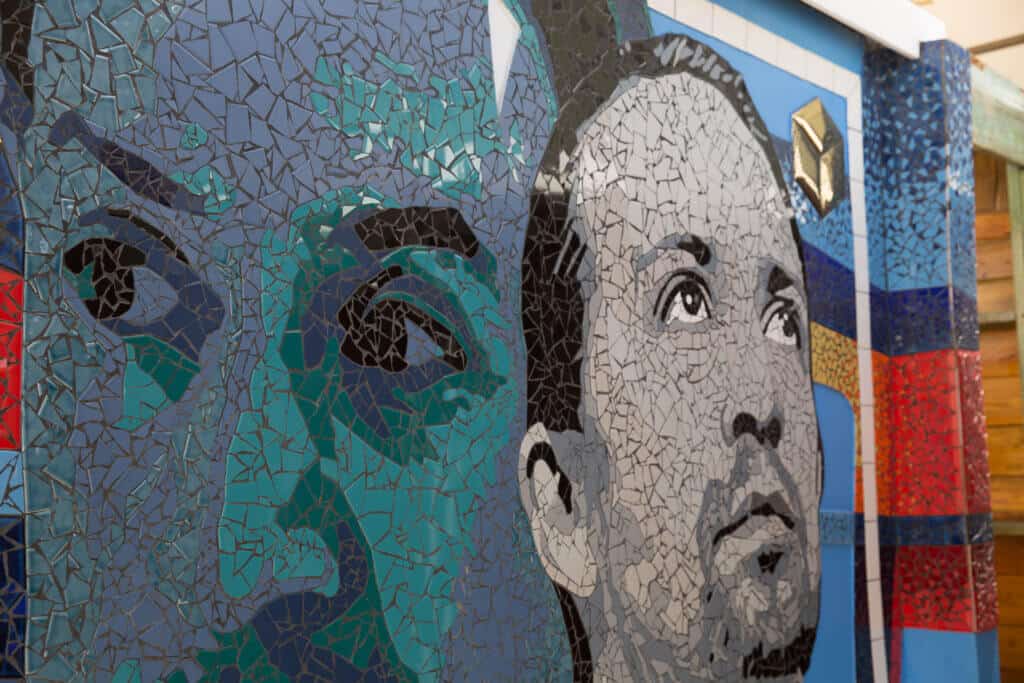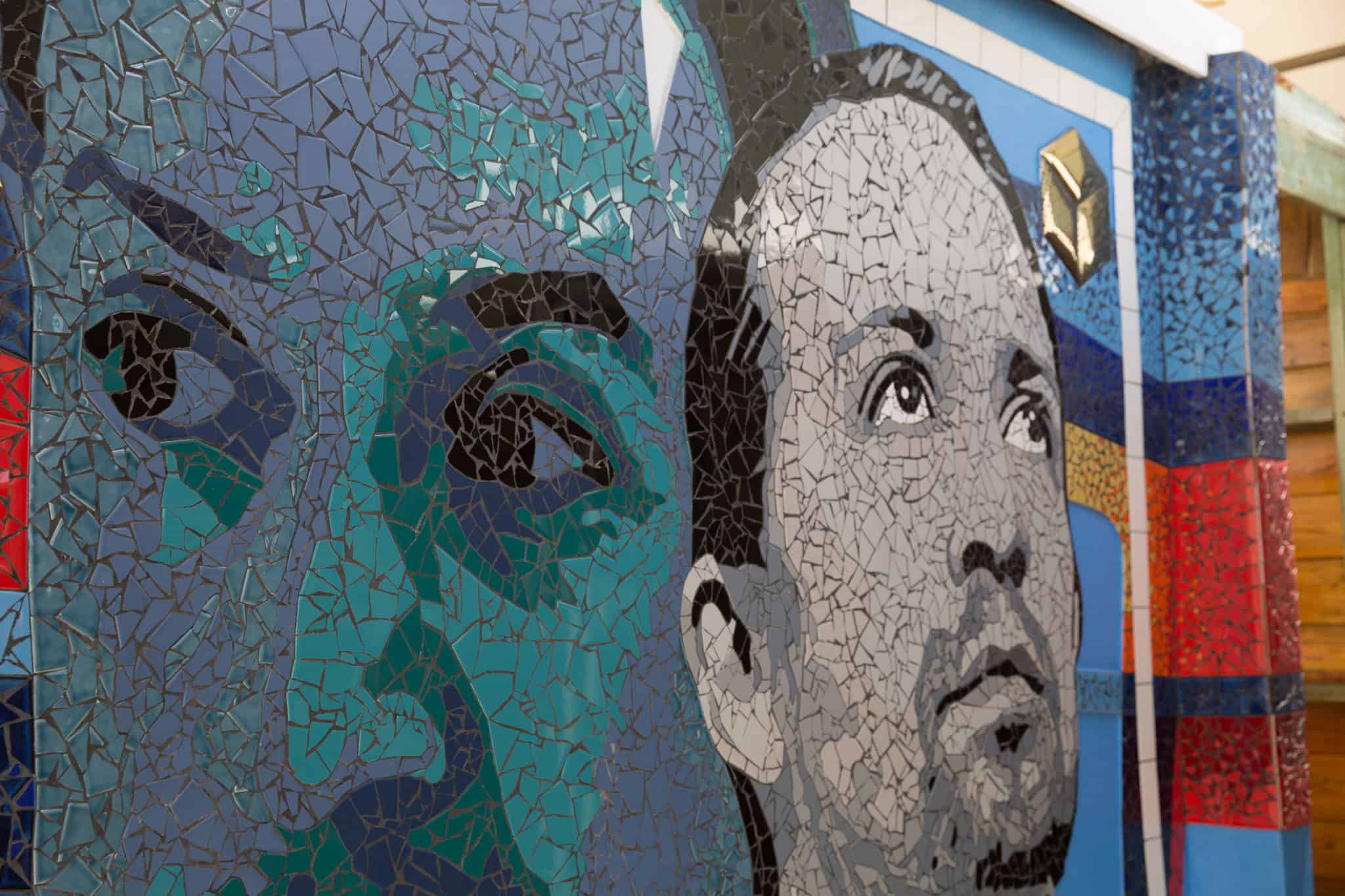 Learn all about Puerto Rico's incredible culture, arts, and local attractions alongside award-winning actor, lyricist, and composer Lin-Manuel Miranda in this eight-part video series.
With each episode you will be introduced to some of the hidden gems of Puerto Rico including various museums, historic districts, beaches, restaurants, and other beautiful scenery and locations.
You will also get to meet local personalities like actress, singer, and former Miss Universe, Denise Quińones, and singer Lucecita Benítez to learn about their life in Puerto Rico.
Cost: Free
READ MORE: 20 Best Caribbean Islands to Visit (if you Love Nature & Hate Crowds)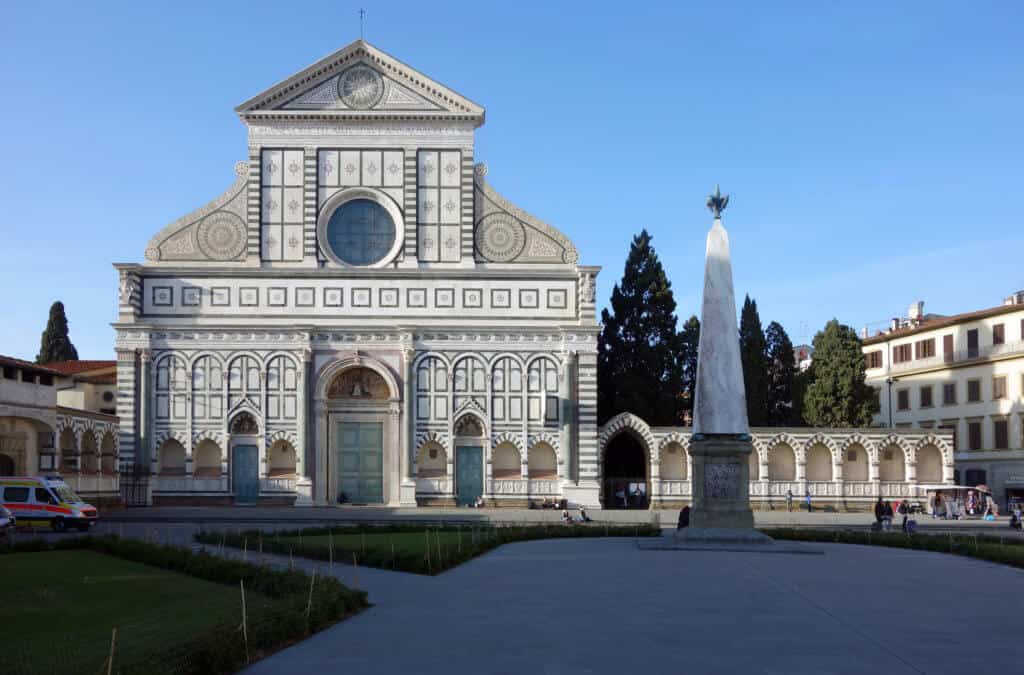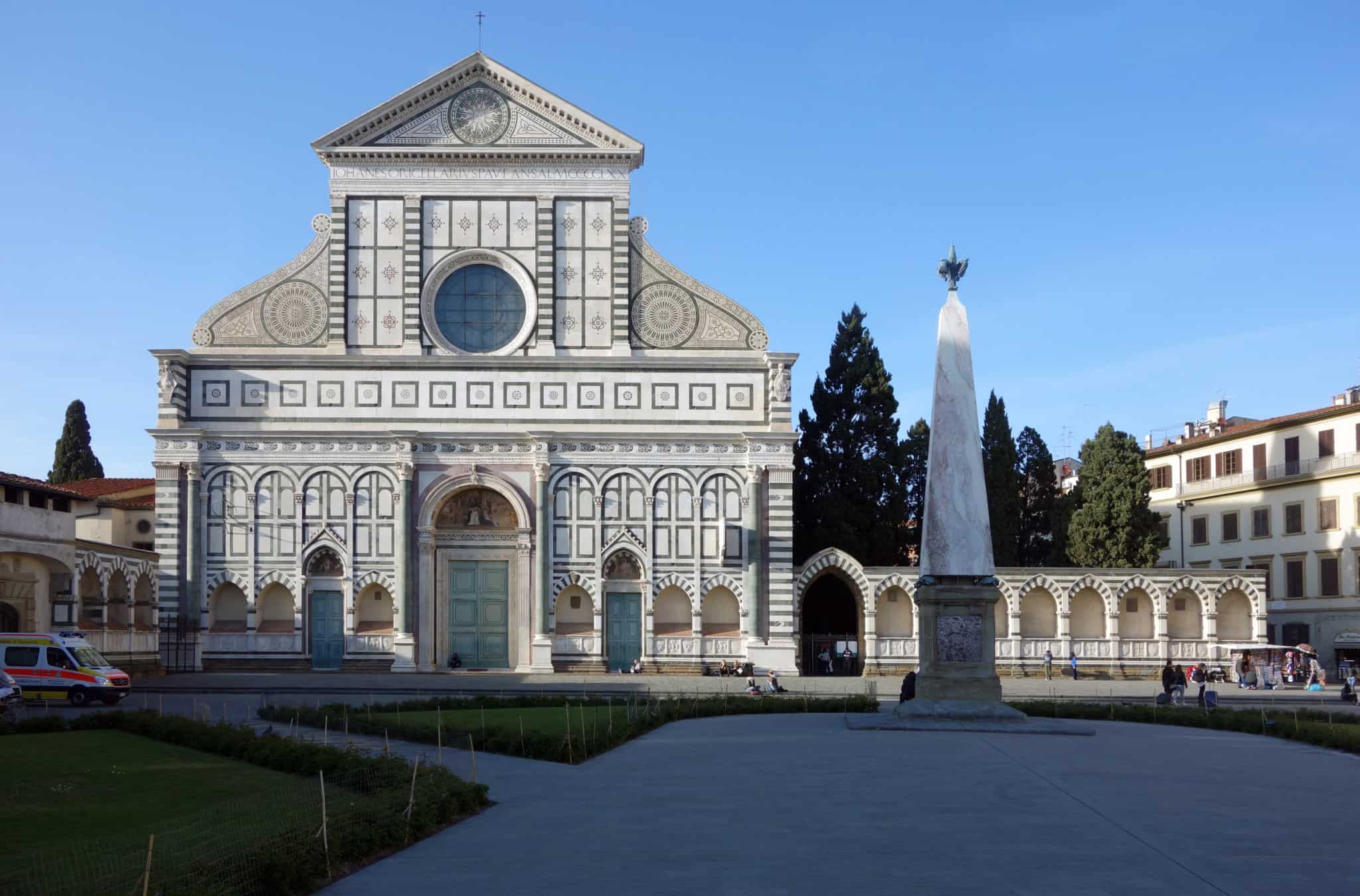 Explore art from around the globe through smarthistory, the world's most visited art history resource that provides information, photos, and videos detailing hundreds of works of art ranging from the paleolithic to the present.
With cool features like Across Cultures and Art by Location, you can pick a specific country and learn all about its history and culture while viewing beautiful works of art native to that region.
Be sure to check out their YouTube channel to watch tons of informational videos!
Cost: Free
READ MORE: Weekend in Prague: The Best Things To Do in Prague in 3 Days
Best Wildlife & Nature Cams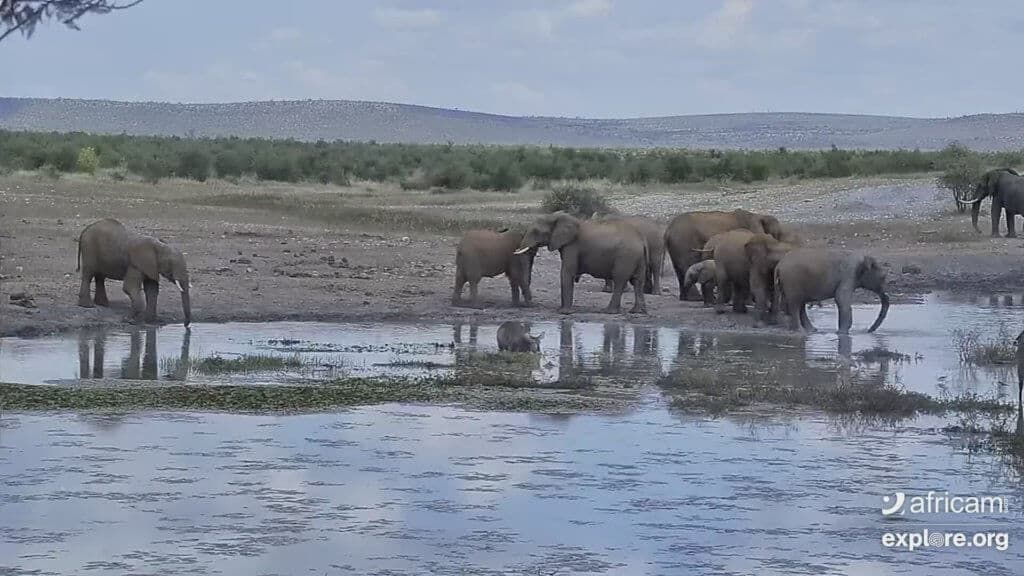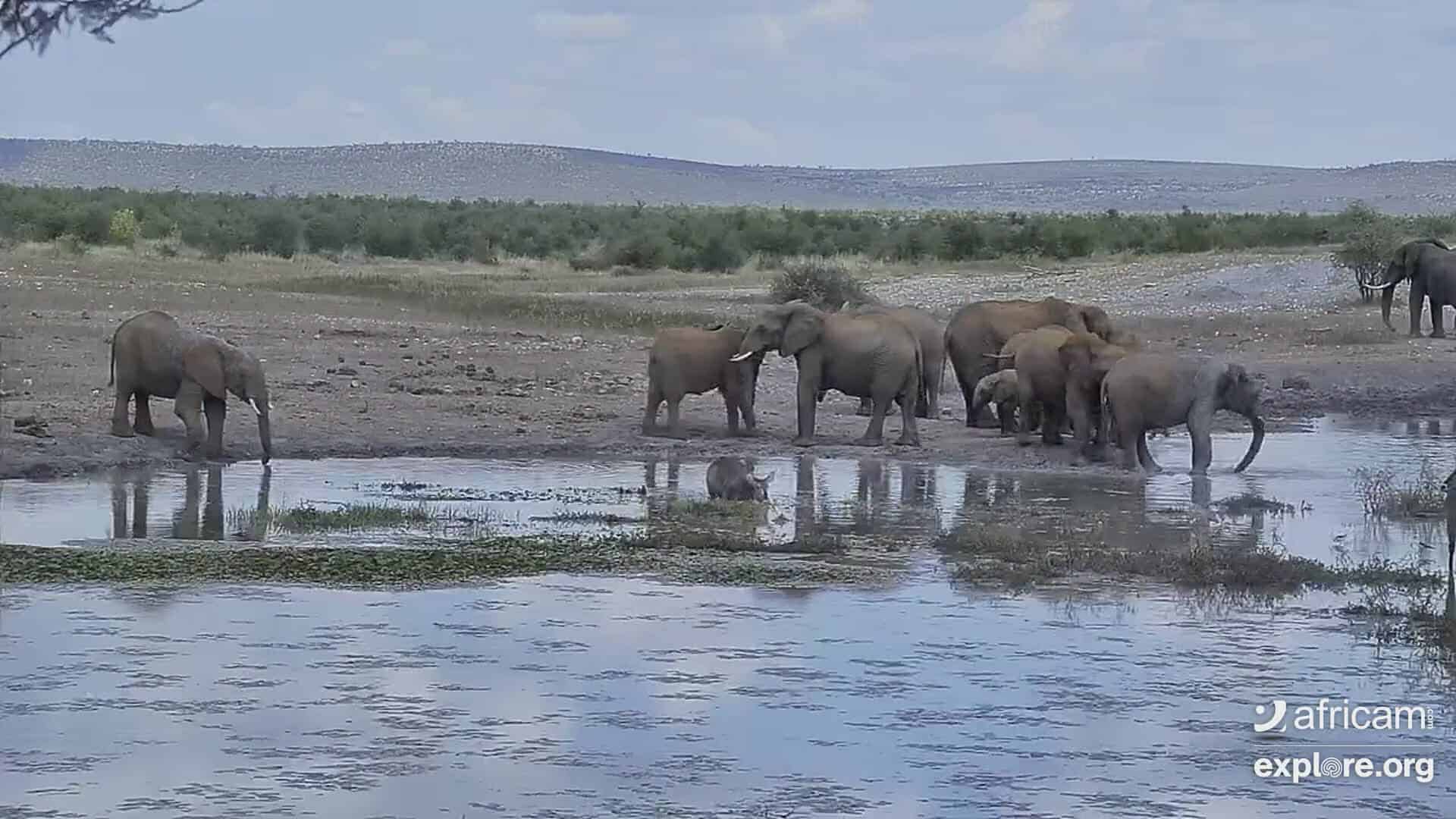 Located in Emanguisi, South Africa, Tembe Elephant Park is known for being home to some of the largest elephants in all of Africa.
The Tembe Elephant Park live-cam is situated at a popular waterhole and runs all day and all night.
It allows you a glimpse into the African wild where you can gaze at these gentle giant animals along with occasional special appearances from lions, leopards, black and white rhinos and buffalo.
You could also catch a peak of one of more than 340 different bird species or the tiny Suni antelope, common prey for the lions and other meat eaters.
Cost: Free
READ MORE: Endangered Elephants of East Africa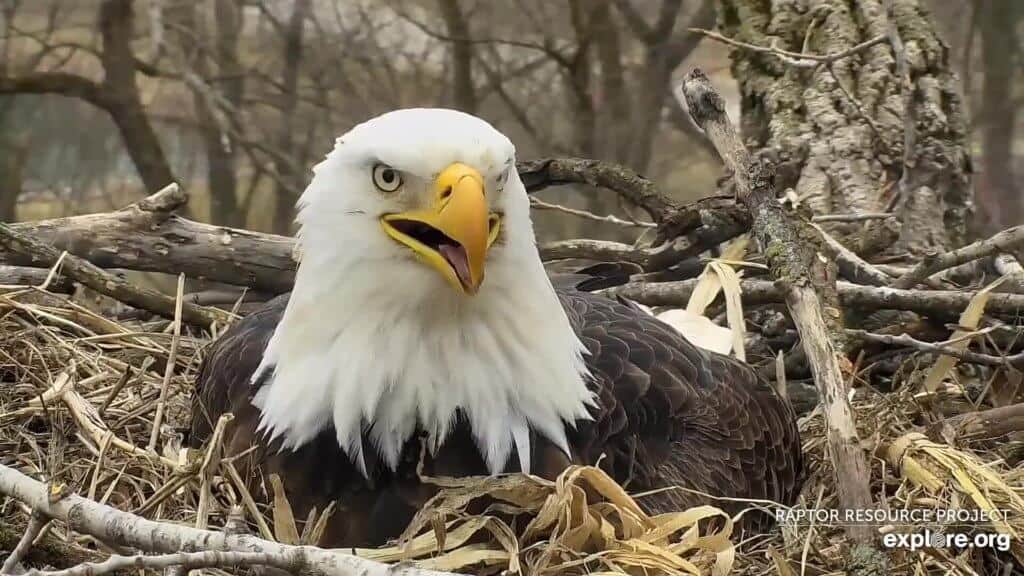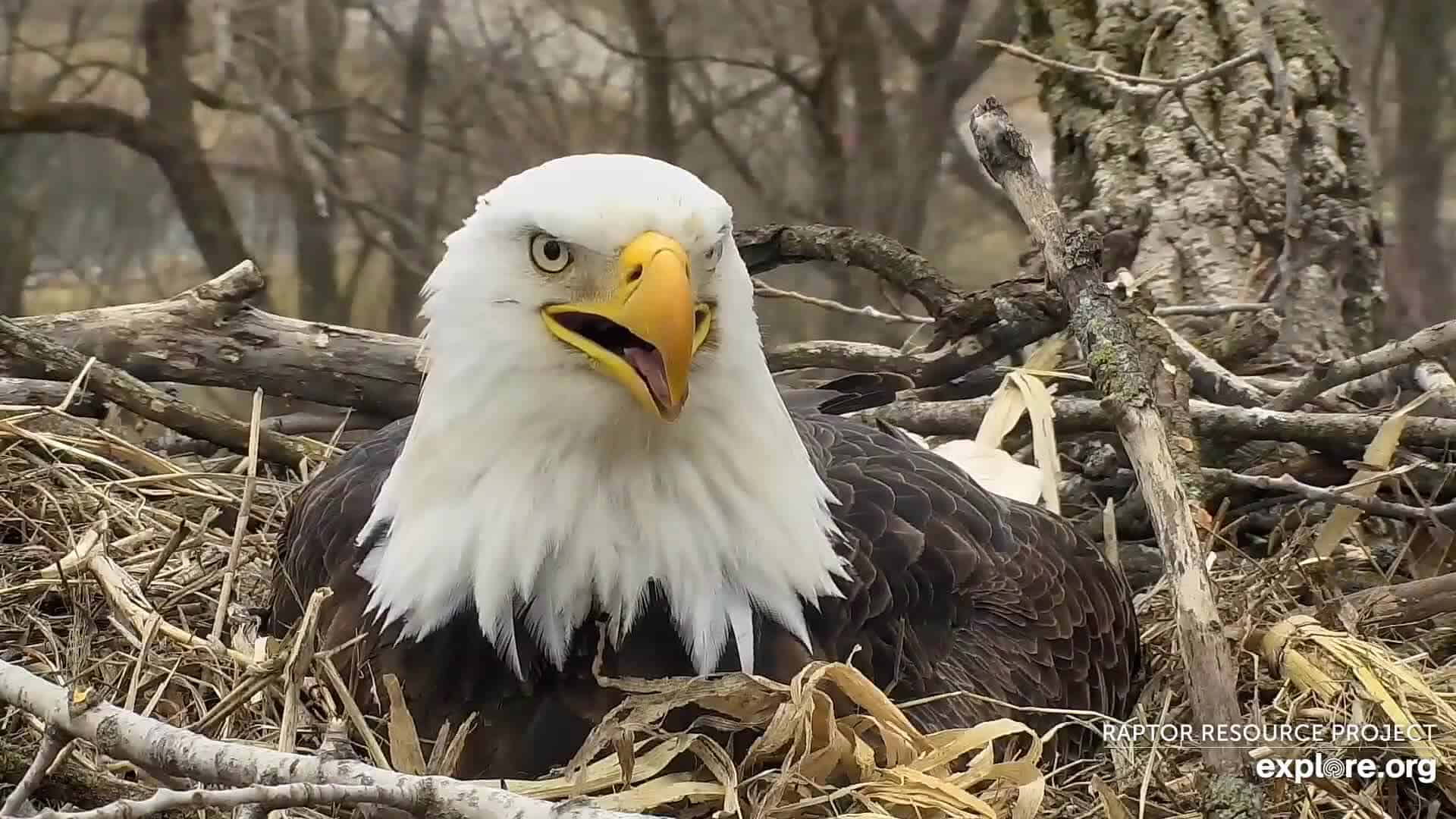 Focused on a bald eagle nest near a trout hatchery in Decorah, Iowa, this live-cam runs all day and night letting you peak into the life of one of the world's most majestic birds.
After two previous nests were destroyed, the Raptor Resource Project team constructed the nest you will see in the live-cam hoping that the eagles would build upon it.
The eagles did just that and have made this their new home!
Cost: Free
READ MORE: Alaska Wildlife Conservation Center (Photo Gallery)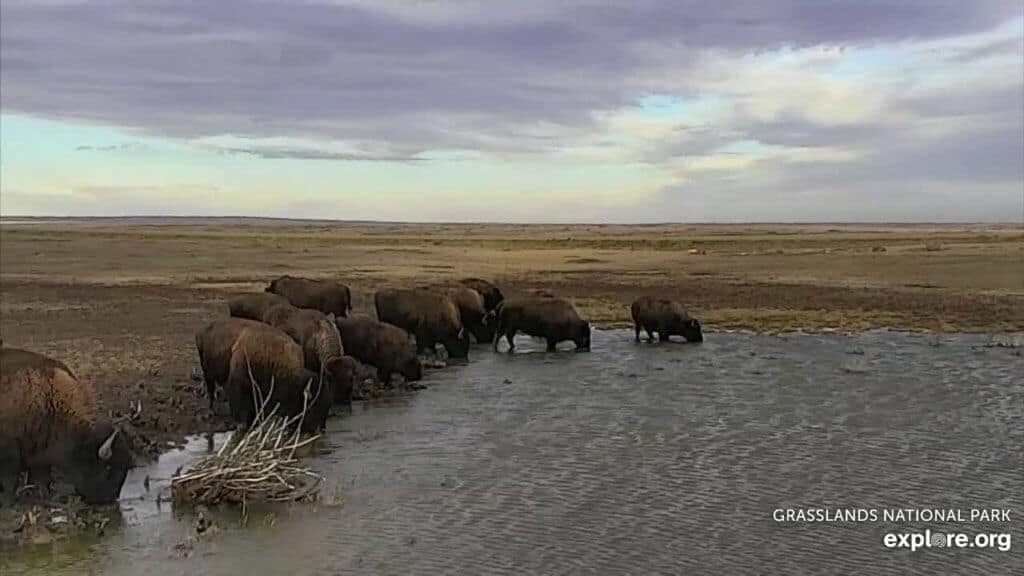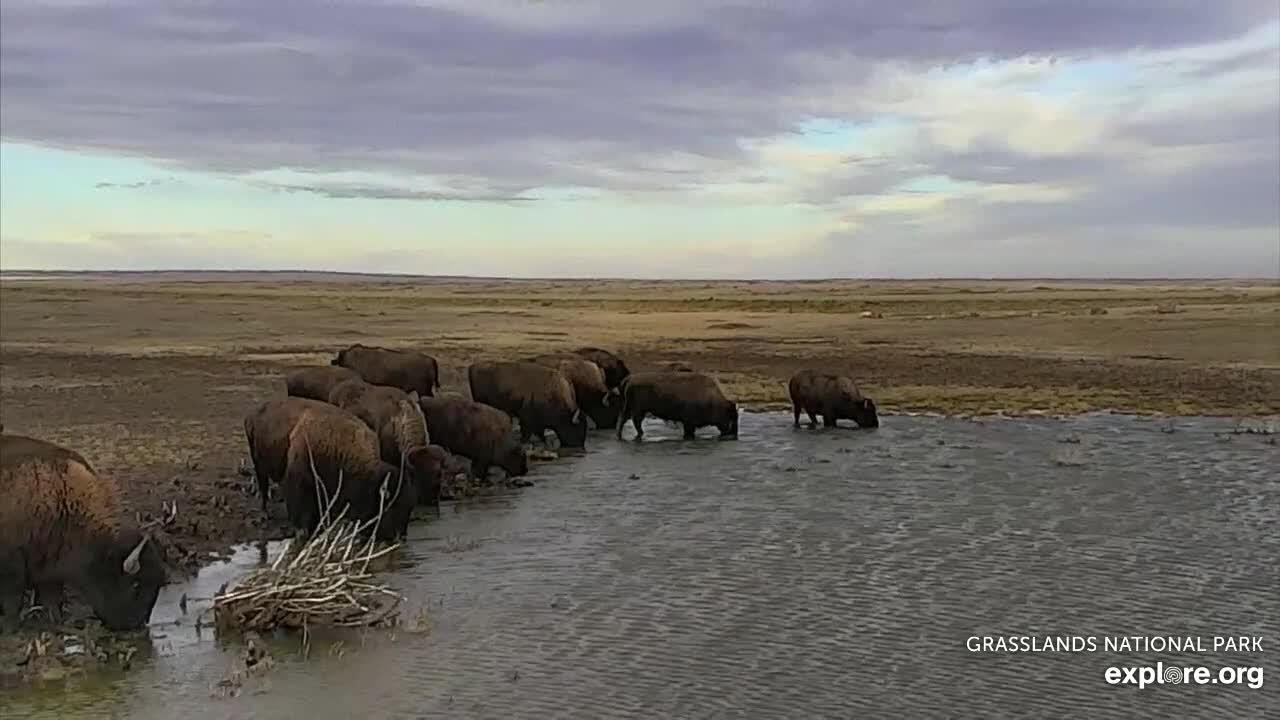 Photo courtesy of explore.org
Check out this live-cam where you can watch as Bison stop to take a drink and splash around a watering hole along Grasslands National Park's Ecotour road.
To give you some perspective on how massive Bison are, they are the largest mammal in North America and can weigh in over 2,000 pounds.
Despite their size, they can run up to 35 miles per hour and are extremely agile, so don't be caught off guard if you see one of these hefty mammals dash across your screen!
Cost: Free
READ MORE: 10 Best National Parks in the USA for Wildlife Watching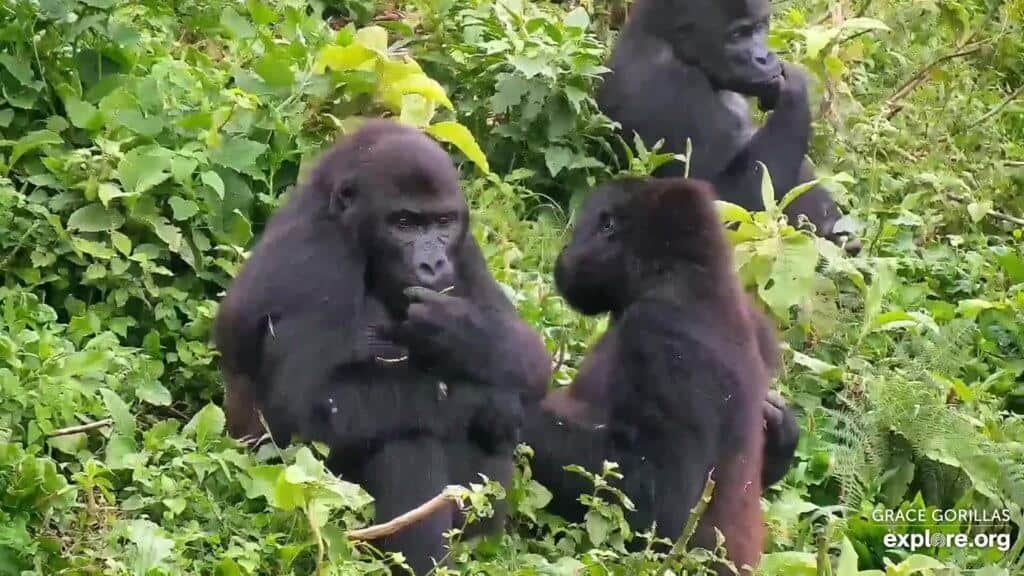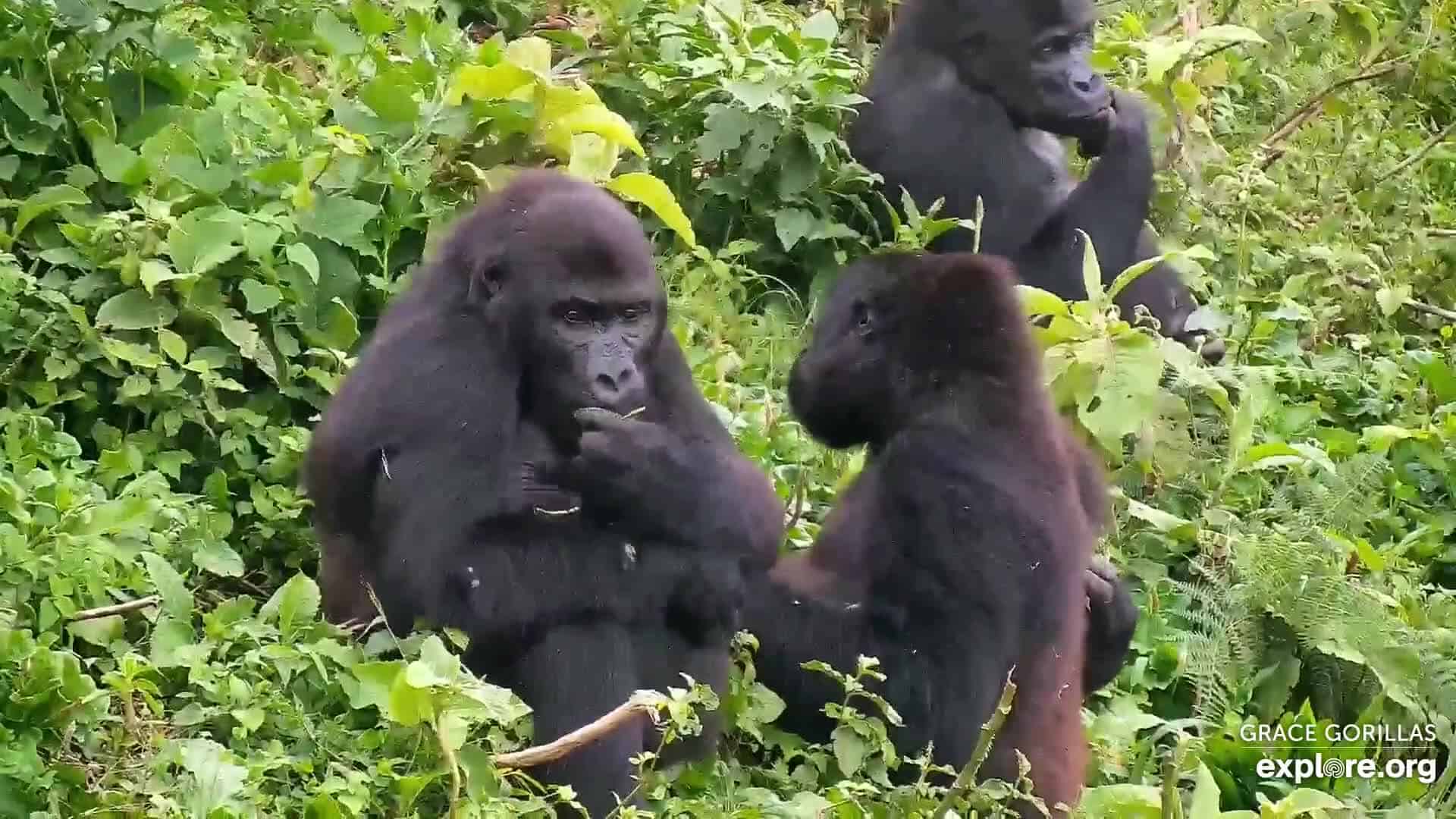 This livecam is located at the Gorilla Rehabilitation and Conservation Education Center (GRACE) in the Democratic Republic of the Congo.
GRACE's mission is to care for rescued Grauer's gorillas and spread awareness for the conservation of wild gorilla's and their habitat along with promoting community engagement and appreciation.
Watch as these animals mosey around, graze on vegetation or find a bed to stay the night amongst stunning terrain.
You'll probably see lots of sleepy gorillas because they eat so much fibrous vegetation that most of their days are spent digesting and relaxing!
Cost: Free
READ MORE: 50 Interesting Facts about Gorillas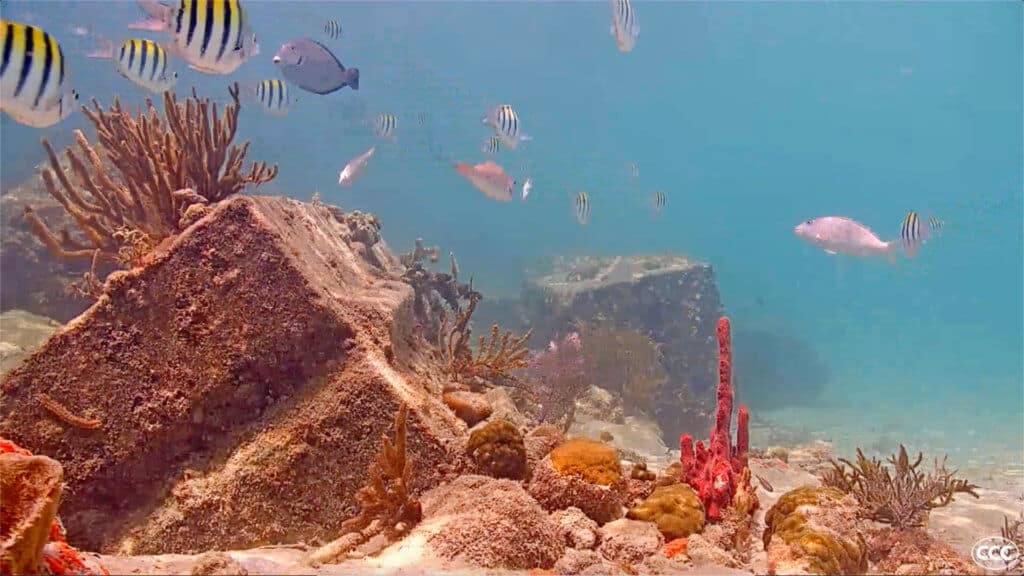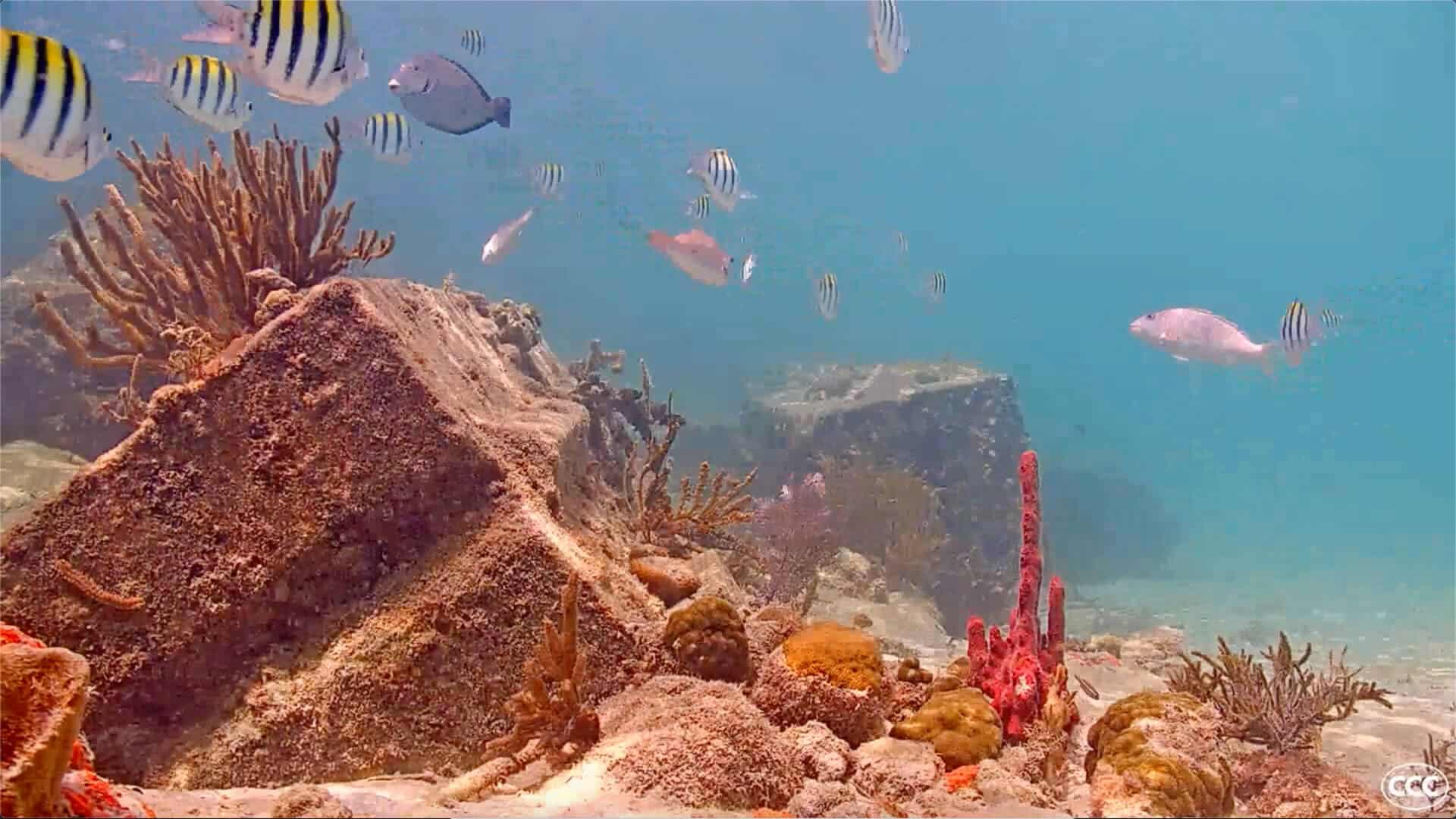 This underwater camera streams in about 10 feet of water along an urban reef in Miami, Florida.
Providing a fish-eye view into this diverse marine ecosystem, the camera not only gives you a peak into an underwater world but also serves as a scientific tool to monitor the wellbeing of the ecosystem.
Coral Morphology works with ACCRETE from NOAA to gather samples and record the reef's parameters to keep track of a coral nursery that houses brain corals to research their resilience.
Cost: Free
READ MORE: Cancun Underwater Museum
Best Online Classes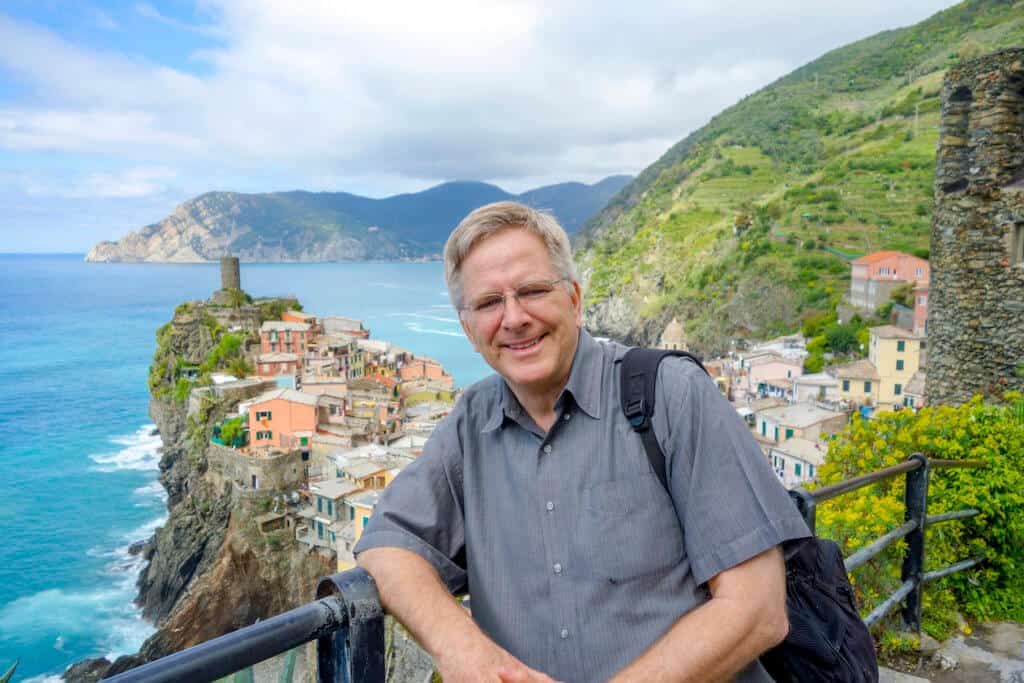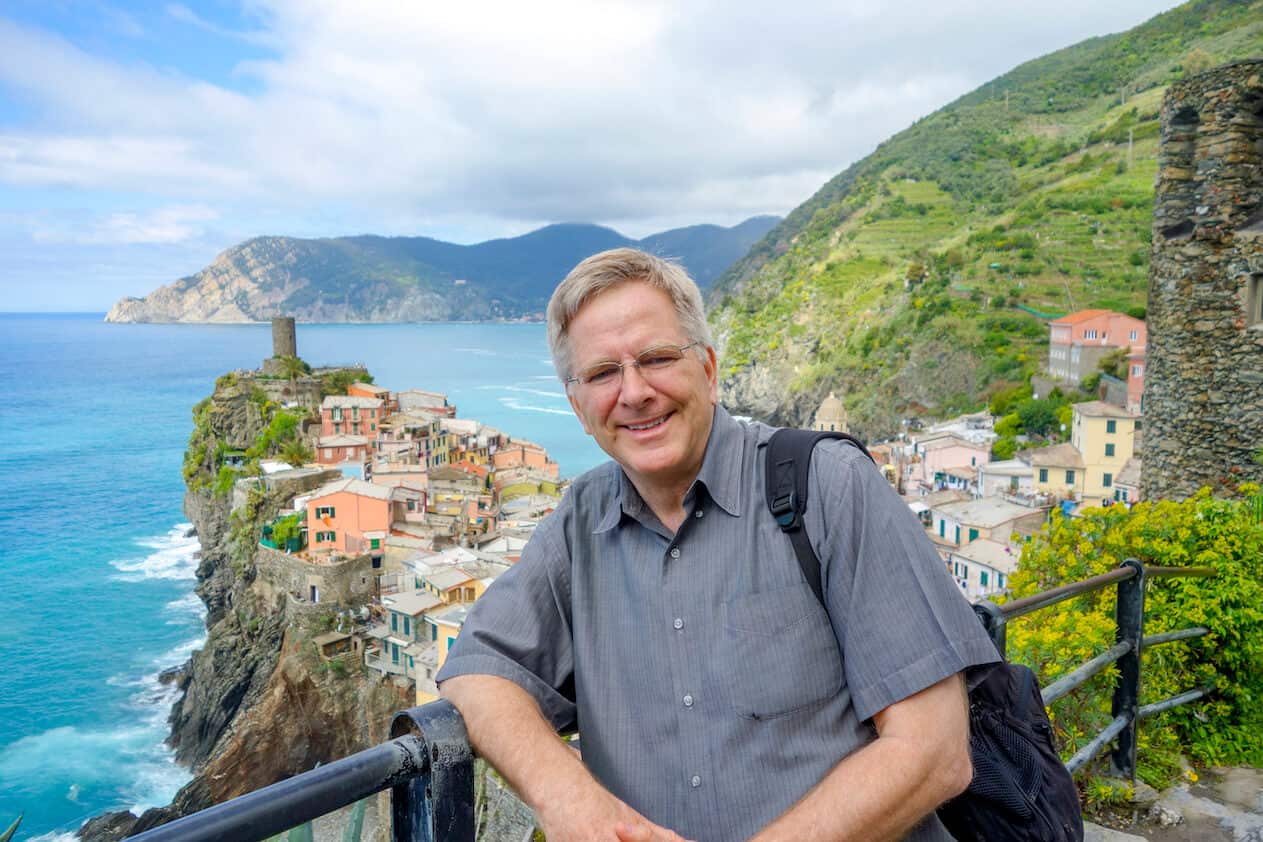 Produced by travel writer and TV host Rick Steves, Classroom Europe is a way to, as he puts it, "gives kids a virtual trip to Europe while self-quarantined at home."
The website is an online library of various video clips that teach you about European history, art, culture, and more.
There are also over 60 hours of TV shows featuring Europe and special episodes showcasing everything from Iran and the Holy Land to Guatemala on his YouTube channel.
Cost: Free
READ MORE: Exploring Doune Castle, Scotland(aka Castle Anthrax, Castle Leoch, etc)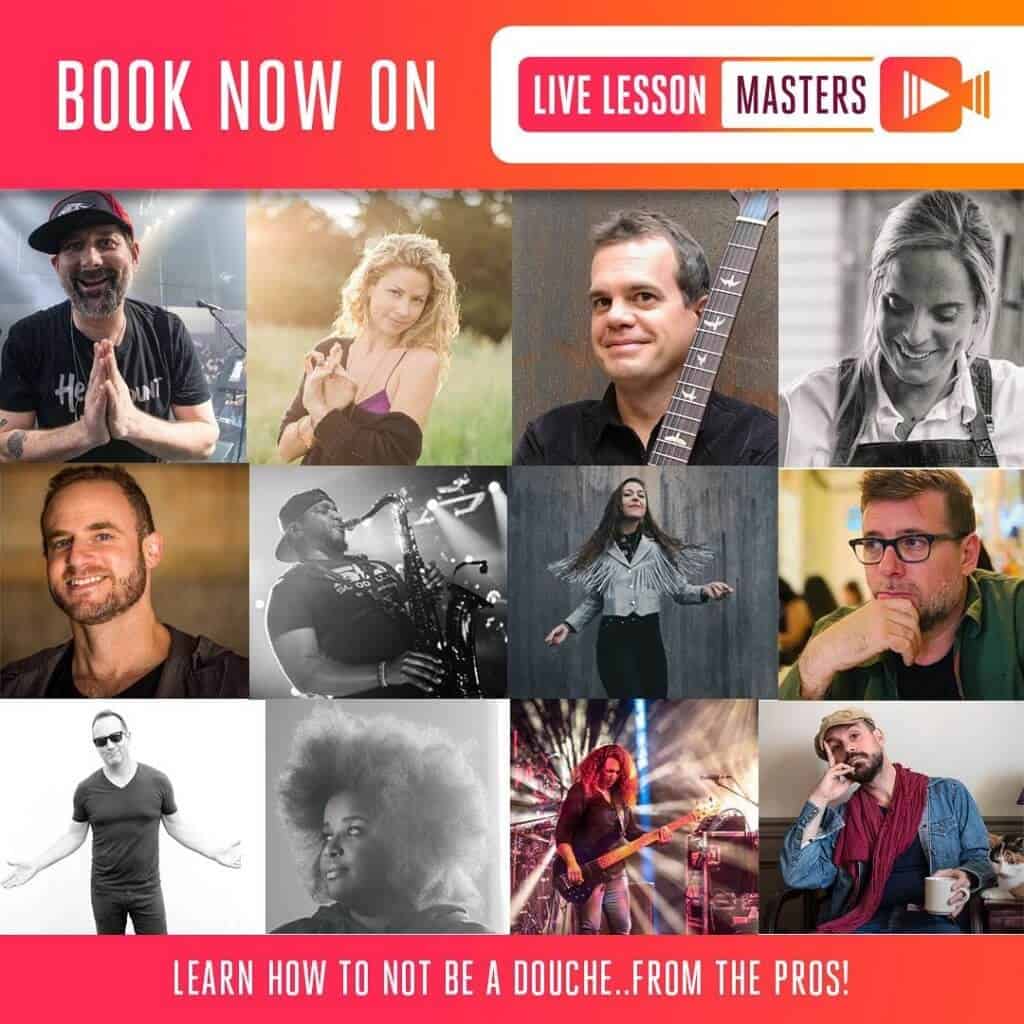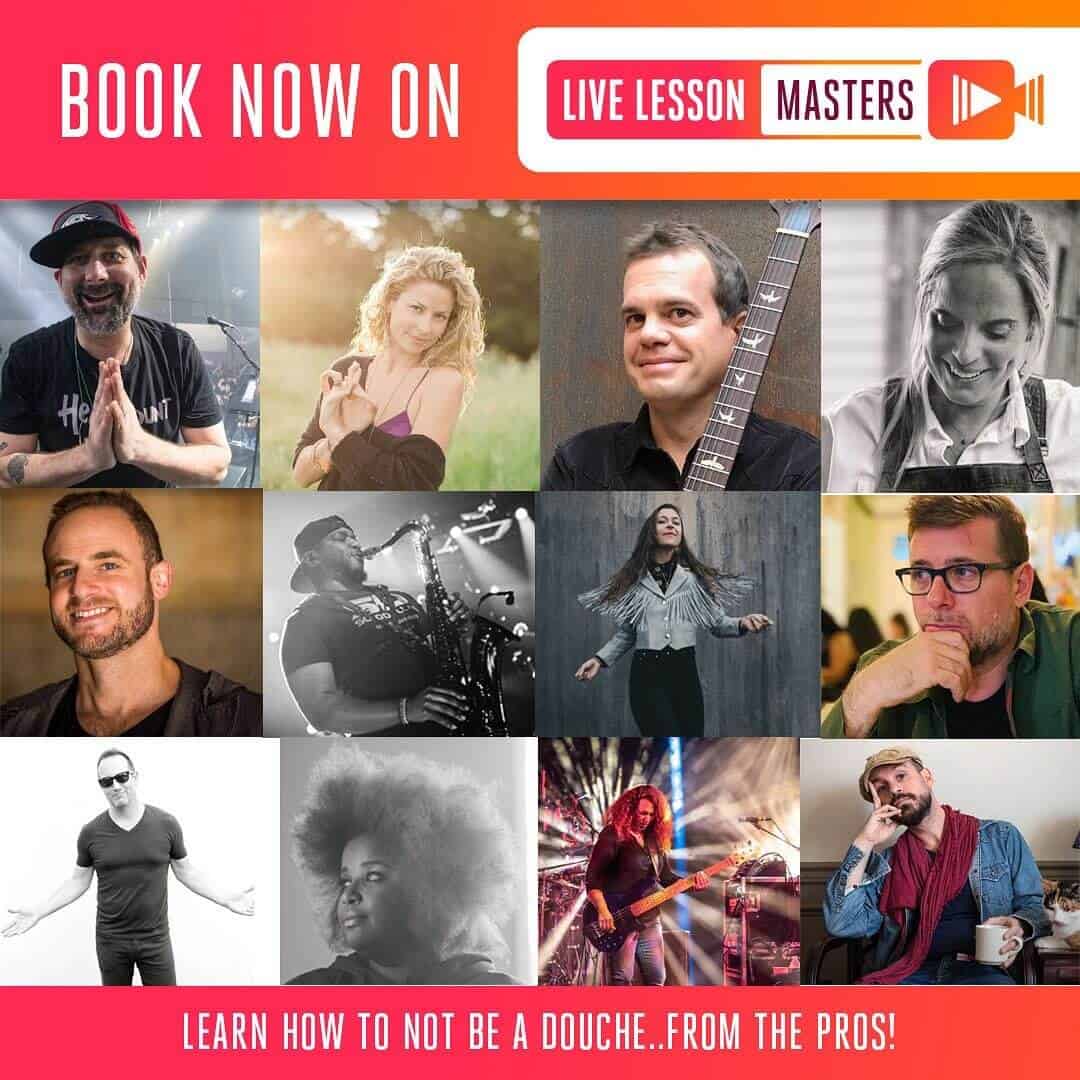 Live Lesson Masters is an online network of expert instructors who are available for group and one on one lessons in music, yoga, cooking and more.
Lessons are available for all ages and levels of experience. To book one all you have to do is go to their website, choose the category of lesson you would like to participate in, and sign up.
Prices vary from lesson to lesson so be sure to check before you finalize your spot. A portion of all proceeds will be donated to charities that support struggling workers, touring musicians, and other personnel.
Cost: Varies from lesson to lesson
READ MORE: 10 Eco Lessons in Quotes from the Lorax (Dr Seuss' Conservation Classic)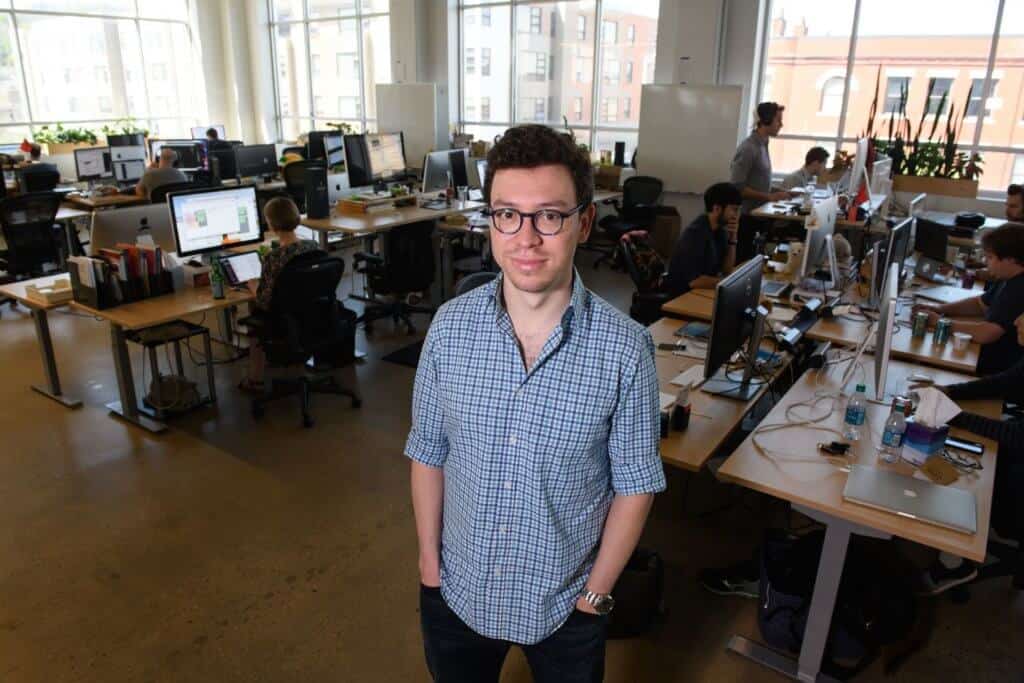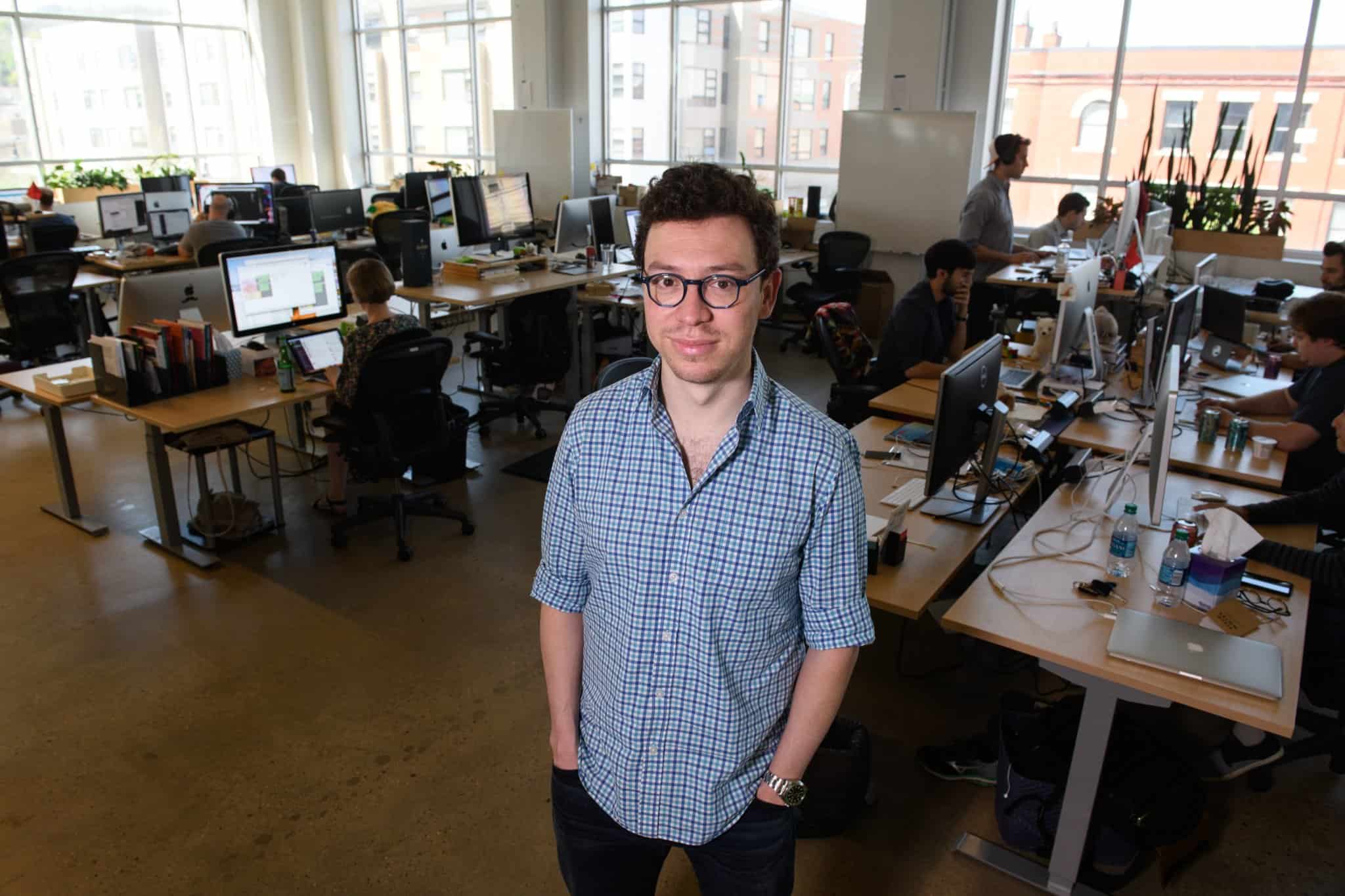 Quoted by the Wall Street Journal as being "far and away the best free language-learning app," duolingo helps you learn how to read, write, listen, and speak a new language.
With lessons created to feel like games, you earn points for correct answers, unlock new levels, and are able to watch your fluency score rise as you master new words, grammar, and phrases.
Available on your computer as well as on the iPhone and android app store, duolingo has personalized learning with lessons that adapt to your learning style to have you speaking another language in no time!
Cost: Free
READ MORE: The Culture of Myanmar: History & Traditions of Myanmar People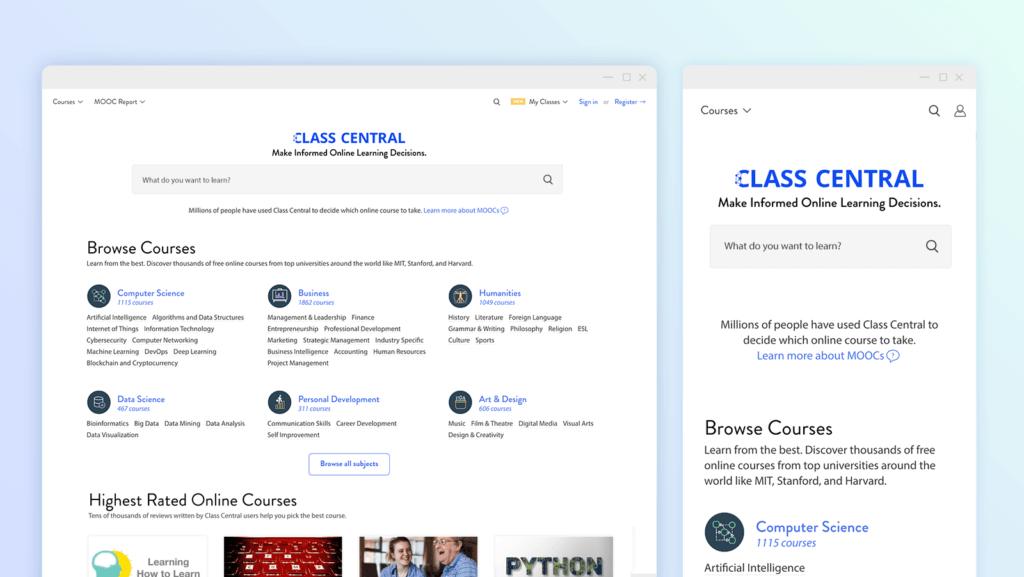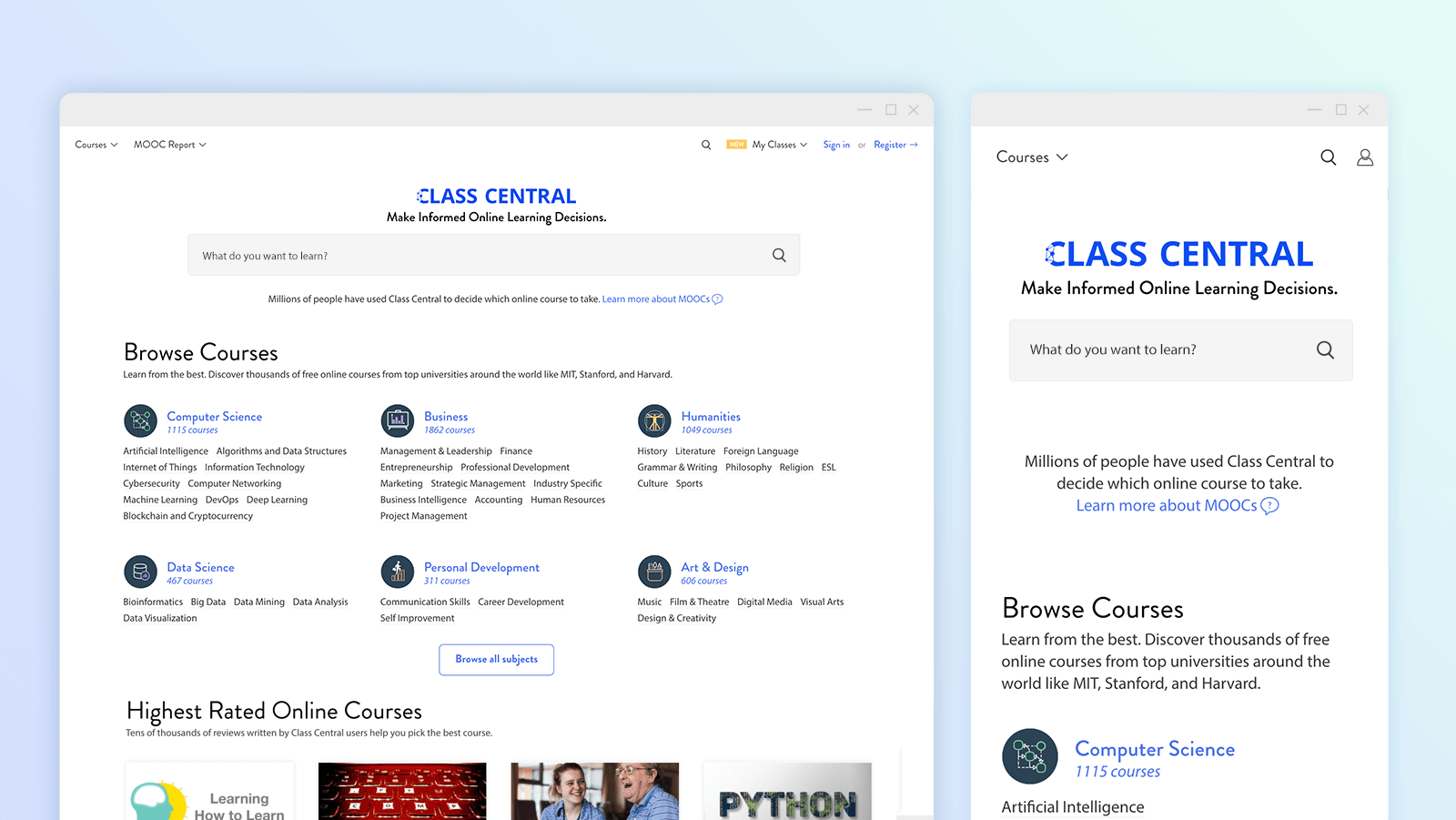 Widen your knowledge about a plethora of different cultures and topics from the comfort of your own home through Class Central.
This website that allows you discover thousands of online courses from top universities around the world like Harvard, Colombia, Princeton, and Yale completely free of charge.
With classes like Introduction to Ancient Egypt and Its Civilization, Roman Architecture, Books in the Medieval Liturgy, Introduction to German Opera, and Shakespeare's Life and Work there's sure to be a class that would interest anyone!
Cost: Free
READ MORE: A Rare Look Inside 900-Year-Old Urnes Stave Church in Norway
Best Performances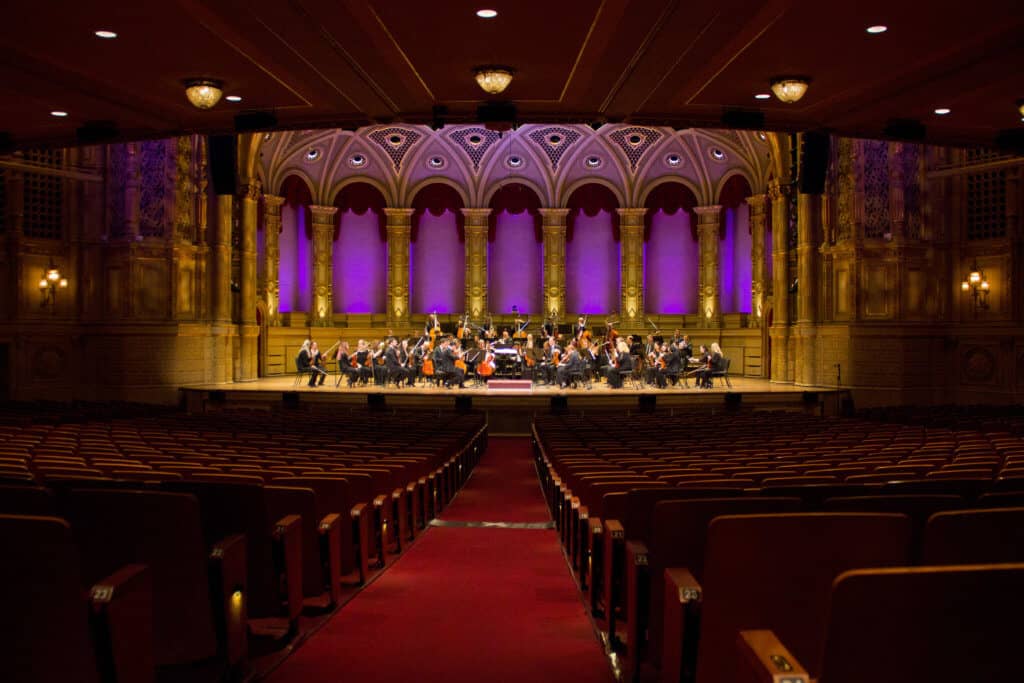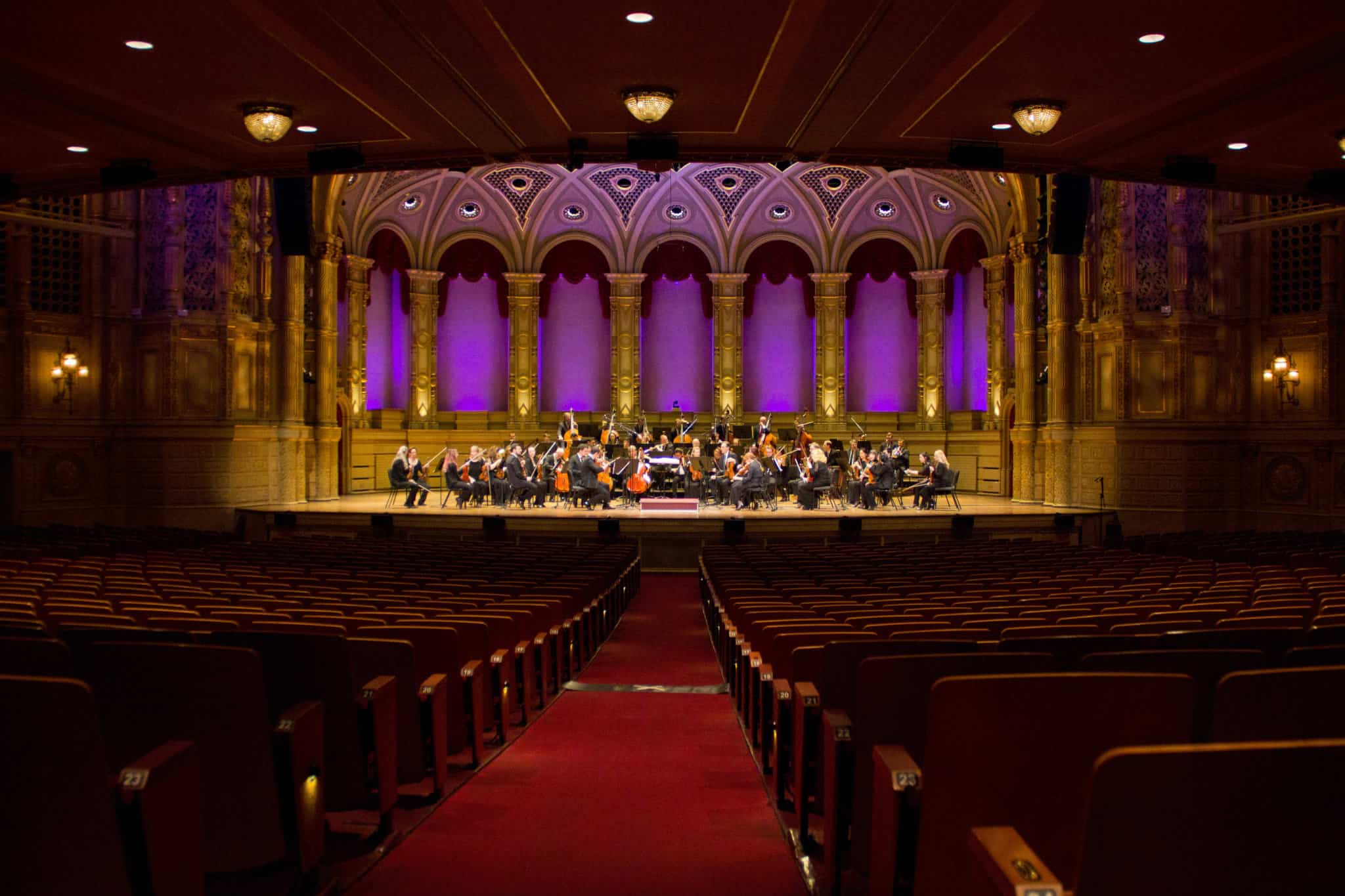 Celebrating the legacy of one of the most remarkable musicians of all time, the Vancouver Symphony Orchestra is hosting the finale of BeethovenFest online.
The musicians gathered together in the Orpheum Theatre to livestream their performance of Beethoven Symphony No. 6 which can now be listen to and enjoyed at any time.
The Vancouver Symphony Orchestra is also planning to release a livestream of Beethoven Symphony No. 5 coming soon. -by Christina Maggitas
Cost: Free
READ MORE: How I Fell in Love with Travel (& Got Blessed by the Pope)