[Updated 12/4/2019] When visiting a major metropolis like Cancun, it's easy to forget that the area known as the Yucatan Peninsula was once the heart of the mighty Maya empire.

But the Museo Maya de Cancun (a.k.a. Cancun Mayan Museum) offers an amazing overview of Mayan history, Mayan art and Mayan archaeology that makes it a must-see for anyone intrigued by one of the world's most powerful ancient civilizations.
Opened in November 2012, the Museo Maya de Cancun was designed by Mexican architect Alberto García Lascurain, and built over the course of six years at a cost of $15 million dollars.
The modern white building seems perfectly at home in the heart of Cancun's bustling Hotel Zone.
The Cancun museum's sleek exterior belies the fact that the museum's 55,000-square-foot property also includes the San Miguelito archaeological site, an oasis of calm shrouded by trees and containing around 40 Maya structures (including a 26-foot-tall pyramid).
The Museo Maya de Cancun's collection includes more than 3,500 artifacts, but usually there are only about 350 on display at any given time.
There are two permanent exhibition halls– one on the archaeology of the State of Quintana Roo (of which Cancun and the Riviera Maya are part) and one on Mayan culture as a whole– as well as a third hall featuring a temporary exhibit that changes from time to time.
READ MORE: Top 20 Things to Do in Cancun and the Yucatan Peninsula (For Nature Lovers)
MUSEO MAYA CANCUN TOC
READ MORE: The 16 Best Mayan Ruins to Explore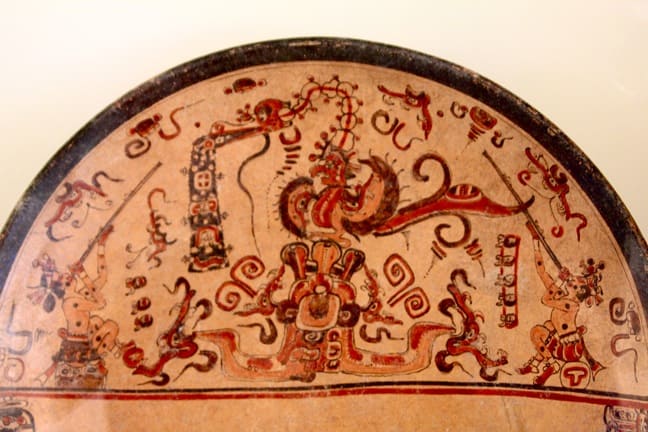 MAYAN ARCHAEOLOGY (State of Quintana Roo)
The first hall, which is set up to be viewed in roughly chronological order, shows how the art of the Maya evolved gradually over time.
Although discoveries of Mayan ruins in Belize have been carbon dated to around 2600 BC, the mid-sized communities of the Yucatan Peninsula's northern lowlands didn't spring up until what is known as the Middle and Late Preclassic period, around 250 BC.
Mayan Archaeological relics from this early historical era include utility ceramics (bowls, platters, urns, etc.), beaded necklaces, and rudimentary tools.
But by the Classic period (around 250-900 AD), Maya civilization had begun to evolve at an incredible pace.
The population surged into the millions, large urban centers such as Chichen Itza and Tulum were constructed (complete with the famous Mayan pyramids), and Mayan art and culture became much more advanced.
During this era, decorated pottery was used as social currency among the nobility, and was usually either given as gifts during ceremonial visits, passed down as heirlooms, or buried with nobles upon their death.
Stone sculpture, stucco modeling, wood carving and mural painting all became increasingly popular, and an artful writing system was developed that contained around 1000 distinct hieroglyphs.
Moving through the first gallery, it's remarkable to see the complexity of these ancient relics, all of which were discovered in the area around Cancun.
READ MORE: Tulum & Coba Mayan Ruins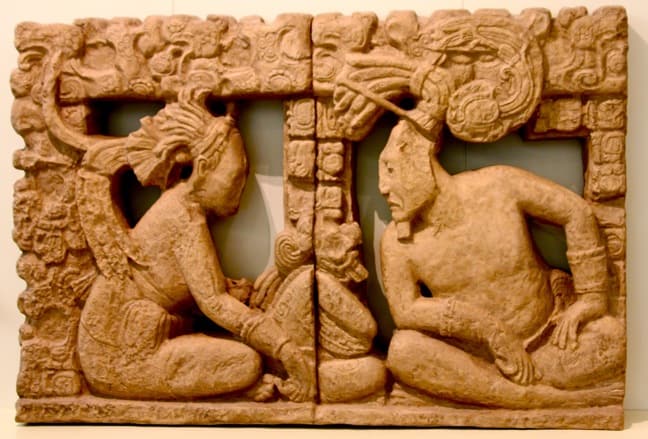 MAYAN CULTURE & ART
In the second gallery, you'll see significantly larger pieces found in other regions of the vast Mayan empire, which ranged from Quintana Roo and Yucatan to the present-day Mexican states of Chiapas, Tabasco and Campeche, and on down to Guatemala, Belize, El Salvador, and even part of Honduras.
It's in this section that you begin to see Maya Stelae, the sculpted stone slab monuments which were usually covered with intricate carvings and inscriptions, and frequently accompanied by round altars.
Typical of the Classical period, many of these sculptures paid tribute to the rulers of the cities in which they were located, often portraying them as gods.
Though the purpose of these stelae remains unknown, they were ubiquitous in the ceremonial centers of most Classic Maya civilizations.
There's also a replica of the stela known as "Monument 6," from the Tortuguero National Park site in Tabasco, which was used as evidence for some of the theories on what would happen at the end of the Mayan calendar in 2012.
READ MORE: Cancun Underwater Museum (Artist Jason Decaires Taylor on his Masterpiece)
MAYAN MASKS
During our visit to the museum, the temporary exhibit in the third gallery was Rostros de la Divinidad: Mosaicos Mayas de Piedra Verde (Faces of Divinity: Mayan Mosaics of Green Stone), which features the funerary masks of numerous ancient Mayan rulers.
It's remarkable, when you consider the fact that the Maya had no metal tools, to see ornate objects such as masks, belt ornaments and pendants created using cut pieces of jade, mother-of-pearl, and obsidian.
The most impressive example is the death mask of the Palenque king Pakal, pictured above.
READ MORE: Exploring Rio Secreto, the Riviera Maya's Amazing Underground River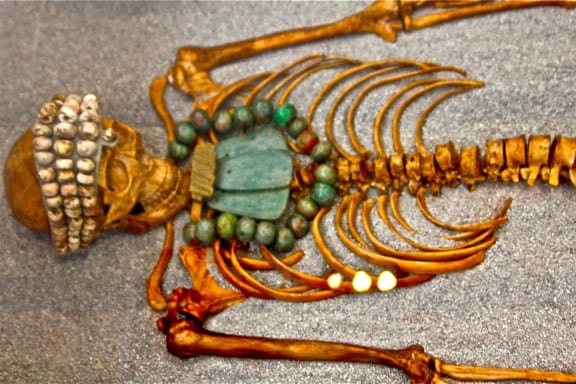 The third gallery is also home to one of the museum's most noteworthy pieces.
Submerged in the floor at the very back of the temporary exhibit lies the skeletal remains of La Mujer de las Palmas ("The Woman of the Palms"), who is believed to have lived in the Yucatan Peninsula around 10,000 to 12,000 years ago.
Draped in jade and malachite jewelry, the remains were found in the Las Palmas cenote near Tulum in 2002, and are exhibited in a replica of the context in which they were originally discovered.
Having been to the Riviera Maya several times now, we've had a chance to explore the impressive ruins at Chichen Itza, Coba and Tulum. Climbing Mayan pyramids, strolling through pok ta pok ball courts, and hearing macabre tales of human sacrifice is an undeniably powerful experience.
But visiting the Museo Maya de Cancun and seeing its ancient artifacts somehow made Mayan history feel more intimate and personal.
And the fact that the San Miguelito archaeological site is right there on the property only serves to reinforce the fact that Cancun lies at the heart of one of the world's richest indigenous cultures.
READ MORE: Swimming with Whale Sharks in Cancun (with Video)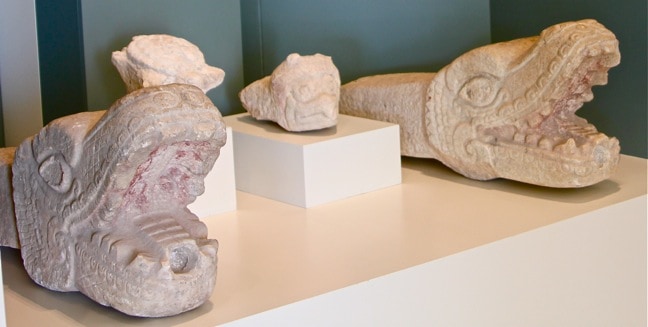 Museo Maya de Cancun Facts
LOCATION: Hotelera Cancun Quintana Roo Blvd. Kukulcan Km 16. 5, Esq. Gucumatz, Cancun 77504, Mexico
PHONE: +52 998 885 3842
OFFICIAL WEBSITE: https://www.inah.gob.mx/red-de-museos/313-museo-maya-de-cancun
HOURS: The museum is open Tuesday to Sunday from 9:00 a.m. – 6:00 p.m. with the latest entry being at 5:30.
ENTRANCE FEE: The entry fee is 70 pesos (about $3.55) and children under age 5 enter for free.
INSIDER TIPS: The museum is a must-see in Cancun, but be sure to pack a Spanish-English dictionary as most of the signs within the museum are in Spanish and there are few English-speaking tour guides.
Also, larger items will have to be stowed in lockers, so keep any small valuables on you! This museum is on the smaller side, so wandering on your own is the best way to explore and learn.
The San Miguelito Archaeological Site is in a lovely shaded outdoor area so bug spray could come in handy.
READ MORE: 10 Ancient Archaeological Sites (for your World Travel Bucket List)
How to Get to the Cancun Mayan Museum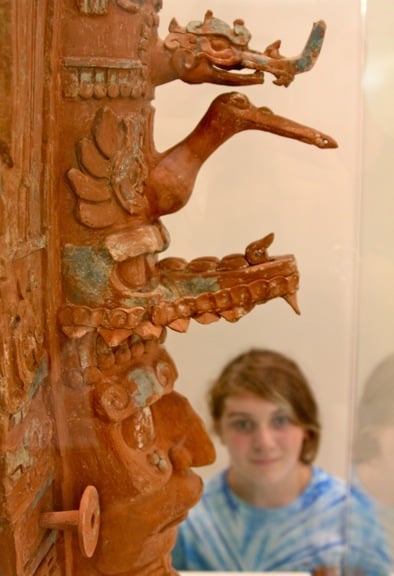 From Cancun's Hotel Zone
The most efficient and cheapest way to get to the Museo Maya de Cancun from the Hotel Zone is taking the bus. Busses run 24-hours a day and charge around $10.50 pesos (around .50 cents USD) for a one-way fare. Stops are located throughout the city and busses arrive every couple of minutes.
Taxis are also an option, and there is no shortage of them in the Hotel Zone. Just be sure to discuss your fare before leaving as taxi rates are not metered.
You can also rent a car in the Hotel Zone if you plan on driving around a lot. In a car, it will be about a 15-minute drive to the Museum.
From Playa del Carmen
To get to the Museo Maya de Cancun from Playa del Carmen, you can drive yourself or take a taxi or bus.
It's a little over a 50-minute drive by car or taxi mostly along Highway 307. Taxis for this distance will cost you around $70 USD.
If you take the bus, it will be about a 2-hour trip because of a transfer in the Cancun Terminal. From the bus stop where you are dropped off, it is only a 3-minute walk to the museum.
From Tulum
From Tulum, it is about a 1 hour and 45-minute drive by car or taxi to the Museo Maya de Cancun. Because of the distance, taxis can get quite pricey, costing around $150 USD.
The bus route costs around $15 USD but will take a little over 3-hours with a transfer in the Cancun Terminal. It will drop you off just 3 minutes from the Museum.
Another option is to take a shuttle through the service Wayak. It provides private transportation for up to 6 people and costs about $220 USD, but the price includes the driver, gas, and all toll expenses.
Cost of Tours/Entry Fees
Entry fee for the museum is a low price of 70 pesos, or about $3.55. They do not accept dollars.
Hours of Operation: The museum is open Tuesday-Sunday from 9:00 a.m. – 6:00 p.m., and the latest entry is at 5:30 p.m. Kids under age 5 enter for free!
Mayan Art FAQs
What kind of art did the Mayans have?
Mayan people are known for creating some of the most influential and admired art in Mesoamerica.
Widely known for their work in stone and sculptures, many Mayan buildings feature intricate carvings that depicted religion and divine beings as well as everyday life and animals.
Pottery was another celebrated form of Mayan art that began at first with cooking pots with simple designs, and later evolved into more elaborate pieces like vases and jars that had scenes of monster and animal deities painted in vibrant colors.
Paintings and murals could often be found in a larger scale on the walls of various architecture. The interiors of temples were often painted with scenes of Mayan religion, mythology, battles, and other religious ceremonies.
Other notable pieces of art that came out of the Mayan Civilization are the Mayan's portraits of themselves, textiles, feather work, and baskets.
What did the Mayans use to paint?
Mayan artists created paintings that lasted for thousands of years with colors made from natural ingredients.
Dyes and pigments were often made from plants such as the achiote tree, animal or insect materials, and colorants from seashells, minerals, and caves that provided various colored clays. If a certain color that was needed could not be created, it would be obtained through trade.
Perhaps the most sacred color that was used by ancient Mayans is known as Maya blue, which was considered the color of sacrifice. Because of its incredible durability and fade-resistance, it was hard to figure out how it was made.
But after researching its chemical composition, it was discovered that the pigment contained extract from indigo plant leaves and the clay mineral palygorsite. Copal incense may also have been used as a binding agent that aided in the long lifespan of the color.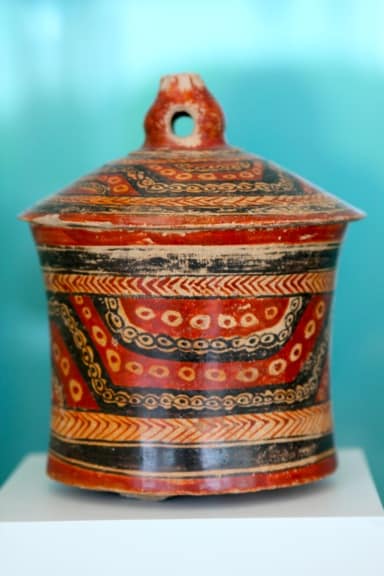 What were the stone carvings found at Mayan ruins called?
The intricately carved stone monuments found in Mayan temples and ruins are known as Maya Stelae. Originally created to glorify the king and his accomplishments, they also portrayed rituals, mythological scenes, and various other stories.
Hundreds of these monuments have been found that display a wide variety of design including everything from faces to hieroglyphic text. They were often placed in public settings where lots of people could view the work and arranged in a way that would impress viewers.
What materials did Mayan crafters use?
It's hard to believe, but the beautifully crafted artifacts Mayan
crafters created were made with just natural materials, stone tools and wooden mallets.
Jade, bone, flint, and obsidian were originally used to create jewelry until precious metals like gold and silver were discovered leading to more intricate jewelry.
Sculptures were carved straight out of stone (most often limestone) which was plentiful in most Mayan settlements. Clay was also a vital material to crafters as it was used to create pottery. The clay would be shaped, smoothed, and then fired in kilns built specifically for pottery building.

Best Hotels Near Museo Maya de Cancun

This luxurious hotel is located just minutes away from the Cancun Convention Center, Caracol Beach, Forum Beach, and a short drive from the Cancun International Airport.
Between volleyball, yoga, cooking classes, aerobics, and their full-service Gem-Spa there is no shortage of on-site activities to keep you entertained.
Suited for guests of all ages, children can have fun with 'Coral kidZ' where they can explore a Mayan temple with slides and sandy play areas while adults and couples looking for a romantic getaway can spend a night in a beautiful cabin on the beach.
One of the best perks about staying here is the hotel's unlimited program that allows you to delight in all of the 5 restaurants and 4 bars/lounges without having to sign for your consumption at each one.
Other amenities include free parking, 24-hour room service and front desk service, as well as express checkout.
Check Rates for U by Grand Fiesta Americana on Booking.com

Located 1.5 miles from the Museo Maya De Cancun, the Hermosa Casa a unos pasos del mar is a cozy house not far from the beach.
The Holiday Home has 3 bedrooms and 3 bathrooms along with a living room, fully equipped kitchen and a washing machine sure to make you feel right at home.
Also included, is a terrace with a view of the outdoor pool as well as a garden that's on the property. Free Wi-Fi and private parking are also available to guests.
Check Rates for Hermosa Casa a unos pasos del Mar on Booking.com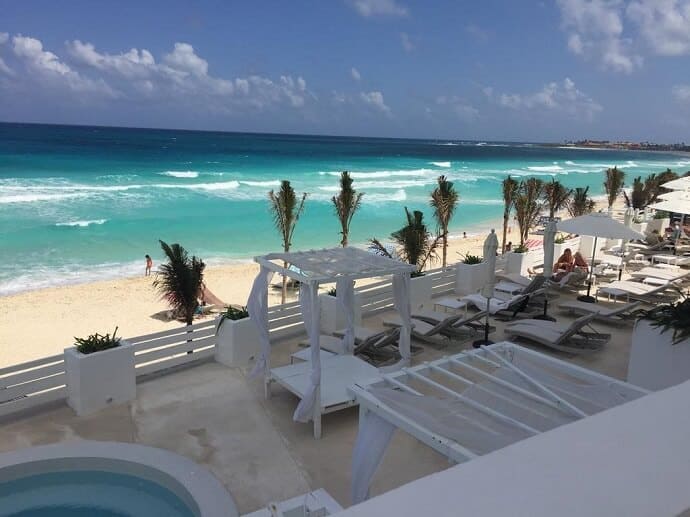 This modern beach front venue offers spacious rooms with a patio or balcony giving you a beautiful view of the ocean.
Rooms include a seating and dining area along with an equipped kitchen and free Wi-Fi. But with all of the on-site activities, you might not be in your room for long.
Along with the private beach that is available to guests, there is an outdoor swimming pool, hot tub, sauna, full-service spa and salon, fitness center, and tennis court.
Free parking and car rental services are available as well as a paid airport shuttle service from the Cancun International Airport.
Check Rates for Estudios Yalmakan on Booking.com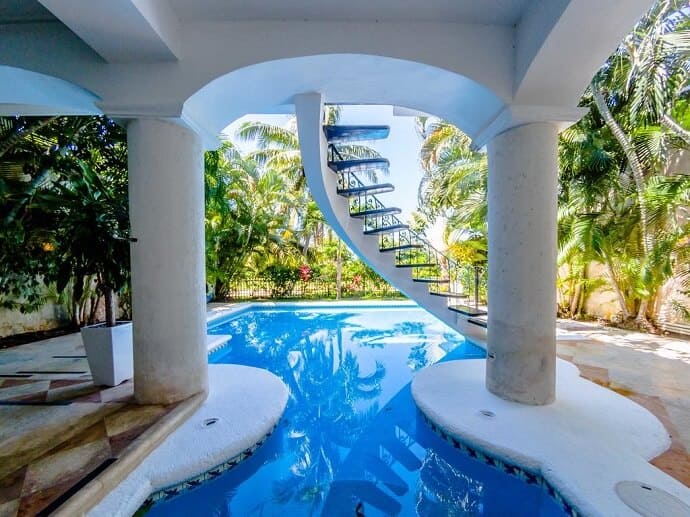 This four-star hotel offers luxury guestrooms, close proximity to the beach, a beautiful garden, golf course, and an outdoor swimming pool for your enjoyment.
All rooms are decorated in different styles and are beautifully designed. They come with free Wi-Fi, a flat screen tv, DVDs/Videos for children and are pet friendly if you're traveling with a furry companion.
There is a free homemade breakfast offered as well as massage and snorkeling services that can be scheduled. Free parking and airport shuttle services to and from the Cancun International Airport are also available upon request for a fee.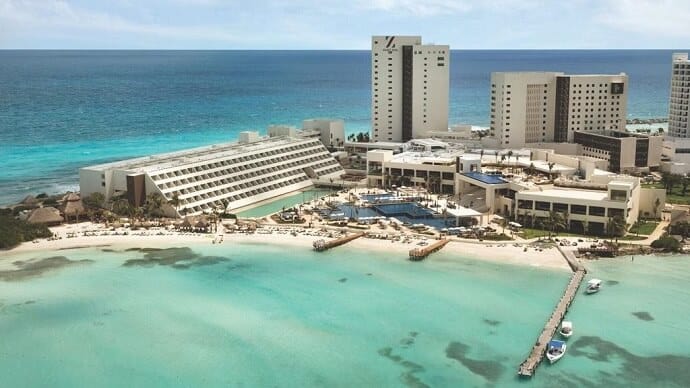 The Hyatt Ziva Cancun is a beautiful beachfront all-inclusive, all-ages resort on the Mexico's Yucatan coast.
The resort features beautiful suites, 3 infinity pools (including an adults-only pool for guests staying at the adults-only section), beachfront tower and two pristine white sand beaches.
The hotel is highly rated and has received Green Globe certification for sustainable operations and management.
Check Rates for Hyatt Ziva Cancun on Booking.com.
Hacienda Tres Rios is a surprisingly sustainable all-inclusive resort in Playa del Carmen, Mexico. The hotel has a genuine lazy river connecting the brilliant blue waters of Cenote Aguila to the Caribbean Sea.
Imagine floating in cool, crystal clear waters through a lush mangrove forest, with schools of fish swimming below you and birds in the trees around you.
It's a gorgeous, tranquil place, and during our float we didn't see a single other soul once we left the cenote. Bliss!
Check Rates for Hacienda Tres Rios on Booking.com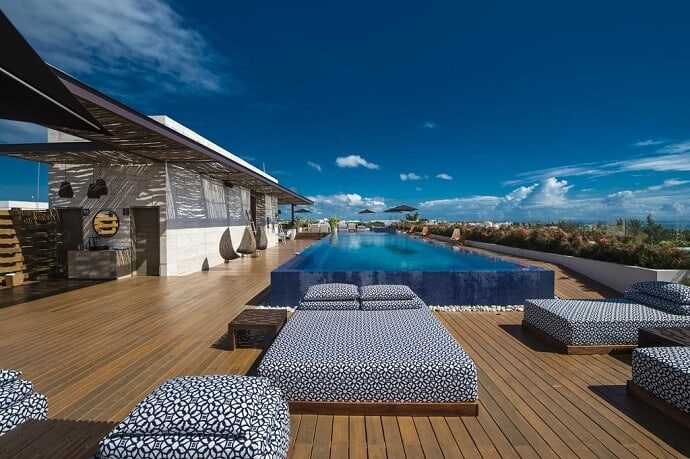 is an adults-only all-inclusive luxury hotel in the heart of Playa del Carmen.
It features stunning views of the Caribbean Sea (the beach is just 1,500 feet away), with an outdoor pool and 4 restaurants.
This hotel is rated a top value and has earned Cancun's Green Key status.
Check Rates for Live Aqua Beach Resort on Booking.com
–Bret Love with additional reporting by Christina Maggitas; photos by Bret Love & Alex Love