I first see her from a distance, on her knees in the sand. Her back is arched, her face and hands lifted towards the heavens as if in divine reverence.
Rays of light dance across her face and nude body. She appears to me as an angel, seemingly emerging from beneath the ocean floor rather than floating on clouds.
Her name is "The Phoenix" and, like many of the statues at the Cancun Underwater Museum, she holds me transfixed with her beauty…
READ MORE: Top 20 Things to Do in Cancun (For Nature Lovers)
It's difficult to explain your reaction to a work of art to someone who hasn't seen it.
So suffice it to say that, unless you've been to Cancun and actually experienced the otherworldly sculptures of the Museo Subacuático de Arte (a.k.a. MUSA) for yourself, it will be impossible for my words to do the wondrous work of Artistic Director Jason DeCaires Taylor justice.
The project, which includes two sections off the coast of Cancun and Isla Mujeres, began in 2009. Taylor, a 39-year-old artist born to a British father and Guyanese mother, had recently finished work on the world's first underwater sculpture park in Molinere Bay, Grenada.
The Cancun Marine Park was having problems caused by over 150,000 people coming to swim on the MesoAmerican Reef every year.
READ MORE: The 16 Best Mayan Ruins to Explore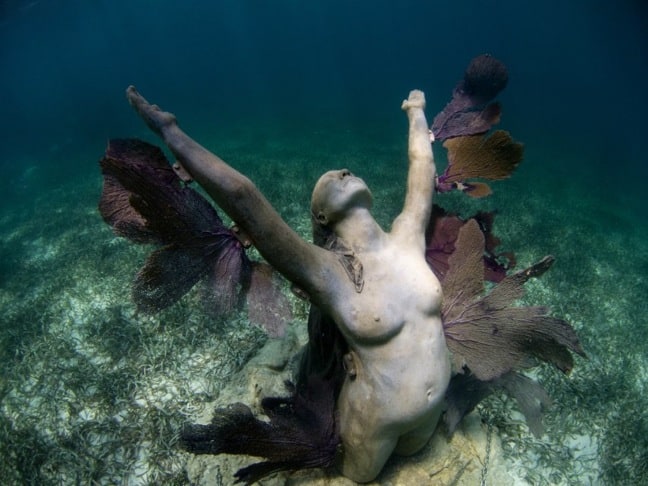 JASON DECAIRES TAYLOR (Artistic Director)
"When they closed off sections of the reef," Taylor recalls from his studio in Puerto Morelos, "it was actually starting to thrive and regenerate. But when they suggested that they should close more reefs, there was an outcry because it affects people's livelihoods. If you close the reefs, then you have to offer an alternative. They came across my work, and invited me to come down. We started from there."
Taylor's work was uniquely suited to solve Cancun's problem. While his art is undoubtedly striking on an aesthetic level, it also serves a utilitarian purpose: Over time, his sculptures evolve into artificial reefs, encouraging the growth of corals and marine life.
And Taylor, a passionate marine conservationist and avid Scuba diver, acknowledges that the evolutionary aspect of his art drives his creativity.
"Everything on the planet is constantly evolving and changing," he says. "We're all subject to time. I like the fact that the works are never really finished. I put them in the ocean, which is the beginning of the work, and then the collaboration with nature begins."
READ MORE: Exploring Rio Secreto, the Riviera Maya's Amazing Underground River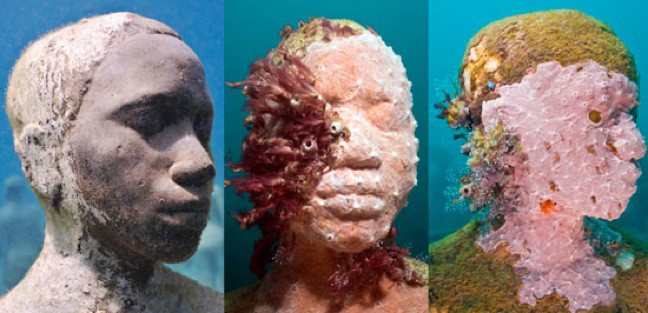 CANCUN UNDERWATER STATUES
Of course, the project isn't quite so simple. First, Taylor casts molds of people in the community to provide the basis for his life-like statues.
Then, in order to encourage coral growth, he pours a mixture of marine grade cement, sand and micro-silica to produce a pH neutral concrete which is reinforced with fibreglass rebar.
After the finished product is lowered into the ocean at depths ranging from 15-30 feet, Taylor grafts coral nubbins onto them, reinforcing his central theme of how human interaction with nature can be positive, sustainable and symbiotic.
The results, as you'll see in the Cancun Underwater Museum video below, are remarkable. Set in sandy areas away from the main Nizuc Reef, the statues take on a larger-than-life, three-dimensional mystique thanks to the interplay between water and refracted light.
I was mesmerized by the contrast between the organic and synthetic forms, not to mention the colorful array of staghorn coral, fire coral and sea fans that were gradually claiming the statues as their home.
READ MORE: 10 Best Places To Scuba Dive (World Travel Bucket List)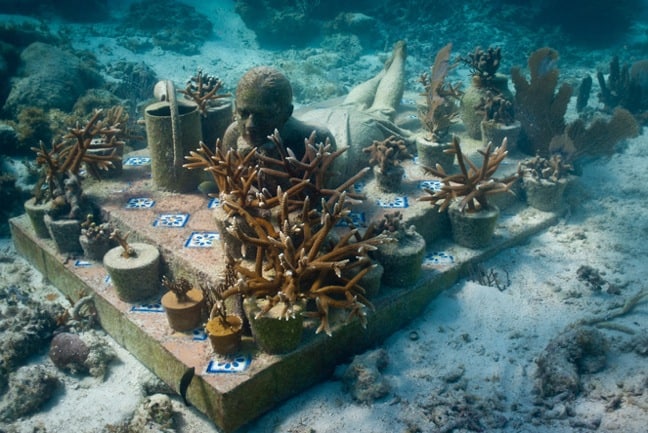 Each of Taylor's sculptures tells a different story:
"The Gardener of Hope" portrays a young lady laying on a tiled patio, surrounded by concrete flower pots from which coral nubbins of all shapes and sizes grow.
"Reclamation," whose vibrant purple sea fans Taylor grafted after they broke off the reef during a storm, offers a message of rebirth and renewal.
"Inertia," which features an extremely obese man watching TV on his sofa, with what appears to be a fast food hamburger in his lap, offers a sharp socio-political critique of those who blithely ignore environmental causes.
READ MORE: Museo Maya De Cancun (Cancun's Mayan Museum Of Archaeology)
"I've always been drawn to the sea," Taylor says when asked about his chosen artistic medium. "I was fortunate to see some really spectacular, pristine reefs that are no longer there. I've witnessed reefs deteriorating dramatically, and I feel strongly enough to want to do something about it."
"Reefs are sort of a canary in a coal mine, in that they are at the forefront of climate change," he continues. "They're one of the first ecosystems we could lose. I think it's a critical problem, and a problem that needs to be addressed right now."
I'm not sure many of the 50+ travelers on the Aquaworld tour I went on had any clue that Taylor's work was a sociopolitical statement about widespread environmental apathy and the urgent need to address climate change before it's too late.
They were too busy drinking copious alcoholic beverages, listening to salsa music cranked at top volume, and crowding each other to get in line for the optional submarine tour.
But the beauty of Taylor's work is that it functions effectively on multiple levels. It works as a meaningful art exhibit for those who "get it," and as a simple distraction that keeps tourists away from the main reef system for those who don't.
READ MORE: Tulum & Coba Photo Gallery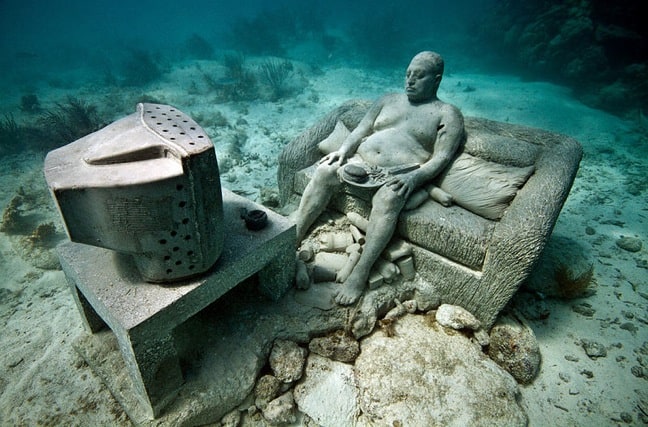 Four years into the project, Taylor seems to be just getting started. As of our visit in late June there were 486 statues in total, most of which are located off the coast of Isla Mujeres.
But the artist's vision for the future of the Cancun Underwater Museum are much, MUCH bigger.
"Obviously, a lot depends on financing, which is constantly fluctuating," he confesses. "But the end goal? We've always wanted to do more than the Terra Cotta Army in China, and I think that stands at 8,000. We hope to go beyond that at some point. We have a permit for 10,000 sculptures. We want to make it like a traditional museum, where there are different rooms that will be developed over time."
READ MORE: Coba Mayan Experience- Monkeys, Pyramids & Pottery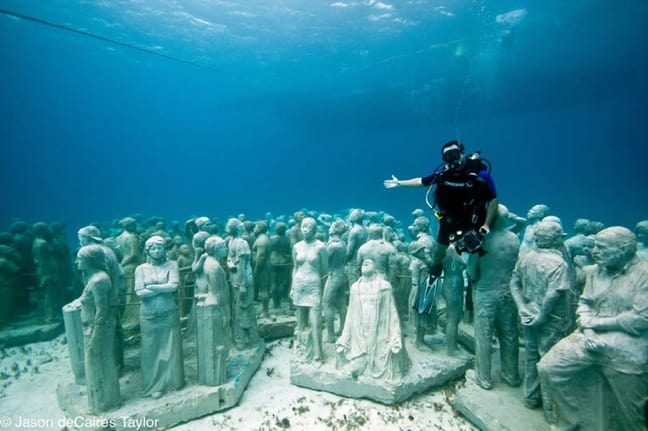 Comparing the photos above with the video we shot during our visit, it's easy to see how the passage of time gradually changes Taylor's art.
The visage of "Holy Man" is completely covered by staghorn coral. "The Gardener" seems to glow green with a thin layer of algae that obscures the porcelain tiles. Even the smooth skin of "The Phoenix" is looking a bit more weathered now.
But for Jason deCaires Taylor, who visits his sculptures regularly, watching his work evolve is part of the process.
"I'm fastidious about collecting data," he says, "seeing how they change and monitoring what species are doing. We've had big algae blooms that start to make everything look the same, which can be disappointing. Sometimes tourists break things. But sometimes I go down and it's fantastic, with millions of fish, lobsters, pink barrel sponges, and snails eating things. It's absolutely amazing! I see something I've never seen before every time I go."
And that, he hopes, is what will keep travelers coming back over and over again.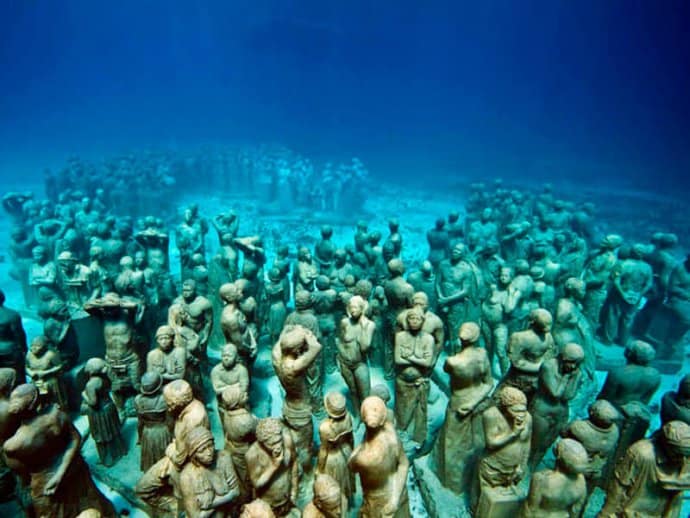 CANCUN UNDERWATER MUSEUM PRICE & INFO
INSIDER TIPS: Booking tours directly through the museum is encouraged, due to some tour guides being imposters.
There are nearly 500 statues in two sections, Salon Manchones and Salon Nizuc, in an area of over 420 square meters. Salon Nizuc is around four meters deep, which is perfect for snorkeling or taking a glass bottom boat tour.
If you're certified for Scuba diving, the Salon Manchone (Isla Mujéres) section is more remote and expensive, but ranks among the most interesting dive sites we've ever visited.
For an in-depth look at the statues and marine life, scuba diving might be a better option than snorkeling.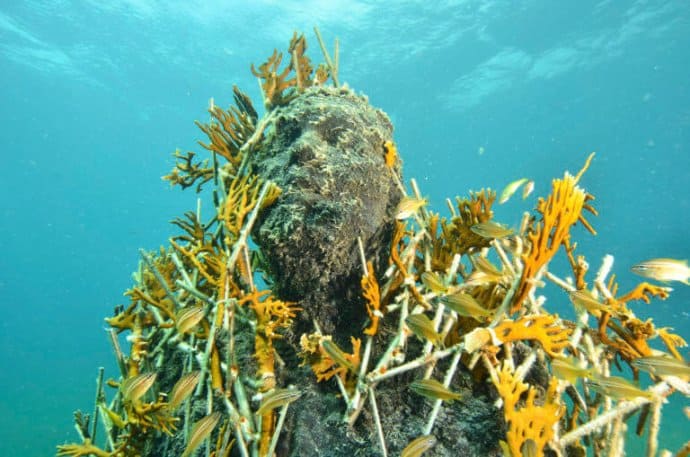 SNORKELING CANCUN UNDERWATER MUSEUM
One popular way to explore the museum is snorkeling. This is an adventure that will leave you breathless!
Take a swim in these worldly known waters and explore 475 statues and the life they've bred along the coral reefs that have formed this artistic reef that balances art and nature in the most elegant and visually attractive way.
A 3 hour tour includes a 45 minute snorkel experience in the museum. Afterwards there is often a second 20 min stop to to see marine life off the coast of Isla Mujeres.
Cost for Adults is around $60
Cost for children age 8-11 yrs is $30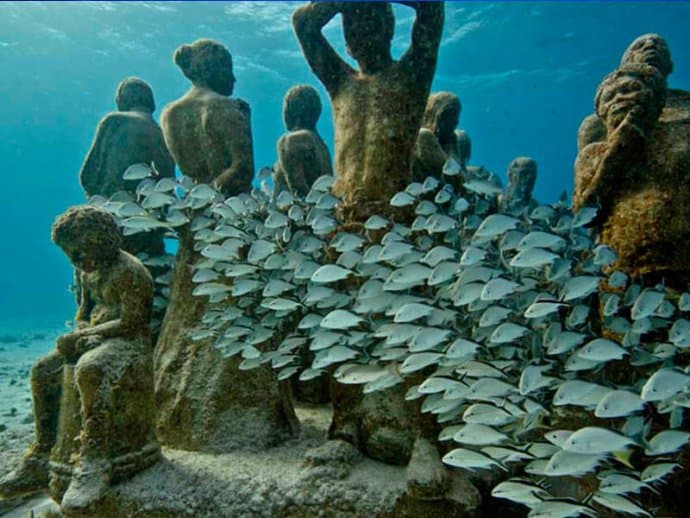 DIVING MUSA CANCUN UNDERWATER MUSEUM
Another popular activity in Cancun is diving. You can take a few certifications to enhance your experience or simply enjoy the shallow waters that surround many of the most beautiful locations to dive in the Caribbean!
Make it a one tank or a two tank expedition; you'll be thrilled by the beauty that resides inside the crystal clear warm waters of the Caribbean.
Cost for Non-Certified Scuba Divers is $115 (requires Discover Scuba Course)
Cost for Certified Divers is $81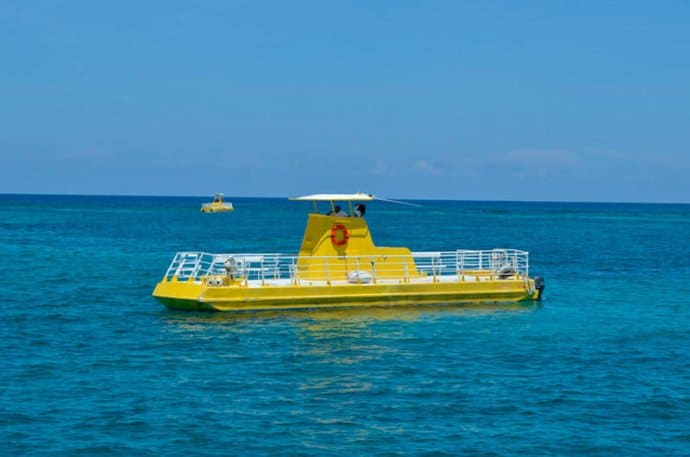 CANCUN SUBSEE EXPLORER / GLASS BOTTOMED BOAT
(A cross between a yellow submarine and a glass bottom boat)
For those who don't want to get wet, the glass bottom boat tour is a unique excursion offering a view of the ocean like you've never seen before!
A perfect activity for all ages, you'll be able to view 6 of the of the statues of the underwater museum without getting wet at all.
Get ready to explore the underwater life of Cancun or Cozumel through this enclosed crystal structure as it navigates through two of the most beautiful underwater sights in Yucatan Peninsula.
Cost for Adults is $47
Cost for children age 4-11 yrs is $24
CANCUN UNDERWATER MUSEUM LOCATION
Location: Blvd. Kukulcan Km. 15.3 Hotel Zone, Taller de Artistas, Isla Mujeres 77500, Mexico
Website: http://musamexico.org
Hours of Operation: Every day from 9:00 a.m. – 2:30 p.m.
Cancun International Airport is located 19 km (12 mi) southwest of the museum, and it is about a 20 minute drive from the airport.
The airport also provides car and shuttle services to and from the airport to various destinations.
For two passengers, a shared van from the airport to the museum would cost less than $10.00.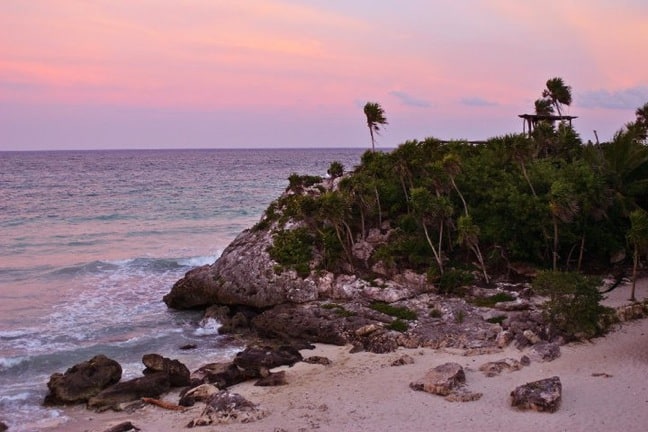 WHERE TO STAY IN CANCUN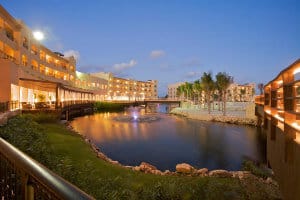 Hacienda Tres Ríos, is a surprisingly sustainable all-inclusive resort in Playa del Carmen, Mexico. The hotel has a genuine lazy river connecting the brilliant blue waters of Cenote Aguila to the Caribbean Sea. Imagine floating in cool, crystal clear waters through a lush mangrove forest, with schools of fish swimming below you and birds in the trees around you. It's a gorgeous, tranquil place, and during our float we didn't see a single other soul once we left the cenote. Bliss! Check Rates or Read Reviews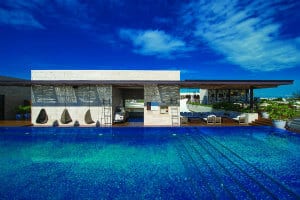 Live Aqua Beach Resort is an adults-only all-inclusive luxury hotel in the heart of Playa del Carmen. It features stunning views of the Caribbean Sea (the beach is just 1,500 feet away), with an outdoor pool and 4 restaurants. This hotel is rated a top value and has earned Cancun's Green Key status. Check Rates or Read Reviews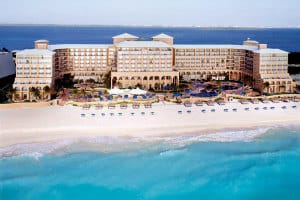 The Ritz-Carlton is a two-time winner of Cancun's Hydro Sustainable Hotel Award for water usage and conservation practices. It offers 5-star accommodation and views of the ocean with luxury amenities such as a private beach. Check Rates or Read Reviews
Compare Hotel Prices around Cancun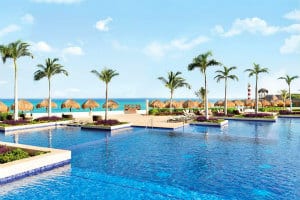 Hyatt Ziva Cancun is a beautiful beachfront all-inclusive, all-ages resort on the Mexico's Yucatan coast. The resort features beautiful suites, 3 infinity pools (including an adults-only pool for guests staying at the adults-only section), beachfront tower and two pristine white sand beaches. The hotel is highly rated and has received Green Globe certification for sustainable operations and management. Check Rates or Read Reviews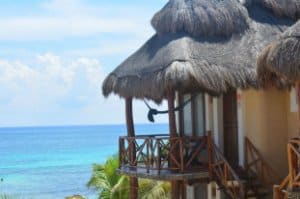 With only 9 rooms, no pool, and few of the other luxuries that lead many travelers to frequent all-inclusives, the Piedra Escondida Hotel may not be everyone's cup of tea. But with its thatched palapa roofs, soothing ocean breezes, stunning sunsets, and a fantastic restaurant serving up fresh local cuisine, for us it was the perfect place to unwind and relax. Check Rates or Read Reviews
–Bret Love; photos provided by Jason deCaires Taylor unless otherwise noted. Featured image by Ratha Grimes via flickr CC by 2.0