The monkeys are not cooperating. Neither, for that matter, is Mother Nature. It is our second full day in the Riviera Maya, exploring the relatively unspoiled Caribbean coastline of Mexico's Yucatán Peninsula.
We begin our Riviera Maya ecotourism adventure bright and early in the morning with a trip to Punta Laguna, a small Mayan village that has been owned by the same family for 3 generations.
The village is part of a government-protected nature reserve called Ma'ax Yetel Kooh, which is Mayan for "House of the spider monkey and the jaguar."
Originally bought by the grandfather of our guide for the day, Vicente, Punta Laguna's jungle is home to dozens of monkeys as well as raccoon, coatimundi, deer, wild boar, jaguars and (in the lagoon for which the property is named) crocodiles.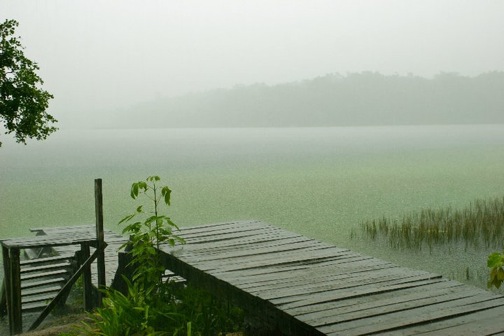 But today the monkeys appear to be a bit camera shy, and the foreboding skies above warn of an impending torrential downpour. Timing is everything in the jungle, and today fortune does not appear to be on our side.
Last night Hurricane Paula flirted with making an appearance at Piedra Escondida, the delightfully peaceful little beachside haven where we'd spent our first two nights, ultimately coming close enough that we were moved into a different room to avoid her wrath leaking through the thatch-style roof.
The eye of the storm thankfully passed us by, but her aftermath seems intent on pissing on our monkey parade. Even Vicente seems concerned, walking quickly and purposefully as he issues dozens of decidedly spider monkey-like calls. None answer.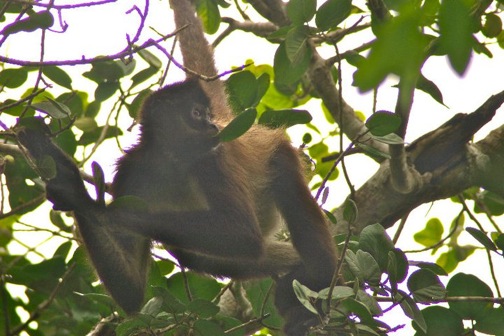 Just as Vicente wonders aloud where the monkeys could be, I catch sight of a slight motion in the canopy in my peripheral vision. I look up, and there sits a family of nearly a dozen monkeys feeding on fruits in the treetops.
As we struggle to get a better angle for photos and video footage in a dense forest increasingly darkened by gathering storm clouds, they mostly go about their monkey business, with several of the females carrying adorable babies in tow.
But soon our guide urges us to move on, insisting that the rains are coming in a tone that suggests we might not want to be caught in the open when they do.
As the skies open up to produce the sort of hellish deluge only a tropical jungle can attract, we find shelter under a palapa (a hut topped with a dried palm roof), where Vicente tells us about how his family is working with local conservationists to protect and study the monkeys, whom he had named and could recognize on sight.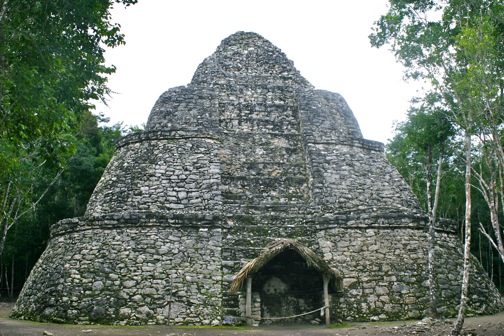 Eventually the rains ease up a bit and we make our way to the nearby town of Cobá, which is home to a sacred Mayan site estimated to be over 2,000 years old, and believed to have once been home to at least 50,000 inhabitants.
Although the site has been known for centuries, it wasn't examined by scholars until the 1920s, and didn't become a major tourist attraction until the 1980s.
Larger and more expansive than the more popular ruins at Tulúm (which we visited on our first day in Mexico), Cobá becomes even more impressive when our guide explains how much of this vast archaeological treasure remains waiting to be fully excavated from the dense jungle by which it is currently surrounded.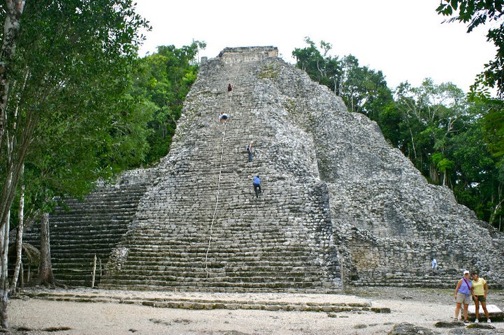 We walk around the La Iglesia pyramid, where the ancient Mayans made their sacrifices to the gods, which took archeologists over 10 years to fully uncover and restore.
We stroll the court of the Mayan ball game known as pok ta pok, in which teams used only their hips, knees and elbows to knock a rubber ball through a vertical hoop situated at the top of 45º-angled wall (in which the winners were ultimately given the dubious honor of being sacrificed to the gods).
And finally, we ride rickety bicycles over ancient paths through the jungle to climb the main attraction, the Nohoch Mul pyramid, which at 138 feet is one of the tallest Mayan structures in all of Mexico.
Climbing the massive stone steps to the top is one helluva workout– even those who use the handy ropes to help pull themselves up the steep incline arrive winded from the exertion– but provides exceptional panoramic views of one of the ancient Mayans' most remarkable achievements.
After a quick (but delicious) dinner of Mayan-style BBQ pork with habañero sauce and horchata while watching the sun setting over a picturesque lagoon, we make our way to the Mayan village just down the street from Cobá.
Here, a young Argentinean potter Agustin Villalba has opened an amazing little school called Ancient Roots, where he teaches local children the artistic ways of their ancestors. His workshop is bustling with activity as Mayan kids and tourists alike sit and learn about Mayan pottery techniques, then try their own hands at working the clay themselves.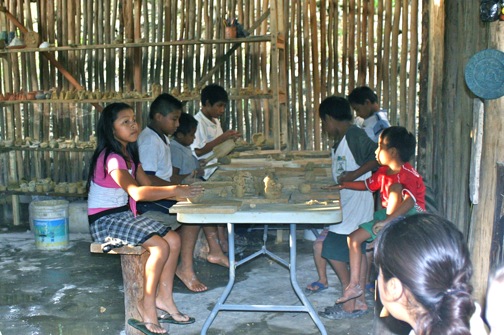 "I'm just here refreshing their memory and encouraging them to keep learning," he insists modestly. "In the beginning it was very hard because they didn't know the art or me, so I took a year to start working close to them. Little by little they are learning more, and they're becoming more interested in their own culture. They see that people care about them, and that is great."
But Villalba's work goes far beyond mere artistic or cultural ambitions: By selling the crafts the children make (which are of impressive quality and designed to replicate ancient Mayan art), the school provides desperately-needed income to local families who would otherwise need to move to bigger cities in order to survive.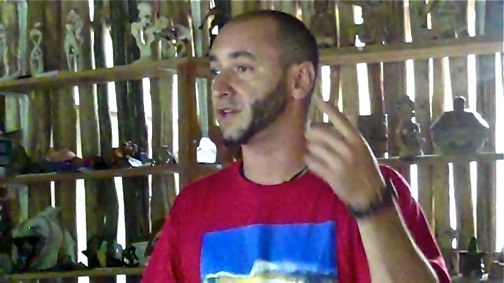 "They make their living through their effort, learning and practicing. We work with 17 villages– students of all ages– and their income depends a lot on tourism. I don't have specific figures here, but the families here need very little money each monthly for living expenses.
We do our best: Last year we had around 150 students, and a lot of them were about to leave their families and move to Cancun or another city in search of jobs before they came here. We'd like to open more schools so that more villages can have access to the classes. Some help from the government or an NGO (non-governmental organization) would help us get there faster, but we do what we can with what we have, day by day."
By now the clouds have receded and night is settling in, so we make our way to our last stop for the day. We descend the steps of what used to be a Mayan temple into a cavern where red lights illuminate a large stage with a traditional pok ta pok court as the backdrop.
Mayan musicians dressed from head to toe in traditional regalia emerge with drums, shakers and flutes to play a rousing opening number, then Agustin introduces a play based on early chapters of the Popul-Vuh, a.k.a. the Mayan bible.
The story follows twin brothers Hunahpú and Xbalanqué, who are challenged by the lords of Xibalbá to a game of pok ta pok in order to save their village from destruction, ultimately outwitting them and ascending to the night sky as constellations.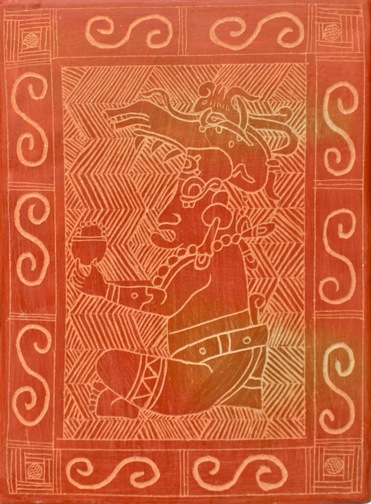 It's a gripping portrayal, accompanied by thunderous tribal drums, shrieking whistles and colorful costumes, providing an excellent end to our day-long immersion in the rich past, thriving present and hopeful future of the rich Mayan culture. –by Bret Love, photos by Bret Love & Mary Gabbett