As a professional travel writer, there are some destinations that speak to your soul on such a deeply personal level, telling others about them almost feels like a betrayal.
Sanibel Island, Florida was that way for me for many years, as was Costa Rica's Tortuguero National Park. It's not that we didn't want to promote these places, but that we feared the impact the ravages of mass tourism might have on their pristine beauty.
This explains why I've never written much about our 2013 visit to Isla Holbox, Mexico (other than including it on a list of the most romantic places we've ever stayed). It's not that I didn't love Holbox island. It's that I loved it so much, I didn't want to share it with the world!
When I returned to visit Holbox earlier this year, I was delighted to finally introduce Mary to one of my favorite islands in the world. But I was also slightly dismayed to see how much the island's tourism industry has grown over the past five years.
The once-sleepy fishing village (home to around 2000 residents) was busy with activity and lots of new construction. Though few cars are allowed, the streets were hopping with the golf cart taxis that provide transport from the Isla Holbox ferry to Holbox hotels and attractions.
Fortunately, it's pretty easy to get away from the hustle and bustle, if you so desire. Holbox is part of the Yum Balam Nature Reserve, so once you get outside the tiny downtown area you'll find yourself surrounded by natural beauty.
There are plenty of things to do on Isla Holbox, especially for people who love nature. There are beautiful beaches, serene spas, charming shops, excellent restaurants, and tons of wildlife. But it's also the sort of place where you can have an amazing time doing nothing at all.
So check out our in-depth guide to the gem of Quintana Roo, including how to get to Holbox, the best Holbox hotels, and our favorite things to do there. By the end, you'll understand why we consider one of the best islands in the Caribbean!
READ MORE: The 20 Best Caribbean Islands to Visit (For Nature Lovers)
HOW TO GET TO ISLA HOLBOX FROM CANCUN
Isla Holbox is located approximately 99 miles from Cancun in the northern part of the state of Quintana Roo, Mexico. There are several different ways of getting from Cancun to Holbox, depending on your budget, time, and a few other factors. But all of them ultimately include taking the Holbox ferry, which we'll talk about in more detail below.
Cancun-Holbox Transfer
The easiest option for getting to Holbox island from Cancun is also the most expensive– hiring a private car transfer.
There are many different companies that offer this service, but we went with VIP Holbox because I had done a great tour with them during my 2013 visit to the island.
The company offers a door-to-door service for around $150. This includes ground transfer (in a car or van with driver) pick-up from the Cancun airport or any local hotel, a ticket on the Holbox ferry, and a golf cart taxi waiting to take you to your Isla Holbox hotel.
This may sound like a lot of money if you're traveling on a budget. But when you consider the combined cost of bus fare, fees for the ferry to Holbox, and taxi to your Holbox accommodation (not to mention the fact it will save you nearly two hours), it's really not a bad deal!
READ MORE: Top 20 Things to Do in Cancun (For Nature Lovers)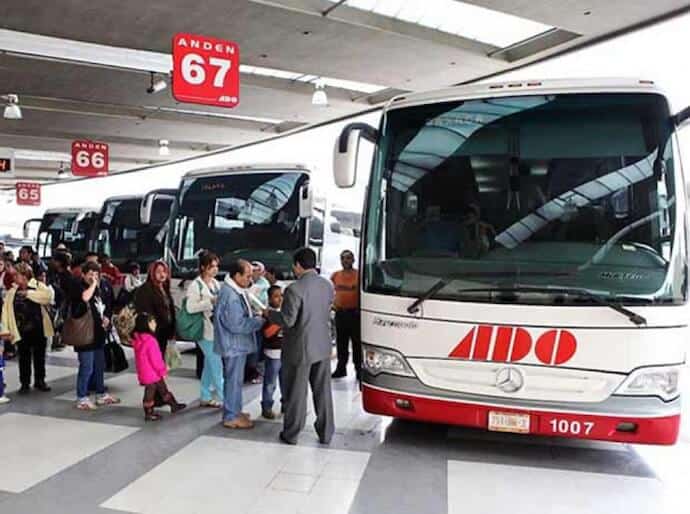 Local Bus (Autobuses de Oriente)
The bus from Cancun to Holbox, run by Autobuses de Oriente (ADO), only costs about $9 per person. But because they stop to pick up and drop off local school kids, other passengers, and vendors selling snacks and souvenirs, the ride to the Holbox ferry will take up to 2 hours longer.
The Holbox bus departs from Cancun's "terminal center," then gradually makes its way to the port town of Chiquilá. There are daily departures scheduled at 7:45 AM, 10:30 AM, and 12:45 PM. You can also take a bus directly from Playa del Carmen to Holbox.
Check the bus schedule in advance, because departure times are always changing. We also recommend buying tickets in advance and getting there as early as possible. These buses are usually standing-room-only, and the air conditioning doesn't really reach the back of the bus).
Once you arrive in Chiquilá, nearly four hours later, you'll have to take the 2-hour ferry to Holbox. When you reach the island, you can either walk to your Holbox hotel if it's in town, or take one of the many golf cart taxis if it's further away. This usually costs anywhere from $2 to $5.
READ MORE: The Chicken Bus of Guatemala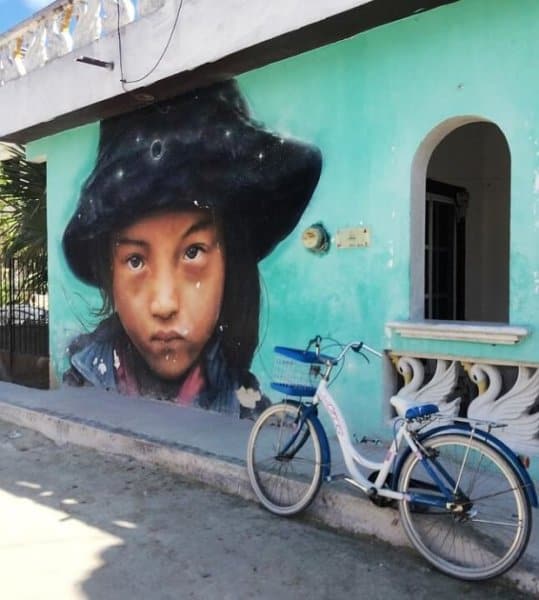 Driving To Holbox
With so many other options for transportation from Cancun to Holbox, and no cars allowed on the island, getting a rental car is unnecessary.
But if you're planning to visit Holbox as part of a larger Quintana Roo road trip, you can park your car in Chiquilá before taking the ferry.
To get there from Cancun, take the libre (free) road to Merida, which will take you through a small town called Leona Vicario. After 15 km, you'll arrive at a crossing called Nuevo Valladolid, where you'll have to turn right.
After that you'll pass two small villages, then arrive at a T-turn. Turn right to take the road to Kantunilkin. From Kantunilkin, you'll have to continue another 40 km towards Chiquilá.
Once you arrive, find a safe parking lot for your car and walk to the port to take the ferry.
READ MORE: The World's Best Road Trips (World Travel Bucket List)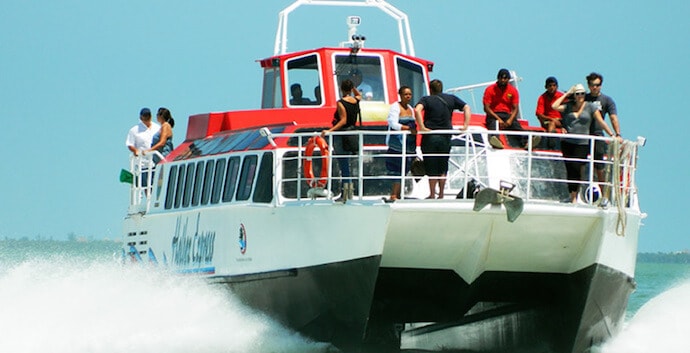 Holbox Ferry
There are two different ferries to Holbox– 9 Hermanos and the Holbox Express– but both cost about the same and are of similar quality.
The boats depart once every half hour or so until about 9:30 PM. The ferry costs $140 MXN (approximately $7) each way. In our experience you don't need to buy tickets in advance, but of course it couldn't hurt to ensure you have a seat!
Be aware that people who sit on the ferry's top deck outside may get wet from ocean spray. When we were there, around 20 people rushed up the stairs in order to get the best scenic views.
Although the weather was fine and the water wasn't choppy, they all came running inside about 15 minutes into the boat ride, completely soaked from head to toe. So we recommend sitting inside the ferry to Holbox, where the AC works wonderfully.
TOP 10 THINGS TO DO IN HOLBOX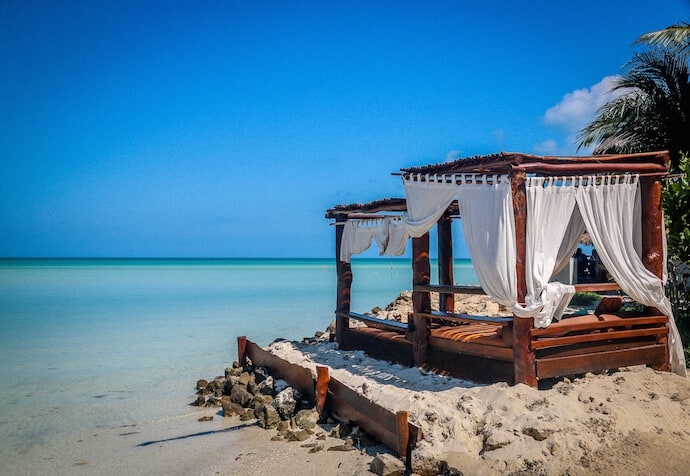 1. Relax on Playa Holbox
Called "Mexico's best barefoot beach" by CNN, Playa Holbox has silky smooth sands, a laid-back vibe, and crystal clear aquamarine waters as far as the eye can see.
The section of Holbox beach closest to the heart of town can get a little congested during peak season (we visited around the same time as Spring Break). But fortunately the 26-mile long island has plenty of picturesque shoreline to explore.
It's easy to walk, rent a bike, or get a golf cart taxi to take you far away from the crowd. Or you can do what we did and book yourself in Holbox hotels located at the far end of town, where you're surrounded by the Yum Balam Nature Reserve.
Our eco-resort, Las Nubes de Holbox, was located on the last section of Playa Holbox before you reach the reserve. We spent an amazing day relaxing in their waterfront cabanas, with gauzy linens providing protection from the sun.
The people-watching was superb, the mood was sublime, and the gorgeous Caribbean waters were 20 feet away when we needed to cool off.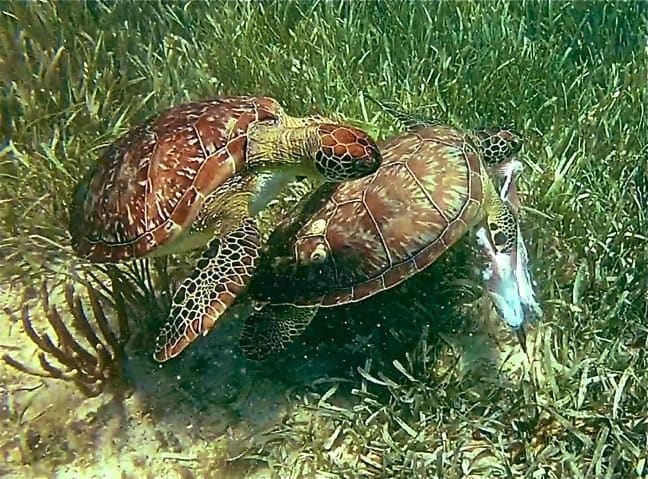 2. Snorkeling in Cabo Catoche
Located around 26 miles east of Isla Holbox, Cabo Catoche lies at the juncture where the Caribbean Sea and the Gulf of Mexico come together. Though this northernmost part of the Yucatan Peninsula is technically part of Isla Mujeres, it's a popular day trip from Holbox.
The Cabo, or cape, is the site of both the first accidental landing by Europeans in what is now Mexico (a shipwreck in 1511) and the first intentional landing (Spanish conquistador Francisco Hernández de Córdoba's ill-fated 1517 expedition).
But now it's best known for its marine life, which is attracted by the abundant krill and phytoplankton stirred up by the converging waters. You can find many whale sharks in the area for 4-5 months a year, and Cabo Catoche's beaches are important sea turtle nesting grounds.
The waters here are beautifully colored and crystal clear, with dolphins, fish, rays, turtles, reef sharks, coral, and more almost everywhere you turn. The area is also teeming with bird life, and many tours include time to walk the beaches and enjoy fresh-made ceviche.
READ MORE: Cancun Underwater Museum: A Marine Conservation Masterpiece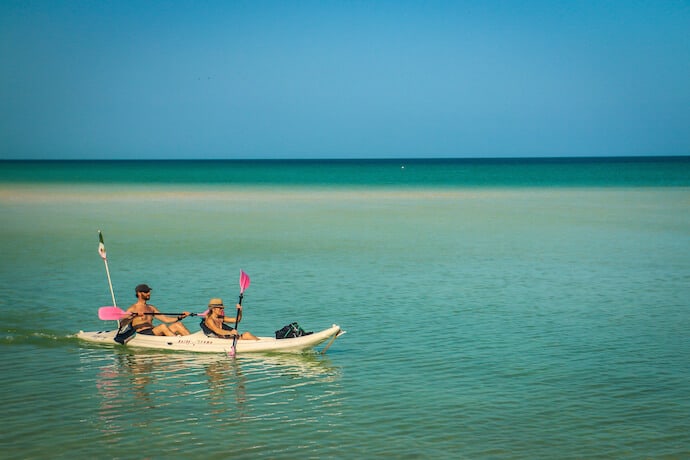 3. Kayaking Through the Mangroves
Because of Isla Holbox's location, the waters are remarkably calm. So kayaking along Playa Holbox and into the mangroves of Yum Balam Nature Reserve is another popular activity.
If you've never been in a mangrove forest before, it can be an otherworldly experience. The air is eerily quiet and still. The twisting limbs of the mangrove trees form an intricate spider web whose beauty is only magnified by their mirror-like reflection in the water.
Along the way, be sure to watch for birds, which can often be found in the shallow water and trees. Here, species such as herons, egrets, cormorants, and anhingas feed on small fish (which use the mangroves as a protective nursery) and crabs. If you're lucky you might even see some flamingos!
Keep your eyes peeled for crocodiles, which can occasionally be seen sunning themselves on the banks. And make sure you take plenty of water, as temperatures get high at midday!
READ MORE: The 10 Best Kayak/Canoe Trips (World Travel Bucket List)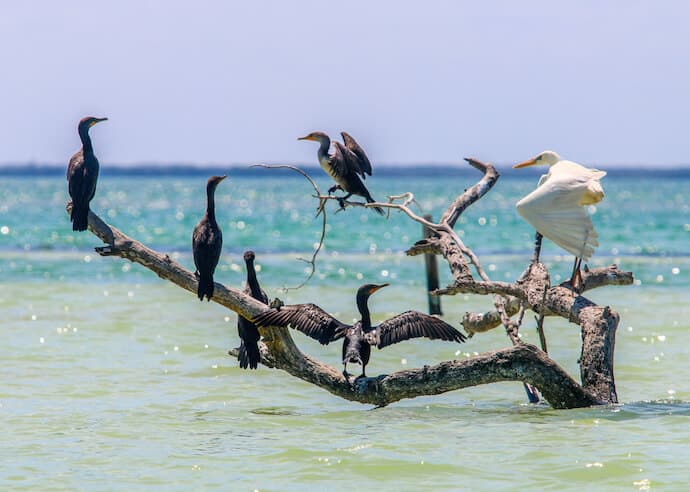 4. Birdwatching on Isla Pájaros (Bird Island)
Holbox means "black hole" in the Yucatan Maya language. It was named for the picturesque Yalahau lagoon, in which you'll also find this aptly named, 200-foot wide island.
Humans are not allowed to set foot on the island, which is protected naturally by mangrove swamps and relatively impenetrable brush and cactus. But there are two observation points and walkways, which makes it a perfect place for birdwatching.
The island is home to over 150 different species of birds, around 35 of which nest in its trees all year round. During our two visits we saw double crested cormorants, ducks, osprey, reddish and snowy egrets, frigate birds, herons, roseate spoonbills, and rare white pelicans.
Several Holbox tour operators offer day trips that include Isla Pájaros and other nearby attractions. Visit from April to October and you may see some flamingos near the shore. If possible, plan your visit around sunset, when hundreds of birds return to roost for the night.
READ MORE: Beautiful Birds of the Galapagos Islands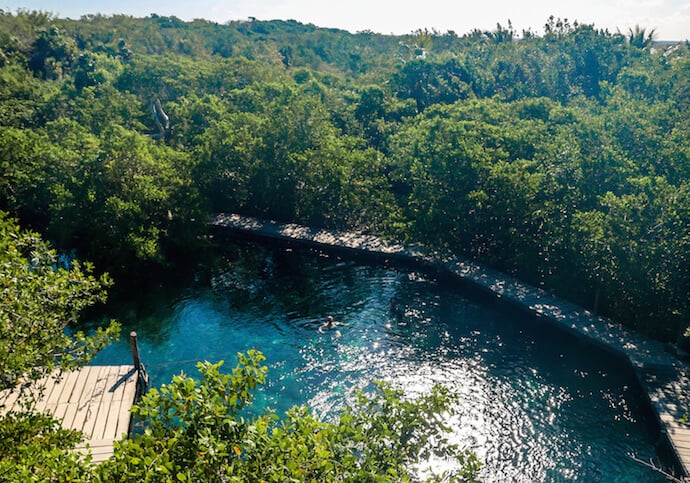 5. Swim in Yalahao (a.k.a Holbox Cenote)
A common stop for tours to Isla Pájaros, this cenote (a natural limestone sinkhole that was considered sacred by Mayan people) is located about 30 minutes from Holbox Island by boat.
The breathtaking pool is fed by a freshwater spring, and was home to an ancient Mayan trading port until a Mayan king decided to make it his own private paradise. Local legends say he built beautiful gardens and fountains and a royal pool decorated with Jade stones.
Unfortunately the Spanish conquistadors destroyed it all upon their arrival on the Yucatan Peninsula. They kept the Jade for themselves and used the stones to build one of the first Christian churches in Latin America (in nearby Boca Iglesias).
The site was later used as a refuge by the Spanish pirate Miguel Molas, who lived in Yalahao for around 40 years. Molas was an employee of the Spanish government who ultimately realized he could make more money making deals with and guiding smugglers. His exploits, including a fight with Jean Lafitte's brother Pierre in Isla Mujeres, would make a great Hollywood film,
Today, the Holbox cenote is peaceful, pristine, and perfect for cooling off during a hot day. Try to visit in the morning before the crowds arrive: Other than one other couple, we basically had the whole place to ourselves. Some locals consider the spring a fountain of youth!
READ MORE: Museo Maya de Cancun (Cancun's Mayan Museum)
6. Go Swimming With Whale Sharks
About two hours by boat from Holbox Island, you'll find the site of the largest gathering of whale sharks ever recorded. There were more than 400 spotted off the coast of Isla Mujeres in 2011, feeding on spawn from the little tunny (a type of tuna).
There are approximately 200 boats in Quintana Roo that are licensed to lead whale shark tours. Each of these boats can carry up to 10 passengers. So you can imagine the hundreds of tourists that visit the afuera daily from mid-May to September, during peak whale shark season.
Still, when my daughter I took the VIP Holbox tour in June of 2013, there were many more whale sharks than tourist boats. Even the boat ride to get there was impressive, as we saw dolphins, manta rays, and sea turtles swimming along the way.
Once you reach the afuera, it's time to put on your fins, mask, snorkel, and life vest. Tourists must go with licensed guides, and each person gets three chances to swim with the whale sharks. These massive mammals (up to 35 feet long, around 20,000 pounds) are surprisingly fast, so keeping up with them is a workout.
You're not allowed to touch them, and rules say to stay at least 10 feet away. But sometimes the whale sharks don't follow the rules: I swam with one feeding in a slow, lazy circle who nearly brushed me with his tail during a turn. It was a heart-pounding moment– the rare animal encounter that made me (a burly 6'3″, 250-pound man) feel small by comparison.
If you're an animal lover, this is a truly humbling bucket list experience that ensures you'll become passionate about preserving these majestic creatures.
READ MORE: Swimming with Whale Sharks in Cancun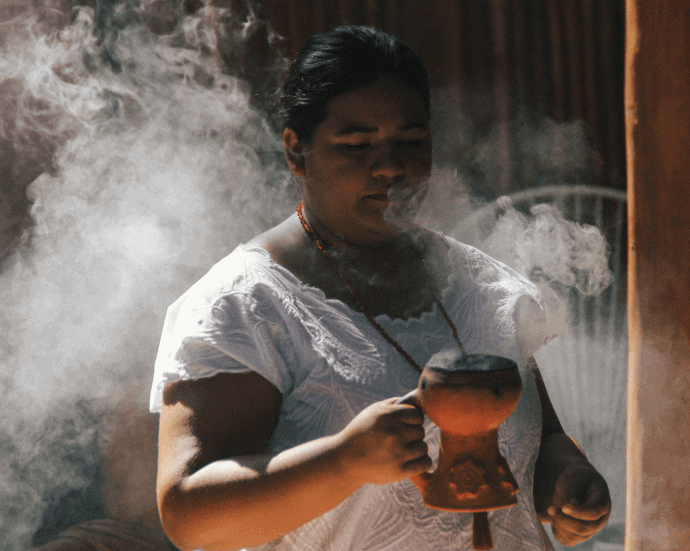 7. Get a Mayan Massage at Aqua Spa
Located inside Casa Las Tortugas, a lovely little boutique hotel on Isla Holbox, Aqua Spa is utterly unlike of the dozens of others spas we have visited during our 10+ years of travel.
The positive energy of the space hits you the moment you take off your shoes and step through the door. Your senses are engaged immediately by the fragrant scents of copal (an aromatic tree resin) and organic oils and lotions made with locally-sourced orange, papaya, and honey. The primal sounds of traditional pre-Hispanic music set a meditative mood.
The family that runs the spa– Aida Maria Argaez Gasca and her nieces, Tania Esther Argaez Uribe and Karla Ines Argaez Uribe– are all trained in the ancient Ixmol (the Mayan word for medicine woman) healing traditions of their ancestors.
Their focus on the sacred "life force" (or ch'ulel) is a big part of what makes their holistic spa treatments so unique. Their Mayan Ritual massage is simultaneously soothing and stimulating. Designed to improve the flow of energy throughout your body, it involves a relaxing mixture of stress-point pressure and gentle stretching.
The spa offers a traditional Mayan Cacao Ceremony of healing on Playa Holbox once a month), as well as other seasonal ceremonies (such as seed blessings in the spring). Casa Las Tortugas also hosts retreats featuring medicine women, shamans, and spiritual guides from around the world.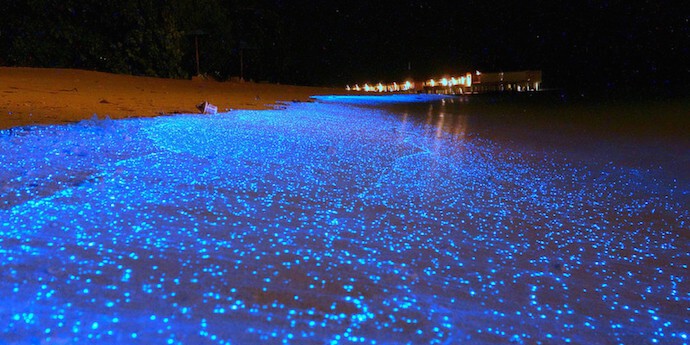 8. See the Bioluminescent Sea
We'd never heard about the bioluminescent plankton on Playa Holbox until we checked in at Las Nubes de Holbox. The manager mentioned that it was possible to see them on nighttime tours, but only on certain nights and at a time that was dictated by that day's sunset and moonrise.
The tour, which departs from the Villas Flamingos hotel, takes you kayaking under the stars. As you paddle along Playa Holbox, leaving the lights of the hotels behind, your guide will point out constellations in the night sky above. If you're lucky, you might see a shooting star!
Once you make your way around to the south side of the island (the area known as Punta Cocos), you may see a different type of "stars" twinkling in the water. The plankton that help draw marine life to the Yucatan Peninsula are bioluminescent, casting a radiant glow in the shallow water.
The plankton's glow is best seen when the sky is dark, so you may want to time your Holbox visit around the New Moon. Summer and early autumn are the best times to see this strange natural phenomenon, but it can occasionally be seen as early as March or as late as December.
It is possible to take a golf cart taxi or ride a bike to the area if you want to try to find the plankton on your own. But local tour guides are better at knowing when and where it might be spotted. Bring your swimsuit along if you want to swim in the sea of light!
READ MORE: 60 Weird Animals Around the World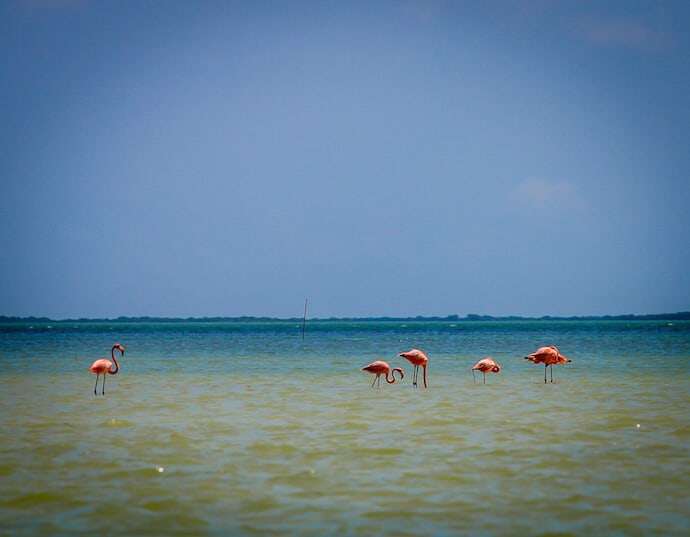 9. Look for Flamingos on Punta Mosquito
If you don't want to take a tour to Isla Pájaros or Isla Passion, there's plenty of wildlife to be found on Isla Holbox. We saw raccoons, coatis, iguanas, and dolphins while we were at Las Nubes de Holbox, not to mention numerous seabirds on a sand bar just offshore.
On the eastern side of Holbox island, just 2 miles from the bustling downtown area, you'll find Punta Mosquito. Somehow this beautiful beach seems almost completely off the tourist radar, but it often has a larger concentration of birds than Bird Island!
The uncrowded beach is also a great place to catch sight of the gorgeous flamingos, who migrate to Quintana Roo seasonally. Though there are obviously no guarantees when it comes to wildlife, I have seen the beautiful pink birds here both times I visited Holbox.
It's a lovely place to spend the day, but note that there are no restrooms or other facilities on site. So if you do go, make sure you bring all the food, drink, and sunscreen you'll need with you.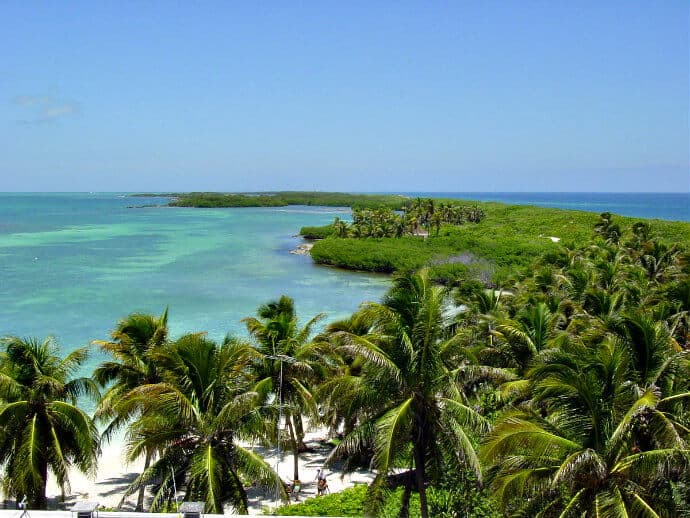 10. Explore Isla Contoy National Park
One of the things we love most about Holbox is the island's laid-back pace, which feels much slower than that of Quintana Roo's bustling tourism hotspots. But Isla Contoy, which is located about 18 miles north of Isla Mujeres, feels even more remote and unspoiled.
Isla Contoy, which is five miles long and encompasses around 730 acres, was declared a national park in 1998. But it's been protected from development for nearly 60 years, and is managed by Mexico's National Commission for Natural Protected Areas.
There's a visitor limit of just 200 per day, and there's not much in the way of amenities other than a small visitor center and a gift shop. There's also a viewing tower and two hiking trails, which are best explored on a guided tour with one of the island's resident biologists (who can explain more about Isla Contoy's ecosystem). Proceeds support the island's conservation initiatives.
Mangroves cover nearly 70% of the island, providing breeding grounds for some 170 species of birds. Visit during the winter and you may see up to 10,000 birds on the island; in the summer its beaches are an important nesting site for several species of sea turtles. You can also opt to take a birdwatching boat tour to the Puerto Viejo lagoon.
During a day trip to Isla Contoy, you can also walk on the beautiful beach, relax in the palapas, or grill out on the BBQ and have a picturesque picnic. If you have time (and bring a mask/snorkel gear), head to the southern side of Isla Contoy to explore Ixlache Reef. It's filled with fish and coral, and marks the beginning of the massive Meso-American Reef system.
READ MORE: Rio Secreto, the Riviera Maya's Amazing Underground River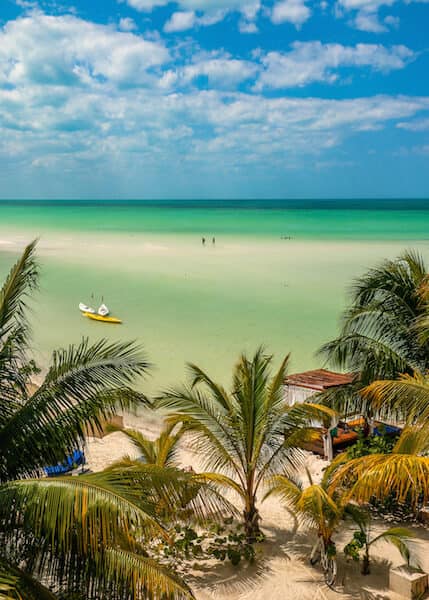 11. Help Keep Holbox Beaches Clean
One of the things we like most about VIP Holbox is their commitment to educating travelers on the basics of ecotourism and responsible travel. We also appreciate their commitment to giving back to the local community by taking care of the environment.
To that end, the company offers visitors the opportunity to take a FREE 4-hour tour to the beautiful beaches on La Ensenada on the north end of Holbox island (from Punta Mosquito to Santa Paula). In return, guests help them keep these pristine beaches clean.
Marine pollution has become an increasingly serious environmental issue all around the world. Plastic pollution brought into the Caribbean and Gulf of Mexico by the currents wind up on beaches and in wetlands and maritime forests. It poses a health risk to marine animals, and from an aesthetic standpoint it's just plain ugly.
Spending an hour or two volunteering your time in exchange for a free tour to these remote Holbox beaches is a pretty good deal. But, more importantly, giving back to keep this delightful destination beautiful will give you a really good feel!
READ MORE: The Best Environmental Charities & Animal Charities
The Best Isla Holbox Hotels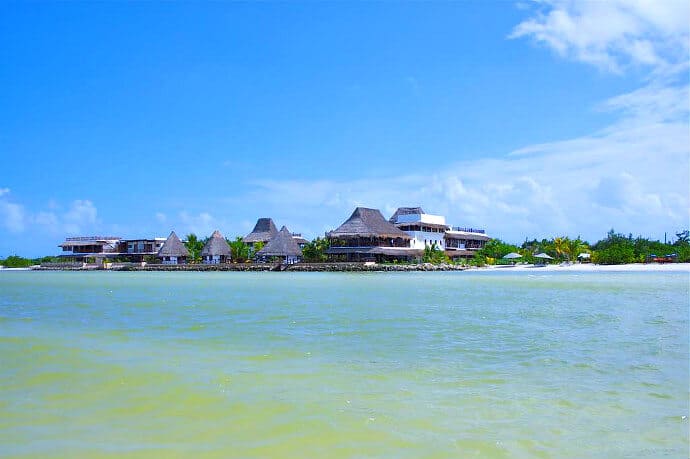 Located as far away from downtown Holbox as you can possibly get, Las Nubes was by far our favorite of the four Isla Holbox hotels we visited.
Combining all the indulgent luxuries of an upscale boutique hotel with the environmental sustainability of a charming eco-lodge, the resort is right on the edge of the Yum Balam reserve. This gives its 28 rooms a sense of seclusion that, for us, felt like a slice of paradise.
The rooms (which come with a complementary 15-minute welcome massage) are decorated with an artful Mexican flair: Ours was filled with images of the legendary Frida Kahlo.
In terms of eco-friendly initiatives, they use LED lighting, locally-made toiletry products, fresh water in locally glass-blown jars, and no plastic straws or styrofoam allowed.
What really made Las Nubes stand out among the best hotels in Holbox was its intimate, romantic vibe. The gorgeous sunsets from the second-story bar. The sumptuous gourmet meals from the waterfront restaurant. The table service at the king-sized beach beds.
And the view of the colorful Caribbean? I could write a thousand more words and still not do it justice. At about half the price of other upscale Holbox accommodations, it's actually a great deal for budget-friendly luxury. If we had all the money in the world, we'd live there!
One of just 35 hotels in all of Mexico that has been certified as "Boutique," Villas Flamingos folds a special place in my heart as first Holbox hotel I stayed at back in 2013.
Located just a few hundred yards down Playa Holbox from Las Nubes, the charming resort has been completely renovated in recent years. The thatch-roofed buildings include rooms, bungalows, and suites, all of which offer partial or panoramic ocean views.
The private patios and Instagram-worthy over-sea hammocks are perfect for kicking back in casual Caribbean comfort. But our favorite feature was the beachfront pool, which was also home to an engaging bunch of inquisitive iguanas.
Another highly-rated, upscale Isla Holbox accommodation, Casa Las Tortugas is located closer to town, just steps away from the beach.
This boutique hotel has an adorably quirky Bohemian vibe: Rooms are decorated with colorful painted tiles, fun pom-pom fringed pillows, and recycled driftwood art.
Guests can chill out in the hammocks on the balcony, get drinks under palm trees by the pool, and dine on Mexican tapas or sushi at one of their restaurants.
But what makes this one of the best Holbox hotels in our opinion is its Aqua Spa, which we covered in more detail in the "Things to Do in Isla Holbox" section above.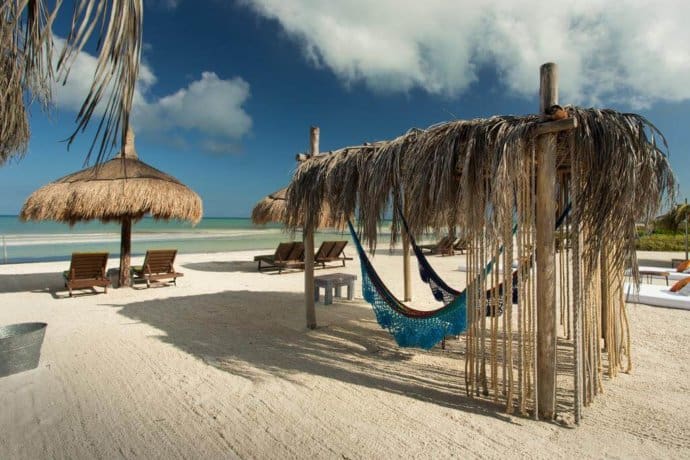 One of the Holbox resorts I visited (but did not stay in) during my 2013 trip to the island, Casa Sandra is just as arty and elegant as its owner/creative director, Sandra Perez Lozano.
Located 10 minutes from downtown Holbox near Villas Flamingos, the hotel features a variety of artfully decorated rooms, suites, and villas. All have ocean views and balconies with hammocks, and some suites offer sitting areas or dining areas. The villa has a kitchen and a private balcony.
The prices here are considerably higher than other 4-star Holbox hotels, but the atmosphere is undeniably posh. Amenities include an outdoor pool, private beach access, regular live music, and one of the best restaurants on the island.
There's also free breakfast served in an outdoor dining area, as well as a thatched-roof gazebo offering lunch and cocktails, with amazing views at sunset. -Bret Love