Stretching from the southeastern U.S. down to the north coast of South America, the Caribbean consists of more than 700 islands, islets, reefs, and cays. Yet the vast majority of travelers seem to visit the same old hoary chestnuts (see: the Cayman Islands, Jamaica, and the U.S. Virgin Islands) year after year. For more adventurous travelers, here are our picks for the 10 best Caribbean islands to visit if you love nature and hate crowds: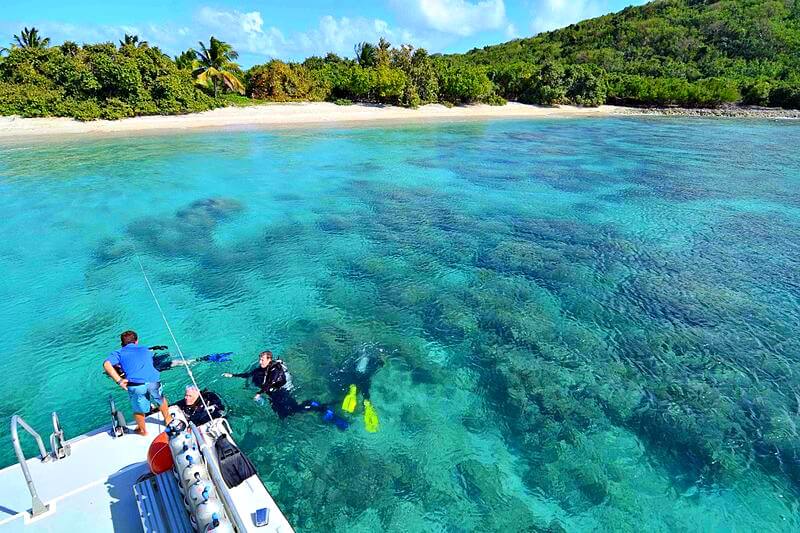 CULEBRA (Puerto Rico)
Although it's located just 19 miles east of Puerto Rico, the smallest of the inhabited Spanish Virgin Islands feels like it's a world away.
Seven miles long and three miles wide, with less than 3,000 residents, Culebra has virtually no nightlife to speak of. But it does have crystal clear waters with 60+ feet of visibility, gorgeous white sand beaches (Culebrita is among the best), and the oldest lighthouse in the Caribbean.
Thanks to the establishment of the Culebra National Wildlife Refuge in 1909, there are also lots of seabirds and turtles, not to mention exceptional scuba diving.

Where To Stay: Set on a private bay, the cottages at Tamarindo Estates offer ocean views, fully equipped kitchens, and an 1,800-foot beach with great shelling and snorkeling.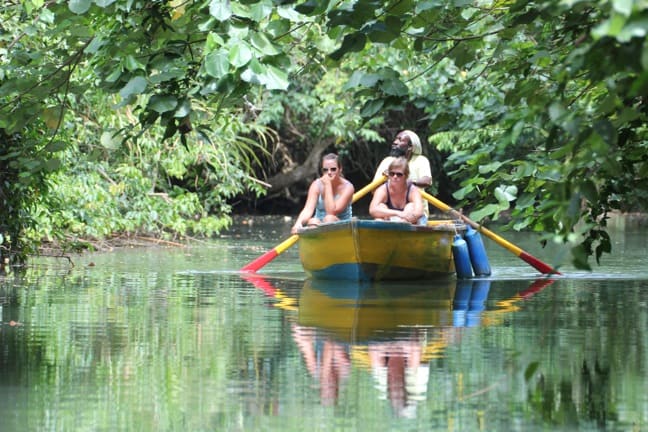 DOMINICA
Often confused with the Dominican Republic, "The Nature Island" is 65% covered in tropical rainforest, with 300 miles of hiking trails. And that's just one of many reason it's at the top of our personal list of the best Caribbean islands to visit.
Thanks to copious rain, impressive waterfalls are everywhere, with Emerald Pool, Trafalgar Falls and Victoria Falls all making it worth
Other highlights include the Morne Trois Pitons National Park (the first UNESCO World Heritage Site in the eastern Caribbean), snorkeling Champagne Reef (where geothermal activity makes the water warm and bubbly), and the Kalinago Barana Autê (home of the pre-Columbian Carib people).

Where To Stay: Rosalie Bay, an eco-conscious boutique and wellness resort, was once named the #2 resort in the Caribbean by Condé Nast Traveler.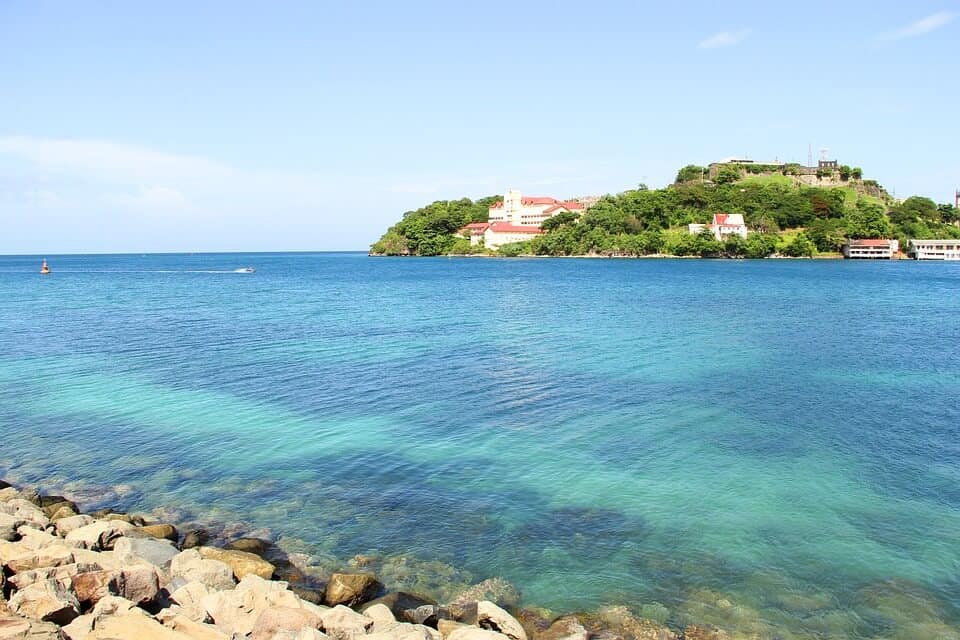 GRENADA
With its growing focus on sustainable development– including eco-resorts, agritourism initiatives, and innovative environmental practices– Grenada is rapidly emerging as one of the best Caribbean islands to visit for nature lovers.
The island has introduced/expanded its protected areas, including Levera National Park (a nesting site for Leatherback Sea Turtles) and Grand Etang Forest Preserve (which offers birdwatching, hiking, and river tubing activities).
If you get a chance, visit during cultural events such as the Grenada Chocolate Festival, Fish Fridays, and the Carriacou Maroon & String Band Music Festival.

Where To Stay: All 7 villas at Maca Bana are stylish, with hardwood decks, outdoor hot tubs, and stunning views. It's also home to one of Grenada's best restaurants, Aquarium, and a 3-minute walk from picturesque Magazine Beach.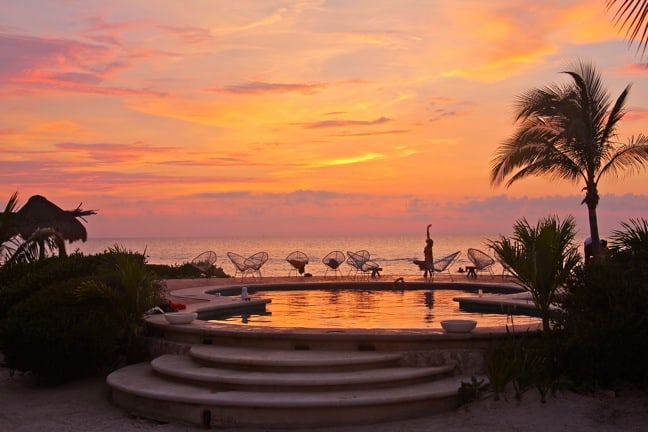 Located 40 minutes northwest of Cancun, Holbox Island is a tiny fishing village that's developing into a haven for ecotourists.
The island is separated from the mainland by a shallow lagoon that provides sanctuary to thousands of herons, flamingoes and numerous endangered species. Golf carts are the most common form of transportation– no cars allowed– with Yum Balam Biosphere Reserve and Isla Pájaros (Bird Island) ensuring you'll see more animals than people.
But the island's big draw is the annual afuera, a gathering of hundreds of massive whale sharks who come to feed off the Yucatan Peninsula coast every June to September.

Where To Stay: Tucked away on a remote section of the island next to Yum Balam, Villas Flamingos offers charming villas with eco-friendly bathrooms and a hammock on the terrace.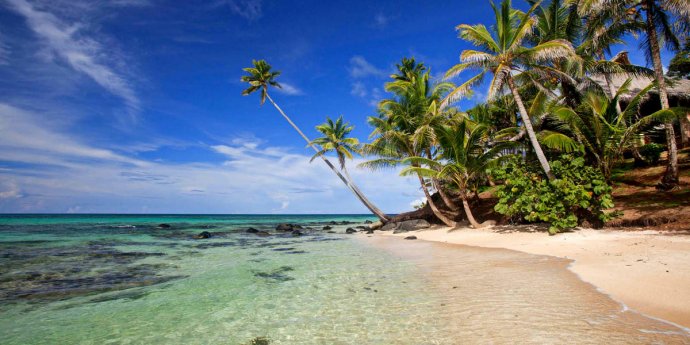 LITTLE CORN ISLAND (Nicaragua)
With a distinctive Creole culture that incorporates African, Indian, and Spanish roots, this tiny island 43 miles off the coast of Central America feels more Caribbean than Nicaraguan.
There are four different languages spoken on Little Corn Island– Creole, English, Miskito, and Spanish– and there are no cars or roads whatsoever.
Originally known as a backpacker's haven, the beautiful beaches and excellent snorkeling/Scuba diving in this pristine paradise have attracted more upscale ecotourists in recent years.
Thankfully, despite the gradual uptick in visitors, the remote island remains unspoiled by mass tourism development.

Where To Stay: Named one of the top hotels of 2014 by Forbes, Yemaya Island Hideaway is a 16-cabana eco-resort offering a serious yoga program, farm-to-table food, and a peaceful atmosphere of laid-back luxury.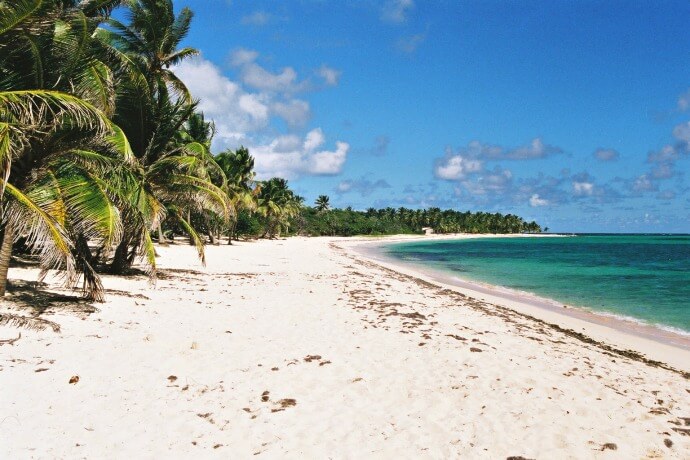 MARIA-GALANTE (Guadeloupe)
Discovered in 1493 by Christopher Columbus and named after his flagship, Maria-Galante is a 61-square mile island located in the Guadeloupe archipelago.
Best known for sugar production during the colonial era, the island offers a rural taste of French West Indies tranquility, with myriad farms, pristine beaches, and lagoons protected by coral reefs.
This is a place truly in touch with its folkloric traditions, which is one of the main reasons we consider it among the best Caribbean islands to visit.
But it can be surprisingly lively at night, when locally produced rum and "ti punch" sweetened with sugar cane bring the piano bars and nightclubs to life.

Where To Stay: Located in the heart of a vast tropical garden, the villas, bungalows, and suites at La Rose du Bresil offer lots of space and a distinctive splash of Creole culture.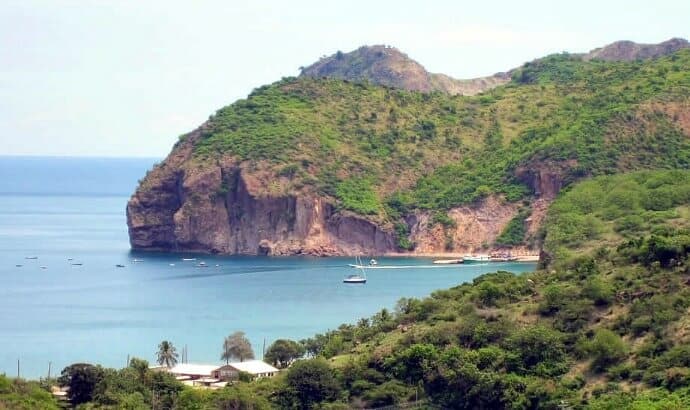 MONTSERRAT 
Montserrat was a showcase for the lifestyles of the rich and famous in the '60s, '70s, and '80s, when albums by icons like Dire Straits, Duran Duran, and The Police were recorded at Sir George Martin's AIR Studios.
But in 1995 the long-dormant Soufriére Hills volcano roared to life, destroying the capital city of Plymouth and forcing two-thirds of the local population to flee.
Now the island has been reborn as a nature sanctuary, with nine world-class rainforest hiking trails, stunning scenic coastlines and some of the best diving the Caribbean has to offer.

Where To Stay: One of the first new businesses opened after the volcanic eruptions, Tropical Mansion Suites is a family-owned effort credited with helping to revitalize Montserrat tourism.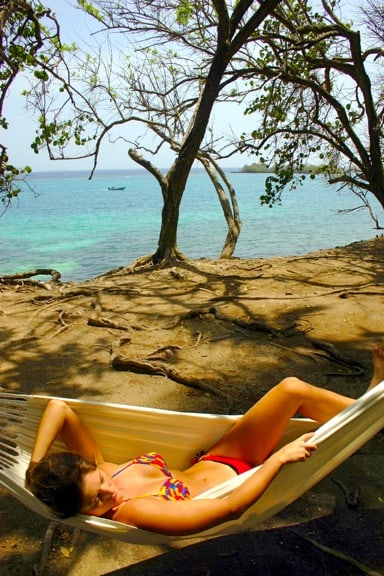 ROSARIO ISLANDS (Colombia) 
Just a 45-minute boat ride away from the historic city of Cartagena, this little-known treasure is an archipelago comprised of 30 islands.
The islands are part of the Corales Islas del Rosario Natural National Park, which was created to protect 4,633 square miles of reefs, sea grass and mangroves and the aquatic species that inhabit them.
As you might expect, the snorkeling and Scuba diving here are superb. But you can have an equally amazing time just curling up in a hammock with a stiff drink, watching the spectacular sunset over the sea.

Where To Stay: Blending elegant sophistication and laid-back simplicity, Coralina Isla Boutique is a quiet, foodie-friendly paradise.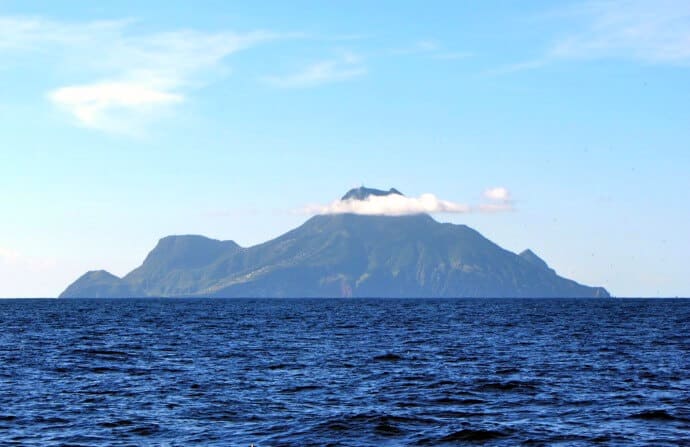 Known as "the Unspoiled Queen of the Caribbean," this Dutch island is just a 12-minute flight away from St. Maarten.
With a total area of 5 square miles (pop. 2,000), the island's centerpiece is the aptly named Mount Scenery, which rises 2,910 feet above sea level.
Naturally, climbing and hiking the mountain's trails are among the island's most popular activities, but the protected waters of Saba National Marine Park also draw visitors with stunning 220-foot tall volcanic pinnacles, dolphins, and the occasional whale sighting.

Where to Stay: With welcoming owners and breathtaking views, the El Momo Cottages are an eco-friendly hideaway offering romance and relaxation in equal measure.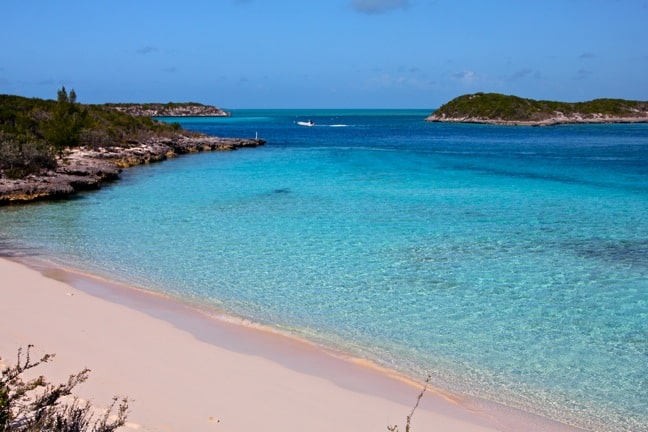 This tiny 2-square mile island, with a population of just 110, is an under-the-radar ecotourism haven in the remote Exumas. And that's precisely what makes it one of the best Caribbean islands to visit.
With just two hotels, a restaurant/bar, and a marina, there's not much action in sleepy Staniel Cay to attract the cruise ship crowd.
But for nature lovers, there's the picturesque Thunderball Grotto (featured in the 1965 James Bond film), the famous swimming pigs of Major Cay, sailing and scuba diving in impossibly blue waters, and perfect little beaches without a single soul in sight.

Where To Stay: Built by Staniel Cay natives on their family's ancestral lands, Embrace Resort is the area's first sustainable eco resort. –Bret Love; photos by Bret Love & Mary Gabbett unless otherwise noted