Hiking and other forms of outdoor recreation have become increasingly vital to many people's health (and, if we're being honest, sanity) in 2020.
You can tell from the record-breaking crowds at many of the US National Parks, and even our local Georgia State Parks, this summer.
As a result, all the various Facebook Hiking Groups we're members of have seen an increasing number of new hikers asking for gear recommendations. The best hiking backpacks are second only to hiking shoes among the most common questions.
Whether you're looking for a small hiking backpack for day trips or a serious trekking backpack for multi-day excursions, choosing a backpack for hiking is an important decision that can make or break your outdoor adventure.
The best hiking packs are fairly lightweight, have lots of organizational pockets for stashing your gear, and have design features to keep your body cool and help you carry weight more comfortably.
To that end, we've tested more than 30 different bags to bring you this extensive list, which includes backpacks designed for long-distance trekking, for women, ultralight and waterproof bags, and daypacks for hiking.
Best Hiking Backpacks & Daypacks Guide
Best Trekking Backpacks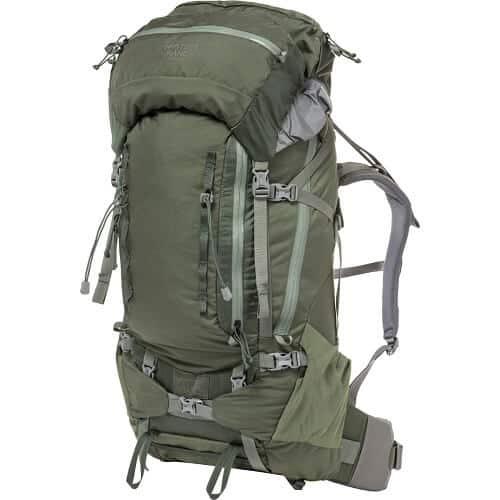 Mystery Ranch Stein 65
Recently celebrating its 20th anniversary, the Bozeman, Montana-based Mystery Ranch is just as much a lifestyle culture (think YETI) as it is a backpack brand.
Their focus is primarily on load carriage, load transfer, and the architecture of the frame that makes the best backpacks easier to carry for the long haul.
Part of their Trail Series, the Stein 65L is an update on their award-winning Stein 62 pack that's really made for trekking. Weighing in at just 4.9 pounds, it's one of the most lightweight backpacks for hiking long distances we've tested.
Available in men's and women's sizes, the pack optimizes weight efficiency via lightweight fabrics, trims, foams, and carbon frame stays. We also love the 33″ x 13″ x 13″ bag's minimalist approach to the compression system and exterior pockets.
READ MORE: Mountain Gorilla Trekking in Rwanda w/Dian Fossey's Porter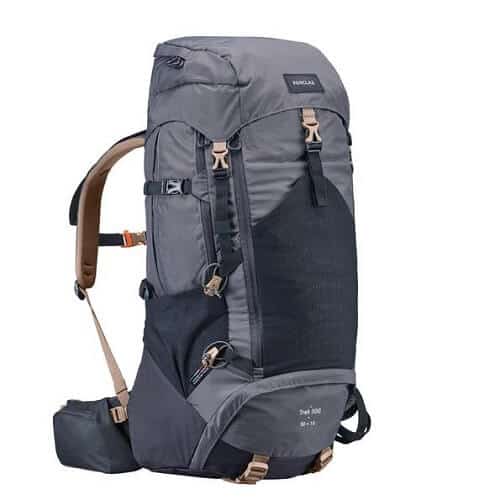 Decathlon Forclaz Men's Trek 500 50+10 Hiking Backpack
Coming in at about half the price of the Stein 65, the Decathlon|Forclaz Men's Trek 500 50+10 L Hiking Backpack offers a lot of great features for hikers on a budget.
Weighing just 4.4 pounds, the key feature of this lightweight hiking backpack is the expandable volume provided by its adjustable top.
But it also boasts tons of storage options, including multiple internal compartments, 5 zipped pockets, and 3 mesh pockets.
It's made from durable 300 denier Ripstop polyester fabric, with a reinforced base and a rain cover for added protection. We also like the cooling comfort of the contoured foam back panel.
READ MORE: Trekking Chile's Atacama Desert, the Driest Place on Earth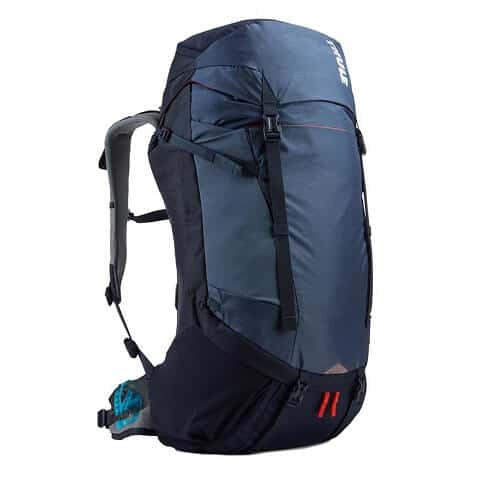 Thule Men's Capstone 50L
Combining features of a good day hiking backpack and a lightweight rucksack, the Capstone 50L from Thule weighs in at just 3.3 pounds.
The downside is that, at 28″ x 11.75″ x 10.25″, it's not big enough to hold essential backcountry camping gear such as bear canisters and large hydration bladders.
But the streamlined design, breathable mesh back panel, and remarkably comfy adjustable suspension system make it one of the best lightweight backpacks for overnight hiking trips.
Other noteworthy features include a rain cover that tucks away into the bottom of the bag, convenient top and side zipper access, and a 2-liter reservoir sleeve in the primary chamber.
READ MORE: Camping & Camel Trekking in Wadi Rum, Jordan

Magellan Outdoors 40L Technical Frame Pack
If you're looking for a mid-size trekking backpack, the Magellan Outdoors 40L Technical Frame Pack is another fine budget-friendly option.
Available from Academy Sports, the 40-liter, water-resistant backpack features a 2-liter reservoir and 2 side water bottle pockets to enable constant hydration. There's also several quick-lashing attachment points, plus a zippered top lid that allows additional storage for small items.
The ergonomically designed waist wings, high density foam back panel and shoulder straps, and adjustable sternum strap make it fairly comfortable to carry, as do the front and top handles.
Other notable features include the enclosed rain flap cover and reflective details that provide improved visibility at night.
READ MORE: List of US National Parks By State (An EPIC Guide)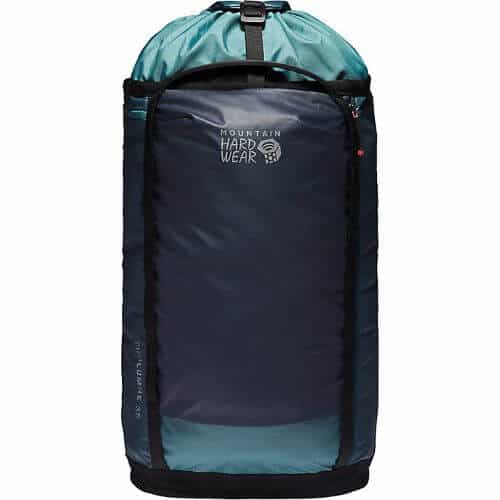 Mountain Hardwear Tuolomne 35 Backpack
Another of the best trekking bags for hikers on a budget, the Tuolomne 35 backpack from Mountain Hardwear boasts an innovative feature you might not have ever realized you needed.
The drawstring enclosure on their wide-mouth top provides quick, single-pull access to everything inside your bag, making it easier to grab your gear when you're on the go.
The pack also boasts an array of organizational options. These include a padded 15″ laptop compartment; a huge front compartment with an internal mesh pocket for keys and brushed tricot pockets for your phone and sunglasses; side zip for water bottle; and more.
Other features we like include the flat base stand-up design, moisture-wicking foam padded shoulder straps and back panel, and the removable 25mm hip belt.
READ MORE: The World's Best Hiking Trails Bucket List
Best Hiking Backpacks for Women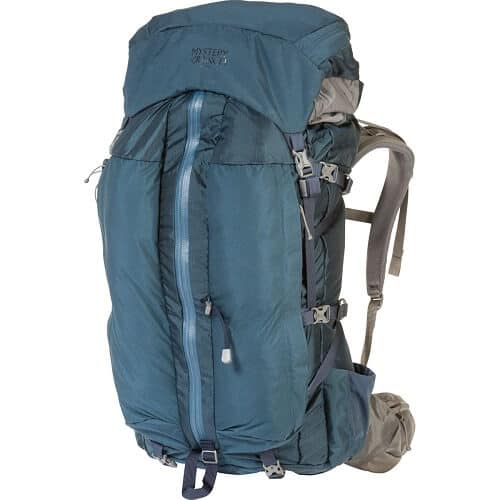 Mystery Ranch Sphinx 60
This is an update of Mystery Ranch's award-winning Sphinx line, which earned "Editor's Choice" accolades from Backpacker and "Best in Class" honors from Gear Institute in 2016.
Measuring 32.5″ x 12.25″ x 13.5″ and weighing 4.8 pounds, the bag's comfort, stability, and organizational features make it one of the best hiking backpacks for women doing multi-day treks.
Part of MR's Trail Series, the pack uses a sturdy but lightweight Adventure Frame system that pivots and flexes as you move. The waist belt helps distribute the weight more efficiently, conforming to the shape of a women's hips and eliminating the chance of slippage.
Other impressive features include a patented Future Yoke that adjusts to your torso length, a top-loading shroud with full-length zip access to interior, a zippered pocket on the removable lid, and lots of other pockets and straps for stashing and lashing on gear.
READ MORE: Hiking the John Muir Trail in California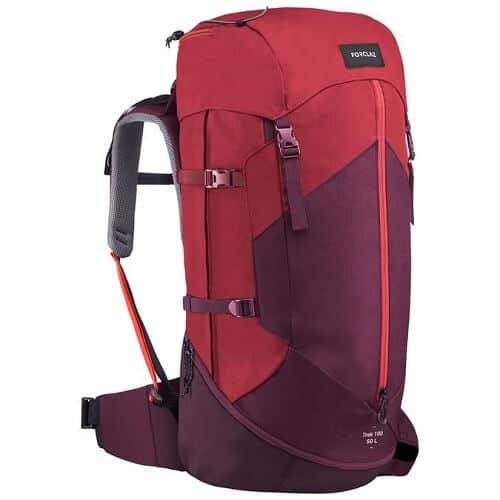 Decathlon Forclaz Women's Trek 100 Easyfit 50 L Hiking Backpack
Co-designed with users in the French Alps, this budget-friendly backpack for women was really designed with the mountains in mind.
The sturdy 600 denier polyester fabric of the Women's Trek 100 Easyfit 50L from Decathlon comes with a 10-year warranty, while the automatic back adjustment system was specifically designed to fit a woman's frame.
We also loved the pack's light weight (just 3.5 pounds), multiple storage compartments, 5 pockets, rain cover, and excellent back ventilation.
READ MORE: The Tallest Mountains in the World Bucket List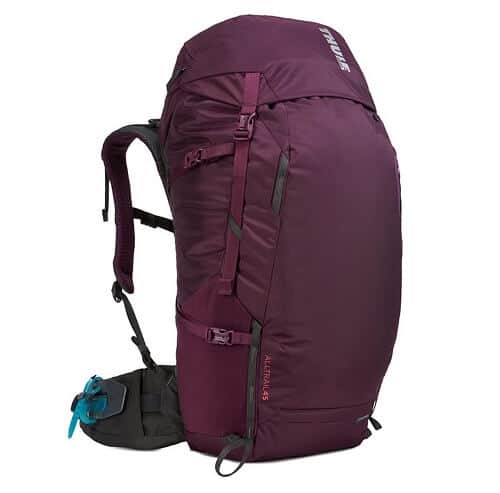 Thule Womens AllTrail 45L
The Women's AllTrail 45L pack from Thule offers a middle ground between the expansive multi-day packs above and small backpacks for women that are better suited for single day hikes.
This versatile backpack measures 11.8″ x 12.6″ x 24.4″ and weighs 3 lbs 2.4 oz, with an adjustable torso (up to 4 inches) that allows for a personally customized fit. Along with the breathable back panel, hipbelt, and shoulder straps, this makes for an impressively comfy carry.
It includes a lot of features you'd expect, including an easily accessible front pocket, built-in rain cover, and a side access zip for reaching gear without taking everything out of the bag.
But what makes this mid-sized Scandinavian beauty one of the best hiking backpacks for women are special features like the interior sleeping bag divider for organization and the VersaClick Pole Holder, which allow you to keep your trekking poles conveniently attached to your hipbelt.
READ MORE: 30 Most Comfortable Walking Shoes & Hiking Shoes for Women
Mountain Hardwear Women's Camp 4™ 28 Backpack
Moving on to women's small backpacks, the Women's Camp 4 from Mountain Hardwear is an excellent backpack for everyday use, on or off the trail.
Its design is sleek enough to pass for Scandinavian, thanks in part to the 420D nylon's special carbon coating (for enhanced durability). Protection can also be found in the 15″ laptop sleeve and top compartment's pockets, with brushed tricot to keep computers, phones and sunglasses safe.
The pack's storage options also include a full side-zip main compartment, large front zip compartment with internal zip and mesh pockets, adjustable side bottle pocket, and more.
Other noteworthy features include the flat base stand-up design, recycled polyester lining, dual density foam shoulder straps and back panel, oversized grab handles, and a removable sternum strap with emergency whistle attached.
READ MORE: Top 20 National Forests in America for Camping & Hiking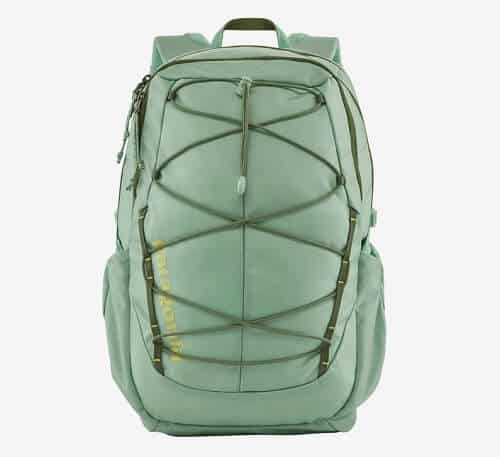 Patagonia Women's Chacabuco Backpack 28L
Another great pick for the best women's backpack for everyday use, the Chacabuco 28L from Patagonia measures just 17.72″ x 9.45″ x 14.17″. So it's the perfect small backpack for women with tiny frames.
Tailored in terms of both size and fit to the female torso, the pack offers a surprisingly spacious interior, including a padded laptop pocket and lined storage for access to other electronic devices.
The 2 side stretch pockets, stash pocket, and bungees for attaching helmets, trekking poles, or yoga mats offer more storage options. And the breathable padded mesh on the back and shoulders makes the bag comfortable enough to carry all day long.
But our favorite feature of the Chacabuco (which uses recycled nylon and polyester) is the fact that it's made by Patagonia, one of the best ethical brands in the world.
READ MORE: The 20 Best Things To Do in Patagonia, South America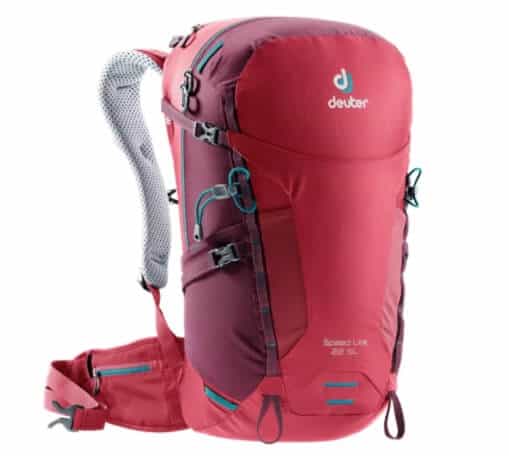 Deuter Speed Lite 22 SL
Even smaller than the Patagonia pack, the Speed Lite 22 SL from Deuter is arguably the best women's daypack for hiking we've tested in 2020.
Weighing just 1.5 pounds and measuring 20″ x 10.6″ x 6.7″, the Speed Lite 22 SL is a lightweight backpack designed to provide slender women with excellent range of movement.
But the minimal weight does not mean it has minimal features. There's a padded hip belt, adjustable shoulder straps, and adjustable sternum belt for comfort.
There's 3 outer pockets, an inner compartment for valuables, sunglasses holder, and ice axe attachment for storing gear. And we love the rear light loop and SOS label with emergency instructions for safety while hiking and climbing.
READ MORE: The 35 Best Daypacks for Travel
Best Ultralight Backpacks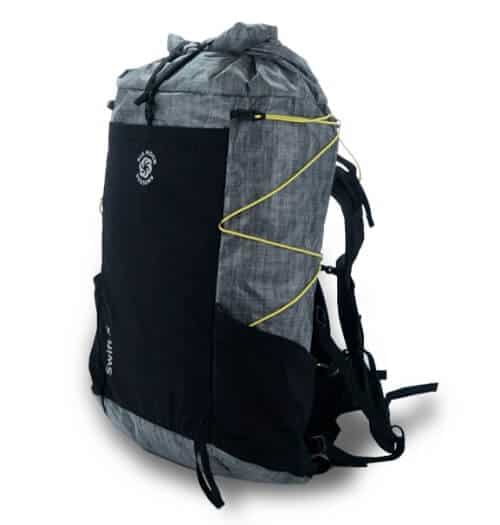 Six Moon Designs 36L Swift X Hiking Backpack
When it comes to ultralight backpacking gear, lightweight backpacks are the primary foundation for staying comfortable on your feet even during all-day treks.
For its 10-year anniversary, the Swift X Hiking Backpack from Six Moon Designs brings swanky upgrades to the original ultra lightweight backpack from their Zero-G line. For starters, you can configure it as a frameless pack (26 oz) or add a Stay & Hip Belt (36 oz), and a Vest Harness (37 oz).
The 36-liter bag offers 4 added liters of storage in the extension collar, with two 1-liter side pockets and a 3-liter rear pocket that's perfect for stowing gear quickly on the go. The Y-strap on top can hold a bear canister or sitting pad, and the Hip Belt and Shoulder Straps have two pockets each.
Additional features on the Swift X include a removable hydration bladder, top-loading dry bag closure, ice axe/trekking pole attachment point, minimal contact back panel, and more.
READ MORE: The 40 Best Backpacks for Travelers

Granite Gear Virga 26 Ultralight Daypack
If you're looking for a lightweight daypack that's perfect for quick summit ascents, the Virga 26 Ultralight Daypack from Granite Gear is arguably among the best.
The unisex frameless suspension pack weighs in at just 1 pound, and can fit torsos 18 to 21 inches long and waist/hips 26 to 42 inches wide.
The Virga offers 26 liters of storage, with an internal hydration hanger and hydration ports. On the outside there are two large stretch side pockets, a stretch mesh front pocket, and numerous tool loops for attaching hiking poles, ice axes, etc.
Other noteworthy features include 10mm webbing straps, roll top closure, extended overflow, and a padded rolling stay.
READ MORE: Climbing Nigardsbreen Glacier in Norway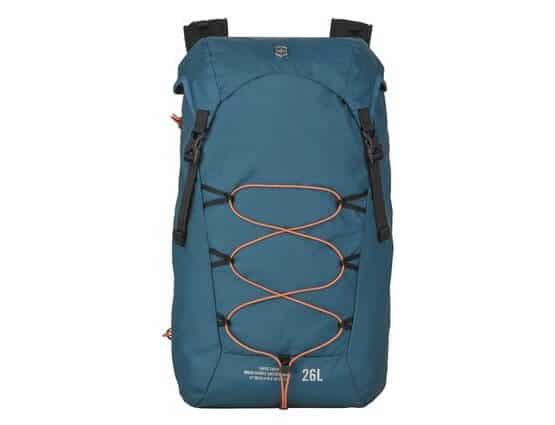 Victorinox Altmont Active LW Captop 26L
You'd be fair in expecting quality manufacturing from the company that brought you the Original Swiss Army Knife. The Altmont Active LW Captop 26L from Victorinox does not disappoint.
Designed for active adventures, the 1.5-pound, 26-liter bag is arguably the best lightweight backpack at its price point. The compression-molded back panel offers excellent airflow, and the load lifter pulls on the adjustable shoulder straps make for a ultra-comfortable carry.
In terms of organization, there's a water-resistant zippered pocket on the bag's captop closure, a mesh pocket in the main compartment for a water bottle, and vertical side zip access pocket.
Other cool features include a magnetic closure on the adjustable sternum strap, and an accessory cord that can be used with the gear loops for securing a helmet, shoes, or other gear.
READ MORE: My Stupid Mistake in Hiking Corcovado National Park, Costa Rica
Deuter Guide Lite 24
Another contender for the best ultralight backpack of 2020, the Guide Lite 24 from Deuter offers 24 liters of space and weighs in at a measly 1.4 pounds.
Primarily made for endurance athletes and alpine day hikers, this minimalist pack doesn't skimp on features, including a removable waist belt, adjustable shoulder straps, and adjustable sternum belt for comfort.
It's compatible with a Deuter drinking system (up to 3 liters), and also features a sunglasses holder, ice axe attachment, and fixing loops for holding an additional gear.
We especially love the Delrin U-frames (which aid in load transfer, but don't add weight) and SOS label, which has emergency instructions for outdoor safety while skiing and mountain climbing.
READ MORE: Kayaking & Hiking the Dolomites in Italy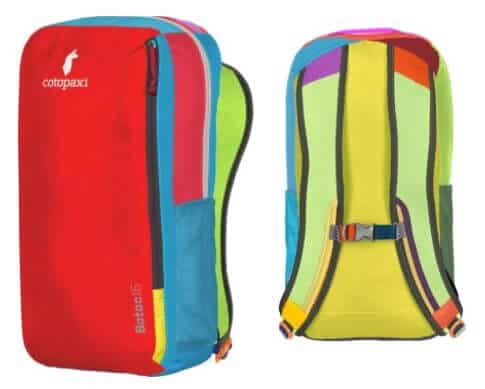 Cotopaxi Batac 16L
If you're looking for a small lightweight backpack, they don't come much smaller (19″ x 11″ x 4″) or lighter (12 ounces) than the Batac 16L from Cotopaxi.
If you're into eco-friendly approaches to manufacturing, this is definitely the best lightweight daypack for you.
Like all products in their (Re)Purpose Collection, the bag uses high-quality fabrics left over from other companies' larger production runs to create one-of-a-kind designs for mindful adventurers. In other words, it reduces waste, and no two packs are exactly alike!
In terms of features, it's got an internal sleeve divider and hanging pocket, zippered front pocket with quick-access phone/camera sleeve, dual mesh side pockets, and ultralight mesh shoulder straps. But our favorite feature is the fact that it looks like no other backpack we've ever seen…
READ MORE: Annapurna Circuit Trekking (Why It May Be Now or Never)
Best Waterproof Backpacks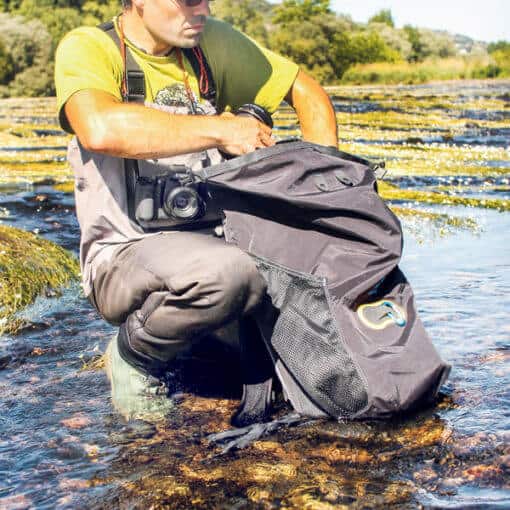 Aquapac 25 L Wet & Dry Backpack
Our family loves the water, whether we're home (on our pontoon boat at Lake Allatoona) or traveling abroad (where snorkeling and SCUBA diving are our favorite activities).
Needless to say, one of us almost always has a waterproof backpack to protect our computers, phones, and photography gear.
This backpack from Aquapac is a simple, lightweight waterproof daypack that offers 25 liters of storage. Its coolest feature is a large, detachable inner dry bag that allows you to keep your wet and dry things completely separated. The internal bag also has a clear front pocket for small items.
Other features include external mesh-pockets, roll-seal closure, a removable back support/seat, integral light-lash, breathable mesh straps that dry quickly, and carabiner lashes for attaching gear.
READ MORE: The Ultimate Beach Vacation Packing List

Fjallraven Ulvo 30
We've always loved the blend of style and substance offered by Scandinavian design, and Fjallraven has been one of our favorite outdoor gear brands for years.
So it's no surprise that their Ulvo 30 is arguably the best waterproof backpack of 2020. The excellence begins with their new Bergshell fabric– an impressively durable, 31% recycled 400D Nylon with a unique flat rip stop that sheds water like a duck's back.
Its 30 liters of storage offers numerous organizational options. They include a 2-section main compartment, a large front zippered pocket, a 15″ padded laptop pocket, and an attachment loop for a lamp, helmet, or other gear.
The Ulvo is available in two colors, and its stylish Swedish design looks just as good in urban settings as it performs on the trail.
READ MORE: Meeting the Moose Whisperer (& the Coolest Moose in Sweden)

Klymit Splash 25
The Splash 25 from Klymit is a great waterproof roll top backpack that combines ultralight (31 oz) portability with a durability that's designed to endure even your most rugged outdoor adventures.
The coated 210D Nylon Body and 420D Nylon Bottom material, welded seams, and roll-top closure virtually guarantees your gear stays completely dry, even in the worst inclement weather.
We also really dig the Integrated AirFrame, which cuts down on weight by using air pressure for padding and load transfer support. There's even a convenient hand pump that allows you to adjust the air pressure to suit your personal comfort.
In our eyes, it's one of the best water resistant backpacks on the market today.
READ MORE: The 15 Best North Georgia Waterfalls (& How to Get to Them)
Orvis Waterproof Backpack 21 L
After making American Angler's "Gear of the Year" list in 2017, this small waterproof backpack from
Orvis
has been updated and improved in both its aesthetic and features.
Designed with fishermen in mind, the tiny 21-liter pack keeps the elements at bay via TPU-coated 500D nylon material, a waterproof YKK Flexseal zipper on the main compartment, and a water-resistant Ries zipper on the secondary pocket.
Fishing
-related features include a water-resistant back panel with ventilation to keep you cool during long days on the water. There's also a handy gear station on the shoulder strap, plus two side pockets large enough to hold fishing rod tubes.
Other noteworthy elements include a padded bottom to protect cameras and other electronic equipment, an adjustable sternum strap, and a D-ring on the back to hold nets or other gear.
READ MORE: The Best Beach Gear & Lake Essentials for Summer
Best Daypacks For Hiking

Aktiv Sandqvist Bernt Backpack 20L
Whether we're SCUBA diving in the Philippines or exploring the Blue Ridge Parkway of North Carolina, daypacks for hiking are among the most important items on our travel packing list.
The Sandqvist Bernt Backpack from Aktiv is one of the best hiking daypacks we've seen. Not only because of its sleek Swedish style, but also for the sheer number of cool features that can be found within its diminutive 20-liter frame.
We'll start with the water-resistant backpack's materials. The Cordura EcoMade polyester is made from 40% recycled polyester, while the lining is made from 100% recycled polyester and the trimmings are produced from recycled webbing.
Then there's the 13′ laptop compartment, padded shoulder straps, 5 pockets (including two inner mesh and one large outer), swanky leather patch details… need I go on?
READ MORE: 10 Things We Love About West Sweden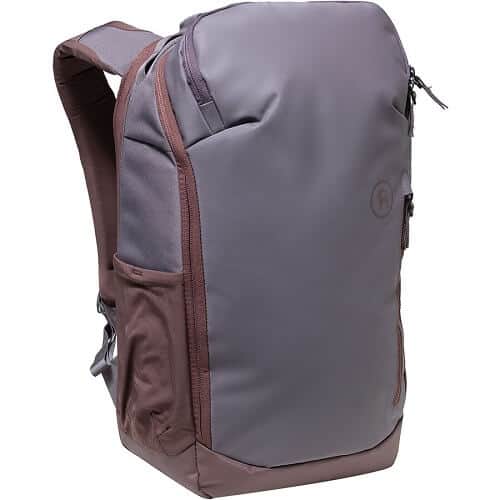 Backcountry Adventure 20 L
If size and/or weight are a significant factor in your choice of hiking day pack, this small (11.5″ x 9″ x 7″) 20-liter bag from Backcountry may be the best daypack for you.
Its impressive array of pockets– 1 zippered top, 1 zippered front, 1 side bottle, 2 zippered main, 1 zippered internal stash, 2 zippered mesh, 1 padded sleeve– arguably make it the best packable daypack in its class.
The Adventure 20L's stylish tarpaulin exterior seems equally suited to city walking tours as it is to hiking trails. And the 15″ sleeve can just as easily hold a laptop or a hydration bladder.
We especially like the padded back panel (which stands up when you set the bag down), the stabilizing sternum strap, and the fleece-lined top pocket for protecting your phone or sunglasses.
READ MORE: NYC Christmas Window Displays Walking Tour

Camelbak Octane 25 Hydration Pack
Fresh water is life when you're hiking in the wilderness. Camelbak's Octane 25 Hydration Pack is a great ultralight daypack (22 oz) that comes with its own 2-liter Crux reservoir.
Thanks to 3D vent mesh for improved airflow, a ventilated hip belt for weight transference, and dual adjustable sternum straps for stability, it's an extremely comfortable backpack to carry.
The organizational options provided by the 13 (!) exterior pockets are insane. They include a stretch overflow pocket for extra layers of clothing, a secure pocket for phone and other valuables, and numerous others for small essentials.
Other fine features include a pocket for a QuickStow flask, a tube trap to keep your water accessible but out of the way, and an integrated rain cover.
READ MORE: How to Save Water (15 Conservation Tips)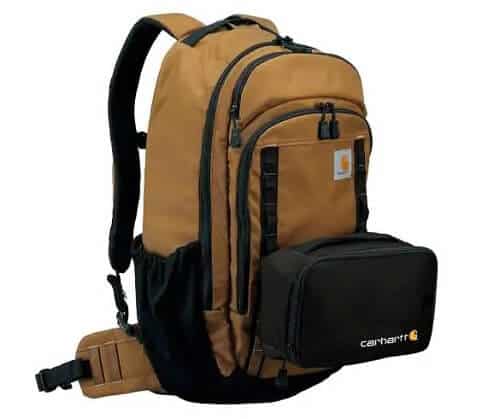 Carhartt Large Pack + 3-Can Insulated Cooler
If you're the type of person who enjoys a few cold beers (or sodas) at the end of a long hike, this cooler backpack from Carhartt's Cargo Series might be a great choice for you.
The small hiking backpack, which measures 12″ x 20.25″ x 9″, features a water repellant 500 denier Cordura ripstop polyester fabric. The Hook-n-Haul insulated cooler, which measures 9″ x 5.5″ x 3″, can keep 3 cans (or snacks, if you prefer) cold for hours.
In addition to the cooler, the backpack's storage options include a large main-compartment with zippered mesh pocket, 15-inch laptop sleeve and tablet sleeve, two external mesh pockets, a fleece-lined eyewear compartment, and more.
Other features include a padded air mesh back panel, moisture wicking shoulder straps, and adjustable sternum straps and padded waist belt that can also be tucked away.
READ MORE: 25 Most Comfortable Walking Shoes & Hiking Shoes for Men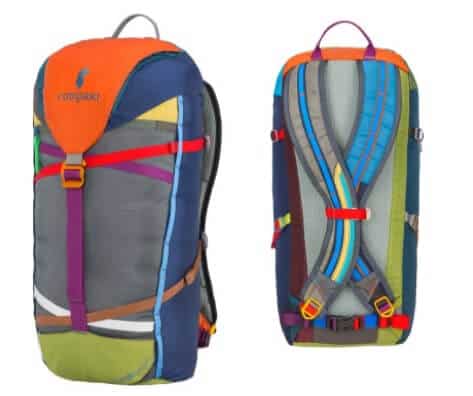 Cotopaxi Tarak 20L
If your vote for the best small backpack is based on diminutive size, eye-catching style, or the sustainability of the manufacturing process, look no further than the Tarak 20L from Cotopaxi.
Like the Batac 16L, the Tarak 20L is part of the "Do Good" brand's striking Del Dia line. So it's made from high-quality 210D ripstop nylon left over from other companies' larger production runs.
At 20″ x 12″ x 7″ and 1.24 pounds, the Tarak 20L is slightly larger and heavier than the Batac. But it's still one of the best small daypacks we've seen for outdoor adventures like mountain climbing and skiing.
In fact, the bag's streamlined look was designed with those activities in mind. Its distinctive features include a removable foam frame sheet, an innovative ice tool carry system, and easily configurable compression and lash points for organizing your gear.
READ MORE: Going Green: 60 Earth Day Tips You Can Use Every Day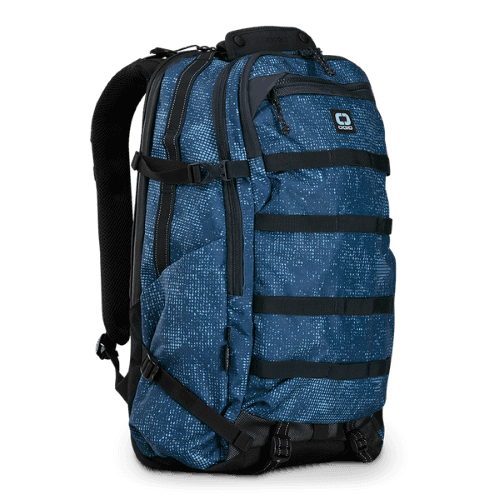 OGIO Alpha Convoy 525 Backpack 25L
As dyed-in-the-wool tree huggers who religiously "reduce, reuse, recycle," we feel better about buying brand new items when their manufacturing process considers the environment.
The Alpha Convoy 525 Backpack from OGIO fits that bill perfectly. Its 600D CORDURA Eco polyester body and 1200D Cordura EcoMade bottom are not only extremely durable, but made from recycled materials.
Even if you don't care about eco-friendliness, the 25-liter Alpha Convoy is still a great little daypack. It's got a laptop/tablet pocket, two water bottle pockets, a back panel security pocket with cord port, a front zippered pocket for valuables, and numerous other storage options.
We also like little details such as the reflective trim and zipper pulls, luggage pass-through, and four rows of webbing that can hold an additional small hard case or soft pouch.
Another awesome eco-friendly daypack, the Re:claim Backpack from Solo New York is truthfully more designed for urban adventures than roughing it in the wild.
But for those of us who often combine business (in our case, speaking/teaching at travel conferences) with pleasure (see: hiking), it's a stylish, small daypack at a budget-friendly price.
Part of the brand's Re:Cycled Collection, the heathered grey bag is made from 6 recycled PET bottles. Though it measures 16.5″ x 12.25″ x 6.75″ and weighs just 1.49 pounds, it's got a padded compartment large enough to hold 15″ laptop.
Additional features include side mesh pockets, a front zippered pocket with organizer section and key clip, and a back strap made to slide over your luggage handle when you travel.
READ MORE: Recycling Tips for America Recycles Day

Day Owl The Backpack 16L
The last daypack on our "Best Backpacks of 2020" list is also by far the least large.
The Backpack from Day Owl comes in two sizes, the smallest of which carries 16 liters and measures just 15.5″ x 11.5″ x 5.5″. But it's got a pocket big enough for a 14-inch laptop, a chimney pocket that will hold a 750ml water bottle, plus 3 other pockets.
It's also environmentally friendly, using First Mile waxed canvas that's made from 100% recycled post-consumer plastic bottles, with 100% recycled polyester lining and trim.
We also love details like the LWG Certified leather detailing, water repellant neoprene, and conflict-free metal YKK zippers. Check out DAY OWL Backpacks –by Bret Love; lead photo via Canva