Anyone who reads Green Global Travel knows we're passionate about ecotourism and wildlife conservation. But it's less well known that we're equally passionate about Christmas.
So when an opportunity came along to visit Mary's dad in New Jersey for Thanksgiving, we decided to make a quick visit to Manhattan to experience the NYC Christmas window displays for ourselves.
Beginning in mid-November, department stores along Fifth Avenue (and the surrounding streets in midtown) create enchanting New York City Christmas windows. We were in the city for exactly 24 hours, ending with a lifelong dream of seeing the Macy's Thanksgiving Day Parade in person.
So to make the most of our limited time in the Big Apple, we designed our own DIY walking tour of Manhattan's best Christmas windows.
Stretching across 35 blocks, our self-guided tour took us to all the major department store holiday window displays, past iconic landmarks like Rockefeller Center and the Empire State Building, and into public green spaces that were lavishly decked out for the holidays.
You can download and print our map pictured below for free here: NYC Christmas Window Displays Map. Read on for step-by-step directions, photos and more!
READ MORE: 20 Symbols of Christmas: The History & Meaning of Traditional Christmas Decorations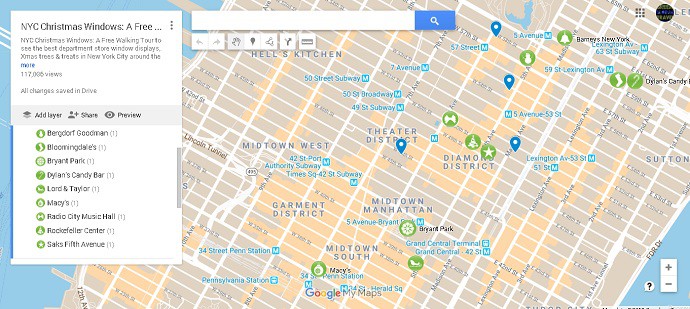 NYC Christmas Window Displays Free Walking Tour TOC
READ MORE: 125+ Best Gifts for Travelers (& Every Travel Style)
Dylan's Candy Bar • 1011 3rd Ave
We began our Christmas windows walking tour right at sunset, after having an early dinner at Patsy's Pizzeria on East 60th St. Dylan's Candy Bar was right around the corner, and my daughter's personal request for our first stop.
She described it as a modern-day Willy Wonka factory, with three stories of sweets and a vividly colorful pop art-influenced decor.
It was the only place in New York we actually shopped, marveling at their remarkable selection of old school candies and holiday candy by-the-pound.
READ MORE: The 20 Best Places to Spend Christmas in the USA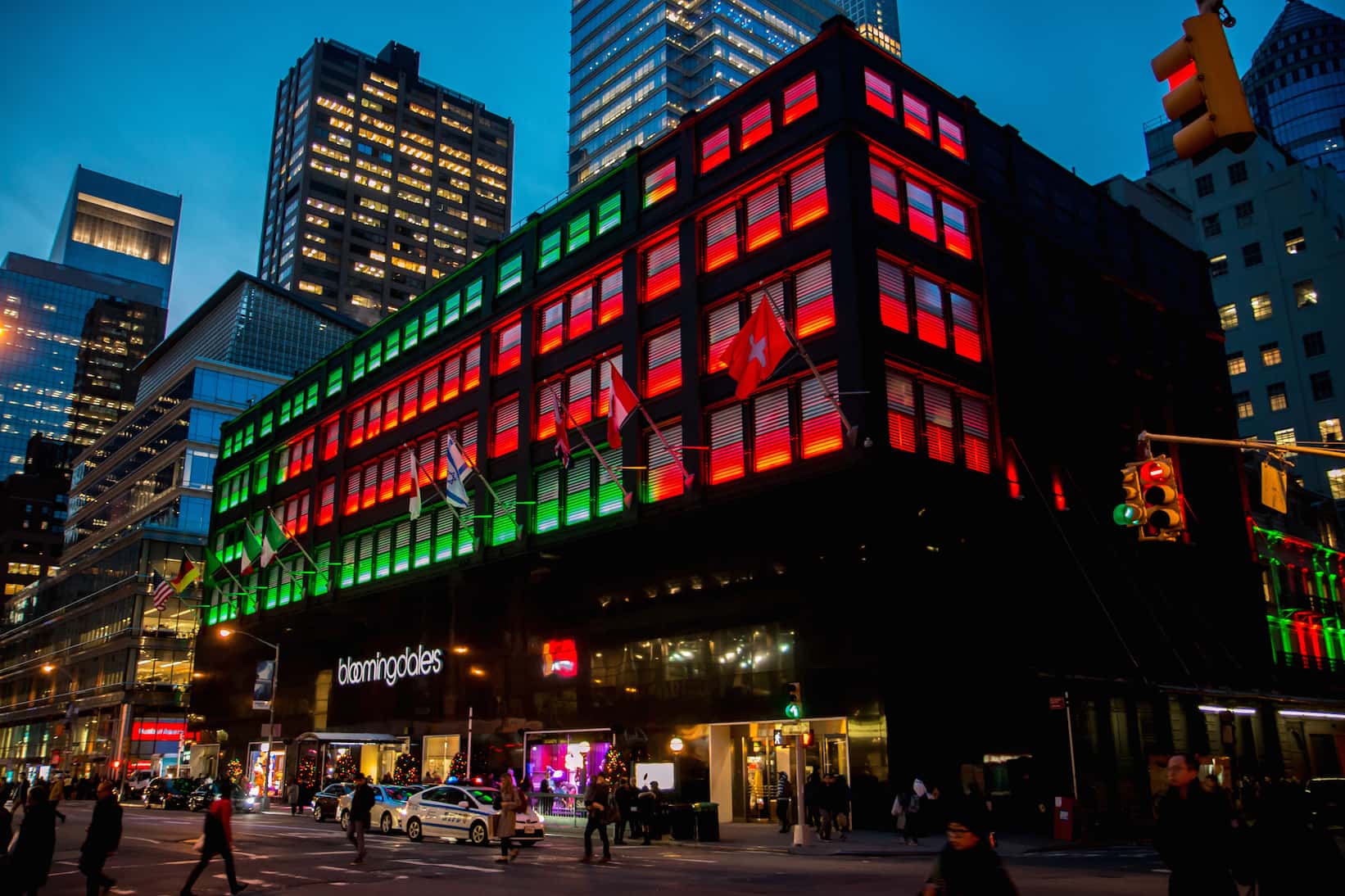 Bloomingdale's • 1000 3rd Ave
Located diagonally across the corner of 3rd Ave and 60th St, Bloomingdale's has been a grande dame of New York City department stores since 1861.
Its current location opened in 1886, and was one of the earliest innovators in using its windows to create theatrically designed holiday displays.
The side of the iconic building was beautiful, lit up in bold red and green Christmas colors.
READ MORE: 75 Christmas Traditions Around the World (with Fun Christmas Facts)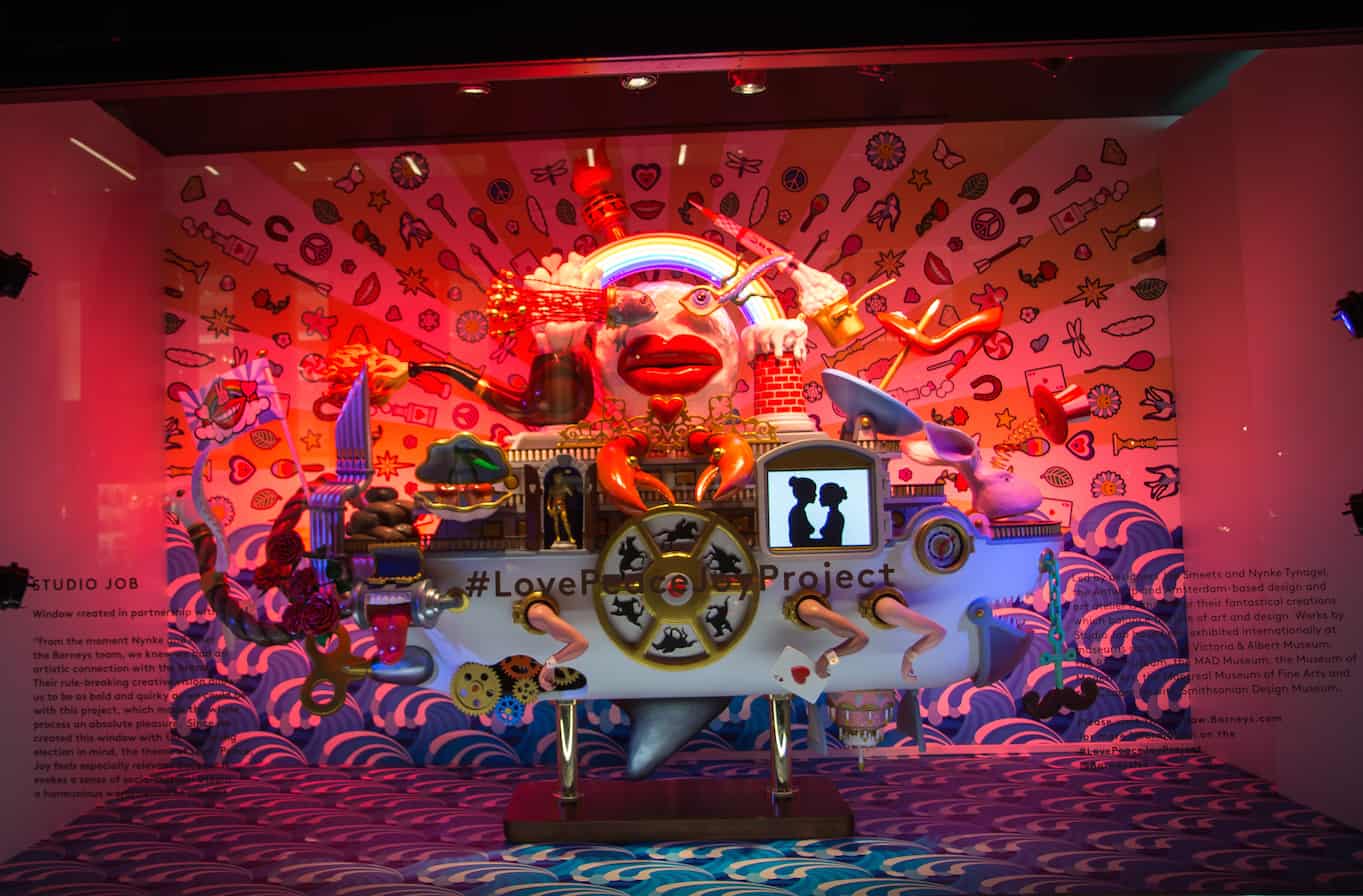 Barneys New York • 660 Madison Ave
From Bloomingdale's, head west on East 60th St until you get to Madison Avenue. There you'll find Barneys, whose #LovePeaceJoyProject windows we found much more impressive.
Designed by Studio Job, the richly detailed '60s pop art-style displays were part of the Barneys New York Foundation's holiday campaign to raise funds and awareness for Amy Schumer and Leesa Evans' STYLEFUND and the Russell Westbrook Why Not? Foundation.
In the true spirit of the NYC Christmas, the window displays were intensely colorful and engaging, incorporating everything from classic movies to South Park.
READ MORE: 50 Facts About the History of Santa Claus Around The World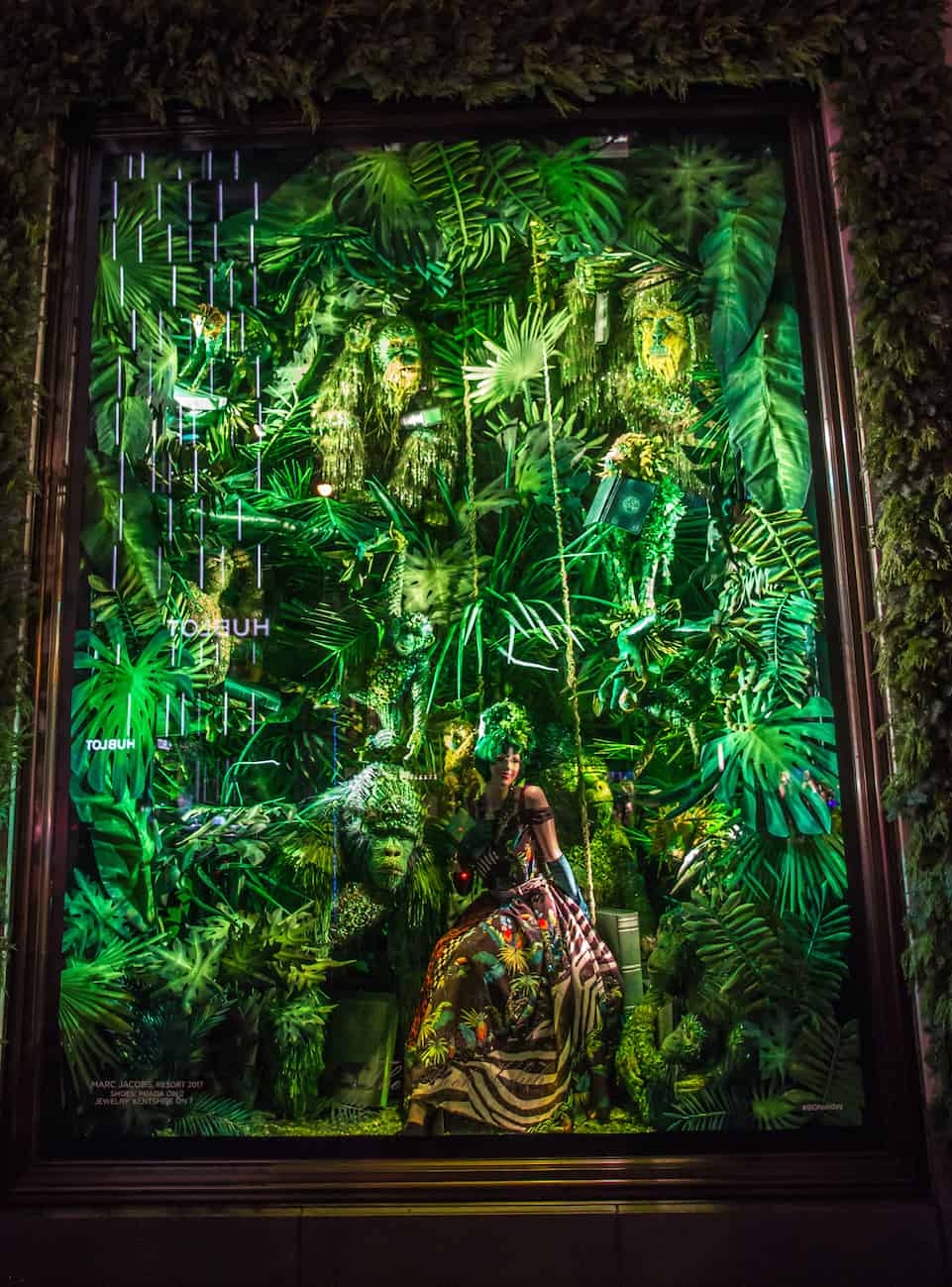 Bergdorf Goodman • 754 5th Ave
Leaving Barneys, head one block west on 60th or 61st, then take a left to go south on 5th Avenue to Bergdorf Goodman.
Theirs were my favorite holiday displays on our NYC Christmas Windows walking tour. Designed by David Hoey, their "Destination Extraordinary" theme was inspired by the paintings of Henri Rousseau and natural history museum dioramas.
All of them were lush and verdant, with fashion-forward mannequins and animals posed against fantastic hand-painted backdrops embellished with leaves, beads and dried flowers. Artful and imaginative, the magical realism style blew our minds.
READ MORE: 30 Recycled Christmas Decorations & DIY Christmas Crafts to Make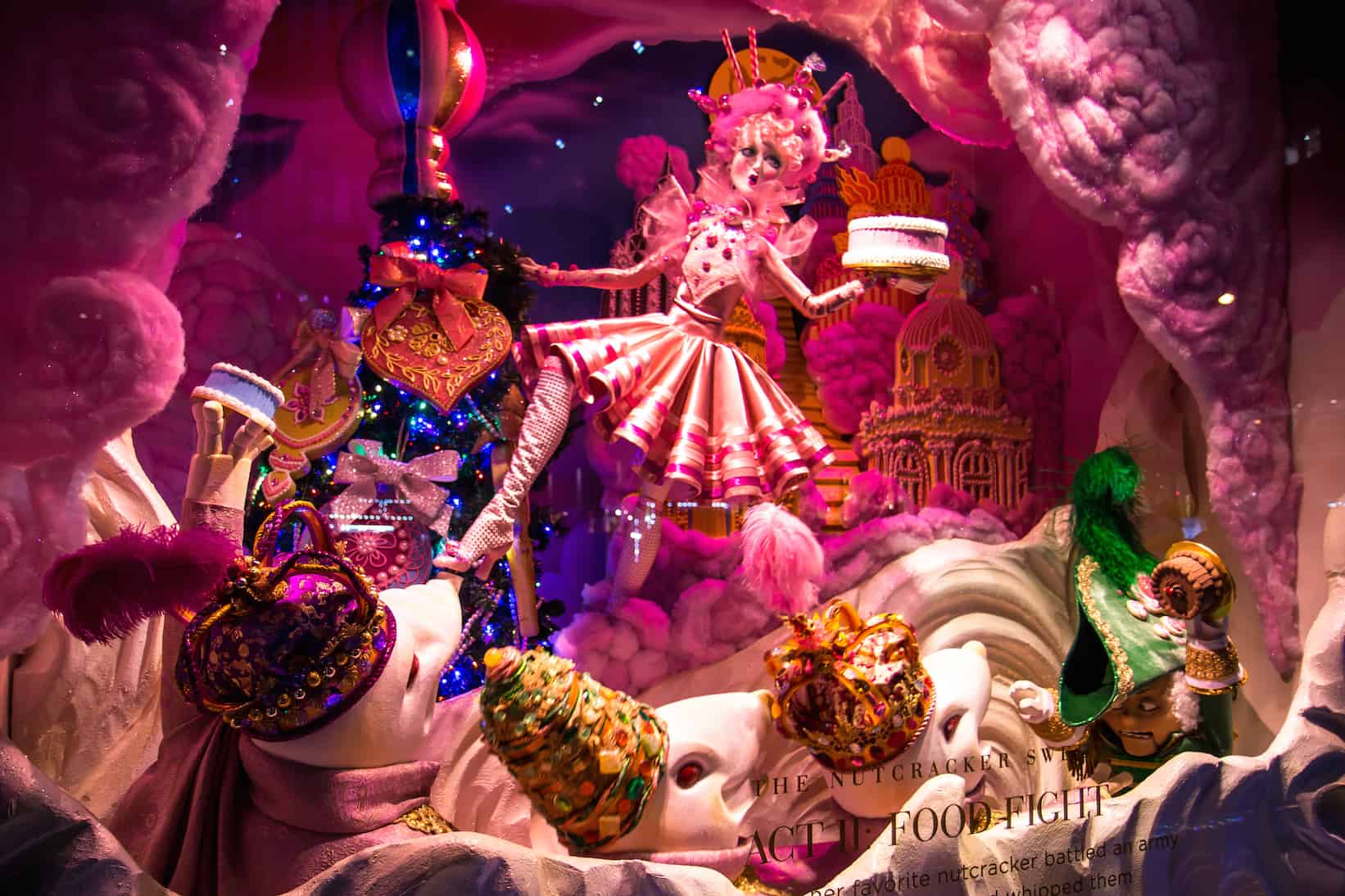 Saks Fifth Avenue • 611 5th Ave
Still buzzing about Bergdorf Goodman, we headed 8 blocks south on 5th Avenue to what proved to be our favorite stop on our walking tour.
We hadn't even made it to St. Patrick's Cathedral when Saks' spectacular 3-story animated Christmas light display dazzled us with its festive castle facade.
The 5-minute show was so incredible, we watched it three times before crossing the street to see their "Nutcracker Sweet" window displays. The store's roped-off queue made it much easier to get unobstructed views of the storybook style windows. Still, the lustrous lights stole the show! The 2018 unveiling will be Monday, November 19, 2018 at 7 p.m.
READ MORE: 15 Simple Recycled Christmas Cards Crafts for Kids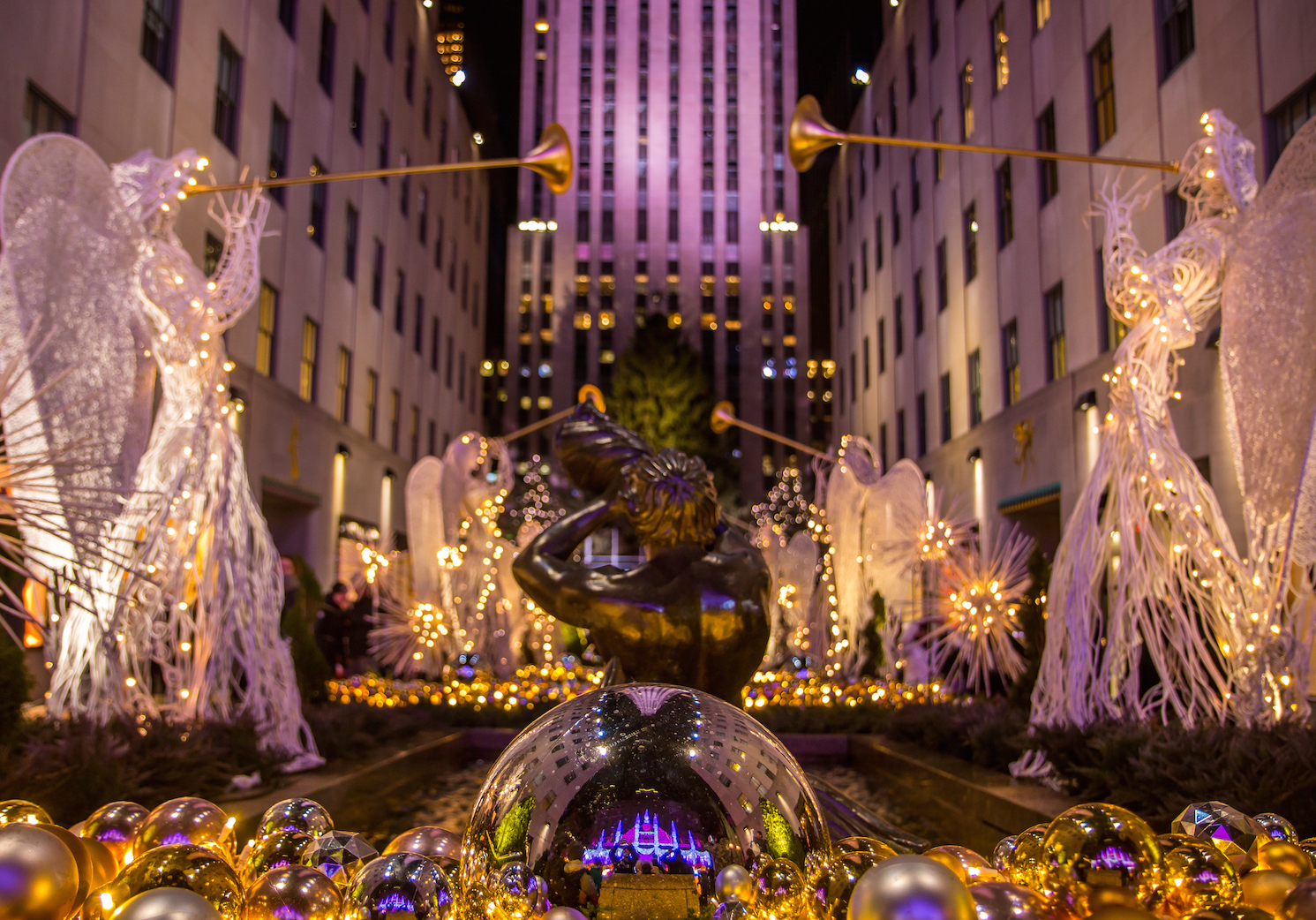 Rockefeller Center • 45 Rockefeller Center
Directly across the street from Saks Fifth Avenue is Rockefeller Center plaza. As you can see in the reflection above, this is the perfect spot for taking photos of Saks' amazing light show.
Massive trumpet-playing Angels line the pools, which are festooned with hundreds of orbs designed to reflect the lights from every direction.
Follow them down and you'll find the famous ice skating rink and 94-foot tall Rockefeller Center Christmas Tree. The tree wasn't decorated when we visited for Thanksgiving, so we're planning on doing another NYC Christmas walking tour next year to see the lighting ceremony.
READ MORE: Real Xmas Trees vs. Fake Xmas Trees (Which Is Better?)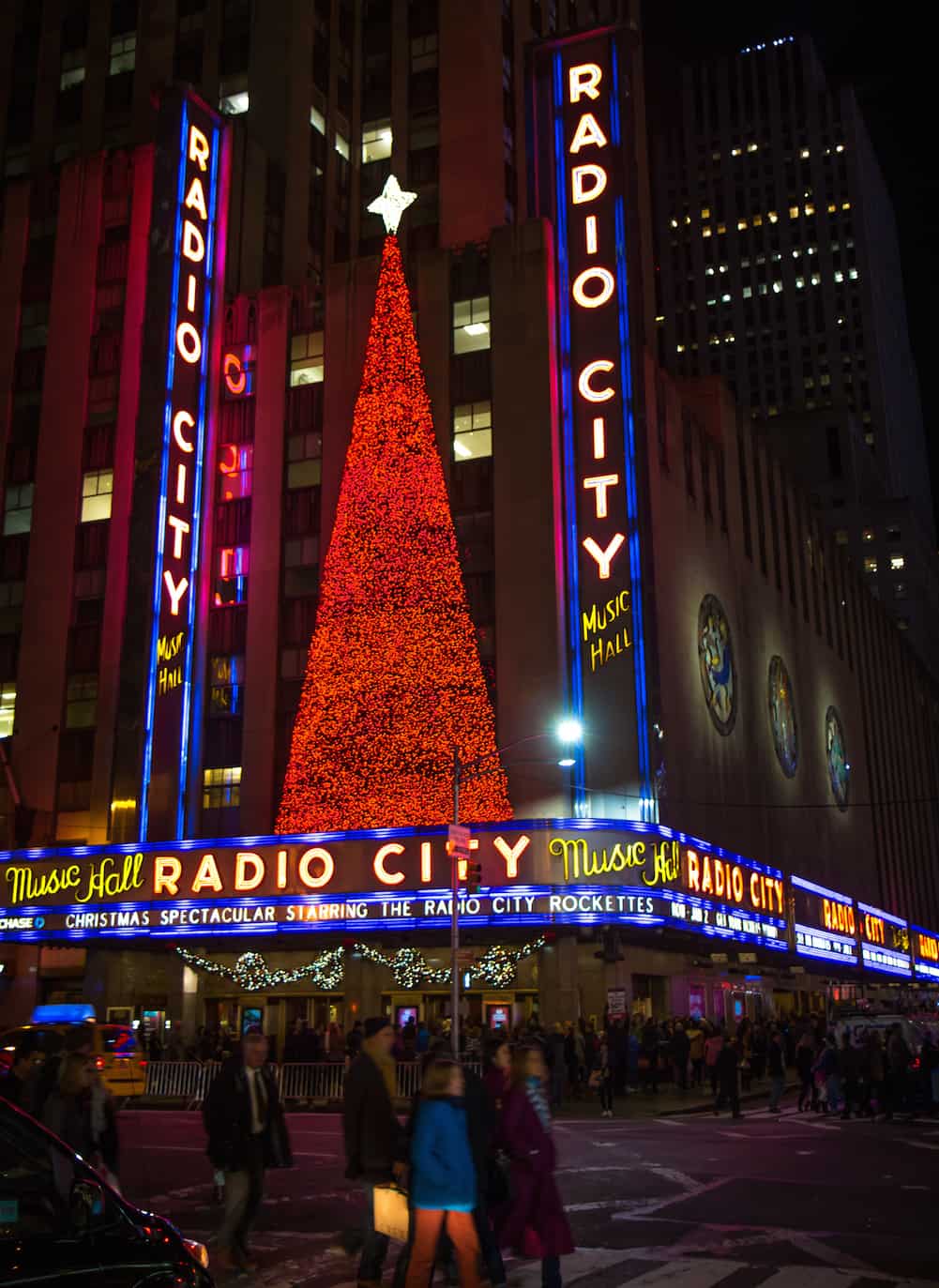 Radio City Music Hall • 1260 6th Ave
After we finished exploring Rockefeller Center, we took a left on West 50th St and headed one block over to see Radio City Music Hall.
Since we were waking up early the next morning for the Macy's Thanksgiving Day Parade, we unfortunately didn't have time to see the Rockettes' annual Christmas Spectacular show.
But we did grab hot cocoa and roasted chestnuts from a street vendor and stood at the corner of West 50th and 6th, people-watching and enjoying the lights of this iconic New York City landmark.
READ MORE: Atlanta Christmas Events: 50 Things to Do For Christmas in Georgia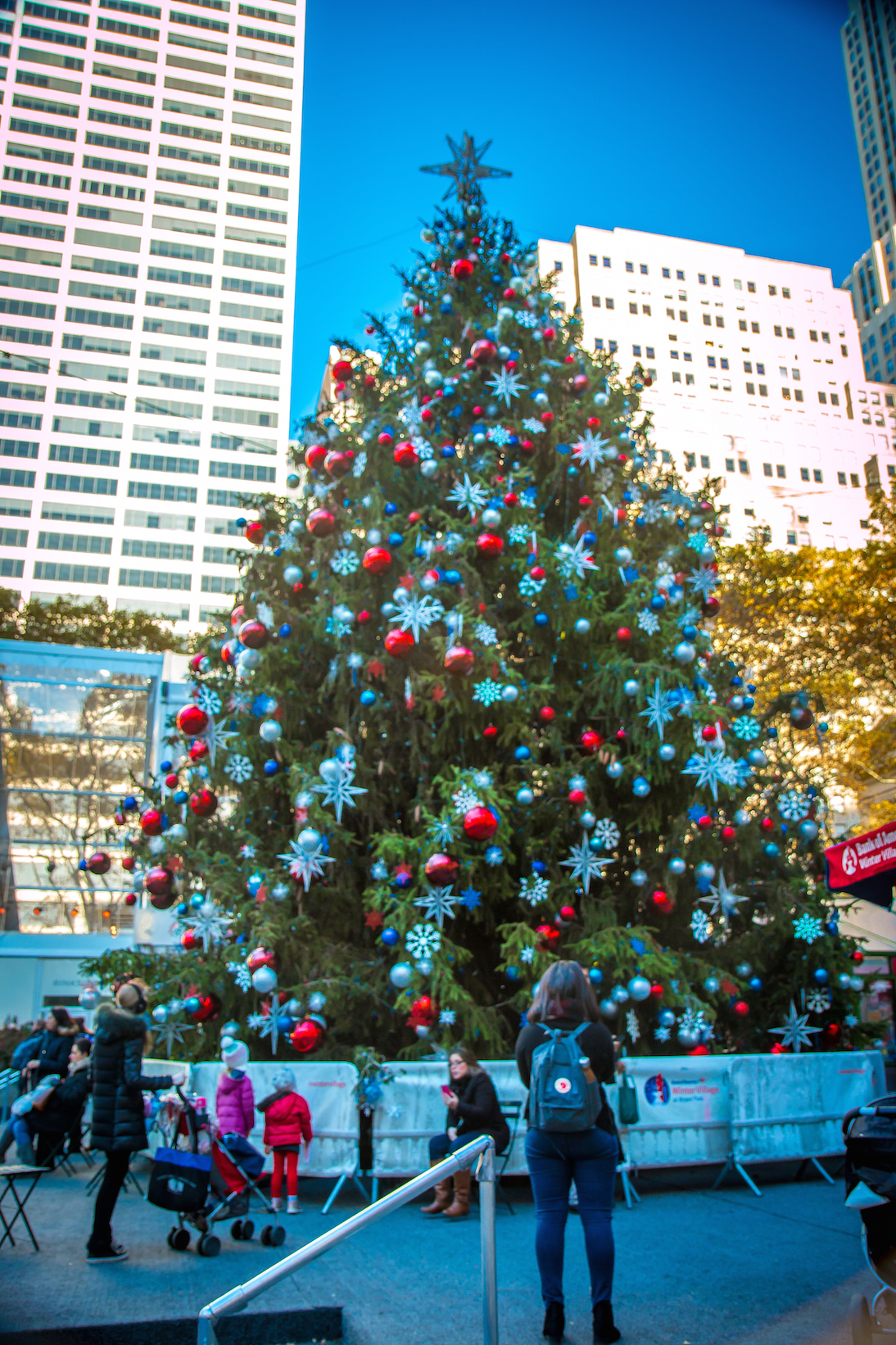 Bryant Park • 6th Ave at 42nd St
It's possible to do this walking tour in one day (or one long night). But we wanted a more relaxed pace, so we broke the 35-block trek up into two sections.
To get to 9.6-acre Bryant Park from Radio City, head 9 blocks south on 6th Avenue. Located between 42nd and 40th, the park offers a Winter Village filled with over 150 quaint shops from local NYC artisans, dozens of food vendors (we love the traditional (German Christmas Cookies know as Lebkuchen a.k.a. German Gingerbread), a classic-style carousel, and a huge Christmas tree.
It's also home to the city's only free admission skating rink, but skate rentals will run you $20. Even if you don't skate, the park is a great green space to grab a bite or some hot cocoa. You'll find the least busy time in the early morning. The rink is open daily from 8:00am to 10:00pm.
READ MORE: The 20+ Best Christmas Light Displays in Georgia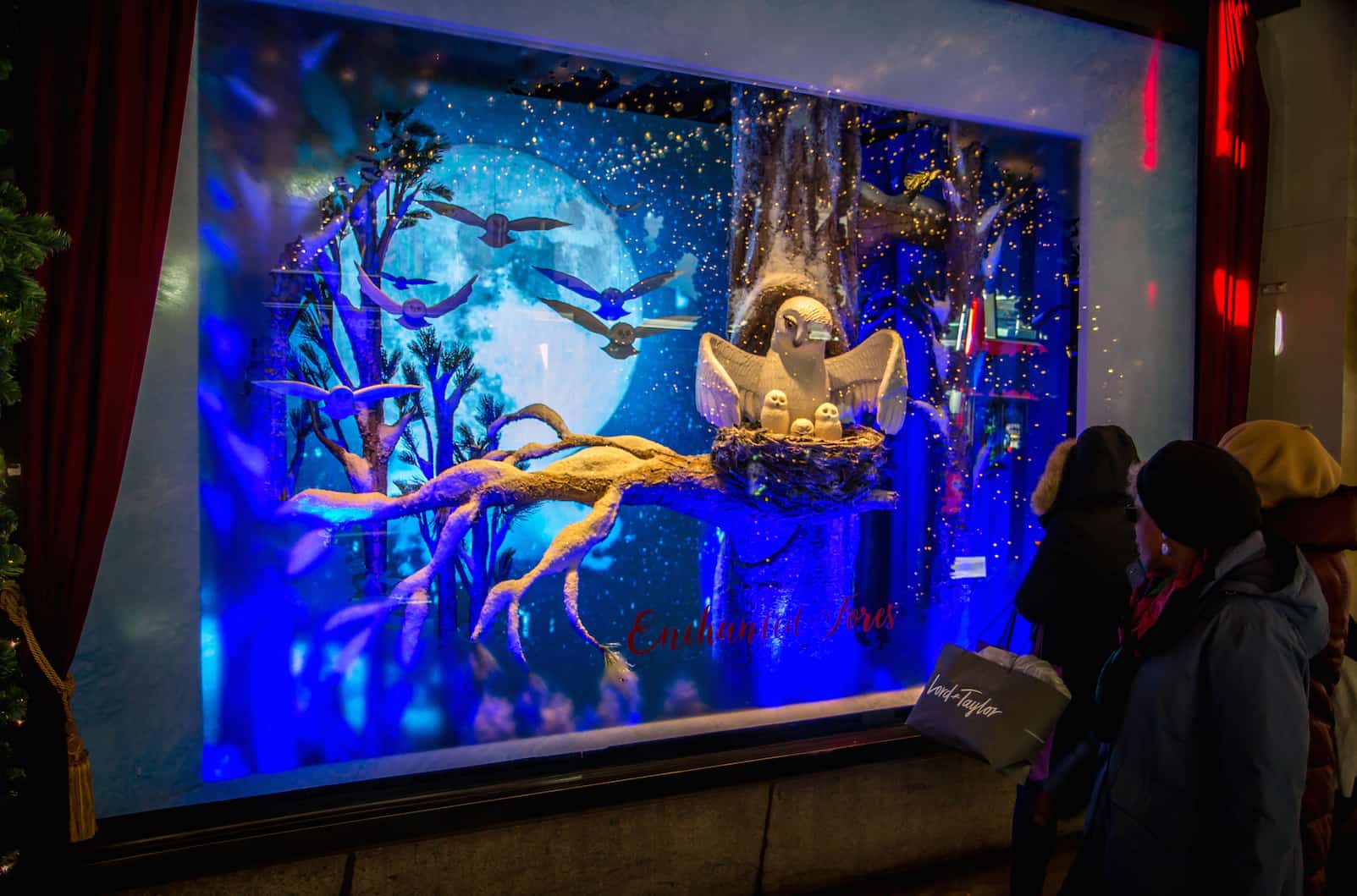 Lord & Taylor • 424 5th Ave
From Bryant Park, head east on 40th or 42nd to 5th Ave, then take a right to go south to Lord & Taylor. This was our second favorite department store holiday window display.
The columns and ceiling in front of the store were completely covered with garlands and thousands of white lights, with realistic woodland creatures sprinkled throughout.
The intensely colored New York City Christmas windows continued the nature theme, with animatronic Bears, Foxes, Geese, Raccoons, Snowy Owls and more. If we'd had more time in the city I would've loved to go back and photograph them at night, as the daylight glare proved difficult.
READ MORE: Countries That Do Not Celebrate Christmas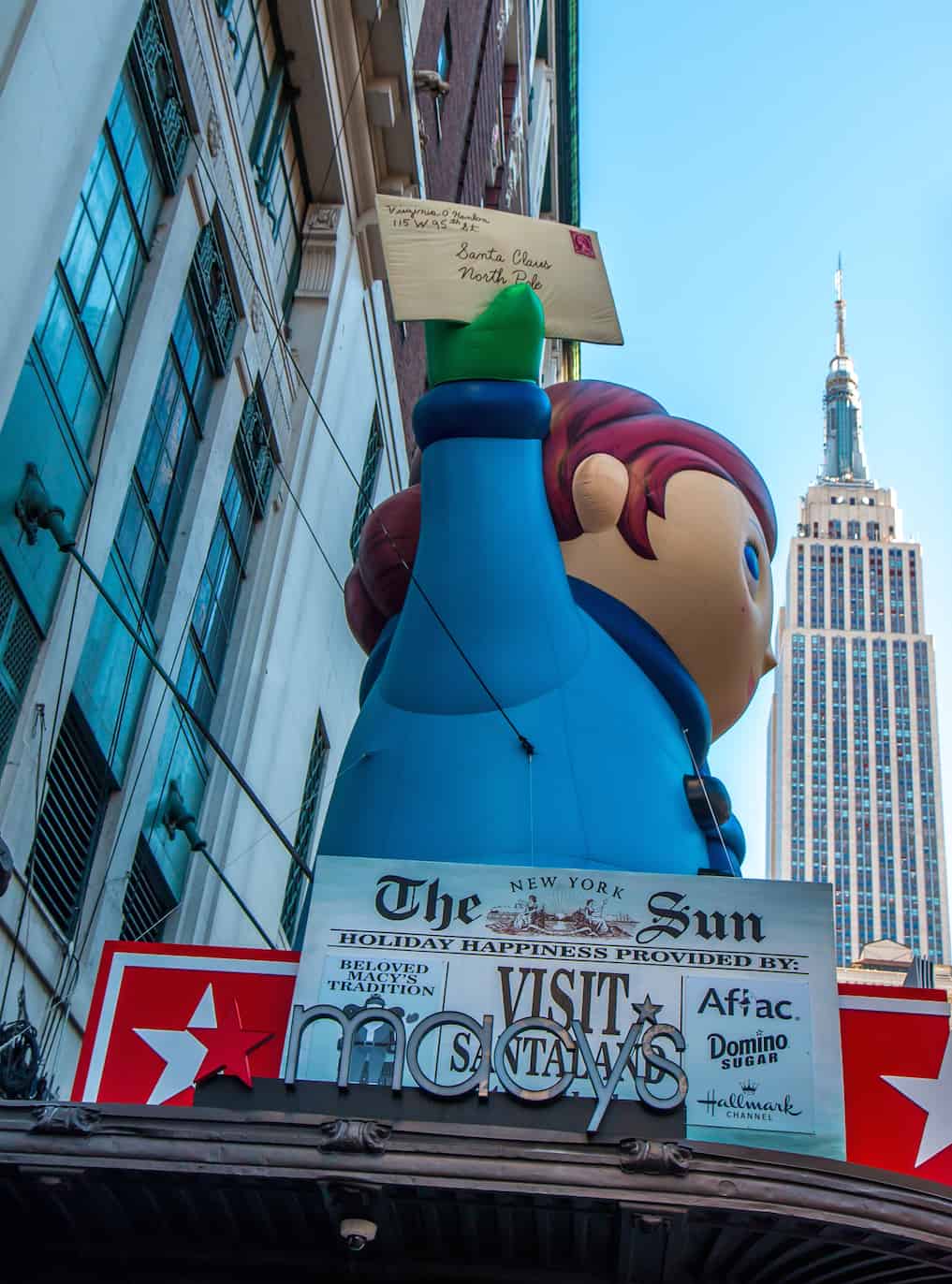 Macy's Herald Square • 151 West 34th St
After leaving Lord & Taylor, head south on 5th and take a right on 34th to reach the final stop on our Christmas walking tour. Macy's Herald Square is the chain's flagship location: At 2.2 million square feet, it's also the world's largest department store. Opened in 1902, the building was registered as a National Historic Landmark in 1978.
It's fitting this was our last stop, as it was Macy's Thanksgiving Day Parade that brought us to NYC. They've been hosting the parade and crafting elaborate holiday window displays for nearly a century now.
This year's version did not disappoint, with six windows featuring animated scenes from Yes, Virginia, There Is a Santa Claus and a massive Virginia inflatable atop the entrance.
This was our first time doing visiting New York City around Thanksgiving, but it definitely won't be the last. There's no place in the world quite like the Big Apple, and the holiday season is the best time to visit.
We hope to find more places to add to our route in coming years to make this the ultimate do-it-yourself Christmas in NYC walking tour! –Bret Love; photos by Bret Love, Mary Gabbett & Allie Love, Youtube video by Sean Trowbridge
READ MORE: The 25 Best Places to Spend Christmas in Europe
Hotels Near New York City Christmas Windows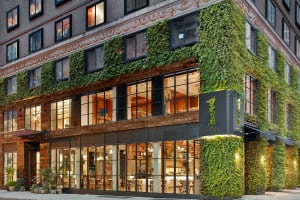 THE MUSE HOTEL NEW YORK (130 West 46th Street) Owned by the Kimpton Hotel chain, The Muse lists more than 100 different sustainability initiatives. They range from complimentary bicycles to help reduce guests' carbon emissions to organic food in the restaurant and an eco-friendly spa. The Midtown Manhattan hotel makes a great base from which to begin NYC Christmas windows walking tour. Check Rates on Booking.com.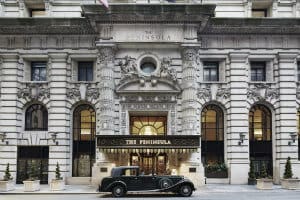 THE PENINSULA NEW YORK (700 5th Avenue) Located right in the heart of the 5th Avenue Christmas commotion, The Peninsula is an upscale 5-star hotel for folks who want to celebrate the holidays in style. With 255 rooms, the hotel's recent renovation included installing energy-saving LED lighting throughout. The owners also spent approximately $1.1 million to install eight eco-friendly elevators that consume considerably less energy. Check Rates on Booking.com.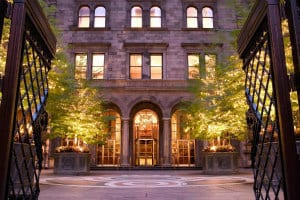 LOTTE NEW YORK PALACE (455 Madison Avenue) Another luxury hotel offering perfect proximity to all of NYC's best Christmas windows, the Lotte New York Palace prides itself on sustainability. They not only use renewable energy throughout the hotel, but also partner with Clean the World to donate around 600 pounds of soap, shampoo, and other toiletries annually to homeless shelters in 30 different countries around the world. Check Rates on Booking.com.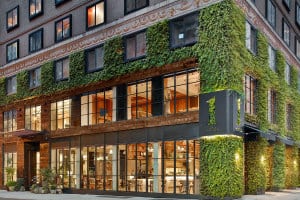 1 HOTEL CENTRAL PARK (130 West 46th Street) This upscale urban retreat, located just one block south of Central Park, is clearly inspired by nature. Their many sustainable initiatives include the use of LED lighting throughout the hotel, an energy-efficient air-conditioning system, and a natural gas boiler. But perhaps the most unique feature of 1 Hotel Central Park is its impressive fleet of Tesla electric vehicles. Check Rates on Booking.com.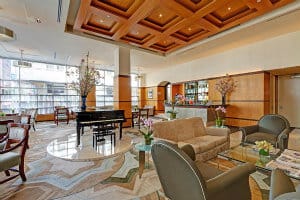 HOTEL GIRAFFE (365 Park Ave S) One of our favorite places we've stayed in New York City, this boutique hotel is located 12-minutes from Union Square and the Empire State Building. The rooms are chic and contemporary, with artful decor and free Wi-Fi. There's free continental breakfast, free wine and cheese events every night, and live music in the lobby. We loved their rooftop garden, which offered peace and tranquility after long days of exploring NYC. Check Rates on Booking.com.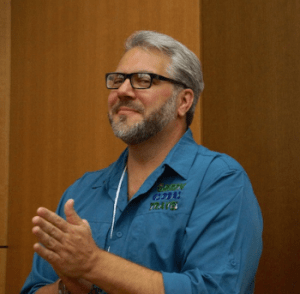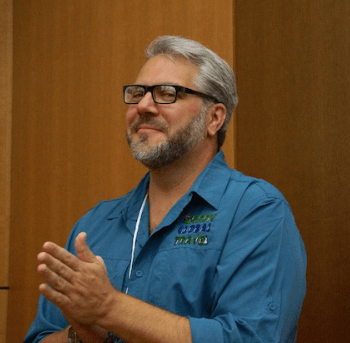 The co-founder of Green Global Travel and Green Travel Media, Bret Love is a journalist with over 21 years of experience. He's been published in over 100 publications, including American Way, the Atlanta Journal-Constitution, National Geographic, Rolling Stone and Yahoo Travel. In recent years he has emerged as an in-demand public speaker and teacher, covering topics from branding and content marketing to responsible travel and how DMOs can work with travel bloggers. He's also a prominent travel industry marketing strategist, managing content, social media and influencer marketing for companies such as Discover Corps and International Expeditions.