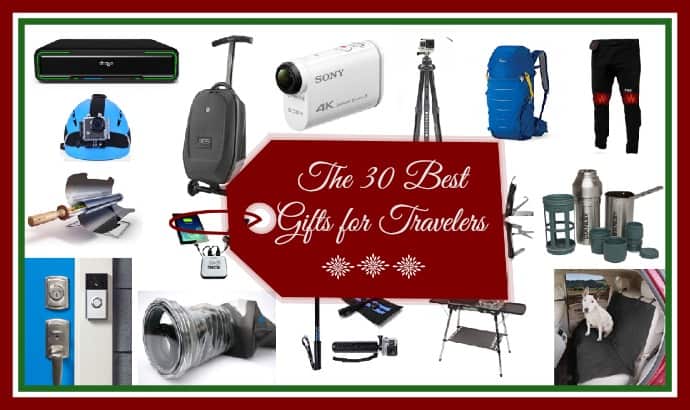 Best Gifts for Travelers
We're big believers in the old adage that experiences are far more valuable than material things. But the Best Gifts for Travelers can help make our adventures much more pleasurable.
This year alone we've sampled over 100 different pieces of travel gear, ranging in price from under $50 to well over $500. From luggage and clothing to tech products and camera gear, there's something here for every travel style and budget.
What follows is our unbiased (i.e. unpaid) reviews of the 30 Best Gifts for Travelers for the 2015 Holiday season, broken down into sections that appeal to different budgets.
BEST GIFTS FOR TRAVELERS: $50 & UNDER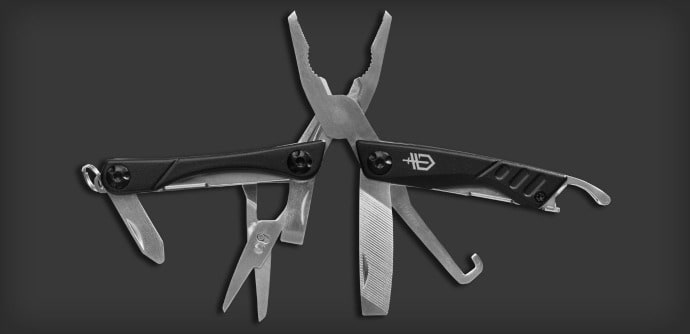 Gerber Dime Travel– Before TSA restrictions made them illegal on planes, the Swiss Army Knife was the gold standard of pocket-sized multi-tools for travelers. The Dime Travel makes a great replacement, removing the blade but keeping a range of useful stainless steel tools perfect for anyone who spends a lot of time outdoors. There are needle-nose pliers, scissors, wire cutters, screwdrivers, tweezers, bottle opener, files, and even a zipper hook that can attach to a broken luggage zipper. Best of all, the mini-toolkit weighs just 2.2 ounces and attaches to your keyring for easy portability. ($25)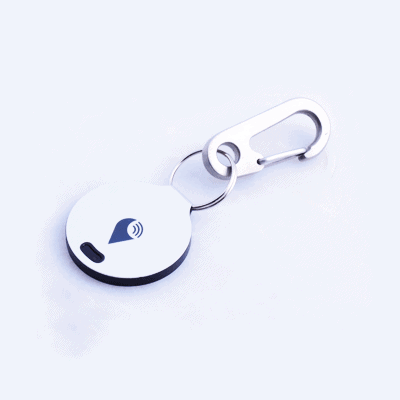 TrackR Bravo– Raising over $1 million via Indiegogo, this coin-sized gem is a revolutionary invention for anyone prone to losing their wallet, keys, phone or luggage. Made from durable anodized aluminum, the wallet-thin device can be attached to anything, then connected to the TrackR app. If an item gets lost, you use the app to see how far away you are from it, or ring the device to find it. If you lose your phone, press the button on the device and it will ring, even if it's on silent. If something gets stolen, you can notify their Crowd GPS Network and get GPS updates when anyone in the network gets within 100 feet of your missing item. ($29.99)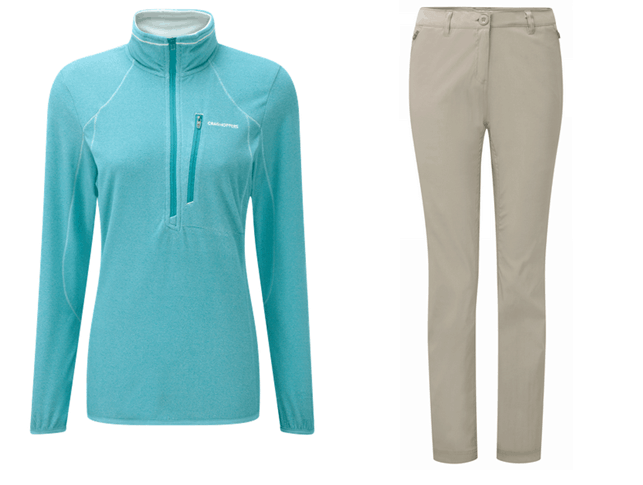 Craghoppers Clothing– Mary's favorite travel clothing line these days is also National Geographic's exclusive licensed apparel partner for North America. Launched in 1965, the British brand is primarily aimed at outdoor enthusiasts, and has outfitted everyone from mountaineer Chris Bonington to Bear Gryls. From the NosiLife Insect Shield protection of their Bayame Long-Sleeve shirt ($35) and the cozy insulation of their Pro Lite Half-Zip Fleece ($35) to the flattering fit of their Kiwi Pro Stretch Pants ($45.50), the entire line is comfortable, durable, and literally made for adventure!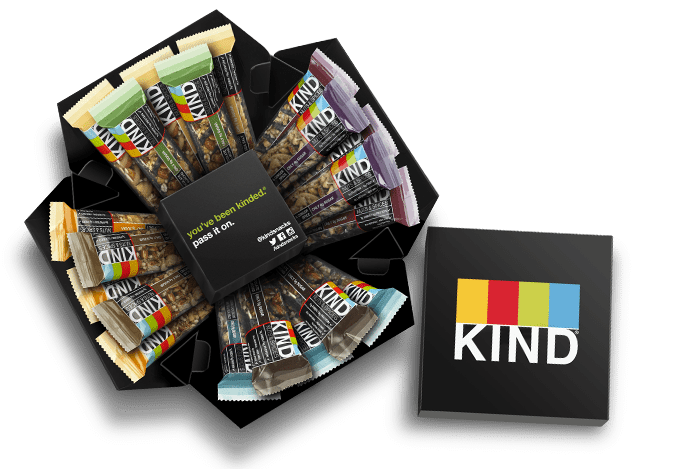 Kind Nuts & Spices Variety Cube– What do Kind Bars have in common with credit cards? We literally never leave home without it! With loads of fiber, protein and potassium, low sugar and all natural non-GMO ingredients, they're the perfect healthy snack for travelers. This 20-bar cube comes with some of our favorite flavors, including Dark Chocolate Cinnamon Pecan, Caramel Almond & Sea Salt, Madagascar Vanilla Almond, Cashew Ginger Spice and Dark Chocolate Mocha Almond. The gorgeous package design isn't made for the road, but makes an impressive gift for the traveler in your life. ($39.50)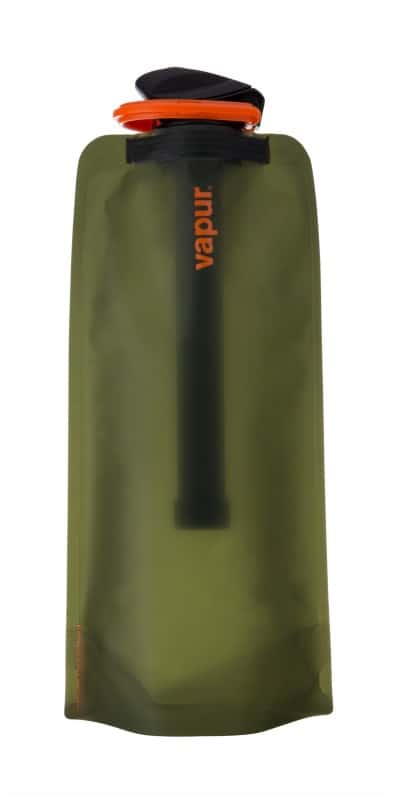 Vapur Microfilter Bottle Set– Water bottles are another thing we never travel without: They save us from wasting plastic and having to buy water while we're on the road. Vapor's chemical-free water filtration system uses hollow fiber membrane technology to remove 99.9999% of waterborne bacteria (such as Salmonella, Cholera and E. coli) and 99.9% of protozoa (including Cryptosporidium and Giardia). The bottle and MicroFilter together weigh only 2.7 ounces, and the filter can purify hundreds of liters of water before needing to be replaced. It's perfect for hikers/backpackers drinking from remote rivers and streams or city travelers hoping to avoid Montezuma's Revenge. ($49.99)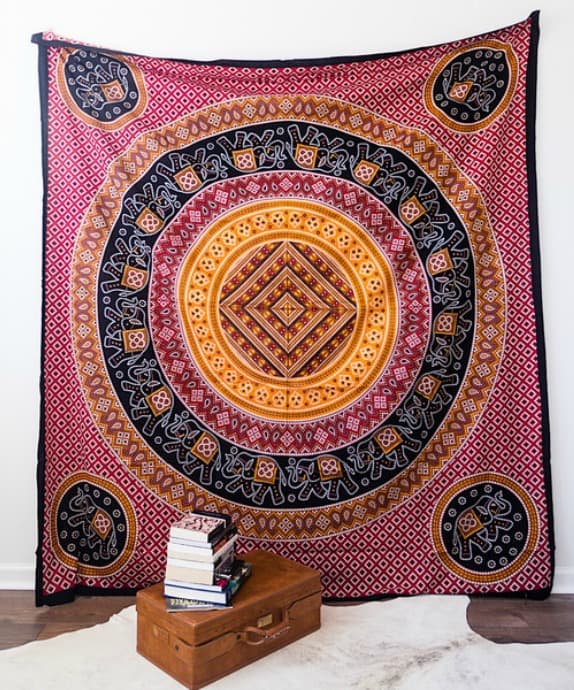 Ankit Elephant Tapestry– It's no big secret that we adore elephants, and the vibrant Indian design of this tapestry has made it one of our favorite new possessions. Measuring 90" x 100" and made from soft 100% cotton, we've used it as a travel sheet, rolled-up pillow, sarong and picnic blanket, depending on the situation. When we're at home it serves as a beautiful bed-covering, bringing back memories of all the amazing places we've been over the past few years. ($49.99)
BEST GIFTS FOR TRAVELERS: $50-$100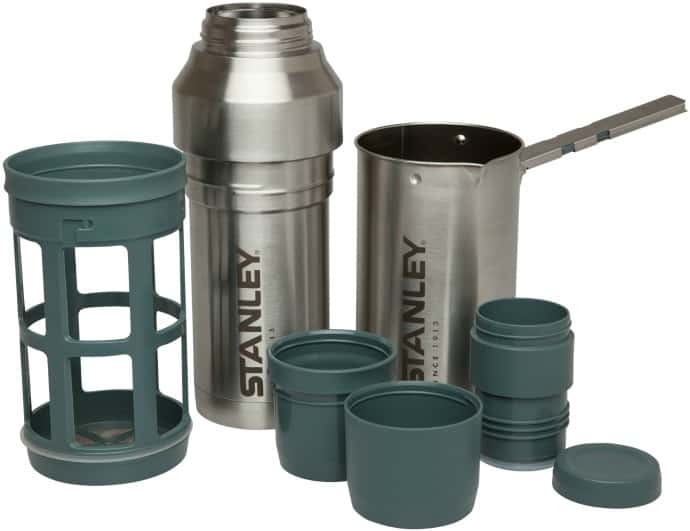 Stanley Mountain Vacuum Coffee System– Our love of coffee cannot be overstated, nor can our disappointment when we visit a place where the coffee is bad. When we travel, we often take some the best coffee in the world with us. This rust-proof stainless steel, BPA-free French Press system is ingenious, allowing you to brew 1.1 quarts of java over a fire or stove, then use the two cups that are built into the lid to share with a friend. The vacuum-insulated bottles keep drinks hot for a full 24 hours, cold for 20 hours, or iced for 100 hours. Best of all, the entire integrated system is designed to nest and save space in your backpack or luggage. We'll never drink bad coffee again! ($60)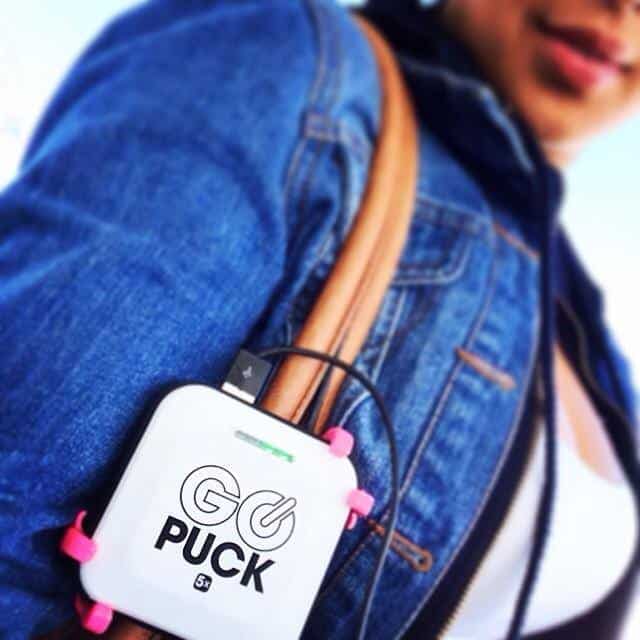 Go Puck 5X– The Go Puck was invented by Blake Fuller, a former race car driver best known for creating an 11-pound car battery that was just as powerful as 45-pounders. Inspired by a need for a lightweight portable charger for his mobile devices, he created this "Wearable Power" wonder. Compact enough to put in your pocket, the 5X can charge two USB devices at the same time and charge a small phone up to five times in a single day. And since it was designed for people with active lifestyles, it's made to resist shock and can be clipped, strapped or mounted to just about anything. ($79.99)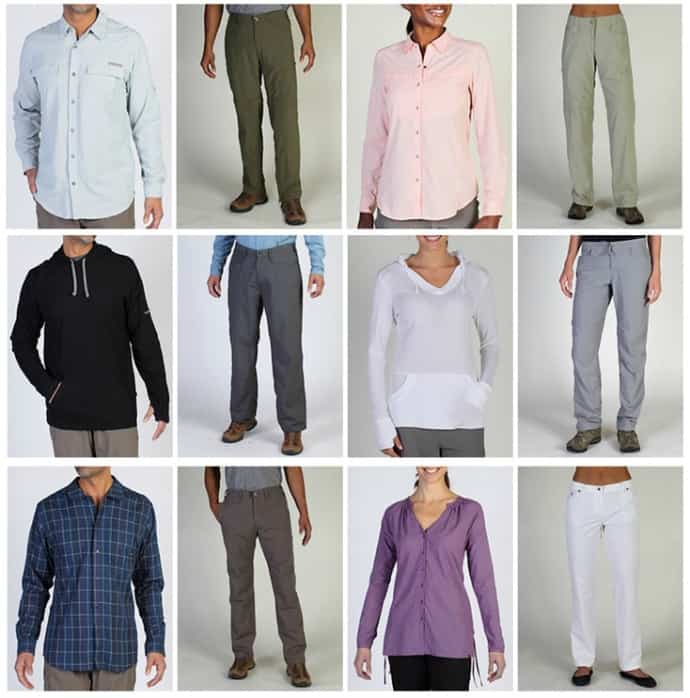 Exofficio Clothing– We've been huge fans of this adventure apparel line ever since we wore them to the Galapagos Islands in 2011. Now, we pack their Damselfly pants ($80), Breez'r ($85) and Trip'r shirts ($82), and Give 'n' Go underwear ($26) every time we travel to warm climates. The lightweight fabric of their BugsAway line is remarkably comfortable, moisture-wicking, water/stain resistant and comes with an odorless Insect Shield that repels bugs for 70+ washings. They also take up virtually no space in your luggage, are wrinkle-resistant, and can be washed and dried in a matter of hours, making them a perfect holiday gift for our outdoor adventures.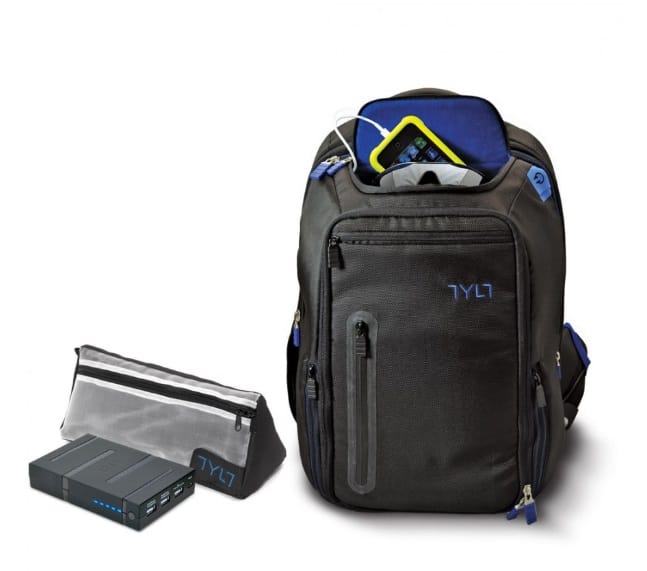 Energi+ Backpack– Earning rave reviews from critics and receiving Entrepreneur magazine's 2015 Business Travel Award, the Energi+ Backpack from TYLT is aimed at adventurers who want to stay plugged-in. The TSA-friendly pack's most distinctive feature is the removable Lithium Ion battery, which can charge a phone four times or a tablet once before needing to be recharged. But it also boasts around 1,450 cubic inches of space and 13 pockets, including a compartment for headphones on the strap, a front pocket for airline tickets and passports, and a secret hidden pocket in the panel. ($85)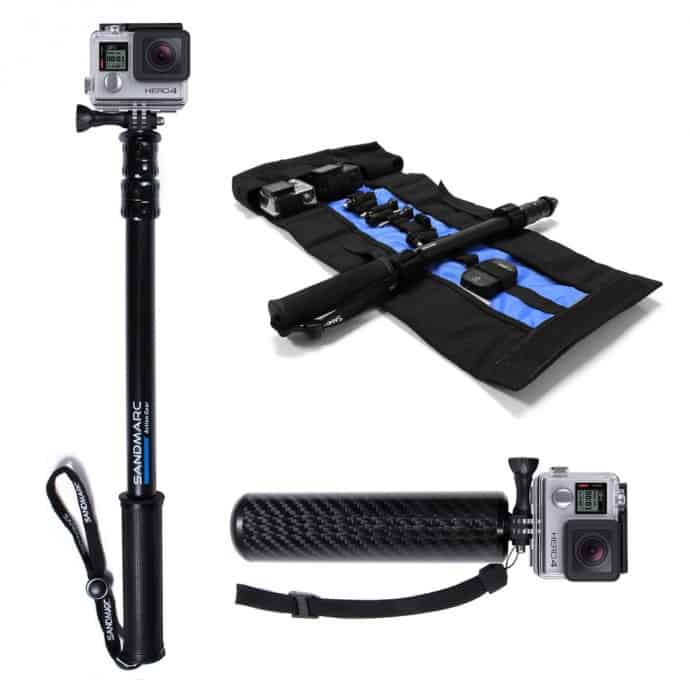 Sandmarc Travel Bundle– People can make fun of selfie sticks all they want. But for travel bloggers like us they're an essential tool, and prove especially helpful when filming while snorkeling or Scuba diving (check out our Swimming With Whale Sharks video to see one in action). This bundle from Sandmarc is primarily designed for GoPros and other action cameras. The set includes a 6-foot extender pole, a carbon grip handle and an Armor Bag conveniently designed to hold your camera, mounts, pole and grip. Buying the bundle saves $20 off the price of buying each separately. ($89.99)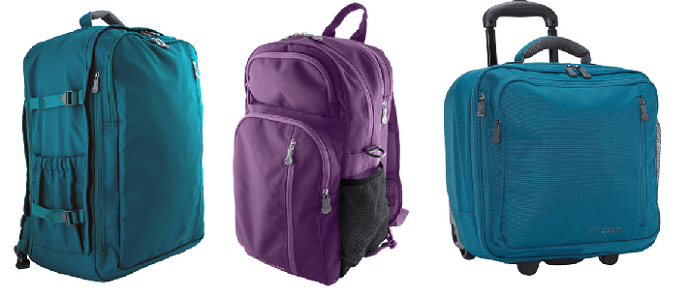 LiteGear Bags– From looking at their simple, lightweight line of luggage, you'd never guess what a unique brand LiteGear is. But the main fabric used in manufacturing them is made from 100% recycled plastic bottles! Their Travel Pack and Hybrid Rolling Tote are both small enough to use as carry-ons, but provide 2,646 and 1,660 cubic inches of storage space, respectively. The new Mobile Pro backpack was our favorite, with quick-access pockets (for laptop, tablet, phone and water bottle) and a 3" zip-around panel that provides over 35% additional capacity in an instant. ($99.95 each)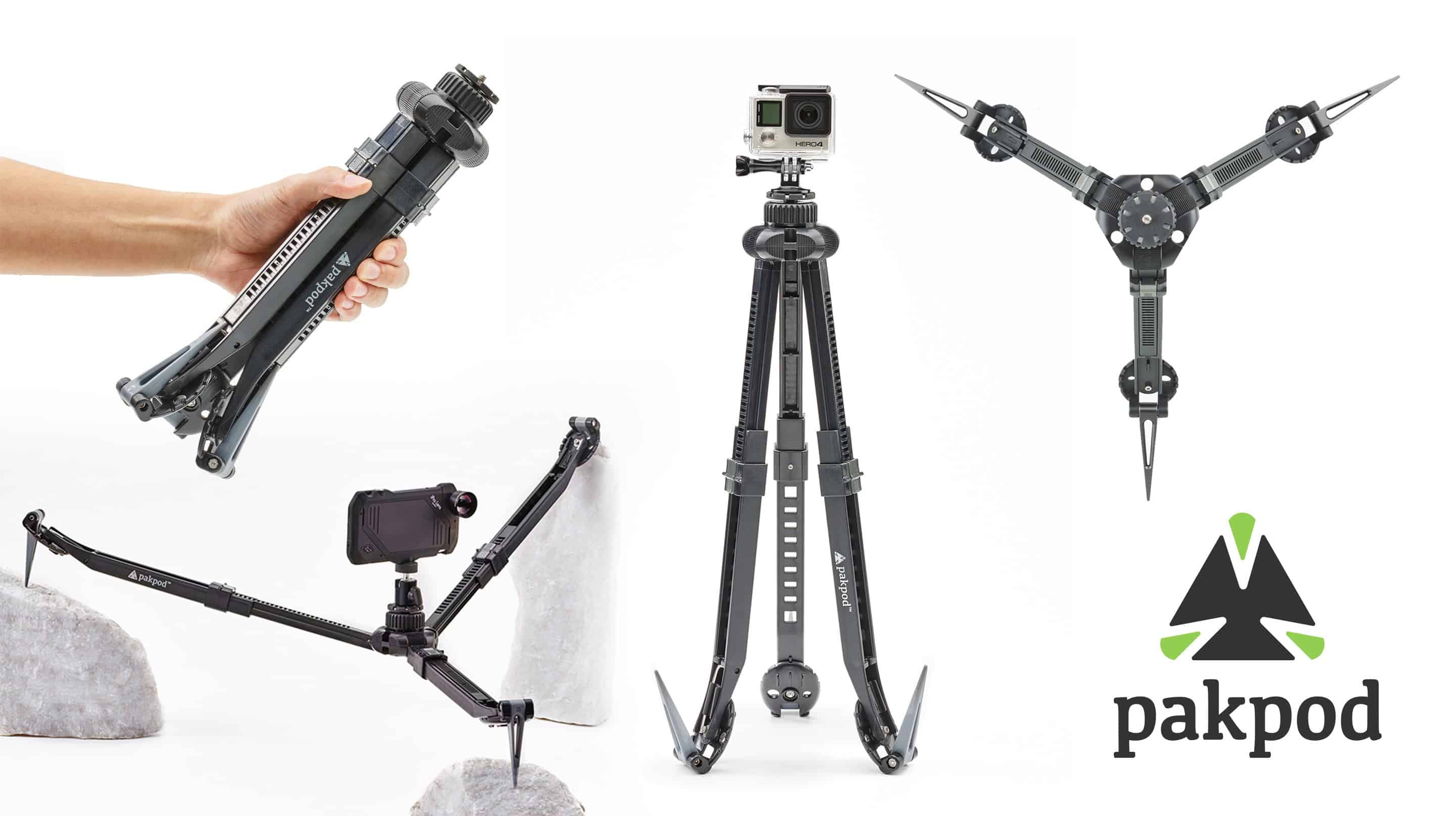 Pakpod Tripod– Traveling with a tripod can be a beast, especially if you're like us and pack carry-ons only. This Kickstarter Staff Pick is an incredible invention designed to solve that problem. Made from the same material as bike/ski helmets, the durable Pakpod weighs less than a pound and easily fits into a small backpack. Yet the spider-like construction makes it strong enough to support SLR cameras, with a patent-pending staking design that allows it to attach easily (even asymmetrically) to rock walls, handlebars, fences, underneath kayaks… pretty much anywhere you can imagine. In short, it's a great accessory for active outdoor enthusiasts. ($99)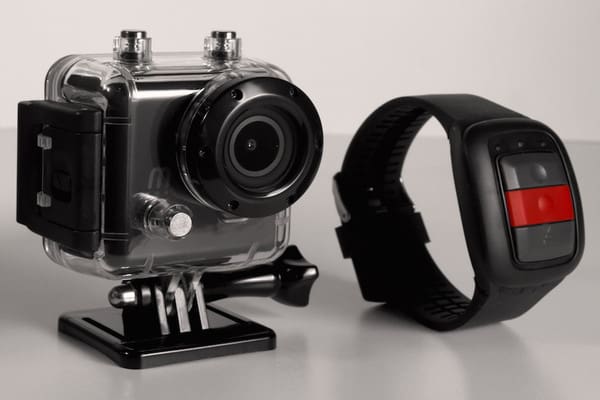 MeCam X Waterproof Action Camera– We've been using GoPro products for four years now, and have generally been happy with the results. But at prices ranging from $300 for the basic Session camera to $500 for the HERO4 Black, the line is at the top end of most people's budgets. Enter MeCamX, a smaller (2 inches square), lighter (3.3 ounces) action camera that won't break the bank. For about a hundred bucks you get a package that includes a USB cable, numerous different mounts, two helmet straps, waterproof case (good at depths up to 30 meters) and a wrist remote that allows easy control access. With 1080p resolution at 30 frames per second and 5MP still photos, image quality isn't quite as good as the GoPro. But if you don't really need pro quality, it's a helluva deal. ($99.99)
BEST GIFTS FOR TRAVELERS: $100-$150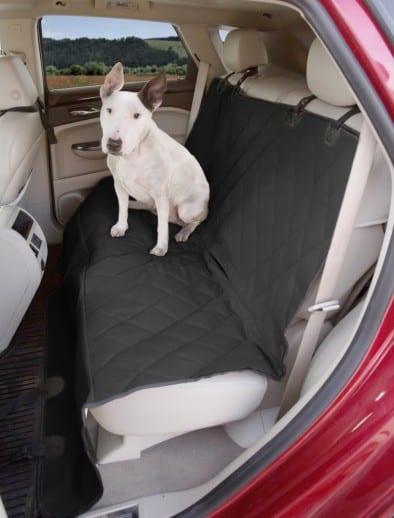 4knines Dog Seat Cover– Our furry friend Huckleberry is too big to take on our international adventures. But we love taking him on day trips to Lake Allatoona and the North Georgia mountains, as well as the occasional road trip. We do not, however, love the hair and dirty paw prints that ultimately wind up on our car's upholstery. The Rear Bench Seat Cover from 4knines solves that problem with a heavy duty quilted material that's 100% weatherproof and virtually impossible to tear. The cover has velcro openings to allow access to seat belts, and includes a nonslip backing and seat anchors to ensure that it doesn't move around when your dog does. Suddenly I see a LOT more car rides in Huckleberry's future! ($129)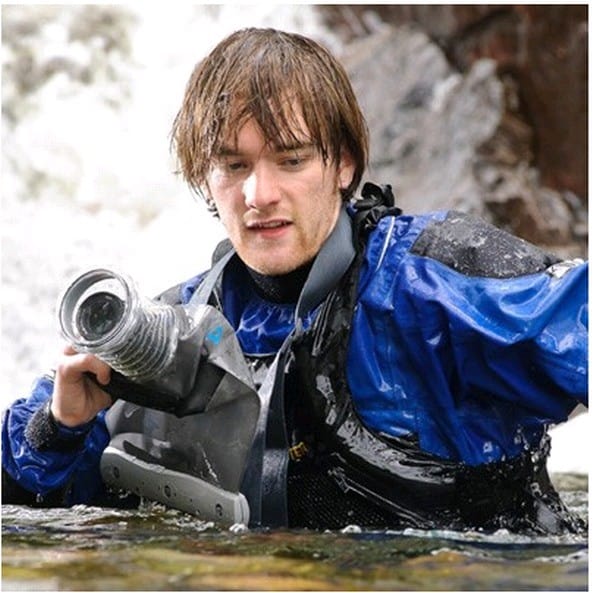 Aquapac Waterproof DSLR Camera Case– The GoPro is great for in- and underwater action shots, but its resolution can't match a DSLR for still photography. We discovered Aquapac's awesome (and surprisingly affordable) camera case back in 2013, then took it snorkeling daily when we were in Tahiti. The case is guaranteed to be waterproof at depths up to 5 meters (16 feet) for 30 minutes, and will even float with a standard DSLR inside it. Its acrylic lens allows for crystal clear photos in the rain or underwater, and it comes with a Full 5-year warranty against defects. ($129.99)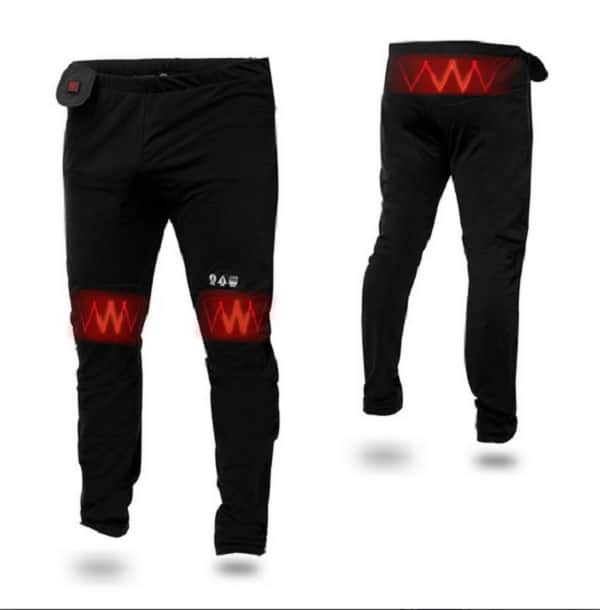 Venture Heat Base Layer Heated Pants– When you're built like a polar bear, as I am, the notion of wearing clothing that's heated by anything other than your body seems ludicrous. But discovering Venture Heat's line was a eureka moment for Mary, my delicate flower who gets cold easily. These compression-style base layer pants are made of a synthetic poly-spandex material that wicks away moisture to keep your legs dry and toasty. But there's also a built-in controller that flips outside your top layer, allowing you to choose from three temperature settings for heat provided by hair-thin micro-carbon fiber panels. Lined with fleece, they're like wearing a warming cup of hot cocoa. ($130)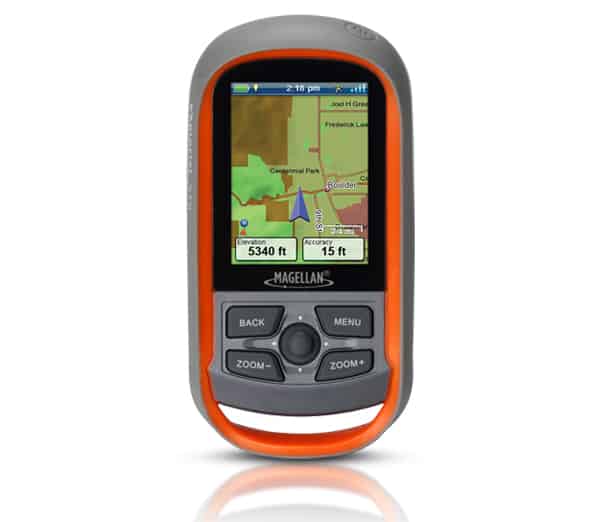 Magellan eXplorist 310 GPS– This fully submersible GPS is a budget-friendly addition to any outdoor adventurer's gear. Among its many essential features are a World Edition map (which includes roads, water features, city centers and more), paperless geocaching, a transflective screen that makes it readable even in direct sunlight, up to 18 hours of continuous usage powered by two AA batteries, and an ability to record your tracks with "Breadcrumbs," which allows you to find your way back at the end of the day. Because nobody wants "getting away from it all" to equate with getting lost. ($148)
BEST GIFTS FOR TRAVELERS: $150-$200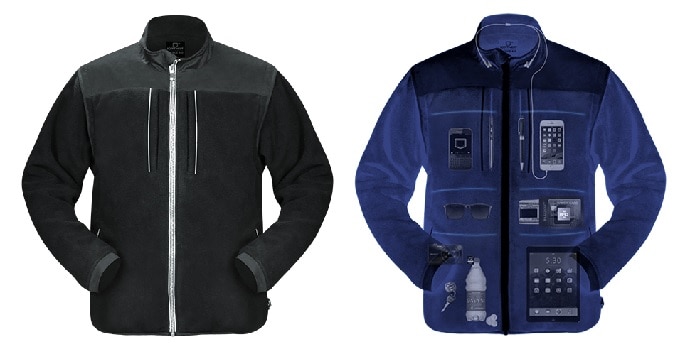 SCOTTeVEST Fleece 8.0– Ever since founder Scott Jordan's controversial appearance on the seventh episode of Shark Tank's third season, SCOTTeVEST has stood apart as an innovator in the rapidly growing field of tech-focused clothing for travelers. The Fleece 8.0 is an upgraded version of their longtime customer favorite– a fleece jacket that uses two zippers to convert into a vest. It's got an insane 19 pockets: Large exterior chest and hand-warmer pockets, 2 interior clear touch chest pockets, an RFID blocking pocket, a pocket for glasses (with attached chamois to keep your lenses clean), a pocket for large items such as tablets and more. The attractive design also includes a bottle holder, ID holder and detachable key holder. For people who travel with tons of tech gear, there's nothing else like it! ($170)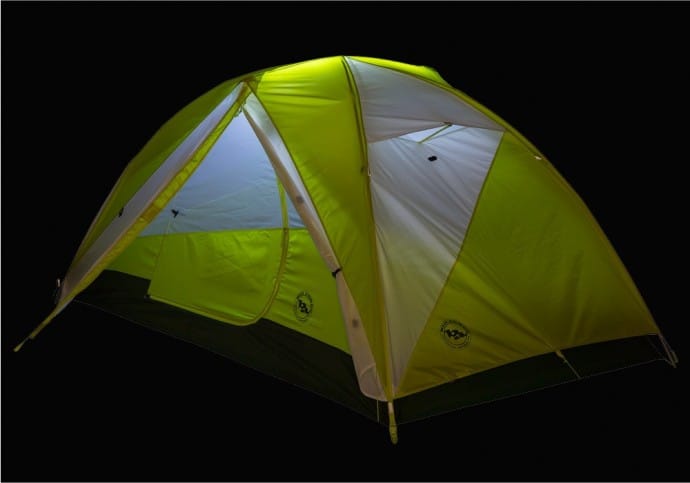 Big Agnes Tumble 2 mntGLO Tent– Occasionally we discover a product that's so brilliantly simple, you wonder why nobody ever thought of it before. That's how we feel about the Tumble 2 mntGLO tent from Big Agnes, a Backpacker magazine 2015 Editor's Choice. Weighing in at 4lb 8oz and offering an expansive 34 sq ft of floor space, this 2-person tent is illuminated with an LED light strand that's integrated into the seams, offering ambient light with the click of a button. It's a little on the heavy side for longer backpacking trips, but for weekend getaways it's a sweet 3-season tent. ($185)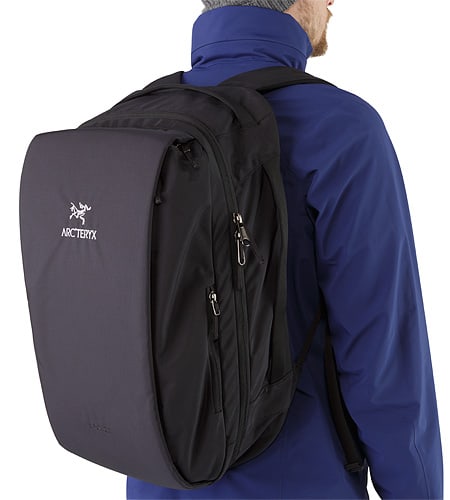 Arc'teryx Blade 28 Backpack– I may be the only travel blogger in the world who's never owned a smartphone, but I rarely go anywhere without my laptop. The Blade is a sleek, streamlined 28-liter travel pack that's designed to protect a laptop up to 15 inches while also providing ample room for storing clothes, toiletries and various other tech items. The pack's macro organization is exceptional, with a clamshell design that opens flat and a zippered portal on the side for quick access. Clothing goes behind a zippered panel in the main compartment, and there are internal organization pockets for pens, wallet, business cards, phones, power cords, etc. There's also a hidden pocket in the Blade's back panel for storing passports and other important documents without leaving them exposed. ($189)
Ring Video Doorbell– Easily among the most innovative products we discovered this year, the Ring Video Doorbell is an awesome, affordable home security solution for frequent travelers like us. Most burglars will knock or ring your doorbell before breaking in to steal your stuff. The Ring has built-in motion sensors that trigger mobile alerts and start recording HD video whenever someone approaches your door. If they push the button, it immediately calls you on your smartphone, allowing you to speak with visitors from wherever in the world you may be and give intruders the impression that you're home. And if they do break in, you have a video of their entry you can share with police. At under $200, it's the cheapest peace of mind we've ever seen for travelers. ($199)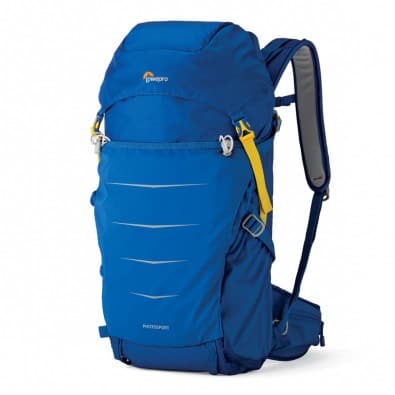 Lowe Pro Photo Sport BP 300 AW II– One of the biggest challenges of being outdoor adventure lovers who are also passionate about photography is carrying lots of gear without being overburdened. With 2 DSLR camera bodies, 3-4 lenses, filters, a GoPro and bean bag stabilizers, organization and access are just as important as comfort and carry-ability. The Photo Sport provides a great solution, weighing in at just 3.4 pounds and offering multiple storage compartments for photo gear, clothes and important documents. The Ultra-Cinch design provides bounce-free protection for your adventures, while the built-in All Weather AW Cover protects your valuables from the elements. With a hydration pocket designed to hold a 2-liter reservoir, this just may be the perfect pack for active photographers. ($199.95)
BEST GIFTS FOR TRAVELERS: $200 & UP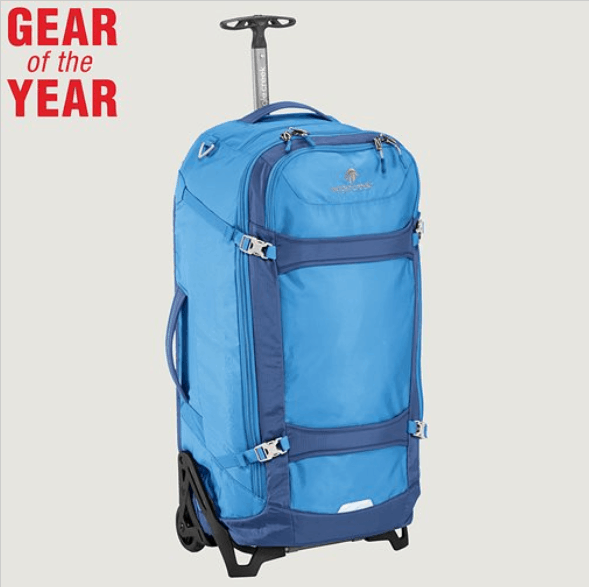 Eagle Creek EC Lync System– With the exception of the UgoBag personalized with our GGT logo, Eagle Creek is the only luggage we use these days. Their EC Lync System, named "Gear of the Year" by Men's Journal in 2014, is another impressive addition to the line. With their patent-pending Connect-It™ Technology, the ultra-light bag quickly converts into rolling luggage via a small aluminum frame that can be assembled in about 20 seconds. There are four sizes to choose from, ranging between 36 and 74 liters of space, and all but the 29 model have backpack straps. Best of all, the whole system can fold into a tiny duffel for easy storage when not in use. ($203.96-$239.96)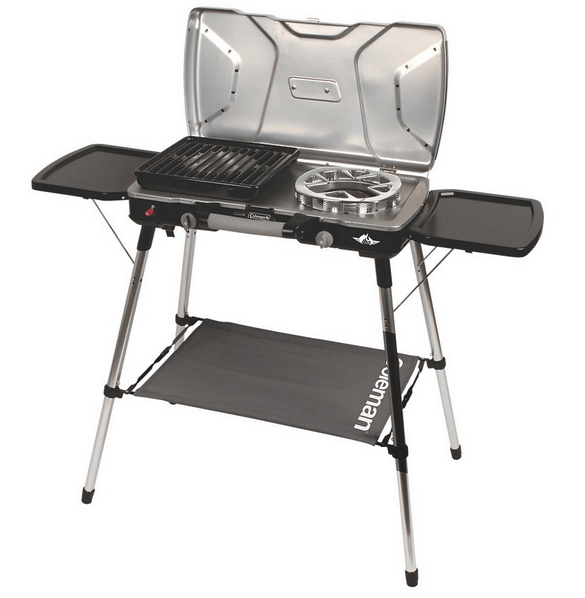 Coleman HyperFlame FyreCommander 3-in-1– Though we haven't done a ton of camping internationally, our favorite staycation getaway is a tranquil lake located just 20 minutes from our house. And though I'm not a huge fan of cooking indoors, I'll work the heck out of an outdoor grill. The FyreCommander is an attractive update on Coleman's classic two-burner design. Their new "HyperFlame" technology blocks wind and regulates oxygen flow, allowing you to cook things more quickly and precisely. And with telescoping legs, shelves and removable griddle tops, it's portable enough to set up quickly for a simple day trip or a weekend of camping. ($249)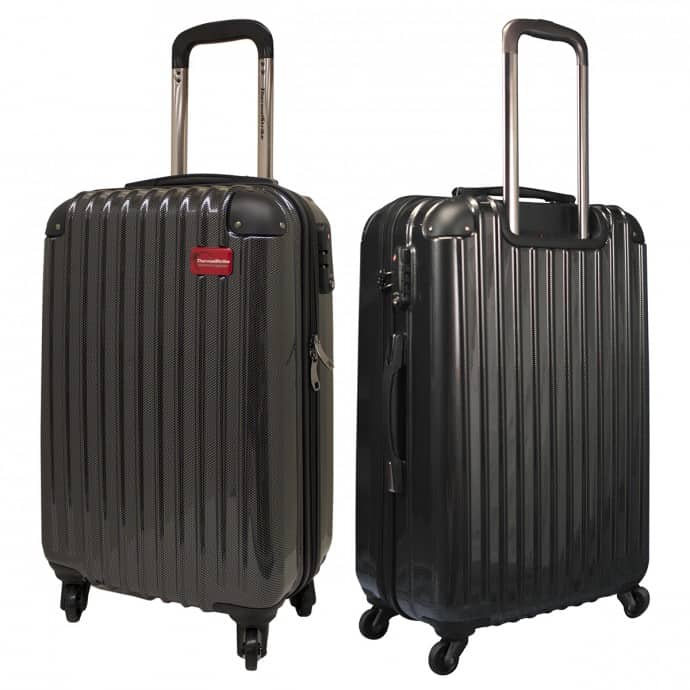 ThermalStrike Heated Luggage– There are apparently enough hotels, hostels and apartments with bedbug infestation problems that there's an online Bedbug Registry with 20,000 reports covering 12,000 different locations in North America and the UK. ThermalStrike is, to my knowledge, the only luggage in the world with a built-in technology to kill the pesky flesh-biters. All you do is connect the luggage to a cable and plug it in, then set the timer to treat your belongings (and perhaps your hotel's sheets) automatically. The whole thing is TSA and FAA compliant, not to mention a lot less painful than waking up with your body covered in welts. ($249)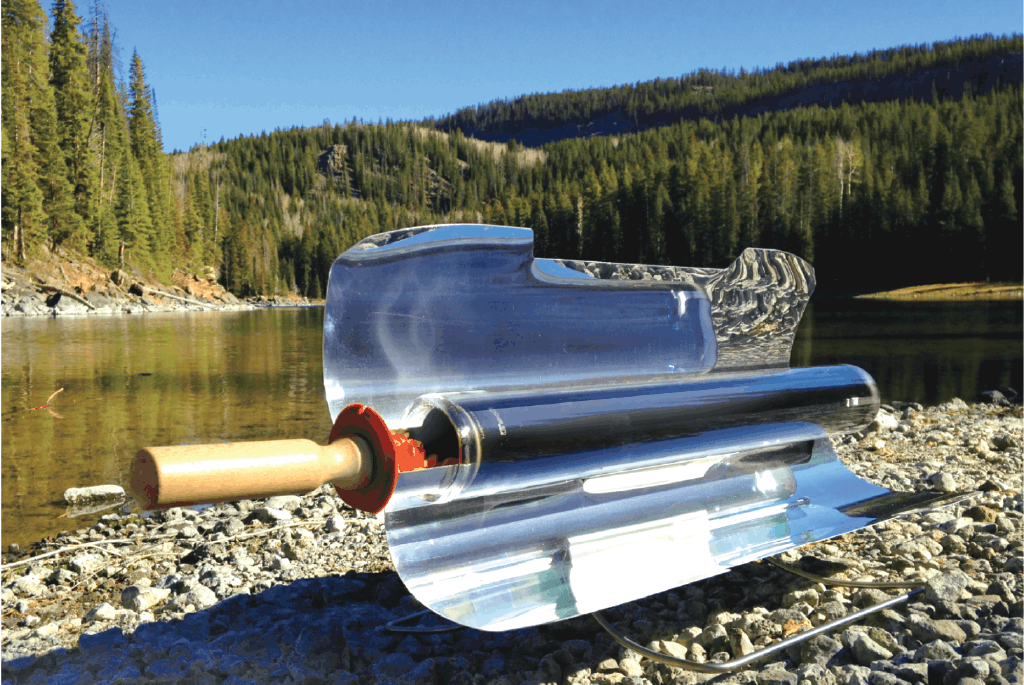 GoSun Sport– We're always looking for simple ways to lower our environmental footprint. To that end, this portable solar cooker is one of the most innovative products we've seen in years. I don't understand the science behind it, but it uses "compound parabolic reflectors" and a tubular design to convert 80% of the available sunlight into useable heat. The food is cooked inside a durable glass tube cooking chamber made from borosilicate (the same stuff in Pyrex), allowing you to cook a meal in as little as 20 minutes at temps up to 550ºF… even on cloudy days. There's no fuel involved, so there's no additional cost, and the collapsable package makes it portable for road trips. Science! ($279)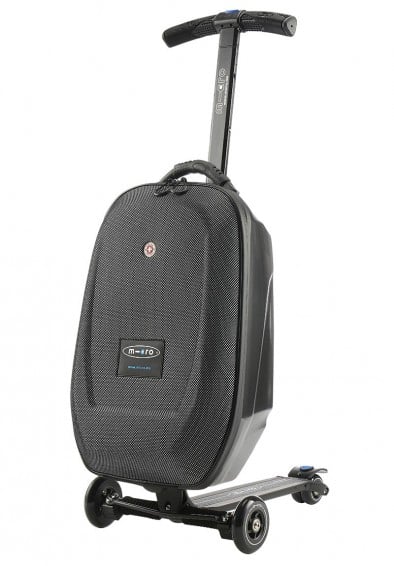 Micro Luggage Reloaded– Another invention so crafty, you'll wonder why it wasn't a thing before. This TSA-compliant luggage comes with a uniquely distinctive feature– a built-in scooter that can be folded up to function as a conventional rolling carry-on. The scooter is made with a strong aluminum deck and handlebars and polyurethane wheels built for speeding through airports in half the time it'd take to walk. The sleek bag was designed by Samsonite, and includes special features such as a secure padded pocket for electronics up to 17", an easy-access pocket for storing toiletries, and a mesh section for exercise gear or swimsuits. Together, it's arguably the most innovative piece of luggage we've seen. ($399.99)
Sony X1000V 4K Action Cam with Wi-Fi & GPS– This new model from Sony will go down in GGT history as the action cam that broke our 4 years of loyalty to GoPro. The X1000V is the first mountable camera with pro-quality features such 4K resolution (3840×[email protected] 100Mbps/60Mpbs) and full HD recording. The upgraded "Advanced Steady Shot" stabilization and high-frame rate shooting produce stunning, professional quality videos, with new manual settings that give you expansive in-camera control. There are a ton of accessories available, including board and helmet mounts and a remote control with Wi-Fi that you can wear on your wrist to view the action live. The protective case is dustproof, shockproof and waterproof at depths of up to 32 feet, so there are virtually no limits to your action filming adventures. ($499.99)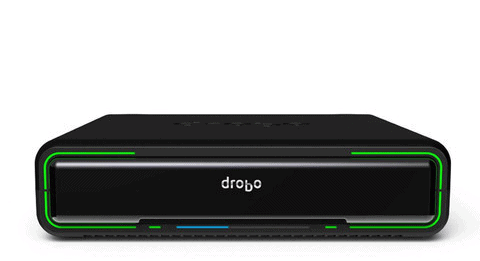 Drobo Mini– Like a lot of bloggers who shoot RAW images and high-resolution film, data storage has always been an issue for us. Even short movies eat up tons of memory, and we're not really comfortable trusting the protection of our hard work to the Cloud. Weighing less than three pounds even when loaded with four 2.5" drives, the Drobo Mini seems like the perfect portable storage option for travelers. Available for about $69, each drive can store up to 240 GB of data, providing the Mini with the power and speed of a much larger unit. Sure, it's a bit on the pricey side for amateur photo/video enthusiasts. But for those of us who make a living off the images we capture on our travels, it's a small price to pay for long-term data protection. And GGT fans can get an extra $100 off through the 2015 holidays by using promo code GREEN100 at the Drobo Store website.  ($649)  –Bret Love
Our guide to the Best Gifts for Travelers contains affiliate links, meaning that we get a small percentage on any products you buy at no additional cost to you. However, we received no financial compensation for our reviews.
If you enjoyed our review of the Best Gifts for Travelers, you might also like:
Christmas 2014 Gift Guide for Travelers
50 Christmas Traditions Around the World
GO GREEN TIP #107: 5 Eco-Friendly Ways to Decorate for Christmas
Atlanta Christmas Events [2015 Update]" href="https://greenglobaltravel.com/2013/11/13/atlanta-christmas-events/" rel="bookmark">Top 20 Atlanta Christmas Events [2015 Update]
The Best Christmas Light Displays In Georgia [2015 Update]
History Of Santa Around The World
GLOBAL CUISINE: Lebkuchen Recipe (Germany)