Encompassing 12 countries, French Guiana, and the Falkland Islands, South America has emerged in the last 20 years as a mecca for ecotourism and adventure travel.
With nearly 7 million miles of rainforests (the Amazon), wetlands (the Pantanal), mountains (the Andes), and waterfalls (Iguazu), you could explore the continent's sparsely populated interior for years and never see all the awesome sights.
There's simply no way to adequately summarize an entire continent's incredible attractions in a digestible blog post, so consider these my personal picks for the 20 best places to visit in South America.
READ MORE: The 20 Best Things to Do in Patagonia (South America)
Best Places to Visit in South America Guide
Iguazu Falls (Argentina)
Peninsula Valdez (Argentina)
Perito Moreno Glacier (Argentina)
Tierra del Fuego (Argentina)
Lake Titicaca (Bolivia)
Salar de Uyuni (Bolivia)
Brazilian Amazon (Brazil)
Pantanal (Brazil)
Chilean Wine Country (Chile)
Torres del Paine National Park (Chile)
Cartagena (Columbia)
Tayrona National Park (Columbia)
Galapagos Islands (Ecuador)
Otavalo (Ecuador)
Quito (Ecuador)
Ballestas Islands (Peru)
Machu Picchu (Peru)
Peruvian Amazon (Peru)
Sacred Valley (Peru)
Pampas (Uruguay)
ARGENTINA

1. Iguazu Falls
Located in northern Argentina, where it straddles the border with Brazil, Iguazu ranks high among the world's biggest waterfalls.
Measuring 197–269 feet tall, 1.7 miles wide, with 275 drops and an average flow rate of 62,010 cubic feet per second, this one of the most famous places in South America and is truly a spectacle to behold.
They're surrounded by the lush rainforest of Iguazu National Park, a subtropical paradise that is home to more than 2,000 species of vascular plants and cool animals such as tapirs, howler monkeys, and jaguars.
READ MORE: 70 Cool & Weird Animals Around the World (An Epic Guide)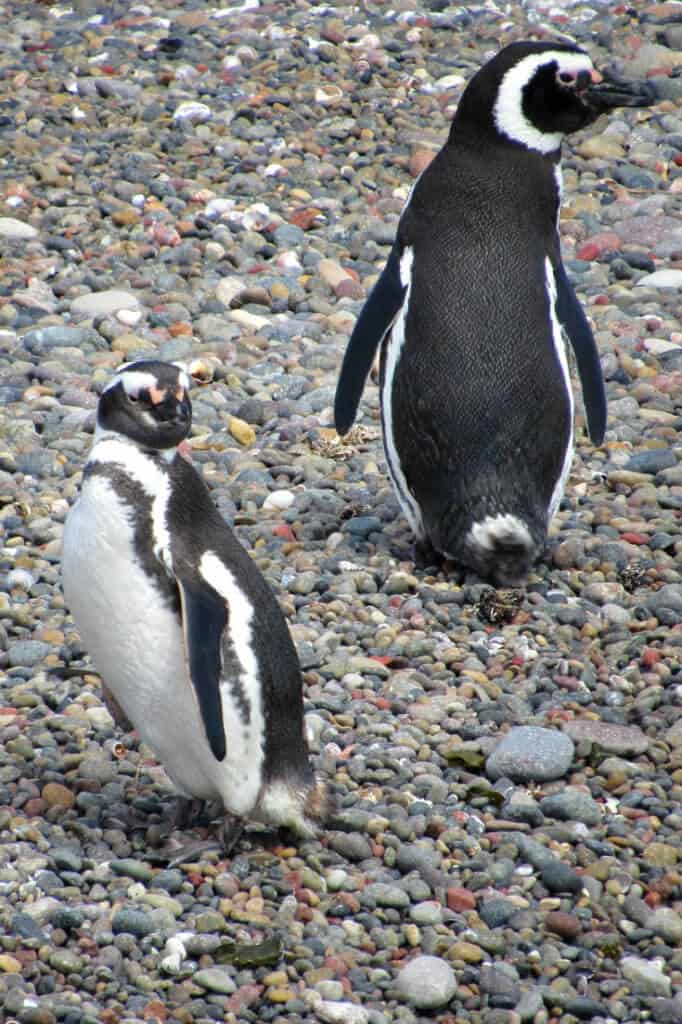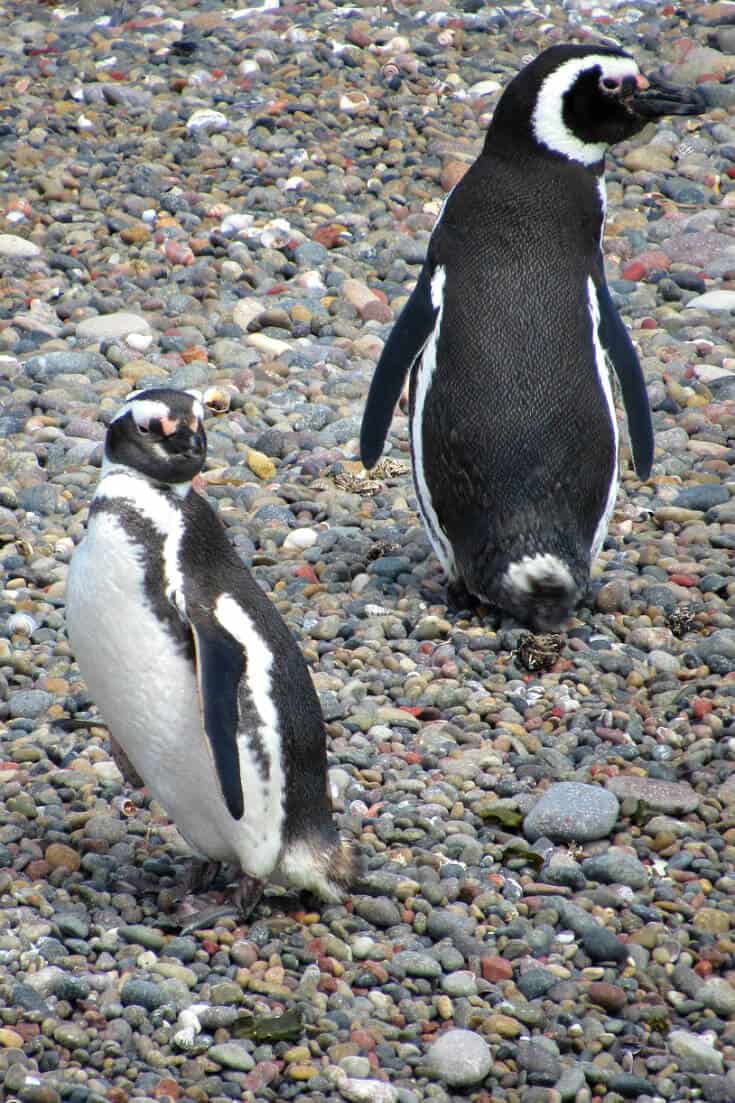 2. Peninsula Valdez
Located on Argentina's Atlantic coast, Peninsula Valdes earned UNESCO protection because it's one of the best places in South America to see marine mammals.
Whale watching is particularly amazing: Southern right whales calve there from June through November, while orcas can regularly be seen hunting seals and sea lions on the shore.
You'll also have a good chance of seeing elephant seals, Magellanic penguins, and land-based species such as the guanaco (or Patagonian llama) and rhea (a cousin of the emu).
READ MORE: 30 Cool & Weird Ocean Animals Around the World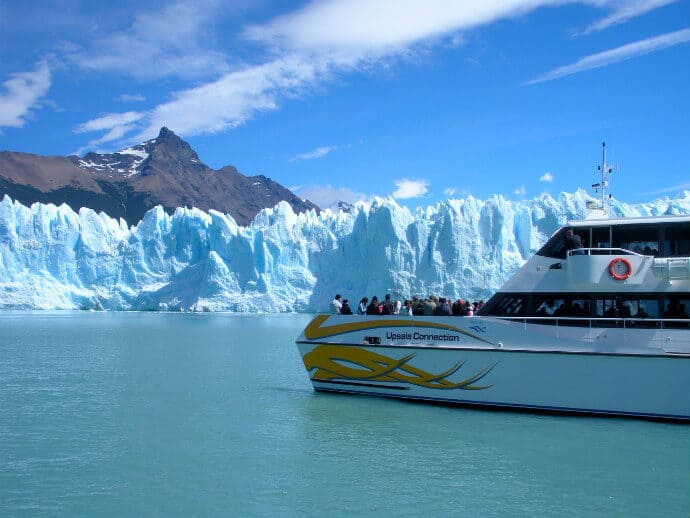 3. Perito Moreno Glacier
Arguably the #1 South America tourist attraction in Patagonia, the mighty Perito Moreno Glacier spans 121 miles, rises an average of 240 feet above the water, and is still growing!
Part of Los Glaciares National Park in Argentina's Santa Cruz Province, the glacier was named after a 19th century explorer.
You can get surprisingly close to the glacier via observation boardwalks or boat trips around Lake Argentino, hearing the haunting cracks as chunks of ice fall into the water. You can also arrange hiking tours on the glacier itself.
READ MORE: What Is Ecotourism? (The History & Principles of Responsible Travel)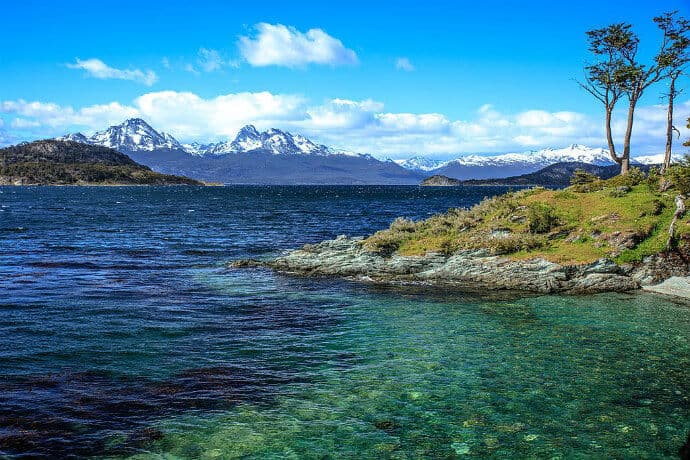 4. Tierra del Fuego
Located at the southernmost tip of South America, Tierra del Fuego boasts some of the continent's most spectacular scenery.
Its capital, Ushuaia, is known as el fin del mundo (the end of the world), because only Antarctica lies further south.
There's lots to do in the area, from kayaking Lapataia Bay and hiking or skiing on Mount Castor to exploring Cape Horn.
A half-day cruise of the Beagle Channel is a popular excursion, bringing stunning sightings of penguins and an array of other marine life.
READ MORE: 30 Antarctic Animals You Can See on an Antarctica Cruise
BOLIVIA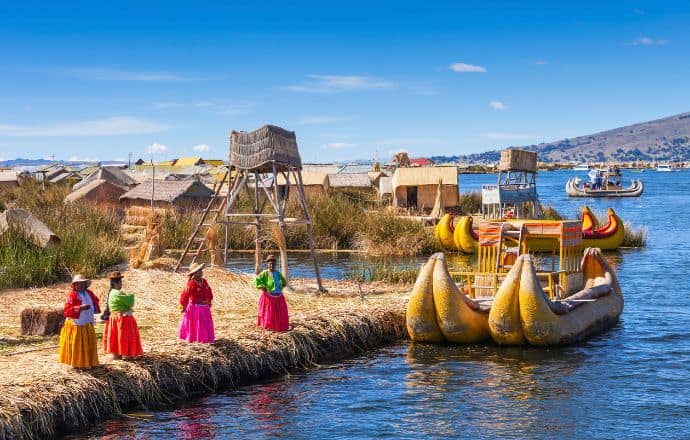 5. Lake Titicaca
Straddling the border between Bolivia and Peru, Lake Titicaca is the world's highest navigable lake (at an elevation of 12,338 feet).
The area has been inhabited by indigenous cultures for centuries, making visiting it one of the best things to do in Bolivia if you want to learn more about its people.
Start in the town of Copacabana, from which you can reserve a tour of the lake or jump on a boat to Isla del Sol or Isla de la Luna. Once you arrive at either island, it's easy to book a homestay with local families.
READ MORE: 20 Largest Lakes in the World by Continent (For Your World Travel Bucket List)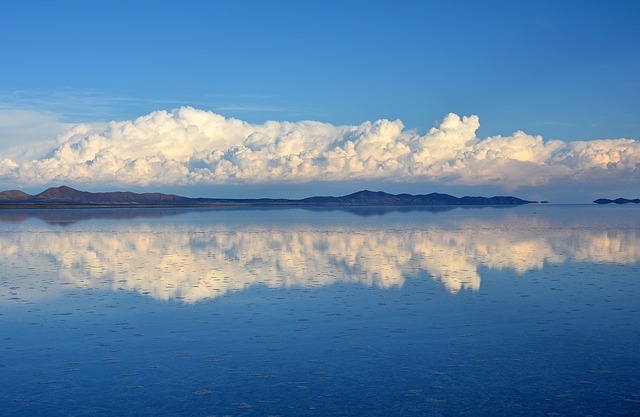 6. Salar de Uyuni
The otherworldly Bolivian Salt Flats a.k.a. Salar de Uyuni encompasses around 4,000 square miles, all covered in a layer of salt several meters thick.
The area is home to more than 50% of the world's lithium reserves, but very little flora other than giant cacti and very little fauna other than flamingos.
If you visit, make sure to see Laguna Blanca (which is white due to minerals in the water), Laguna Verde (which is green and poisonous due to magnesium and arsenic), and Laguna Colorado (which is red due to algae).
READ MORE: The 20 Best Cultural Festivals Around the World
BRAZIL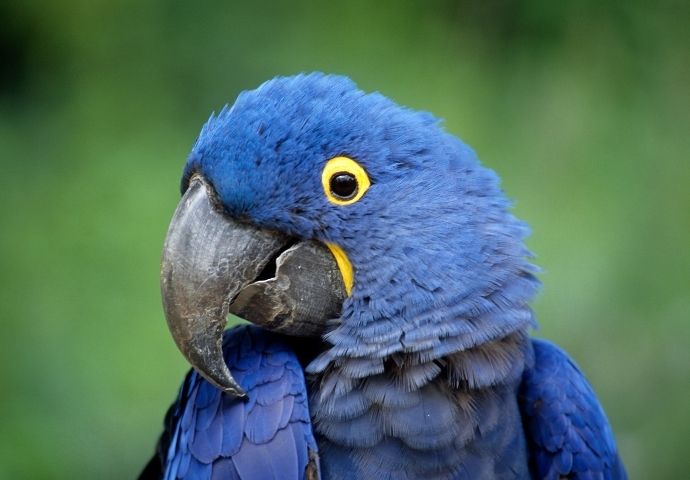 7. Brazilian Amazon
Although 20% of the Amazon Rainforest has been cut down in the last 40 years, what remains is about the same size as the lower 48 US states and accounts for half the planet's tropical forest.
About two-thirds of the 3 million square mile Amazon Basin is in Brazil.
It's among the world's most biodiverse places, with around 16,000 different species of trees, 2,000 species of fish, 1300 species of Amazon birds, over 400 species of mammals, nearly 400 species of reptiles, and 2.5 million kinds of insects.
If you go, bug repellant is a must!
READ MORE: 21 Incredible Animals That Live in the Amazon Rainforest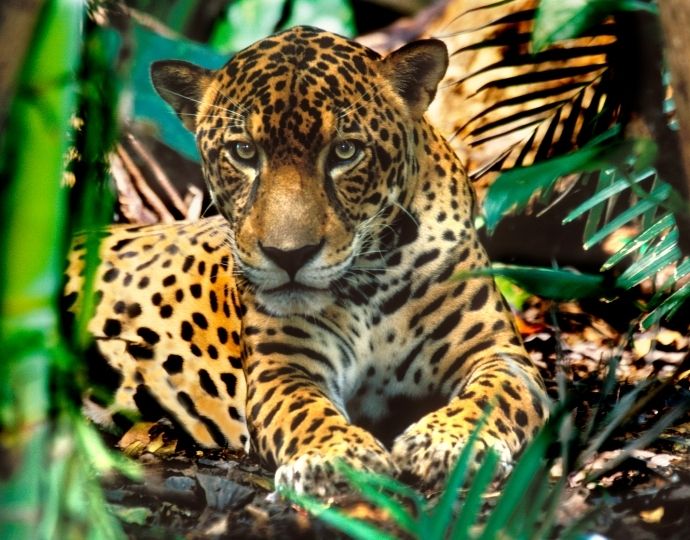 8. Pantanal
Known as the Pantanal, the 75,000 square-mile wetlands of southwestern Brazil and eastern Bolivia are by far the largest in the world.
Approximately 80% of the region is completed covered in water during the wet season, but the dry season makes it a haven for wildlife tours (and birdwatching tours in particular).
The region is home to around 3,500 plant species, 300 mammals, and over 1,000 species of birds.
Watch for hyacinth macaw, harpy eagles, white-banded tanagers, and the elusive jaguars (which are abundant here).
READ MORE:25 Biggest Forests in the World (For Your World Travel Bucket List)
CHILE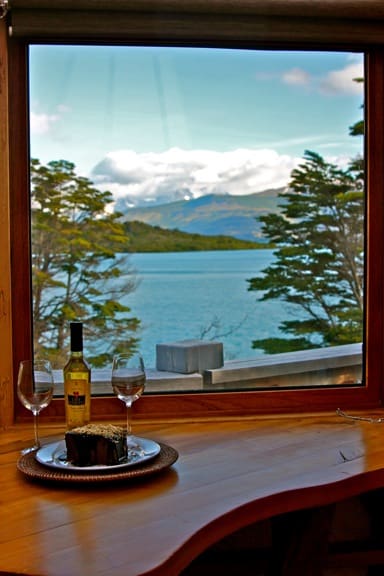 9. Chilean Wine Country
Chile's wine is world-renowned, in part because the country has been exporting wines to Europe since the 1880s.
Its emergence as a hotspot for oenophile travel is more recent, but makes sense when you consider the area's favorable climate and stunning Andean landscapes.
Chile's most popular wine-producing regions are the Colchagua Valley (which is best known for Malbec, Chardonnay and Sauvignon Blanc) and the Maipo Valley (known for Cabernet Sauvignon, Carmenere, and Merlot).
READ MORE: 25 Most Unusual & Unique Hotels In the World (World Travel Bucket List)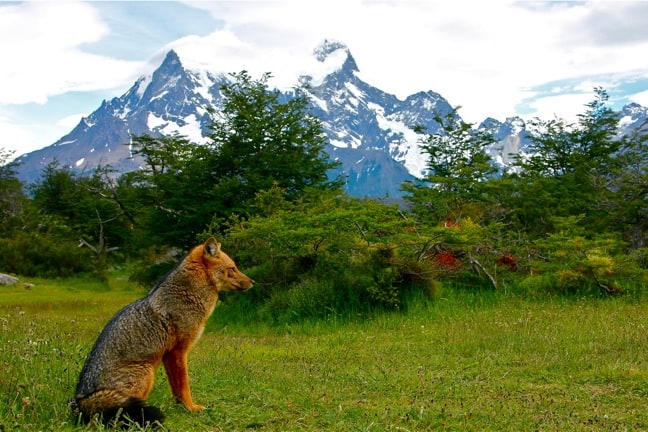 10. Torres del Paine National Park
Located in the heart of Chilean Patagonia, the remote wilderness experience Torres del Paine National Park has to offer is second to none.
Hardy hikers will enjoy the legendary W Trek, which takes you through towering rock formations (including the iconic Paine Massif), beautiful blue glacier-fed lakes, and expansive fields filled with windswept grasses and colorful Patagonia flowers.
The Milodon Cave is also not to be missed. The array of Patagonia animals, from foxes and guanacos to massive Andean condors and Pumas, is equally impressive.
READ MORE: 20 Awesome Tips for Planning Your Patagonia Trip
COLOMBIA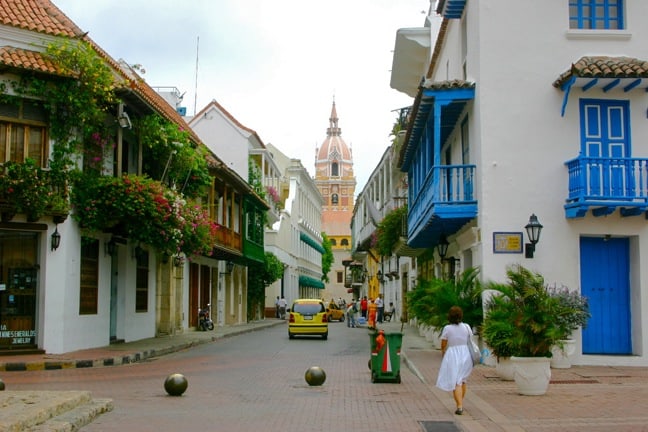 11. Cartagena
One of my favorite South American cities, Cartagena is an incredible UNESCO-protected port city on the Caribbean coast of Colombia.
The city is most noteworthy for its walled Old Town section, which was founded in the 16th century and features fortresses, colorful colonial buildings, public squares, and an array of other historic monuments.
There are also beautiful beaches, and the tranquil tropical vibe of the Islas de Rosario (Rosario Islands) are just 40 minutes away by boat.
READ MORE: 10 Latin America Ecotourism Adventures (For Your World Travel Bucket List)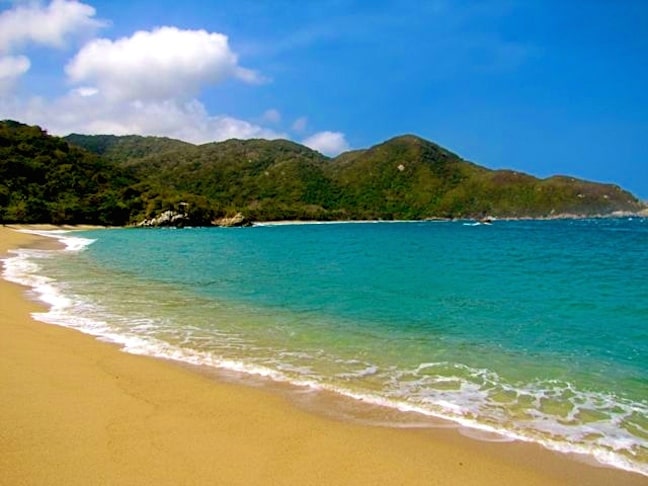 12. Tayrona National Park
Located on Colombia's northern Caribbean coast, about 110 kilometers (a two-hour drive) east of Barranquilla, remote Tayrona National Park boasts beautiful beaches, biodiverse rainforests, and a conspicuous absence of cars.
It's not easy to get there: You'll have to hike an hour just to reach the park's accommodations.
But it's one of the best places to travel in South America to get away from it all, with wildlife ranging from birds and monkeys to crocodiles making it an animal-filled adventure!
READ MORE: The 20 Best Places to Visit in Central America (For Nature Lovers)
ECUADOR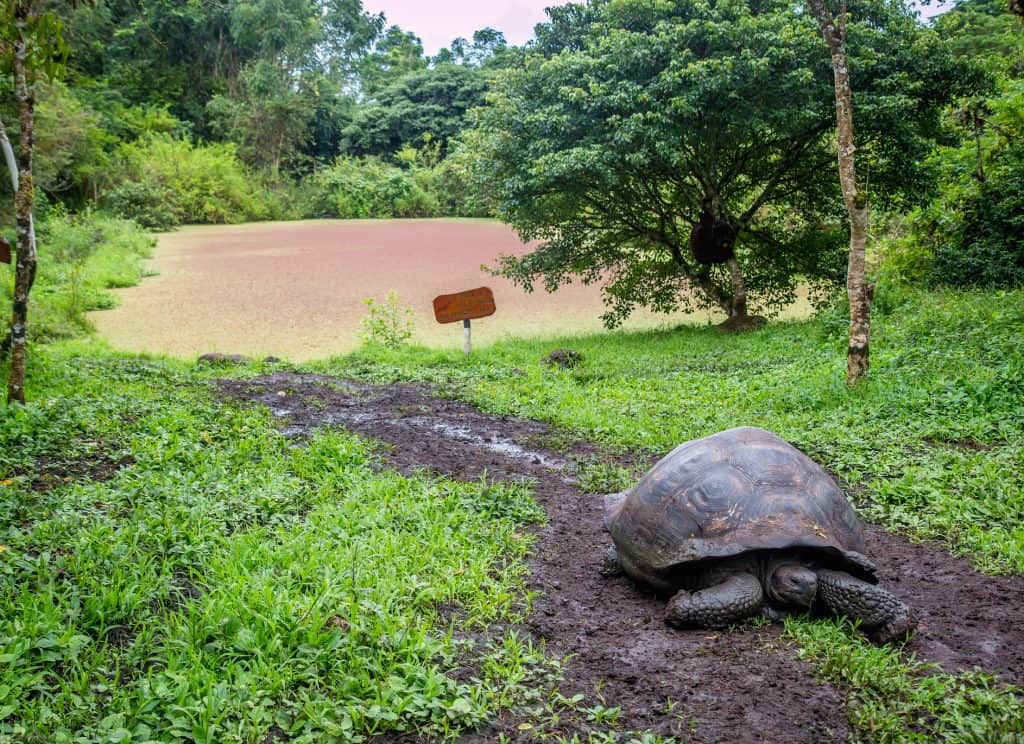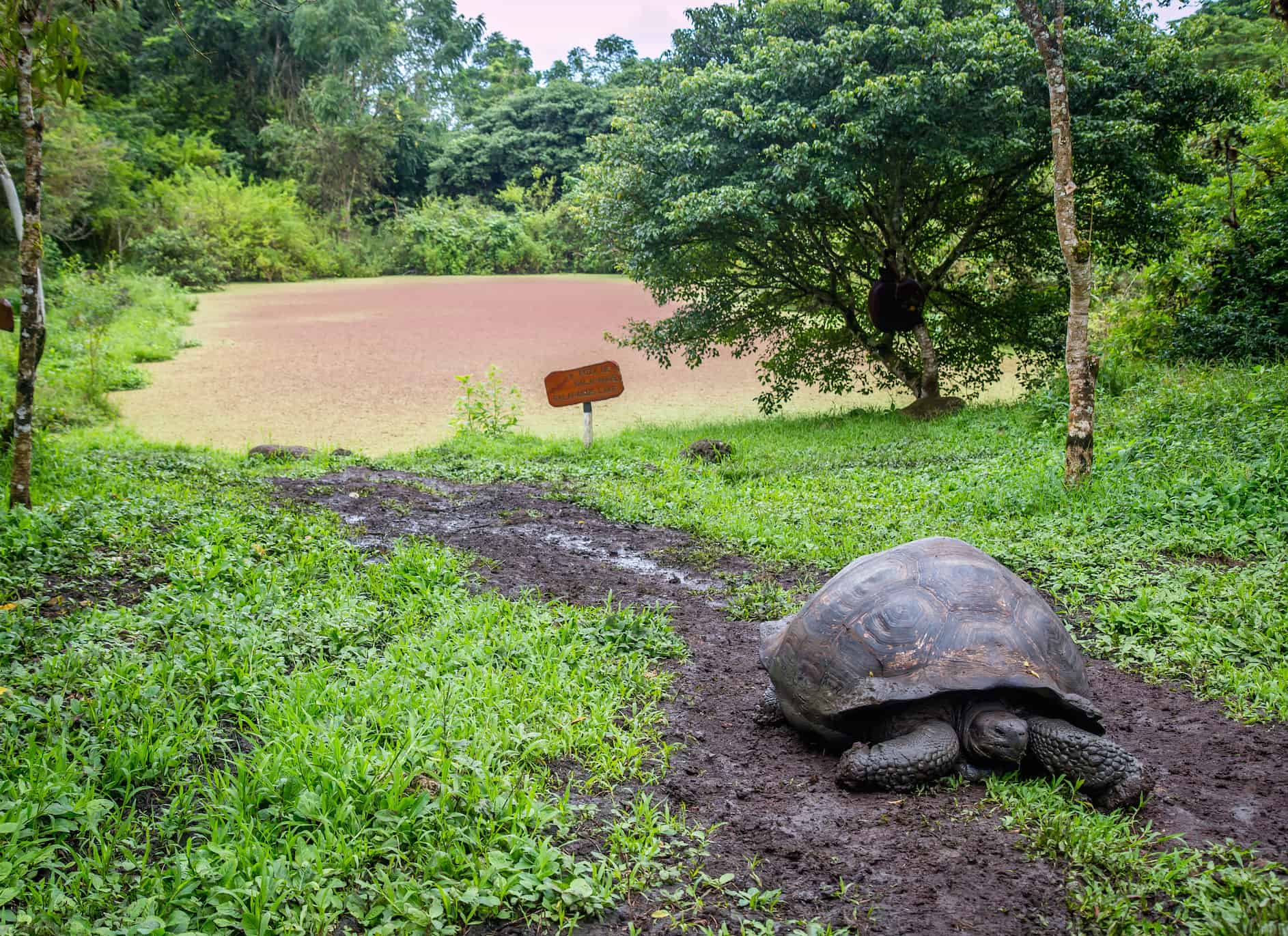 13. Galapagos Islands
Located 600 miles off the coast of Ecuador, the Galapagos Islands are a nature-lovers' paradise packed with unusual endemic plants and wildlife.
Named the world's first UNESCO World Heritage Site in 1987, the archipelago was also a huge influence on Charles Darwin's theory of evolution.
Exploring the islands today finds them much the same as they were in Darwin's day, with very few humans and incredible animals everywhere you turn, including Galapagos tortoises, Galapagos penguins, Galapagos sea lions, and Galapagos birds.
READ MORE: 30 Amazing Galapagos Islands Animals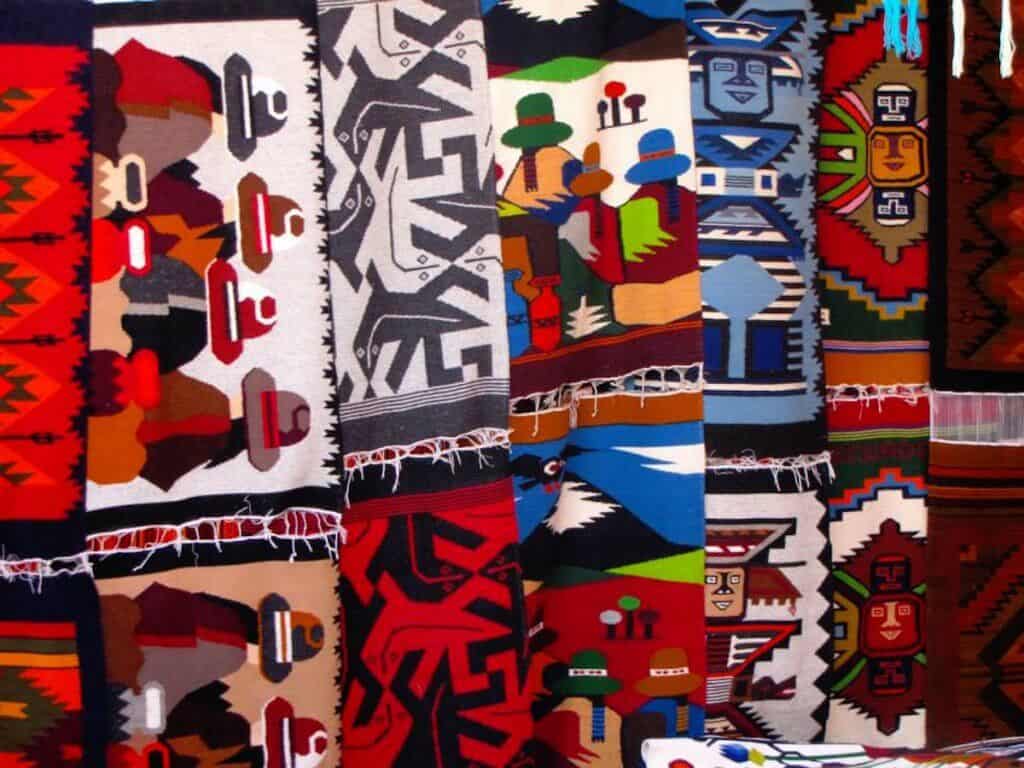 14. Otavalo
Located at an elevation of 8,307 feet in the Andean Highlands of Northern Ecuador, Otavalo is a town of around 40,000 people.
It's surrounded by 3 dramatic volcanoes (Cotacachi, Imbabura, and Mojanda), which range in height from nearly 14,000 to over 16,000 feet tall.
The town is inhabited by the indigenous Otavalo people, who are famous for their woven wool textiles. Visit the famous Otavalo Market to buy handmade blankets, tablecloths, clothing, musical instruments, and other crafts.
Other popular Otavalo attractions include Iglesia de San Luís, Iglesia El Jordán, Plaza de los Ponchos, the Peguche Waterfall, Lagos de Mojanda, and Museo Viviente Otavalango.
READ MORE: 25 Tallest Mountains in the World By Continent (World Travel Bucket List)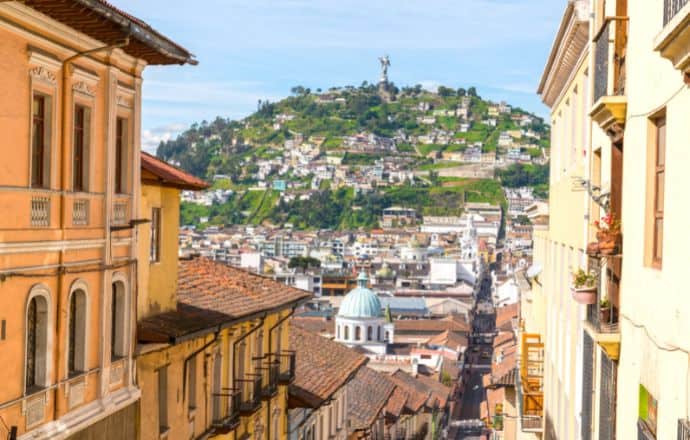 15. Quito
Located at just under 9,842 feet above sea level, Ecuador's capital is one of the best cities in South America and is breathtaking in both the literal and metaphorical sense.
Conquered by the Inca, then the Spanish, the city offers some seriously stunning examples of colonial architecture.
You can also take a cable car up to 13,779 feet above sea level to get a bird's-eye view of Quito (and, on a clear day, the Cotopaxi volcano).
Nearby attractions include the Mitad del Mundo ("Center of the Earth"), a monument and museum for the equator.
READ MORE: Ecotourism in the Ecuadorian Amazon
PERU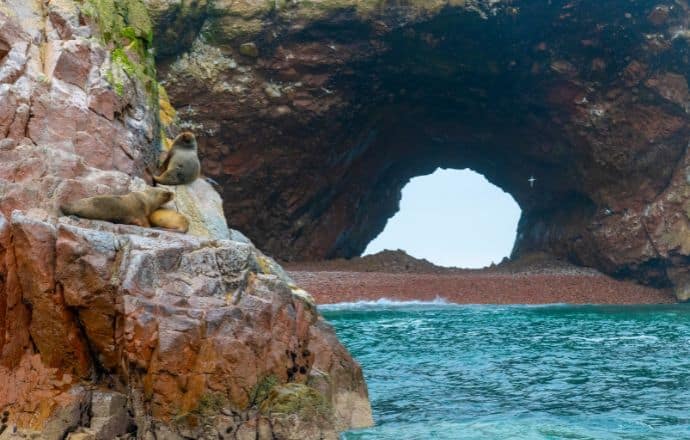 16. Ballestas Islands
Often referred to as "the poor man's Galapagos," this archipelago of islands west of Pisco are home to hundreds of thousands of seabirds (including boobies), large colonies of sea lions, penguins, and dolphins.
Boat tours from the mainland visit the islands daily, taking passengers past the "Candelabra," a hillside geoglyph whose ancient origins remain a mystery.
Between June and August, Chilean flamingos can often be found in the southern part of the bay.
READ MORE: The 30 Best Exotic Islands to Visit (World Travel Bucket List)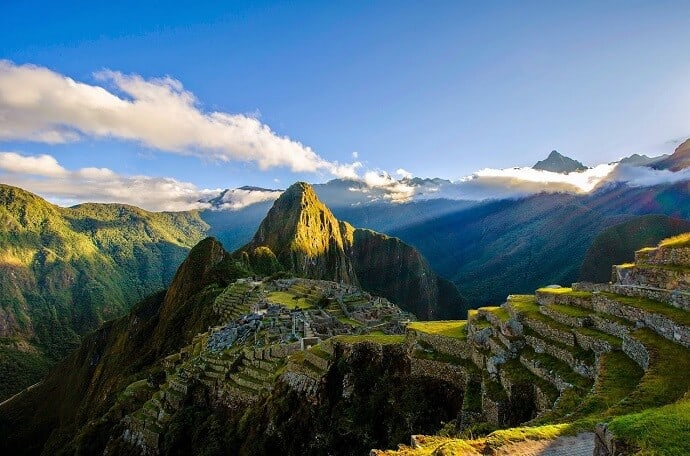 17. Machu Picchu
Widely considered one of the world's great ancient archaeological sites, Machu Picchu was built at the height of the Inca Empire in the mid-15th century.
Located on top of a mountain 8,000 feet up in the Andes, Peru's most popular tourist attraction struggles with mass tourism, drawing more than 500,000 visitors each year.
The glorious architecture of the ancient city remains largely intact, with giant stone walls, old temples and luscious green terraces overlooking a canyon on the Urubamba River and the surrounding Andes mountains.
READ MORE: 20 Best Mountains In The World (For Your World Travel Bucket List)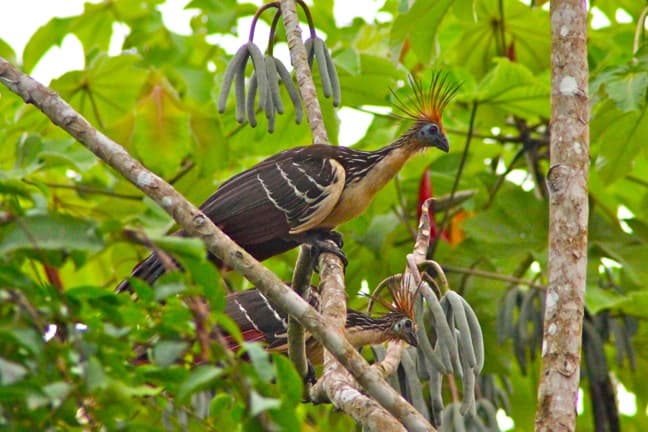 18. Peruvian Amazon
The world's fourth largest rainforest, the Peruvian Amazon encompasses approximately 60% of Peru's total area.
It's a remarkably pristine hotbed of biodiversity, home to around 180 reptile species, 262 amphibian species, 293 species of mammal, 806 types of birds, and 2,500 butterfly species.
If plants are more your thing, you can also find 700 types of ferns and more than 7,300 species of flowering plants.
The only way to explore it is by boat, and it makes for one of the best small ship cruises I've ever experienced. If you get the opportunity, don't miss the chance to go Amazon River piranha fishing.
READ MORE: The Amazon in Peru: 10 Great Reasons to Visit the Rainforest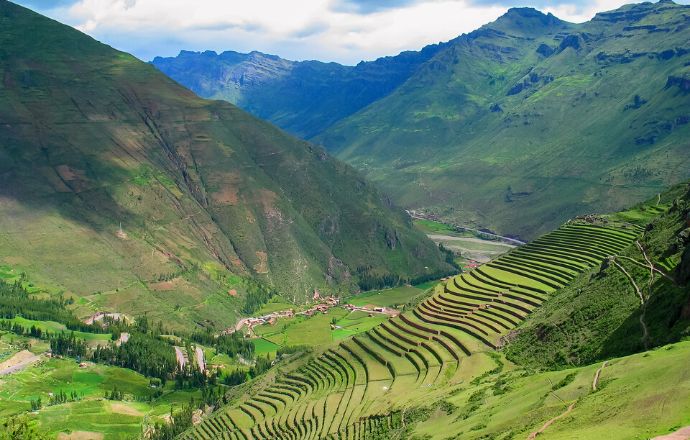 19. Sacred Valley
Did you know Machu Picchu is neither the largest, oldest, or most important Inca site you can explore in Peru? For those, you have to visit the lesser-known ruins of the Sacred Valley.
Start at the western end in Pisac, an agricultural center for the Inca, in which an entire mountain was carved into terraces.
There's also incredible stonework in Vitcos and Ollantaytambo (where the Inca Trail begins); the circular-shaped Moray ruins; and Winay Wayna, which looks a bit like a miniature version of Machu Picchu.
READ MORE: 40 Green Travel Tips (The Ultimate Guide to Sustainable Travel)
URUGUAY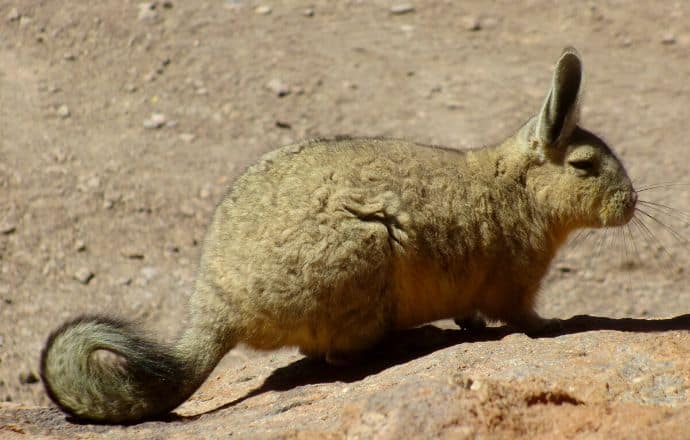 20. Pampas
Though considerably less well known than some of the ecotourism hotspots on this list, the Uruguayan Pampas deserves mention as one of South America's best places to visit.
These fertile lowlands cover nearly 290,000 square miles, encompassing all of Uruguay as well as parts of Argentina and Brazil.
The temperate climate makes it a great place for regenerative agriculture, but it's best known for wildlife such as the pampas deer, plains viscacha, puma, maned wolf, pampas fox, and an impressive array of birds. –Bret Love; lead image of Lama in Macchu Picchu, Peru, South America via Canva