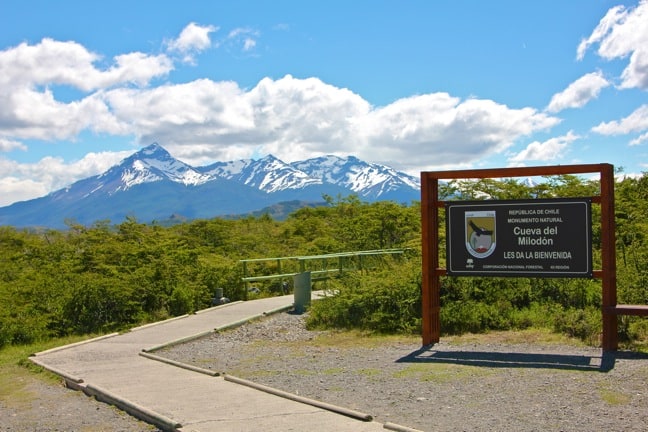 Exploring the Ancient Milodon Cave
From the outside, the Milodon Cave Natural Monument looks a lot like the rest of Chilean Patagonia. The ground is carpeted with a colorful mixture of green and red grasses. Massive boulders and diminutive trees dot the wind-swept landscape. Everywhere you walk, the peaks of majestic mountains vie for your attention.
But on the inside, each Cueva del Milodón holds secrets that date back more than 11,000 years.
Located 15 miles northwest of Puerto Natales, the Milodon Cave Natural Monument includes several caves as well as a monolithic rock formation known as The Devil's Chair (Silla del Diablo). Discovered by German explorer Hermann Eberhard in 1895, the caves got their name when the remains of a giant prehistoric ground sloth known as the Mylodon were found there the following year.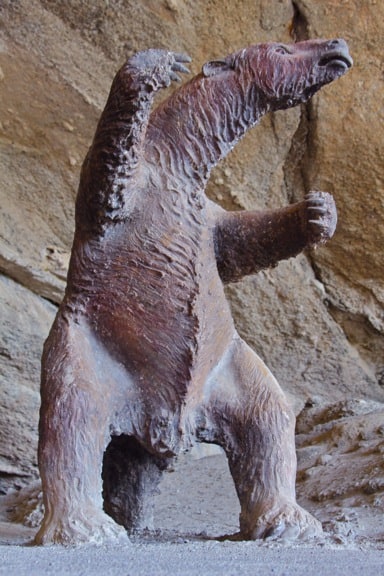 The Ancient Wildlife of the Milodon Cave
Believed to have lived in Patagonia over 10,000 years ago, these ancient herbivores were twice the height of an average human, with bear-like bodies, long tails for balance (which allowed them to stand on their haunches to eat leaves from trees), and reddish-brown coats.
The 1896 archeological expedition uncovered remarkably well-preserved fur, skin, claws and bones in the Milodon cave. They also found remains of extinct animals such as the Hippidion (a dwarf horse), Macrauchenia (a prehistoric llama) and Smilodon (a sabre-toothed cat).
Perhaps most importantly, they found fire pits, primitive tools and human remains, offering ample clues about the earliest human occupation of Patagonia.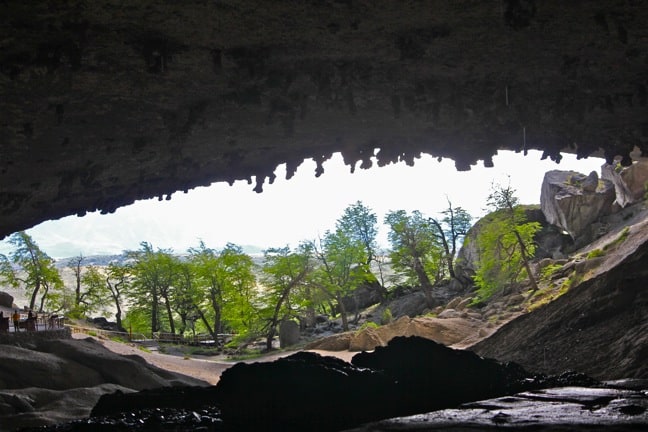 Inside the Milodon Cave
On our Adventure Life tour guided by Kris Robles and Matias Escobar of Patagonia Camp, we started off in Little Cave (Cueva Chica), which was not excavated until 2010. This cave– which was smaller and more cramped than the other two– was used by , an ancestor of the jaguar.
Clutching our flashlights in our mouths, we climbed up a steep set of slick rocks to reach an elevated alcove at the very back of the cave. This cozy cache was likely where these ancient cats brought prey such as mylodons and llamas to feast. Although perfectly sized for big cats, I could barely fit in there on my knees, so we didn't stay long.
Fortunately, the second cave we visited brought with it a surprise that even seemed to get Kris and Marias excited…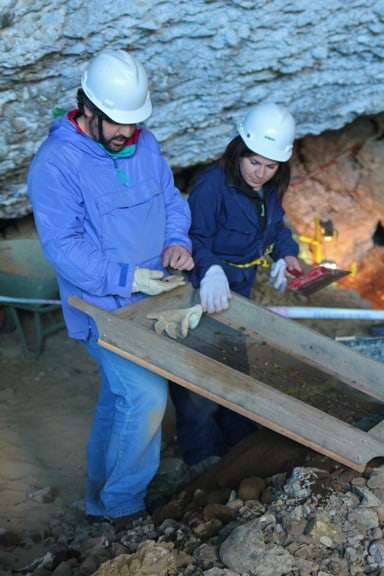 Archaeological Digs in the Milodon Cave
I've mentioned my interest in archaeology in our stories about Jordan's ancient Roman ruins of Jerash and digging up 2,000-year-old relics in Panama. For me, the love of history and travel are inextricably intertwined. So you can imagine my delight when we entered the second cave to see a full-on archaeological dig in progress!
These researchers from the University of Magallanes' Institute of Patagonia– team leader Manuel San Román, archeologist Karina Rodriguez and Mauricio Massone (from Chile's Museo de Historia Natural de Concepción)– were digging through layers of rock and sediment. They would then carefully strain it in hopes of finding relics that would provide more information on early human occupation of South America.
In a brief (obviously unscheduled) interview, San Román said that they had found remains of fires and the bones of llamas and horses there, indicating that these were essential elements in the diet of prehistoric Patagonians. He also said that their findings in the Milodon cave had helped archaeology experts to determine that both animals and humans occupied this area much earlier than previously believed.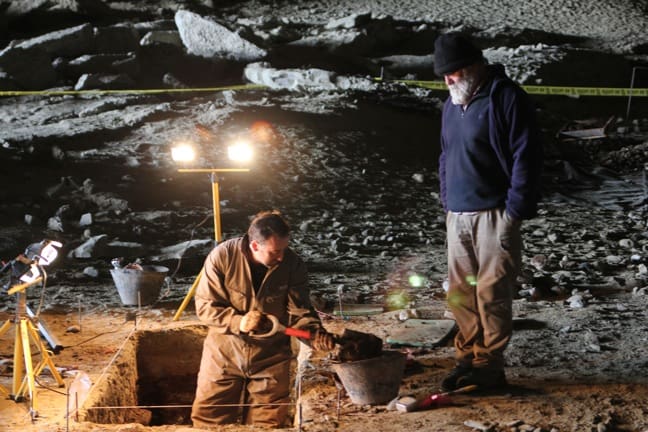 The Largest Milodon Cave
The last cave we visited was the most expansive of all. More than 260 feet wide and 650 feet deep, with a 100-foot high ceiling covered in stalactites, the cave was formed 18,000 years ago, when advancing and retreating glaciers gradually eroded the slopes of Cerro Benitez. Once the glacial ice receded and the lake levels dropped (around 13,500 years ago), the region's megafauna naturally took up residence inside it.
On the final stop of our tour, we found yet another, larger team of archaeologists hard at work digging, lifting, moving and sifting dirt from a huge cordoned-off section at the very center of the cave. One of our guides tried to get a moment of project director Dr. Fabiana Martin's time for an interview, but it was clear from the pace at which the team was working that they were in the middle of something important.
Kris, who was also an archaeology aficionado, was clearly just as in awe of our good fortune as we were. She breathlessly mentioned that she'd read a number of Dr. Martin's academic studies on Geoarchaeology, but this was the first time she'd ever seen him in person.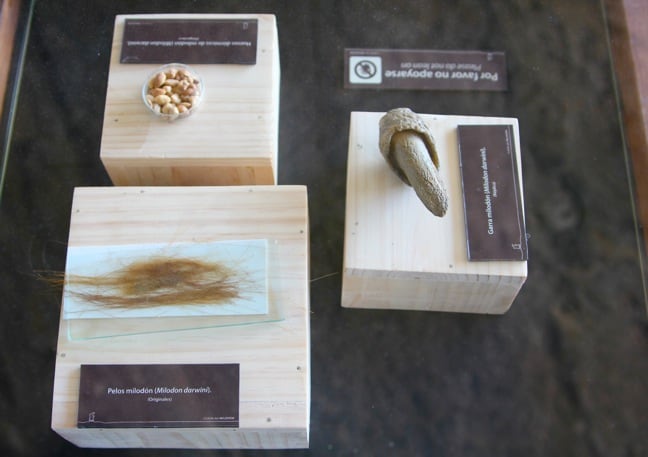 Walking along the path that loops through the interior of this vast cavern, it's easy to imagine the presence of the prehistoric humans and animals who had been drawn to the Milodon Cave for protection.
At the end, there's a display of small artifacts found in the cave, including bits of Milodon fur, bones and teeth. There's also a life-sized statue of the prehistoric sloth, which gives you a realistic depiction of just how massive they were. Unfortunately, to see the famous desiccated skeleton discovered there back in 1865, you'll have to go to London, where the British Museum stores it (along with innumerable other treasures stolen during the Colonial era).
It's difficult to describe the sense of awe and wonder we felt while walking the ground upon which these ancient creatures walked, bred, and slept. But there's definitely a sense of deeper connection to mankind's history there. For us, the Milodon Cave was easily among the most moving attractions we visited in Torres del Paine National Park. –Bret Love; photos by Bret Love & Mary Gabbett
If you enjoyed reading about the Milodon Cave, you might also like:
CHILE: The Road To Torres Del Paine
TORRES DEL PAINE: Chilean Wildlife On A Secret Trail
ARGENTINA- Top 5 Eco Activities