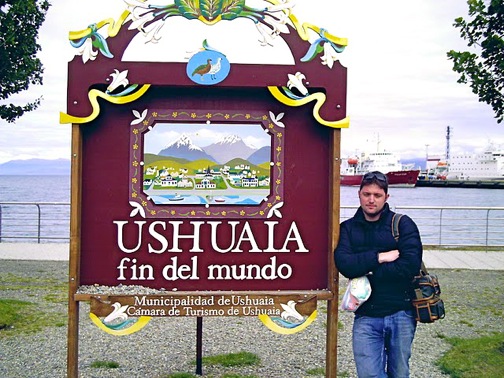 The End Of The World
Top Ecotourism Attractions In Ushuaia, Argentina
In my teens I set a goal to travel to all 7 continents by the time I was 30 (a pretty hefty feat for someone who, until he was 21, had only visited Canada). My lady and I were planning a month-long venture in Argentina, with 5 days in Ushuaia, the world's southernmost city. But in the back of my mind I knew if there was any chance to weasel my way onto a boat heading south, I could not only check off South America, but Antarctica as well.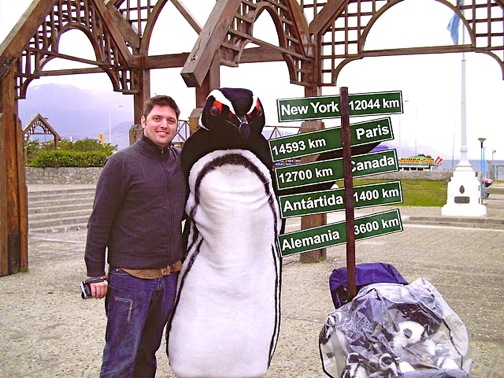 My weaseling didn't get me too far. So there I stood in Puerto Ushuaia, next to a grown man dressed in a penguin costume that totally reeked of liquor, with incoming and departing ships full of passengers in thick matching red and yellow winter coats. I was less than 700 miles from Antarctica, but $2400 short. So it was time to go back to our base camp at the wonderful Hostal del Bosque Apartment Hotel to ask for some advice from the helpful staff.
After admitting defeat we booked an excursion to the fabulous Martillo Island Penguin Rookery for the next day with Pira Tours, a family owned and operated tour company. The one and only company allowed to take visitors onto the island, the crew was knowledgeable and professional. Getting to the rookery involved a 1.5 hour van ride through the gorgeous Tierra del Fuego countryside. Among the highlights are the gathering of wind bent trees and a distant view of Puerto Williams, Chile, home to a Chilean naval base and best known as Ushuaia's archnemesis for "southernmost city in the world" claims.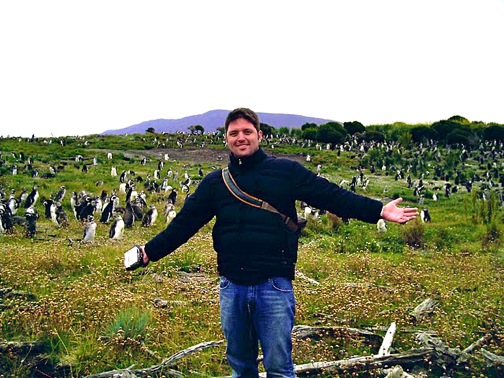 Upon reaching the end of the line we boarded a large inflatable watercraft that took us across the frigid channel to Martillo Island. The Argentinian government allows only 80 visitors a day on the island, so our group of 20 got to spend an hour on the island all by ourselves. Walking along the marked paths lined with literally thousands of penguins was simply incredible. Magallanicos and Papua are the two main penguin species that live on the island, although emperors are sometimes seen as well.
Afterwards, the boat brought us back to Estacion Haberton, Tierra del Fuego's oldest farm, which was founded in the mid-1800s. Located on the mainland on the north side of the Beagle Channel, the pastoral scenery includes drop dead gorgeous rolling hills of colorful flowers, well-tended gardens and adorable farm animals. The Estancia also offers tours, a delicious tea room, and the Acatushun Marine Museum, which focuses on dolphins, whales, birds, sea lions and other marine species native to the region. The highlight for me was to learn that inside of their very large body seals actually have two separate legs!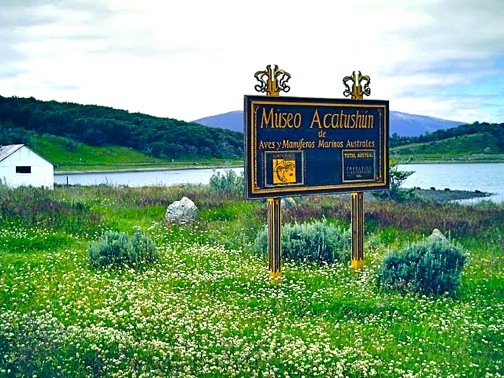 Ushuaia is a small bustling city with fishing, farming, natural gas, and of course tourism as its primary industries. The first and most notable sight that sticks out is the beached wooden ship in Ushuaia Harbor. An old tugboat runs aground the Martial Glacier, which is perched just a couple of miles from downtown. The glacier is reached by a gorgeous chair lift that not only gives breathtaking views of the mountains, but of the city as well.
The Beagle Channel, which separates Argentina and Chile, plays a major role in tourism due to the fresh products it provides to local restaurants. Our most memorable meal was at local favorite Kaupe, which was relatively expensive for the area but worth every penny. The Sea Bass cooked and served in paper was out of this world, and even better when paired with a view of the waters from which it came. Together with the evening's special– a heavenly king crab bisque– it was one of the best meals I've ever had.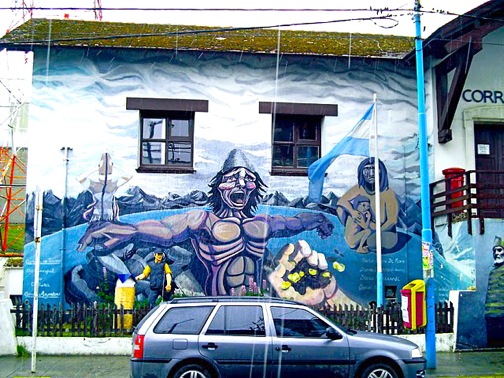 The five days we spent there might be a little long for some people, but the 55º summer days made for a wonderful break from the 90º days we had earlier in the week while visiting the north of Argentina. We strolled through neighborhoods where there were no restaurants on tourist standby, saw beautiful homes, photographed sociopolitical graffiti, toured colorful cemeteries, and met many wonderful people along the way. Although it was a little off the beaten path, I would definitely make the trek again. But next time, I'm going to Antarctica! –Bryan Akers
If you enjoyed reading The End Of The World- Ushuaia, Argentina, you might also like:
Brazil- Recife
Colombia- Cartagena
Galapagos Islands- Isabela & Santiago
Peruvian Amazon- Piranha Fishing