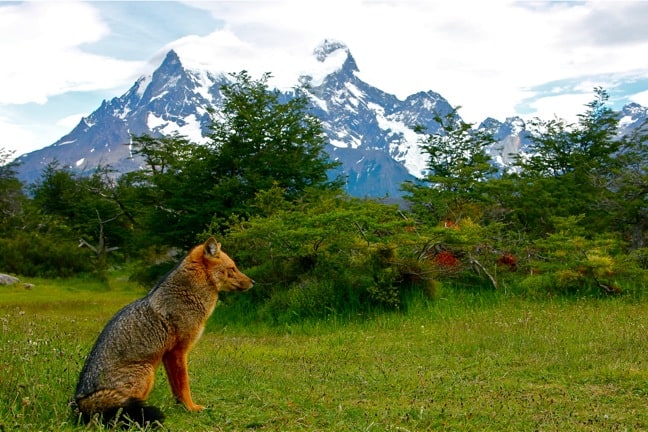 Chilean Wildlife on the Secret Trail to See Prehistoric Paintings
The "Fauna Trail" doesn't appear on any maps of Torres del Paine National Park. In fact, there's really not much of a trail to be found. But, true to its name, there was plenty of Chilean wildlife en route to seeing prehistoric paintings estimated to be between 3,000 and 8,000 years old. Hiking this nonexistent trail to this ancient site ultimately proved to be one of our favorite excursions in Chile with Adventure Life.
Our day both started and ended with a bang. Before we even got to the unmarked trail head, we stopped at a small campground where we could take photos of the famed Paine Massif from the shores of Lake Pehoe. I was so absorbed in the incredible scenery, I didn't notice the gorgeous Red Fox taking a morning siesta underneath the porch of the restaurant behind me. He seemed surprisingly tame, allowing us to get within a few feet and posing handsomely against the mountain backdrop. But the employees acted as if they'd never seen him there before.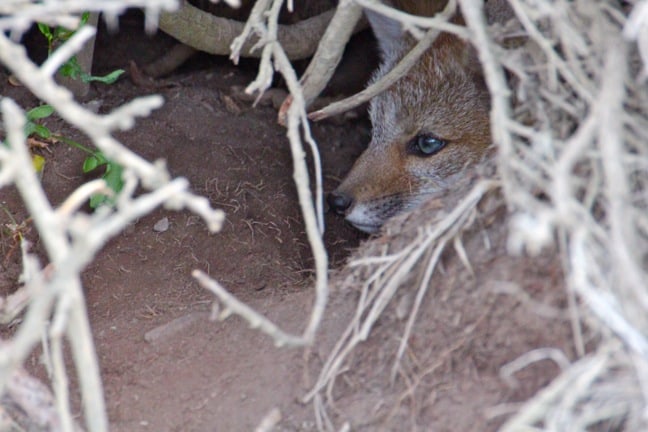 Just up the road, we saw movement in the underbrush to our left, and quickly urged the driver to stop. Suddenly the animal disappeared. Our Patagonia Camp guides, Kris Robles and Matias Escobar, and I fanned out in a perimeter, climbing up the embankment to survey the scrub. But it was Mary, who remained in the road, who spotted the gorgeous baby Grey Fox peering out nervously from its den. It was just the first of many adorable babies we saw that day.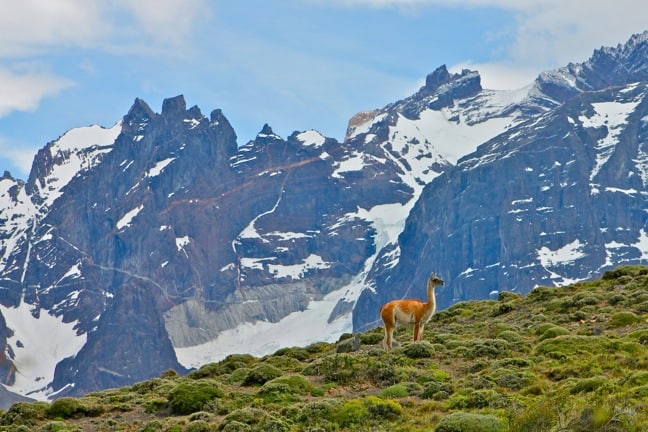 It wasn't long before we rounded the corner and saw our first Guanacos, also known as Patagonian Llamas. With heights that can reach over four feet and weight of up to 200 pounds, Guanacos are among the largest and most abundant of all Chilean wildlife. Their reddish-brown coats stood in striking contrast to the green flora, and their fur is prized for its warmth and soft, woolen feel.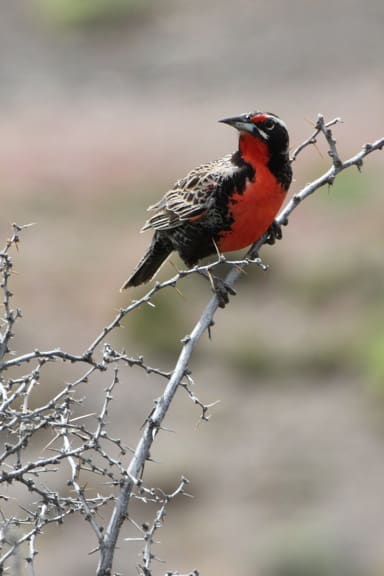 Eventually we reached Porteria Lago Sarmiento, a guard station located on the eastern side of Torres del Paine. We saw very few people on the trail, and those we did see were coming back just as we were leaving, so we basically had it all to ourselves. We began seeing Chilean wildlife immediately, including a few Guanacos grazing in the grass and a colorful Long-Tailed Meadowlark that watched us closely from the branches of a vicious-looking thorn bush.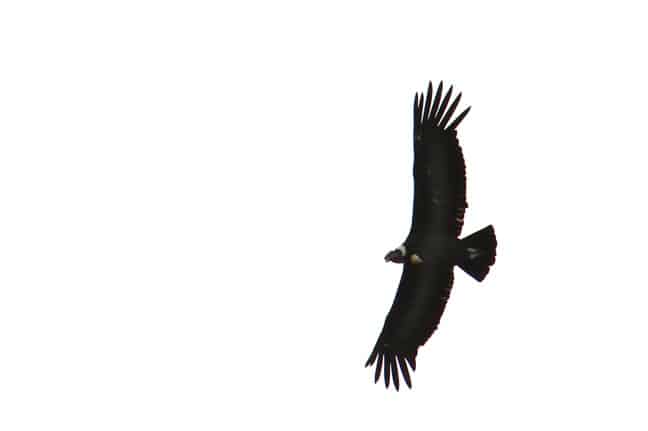 The Circle of Life was in full effect here. We saw numerous ribcages, skulls and other remains of Guanacos of various sizes. Predatory birds such as Caracaras and Andean Condors are regularly seen in the area, but Kris and Matias assured us that they're primarily opportunistic scavengers looking for an easy meal. It's the Pumas the Guanacos have to watch out for. We never saw them, but Kris showed us photos of two she saw the previous day.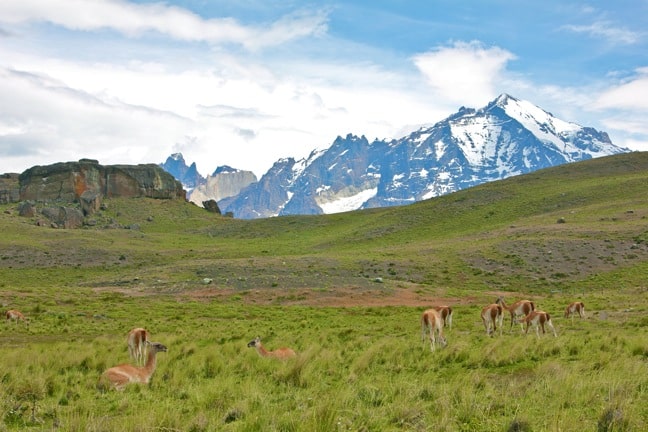 After following along the fence line for a while, we deviated from the path and set off across the open plain. The elevation climbed gradually and the wind blew fairly gently, making for a really nice late morning hike. Eventually we crested a hill to see Torres del Paine revealed in all its splendor, with a herd of Guanacos grazing peacefully in the foreground. Most herds are small, with around 10 females, a dominant male, and their young.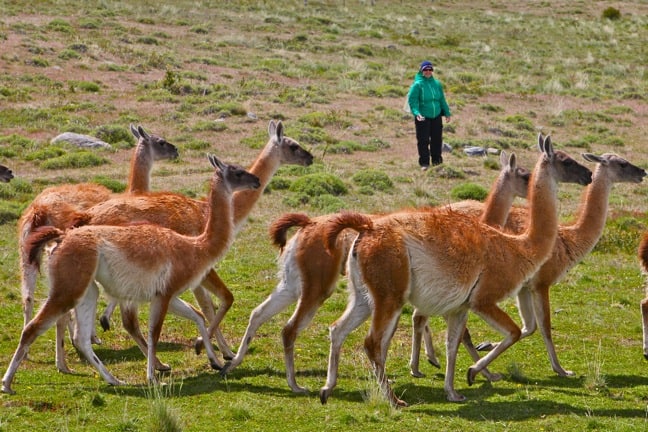 I sometimes wonder what the guides we travel with must think of me and my wildlife photography techniques (which I'll be sharing in a future post). Kris and Matias patiently waited while I slowly, surely crept my way into the heart of the Guanaco herd, crouching to make myself look small and lying on my back to get the perfect shot. Eventually I got to within 10 feet, staying on my toes in case I got chased (like I did by a camel in Jordan). Instead, they simply walked away.
Eventually we hiked up a ridge to a rocky outcropping, where we found a small cave. You'd never know it was there if you didn't have a guide (which is intentional, to ensure the Prehistoric Paintings won't be vandalized). According to Kris and Matias, this image was painted with a mixture of iron dust and animal blood, and served as a message to hunters that there were predators in the area. Perhaps not so coincidentally, we saw (and smelled) ample evidence of pumas nearby.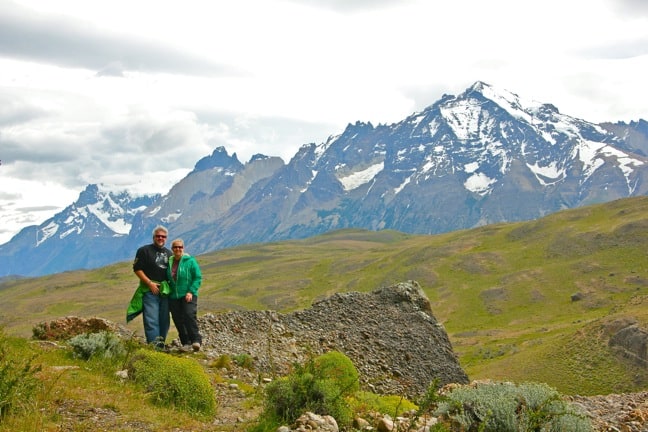 In addition to the cave paintings, the summit provided excellent, expansive views of Torres del Paine, as well as Laguna Los Flamencos. We spent quite a bit of time there, enjoying a snack and some hot tea while watching a pair of male Guanacos chasing each other across the hillside.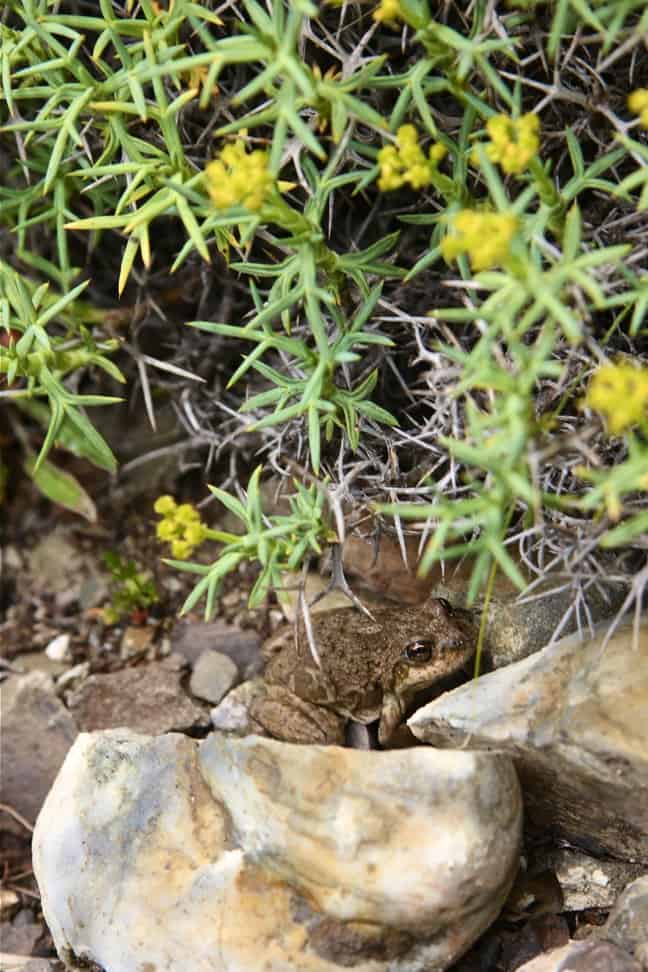 When it comes to animals, some people only like the cute ones, while others prefer the dangerous predators. While we enjoyed searching for Torres del Paine's "Big 5" (Guanacos, Pumas, Red Foxes, Grey Foxes & Huemul deer), we were equally enamored with smaller Chilean wildlife species. I loved this Austral Frog, which I spotted while sneaking around the corner from the cave to answer Nature's call. And I wasn't the only one: I think Matias got more excited by this little guy than he was by the foxes!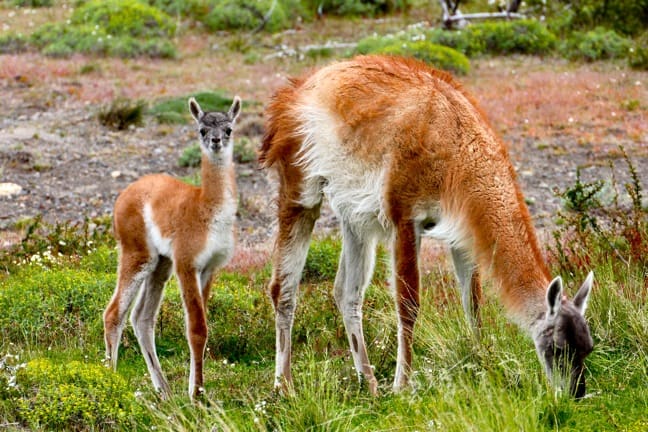 Weather is notoriously unpredictable in Patagonia: It's said that you can experience all four seasons in one day. So, as storm clouds began to sweep in over the mountains and the wind picked up, we began making our way back down the trail. In our absence, an even larger herd had assembled around the small watering hole, and I'm fairly certain I elicited a decidedly unmanly squeal when I saw there were baby Guanacos in their midst!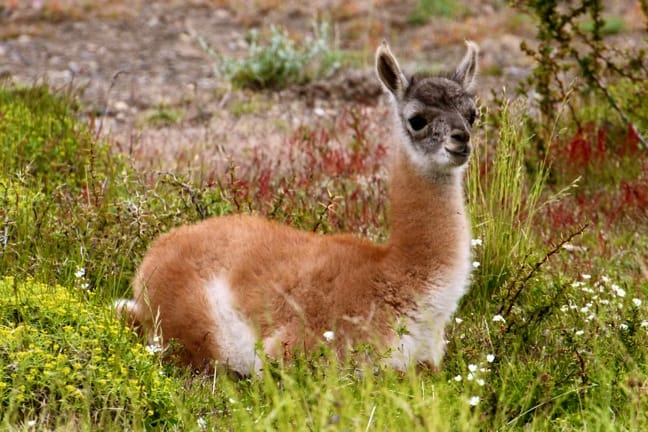 Kris assured us that this little cutie could not possibly be more than 3 days old, as she had hiked the Fauna Trail a few days earlier and hadn't seen any babies. Though the herd was watchful, they were far from skittish, so we were able to get remarkably close without scaring them away as long as we moved slowly. We probably took at least 40-50 shots of this beauty before hunger urged us to head back.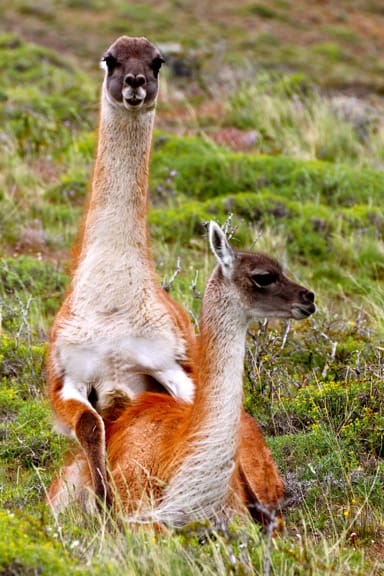 Just when we thought the excitement was over, we rounded a corner and got a decidedly more adult sort of show. Our guides had explained that the male Guanaco protects his herd by standing watch on top of a hill, where he can watch for predators. But this handsome lad was quickly distracted when a young filly pranced nearby. December (when we visited) is prime Guanaco mating season, and soon these two were going at it like newlyweds listening to a Marvin Gaye marathon.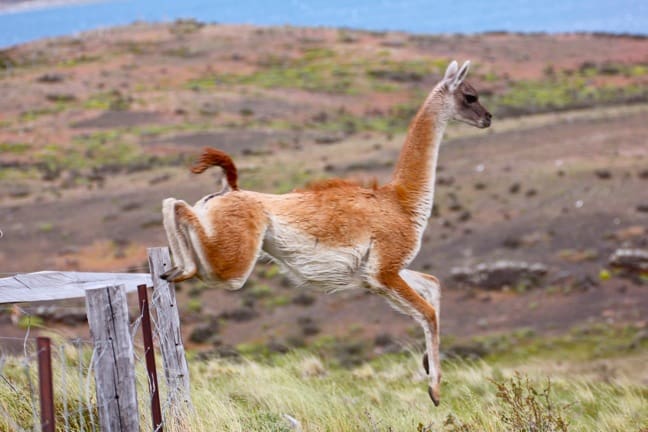 This was no mere quickie: The couple would mate for a few minutes, then run to another spot and assume a different position. But eventually the female had had enough, making her escape and leaping gracefully over the low fence that divided private land from public. For such a short hike, we saw a diverse array of Chilean wildlife, not to mention a picturesque view of the striking Paine massif. All in all, it was a pretty incredible morning. –by Bret Love, photos by Bret Love & Mary Gabbett
If you enjoyed our story on Chilean Wildlife on the Fauna Trail, you might also like:
CHILE: The Road To Torres Del Paine
ARGENTINA: Top 5 Eco Activities
BRAZIL: Recife, One of World's Top Shark Beaches
COLOMBIA: Cartagena, The Real Emerald City
GALAPAGOS ISLANDS: San Cristobal & Genovesa