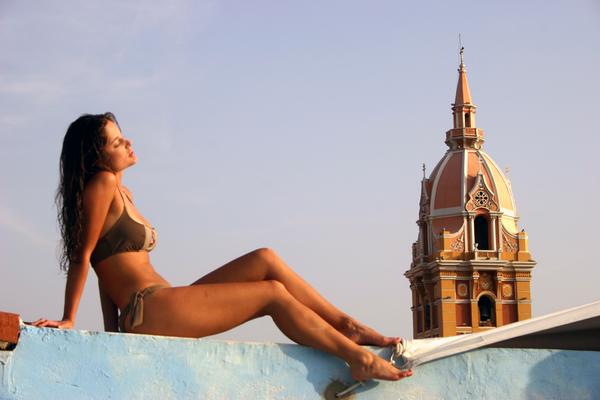 Guide to the Best Attractions in Cartagena Colombia
The REAL Emerald City
"There are three things we are known for," explains our gregarious Cartagena Colombia guide/translator, Jose Villa Rodriguez, when we ask about Cartagena attractions during lunch as he holds up three fingers in front of his knowing smile. "Emeralds, coffee and beautiful women!"
I don't know much about the dazzling green gems patiently polished into stunning earrings, rings and necklaces in the quietly buzzing workroom at Joyeria Caribe—the city of Cartagena's most esteemed jewelry manufacturers – but I can certainly attest to the world-class quality of the latter two features.
My buddy DeMarco Williams and I flew into Cartagena, knowing precious little about the city aside from what we could find on Wikipedia. The reasons for this seem to be twofold: For one, the Internet has not yet developed into quite the phenomenon in South America that it is in the United States and, perhaps consequently, American travelers have not yet discovered what an amazing city this historic portal to the South American continent truly is.
Properly known as Cartagena des Indias (to distinguish it from the Spanish city after which it was named), this bustling seaport on Colombia's northern coast was founded in 1533 by Pedro de Heredia and quickly emerged as a major hub of commerce and transportation in the early Spanish settlement of the Americas.
After legendary pirates such as Martín Cote and Francis Drake began to plunder the prosperous city, in the early 17th century the Spanish crown approved the construction of numerous fortresses and approximately 11km of walls surrounding Cartagena. Beginning in 1606, the construction took over 200 years, and the impressive results were named a UNESCO World Heritage Site in 1984 and remain among Cartagena's most impressive sights.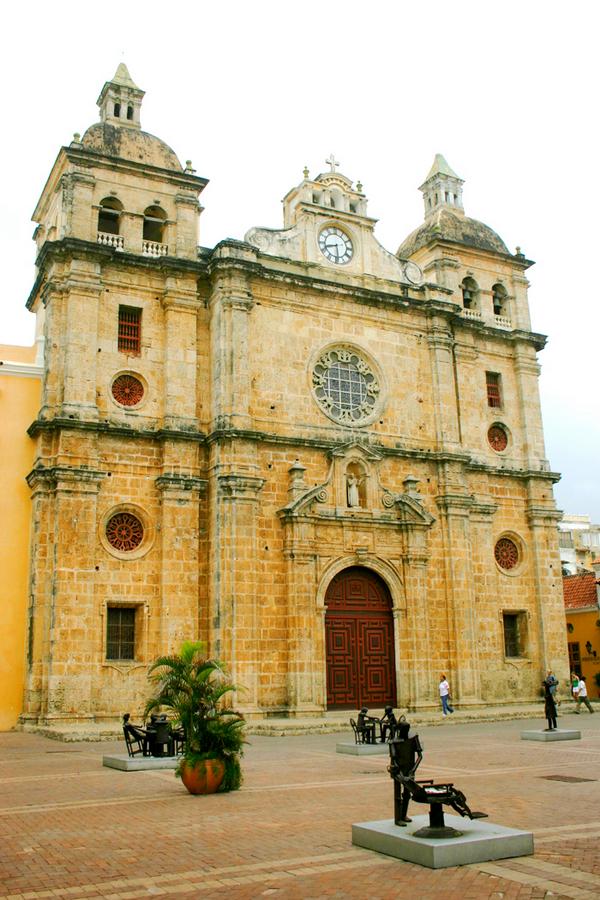 But the truth is, the entire city is practically bursting with history, as we realized almost immediately after our arrival at La Passion, a stunning new boutique bed and breakfast set in a 19th century Spanish mansion. Located in the heart of the Walled City just a few blocks from the Caribbean Sea, La Passion's password-protected doors, intimacy (there are less than 10 guest rooms) and amenities such as breakfast served beside the gorgeous rooftop pool made it the perfect headquarters for our explorations, with almost every historically significant landmark within walking distance.
Which proved to be a good thing, as the narrow streets are often too congested for even the tiny local taxis to proceed at more than a snail's pace. As we strolled along, vendors hawking everything from jewelry and artwork to T-shirts and sunglasses, street mimes looking to make a quick buck, fruit and vegetable carts, students hanging out between classes at the local university and the aforementioned beautiful women all vied for our attention, as strains of cumbia, champeta and salsa music streamed from the surrounding shops. But it's the gorgeous republican, Italian and colonial-style architecture of the Old City's buildings that truly make it a wonder to behold.
From simple homes to grand cathedrals, virtually every building in the area is worthy of a picture postcard. There's Teatro Heredia (Heredia Theater), a majestic edifice whose posh interior hosts a variety of concerts and cultural events; Puerta del Reloj (Clock Gate), the official entrance to the downtown Cartagena area, which opens out onto the bustling marketplace of Plaza de los Coches (Square of the Carriages); San Pedro Claver Church, where a priest conducts evening mass while young children feed vast flocks of pigeons in the sculpture-filled square outside; Plaza de Bolivar, where horse-drawn carriages line up in front of a 16th century cathedral; the restored Santa Domingo Church, whose plaza features the sculpture Mujer Reclinada ("Reclining Woman"), a gift from renowned Colombian artist Fernando Botero; and too many others to mention.
Needless to say, by the time we made our way to El Santísimo, a nuevo-Caribbean restaurant featuring innovative cuisine served up in a tropical courtyard lined with folk art, Colombia's intense heat and humidity had combined with a long day of travel and walking to render us completely exhausted. After hungrily scarfing down a scrumptious dinner of salad, fresh seafood and coconut rice (both of which are local specialties), we were too exhausted to even consider exploring Cartagena's notoriously bustling nightlife scene, so we headed back to La Passion to sleep like the dead.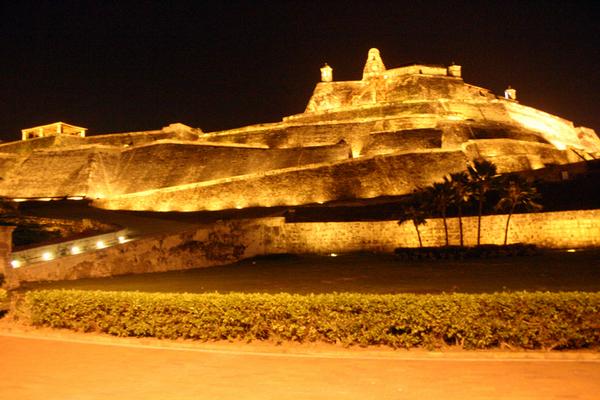 The next morning we were up at dawn for another long day of activities, starting off with a tour of San Felipe de Barajas castle, which was named for King Philip IV. A major trading port for precious metals and slaves, Cartagena was seen as a prize jewel in the Spanish crown, and as we explored the fort Jose recounted grand tales of the illustrious Battle of Cartagena, in which the Spaniards used the sentry boxes, underground tunnels and massive cannons to repel attacks by more than 23,000 British troops.
From there it was off to the Inquisition Palace, which has been turned into a museum featuring all of the original features it had when it was built in 1770. From a stretching rack and stockade to a guillotine and hanging platform, the museum is a haunting reminder of the Spanish Inquisition's fearsome presence in the region from 1610 up until Cartagena's independence in 1811.
Just down the street lies El Museo del Oro Zenú (Zenú Gold Museum), which charts the pre-Colombian history of the region's original inhabitants, who first settled in Colombia over 11,000 years ago. Filled with pottery, musical instruments, textiles and the intricately filigreed gold jewelry for which the Zenú were known, the museum also pays tribute to their remarkably innovative agricultural developments, which included ingenious waterway systems designed to control drainage and irrigation. And don't miss the excellent museum shop next door, Galeria Cano, where collectors can find upscale Colombian art created by local craftsmen.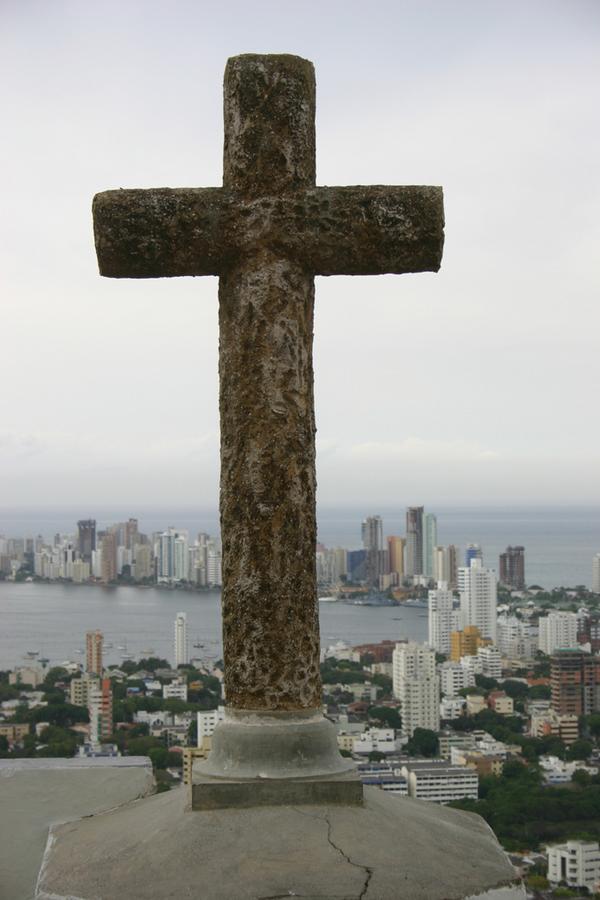 After another delicious lunch during which we guzzled down glasses of chorozo (which tastes like a sweet cranberry) and pineapple juice, we headed up to visit Convento de la Popa, a 400-year-old monastery sitting on a hill 500 feet over Cartagena. Locals walk up the steep hill every morning, past 14 crosses representing the stations of the passion, for mass in the monastery's 21k gold-laden chapel. Making our way through the tranquil inner courtyard, we found ourselves in front of a statue of the Virgin of Cadelaria, who is credited with delivering the city from the ravages of disease and pirates. The spectacular 360º views of the city and Cartagena Bay alone make La Popa an absolute must-see.
As the sun began to set, we made our way to the Plaza de la Aduana (Customs Square) for a sizzling performance by Mapale troupe Afro Columbia, whose pounding tribal rhythms, infectious melodies, colorful costumes and dazzling African-influenced dance moves attracted a massive crowd unaccustomed to seeing these local cultural treasures playing outside of upscale venues like Teatro Heredia. From there it was on to dinner at Club de Pesca, a seaside restaurant where a sultry latin jazz ensemble, strong drinks, fresh fish and great company (courtesy of Jose and our Contactos guide, Esmerelda Martínez) made for an enjoyable end to our extraordinarily full day.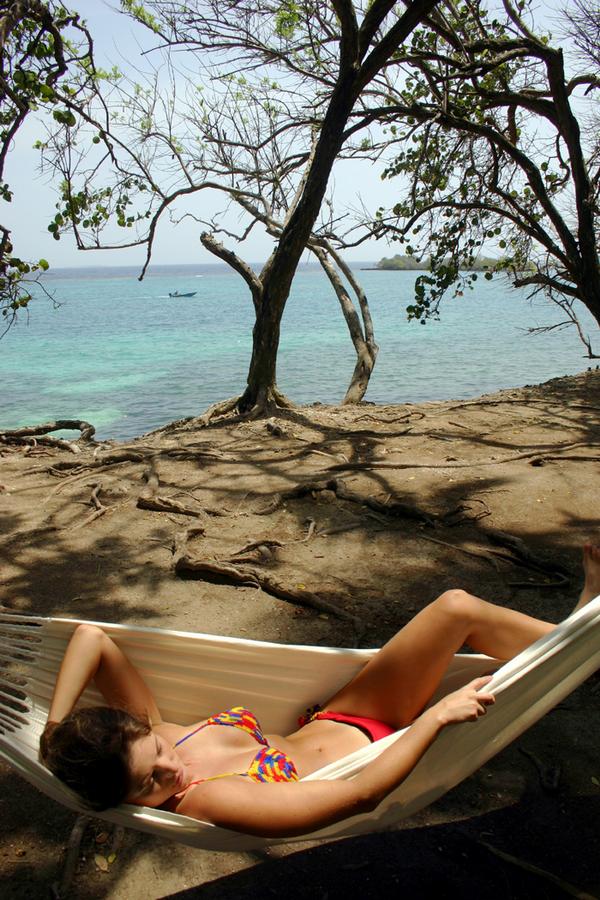 Our last day in Colombia was our favorite, as we left bright and early for a visit to the Rosario Islands. Making a brief stop at Bocachica's San Fernando Fort, strategically placed at the entrance to the bay, we made our way our to Majagua Island, a beautifully unspoiled tropical paradise located 30 minutes off the coast of Cartagena. The small San Pedro de Majagua hotel (where we swore to stay next time) was practically deserted, with two white sand beaches and plenty of hammocks to provide the feeling you were far from civilization.
Our tour included the option of visiting an aquarium, going scuba diving or snorkeling, so we chose the latter option, venturing to an even smaller island, Isla Pavito, with an even smaller resort. Donning masks and flippers, we set out from the rocky beach to find a manmade reef of sunken barrels swarming with tropical fish a mere 20 yards away. Further out, natural coral attracted brilliantly colored parrotfish, puffers and angelfish by the dozens, with water so warm and crystal clear you could see every detail.
Later that night we returned to town to view a different sort of wildlife at Mr. Babilla's Restaurant & Discoteque. Legendary on the local scene, this nightclub was deserted when we arrived for dinner at 9PM, but by the time we'd graduated to drinks it was becoming increasingly packed, and by midnight there were literally people dancing on the tables.
There are a lot of misconceptions about Colombia lingering from its days as one of the world's coca capitals, but Cartagena is a wondrous historical city that deserves all the tourist accolades showered upon European counterparts such as Venice or Prague. The emeralds and the coffee were certainly everything Jose promised, but it's the people and the culture that make it a true undiscovered gem. – Text & Photos by Bret Love
If you enjoyed our guide to the best attractions in Cartagena Colombia, you might also like:
Cartagena Colombia Photo Gallery
GLOBAL CULTURE: The Art of The Caribbean & Latin America
GLOBAL CULTURE: Traditional Music & Dance of the Caribbean