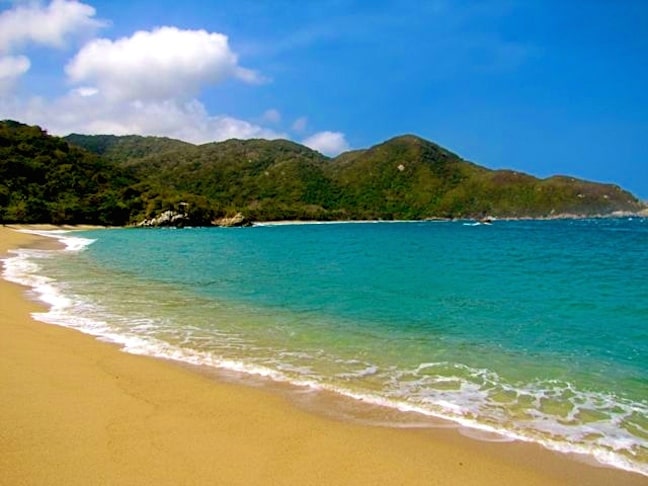 Exploring Tayrona National Park, Colombia
We get off the bus at a remote stop, with just a few shops clustered together in hopes of selling last minute supplies. I look down a road that disappears into a blur of vegetation, and head in that direction. We— my wife Emma and I— arrive before midday because we know we have to hike in. Toting food supplies, a change of clothes and not much else, we disappear into the 58-square mile jungle of Tayrona National Park.
The park is situated in the far northeastern corner of Colombia, about an hour outside the city of Santa Marta. Entering it is literally like stepping away from civilization. At the entrance, passenger vans pick up riders, drive them towards the coast, and drop them off where the road ends. From there, it's an hour-long walk to the nearest accommodation– a choice between camping or, if you're better-funded than us, rustic cabins.
Both of us are giddy as we step from the van. We've been in cities— Cartagena and Santa Marta— for nearly two weeks now. While the sights were great, we yearn to get back to nature. From everything we've read, we know we're in for a treat– a complete retreat from the white noise of traffic, the gray gloom of concrete streets, and crowded sidewalks littered with trinket-hawkers and tourist police. This should be just our sort of place…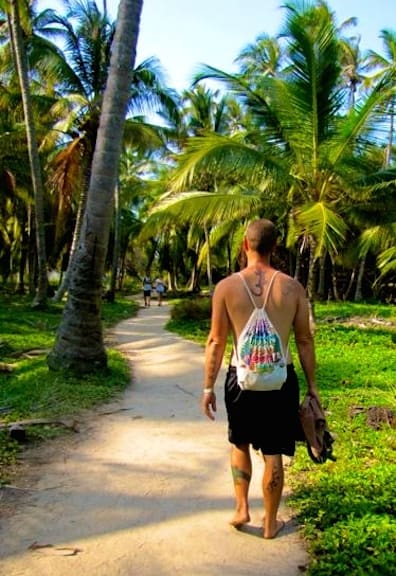 We're not disappointed. Almost immediately we find ourselves on a track through the jungle, meandering along dirt pathways intermingled with wooden platforms and steps, all of it climbing and winding through dense plant life replete with chattering birdcalls, brightly colored feathers and the distant roar of ocean. We lather up a sweat in no time, happy to be clambering atop rocks and amongst trees once again.
Of course, we aren't the first to come here.  Established in 1864, Tayrona National Park has been housing natural and archaeological treasures and preserving indigenous culture for 150 years. The Tayrona tribe, creators of "The Lost City," has inhabited the area around Colombia's Sierra Nevada for over 2000 years. Even now, it's possible— after a considerable hike— to visit Pueblito, a true Tayrona village within the park.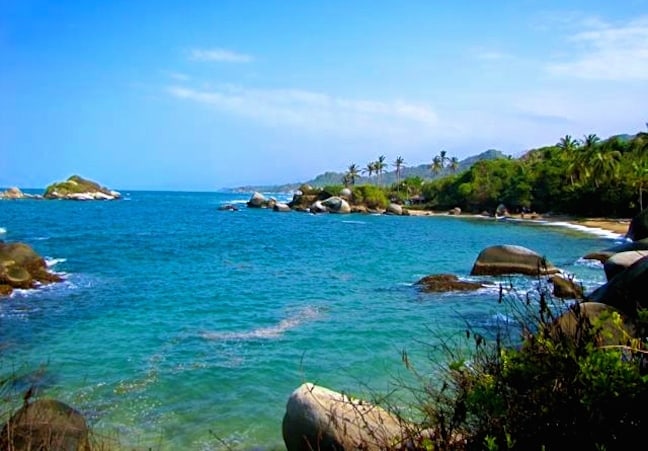 After half an hour, glimpses of the brilliant blue Caribbean flash beyond the foliage. Finally, we crest onto a lookout point that sweeps down to the shoreline.
The sea is dotted with smooth, mossy boulders. The blue empties into the horizon, with nary a boat in sight. Yet somehow, despite a line of hikers headed towards the same handful of accommodation options, we find ourselves alone on a tropical beach in Colombia.
Moments like this, for people like us, inspire bouts of erratic dancing and spontaneous frolicking.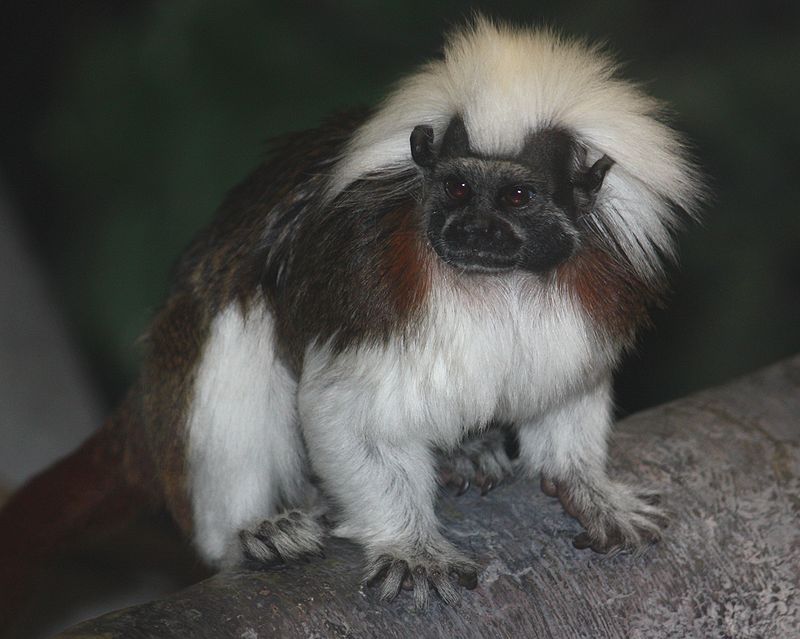 Tayrona National Park is special for a number of reasons. In this relatively small space, there's massive ecological diversity, including arid brush forests, muggy tropical rainforests and elevated cloud forests.
There are several species of monkeys, including the common howler and capuchin and the critically endangered Cotton- Top Tamarin (pictured above). There are also 400 species of birds, puma, deer, over 30 species of reptile, 200 some-odd types of sponges, and on it goes.
But the reason most people end up here is the stunning beaches, on the soft sand of which we are walking, with only the occasional signpost to let us know that there's ultimately somewhere to get to.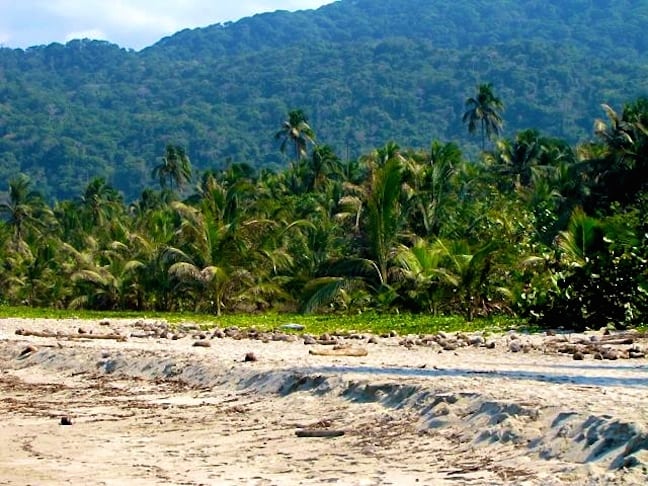 From the beach, the sandy path leads us through thickets of jungle, with brambles, brush and low canopy trees on one side and a high rise of forest on the other. The sea disappears except for the metronome of waves and a rush of wind through the dense greenery around us. Animals scramble as we pass– a scattering of birds, the odd agouti or lizard.
It quickly becomes apparent that our campsite isn't just around the corner. But the promise of an afternoon on one of those beautiful beaches proves inspiration enough to keep pushing.
In Tayrona National Park, accommodations come in various versions of the eco-friendly variety. As per usual, we're traveling on a budget, which has landed us at Don Pedro Camping. There are more upscale glamping options available nearby, such as the cabins at Arrecifes, but most people come here to camp.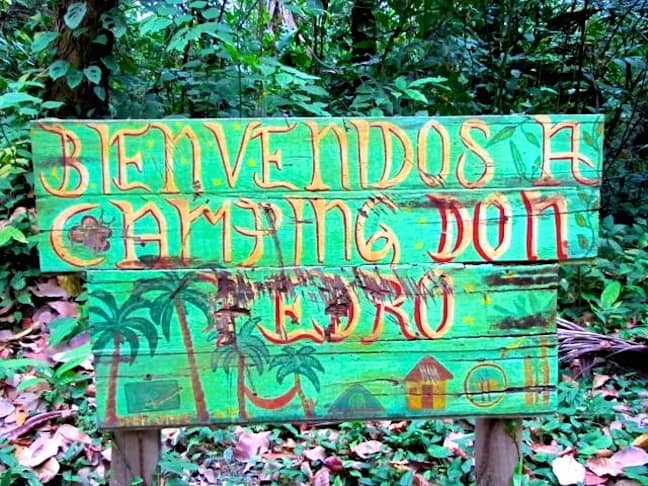 It's no letdown. All of the sites around us are full of coconut and banana trees, and the thick jungle around them remains largely untouched.
We elect to nestle beneath the overhang of one of many citrus trees, including a grapefruit tree that still drops the occasional snack. We get our tent up quickly, stow our things inside, and head out for another shot at those beautiful beaches.
Once we've cleared the campsites, the walk there is on a phenomenal pathway winding through a coconut grove. In twenty minutes or so we've clambered over a sand dune, and we're standing at the water's edge.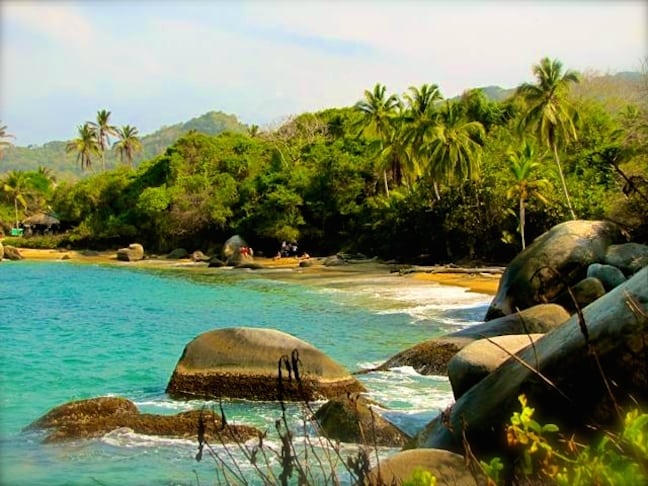 The Caribbean Sea is renowned for its tranquil placidity. But Tayrona lies close to the Atlantic and, on many stretches, the surf crashes too forcefully for swimming safely. This is both a curse (it's hot) and a blessing, leaving large expanses of sand and sea are vacant, without another soul in sight. We walk 15 minutes before reaching an inlet, La Piscina ("The Pool"), where a handful of swimmers have taken up temporary residence.
There are even a couple of wooden food carts here peddling snacks of arepas— thick flatbreads made of cornmeal and stuffed with goodies—and fresh fruits and juices. There's plenty of room (around 95% of the beach) to spread out our sarongs and lounge. But of course the lounging doesn't last: Before long, I'm bobbing up and down in the tide, happy for the cool crispness of the water.
We've arrived! We have three days to soak it all in, to waste time, to be in nature without much else to bother us.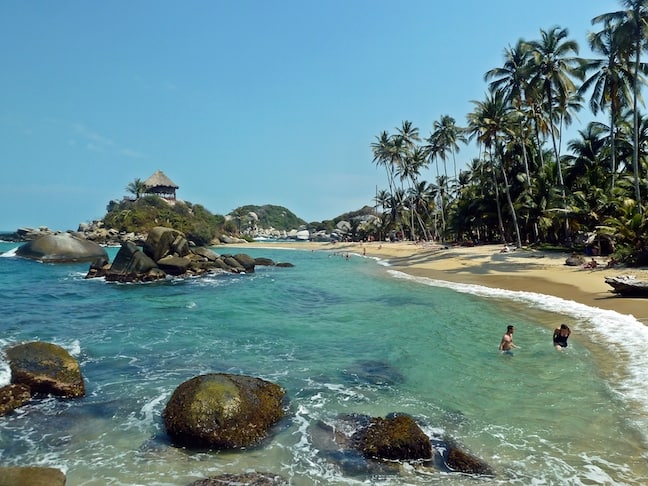 El Cabo San Juan Beach is the premier spot for a day in Tayrona National Park. Its two bays are dissected by a sandy swath of land that leads to a rocky island topped with a beach-lover's dream house.
The water is clear and perfect for paddling around in. There is plenty of space for sunning, but also a good amount of shade produced by encroaching palms. We spend the entire next morning there, swimming and then drying off in the sun before going in again. We explore the beaches further west, each one a little more deserted than the last.
Ultimately, we picnic and nap for a couple of hours in utter isolation on a remote tropical Caribbean beach. Is there anything you can think of that beats that?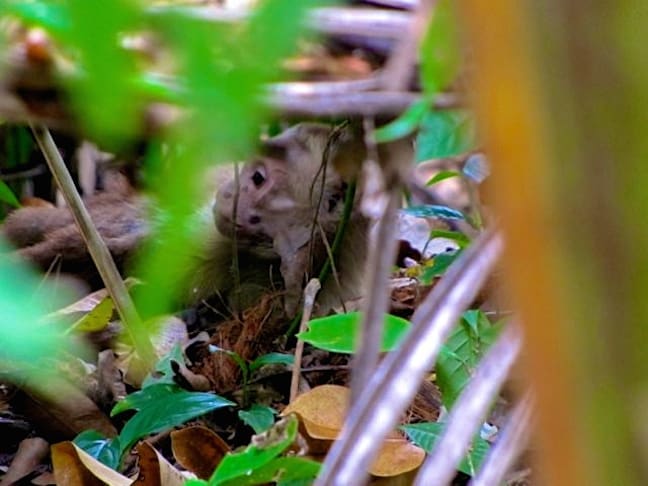 On our way out of the park, the cool air of dawn is still lingering. We retrace our steps from a few days earlier, this time finding an abundance of agouti scampering across the fallen leaves. Every time we spot them, they're gone again, and then  another one appears.
Just as we've nearly cleared the jungle, we join a couple standing at the edge of the path, staring intently into the trees. They point out a capuchin monkey hidden in the underbrush, not 10 meters away. Soon, we spot them everywhere, the trees teeming with tails that lead up to curious faces looking over us. We linger as long as we can, reluctant to leave.
Nothing says you're back in the city like the ricochet of car horns off concrete walls and metal posts, the glistening of broken glass along the roadside reminding you that shoes are, indeed, a necessity here. And don't those weekend bags feel just a tad bit heavier as you sling them over shoulder, looking for a hostel with cheap dorm beds? In the jungles of Tayrona, there were no dorm beds. I miss it already…  –text & photos by Jonathon Engels unless otherwise noted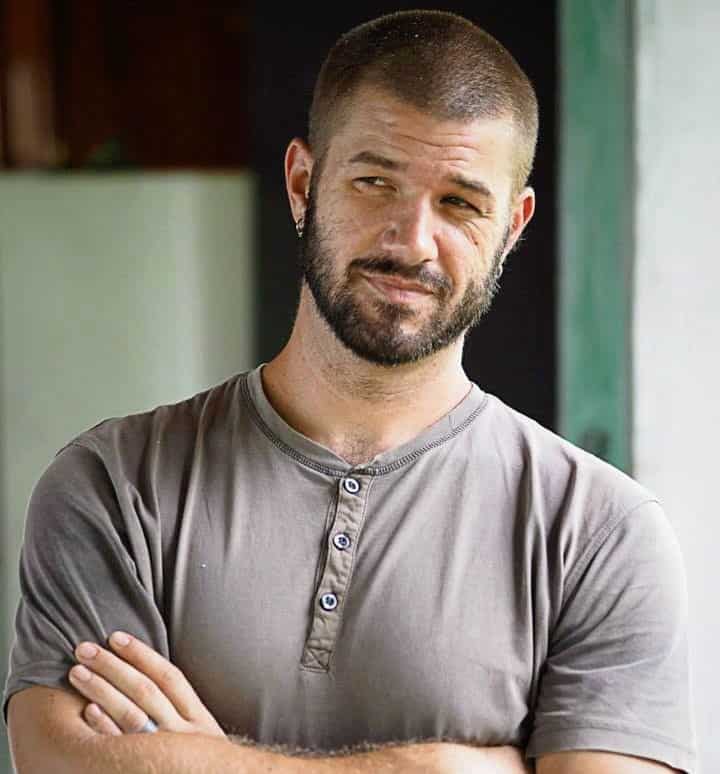 GGT Contributing Writer Jonathon Engels is a traveler, writer and teacher who has been living abroad as an expat since 2005. He has worked in nearly a dozen countries and visited many others in between. Jonathon is currently on a slow travel trip from Central America to Patagonia, volunteering his way throughout the journey. He is a regular contributor to One Green Planet as well as Permaculture News, two other websites focused on helping to keep the world green and clean. He's also the founder of The NGO List, a compilation of grassroots NGOs seeking international volunteers. More of his work can be found at Jonathon Engels: A Life Abroad, and his current whereabouts and goings-on are always available via his personal blog.
If you enjoyed our post on Colombia's Tayrona National Park, you may also like: 
COLOMBIA: Cartagena, The Real Emerald City 
COLOMBIA: Cartagena Photo Gallery
COSTA RICA: Scuba Diving Caño Island
COSTA RICA: The Road to Corcovado National Park
COSTA RICA: Tortuguero National Park
NICARAGUA: Little Corn Island, a Taste of Nicaraguan Nirvana