There are over 10,000 Polynesian islands in the central and southern Pacific Ocean. The region is generally defined as the Polynesian Triangle, which stretches from Hawaii in the north to Easter Island in the east and New Zealand in the west.
The main groups of Polynesian islands include the Cook Islands, French Polynesia, Samoa, Tonga, Tuvalu, and various others.
In addition to their geographical location, these islands are tied together by their similar languages, cultures, and belief systems.
All indigenous Polynesians can trace their prehistoric roots to the Malay Archipelago, migrating by sea from Taiwan to the islands of Southeast Asia sometime between 3000 and 1000 BCE.
As pictured in Disney's hit film Moana, their knowledge of the sea and ability to navigate using only the position of the stars at night is the stuff of legend.
Of course, each of these islands offers its own distinctive pleasures today.
From ancient archaeological relics and historical artifacts from the colonial era to rich traditional Polynesian cultures and stunning natural landscapes packed with unusual flora/fauna, the Polynesian islands are the rare dream destination that truly lives up to all the hyperbole.
Here's our guide to the top 10 Polynesian islands in the Polynesian Triangle every traveler should have on their bucket list:
READ MORE: Hawaiian Mythology (Intro to Hawaiian Gods, Goddesses, & Legends)
Top Polynesian Islands to Visit in the Polynesian Triangle Guide
Apataki (Tuamotu Islands)
Atiu (Cook Islands)
Bora Bora (Tahiti)
Easter Island
Futuna
Henderson (Pitcairns)
Niue (Tonga)
Nuku Hiva (Marquesas)
Pitcairn
Taveuni (Fiji)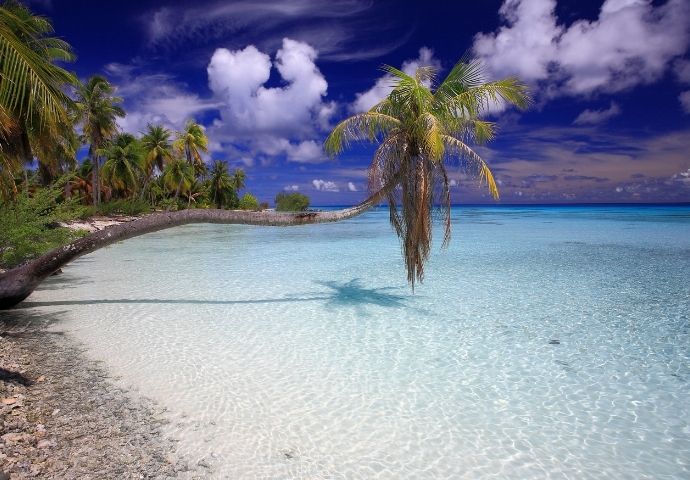 1. Apataki (Tuamotu Islands)
This coral atoll is one of the Palliser Islands, which is a sub-group of the sparsely populated Tuamotu archipelago (at 328 square miles, it's the world's largest chain of atolls).
Located 230 miles northeast of the island of Tahiti, Apataki is tiny, with just eight square miles of land and around 350 residents. It has an airport, but no hotels or tourism industry to speak of.
What makes it incredible for the few small ship cruise passengers who visit the atoll is the remarkably pristine lagoon inside the atoll, which is accessible only by two narrow passes.
The array of coral and marine life inside this protected marine ecosystem is out of this world, making Apataki a little-known gem for snorkelers and responsible Scuba divers.
READ MORE: 20 Best Things to do in Kauai, Hawaii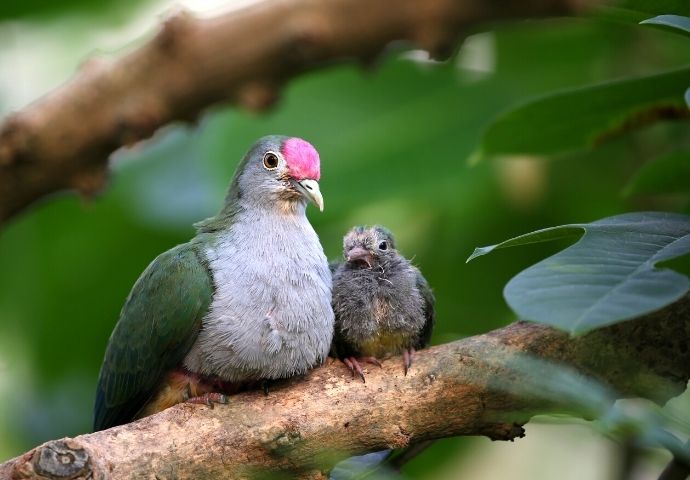 2. Atiu (Cook Islands)
Part of the Cook Islands archipelago, this volcanic island's nickname– Enuamanu, or "land of the birds"– clues you into one of its most popular tourist activities.
Avid avian enthusiasts can spot beautiful Polynesian birds such as the Cook Island Fruit Dove, Kukl's Lorikeet, and Rarotonga Monarch.
But there are plenty of other options as well, including hiking to explore natural caves sculpted by the sea, visiting a coffee plantation (the island produces around 10,000 pounds of roasted beans a year), and diving/snorkeling.
For a special treat, visit a Tumu Nu: This ceremonial celebration dates back to the colonial era of prohibition, and involves drinking, socializing, and the occasional sing-along.
READ MORE: The Best Coffee in the World (A Gourmet's Guide to 30 Types of Coffee)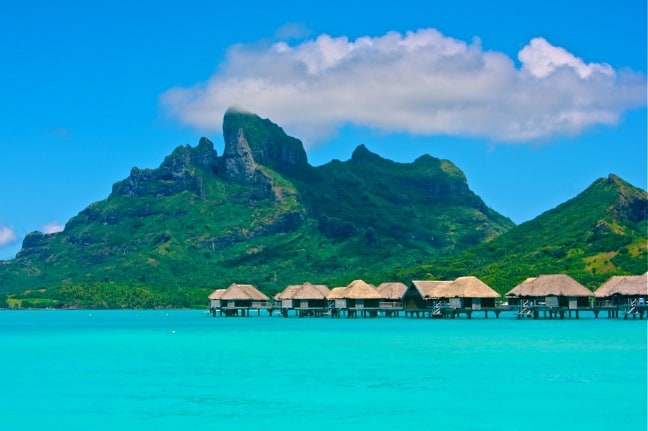 3. Bora Bora (Tahiti in French Polynesia)
This 11 square mile island located 143 miles northwest of Papeete (the capital of French Polynesia) is the epitome of South Pacific luxury.
Its idyllic over-water bungalows are surrounded by stunning natural beauty, from the iconic summits of Mount Pahia and Mount Oetmanu to the brilliant blue hues of the lagoon inside its barrier reef.
The island's interior is lush tropical forest, fragrant with the scent of frangipani and dotted with remnants of the US Military supply base constructed here during World War II.
But its most popular tourist attractions are in the water, where you can dive for black pearls or swim with Black-Tipped Reef Sharks and Stingrays.
READ MORE: 21 Tahiti Photos to Fuel your Exoctic Island Fantasies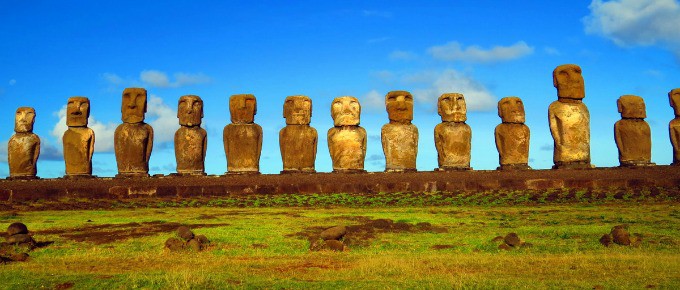 4. Easter Island
One of the world's most remote islands, this UNESCO World Heritage Site in southeastern Polynesia is 1,289 miles from the nearest inhabited island (Pitcairn) and 2,182 miles from the mainland (Chile).
Also known as Rapa Nui, for the island's native inhabitants, Easter Island is most famous for its 887 monumental stone statues, called moai.
Carved in a style reminiscent of Peru's Inca civilization, these mysterious figures loom large over the landscape– particularly at Ahu Tongariki, the largest ceremonial site in Polynesia.
But they're hardly the island's only attraction: From the vast caldera of Rano Kau to the "bird men" petroglyphs of Orongo village, there are plenty of reasons Easter Island should be on every Polynesian traveler's bucket list.
READ MORE: Rapa Nui National Park: Easter Island Facts & Photos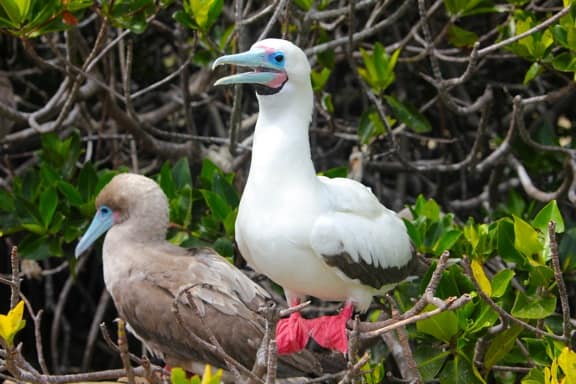 5. Futuna
Part of the French-owned Territory of the Wallis and Futuna Islands, Futuna and neighboring Alofi Island (which is largely uninhabited) comprise the Hoorn Islands.
Futuna, which measures 50 square miles and is home to around 5,000 people, traces its cultural roots to Samoa and has a similar language.
The island's landscape is defined by stunning coastal beaches and the 1,719-foot peak of volcanic Mt. Puke in the center.
The island's other main attractions include the elaborate Church of Pierre Chanel, whose stepped tower was built in memorial of Polynesia's first/only Catholic saint, and birdwatching for species such as Red-footed Boobies, White-collared Kingfishers, and Blue-crowned Lorikeets.
READ MORE: 25 Tallest Mountains in the World by Continent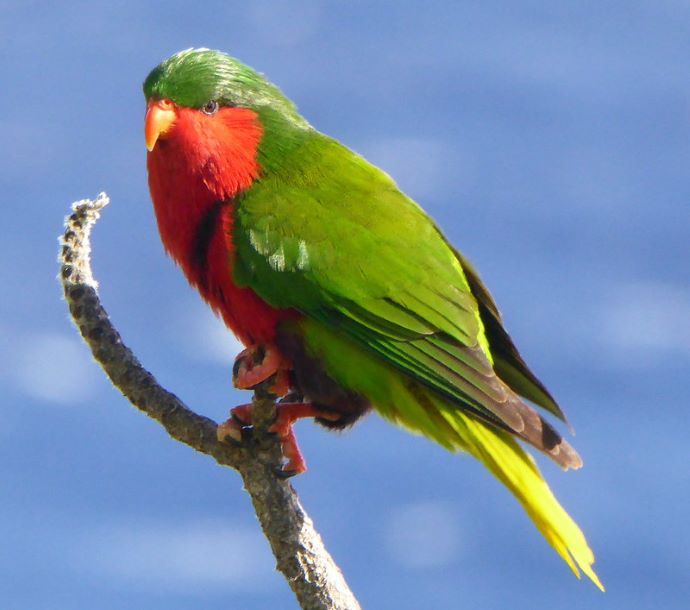 6. Henderson (Pitcairns)
Why would an uninhabited island that measures just 14.4 square miles be on a list of the best exotic islands to visit in Polynesia?
For the same reason Henderson became a UNESCO World Heritage Site in 1988: It's one of the last two coral atolls in the world whose ecosystems remain virtually undisturbed by human contact.
Located 120 miles northeast of Pitcairn Island, Henderson is surrounded by sheer limestone cliffs pockmarked with dramatic blowholes and caves.
It boasts an impressive level of biodiversity for such a small, remote island: 10 of its flowering plants, all four of its land birds, and about a third of its insects and gastropods are endemic.
Keep your eyes peeled for the colorful Henderson Fruit Dove, Henderson Island Crake, and Stephen's Lorikeet.
READ MORE: 40 Fascinating Facts About the Hawaiian Goose (a.k.a. Nene Goose)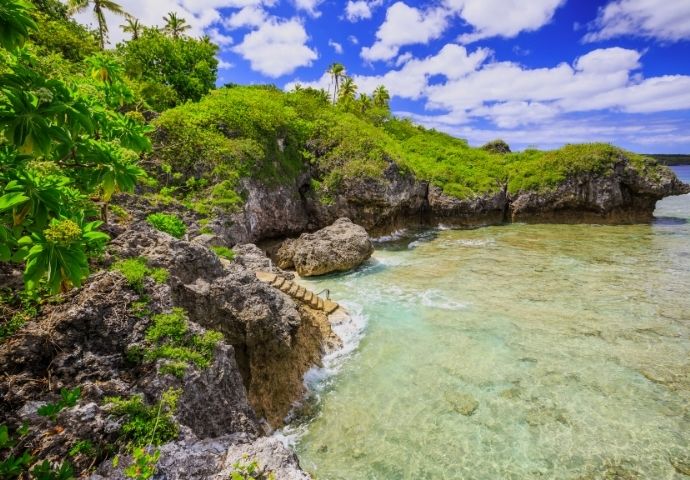 7. Niue (Tonga)
Known as the "Rock of Polynesia," this 100 square mile island is home to around 1,600 residents. All are considered citizens of New Zealand, and around 90% of the Niuean people live in NZ.
Niue is one of the world's largest raised coral atolls, with dramatic terrain made up of steep limestone cliffs and a central plateau rising 200 feet above sea level.
The ovular island is home to extensive sea cave systems, and hiking the pathway of coral to reach them provides stunning views of the brilliant blue waters and the coral reef system that nearly surround Niue.
Snorkeling and diving is the most popular pastime here (look for the harmless Katuali, a flat-tailed sea snake), but avid birders can also hike in search of Banded Rails, Masked Lapwings, and Blue-crowned Lorikeet.
READ MORE: 30 Cool & Weird Ocean Animals Around the World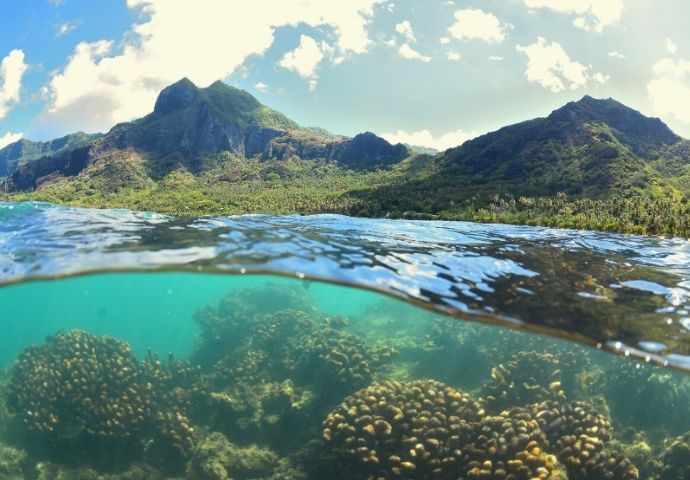 8. Nuku Hiva (Marquesas in French Polynesia)
The second largest island in French Polynesia after Tahiti, this Marquesan hotspot was originally made famous by Herman Melville's 1846 book, Typee: A Peep at Polynesian Life.
It's obviously changed since then, but it's still large (131 square miles) and sparsely populated (2,660 residents).
The landscape is dramatic, with beautiful beaches, shimmering bays, jagged basalt cliffs, dynamic waterfalls, and lush green valleys unspoiled by human development.
There are many archaeological sites for history buffs, including the sacred statues known as tiki, open-air gathering places (tohua), and ancient rock-pile ruins of home foundations (called pae pae).
Hiking, horseback riding, and snorkeling/Scuba diving are all popular activities as well.
READ MORE: 15 Best Kauai Waterfalls (and How to Get to Them)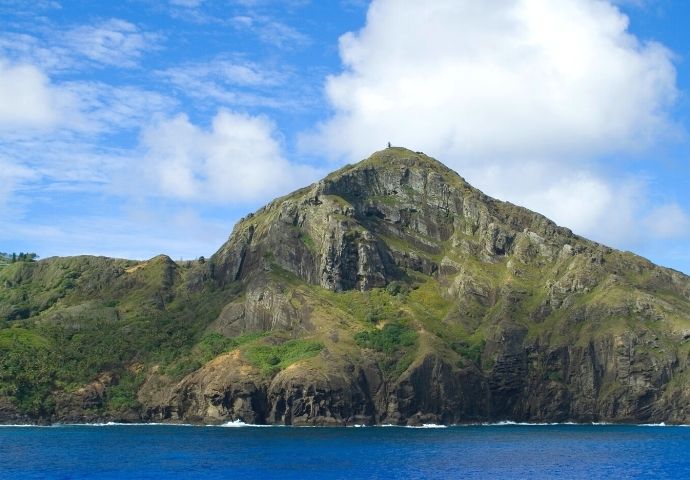 9. Pitcairn Island
One of four volcanic islands (which are collectively known as the Pitcairn Islands) that form the last British Overseas Territory in the Pacific, 2.8-square-mile Pitcairn is best known as the hideout of the HMS Bounty mutineers.
After the crew of the famous Royal Navy vessel set Captain Bligh and his loyalists adrift in 1790, they set fire to the ship.
Nine mutineers and 18 Tahitians settled on Pitcairn, and the 50 welcoming inhabitants of Adamstown today are all their direct descendants.
In addition to historical relics from the Bounty, other Pitcairn attractions include Important Bird Areas that protect the endangered Pitcairn Reed Warbler and a massive Marine Reserve that attracts migrating Humpback Whales.
READ MORE: 20 Best Small Ship Cruises for your World Travel Bucket List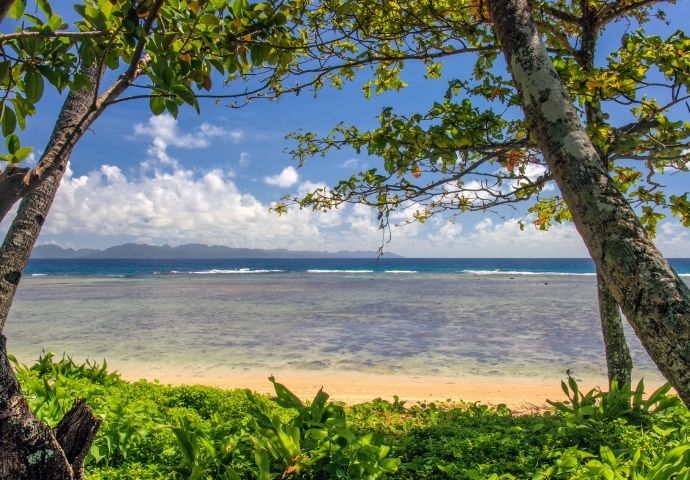 10. Taveuni (Fiji)
There's considerable debate over whether Fiji's 330+ islands are part of Melanesia, Polynesia, or both.
But the archipelago's third-largest island– a 168-square-mile shield volcano that rises 4,072 feet out of the Pacific– makes a great gateway to exploring the South Pacific.
With a population of around 9,000, Taveuni has suffered less development than other parts of Fiji: Its abundant flora led to the nickname "the Garden Island."
From hiking to waterfalls in Bouma National Park and birdwatching in the lush forests to exploring traditional Fijian culture, there's plenty to do on land.
But don't miss a chance to snorkel or Scuba dive to see the area's impressive array of marine life. –by Bret Love