If you've ever dreamed of visiting the island of Bora Bora, this was the sort of day you probably fantasized about.
The sky was such a rich shade of blue, it was almost indigo, with just a smattering of wispy white clouds to provide contrast.
The dreamy watercolors of the island's world-famous lagoon were equally dazzling, and clear enough that you could easily spot a swimming Sea Turtle from a hundred yards away.
Soon our Lagoon Service Bora Bora guide took out his ukulele and began softly strumming a romantic ballad as we slowly motored past pristine white beaches and palm-lined motu (islets) without another soul in sight.
Suddenly I began to understand why Mary had this Polynesian paradise at the top of her World Travel Bucket List for 15+ years.
READ MORE: 21 Tantalizing Tahiti Photos to Fuel Your Fantasies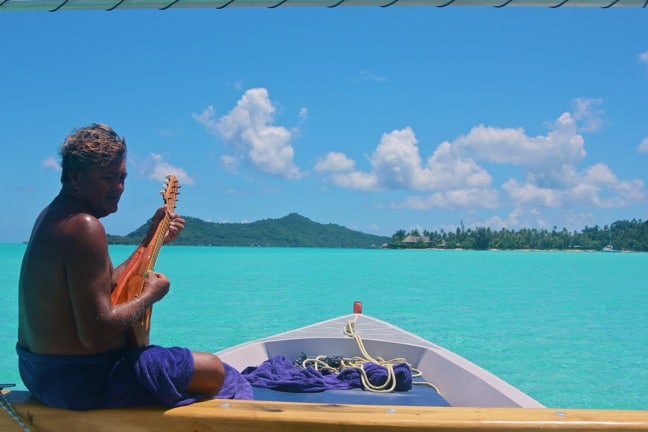 SWIMMING WITH SHARKS
That peaceful easy feeling didn't last long. Although the ride was relaxing and almost absurdly picturesque, we were here for an adventure. Namely, swimming with sharks in the shallow waters off Bora Bora's coast.
We saw the first Blacktip Reef Sharks before our boat had even come to a complete stop.
As the Captain worked to tie us off to an anchored buoy, a half-dozen or so of the 5-foot-long sharks swam in slow circles nearby, along with several Stingrays and a school of yellow-and-black-striped Sergeant Major fish.
Mary and I are such experienced snorkelers, we immediately began swimming around and filming shark close ups.
Our fellow travelers– a quiet older couple, a younger couple, and a high-maintenance family of three from New York (including a 10-year-old who seemed VERY unsure about this whole endeavor)– were still in the process of getting into the water.
READ MORE: Pearl Diving in Bora Bora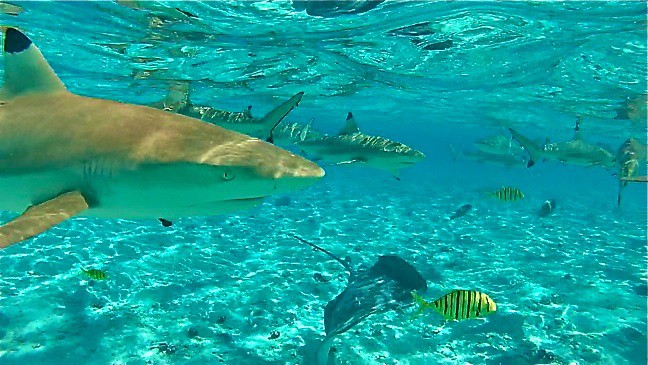 RAMPING UP THE INTENSITY
This wasn't the first time we ever swam with sharks. I took my daughter to swim with Nurse Sharks in the Bahamas back in 2007, the summer she turned six.
Mary and I have snorkeled or gone Scuba diving with reef sharks in the Galapagos Islands, Panama and Caño Island, Costa Rica.
But there was something different about this experience that I couldn't quite put my finger on.
It seemed as if more and more sharks began to show up just after we arrived, until there were literally dozens of them circling all around us. It was a little unnerving, but also exciting.
And while they all started off calm and curious, you could instinctively feel a gradual ramping up of their energy and intensity.
READ MORE: The 10 Best Places to Scuba Dive (World Travel Bucket List)
CHUMMING THE WATERS
Eventually our guide asked everyone to move over to one side of a rope stretched out between two buoys. This seemed odd, especially since the sharks were swimming all around us.
The water where we were was shallow enough for all of us to stand up in. So what was the point of having us stand right by the rope?
As I fumbled to get into position and extend our 6-foot GoPro pole, I saw something flying through the air and landing in the water near the sharks out of the corner of my eye.
They started going BONKERS, swimming back and forth at a feverish pace and bumping into my camera (which, thankfully, was six feet from my body) in their excitement.
I looked back over my shoulder, and it was then that I realized the cause of the commotion: Our guide was throwing dead fish bits into the water!
READ MORE: 40 Green Travel Tips (The Ultimate Guide to Sustainable Travel)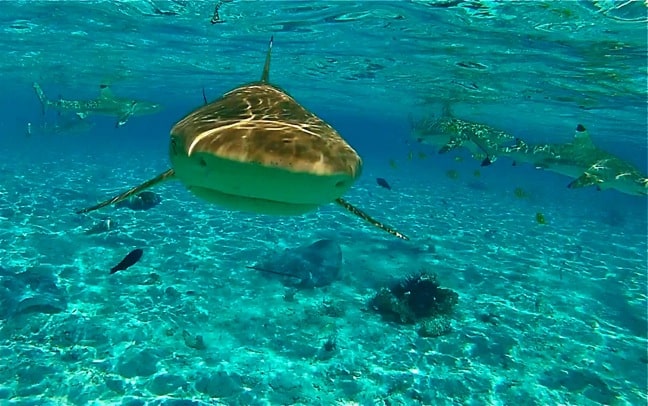 IRRESPONSIBLE TOURISM: HOW TO REACT?
I was shocked, and my feelings were torn. On the one hand, the experience of being so close to a shark feeding frenzy was undoubtedly an adrenaline rush, and I knew the footage we were getting would be amazing.
But on the other hand, after all these years of managing Green Global Travel, I also knew it was wrong on so many levels to feed sharks.
Although reef sharks are generally harmless, feeding them teaches them to associate humans with food. There's always the chance that a tourist could accidentally get bitten by an over-zealous shark in the heat of the moment.
And the tour offered no education about sharks or marine conservation. The focus was simply on the sheer spectacle of it all.
As someone who truly believes in the tenets of ecotourism and responsible travel, I wasn't sure how to react to such irresponsible behavior. Should I let it go? Call them out on the spot? Ask to speak to the head of the company? I was truly torn between action and affability.
READ MORE: 5 Rare Sharks Worth Saving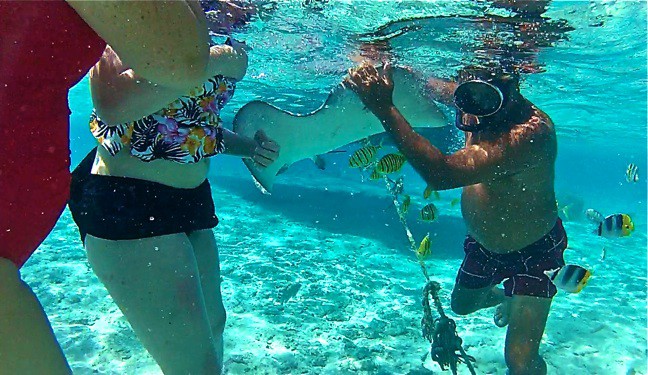 GETTING FROM BAD TO WORSE
I was already feeling more than a little awkward and uncomfortable before our guide began holding small pieces of fish underwater.
He was trying to attract the Stingrays that were swimming around us, just below the Sharks, clearly hoping to get a piece of the chumming action.
The little girl in our group had been screeching in fear off and on throughout the experience. But she began genuinely screaming as the guide pulled a Stingray to the top of the water near her father (on whose shoulders she was currently perched).
Crying unbcontrollably, she begged her father to move away. So he stepped aside and let the other guests pose for photos with the Stingray on their backs.
When it was our turn, we politely declined, but didn't explain why.
READ MORE: 7 Harmful Traditional Practices Tourists Should Never Support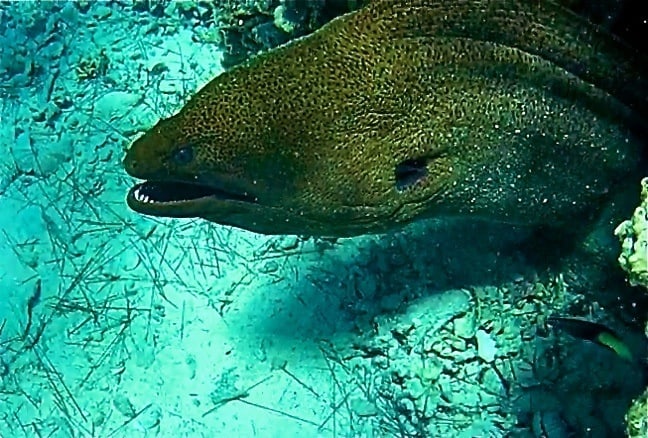 DEFINING RESPONSIBILITY
After a while we began making our way to a nearby coral reef for a second round of snorkeling.
While we were en route, we asked our guide whether they had always handled the rays and fed the sharks in Bora Bora, or if it was done primarily to appease tourists.
"If people pay all this money for a tour and only see one or two sharks, they complain," he explained. "All of our competitors do it, so the tourists expect it. If we don't do it, we won't make any money."
How in the heck do you respond to that? Whose responsibility is it to make sustainable ecotourism choices: The traveler's? The tour operator's? The local government's?
Ultimately, I believe it's a combination of all three. But I also think that we, as travelers, have to start by making smart choices.
By choosing to spend our money on responsible tours and destination, we can put financial pressure on tour operators and government organizations to regulate their tourism industry in a more sustainable fashion.
READ MORE: How to Choose A Responsible Scuba Tour Operator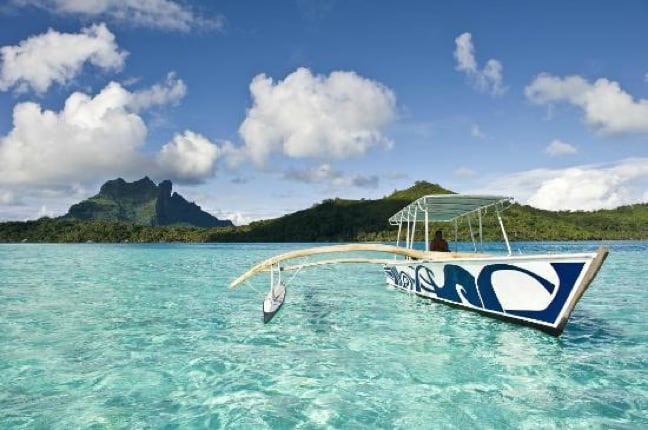 That being said, it's not like I spoke up while the irresponsible behavior was happening. So I'm as guilty as anyone of supporting a business that should show more respect for the environment and help preserve it for future generations.
In the end, I have to confess that we had a great time with Lagoon Service Bora Bora (which also included an amazing lunch on one of the motu), despite the fact that my conscience made me feel guilty for doing so.
I look back on our video footage now and it gets my pulse pounding. I just wish those fond memories weren't tainted by the feeling that I did something that betrayed my core values. –by Bret Love; photos & video by Bret Love & Mary Gabbett (except where otherwise noted)
Our trip to Tahiti was sponsored by Tahiti Tourism. But we will never compromise our obligation to our readers. Our opinions remain our own.
If you enjoyed our post on Swimming With Sharks in Bora Bora, you might also like:
TAHITI: Moorea 4×4 Safari Tour
TAHITI: Ruahatu Marine Sanctuary, Bora Bora
TAHITI: Moorea' Tiki Village Theater