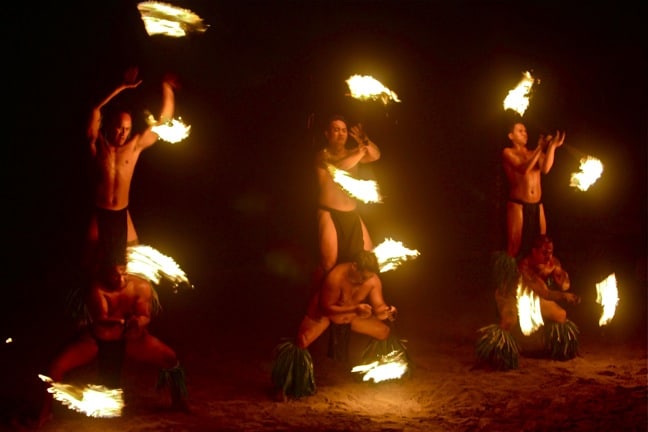 Why the Moorea Tiki Village Theater
is Tahiti's Coolest "Tourist Trap"
We were warned about the Moorea Tiki Village Theater. We were told by an employee at the hotel where we were staying that it was a "tourist trap." They recommended that we should just stay at the hotel and have dinner there, enjoying their Polynesian show instead. Fortunately, we didn't listen.
Don't get me wrong: I was extremely trepidatious when the tour bus pulled up to the entrance. In the dim post-sunset light, you could see that the front of the building was in need of a paint job, one of the letters in the sign was falling, and the musicians serenading us as we were forced to walk through the gift shop to get our tickets made us wonder what sort of Disney-fied hell we'd traveled an hour across the island of Moorea to enter.
My BS spidey-senses were on red alert as we were led into the expansive open-air arena to get tropical welcome drinks at the entrance to yet another gift shop, this one selling jewelry made from Tahiti's famous Black Pearls. I noted the sparse audience of 40-50 people and the unflattering halogen lighting, which reminded me of late nights working on cars with my dad as a teen. I checked my watch, sighed, and prepared myself for a long, hot, humid night.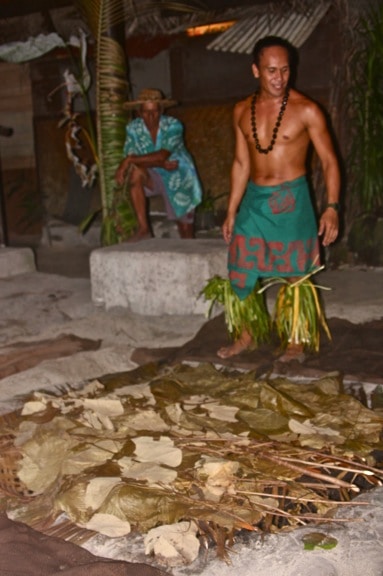 But then a funny thing happened… Actually, a lot of funny things happened. One of the male dancers came out to teach us how to open a coconut, flirting lasciviously with the ladies in the audience (including Mary, to whom he gave a lovely coconut filled with milk), and acting out in Vaudevillian slapstick style with a gracious, grinning audience volunteer who struggled to master the proper coconut technique. The dancers lined up all the women, then the men, teaching us some deceptively difficult dance moves and making us laugh with their proud posturing.
As our handsome host, Teniau "Mata" Timata, escorted us to the earth oven (or umu), dozens more guests began to file in, adding to an international crowd that included Spaniards, Brits, French, Japanese, and an American couple who had gotten married at the Moorea Tiki Village that day. Woven in amongst silly repartee designed to establish more personal connections with the audience, we learned about the construction of the umu, which involves a 3-foot hole dug in the ground, filled with heated porous rocks,and covered with banana leaves.
Traditional dishes such as Poi (mashed taro root), Uru (roasted breadfruit), Chicken Fafa (chicken with taro), and Slow-Roasted Pork were put in to cook for 6-8 hours, with another layer of banana leaves piled on top to seal in the heat. It wasn't even 7PM yet, but the smells that emitted when they opened the umu had our stomachs grumbling like crazy. Still, dinner would have to wait, as it was time for our guided tour of the Tiki Village complex.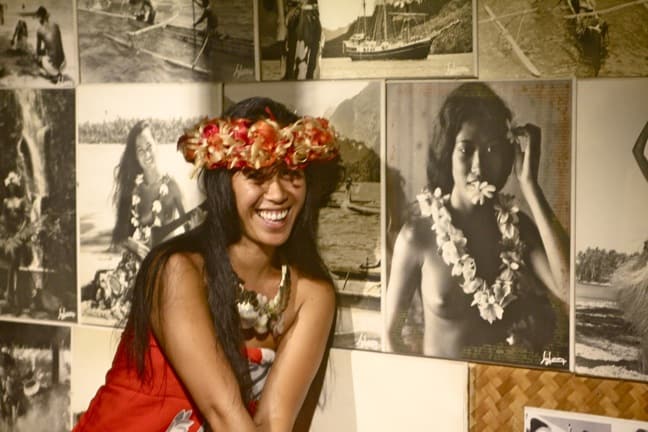 As we walked around, we learned more about the history of the Moorea Tiki Village. The family-owned complex, which featured numerous 2-story buildings with workshops and exhibits on the bottom and private residences on top, was built 26 years ago under the leadership of Maeva Bauteiller as a way to preserve Tahiti's cultural traditions.
By day, the locals live and work in the village, making costumes and drums, giving Polynesian-style tattoos, and teaching guests crafts such as basket-weaving. At various stops along our brief tour, we learned about quilting and traditional instruments such as the ukelele, and viewed an impressive gallery of work by legendary photographer Adolphe Sylvain.
Sylvain, a friend of Marlon Brando, was a French military photographer who fell in love with the islands of Tahiti, and in particular with a local woman named Tehani. They were married and had five children together, and Sylvain launched a career in photography and film that produced many of the iconic images we associate with Tahiti today. It was incredible to learn that, as recently as the ' 60s and ' 70s, travelers came to Moorea by boat, and were greeted by topless Polynesian beauties bearing leis. Sylvain's stunning photos evoked fond memories of that classic era.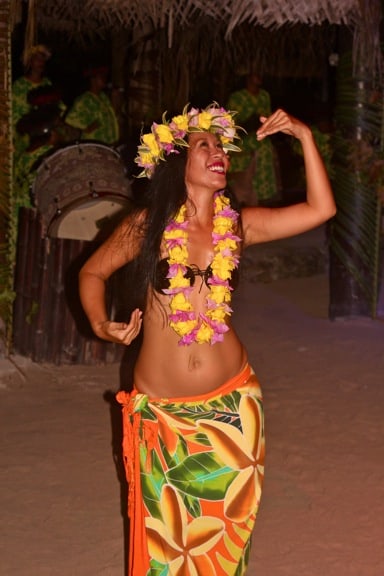 As we lined up for a buffet-style dinner, with a band playing island music in the background and dancers demonstrating approximately 6,000 ways you can tie a sarong, it occurred to me why the hotel employee had recommended we not visit this Tahitian "tourist trap," and why it ultimately proved to be my favorite excursion on the island of Moorea.
In French Polynesia, there's an emphasis on the French aspect of the culture, particularly at the nicer hotels. Though the natural attractions, the ingredients in the food, and the architecture may be Tahitian, the islands' tourism industry is built on upscale French luxury. For a taste of indigenous Polynesian culture– a rich tradition that spread across the Pacific Ocean thousands of years ago– you simply have to leave your hotel.
The food at the Moorea Tiki Village was "typical"– nothing fancy about it– but extremely tasty. The guides and performers were professional, but not excessively polished. Rather than feeling like a "Tahitian World"-style tourist attraction, our visit felt like we were being invited into these people's homes, treated as welcome guests, and introduced to a rich culture and ancient customs that they still hold near and dear to their hearts. We couldn't stop smiling.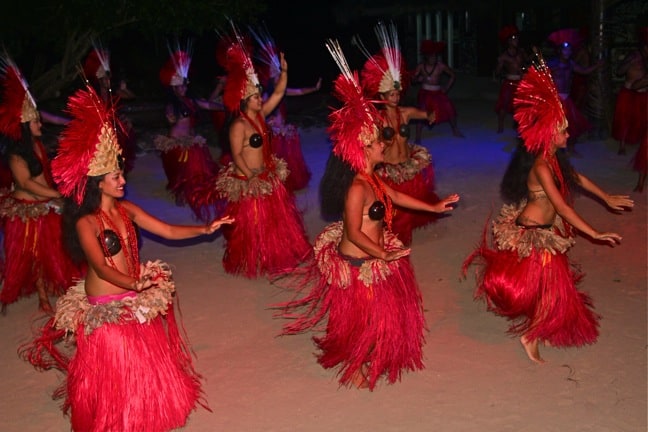 Finally, we filed back into the arena and the Great Tiki Village Machi Show began. The sand-floor stage was transformed by impressive theatrical lighting. The performers, who'd been wearing simple sarongs or Hawaiian-style shirts upon our arrival, had changed into elaborate costumes. When they started singing during their processional to the stage, there were impeccably arranged polyphonic harmonies. I've reviewed (and performed in) hundreds of community theater productions over my lifetime, and it was honestly one of the most impressive shows I've ever seen.
There were nearly 60 singers, dancers and musicians in all, working together to tell the mythical story of Princess Te-Ata, a young woman who became pregnant with the child of a Prince from another tribe. The princess was sent away to a neighboring island via outrigger canoe to have her baby: If she gave birth to a boy, she'd be allowed to return and marry the Prince, uniting their tribes. According to legend, she made the ocean voyage during a terrible storm. Just as the narrator got to this section of the story, brilliant flashes of lightning struck over the ocean behind the stage. I literally had goosebumps running the length of my body.
When the Princess returned to the island with newborn son in tow, the tribes held a jubilant celebration of their union. Thus began a series of musical numbers showcasing a diverse array of Polynesian dance styles, with elaborate tribal costumes worthy of Mardi Gras or Carnival. From the evocative motions of the hula to uptempo gyrations of a more carnal variety, from knee-knocking masculine bravado to a show-stopping fire-spinning routine, each number seemed intent on raising the bar. Eventually the audience was on their feet, clapping and grinning broadly at the spectacle of it all.
Standing on the side to get GoPro footage, I was surprised to be approached by one of the dancers, who took my hand and escorted me onto the stage. For the grand finale, audience volunteers joined the show, putting the dance moves we'd learned earlier in the evening to use. I did my best to hold the camera still while knocking my knees together, spinning, and holding my hands aloft to mirror the gorgeous gals I was dancing with. It was exhausting, but, as you'll see in the video above, it was also a hilariously good time.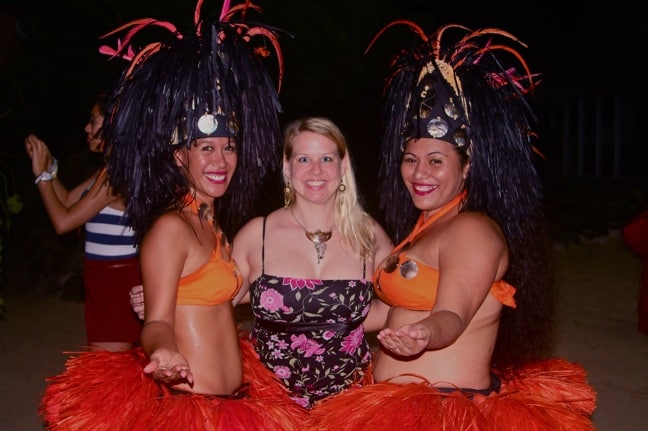 As people caught their breath and posed for photos with the performers, I took a minute to reflect on our incredible evening, and its lesson in not judging a book by its covers. In the end, the Tiki Village Theatre was not a "tourist trap," but a refreshingly honest, interactive experience that reminded us that Tahiti was a Polynesian paradise at least 1500 years before it became colonized by the French.
Tahiti is one of those lush, tropical places where you can have a perfectly wonderful time without ever leaving your hotel. But if you visit Moorea and you don't go to the Tiki Village Theatre, you're missing out. –Bret Love, photos & video by Bret Love & Mary Gabbett
(Note: We visited the Tiki Village Theatre as guests of Tahiti Tourism, but all opinions are our own and are never swayed by the hospitality of our hosts.)
If you enjoyed reading about the Moorea Tiki Village Theatre, you might also like:

TAHITI: Our First Impressions of the Islands of Tahiti
HAWAII: Exploring Hawaii's Big Island
HAWAII: Hawaiian Mythology
10 Exotic Islands For Your World Travel Bucket List
GLOBAL CULTURE: Why I Love The Ukelele