Here at Green Global Travel, we like to put an emphasis on the green aspect by finding lots of little ways to make life more sustainable. Recycled Christmas cards crafts are a great way to reuse a common holiday-related waste product.
Some 2 billion Christmas cards are sent each year in the U.S. alone, and the vast majority of these end up in the dump.
Of course one of the most important aspects of this mission is reducing waste.
With Christmas fast approaching, we want to help by providing ways to reduce waste created by this increasingly commercialized holiday.
"Reduce, Reuse, Recycle," has been a popular mantra of the environmentally conscious movement since the 1970s. This popular phrase is a literal order of priorities in terms of how we can live a more eco-friendly lifestyle.
To reduce your carbon footprint, you should first try to reduce the waste you produce. This can be done by purchasing less stuff.
Next you should try to reuse what you have already bought once its initial purpose has run its course. This is what we will be focusing on in this article.
Recycling should generally be used only as a last resort, because it still produces more waste than reducing and reusing.
It's also a really fun Christmas craft for kids, not to mention an excellent way to teach young ones about the importance of lower our consumption and waste by reusing what we can!
READ MORE: 30 Recycled Christmas Decorations & DIY Christmas Crafts to Make
Recycled Christmas Card Decorations
One of the most popular ways to reuse old Christmas cards is to make recycled Christmas decorations.
It's surprisingly easy to use those cards of Christmas past to make new, eco-friendly Christmas décor that can spread holiday cheer throughout your home.
Or you can give these recycled decorations as gifts for friends and family, which can reduce the amount of things you have to buy (The Lorax would approve!).
From ornaments to advent calendars, these are just a few of the creative recycled decoration ideas ideas we've seen to recycle Xmas cards.
READ MORE: 20 Fun Christmas Eve Traditions Around the World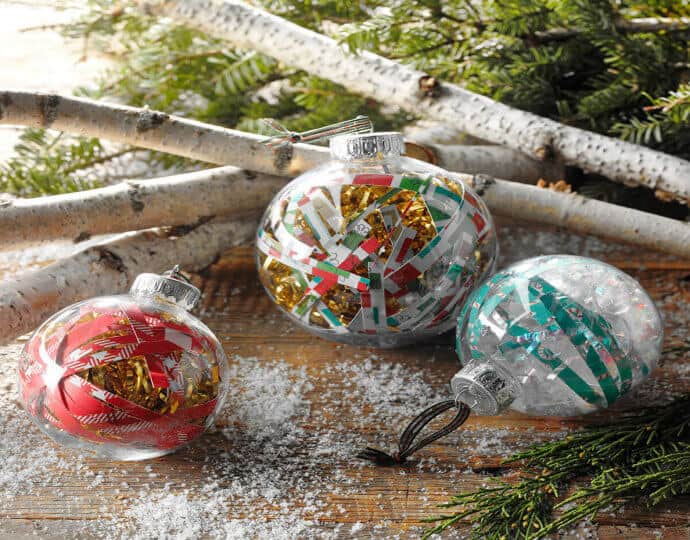 Shredded Christmas Card Ornament
If you have an abundance of Christmas cards from years past, you can make this colorful touch of xmas décor fairly quickly. Here's what you do:
Take clear or lightly tinted glass ball ornaments (preferably that you already have), and open the tops.
Take your old Christmas cards and cut them into thin strips. (You can also add in bits of old Christmas wrapping or tissue paper!)
Fill the ornament with your most colroful recycled Xmas card strips.
Now you have some new festive, environmentally friendly Xmas ornaments! This idea was inspired by Taste of Home.
READ MORE: 80 Christmas Traditions Around the World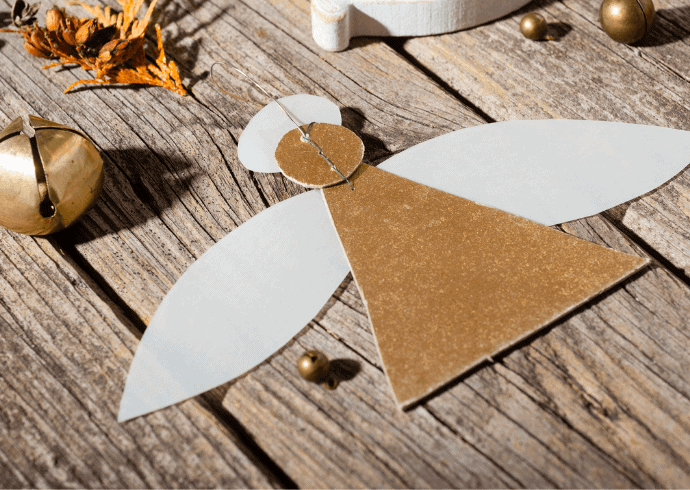 Recycled Christmas Card Ornaments
Here's an even easier way kids can make new ornaments out of recycled Xmas cards.
You can simply cut out the designs and shapes that are already on the cards. Or you can cut out unique shapes and designs of your own, like angels, snowflakes, or a snowman (or woman)!
Gather your Christmas cards.
Cut out the designs on the card, or you can cut out your own unique shapes.
Cut or punch a hole near the top.
Add a ribbon or ornament hanger.
You can also add artful embellishments, like glitter or paint.
Then you can put these DIY, zero waste Christmas ornaments on the tree, adding some personal flare and great family memories you'll treasure for years to come.
READ MORE: 20 Symbols of Christmas: History & Meaning of Christmas Decorations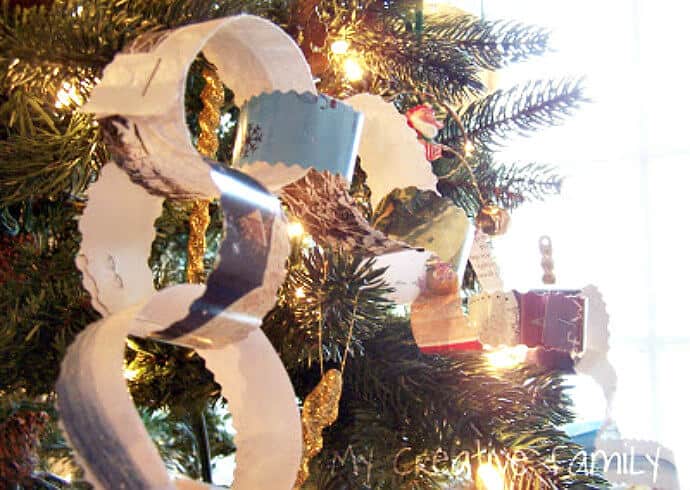 Chain Garland
If you're looking for simple Christmas crafts for kids, making a chain garland decoration is just about the easiest. All you need is old xmas cards, glue/tape/stapler, and scissors.
Take some old holiday cards and cut them into strips about 2-3 inches wide.
Make one of the strips into a circle and glue, tape, or staple it closed.
Take another card strip and put it through the first circle, then make this one into a circle.
Repeat this process until you've made a chain garland long enough to decorate your Christmas tree or fireplace mantle with festive flair.
READ MORE: Real Xmas Trees Vs. Artificial: Which Is Better?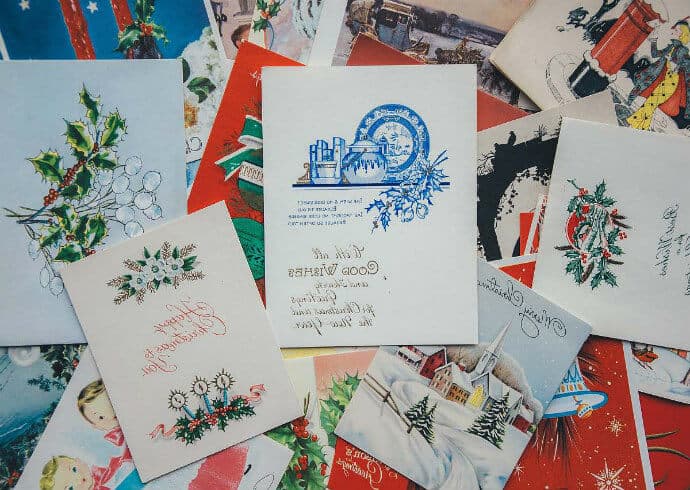 Advent Calendar
This is an activity that will entertain your kids for ages. Not just while they make these DIY recycled Christmas decorations, but also in the days leading up to December 25th.
For this craft, you will need old holiday cards, a sturdy piece of fabric, glue, staples, and ribbon.
Start by cutting out 25 equally sized squares from your holiday cards.
Cut out a large square of a sturdy fabric, such as felt. Make sure it can fit all the squares of Christmas cards on it, with proper spacing.
Next, cut some accent ribbons to separate the rows of Christmas cutouts. Glue these down.
Now you can space and place your Christmas card squares. Staple the top and bottom of the squares to the fabric, so you'll have room for inserting candy or notes.
Next, either cut out or use paint pens to write numbers for the days of December. You can cut these out of your recycled greeting cards and glue them on top of the pockets you've made.
Then just add a ribbon to hang the calendar from, and you're done!
You can slip pieces of chocolate, money, small toys, or notes behind your squares for every day leading up to Christmas. This Christmas craft idea was adapted from a story on Crafty Nest.
READ MORE: Countries that Don't Celebrate Christmas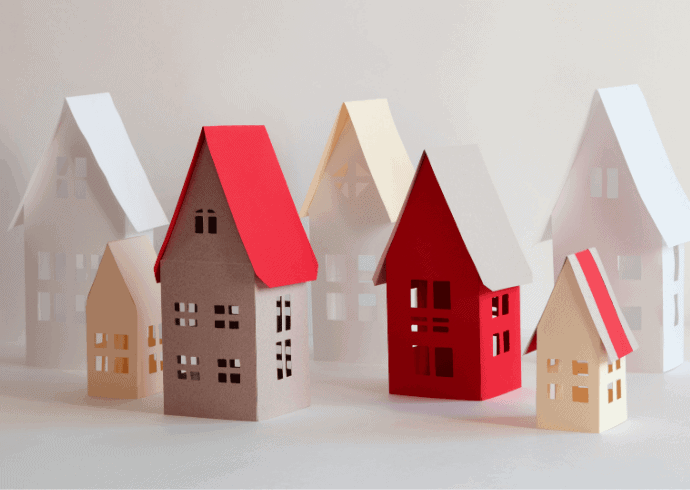 Christmas Card Village
My personal favorite holiday decoration is Christmas villages. These are great DIY Christmas decorations from recycled materials, allowing kids to create their own, less breakable villages.
You're simply going to take used Christmas cards and shape them into little houses, churches, and other buildings.
You can also cut out the shapes of gingerbread men, snowmen, or reindeer to live in your village! Here's the process:
Take an old Christmas card and draw lines on the inside of the card along each edge with the same width. You should get a square outline in each corner.
Cut only the inside lines of the top and bottom.
Flip the card over and put glue on each corner.
Fold these gluey edges in and fold the other edges over.
You can hold these in place with clothespins til they dry.
While the main part of the house is drying, you can find other cards to make your roof. Depending on the size of your building, you could place a whole card on top, or cut the card to the right size.
Add your roof by gluing it on top of the building.
You can either cut out windows and a door before gluing the building together, or make some some using bits of cutout Christmas cards and glue them on.
These little open-back houses are perfect for kids to use their imagination, making up stories for their self-made Christmas town!
READ MORE: The 20 Best Places to Spend Christmas in the USA
Functional Uses for Old Christmas Cards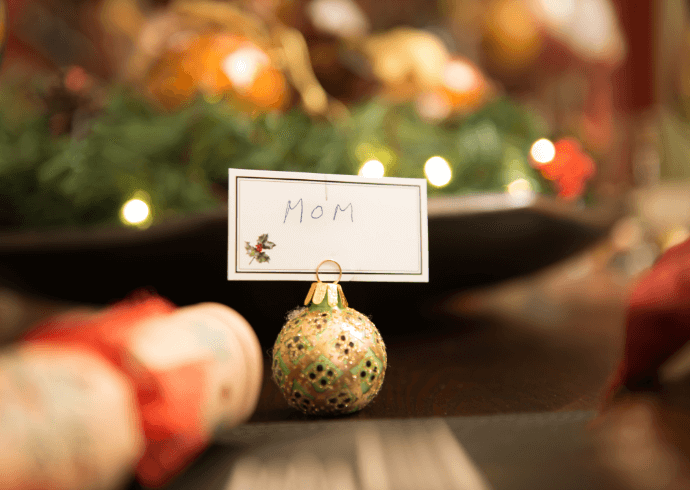 Placeholders for Holiday Dinners
Whether you make them for Christmas dinner this year or a gift for the next year, holiday-themed placeholders are an easy way to make Christmas decorations from recycled materials.
Choose your recycled holiday cards: Using ones given to you in previous years by the guests who are coming to dinner could add a great personal touch!
The placeholders can all come from the same card for uniformity, or from different cards for variety.
Cut along the fold, or fold the card at any place.
Cut out a rectangle of the card around 2 inches wide along the fold.
You can either write the guests' name directly on one side of the card, or find a plain section of the card to cut out and glue to the placeholder to write the names on.
READ MORE: Lebkuchen Recipe (German Christmas Cookies/German Gingerbread)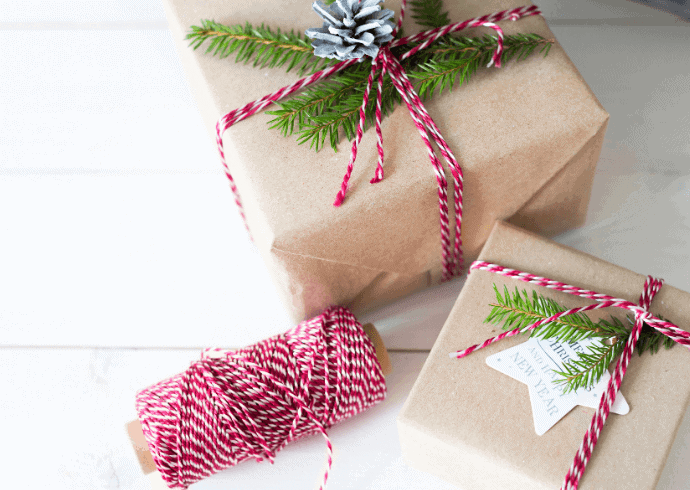 Gift Tags
Another simple but great recycled Christmas craft for reusing old cards is to make them into gift tags. After all, most used Christmas cards already have fun holiday designs on them that make them perfect for adorning your gift package. Here are the basic steps:
Simply gather some old holiday cards.
Cut out designs or words that are already on the cards.
You can also use cookie cutters as a stencil for making your own Christmas-themed shapes, like trees, ornaments, or mittens.
Cut or punch out a hole at the top and add ribbon. Voila! Your recycled holiday cards have taken on a new life!
READ MORE: Best Gifts for Travelers (125+ Travel Gift Ideas)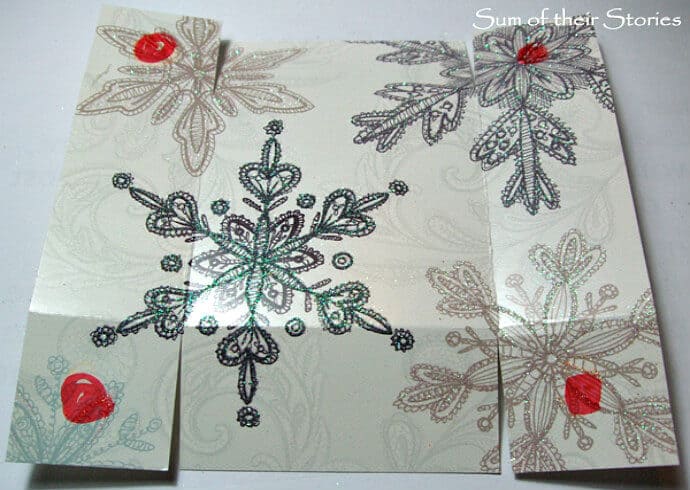 Gift Boxes
Along with gift tags, you can use your recycled Christmas cards for other gift-giving purposes. The method for making these adorable gift boxes is similar to the village craft in the previous section:
Take two old Christmas cards that are roughly the same size. Draw lines on the inside of the card along each edge, with the same width. You will get a square in each corner.
Cut only the inside lines of the top and bottom.
Flip the card over and put glue on each corner.
Fold in the edges with glue on them and fold the dry edges over them. This should make a box top or bottom (you'll want the bottom to be slightly smaller so it can fit inside the top).
Use clothespins to hold in place until dried.
When finished, you should have two halves of a gift box, which together will make a whole. Depending on the dimensions of your cards and width of your lines, the boxes can vary in size.
These unique recycled boxes are easy to make and fun to give. You can also do this for other occasions, such as birthdays, with non-holiday-themed recycled greeting cards.
READ MORE: 40 Fascinating Christmas Traditions in Mexico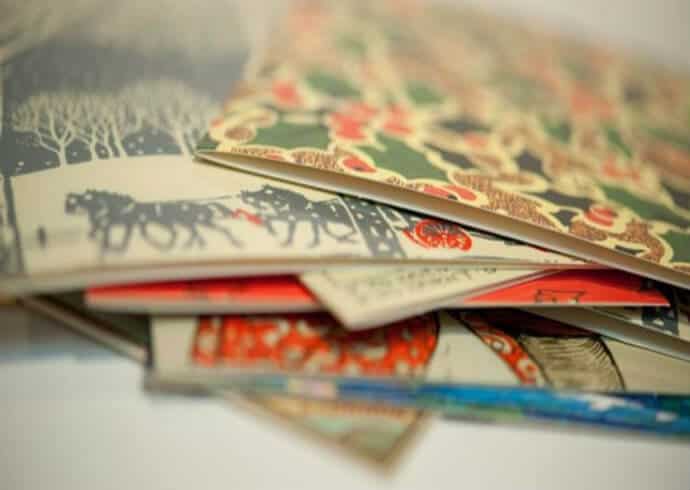 Recycled Greeting Cards
This is one of those "reduce reuse recycle" examples so simple, you'll wonder why you never thought of it before!
Since most people don't sign the inside cover of their Christmas cards, why not spread extra holiday by making it into a holiday postcard?
All you need is used Christmas cards, a pair of scissors, and maybe some extra paper.
Take some old Xmas cards and cut the side with the personal message off.
If the card is blank on the other side, you can simply address it, write your own holiday greeting, and add the proper postage.
If the card has writing on the other side, simply glue the blank side of another card to the back before addressing it.
Now you can give someone else the joy of receiving a Christmas card. These are great Christmas crafts for kids, who can use the cards to write letters to Santa or grandma and grandpa!
READ MORE: The 25 Best Places to Spend Christmas in Europe
Recycled Christmas Card Crafts for the Rest of the Year
These fun ideas can be used any time of the year, not just around Christmas…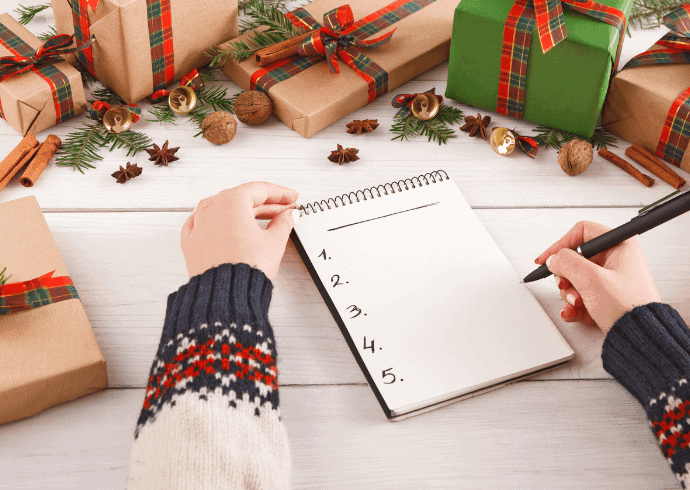 Christmas Wish Box
Using the same method we used to make the recycled card gift boxes above, you can make a Christmas wish box.
Once you have formed the box, just use scissors or a box cutter to cut a little slit in the top.
Your kids can write things they want for Christmas on pieces of paper, or on cut up pieces of old holiday cards. Around Christmastime, you can open the box together and look through their wishes.
READ MORE: 50 Awesome Atlanta Christmas Events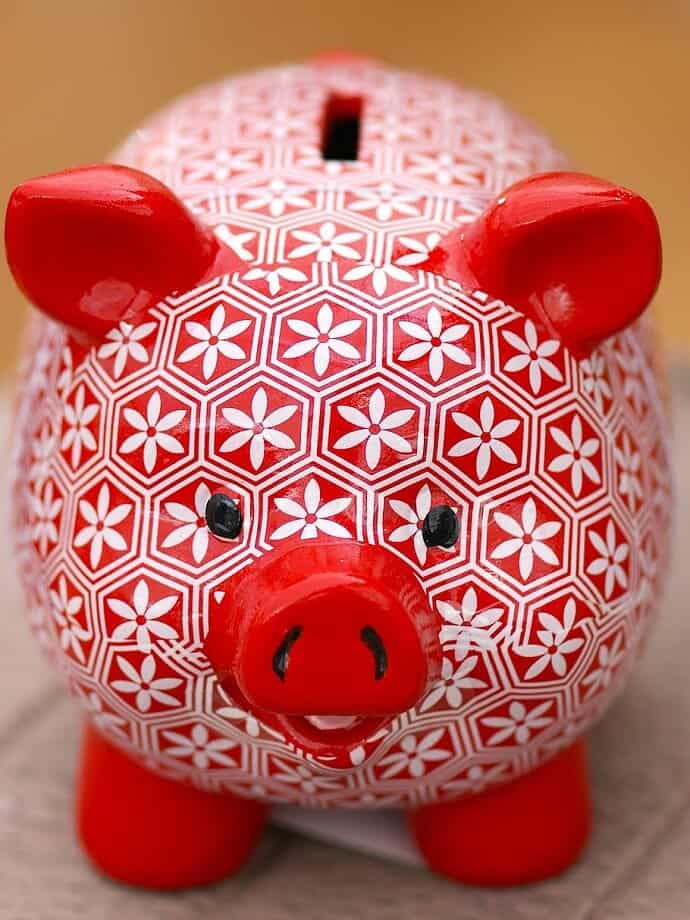 Christmas Piggy Bank
A similar idea is to make a box-shaped "piggy bank" for buying Christmas gifts for other people.
Make the same box out of recycled paper Christmas cards, cut a slit in the top, and have your kids start saving change and small bills over the course of the year.
They might realize that it's just as much fun to buy gifts for other people as it is to receive!
READ MORE: Best Environmental Charities & Animal Charities for Holiday Donations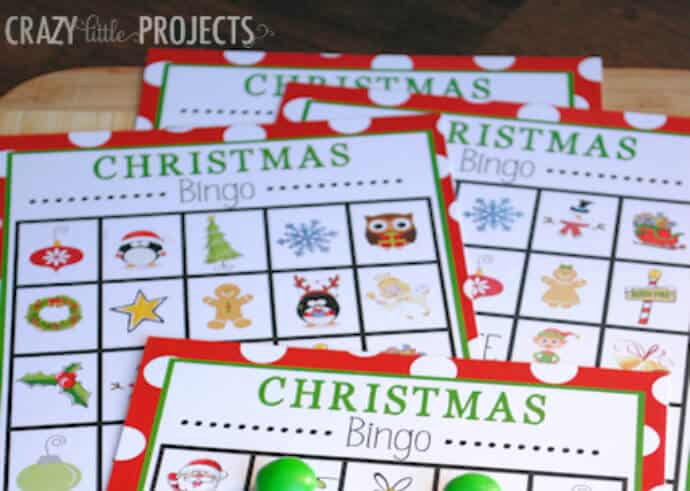 Christmas Bingo
Whenever your family is feeling the Christmas spirit, you can whip this unique game out!
Most used holiday cards have traditional Christmas symbols on them, such as snowmen, snow, Christmas trees, ornaments, Santa, reindeer, gifts, or angels.
You should be able to find enough of the same types of images to make Bingo cards with. You can also make your bingo chips from old Christmas cards.
Take an 8x 10 piece of paper or cardstock.
Use a ruler to make 25 squares, leaving room for the words "Christmas Bingo" at the top.
Find as many different Christmas things as you can on your old xmas cards. If you don't have enough, you can simply fill empty squares with drawings, Christmas colors, or glitter. Just make sure you randomly assign squares to each card!
Cut out random circles or squares of extra cards to make your bingo chips.
Now just write the names of the different objects or colors on slips made from used cards, which someone can draw from as everyone tries to fill in their "BINGO"!
READ MORE: The History & Names for Santa Claus Around the World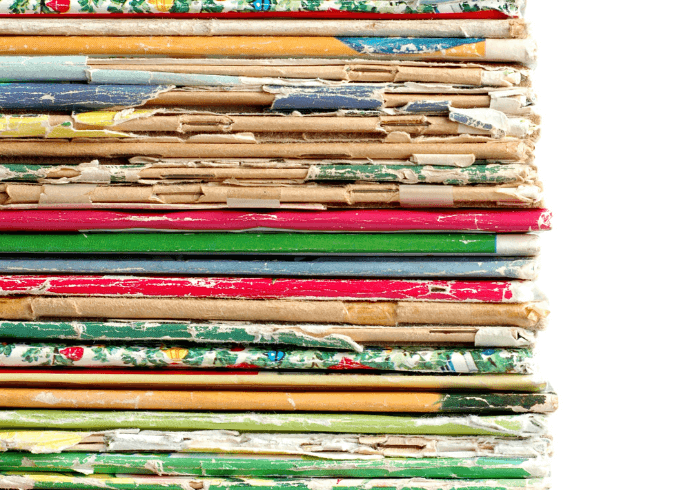 Illustrated Xmas Book
Another great, creative activity for kids is to make an illustrated Christmas book out of your old holiday cards.
You can lay out all your old Christmas cards and let them choose the ones they want to make a story from. Then follow these simple steps:
Have sheets of sturdy paper or cardstock cut to whatever book size desired.
Cut out the images and words wanted.
Glue them onto the cardstock.
Write or illustrate to complete the story.
Staple the edges of the cardstock together.
This children's craft activity will teach them to write a story, and it is something they can then read to you or their friends.
READ MORE: Best Christmas Light Displays in Georgia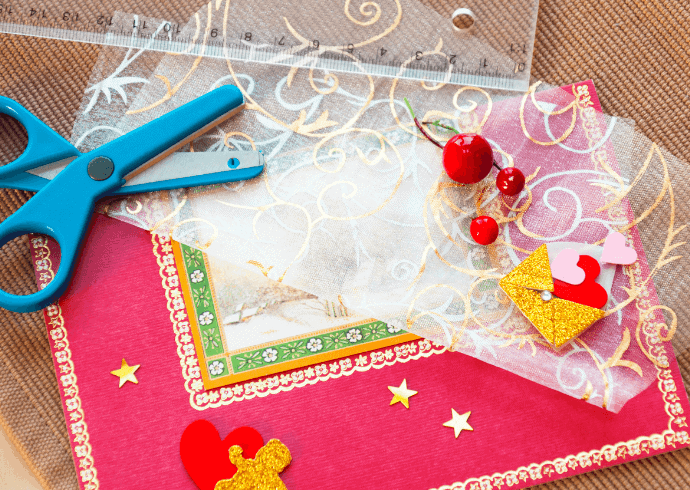 Scrapbook
If you can't bear to part with your old Christmas cards, but you don't want to reuse them for anything, why not try making a scrapbook to showcase them?
It can remind you and your kids who has given them cards over the years. You can include all your family's favorite ones, whether they're sentimental or funny.
Then just add pictures, descriptions, and other mementos to help you remember each Christmas for years to come.
READ MORE: NYC Christmas Window Displays: A Free Walking Tour in New York
Where Can I Recycle My Christmas Cards?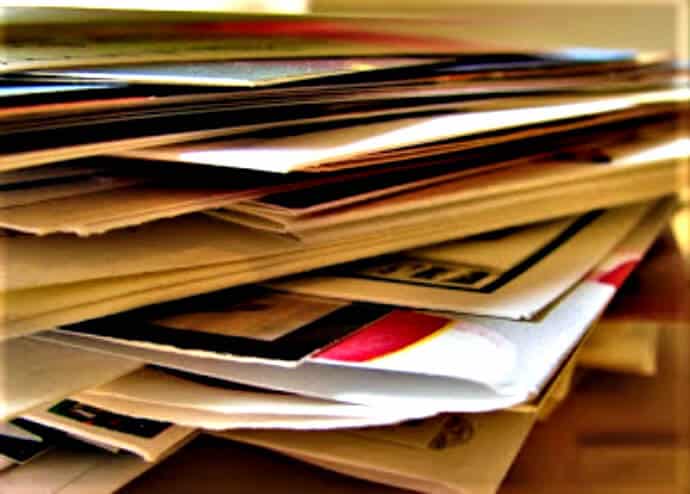 If making Christmas decorations from recycled materials isn't your thing, but you don't want to throw those old cards in the trash, recycling Christmas cards is the way to go.
One option is to donate the cards to St. Jude's Ranch for Children. St. Jude's has been recycling Xmas cards for years, and your donation helps with a great cause.
They use the old cards to provide teens with great life and work skills by creating new cards from them and selling them.
They'll accept the fronts of most used Christmas cards, but they can't take Hallmark, American Greetings, or Disney cards due to copyright issues.
If you can't send them to St. Jude's, but still want to recycle your cards, just check to see if they're simple paper cards or have details like foil, glitter, or beads attached.
If they're just paper, you can recycle them like normal. However, if they have ribbon or other extra details, you cannot recycle them. Get more detailed recycling tips here. –by Grace Bray; lead image via Canva