Winter Adventures in Finnish Lapland:
A Photo Essay
Few places are as magical as Finnish Lapland in winter. The land is covered with a blanket of soft, fluffy snow. The air is crisp and skies are often clear, offering great sunsets and stunning starry skies at night.
Yes, it is cold: Temperatures often plummet below -20. But the scenery and warm, golden light more than make up for it! Not to mention the fact that in Finnish Lapland you'll have the chance to try some activities that are not available anywhere else in Europe.
Here we've selected our 20 favorite pictures from our time in Finnish Lapland. We spent a week in the region in total, dividing our time between two locations. The first was Kemi, a small town on the coast next to the border with Sweden. The second was Salla, a village close to the Russian border in the eastern part of Finland.
It was a week filled with dogsledding, cross country skiing, reindeer sleigh rides, walks in the snow-covered forest and nights huddling in front of the fire, waiting for the northern lights (which we didn't manage to see). But no matter: The frozen scenery, eerie silence and winter lights were enough for Lapland to become one of our favorite travel experiences to date.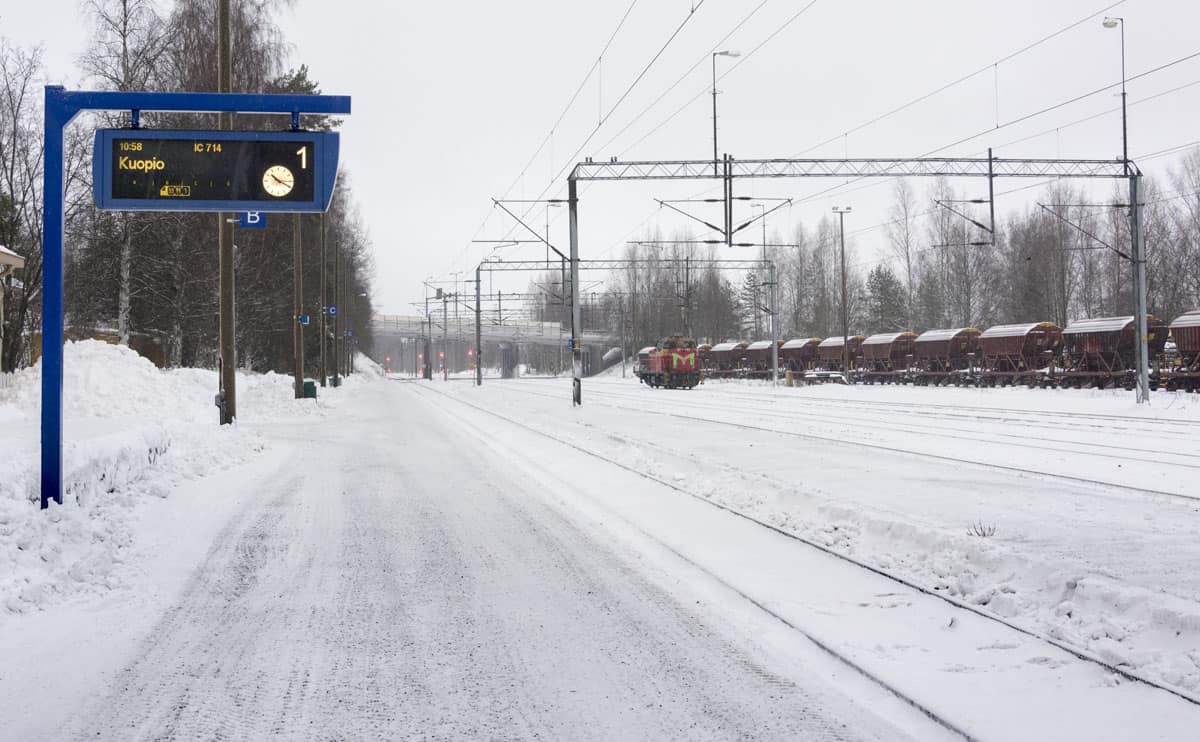 We flew into Helsinki from Italy. Once we arrived in Finland, we decided to travel by train because they're much more eco-friendly and afford greater flexibility. Finnish trains are generally comfortable and reliable, and wi-fi is usually provided for free. We had an Interrail pass, which meant we could hop on and off at will. Unless you're planning to travel at night, reservations are not necessary.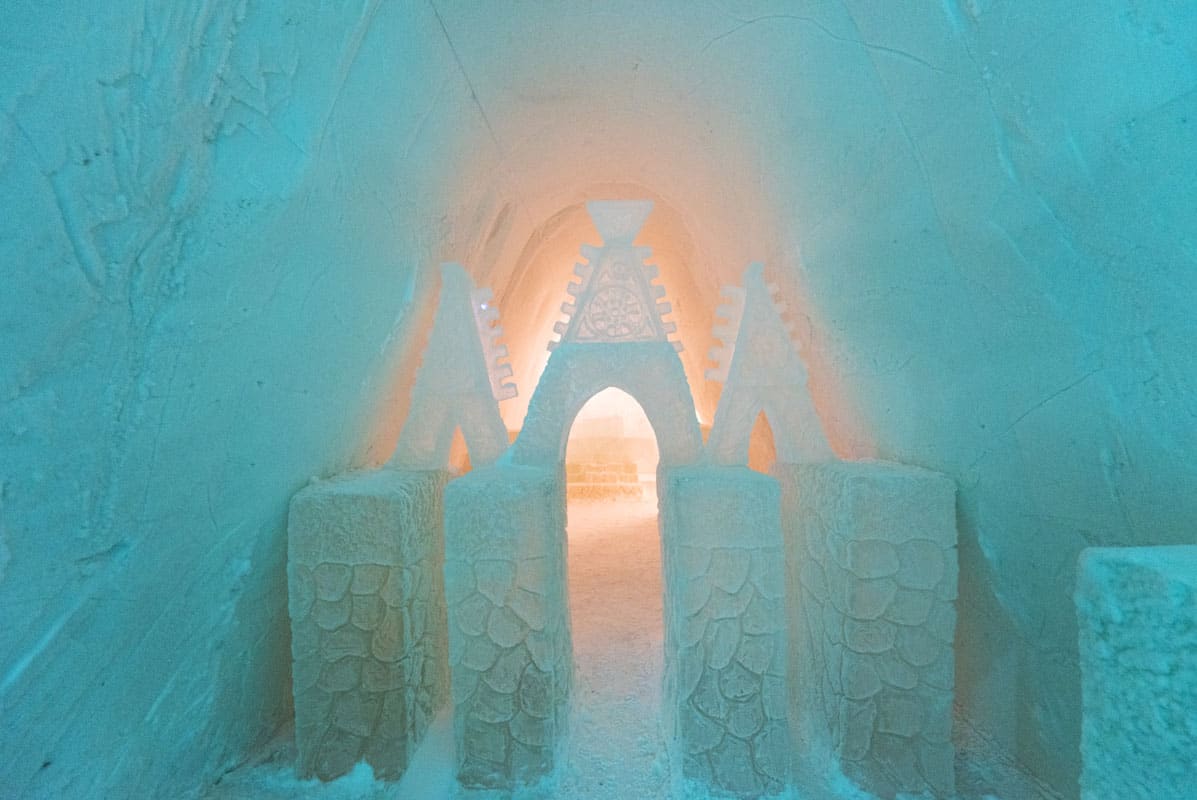 Our first stop was Kemi, the capital of Coastal Lapland. Kemi is famous for its Snow Castle (called Lumi Linna in Finnish), which is built every year with ice and snow made from frozen sea water. They start building it in December, when the sea freezes and the temperature dips to -10° Celsius. It's open between late January and late April, when the weather warms up and the ice starts to melt. Then the Snow Castle is returned to the sea. The Snow Castle includes a snow hotel, a chapel, and a restaurant, and there are beautiful ice sculptures and snow carvings everywhere.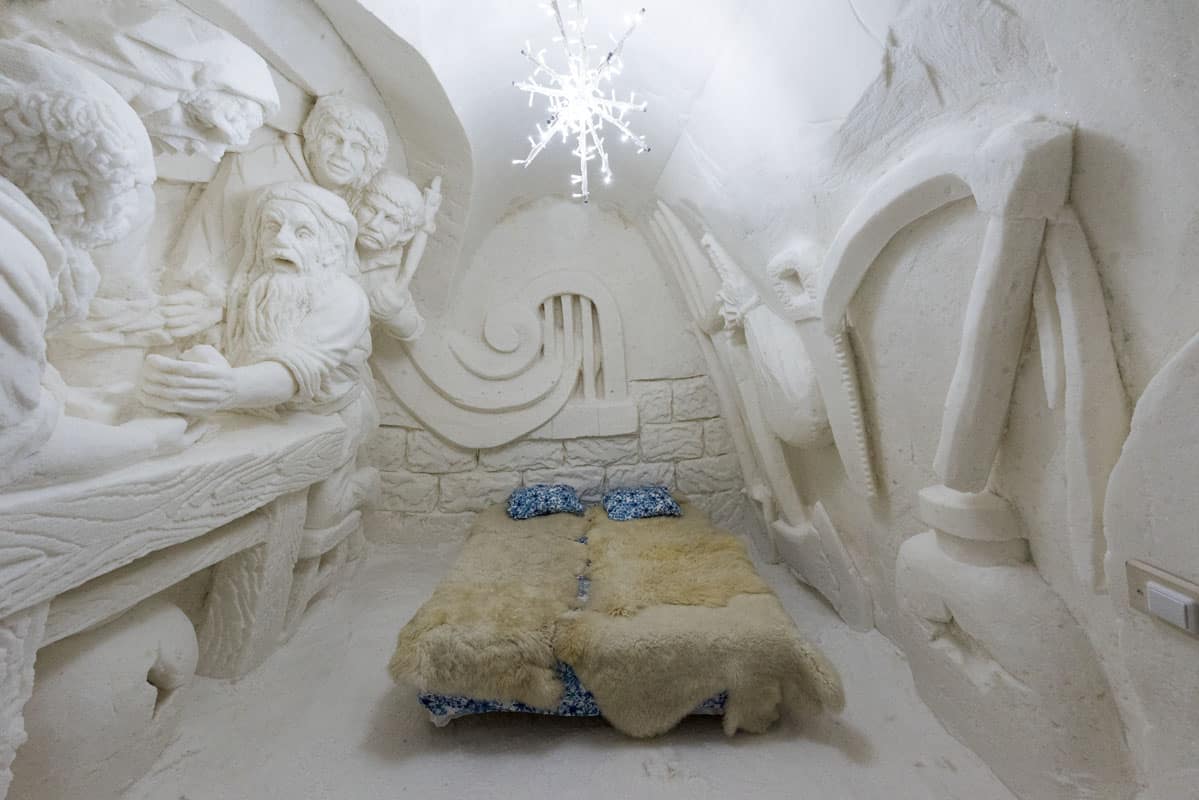 We had the opportunity to spend a night in the snow hotel. This is our room, with castle-themed snow carvings and a bed covered in sheep and reindeer skins. We were also given two Arctic sleeping bags and fleece liners, as the temperature in the hotel is around -5°… and that is COLD! It was hard to get to sleep, but once we did we slept very deeply. Perhaps our bodies thought we were hibernating?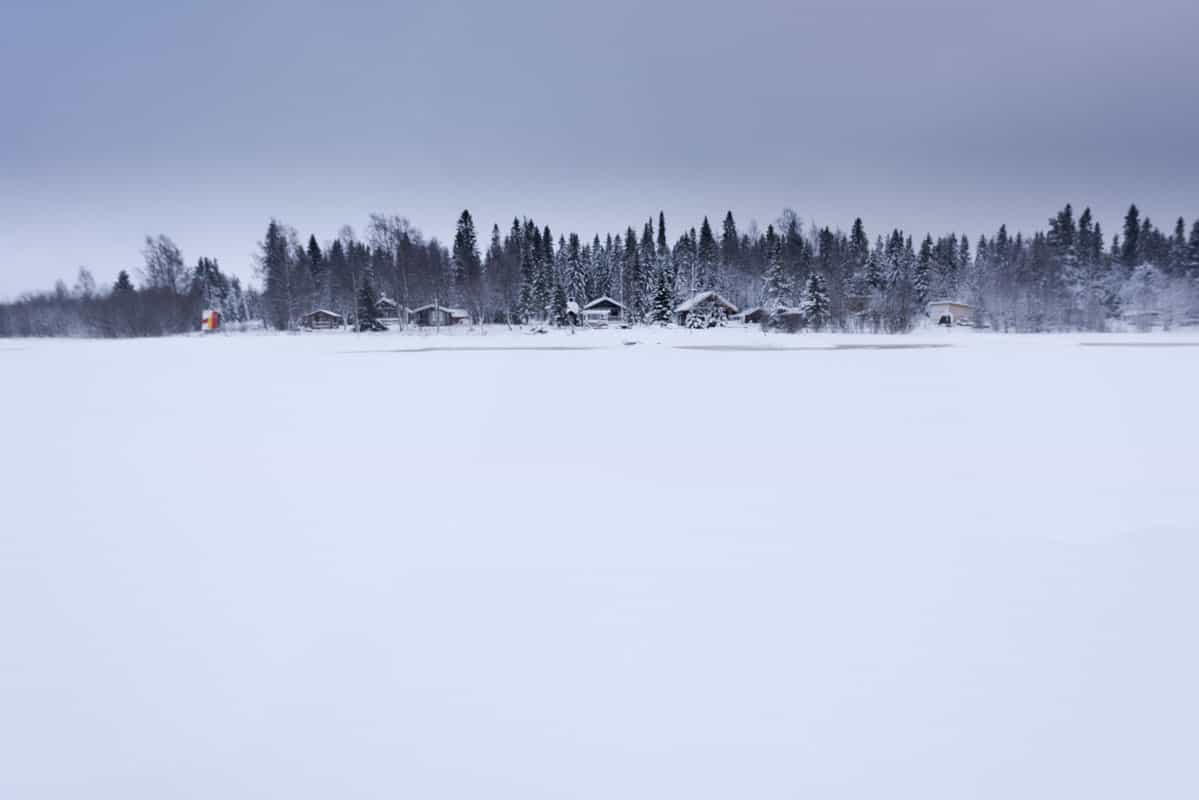 The sea freezes in Finnish Lapland, allowing you to walk, sled, or ski on top of the ice. This is the view of one of the islands off the coast of Kemi. As you can see, the weather wasn't always great: Clouds travelled with us for most of the time we spent in Finland, which is one of the reasons why the Northern Lights eluded us.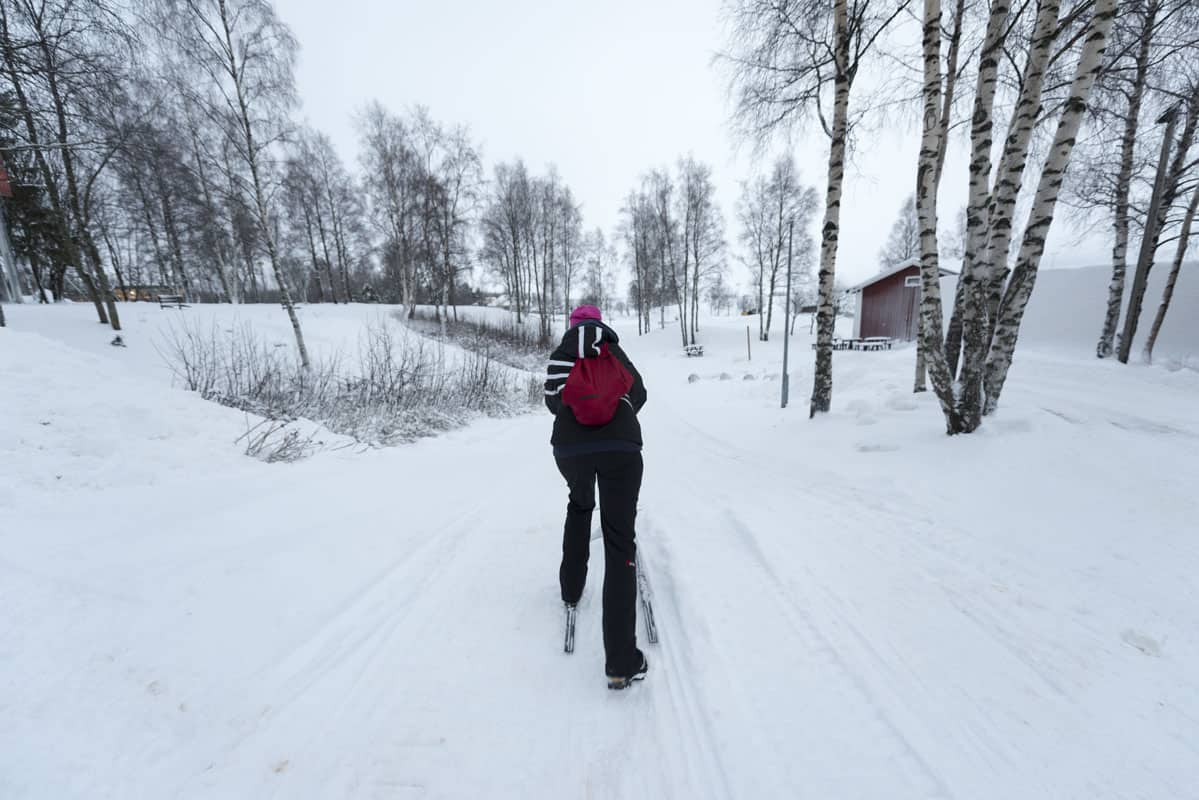 Kick sleds are a popular means of transport in Finnish Lapland. They work similarly to skateboards: You stand on the skates in the back and push yourself with your leg until you reach enough speed to slide. We borrowed some kick sleds for an afternoon and went touring around Kemi and out onto the frozen sea. What a workout!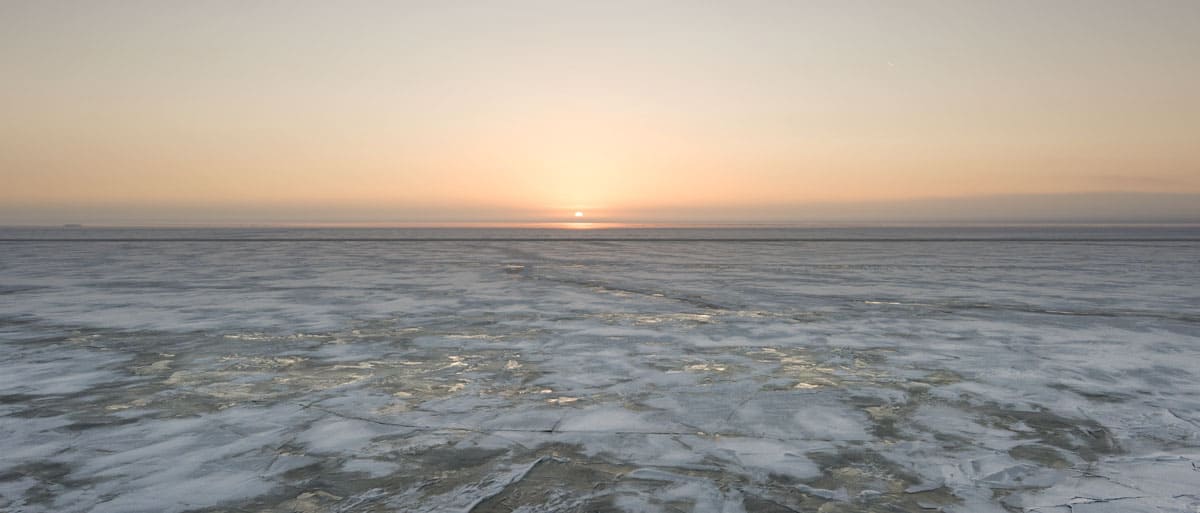 Taking a cruise on the Mighty Icebreaker Sampo is a great way to get close to the frozen sea. After 25 years of service opening shipping lanes off the Kemi coast, the Sampo was decommissioned in the mid-'80s. It was about to be sold for scrap metal, but Kemi's citizens decided to save her. She was turned into a tourist ship, running daily cruises at sunrise, the blue hour, and at night. This is a picture of the sun rising from the frozen Arctic waters at 9:30 am.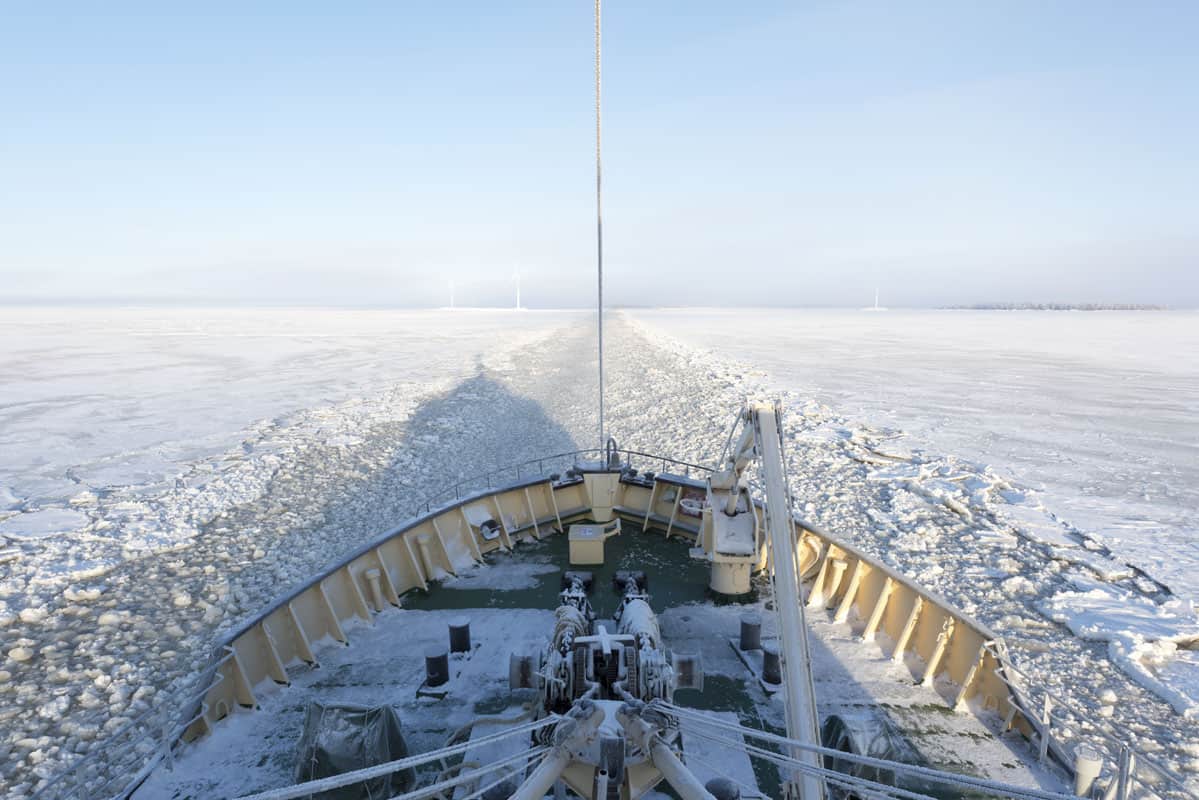 This picture provides a closer view of the mighty Sampo as it sails through the frozen sea. The ship features a bar and restaurant offering meals. It's also possible to tour the engine room, control room, and sailors' cabins, all of which were left exactly as they were in the 1960s. The cruises last for about three hours and you're free to wander inside and out at will… if you can withstand the bitter cold!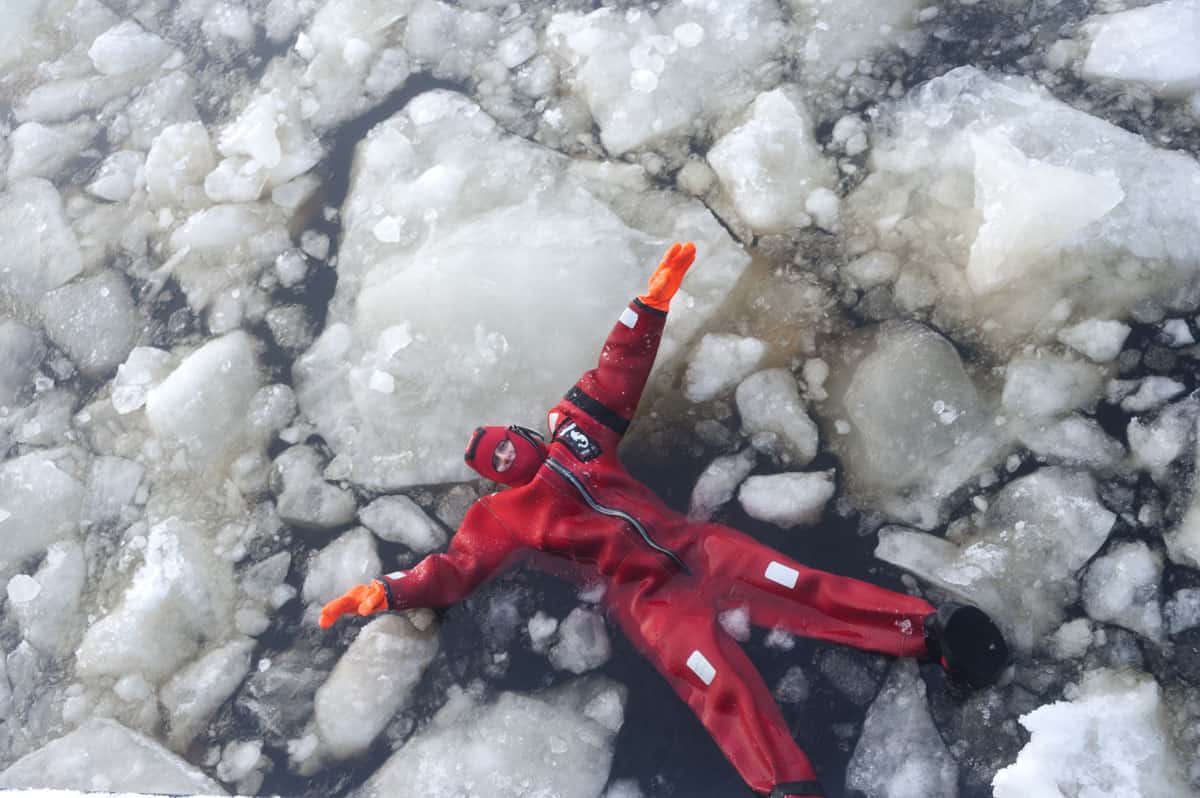 Looking at this photo, I bet you all think we're crazy! Halfway through our Sampo cruise, the ship stopped and we all donned thick rubber suits, then jumped into the icy waters. It wasn't cold at all: The suits were waterproof and we had all our clothes on underneath, so it felt strangely snug. We couldn't swim, because the suit was so thick that we couldn't really move about. We just laid on our backs and watched the frozen world unfold all around us.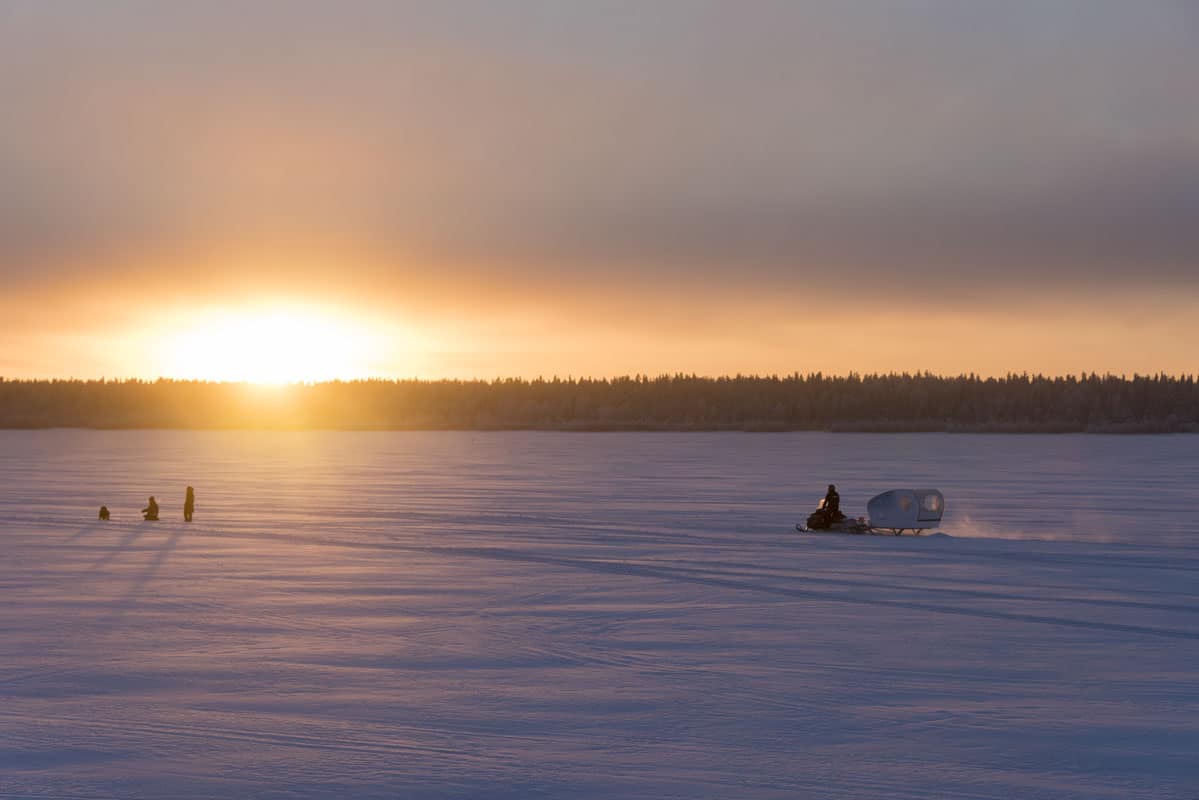 We were largely unlucky with the weather during our time in Finnish Lapland, but we did see one spectacular sunset. This photo was taken in Kemi, where you could see a couple walking their dog and a snowmobile crossing the frozen sea. Everything became golden for just a short while. And then, just a few hours after it had risen, the sun set.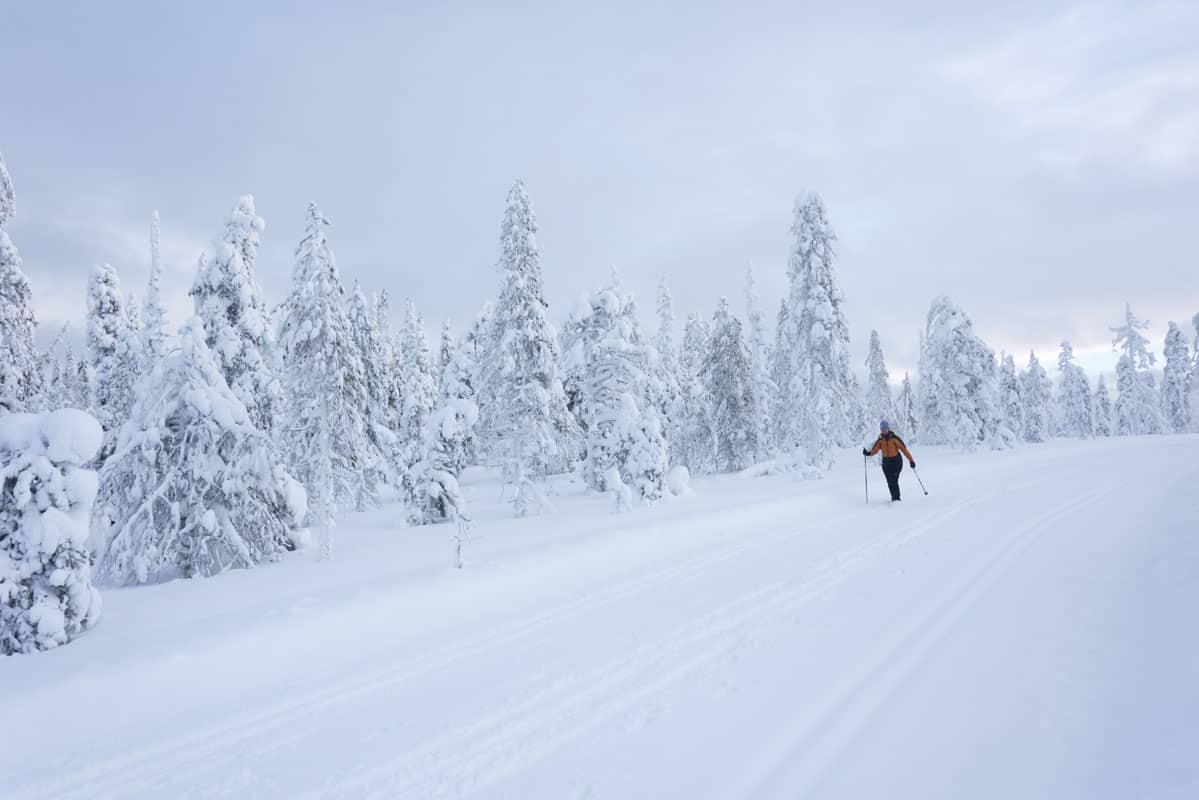 This picture was taken in Salla, the second destination of our Finnish Lapland adventure. Salla is a popular skiing resort, offering cross country as well as downhill pistes. Cross country skiing is considered a more eco-friendly activity compared to downhill skiing, as there's no need for ski lifts or any other kind of machines.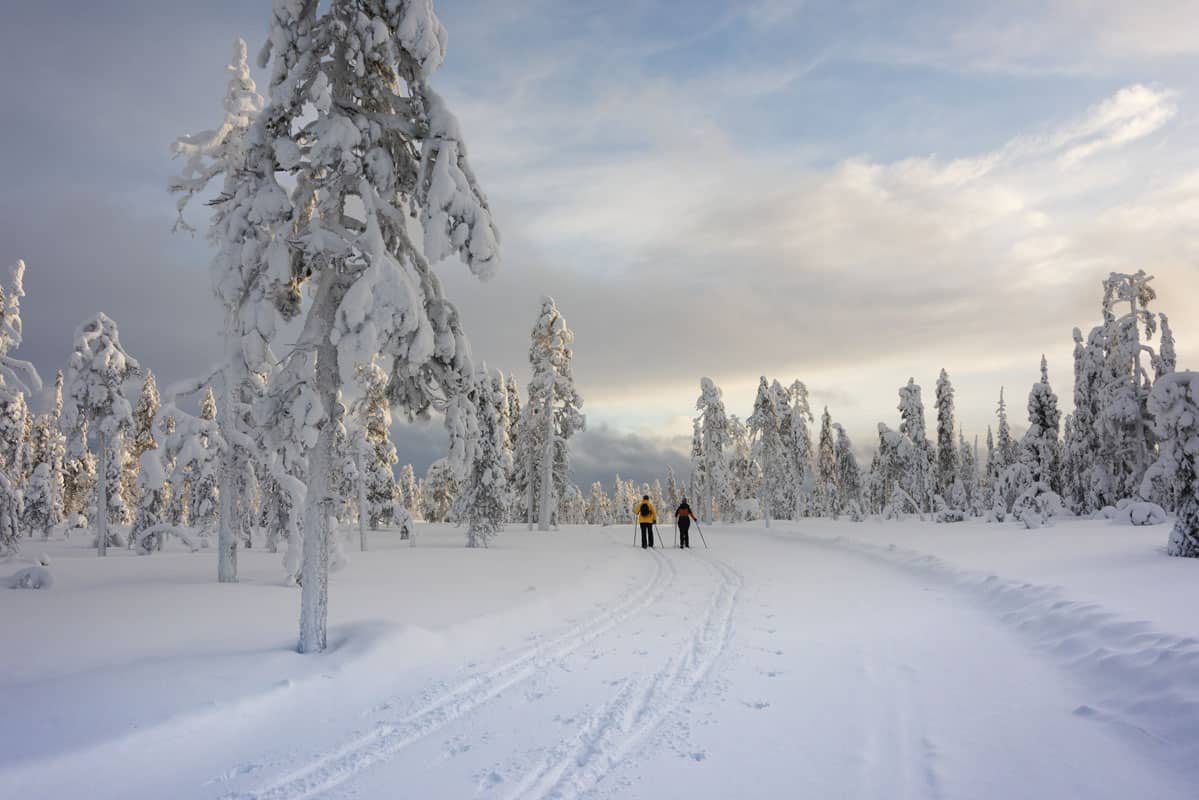 Salla is a must-see for skiing enthusiasts. Some people believe this is the birthplace of skiing because it's where the first skis were found, dating back to over 5000 years ago. This was long before the days of glamorous ski resorts and après-ski madness, when skis were the only way to get around the frozen North. Cross-country skis are still used by locals in Salla to move between one village and another.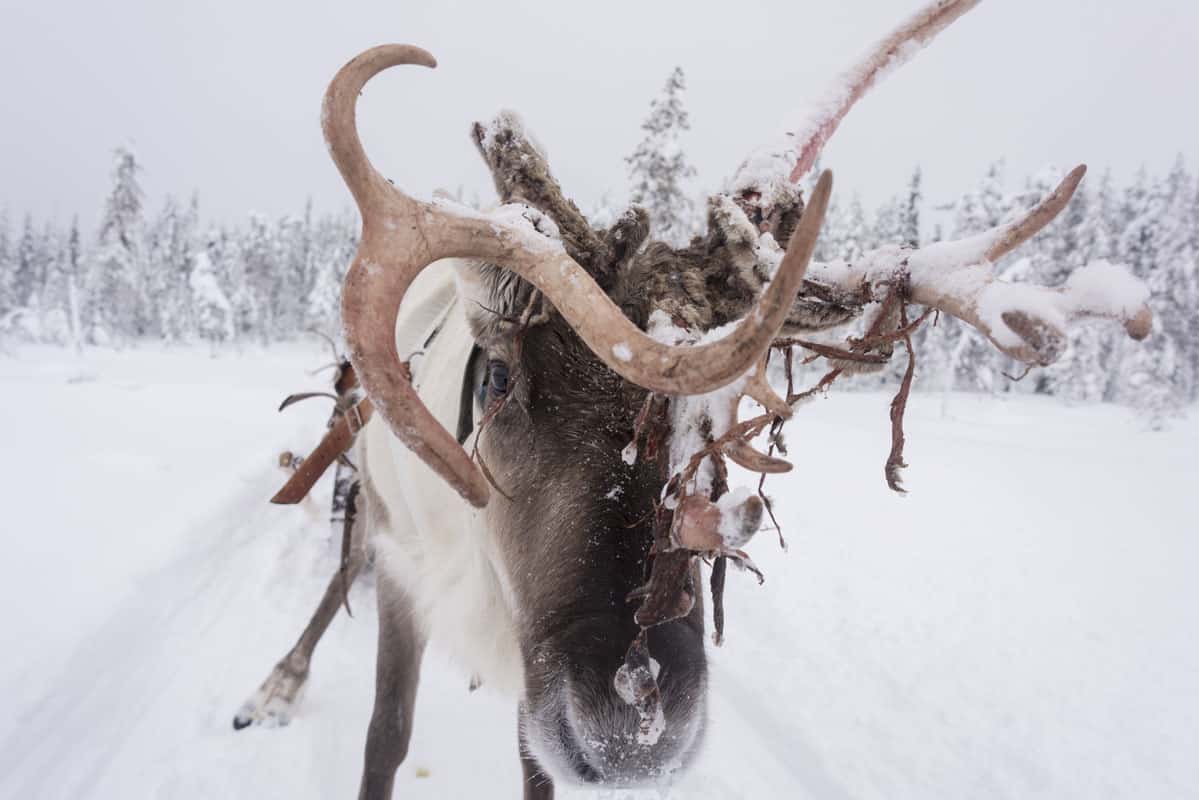 In Finnish Lapland, reindeer outnumber humans 10 to 1. The Sami people, the first inhabitants of Finland, domesticated reindeer millennia ago, using them for food and transport. They're strange looking animals– much smaller than other types of deer, with tufty tails and sweet eyes. Their horns are primarily used for mating in summer, after which they lose them. They don't feel pain when their horns fall off, but Sami herders say they do get moody and harder to work with. The horns re-grow in spring, covered in fur and connected by blood vessels that allow reindeer to "feel" with their horns.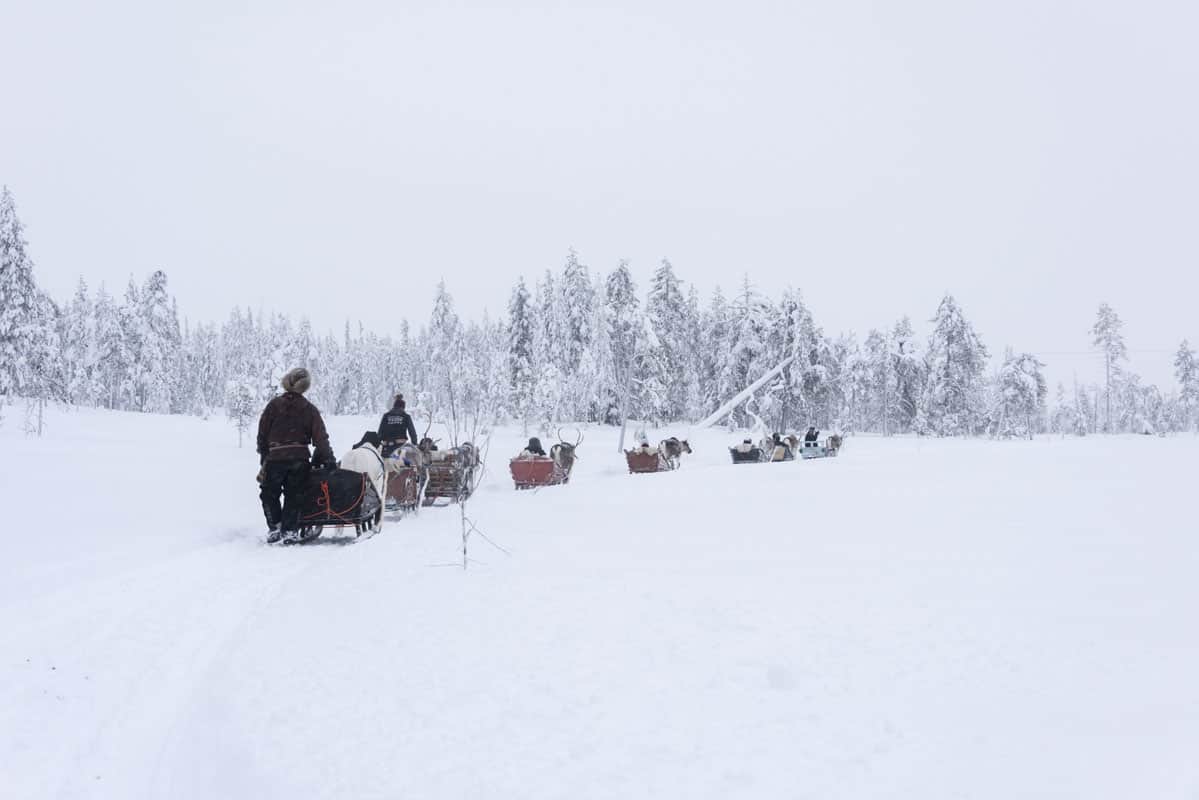 Going for a ride in a reindeer-drawn sleigh is a popular activity in Salla. It's usually a two-hour jaunt through the woods, allowing you to drive your own sleigh (which is a lot easier than it sounds). The temperature in Finnish Lapland is almost always below freezing. So, halfway through the tour, you get to stop in a kota– a Lappish wooden teepee– where a snack of hot tea and roasted sausages is served. Then you're off to brave the frigid Arctic winds once again.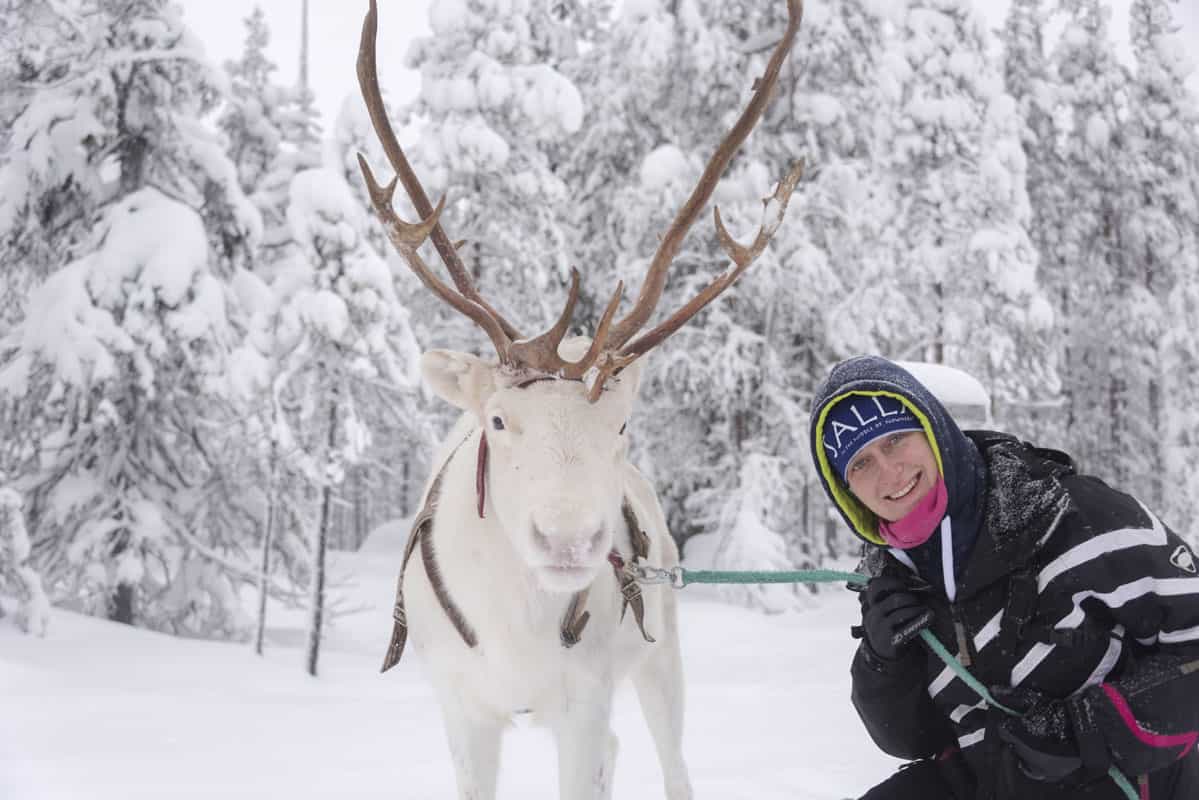 We asked our guide if it's hard to get a reindeer to pull a sleigh. "Reindeers will always be half-wild," he answered. "Some are friendly, kind of like dogs, whereas others are a lot harder to train." The  reindeer I'm posing with in the photo above is considered the "dog" of the group– placid, cuddly, and impossibly cute. No wonder it's a favorite for tourist pics!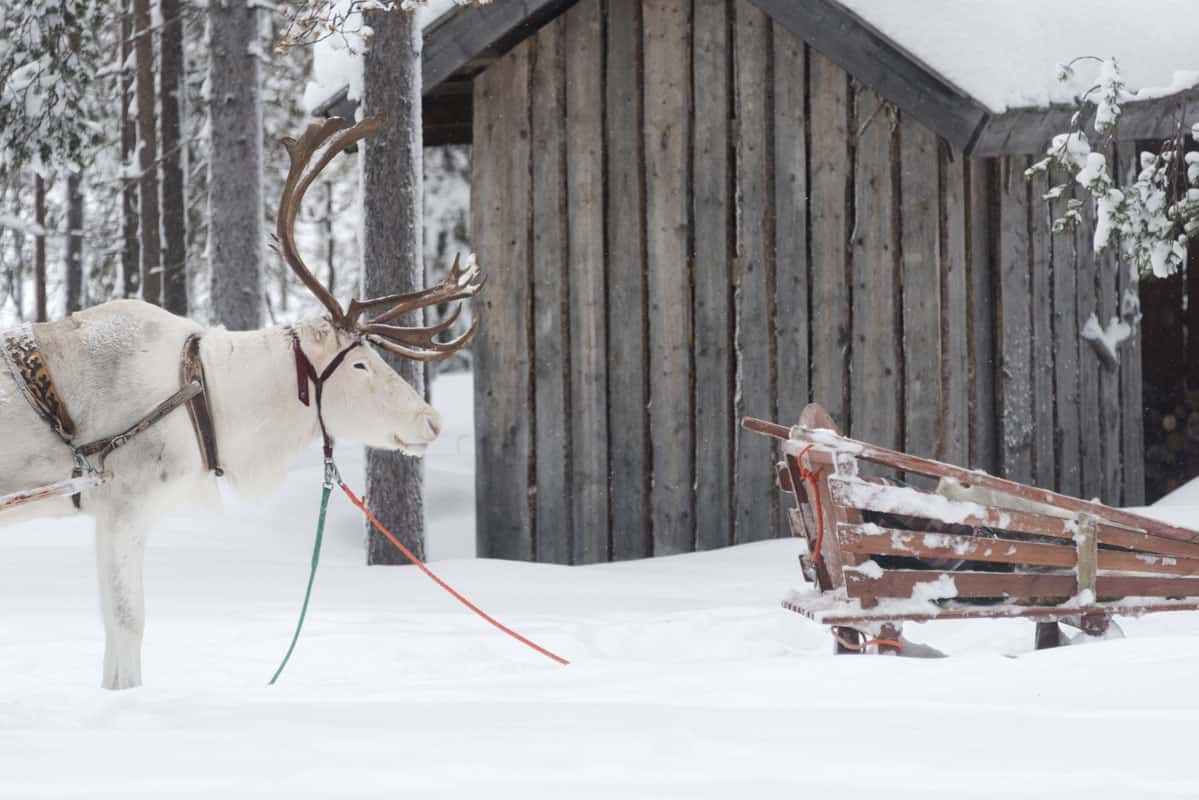 The reindeer sleigh tour is suitable for people of all ages. The reindeer don't go too fast and always follow one another, so braking was hardly ever necessary. We saw lots of families during our tour, and some with very young children.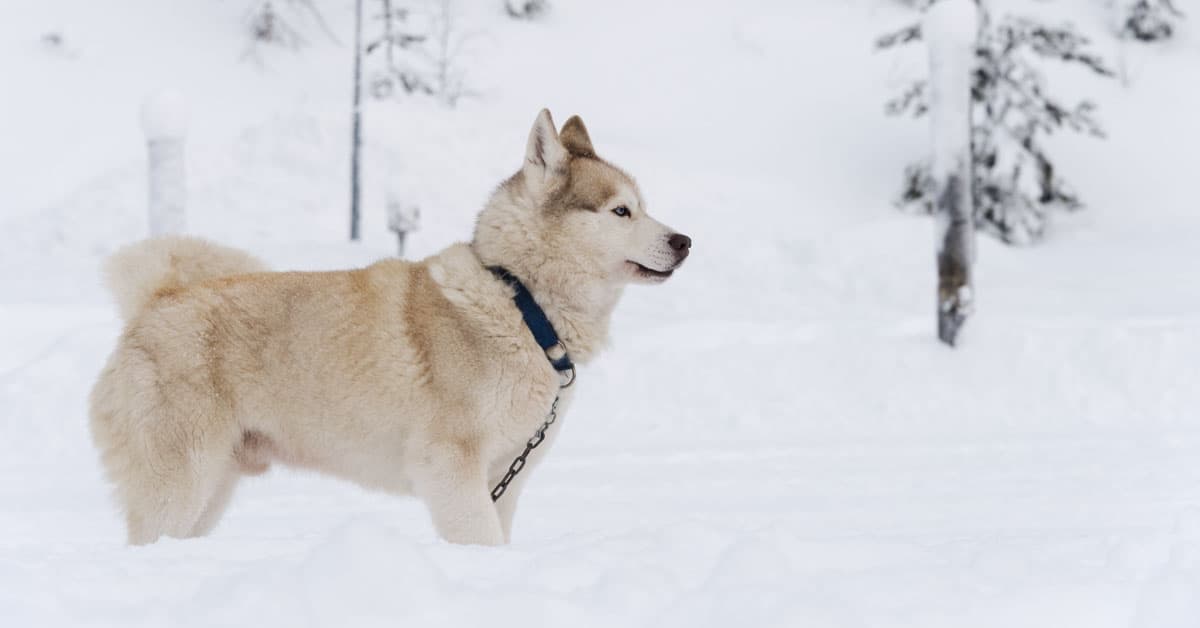 If you really want to feel the thrill of adrenaline in Finnish Lapland, opt for a dogsledding tour! Huskies were made for pulling sleighs, and absolutely LOVE running around in the cold. Their need for speed allows you to zip around at a breakneck pace. A little training is necessary to control the sleigh, but it proved surprisingly easy and extremely exciting.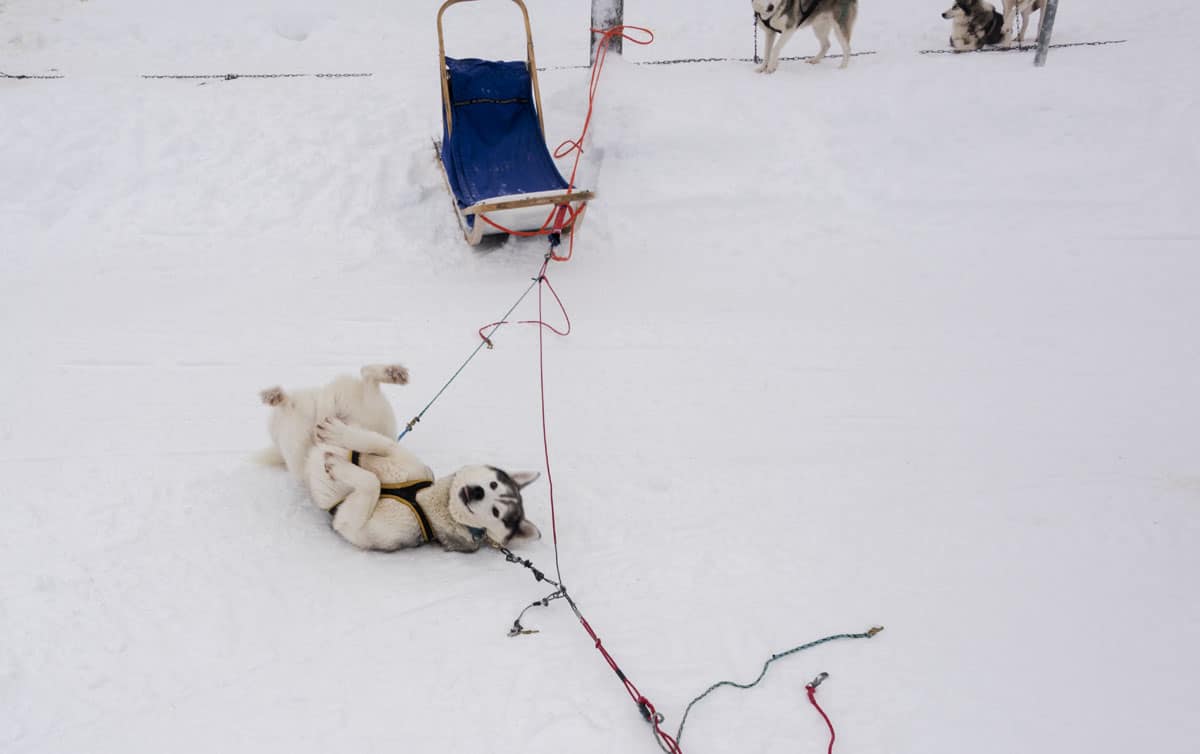 Who could resist these cute, playful animals? Dog sledding is one of my all-time favorite activities, and you can rest assured these animals aren't harmed in any way. Pulling sleighs is totally in their nature! Read our story on Responsible Dog Sledding in Neris Regional Park to learn more.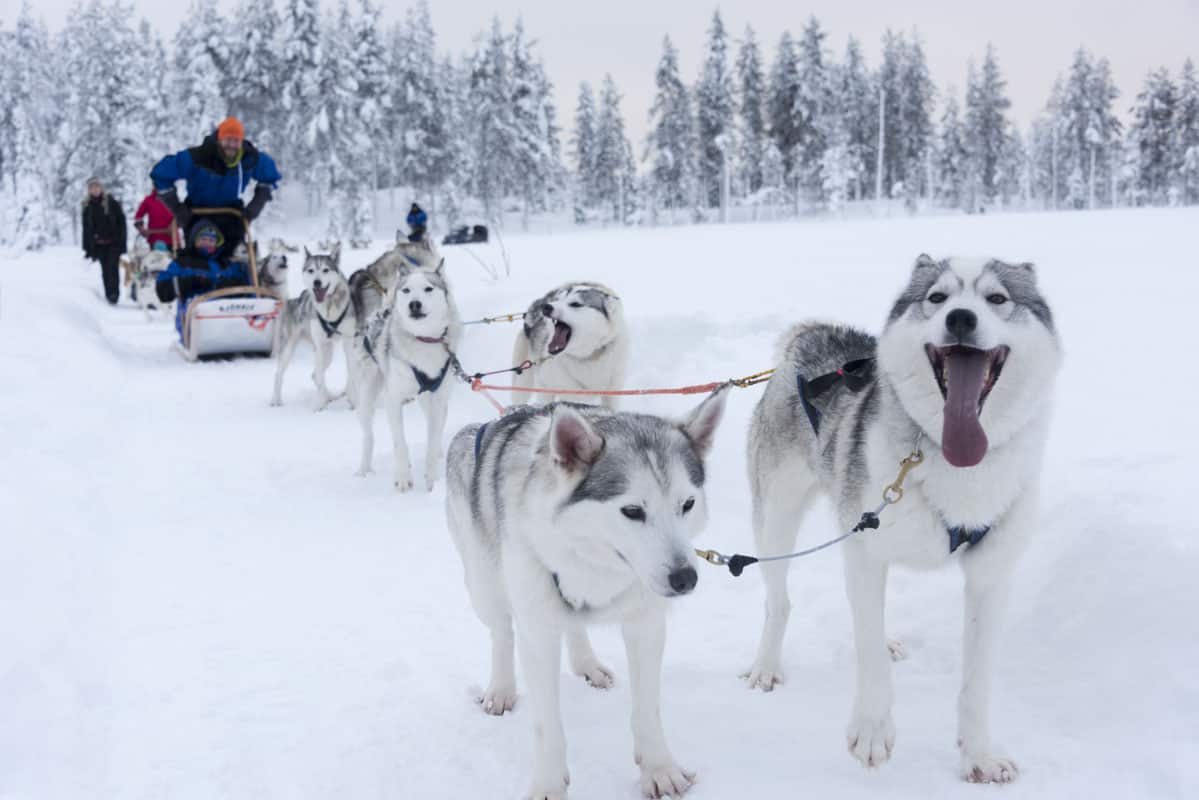 I mean, doesn't this guy look happy?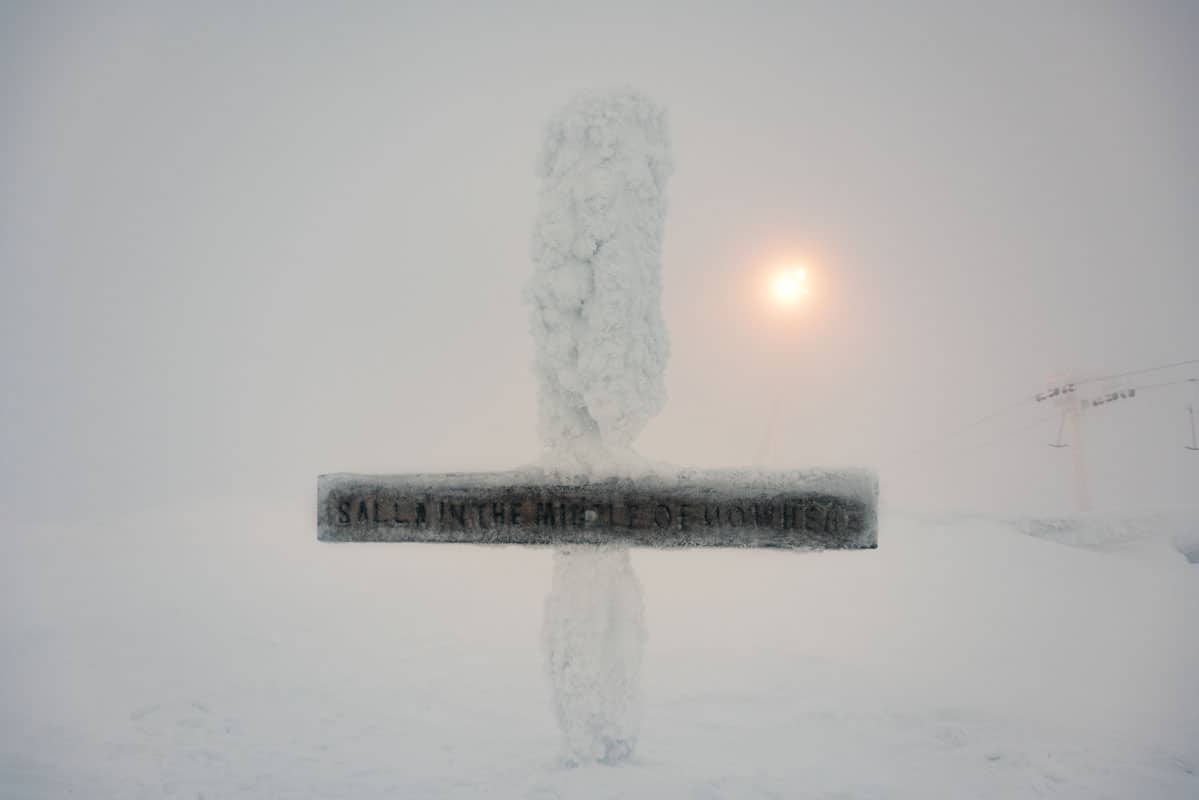 Salla's tourism tagline is "In the Middle of Nowhere." That's kind of true, being located 150 km from the nearest airport, but it's also part of the area's charm. On top of a tunturi (one of the flat-topped mountains typical of Finnish Lapland) you can find the famous sign pictured above. We braved a serious snowstorm to get this shot!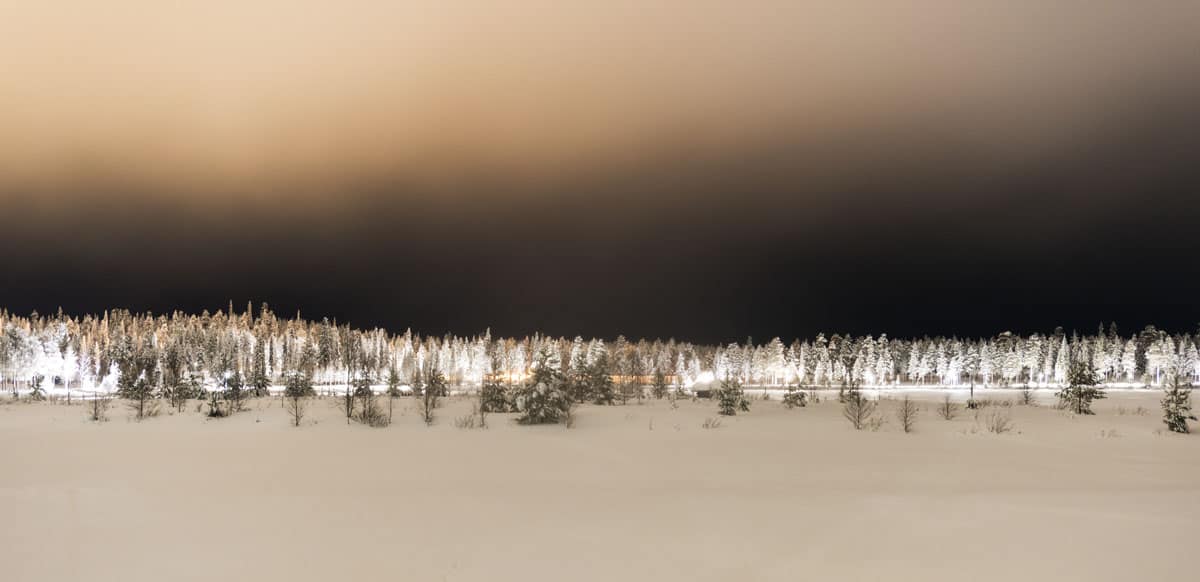 Whether you wind up seeing the famed Northern lights or not, the nights in Finnish Lapland are nothing short of spectacular. Weird stuff happens in the Arctic sky. Lights, flares, and flashes appeared behind the clouds, and to this day I cannot explain what was happening. But one thing is for sure: We will be back. And of course I do hope that the Northern Lights will dance in the sky for us next year! –Margherita Ragg; photos by Nick Burns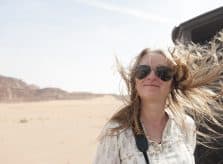 Margherita Ragg is a freelance writer from Milan, Italy. She's passionate about wildlife, ecotourism and outdoor activities, and runs the travel blog The Crowded Planet with her husband Nick Burns, an Australian  photographer. Margherita has an MA in Travel and Nature Writing from Bath Spa University, and was runner-up to the 2012 Guardian Travel Writer of the Year competition. Her other passions are rock climbing, skiing, homebrewing and her cat, Tappo. Follow Margherita on Facebook, Twitter, Instagram and Pinterest.
If you enjoyed our photo essay on Winter Adventures in Finnish Lapland, you might also like: 
NORWAY: Climbing Nigardsbreen Glacier
NORWAY:  Jotunheimen Mountains Photo Gallery
NORWAY: A Rare Look Inside Urnes Stave Church
SWEDEN: Cycling South Koster Island
SWEDEN:  The Moose Whisperer
SWEDEN: 10 Reasons We Love West Sweden