Everyone knows that we're passionate about ecotourism and nature conservation. But unless you're a long-time reader, you might not know that our family is equally wild about spending Christmas in Atlanta, our hometown.
From mid-November right up through Christmas Eve, we make a point of attending as many different Atlanta Christmas events as we possibly can.
We won't even travel in the weeks before the holidays, just to make sure we have ample quality time to celebrate the season!
What follows is a list of our favorite annual Atlanta Christmas events, from concerts and theatrical performances to fundraising parties and parades.
CHRISTMAS LIGHTS * CHRISTMAS EVENTS FOR KIDS * CHRISTMAS SHOWS

CHRISTMAS CONCERTS * CHARITY CHRISTMAS EVENTS *
CHRISTMAS LIGHTS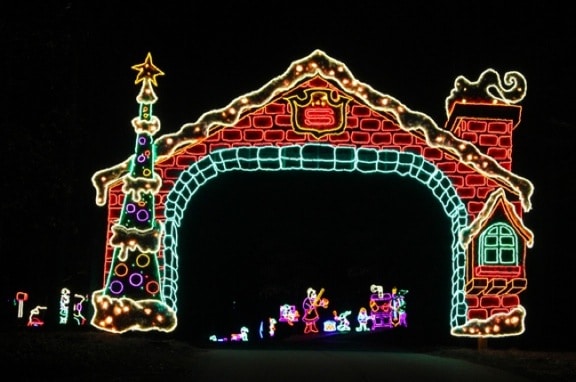 (Callaway Gardens, Nov 17-Jan 6)
Rated by National Geographic as one of the Top 10 Christmas Light Displays in the World, Calloway Gardens' Fantasy In Lights is truly a wondrous sight to behold.
The centerpiece is a 5-mile drive lined with 8 million lights, divided thematically into 14 sections that include "Snowflake Valley" and "Magical Christmas Garden," with festive Christmas music playing throughout.
There are also narrated scenes of 'Twas the Night Before Christmas and The Nativity; a Christmas Village offering holiday gifts and collectibles, food and photo ops with Santa and Rudolph; and a "Jolly Trolley" tour for those who'd prefer not to drive their own cars.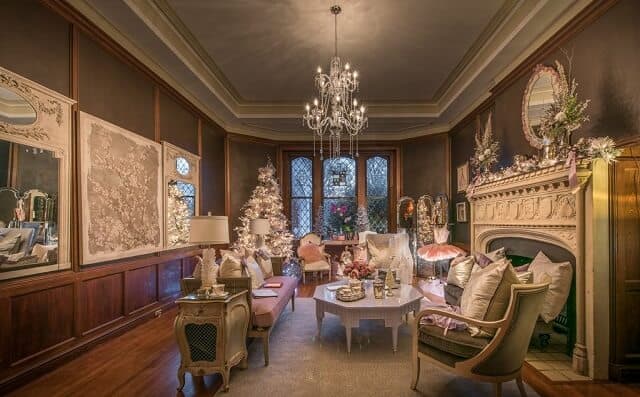 Callanwolde Fine Arts Center (Nov 21-Dec 29)
One of the most upscale places to see Christmas lights in Atlanta, Callanwolde Fine Arts Center's annual celebration of the season centers around their Designer Show House.
Now in its 40th year, this beloved tradition welcomes visitors to a 27,000 square foot mansion where each room is elaborately decorated by some of the city's top floral and interior designers.
At night, the Fine Art Center's 12-acre campus is all aglow, with the buildings and trees festively decorated by the pros at Illuminating Design.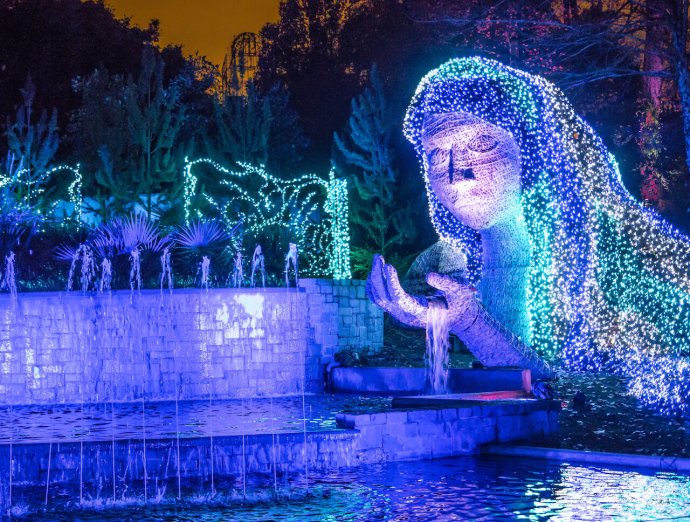 (Atlanta Botanical Garden, Nov 7-Jan 7)
This annual celebration of the season brightens the Atlanta Botanical Garden's 30 acres with 1 million colorful LED lights.
All of the garden's pathways will be lit up, with stars shining down from the canopies of hardwood trees, teal and blue lights illuminating a stretch of crepe myrtles, and a 27-foot-tall tree next to a fountain that reflects the twinkling lights in enchanting patterns.
Some of our favorite returning features include Brilliant Bugs fluttering through rows of corn in the Edible Garden; the Lady At the Lake's shimmering locks; and the glowing Orchestral Orbs, which dance with color and light to the sounds of festive holiday tunes.
This year's newest section is the world's largest curtain of synchronized lights in the Nature's Wonders display, which showcases our planet's natural phenomena through countless strands of dancing lights choreographed to music and sound effects strung high over Storza Woods.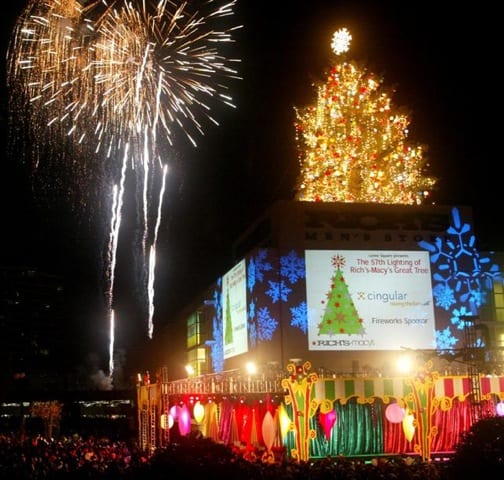 (Macy's Lenox Square, Thanksgiving Day)
Though the name and location of the store have changed over the years, this annual celebration of the beginning of the Christmas season has otherwise been the same for 65 years now.
It all began in 1948, when Rich's department store put a large pine tree atop its flagship downtown Atlanta location, lighting it on Thanksgiving night. I have fond memories of performing there back in 1980, as a member of the Atlanta Boy Choir.
Though Rich's and Macy's merged in 2006, the annual lighting of the Great Tree remains one of Atlanta's most beloved and historic holiday traditions.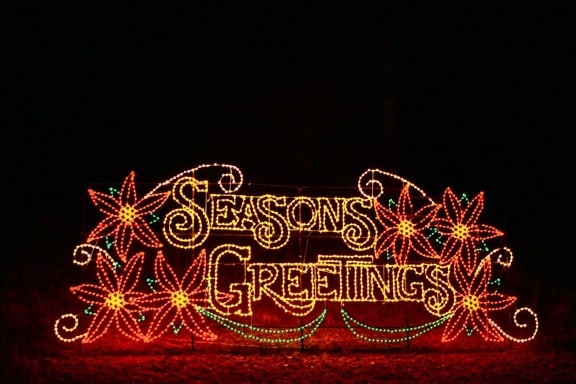 (Lake Lanier Islands, Nov 17-Jan 3)
One of our favorite ways to celebrate Christmas in Atlanta, this winter wonderland offers enough more than enough holiday joy to get Scrooge and the Grinch into the holiday spirit.
Billed as the world's largest light extravaganza, Magical Nights of Lights features a 7-mile drive filled with colorful themed displays such as "The 12 Days of Christmas."
At the end you'll find an impressive array of carnival rides and games, blazing bonfires for roasting marshmallows, and Santa's Workshop, where you can meet jolly ol' St Nick himself!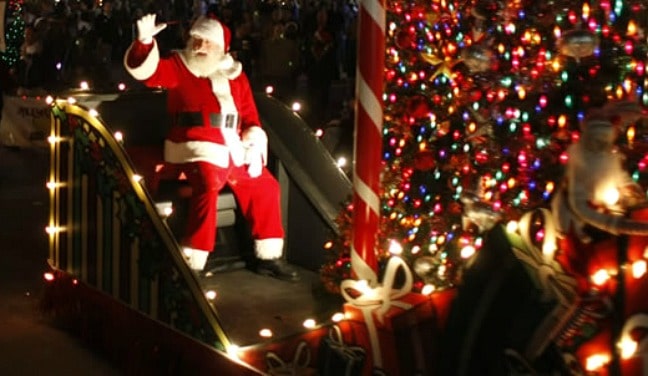 (Stone Mountain Park, Nov 11-Jan 3)
This annual celebration at Stone Mountain Park is one of our family's favorite holiday traditions.
For 6 weeks the Crossroads village is lit up by 2 million lights, and the mountain's famous carving is illuminated by a Christmas-themed laser show (hot chocolate and roasted marshmallows optional).
There are also nightly Christmas parades featuring Santa and Mrs. Claus, sing-along train rides, photo ops with a beautiful Snow Angel and, new this year, Rudolph and Abominable Snow Monster costumed characters.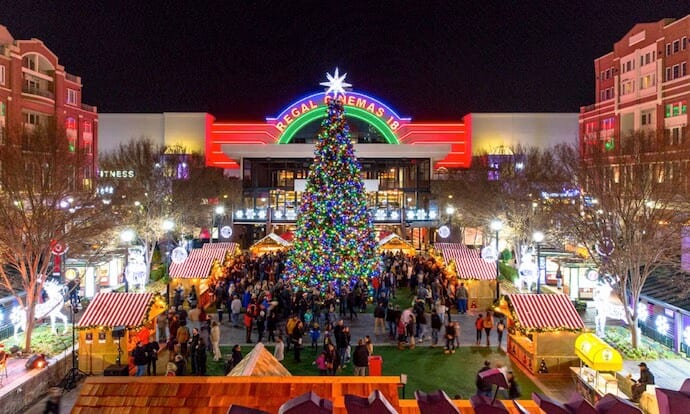 Atlantic Station (Nov 18-Dec 24)
The Midtown hotspot's annual holiday celebration includes a quarter of a million lights within an 8-block radius, and it's FREE to walk or drive through.
At 6PM every Sunday, 7PM every weeknight, and hourly from 6 to 9PM on Fridays and Saturdays (if weather permits), there's a surprisingly realistic snowfall that happens.
Be sure to check out Atlanta's first authentic German Christkindl Market. The festive Christmas street market tradition dates back to the late Middle Ages. You'll hear traditional singing and find dancing, food, drink, and seasonal items in open-air booths.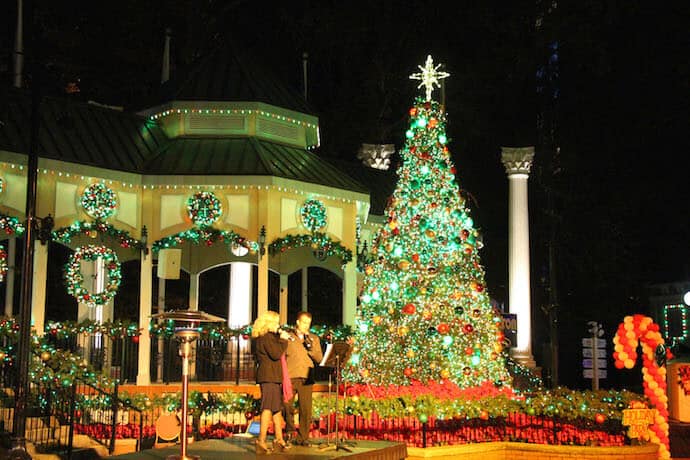 Six Flags Over Georgia (Select dates Nov 18-Jan 3)
For the first time, Six Flags, Holiday in the Park's celebration will include Santa Claus and his reindeer riding their sleigh into the park for the event's debut on November 18.
Santa will welcome guests coming to see the 29 thrilling rides decked out in Christmas decor, 16 different holiday-themed sections, and more than one million twinkling LED lights.
Also new this year will be the expansion into Metropolis Park, where the JUSTICE LEAGUE: Battle for Metropolis and SUPERMAN: Ultimate Flight rides will be open and dressed up with festive holiday flair.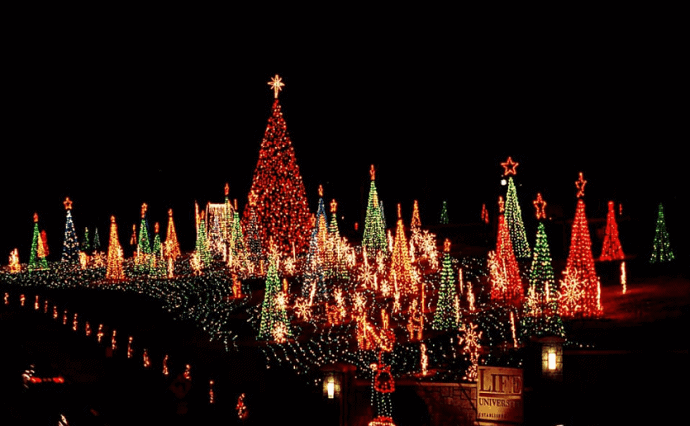 LIGHTS OF LIFE
Life University, Marietta (Nov 23- Dec 31)
One of Atlanta's oldest and most underrated Christmas light displays, Lights of Life nevertheless draws huge local crowds thanks largely to word-of-mouth.
At  just $5 per car on weeknights until mid-December, and $10 on weekend nights, it is a bargain for an expansive display that includes over 100 pieces (including a 65-foot Santa/sleigh display, the tallest in the Southeast) on the 1.5 mile drive through the college's campus.
There is also a petting zoo, pony rides, train rides. and opportunities to have your photo taken with Santa for an additional fees.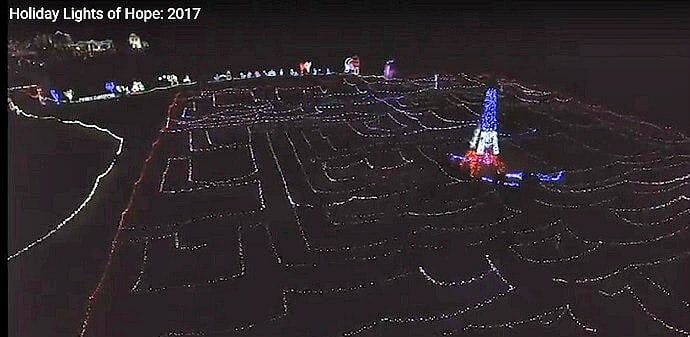 Hobgood Park, Woodstock (Dec 7-23)
The Holiday Lights of Hope is HUGE, with more than two million twinkling lights, traditional and animated displays and a mile-long Christmas maze!
Enjoy roasting S'mores over a roaring bonfire, and getting pictures taken with Santa. Grown-ups can enjoy shopping at the General Store, strolling down Main Street, and listening to Christmas carolers.
Best of all, your $10 adult ticket (free for children 14 and under) benefits the Anna Crawford Children's Center.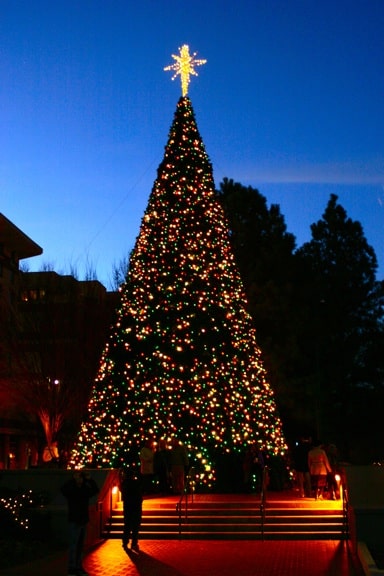 HOLIDAY IN LIGHTS
Centennial Olympic Park (Closed for 2017)
NOTE: The Centennial Olympic Park celebration will be on hiatus for 2017 due to major renovations. Find out more about the changes coming to the park here.
Centennial Olympic Park's annual holiday celebration gives kids of all ages a chance to strap on their skates and take a spin on the city's first outdoor ice-skating rink, with theatrical lighting and festive holiday music to set the wintry mood.
The 21-acre park is also festooned with thousands of twinkling lights and a huge Christmas tree, with its stunning view of the city skyline making it a picturesque place for a nighttime stroll.
CHRISTMAS EVENTS FOR KIDS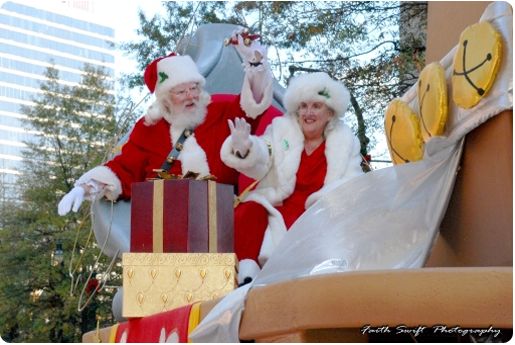 (Parade Start: Peachtree St. at 16th St., Dec 2)
If you can't make it to the Big Apple for NYC's legendary Macy's Thanksgiving Day Parade, this annual event benefiting Children's Healthcare of Atlanta is a scaled-down, free alternative.
Peachtree St is magically transformed into "Santa Claus Lane," with dozens of floats, giant balloon characters, and marching bands, making this the largest Christmas parade in the Southeast.
But of course the main attraction is the arrival of Jolly Ol' St Nick himself, ringing in the heart of Atlanta's holiday season.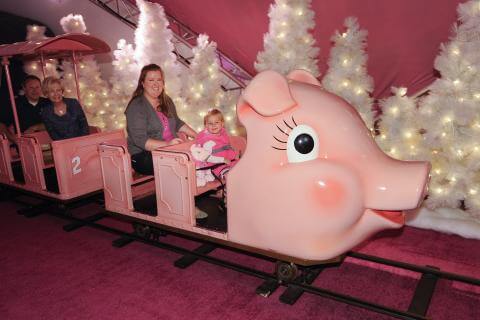 (Macy's Lenox Square Oct 28-Dec 31)
This is a great taste of Christmas in Atlanta the way it was 60+ years ago. In 1953, the Rich's department store downtown debuted a suspended monorail ride for children.
The original Pink Pig flew from the ceiling of the toy department, but was eventually moved to a rooftop Christmas village surrounding the Great Tree. At the end, riders got a sticker that read, "I Rode the Pink Pig."
In 2004 Priscilla the Pink Pig returned, this time re-imagined as a conventional train ride pulled by a miniature locomotive. Priscilla continues to carry children of all ages through a life-sized storybook filled with friends and fun beneath the signature 170-foot, 1950s-themed Pink Pig tent.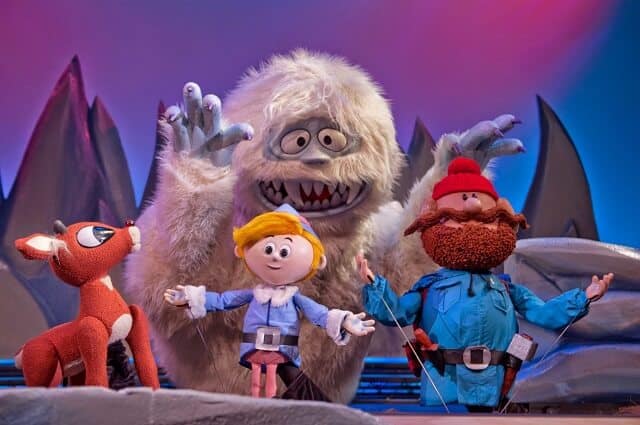 (Center for Puppetry Arts, Nov 7-Dec 31)
If you grew up loving the Rankin/Bass Christmas special, you'd be forgiven for being skeptical about this stage adaptation of the claymation classic.
But director Jon Ludwig and his talented team of puppeteers nail it every year, remaining faithful to the source material while adding some unique production twists that really bring the show to life.
From the opening strains of "We Are Santa's Elves" to the return of the Abominable Snow Monster, this is as "holly jolly" as a Christmas show can get. Families attending Rudolph the Red-Nosed Reindeer on Saturday, November 25 can enjoy a very special, free holiday photo opportunity with one of the puppets from the show!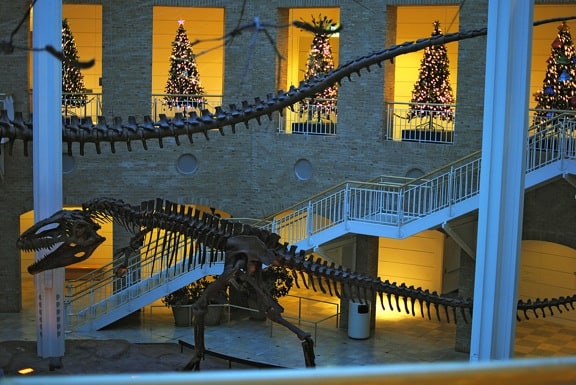 WINTER WONDERLAND 
(Fernbank Museum of Natural History, Nov 17-Jan 7)
Now in its sixth year, Fernbank's Winter Wonderland is one of the best Atlanta Christmas events for families.
The exhibition features more than 30 festive trees decorated by a diverse array of cultural partners to reflect holiday traditions from Africa, the Caribbean, Europe, the Mediterranean, the Middle East, North America and South America.
Check the website for special  holiday-themed activities such as performances. Admission to Winter Wonderland is included with Museum admission.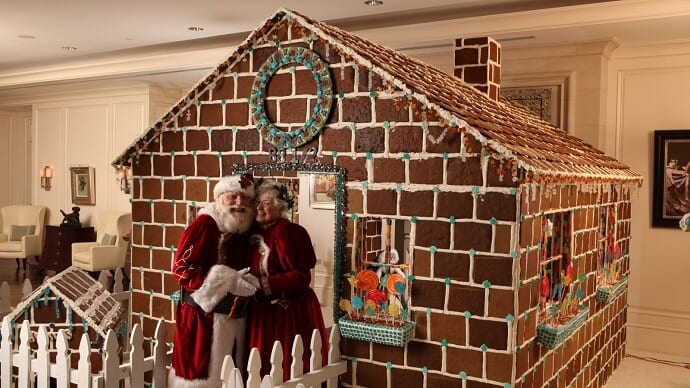 (The St. Regis Atlanta, Nov 24-Jan 1)
The name says it all, but the stats are impressive. Atlanta's largest Gingerbread House will take 500 hours of construction.
It will involve 300 pounds of flour, 100 pounds of sugar, 10 pounds of spice, 70 pounds of shortening, 45 pounds of corn syrup, and 16 pounds of molasses. It will be decorated with over 300 pounds of icing, gingerbread figurines, poinsettias, and candy.
The ginormous result will be unveiled at the St. Regis in Buckhead on Friday, November 24. That day's festivities will also include a ceremonial lighting of the hotel's Xmas Tree; the opening of their Astor Holiday Ice Rink (which is protected from the elements by a tent); and a special appearance by Santa Claus himself!
Other Christmas events at the St. Regis Atlanta include the Winter Wonderland Holiday Tea (starts Nov 24), Bedtime Story With Santa  (nightly Dec 14-24), and a special Christmas Brunch with Santa on December 25.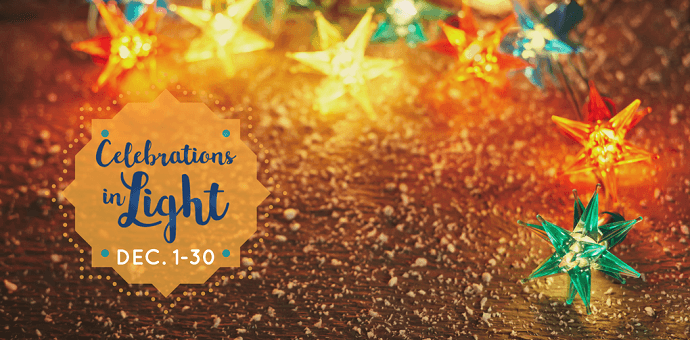 (Children's Museum of Atlanta, Dec 1-31)
Celebrated in more than 160 countries around the world, Christmas ranks high among the planet's most popular holidays. But it's not the only major holiday observed in December. Kudos to the Children's Museum of Atlanta for reminding kids of that fact.
All through the merriest month of the year, families will have a chance to experience Celebrations in Lights. The event explores numerous cultural holidays from around the world, with music, dancing, and crafts projects honoring Las Posadas, Hanukkah, Kwanzaa, and Christmas.
New for 2017, the museum will offer an "Ice" (a.k.a. carpet) Skating Rink built especially for little ones… meaning no skates required! There will also be a range of winter-themed science activities for kids to experience hands-on.
On December 31 the museum will close out the year with their New Year's Bubble Bash, featuring a family-friendly DJ, dancing, party favors and, of course, bubbles!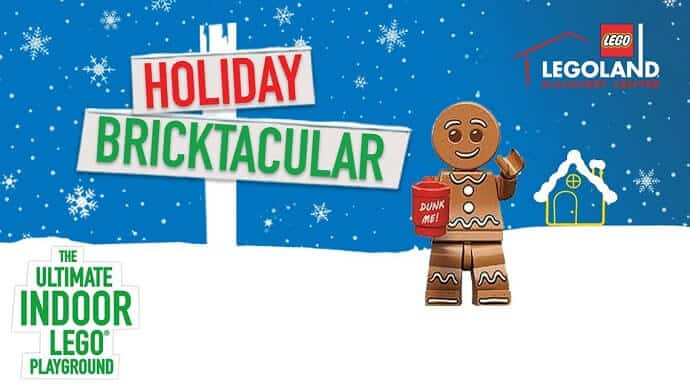 (LEGOLAND Discovery Center, Dec 2-31)
Growing up in the 1970s-1980s, Christmas and LEGOs went together hand-in-hand. My 8-year-old inner child is jealous that today's kids can celebrate the season at LEGOLAND Discovery Center, whose Holiday Bricktacular is a winter wonderland of creative construction possibilities.
The event kicks off Dec 2-3 with the annual Big Tree Build, led by the center's Creative Crew. Guests can learn how to create LEGO holiday trees of their own, participate in Holiday Build Challenges, and snap selfies with Rudolph (his nose even glows).
The winter takeover of MINILAND happens every weekend in December. There's also a scavenger hunt game, so keep your eyes peeled for mischievous elves, Santa's workshop, wreaths, and more!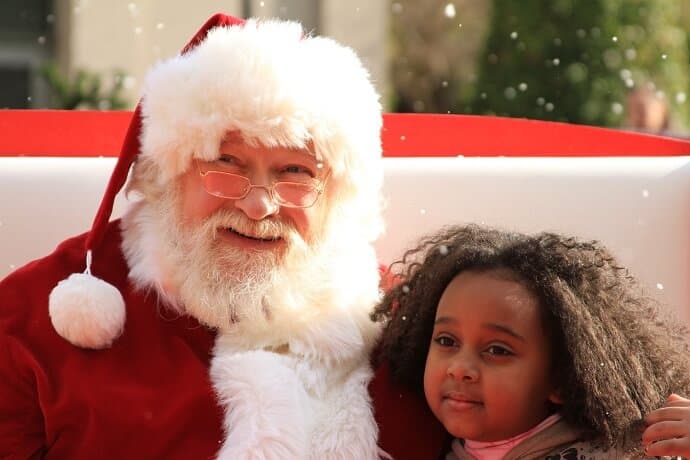 (Southern Art @ InterContinental Buckhead Hotel, Dec 3)
Helmed by world-renowned chef Art Smith (a.k.a. Oprah's personal chef until 2007), Southern Art ranks among our favorite restaurants in Atlanta. But on December 3 it will be completely transformed with wintry decor in order to welcome Santa Claus and his reindeer for their 7th annual Children's Holiday Party.
Of course, you don't have to be a child in order to attend. Kids and grown-ups alike are invited to decorate Christmas cookies, drink at the hot chocolate bar, go for a train ride, get their face painted, and take fab photos with St. Nick and his hoofed friends.
There will be a snow machine on hand to make it feel like winter, as well as a local children's choir performing your favorite holiday tunes off and on throughout the day.
CHRISTMAS SHOWS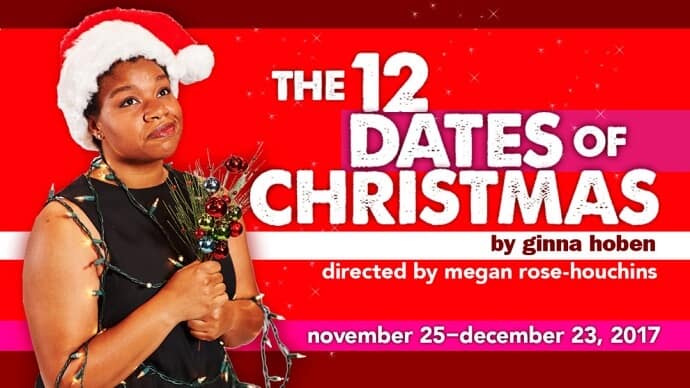 (Aurora Theatre, Nov 25-Dec 23)
This annual holiday hit– a one-woman show starring Renita James– celebrates the awkward tragicomedy of errors that is finding romance in the modern day "meet weird" era.
The play tells the story of Mary, an African-American woman determined to overcome a streak of bad luck in love and find the real deal. Things fall apart early on, when she sees her fiancee kissing another woman on TV at the Macy's Thanksgiving Day Parade.
What ensues is a wildly hilarious rollercoaster ride of emotions as she navigates the highs and lows of love. But this perennial Aurora Theatre favorite ensures singles and couples alike will "ho ho ho" along with Mary's romantic misadventures.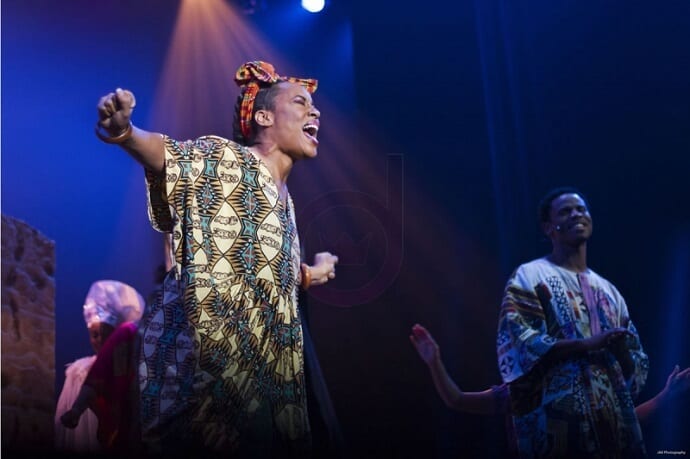 (Southwest Arts Center Performance Theater, Nov 29-Dec 17)
Written by the legendary poet Langston Hughes, Black Nativity is a potent retelling of the most famous Bible story from an African-American perspective. The play was originally performed Off-Broadway in 1961, and was one of the first productions written by a black playwright ever to be staged there.
The show features an African-American cast, gospel-style music (the opening number is the classic spiritual "Go Tell It On The Mountain"), and a Mary and Joseph who never actually speak.
This one-act version takes the audience on a journey from a traditional black church to an Africanized Jerusalem, with African-influenced drums and dancing sprinkled throughout. It's a soulful, stirring take on the oldest of all Christmas stories.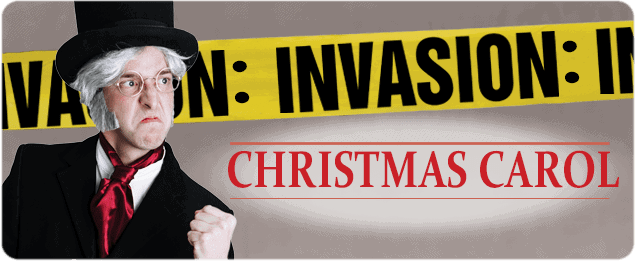 (Dad's Garage Theatre, Dec 1-30)
Charles Dickens' timeless Christmas classic gets a major makeover in this irreverent production from the comedy masterminds of Dad's Garage, which was recently voted Best Play in Creative Loafing's annual readers poll.
The show is a unique mixture of scripted drama and hilarious improv. The main cast rehearses the traditional script and portrays classic characters such as Ebenezer Scrooge, Bob Cratchit, and Tiny Tim.
But each night they'll be visited by different ghosts (which have, in the past, ranged from The Incredible Hulk and Ted Nugent to a T Rex), all of which are a complete surprise to the cast.
Regardless of who shows up, one thing's for sure: You'll never again view this hoary holiday chestnut in quite the same way!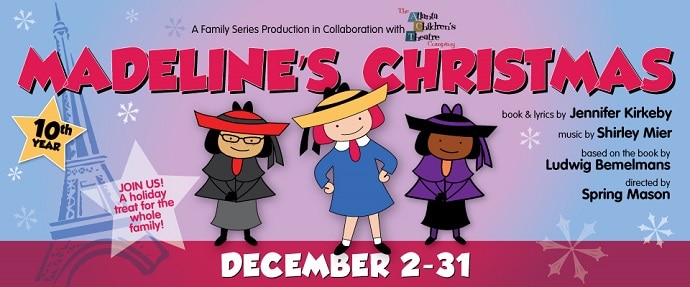 (Horizon Theatre, Dec 2-31)
"In an old house in Paris that was covered with vines lived twelve little girls in two straight lines." Thus begins the story of Madeline, a young girl at a Catholic boarding school. Now in its 10th year, this musical adaption of Ludwig Bemelmans' children's book is a magical Christmas classic.
The story finds young Madeline and her friends taking a morning walk with their teacher, Miss Clavel. When the girls wind up confined to their beds after coming down with the flu, they worry whether or not they'll be able to travel home in time for Christmas. But thanks to a mysterious stranger, they wind up having a holiday adventure they'll never forget.
Produced in collaboration with The Atlanta Children's Theatre Company, the show features 24 local girls performing alongside professional actors. The result is a charming Christmas treat sure to be enjoyed by kids of all ages.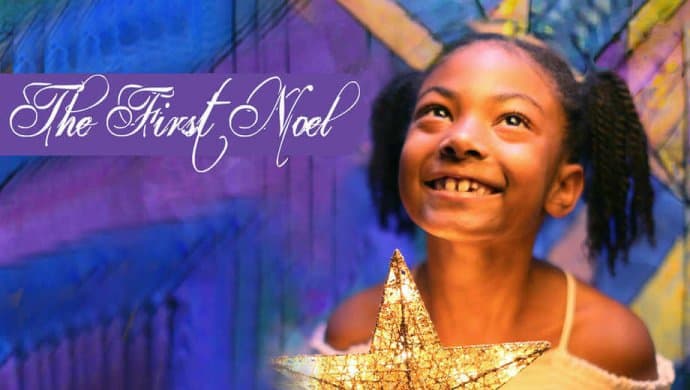 (Ferst Center for the Arts, Dec 8-24)
Originally presented at New York City's Apollo Theater in 2015, this touching musical from the Classical Theater of Harlem is designed to tug at the audience's heartstrings.
Largely set in Harlem in the 1980s, the emotionally gripping story opens in present day, with the adult Noel returning to NYC from Atlanta to sell her family's home in Harlem. From there the show goes back in time, following three generations of Noel's family, which is inexorably affected by the tragic loss of a loved one.
The story is somewhat overshadowed by the music, which reimagines some of our favorite holiday tunes in an array of musical styles ranging from Jazz and Gospel to Pop and R&B. In the end, it's a great family-friendly production about love, loss, and the healing power of community.

(Fox Theatre, Dec 8-28)
The Atlanta Ballet's annual production of Tchaikovsky's masterpiece played by a live orchestra has been an integral part of the city's holiday season for over 40+ years now.
The show tells the timeless tale of young Clara Stahlbaum, who awakes at midnight on Christmas Eve to find her prized Nutcracker toy has come to life to do battle with the Mouse King's army.
From dancing snowflakes to lively Russian nesting dolls, the extravagant production is sure to prove a hit with youthful spirits ages 8 to 80.  It is your last year to experience this version of The Nutcracker before Atlanta Ballet unveils a brand new production in 2018, so get your tickets early!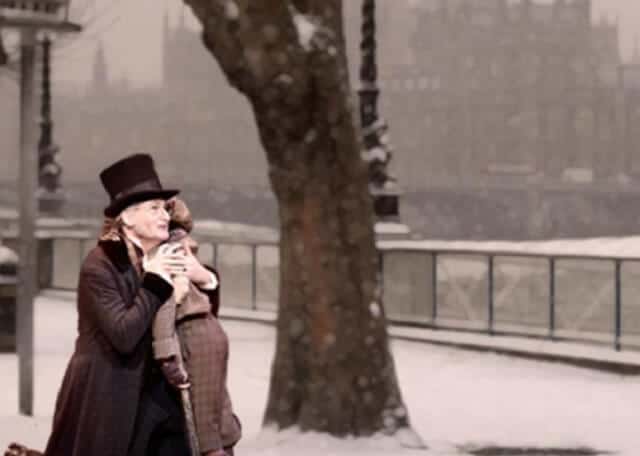 (Alliance Theatre, Dec 8-Dec 24)
Now in its 27th year, the Alliance's production of Dickens' timeless classic features Broadway-style stage design, beloved Christmas carols, and some of Atlanta's finest thespians.
We still miss Atlanta theatre icon Chris Kayser in his longtime role playing Ebenezer Scrooge, the tight-fisted, cold-hearted miser who is haunted by three ghosts on Christmas Eve.
But with an all-Atlanta cast and beautiful live music, this Broadway-scale production remains an impressive rendering of this perennial holiday favorite.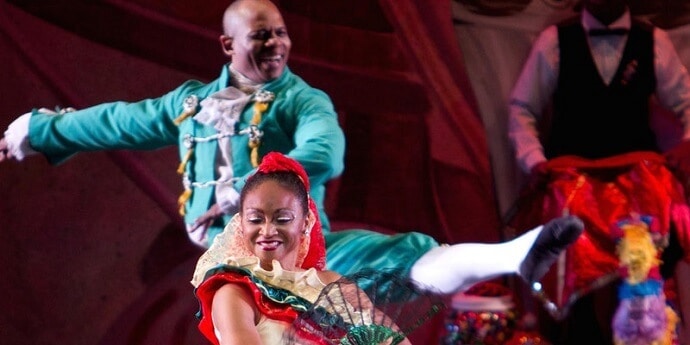 (Morehouse King Chapel, Dec 9-10)
Originally adapted in 1892, with music by classical music titan Pyotr Tchaikovsky, The Nutcracker is arguably the most popular Christmas production this side of Charles Dickens. For most people, it's probably the only ballet they've ever seen.
The Urban Nutcracker puts an African-American twist on the timeless tale. Rather than 19th century Russia, the story is set in the 1940s on Atlanta's Sweet Auburn Avenue. There, the smooth Chocolatier sweeps a young lady off her feet and away to a wonderland filled with leaping Reggae Rag Dolls and a spinning Black Russian.
Now in its 27th year, the Ballethnic production features a mixture of professional dancers and urban minority youth. With music adapted to modern-day sensibilities, it's a hip, happening take on the familiar holiday chestnut.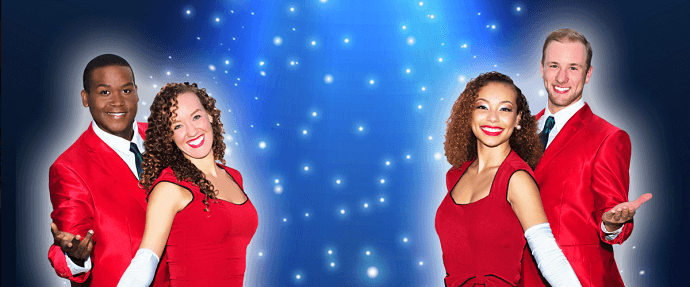 (The Strand, Dec 15-23)
The song-and-dance revue might seem a bit old fashioned to today's tech-obsessed Millennials, but it's a storied theatrical tradition that pre-dates Vaudeville. Fortunately, this annual holiday show at Marietta's Earl Stand Theatre keeps that tradition alive.
The family-friendly production features a little something for everyone, from Christmas classics to funky new favorites. There are dramatic divas singing their you-know-whats off, the sort of high-energy dance numbers Broadway buffs live for, and elaborate sets and effects to give it all a dash of flashy pizzazz.
Is it groundbreaking? Well, maybe not. But originality is not the point. This is a rare Christmas production that family members of all ages can sing, clap, and dance to. And hopefully everyone leaves with just a little more holiday spirit in their hearts.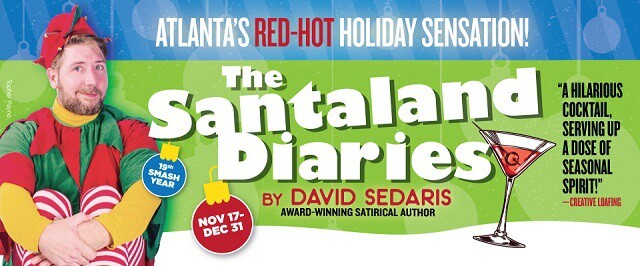 (Horizon Theatre, Nov 17-Dec 31)
Written by the ever-sardonic David Sedaris, this sarcastic satire tells the true-life tale of the author's lean-times stint as a Macy's Department Store elf.
Originally airing on NPR, this modern holiday classic is filled with bratty kids, overzealous parents, and humiliating costumes.
The chaos that ensues provokes the cynical Sedaris' alter-ego, Crumpet, to deliver a hilarious behind-the-scenes tell-all that reveals what happens when St. Nick and his helpers stop being polite and start being real. In short, leave the kids at home.
CHRISTMAS CONCERTS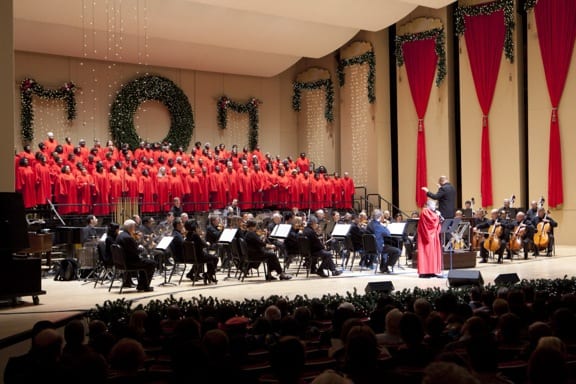 (Symphony Hall, Dec 9 & Dec 10)
Robert Shaw was a titan in the classical world, winning 14 Grammys, 1991 Kennedy Center Honors, and the first Guggenheim Fellowship ever awarded to a conductor.
"Christmas With The ASO" was the holiday-loving legend's gift to Atlanta, and this year marks the show's 48th anniversary. Conductor Norman Mackenzie will lead the ASO Chorus, Morehouse College Glee Club, and Gwinnett Young Singers through Shaw's 4-part musical take on the story of Christmas.
If the sound of 400+ singers and musicians working in tandem doesn't invigorate your holiday spirit, you may want to check your pulse.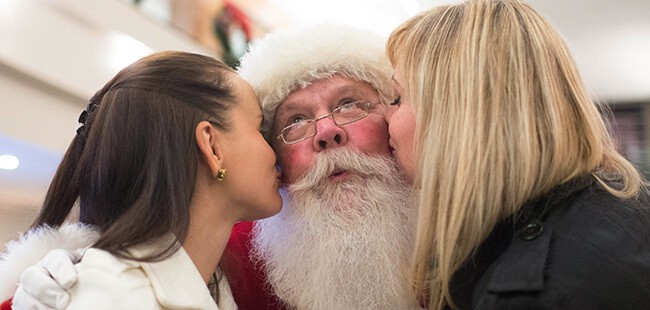 (Symphony Hall, Dec 15 & 16)
Principal Pops conductor Michael Krajewski is understandably excited about this year's Holiday Pops concert, which will feature the Atlanta Symphony Orchestra, Artist-in-Residence bass Morris Robinson and the All City High-School Chorus along with special guest Capathia Jenkins.
The Brooklyn-bred Jenkins has made her mark on Broadway (Newsies, The Civil War) and film (Chicago, Top Five). Still, she may have a hard time stealing the spotlight from the ASO's popular jitterbugging Santa.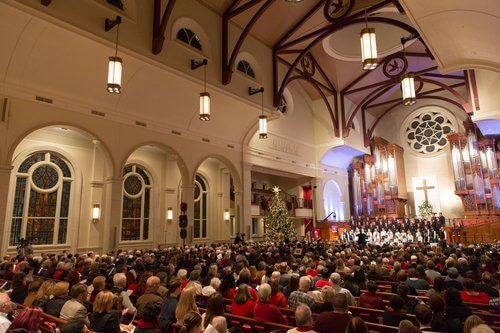 (Peachtree Road United Methodist Church, Dec 15 & 16)
One of my favorite Atlanta Christmas memories was performing holiday concerts with the Atlanta Boy Choir in the early '80s, under the direction of meastro Fletcher Wolfe.
The Georgia Boy Choir was founded in 2009 by David White, who led the ABC for 8 years after Wolfe's retirement (he returned after White's departure). Their annual holiday concert features all five levels of the choir, accompanied by a full orchestra and the Peachtree Road UMC's Mighty Mander Organ.
The performance will include a lively mixture of sacred classics, beloved Christmas carols, and modern holiday favorites. For me, it's sure to bring back memories of my time in one of the world's most respected choirs.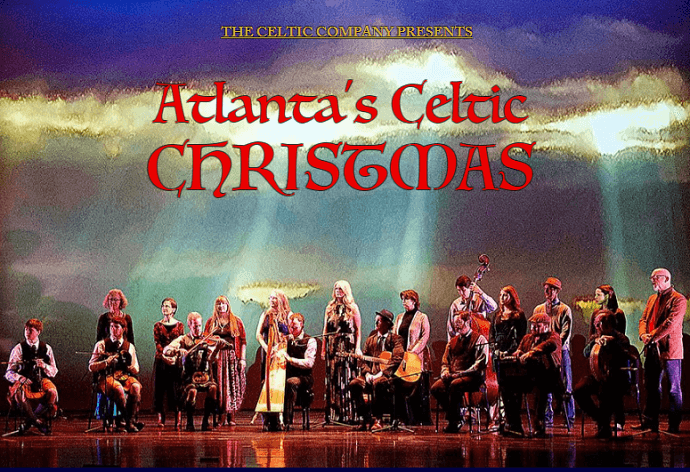 (Rialto Center for the Arts, Dec 16-17)
From rousing jigs and reels to mournful laments, I've always had a great appreciation for Celtic music. But it's grown even stronger after our recent trip to trace my family's origins in Scotland and Ireland. So I look forward to seeing this annual concert, which has been an Atlanta holiday tradition for over 25 years.
The show incorporates music and dancing, with a mixture of regional and international performers from the Irish, Scottish, and Welsh traditions. Paul Gleason, Consul General of Ireland, called it "a beautiful, evocative occasion… the must-see event in Atlanta each Christmas."
If you listen closely, you'll hear striking similarities between Celtic and Appalachian musical traditions, because many immigrants from the Celtic countries eventually settled in the southeastern U.S. hills. Many of them were named William, which is how they came to be nicknamed "hillbillies!"
(All Saints Episcopal Church, Dec 17)
Directed by John Dickson, the professor of Choral Music at the Louisiana State University School of Music, Coro Vocati is a group of professional singers based in Atlanta.
Many of their members work as music directors or conductors at local schools and churches, and several also sing with the Atlanta Symphony Chorus and Chamber Chorus. In short, these are some of the city's most elite performers of classical choral music.
Their annual Christmas concert at All Saints Episcopal Church has become a perennial holiday favorite. You can expect a repertoire steeped in classical choral artistry, with beloved Christmas carols and perhaps even a popular favorite or two thrown in for festive fun.
CHARITY CHRISTMAS EVENTS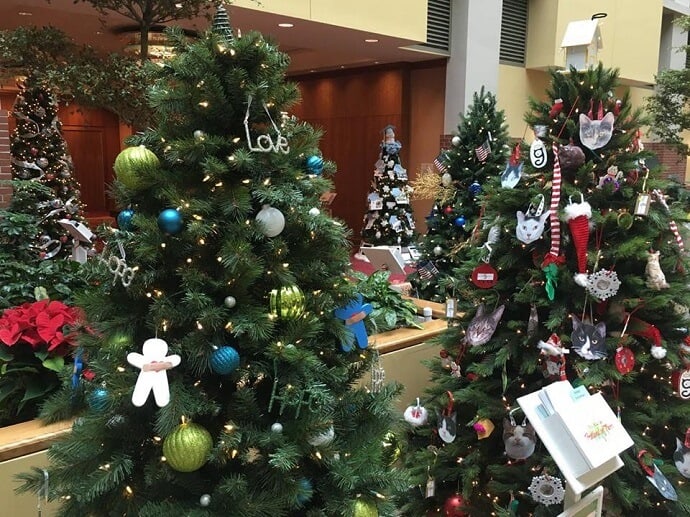 (Embassy Suites @ Centennial Olympic Park, Nov 21-Jan 2)
For most of its 30+ years, the original Atlanta Festival of Trees was held in the Georgia World Congress Center, with proceeds benefitting Children's Healthcare of Atlanta. This scaled-down version was launched at the Embassy Suites in Centennial Olympic Park in 2015, and continues to grow each year.
In 2017 there will be 30 local charitable organizations putting up their festive themed Christmas Tree displays in the hotel lobby. Admission (and parking) is free, and visitors and hotel guests are encouraged to make donation to their charity of choice.
The tree with the biggest donations will receive an additional $1,000 gift from Ruth's Chris Steak House.
Though it's a much smaller version of the classic Xmas event I grew up with, this is a great way to honor the giving spirit of the holiday season. Given the fact that it raised over $30,000 in its first year, here's hoping this will continue to grow as an Atlanta Christmas tradition!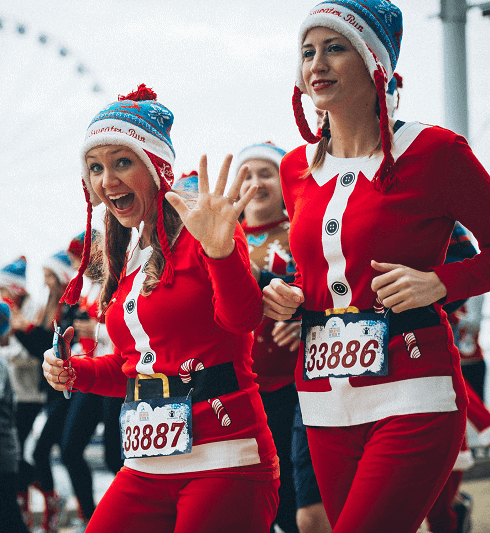 (Piedmont Park, Dec 9)
Billing itself as the "Merriest 5K of the Year," this national event offers a festive way to celebrate the holiday season, burn off some calories, and do some good in the process. A portion of proceeds benefit One Warm Coat, a non-profit charity that provides coats to people in need.
The fun begins by donning your ugliest Christmas sweater and joining hundreds of other participants to run/walk 3.1 miles through Piedmont Park and the surrounding neighborhoods.
There will be huge inflatables, photo stations, and lively Christmas tunes at the starting line. At the end of the race you get to run through a fake snowfall and take pics inside a gigantic snow globe. There will also be hot cocoa for kids, adult cocktails provided by event sponsor Kahlúa, and prizes awarded for Best Ugly Sweater, Best Kids Sweater, Best Pet Attire, and Best Mustache/Beard.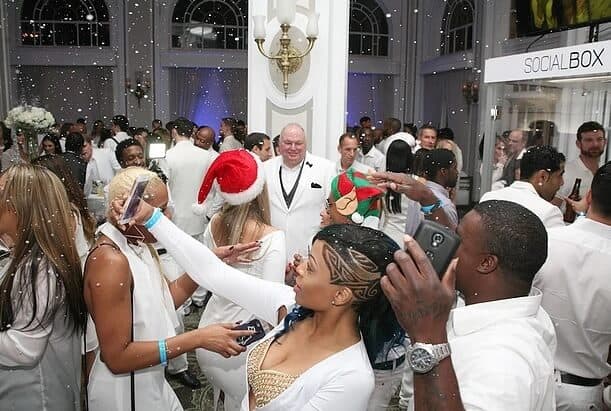 (Georgian Terrace, Dec 12)
Now celebration its 10th year, this upscale holiday celebration annually attracts over 1,500 attendees, including celebs, socialites and sports stars. Everyone is dressed to impress in their seasonally-appropriate best, with lavish decor and live entertainment ensuring it's a night to remember.
This years theme is "10 Degrees Cooler Experience." So you can expect the Georgian Terrace to transform into a winter wonderland in which a culturally diverse crowd is covered in white.
A portion of the proceeds from the event will be donated to Camp Dream, a volunteer-driven NGO in Georgia that provides a traditional summer camp experience for children and young adults with moderate to severe physical and developmental disabilities.
UNIQUE CHRISTMAS THINGS TO DO IN ATLANTA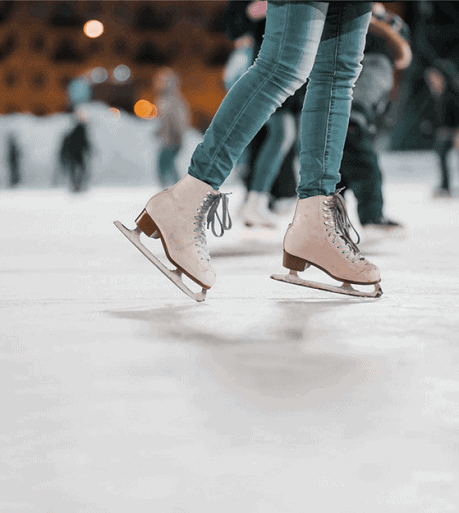 SKATE THE SKY
(The Roof at Ponce City Market, Nov 20-Feb 14)
Once upon a time, the skating rink at Centennial Olympic Park was the only option for outdoor skating in Atlanta. But in 2017 Slater Hospitality opened Skate the Sky, a brand spankin' new rink atop Ponce City Market.
Located at Rooftop Terrace, the Roof's private event space, the rink will offer exceptional panoramic views of the Downtown Atlanta skyline, the Atlanta Beltline, and the Old Fourth Ward.
And unlike most other Atlanta Christmas attractions, Skate The Sky will remain open until mid-February. Tickets are available for $15 for adults and $7 for children 12 and under.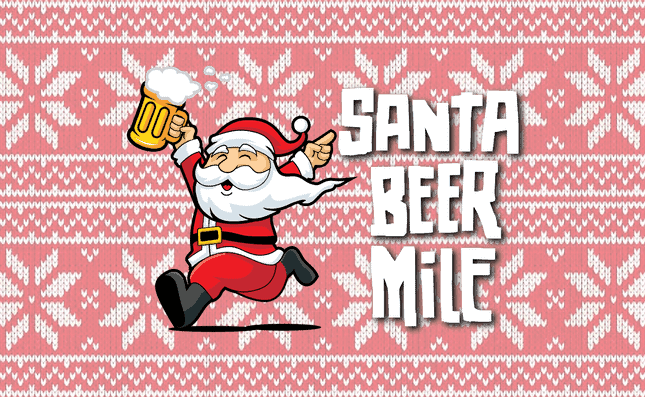 (Historic Fourth Ward Skatepark, Dec 2)
Did you ever see the irreverent Christmas comedy classic, Bad Santa? I'm fairly certain Billy Bob Thornton's drunk, foul-mouthed character would love this new Atlanta Christmas event.
"We put the FUN in 'Fun Run,'" says the tagline for this race, which seems to be as much about inebriation as it is about crossing the finish line. Participants are encouraged to dress up in Santa suits, ugly Xmas sweaters, reindeer antlers, or any other festive fashion that strikes their fancy.
There are three different waves: One for serious runners (6-minute mile and under), and two for "fun" runners. Each runner gets to enjoy four beers along the way, or one every 1/4 mile.
At the end, the race becomes an adult-oriented party. There's an open beer bar, eggnog aplenty, lively Christmas tunes, and plenty of holiday-themed games and contests to keep the crowd rowdy for hours.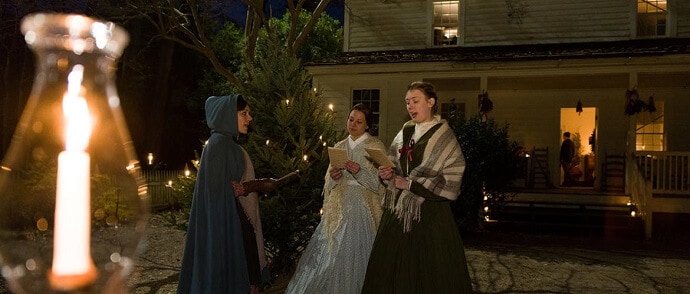 (Atlanta History Center, Dec 15 & Dec 22)
Speaking of history, the Atlanta History Center is one of those gem attractions that is probably more well known by tourists to the city than it is among local residents. Whether you're a regular or a first-time visitor, Candlelight Nights is a great example of what makes the center so special.
It begins with a nighttime candlelit stroll through their beautifully decorated gardens, where guests are welcomed to a warm Christmas market full of local arts and crafts. There are three historic Southern homes to explore– one from the pioneer days, the Civil War, and the Great Depression– each decorated for the holidays in the style of that era.
The center's experienced interpreters help bring these different periods in Southern history to life. There's also live music, food available for purchase, a cash bar, and numerous Christmas activities.

(Whitlock Avenue District, Dec 2-3)
For those seeking decidedly more sedate and refined holiday pleasures, there's the 31st annual Marietta Pilgrimage Christmas Home Tour.
Featured in Southern Living and named a Top 100 Event in North America, this tour visits six posh private homes located in Marietta's Whitlock Avenue district. Each of these homes (including three built between 1870 and 1890) has been lovingly restored and dress to the nines in festive holiday style.
Organized by the Marietta Visitors Bureau and Cobb Landmarks & Historical Society, the tours are a great way to get a taste of the city's famed historic district. For an especially magical Christmas experience, visit after 7PM on Saturday, when the Candlelight Tour homes are open.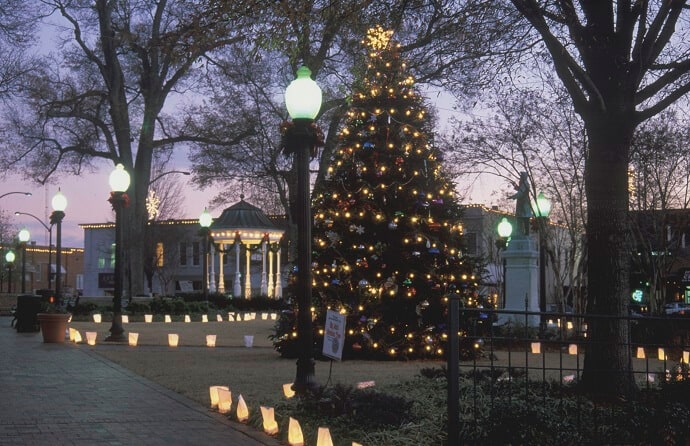 (Nov 17-Jan 3)
This new event puts a hip, modern suburban twist on traditional small-town holiday celebrations. The Marietta Square is the center of the action, with an open-air ice skating rink, festive holiday music, thousands of twinkling lights, and visits with Santa at his workshop.
But it's easy to make a day of it, stopping in shops such as Dakota Boutique and Marina Marina Antiques, getting sweet treats from Ye Olde Christmas & Candy Shoppe or Sarah Jean's Ice Cream, and winding down with a delicious Italian dinner from Piastra Restaurant (try the Gamberi Picatini and Lasagna Quatro Formaggi). We enjoyed our first visit so much, we're going back to celebrate New Year's Eve!  –Bret Love

Check out our Fair Trade Boutique for Unique Gift Ideas
If you enjoyed reading our Christmas in Atlanta: 40+ Can't-Miss Holiday Events, then you may also like:
Best Christmas Light Displays In Georgia
Christmas Traditions Around the World
Real Xmas Trees Vs. Fake Xmas Tree: Which Is Better?
Top 5 Tips For A Green Christmas
Best Gifts for Travelers: Christmas 2016