Autumn in Atlanta has always been my favorite time of year. From the cool, crisp weather to the rich hues of the changing leaves, there's something magical about these months before the craziness of the holidays holds sway over everyone.
In recent years our family has been doing a lot more traveling at this time of year, which only serves to make us appreciate the beauty of autumn in Atlanta all the more.
Whether we're taking our pontoon boat out on Lake Allatoona for a sunset barbecue, listening to live bluegrass music on the public square in Dahlonega, or simply taking our dog for a hike near our home at Rope Mill Park, we always seem to spend a lot more time outdoors in October and November.
Fortunately, there's no shortage of things to do and places to go within an hour's drive of Atlanta, in the foothills of the North Georgia Mountains. Whether you want to go for a hike, pick apples, or simply take a scenic ride to see the leaves change, north Georgia is a remarkable place to witness the beauty of nature in all its splendor.
And autumn is the perfect time of year in which to do it. Here are a few of our favorite autumn activities in Atlanta: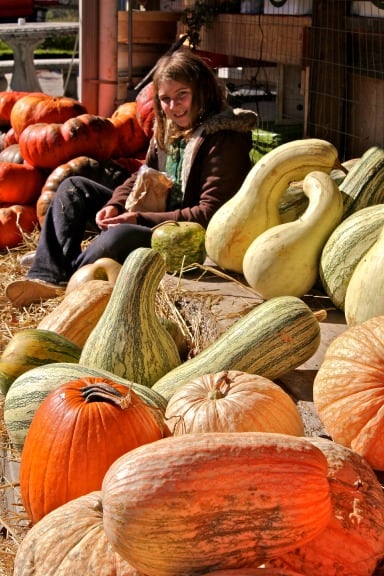 THE STONE MOUNTAIN PUMPKIN FESTIVAL
Stone Mountain Park, Hwy 78 • 770-498-5633
I've been taking my daughter to this annual celebration of autumn since she was old enough to walk. Stone Mountain Park gets decked out in all the colors of the season, with scarecrows, hay bales, and pumpkins around every corner.
There's a lot for kids to see and do at the Stone Mountain Pumpkin Festival, including autumn-themed arts and crafts, a costume dance party, pie-eating contest (pumpkin, naturally), Spookley's A-MAZE-ING Adventure maze, and a Trick or Treat scavenger hunt.
There's also the high-energy Pumpkinpalooza game show, in which audience members endure a series of increasingly humorous challenges. Winners get prizes, while losers spin a "Wheel of Misery" that leads to punishments such as a pie in the face or slime poured over the head… all in the name of good fun, of course.
Tickets to the festival also grant you access to Stone Mountain attractions such as the adventure ropes course of SkyHike, a "4-D" Journey 2: The Mysterious Island movie, and a Summit Skyride that provides spectacular views of the fall foliage from the top of the mountain.
GO APPLE PICKING IN ELLIJAY
Autumn is prime apple-picking season in north Georgia, and the small town of Ellijay seems to be the state's unofficial apple capital (perhaps due to the Apple Festival held there every October).
From B.J. Reece Orchards and Hillcrest Orchards to Red Apple Barn, there are plenty of perfectly good picking places to choose from. But we prefer Mercier Orchards, which was recommended to us by a friend.
If you go late in the season, you'll want to show up very early– preferably right when they open at 10AM. For $10, they'll give you a small plastic bag that you can fill to the brim with every kind of apple you could possibly want, from Fujis and Pink Ladys to Cameo and the treasured Honeycrisp (if you're lucky).
The friendly employees encourage you to taste them as you go, and will help you out with simple tools to reach the massive fruits near the tops of the 10'-12' trees. You can buy Mercier's apples by the bag at grocery stores and farmer's markets around the city, but somehow they seem to taste just a little bit sweeter when you pluck it from the tree yourself. And, at just $10 a bag, you can afford to pick plenty for sharing with friends and family.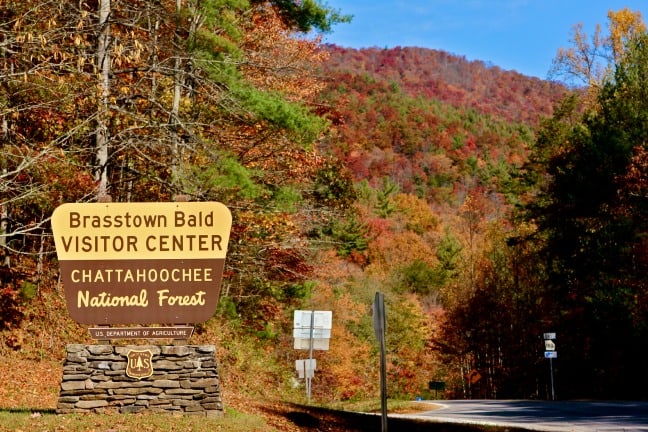 HIKE THE NORTH GEORGIA MOUNTAINS
Located less than 90 minutes from metro Atlanta, north Georgia is a haven for outdoor adventurers and casual nature-lovers alike.
There are nearly 20 state parks located north of the city's I-285 perimeter, from the mountain biking trails at Fort Yargo State Park in Winder to the horseback riding trails of Watson Mill Bridge State Outdoor Recreation Area in Comer.
The hiking is exceptionally beautiful at this time of year, when the weather is cool and leaves are beginning to reach the peak of their autumn colors. And there are plenty of natural wonders worthy of exploring.
There's the 729-foot cascading waterfall of Amicalola Falls, the tallest east of the Mississippi. There's the 4,784 foot summit of Brasstown Bald, which offers a 360-degree view of Georgia, North Carolina, South Carolina and Tennessee. There are the striking rock outcroppings of the 4.8-mile West Rim and Waterfalls Trail at Cloudland Canyon. And the canyons of the 2-mile long, 1000-foot deep Tallulah Gorge, are as impressive as any this side of the Grand.
Check out the Georgia State Parks website for further info.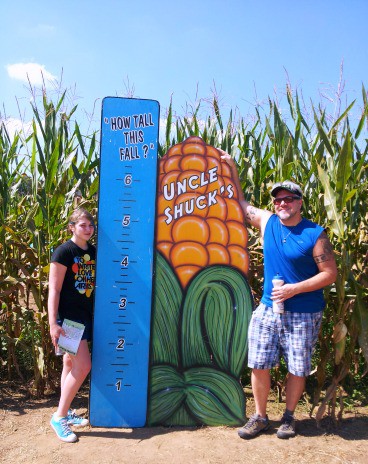 NAVIGATE UNCLE SHUCK'S CORN MAZE
4520 Hwy 53 East, Dawsonville • 1-888-OSHUCKS
An annual tradition for our family, Uncle Shuck's offers the biggest corn maze in Georgia, with four miles of trails stretching across 12 acres. The maze changes every year, with this year's model designed to look like a moonshine-maker in honor of a new law, passed last year, allowing local distillers to make their own corn-derived liquor.
Each of the two main mazes offers checkpoints along the way to help visitors track their progress, and this year there's a CSI-influenced game of whodunit that encourages kids to find the clues to a barnyard crime along the way. A third, smaller maze becomes haunted at night on October weekends, providing spooky (but still family-friendly) Halloween fun.
Of course, Uncle Shuck's isn't just about the maze: There's also goats to feed, ponies to ride, corn cannons to shoot, pumpkins for sale, old-fashioned hayrides around the cornfield, and a nightly bonfire and marshmallow roast. And, since it remains open until late November, it's one of the few seasonal attractions in Georgia you can visit between Halloween and Thanksgiving.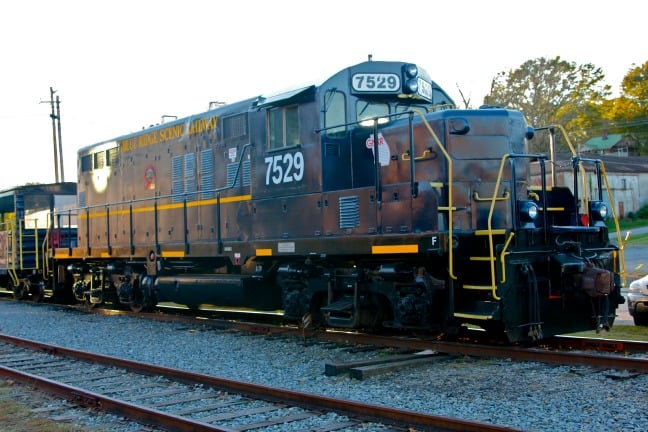 RIDE THE BLUE RIDGE SCENIC RAILWAY
241 Depot Street, Blue Ridge • 877-413-TRAIN or 706-632-TRAIN
Trains have played an integral role in Georgia's history, particularly during the Civil War. And this budget-friendly attraction in north Georgia offers the equivalent of an immersive history lesson.
Running out of the downtown Blue Ridge depot, the Blue Ridge Scenic Railway takes visitors on a scenic 13-mile ride along the beautiful Toccoa River to the twin border towns of McCaysville, Georgia and Copperhill, Tennessee– a 125-year-old route.
Volunteer conductors and "car hosts" are a veritable font of information, keeping kids entranced with colorful stories while the grown-ups enjoy the picturesque views. When the weather is warm, they will occasionally offer special trips that combine train rides with activities such as white water rafting or tubing.
But in the fall, the focus is all on the foliage, with late October through mid-November typically an exceptional time to see autumn leaves at their brightest and most beautiful. A word to the wise: At this time of year, advance reservations are strongly recommended. -Bret Love
READ MORE: Blue Ridge Mountains Travel Guide