Do you love Christmas as much as we do? Here are a slew of fascinating facts about the history and evolution of Santa around the world that you might not know: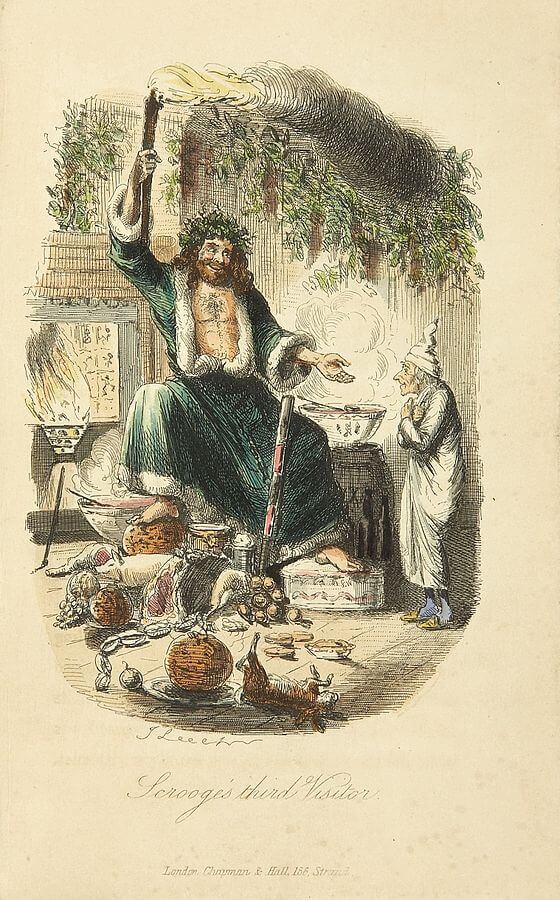 BRITISH SANTA CLAUS: Father Christmas
• Pre-modern representations such as St Nicholas and Sinterklaas merged with the British character Father Christmas to create the character now known to Britons and Americans as Santa Claus.
• Father Christmas dates back at least as far as the 17th century, when he was portrayed as a jolly, well-nourished, bearded man dressed in a green, fur-lined robe. He typified the spirit of good cheer at Christmas.
• Father Christmas became known outside the UK as the character referred to as "the Ghost of Christmas Present" in Charles Dickens's A Christmas Carol. 
In that holiday classic, he was portrayed as a genial man who takes Scrooge through the bustling streets of London on Christmas morning, sprinkling the essence of Christmas onto the happy populace.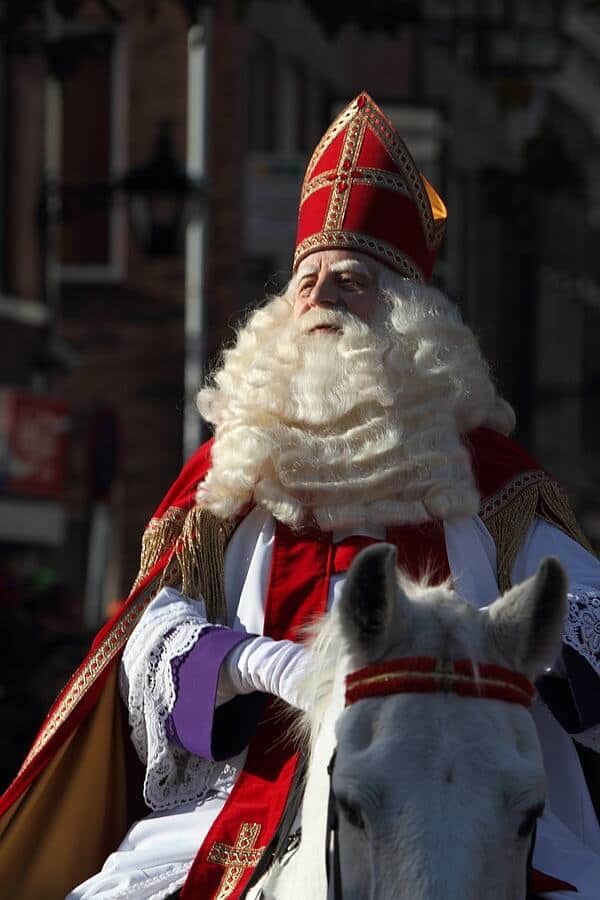 DUTCH SANTA CLAUS: Sinterklaas
• In the Dutch tradition, Sinterklaas is not aided by elves. Instead, he has helpers commonly known as Zwarte Piet in Dutch ("Black Peter") or "Père Fouettard" in French.
• Some 26% of the Dutch population give presents on both Sinterklaas Day and Christmas Day. In Belgium, presents are given to children only, but to almost all of them, on Sinterklaas day. On Christmas Day, everybody receives presents, but often without Santa Claus' help.
• In the Netherlands and Belgium, presents are delivered by Sinterklaas, who is often called "De Goede Sint" or "The Good Saint." His feast on December 6 came to be celebrated in many countries with the giving of gifts.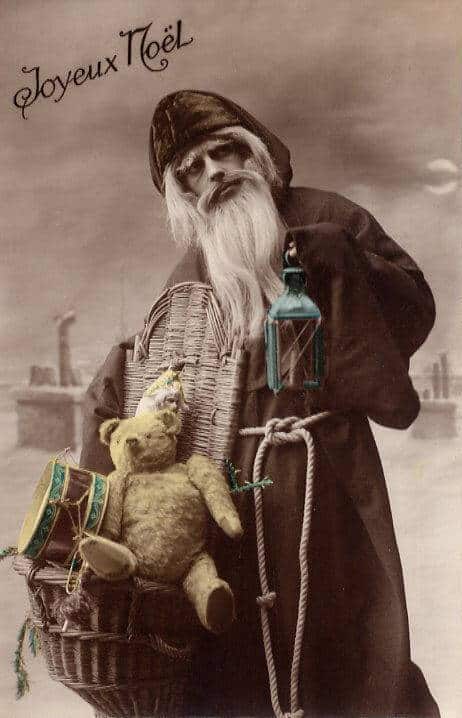 FRENCH SANTA CLAUS: Père Noël
• Instead of leaving milk and cookies for Santa, French children leave carrots and treats for Père Noël's flying donkey, Gui (the French word for "Mistletoe") .
• On Christmas morning,  there are no presents under the tree for French children. Instead, le Père Noël brings toys after evening Mass on Christmas Eve.
• While good children receive presents and toys from Père Noël,  naughty children may encounter the frightening Le Père Fouettard, who as his name implies whips and beats children who don't behave.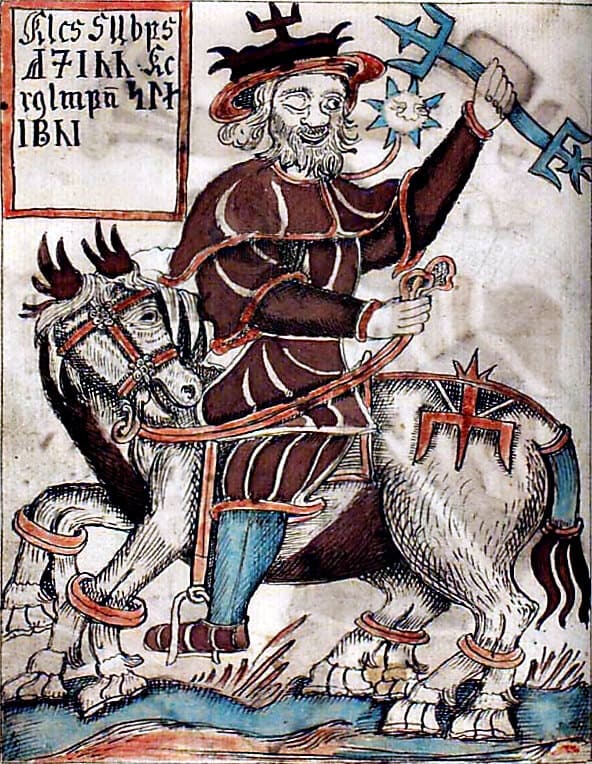 GERMAN SANTA CLAUS: Odin & Slepinir
• Numerous parallels have been drawn between Santa Claus and Odin, a major god of the Germanic peoples prior to their Christianization.
• During the native Germanic holiday of Yule, Odin supposedly led a great hunting party through the sky, riding an eight-legged horse named Sleipnir that could leap great distances (sound like Santa Claus's reindeer?).
• Odin was referred to by many names in Skaldic poetry, including Langbarðr ("long beard") and Jólnir ("Yule figure"). According to some traditions, children would place their boots near the chimney, filling them with carrots, straw, or sugar for Sleipnir to eat.
Odin would then reward those children for their kindness by replacing Sleipnir's food with gifts or candy! Eventually, the use of Christmas stockings began to replace boots.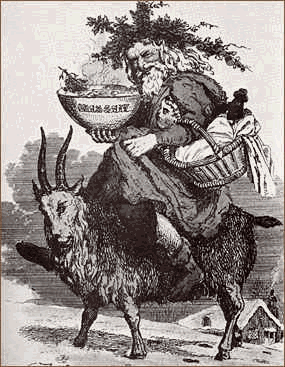 NORDIC SANTA: St. Nicholas
• In other countries, the figure of St. Nicholas was also blended with local pagan folklore. In Nordic countries such as Sweden and Norway, the original bringer of gifts at Christmastime was the Yule Goat.
• In the 1840s, an elf in Nordic folklore called "Tomte" or "Nisse"–  a short, bearded man dressed in gray clothes and a red hat– started to deliver the Christmas presents in Denmark. This new version of the folkloric creature was obviously inspired by the Santa Claus traditions that were spreading to Scandinavia.
• By the end of the 19th century this tradition had also spread to Norway and Sweden, replacing the Yule Goat entirely. Even though the tradition of the Yule Goat as a bringer of presents is now gone, a straw goat is still a common Christmas decoration in all of Scandinavia.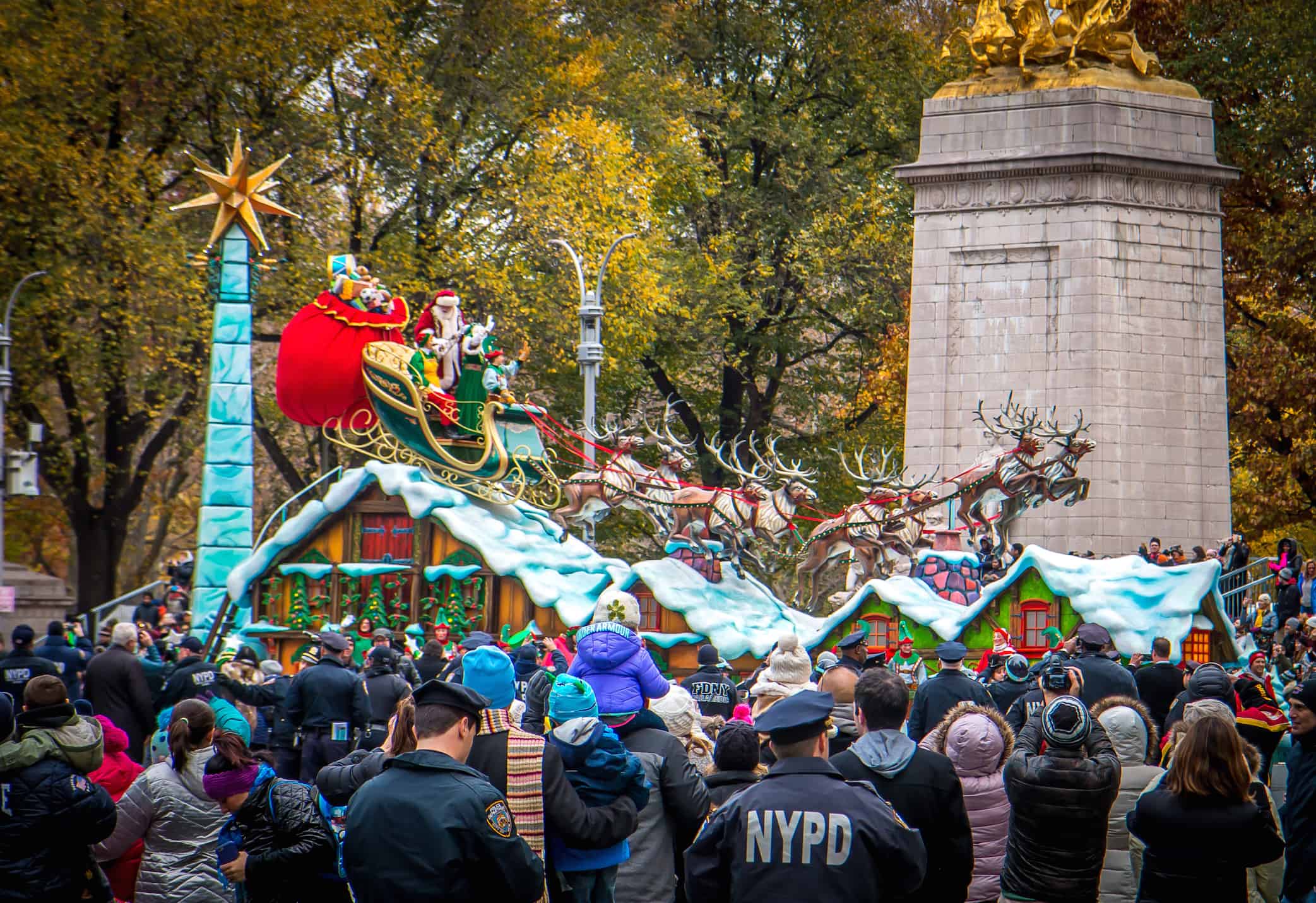 AMERICAN SANTA: Santa Claus
• In Washington Irving's History of New York (1809), Sinterklaas was Americanized into "Santa Claus" (a name first used in the American press in 1773). But by then the character had lost his bishop's apparel. He was instead pictured as a thick-bellied Dutch sailor with a pipe and a green winter coat.
• Many modern ideas of Santa Claus came after the publication of the poem "A Visit From St. Nicholas" (known today as "The Night Before Christmas") in the Troy, NY Sentinel on December 23, 1823. Initially published anonymously, the poem was later attributed to Clement Clarke Moore.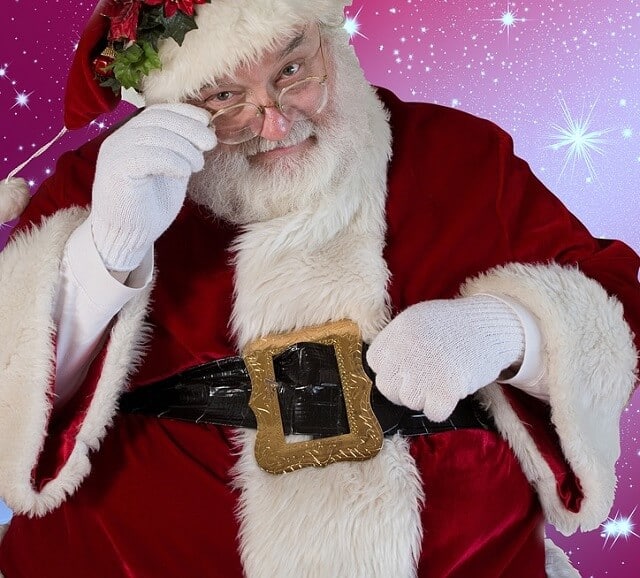 • Early illustrations of Santa Claus pictured him as a stern, commanding disciplinarian holding a birch rod. The jolly old elf we know and love today was created by artist Haddon Sundblom for a Coca-Cola ad.
• Many of Santa's modern attributes were originally established in this poem. These included riding in a sleigh that lands on the roof, entering through the chimney, and having a bag full of toys.
• Santa's reindeer were originally named Dasher, Dancer, Prancer, Vixen, Comet, Cupid, Dunder and Blixem. Dunder and Blixem were later changed to Donner and Blitzen.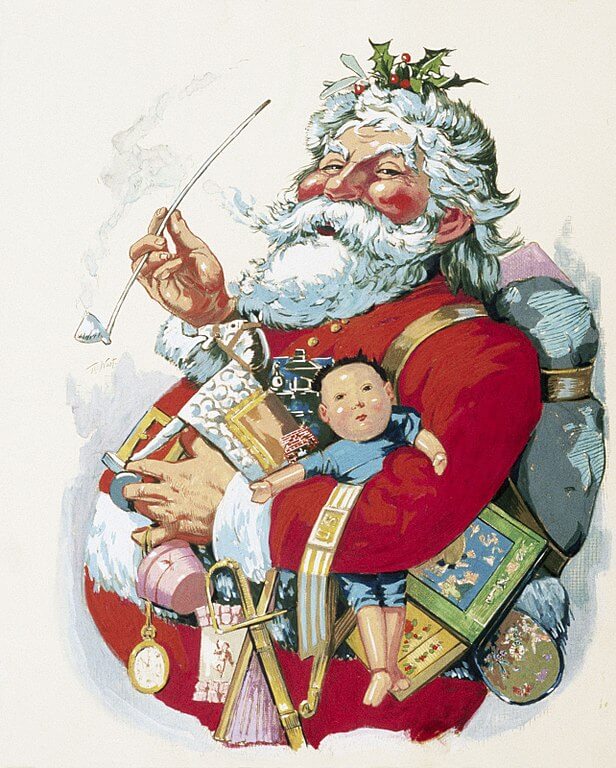 • One of the first artists to define Santa Claus's modern-day  image was Thomas Nast, an American cartoonist of the 19th century. In 1863, a picture of Santa illustrated by Nast appeared in Harper's Weekly .
• The story that Santa Claus lives at the North Pole may also have been a Thomas Nast creation. His Christmas image in the Harper's issue dated December 29, 1866 was a collage of engravings titled Santa Claus and His Works, which included the caption "Santa Claussville, N.P."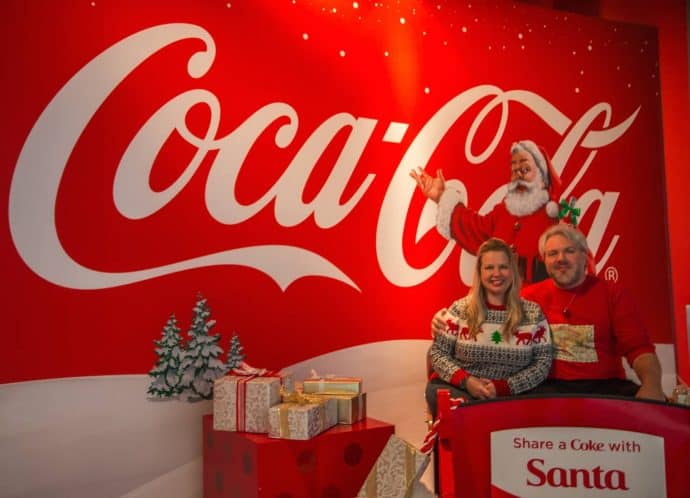 • Images of Santa Claus were further popularized through Haddon Sundblom's depiction of him for the Coca-Cola Company's Christmas advertising in the 1930s.
• The popularity of the image spawned urban legends that Santa Claus was invented by the Coca-Cola Company or that Santa wears red and white because they are the colors used to promote the Coca-Cola brand.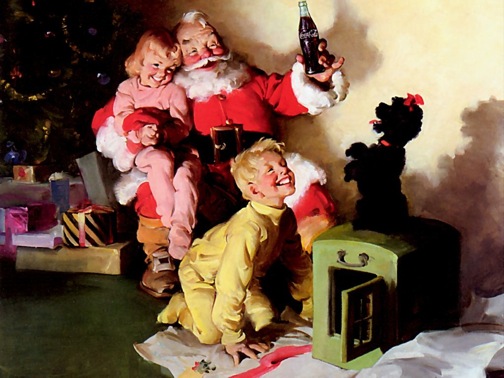 • Coca-Cola was not the first soft drink company to utilize the modern image of Santa Claus in its advertising: White Rock Beverages used Santa to sell mineral water in 1915, and then in advertisements for its ginger ale in 1923.
Still, the Coca-Cola advertising campaign popularized the depiction of Santa as wearing red and white, in contrast to the variety of colors he wore prior to that campaign.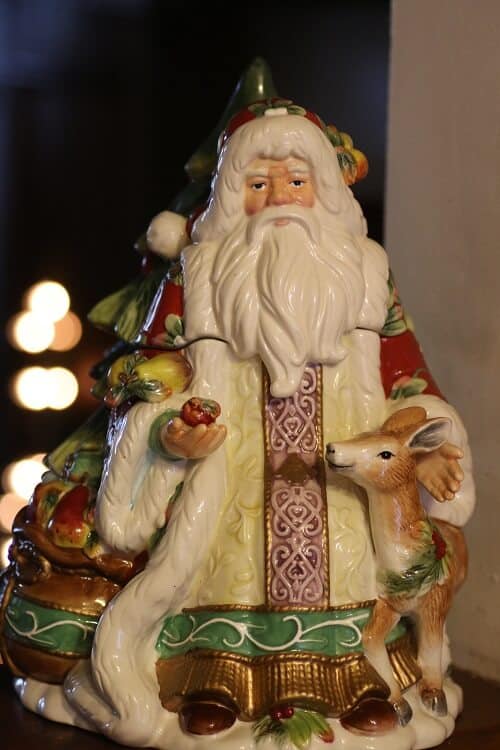 THE SAINT NICOLAS AND SANTA CLAUS CONNECTION
• The legend of Santa was derived from the Dutch figure of Sinterklaas, which, may have part of its basis in hagiographical tales concerning the historical figure of gift-giver Saint Nicholas.
• Saint Nicholas was a 4th century Greek Christian bishop of Myra in Lycia, a province of the Byzantine Anatolia (now located in Turkey). He was famous for his generous gifts to the poor. He once presented the three impoverished daughters of a pious local Christian with dowries so that they wouldn't have to become prostitutes.
• In 1087, the Italian city of Bari mounted an expedition to locate the tomb of the Christian Saint and procure his remains in order to attract tourism to the area. The reliquary of St. Nicholas was desecrated by Italian sailors and the spoils were taken to Bari, where they are kept to this day.

Shop our Fair Trade Boutique for Gifts From Around The World
SANTA CLAUS NAMES AROUND THE WORLD
Belgium- Pere Noel
Brazil– Papai Noel
Chile– Viejo Pascuero ("Old Man Christmas")
China– Dun Che Lao Ren ("Christmas Old Man")
Netherlands- Kerstman
Finland- Joulupukki
France– Pere Noel
Germany– Weihnachtsmann ("Christmas Man")
Hawaii– Kanakaloka
Hungary- Mikulas (St. Nicholas)
Italy– Babbo Natale
Japan- Hoteiosho (a god or priest who bears gifts)
Norway- Julenissen ("Christmas gnome")
Poland- Swiety Mikolaj (St. Nicholas)
Russia– Ded Moroz ("Grandfather Frost")
Sweden- Jultomten ("Christmas brownie")
United Kingdom- Father Christmas.   –Bret Love
If you liked Fascinating Facts About Santa Around The World, you may also like:
60 Christmas Traditions Around the World
Countries That Don't Celebrate Christmas
Real Xmas Tree vs Fakes Xmas Tree: Which is Better?
Best Christmas Light Displays In Georgia
Top 40+ Atlanta Christmas Events
GLOBAL CUISINE: Lebkuchen Recipe (Germany)
Best Gifts for Travelers: Christmas 2016