Despite the news today that Greek Banks have reopened their doors for the first time in 3 weeks, the country remains on the brink of a major financial crisis.
But what does the threat of a "Grexit"– the hyperbolic term for dropping out of the eurozone and reverting to its old currency, the drachma– mean for travelers hoping to visit this ancient land?
According to Andreas Andreadis, president of the Greek Tourism Confederation known as SETE, there is no cause for travelers to be concerned.
"Greece is beautiful, peaceful and quiet. I don't believe there's a risk of a strike or protest," he said in a CNN interview. "In the worst case scenario banks will have capital controls, but that will not affect tourists. Money will be available and credit cards will work. Greece is the best value for money this year."
The truth is that Greece's financial issues ensure that strong currencies such as the U.S. dollar and Euro will stretch further than ever before.
And because we loved the country so much during our 16-day island-hopping tour, we wanted to share 40 of the best places to visit in Greece. We hope their beauty will encourage you to book your ticket to the cradle of Western civilization asap…
AEGINA ISLAND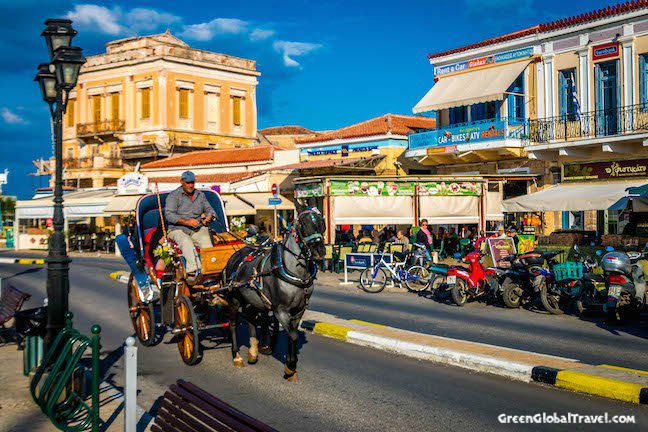 Located in the Saronic Gulf about 27 km from Athens, Aegina is accessible via a 40-minute boat road from Piraeus port. The island was an impressive sea power that rivaled Athens during ancient times (657-459 BC). From 1827 to 1829, it was proclaimed the first capital of Greece.
These days it's best known as a weekend getaway for Athenians, with its bustling harbor lined with fishing boats and luxury yachts. What you won't find here is many tourists, even at impressive Aegina attractions such as the ancient Temple of Aphaia and the church of Aghios Naktarios.
A prime launching point for exploration of the Saronic Islands or the Peloponnese peninsula, Aegina is also a great place to immerse yourself in everyday Greek life.
Savor the view from one of the many waterfront tavernas, wander alleys lined with shops, and make sure to pick up some local Pistachios, considered the finest in Greece due to the ideal climate and soil composition.
READ MORE: Happy Accidents on Aegina Island, Greece
AEGINA ISLAND PHOTOS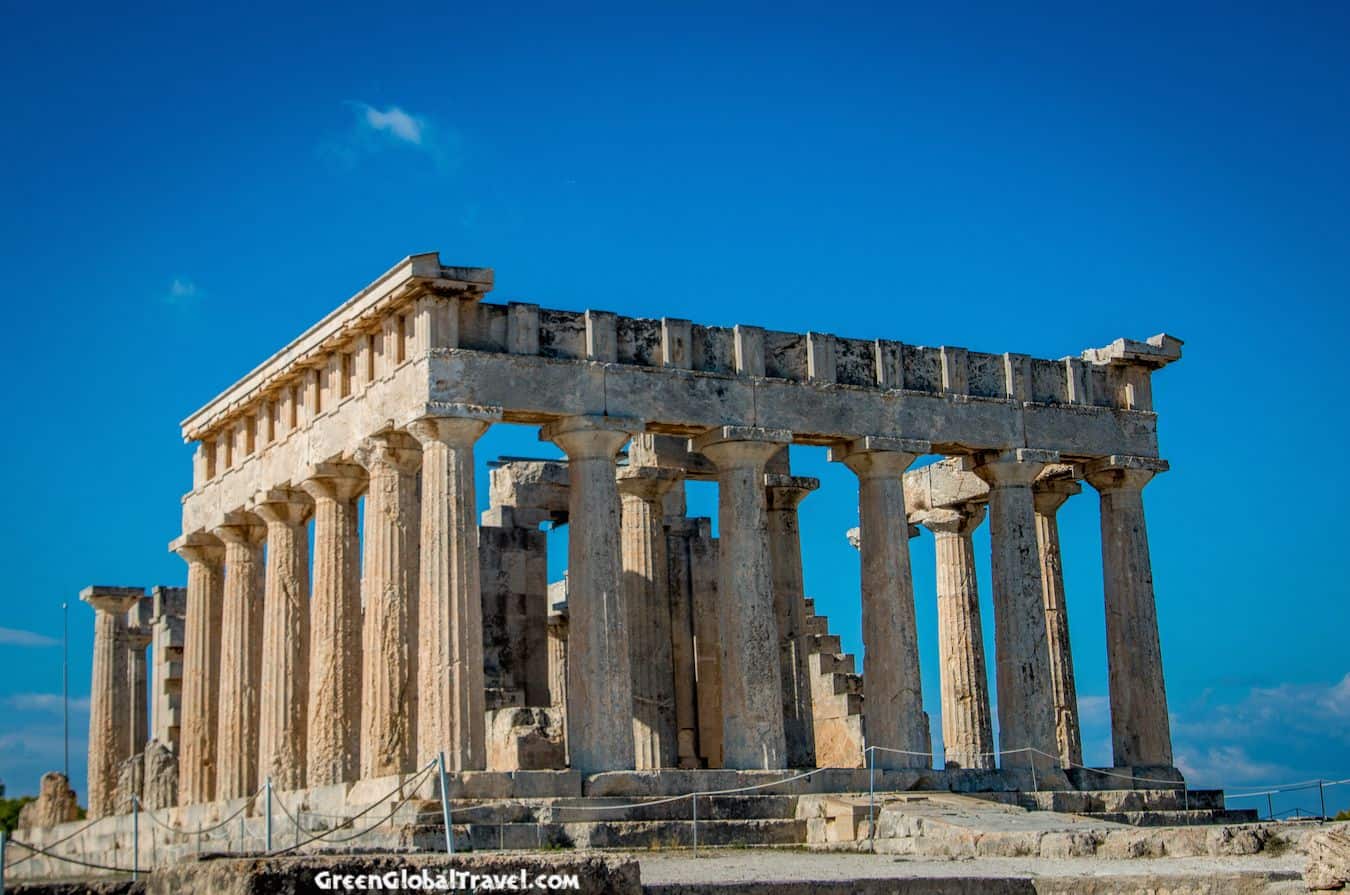 The Temple of Aphaia, built in 500BC to honor a local goddess associated with fertility and agriculture. It also offers exceptional views of Athens' coast line.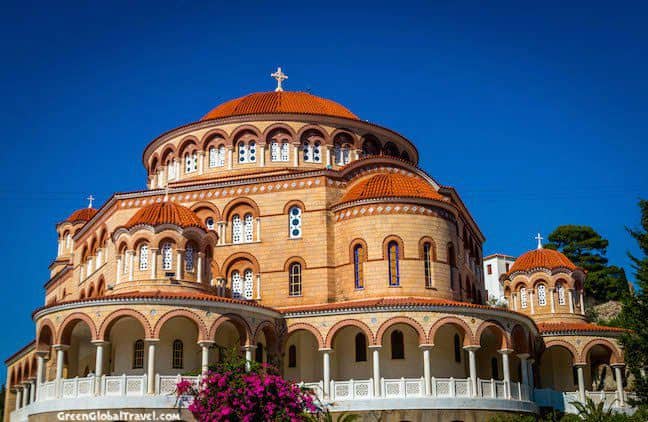 The church of Agios Nektarios– built to honor a Greek Orthodox saint who died in 1920– was still being constructed when we visited. The faithful flock here to ask the miracle worker for help.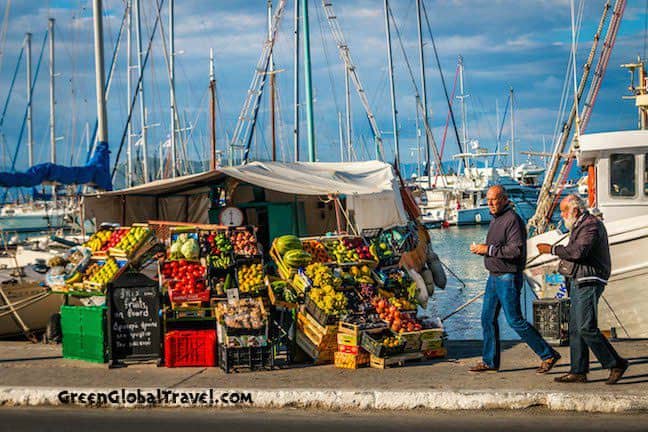 Fishermen, churchgoers, vendors selling fresh fruit and seafood, and vacationing Greeks alike take to Aegina's streets on a sunny Sunday morning.
A Pistachio vendor readies her display for the day in one of Aegina's charming alleys. The nuts are available in a variety of flavors, candies, pastries and spreads.
ATHENS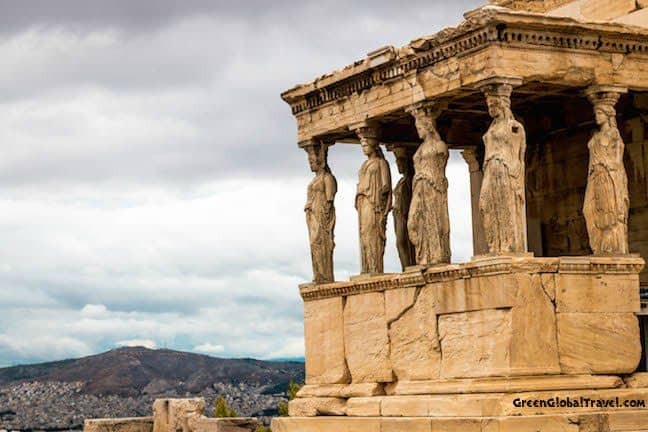 Trying to adequately summarize one of the world's greatest cities in a few hundred words is an exercise in futility. Athens is practically littered with monuments and masterpieces from antiquity and the Middle Ages, and is widely considered the cradle of civilization.
Inhabited since the Neolithic age, Athens reached the height of its influence in the 5th century BC. Modern Democracy, politics, philosophy, the arts, music, theatre, architecture, mathematics, science, gastronomy and logic all took root here over 6000 years ago.
And though Greece may have fallen on hard economic times in recent years, there's a new generation of artists, activists and creative talent ready to usher in a new era of prosperity.
We saw a very different side of the city than most tourists get to see via a tour with Eco Athens, which was founded by Yiannis Skevis and his wife Colleen McGuire. After meeting the couple at TBEX Athens, we took a bicycle tour that started at the Acropolis and made its way down to the heart of the ancient city.
The bike tour ultimately proved the best way to explore what is inarguably among the best places to visit in Greece.
READ MORE: Ancestors & Expectations at the Acropolis of Athens, Greece
ATHENS PHOTOS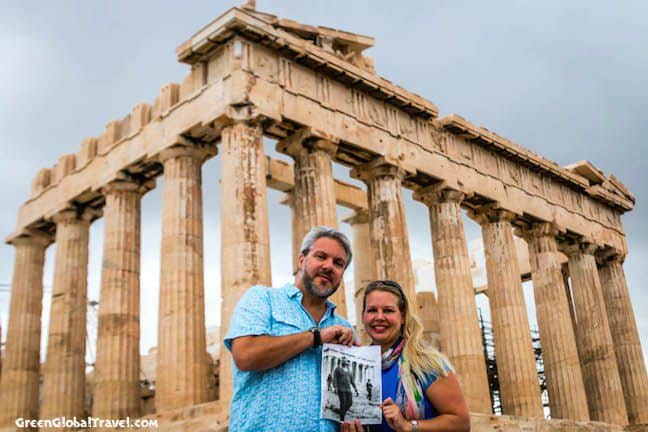 Visiting the Parthenon was an incredibly emotional experience for me, as it allowed me to recreate a photo of my late Grandfather (one of my earliest travel inspirations) that was taken in the mid- '70s.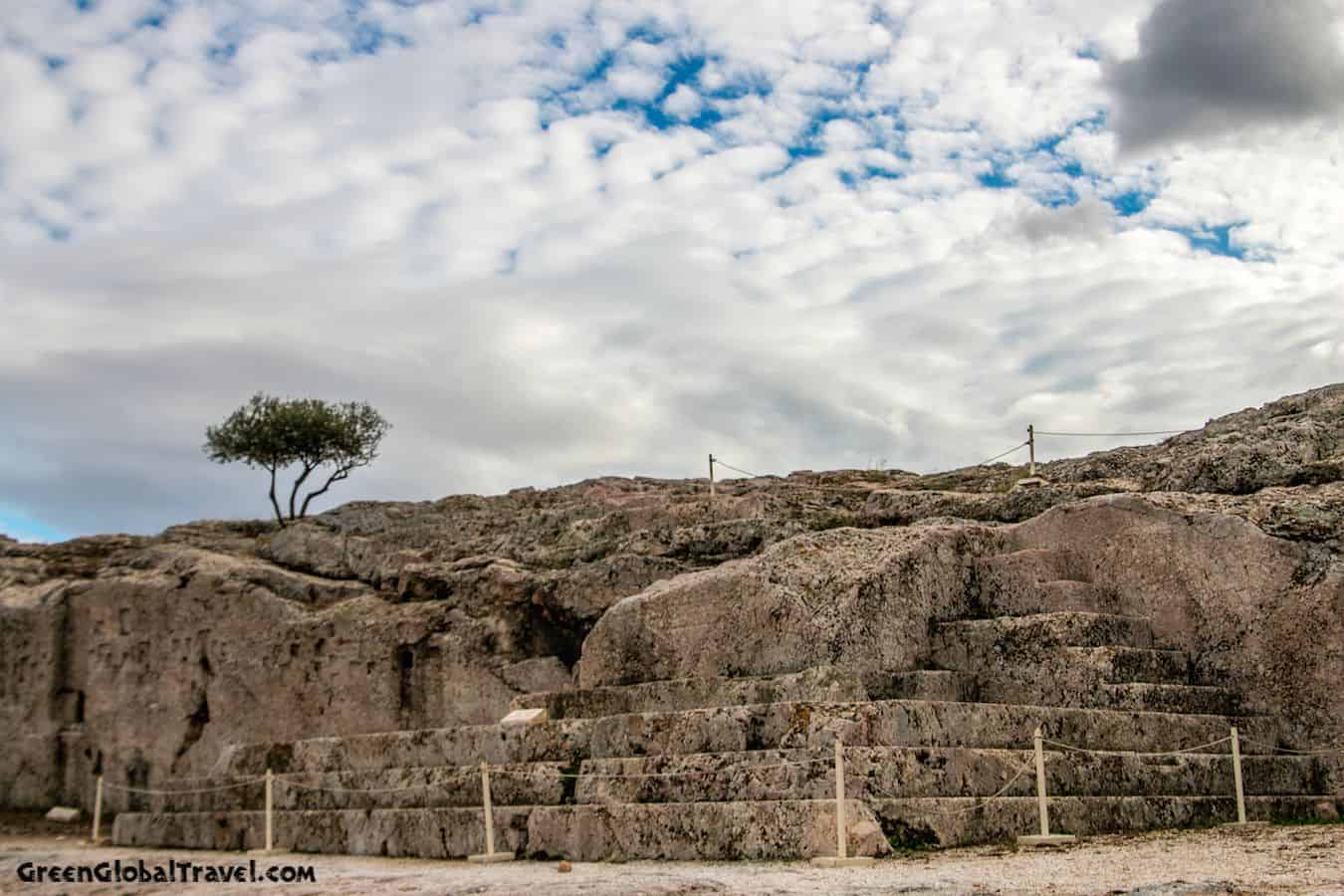 Pnyx is considered the birthplace of Democracy. Up to 10,000 Athenians would gather here to hear orators speak and participate in the political process.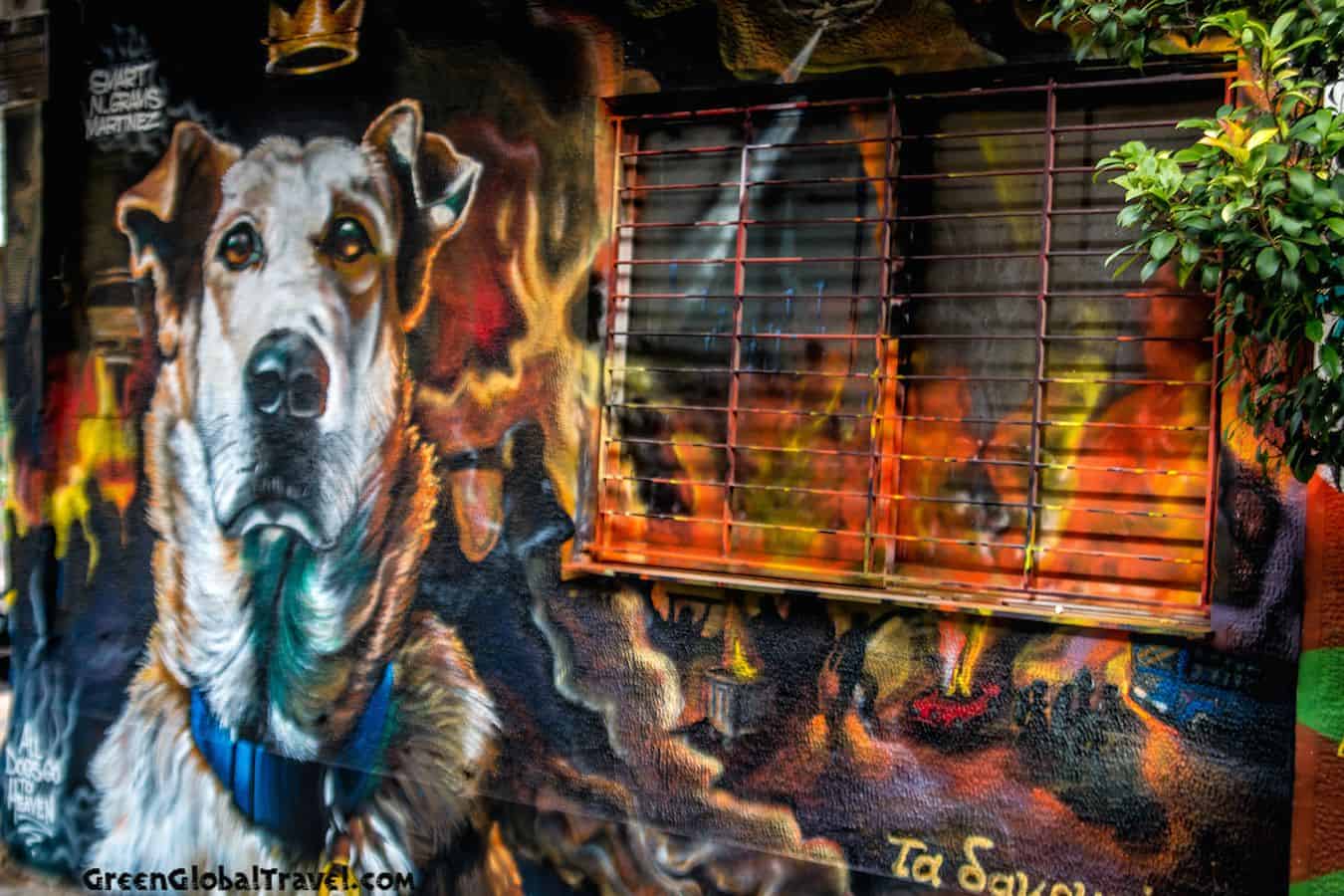 The Athens neighborhood of Psirri is filled with amazing street art. This mural pays tribute to Loukanikos, a stray "riot dog" who became a world-renowned symbol of Greek protests against austerity measures after he sided with those under attack by police. He died a few weeks before our visit.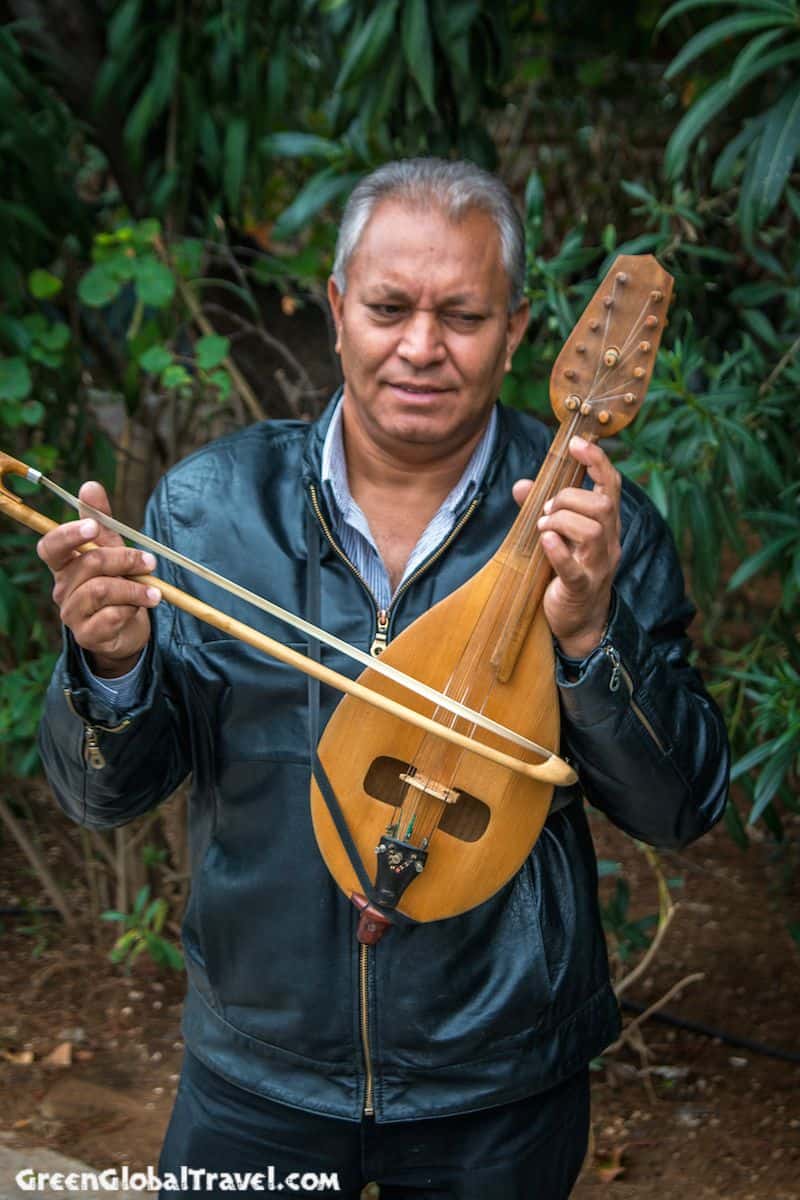 We heard music everywhere we went in Greece, but Athens was especially packed with street musicians busking for change. This man plays a modern version of the Byzantine lyra, which dates back to at least the 9th century.
CRETE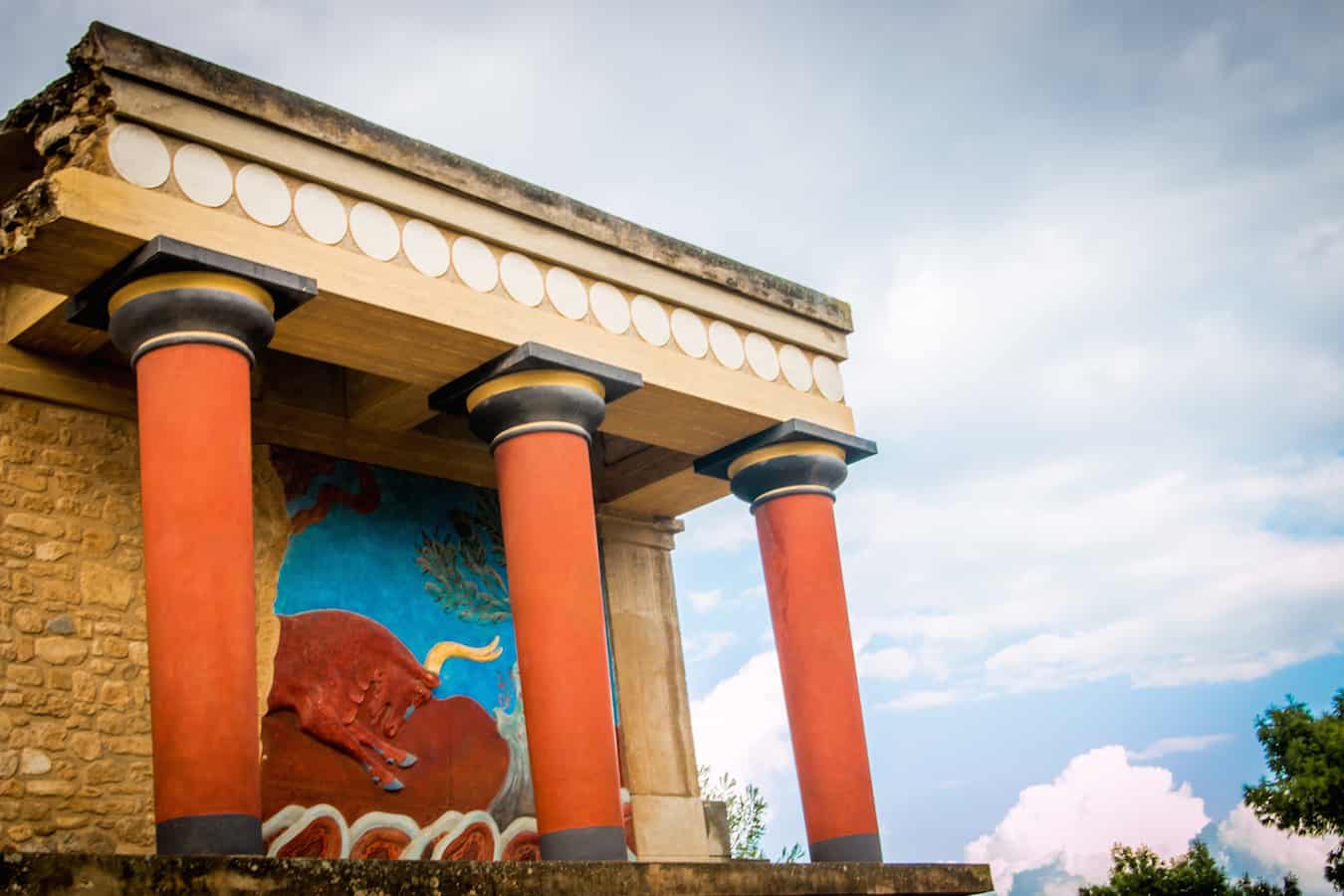 Crete is the largest and most populated Greek Island, with around 625,000 residents. Archaeological evidence suggests that humans (or pre-human hominids) may have reached the island 130,000 years ago, but we know for certain that modern humans have lived there for 10,000-12,000 years.
Crete was the heart of the Minoan civilization, which lasted from 2700 to 1420 BC and is considered the earliest recorded civilization in all of Europe.
The Minoans are known for their monumental palaces, the most famous of which can be found at the Bronze Age archaeological site of Knossos, the ceremonial and political center of Minoan culture.
Originally uncovered by Minos Kalokairinos in 1878, the palace was excavated by Sir Arthur Evans in the early 20th century, and is still being investigated by the British School of Archaeology today.
READ MORE: 10 Ancient Archaeological Sites (World Travel Bucket List)
CRETE PHOTOS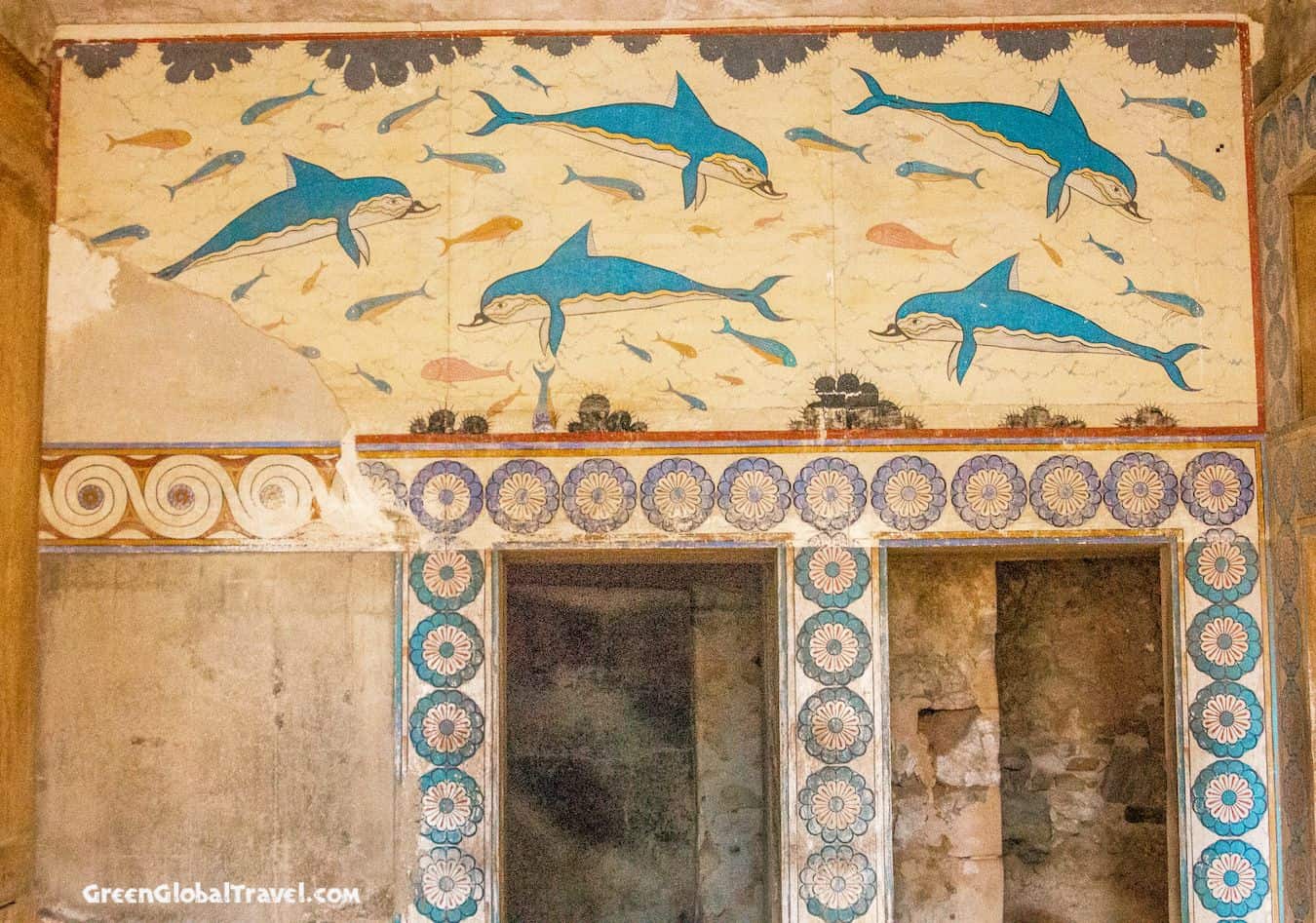 Knossos is arranged like a maze of living spaces, workrooms and storerooms around a central square. But its most impressive features are the murals and frescos. This one shows dolphins and various colorful fish, reflecting their relationship with the sea.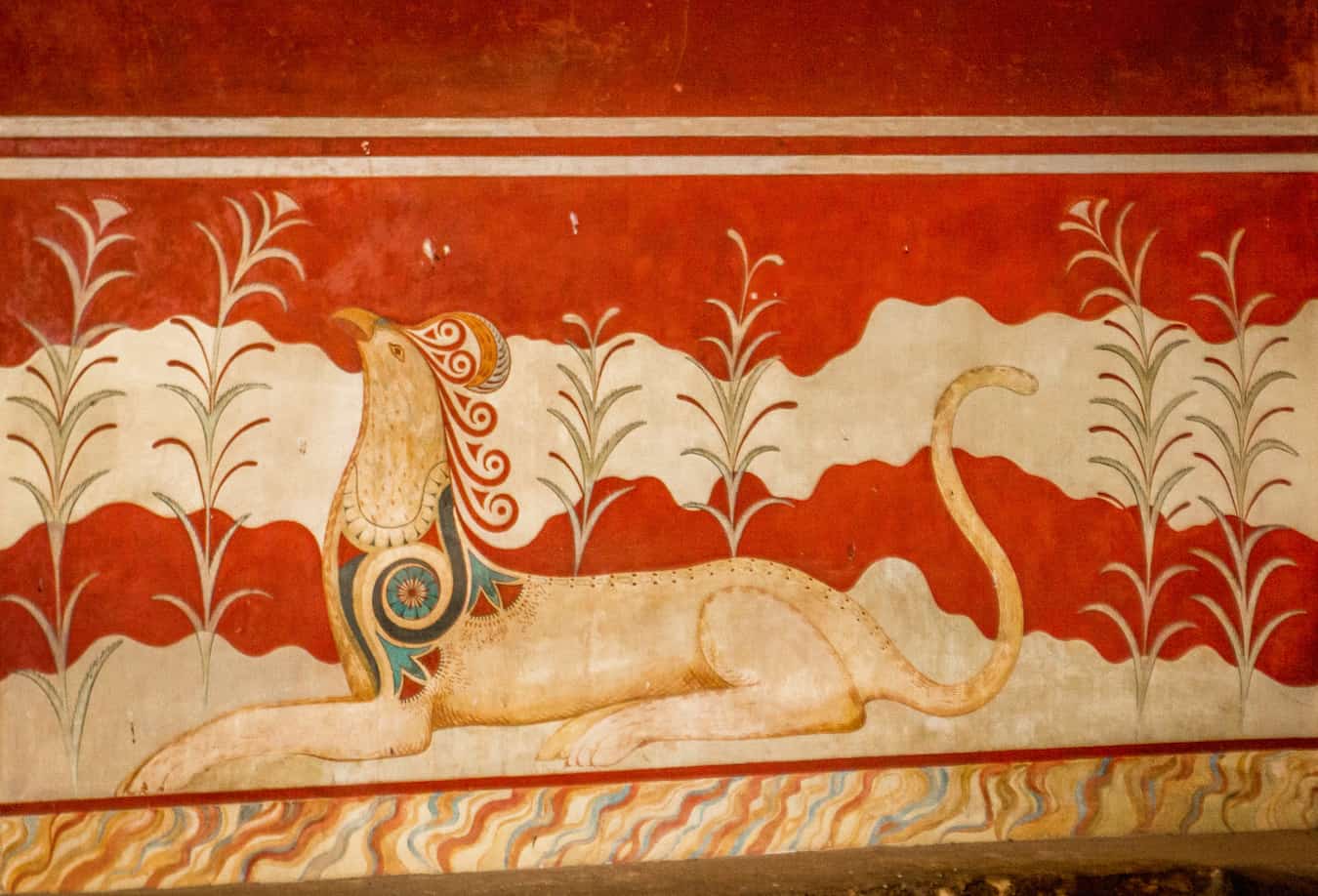 The walls of the Knossos throne room are decorated with a fresco depicting griffins, which have the head of an eagle (King of the Birds) and the body of a lion (King of the Beasts). The mythological griffin was believed to be an especially powerful creature.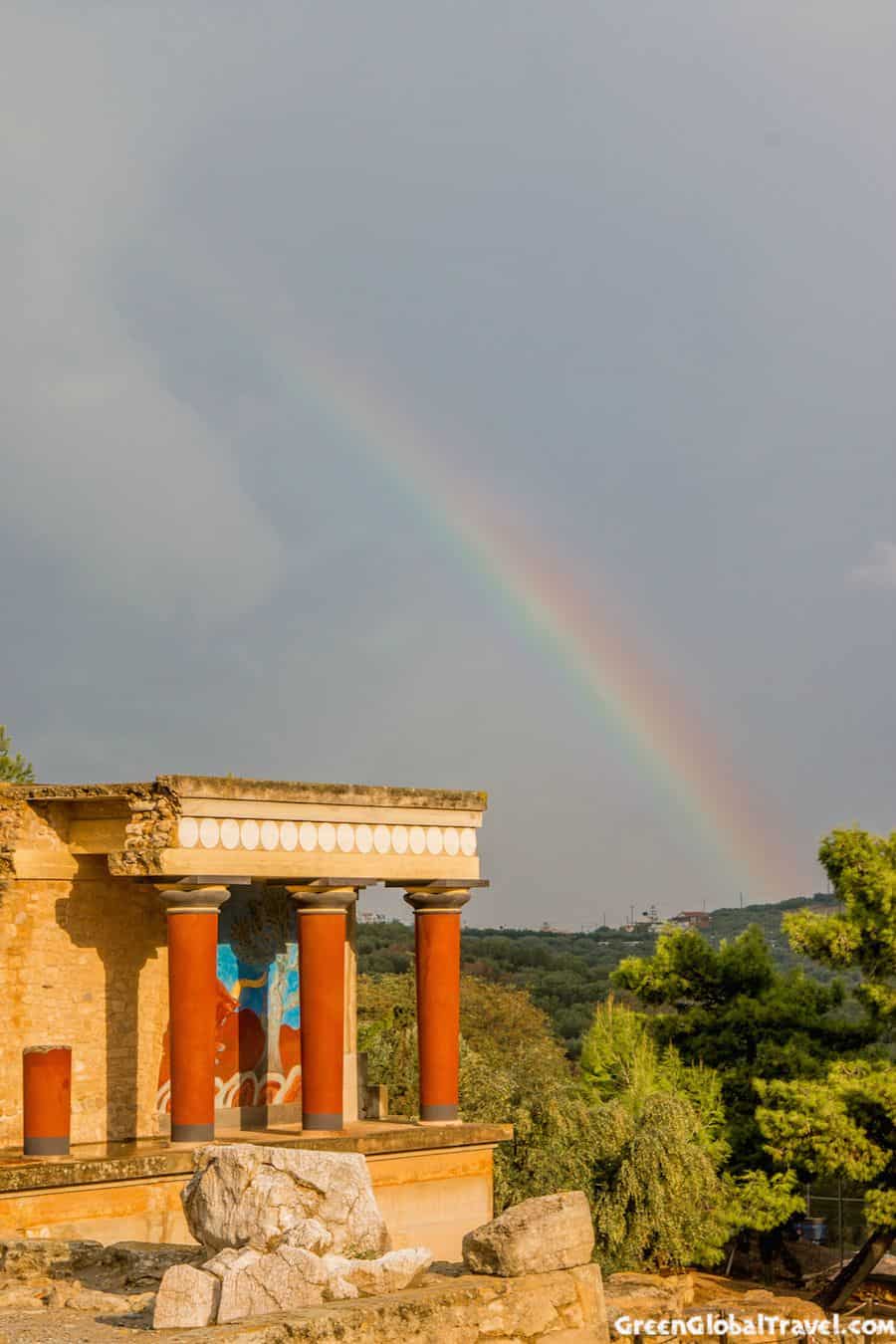 According to Greek mythology, King Minos ordered the architect Daedalus to construct a labyrinth in which to keep his son, the Minotaur. There's lots of bull imagery in Knossos today, but none more striking than this fresco of a charging bull, backlit by a brilliant rainbow.
DOKOS ISLAND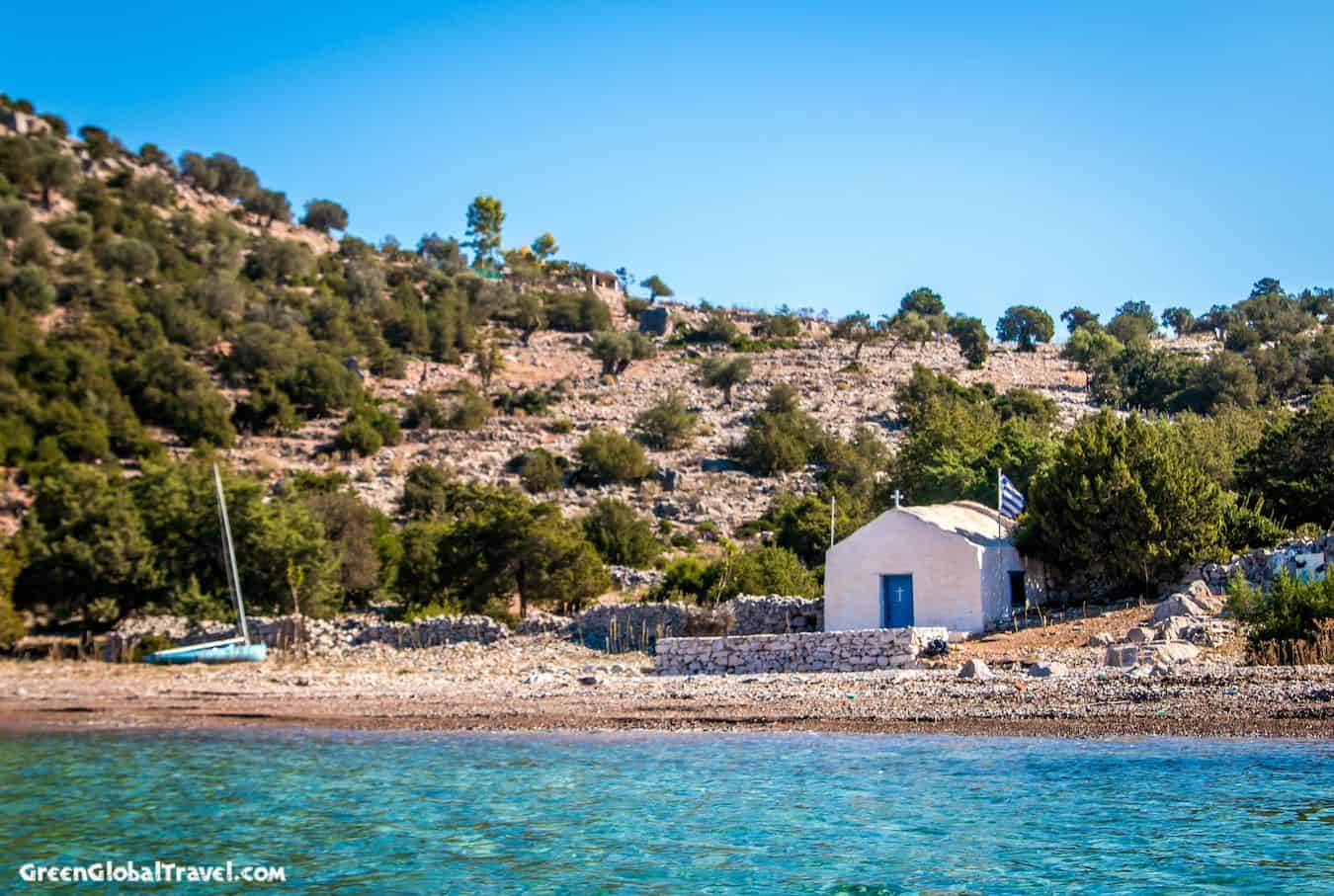 One of the least known (and least populated) Greek islands, calm, quiet Dokos is tucked away in the Saronic Gulf in a narrow passage en route from Hydra to Spetses.
Primarily frequented by yachts taking advantage the clear waters and shelter provided by picturesque Skintos Bay, the island's main features are a small chapel devoted to Saint Nicolas, a rocky mound reaching 308 meters, and a few sheep herders who live there year-round.
It also boasts archaeological remains including ruins of a great Byzantine castle, 100 houses, and pre-historic tombs and walls from the early Hellenistic times.
But Dokos' most famous feature actually lies hidden offshore. In 1975, Peter Throckmorton found the remains of the oldest shipwreck in the world here, dating back to 2700-2200 BC.
The ship was gone, but hundreds of clay vases and other ceramic items were found, along with stone anchors and tableware. The artifacts were excavated in 1989-1992, and are displayed at a museum on Spetses.
READ MORE: 10 Eco-Friendly European Islands (World Travel Bucket List)
DOKOS ISLAND PHOTOS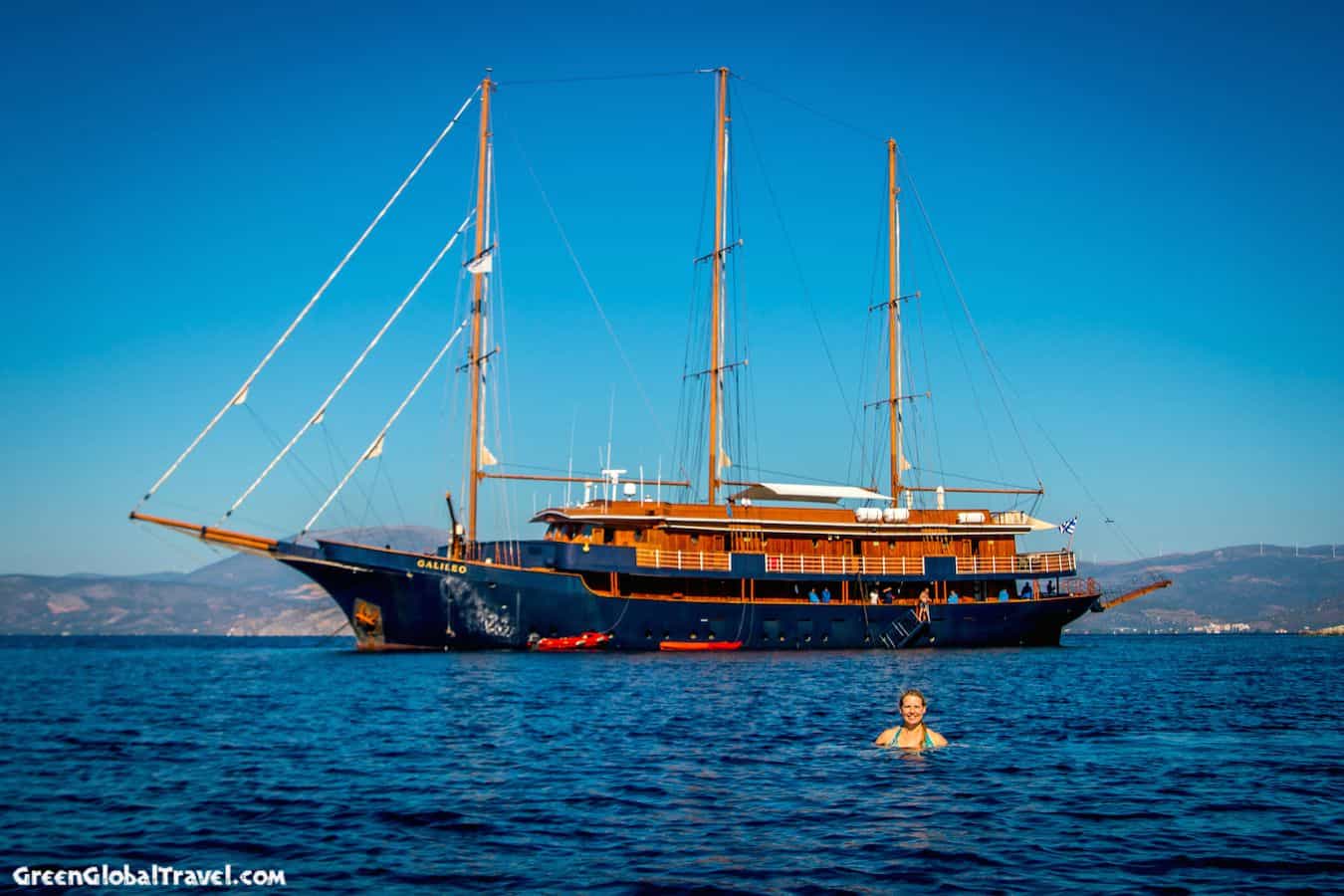 Snorkeling in beautiful Skintos Bay from our Variety Cruises ship– the Galileo– remains one of our favorite memories from Greece. Doesn't Mary look happy?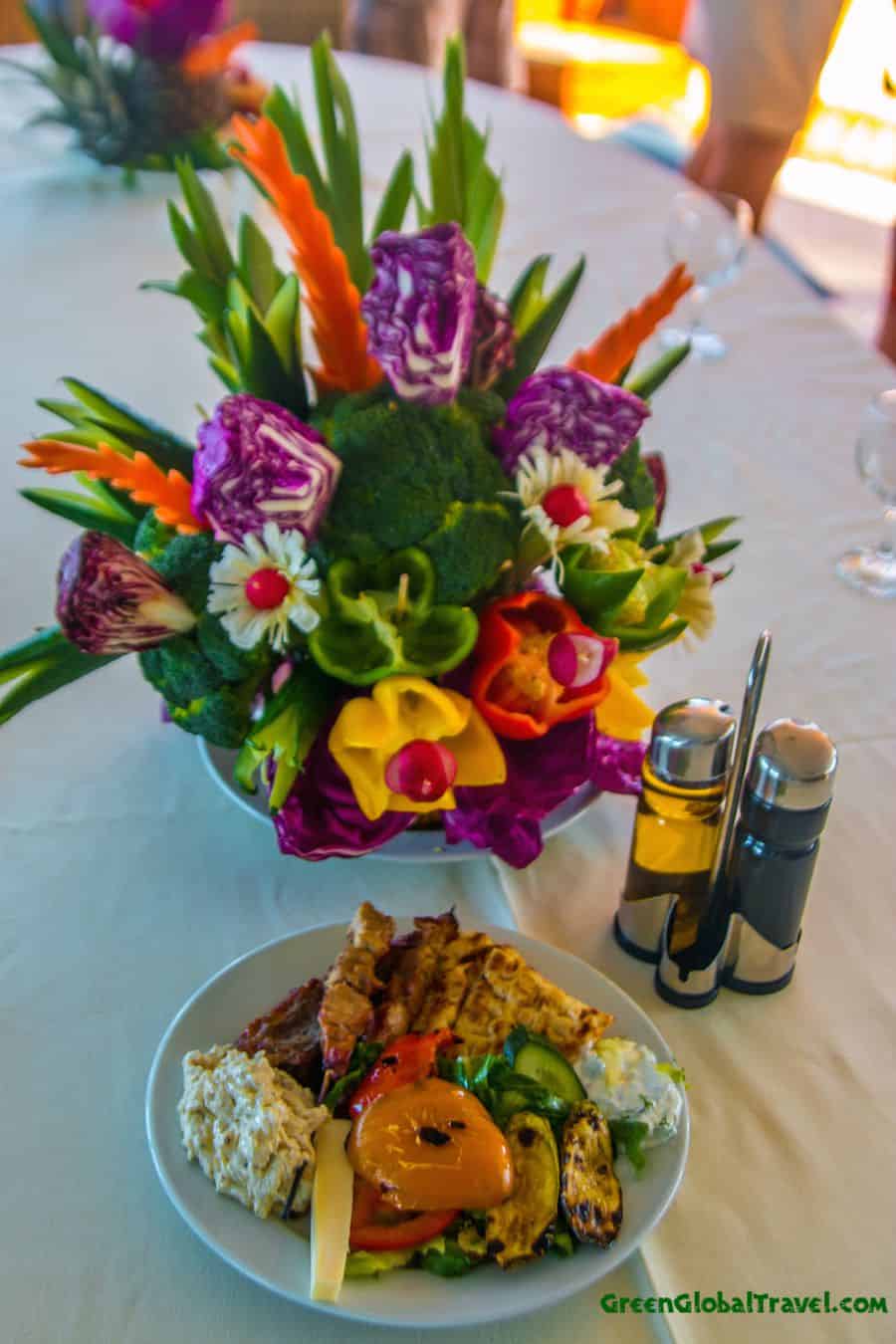 Enjoying some fresh-grilled Mediterranean cuisine with a spectacular view of Dokos Island.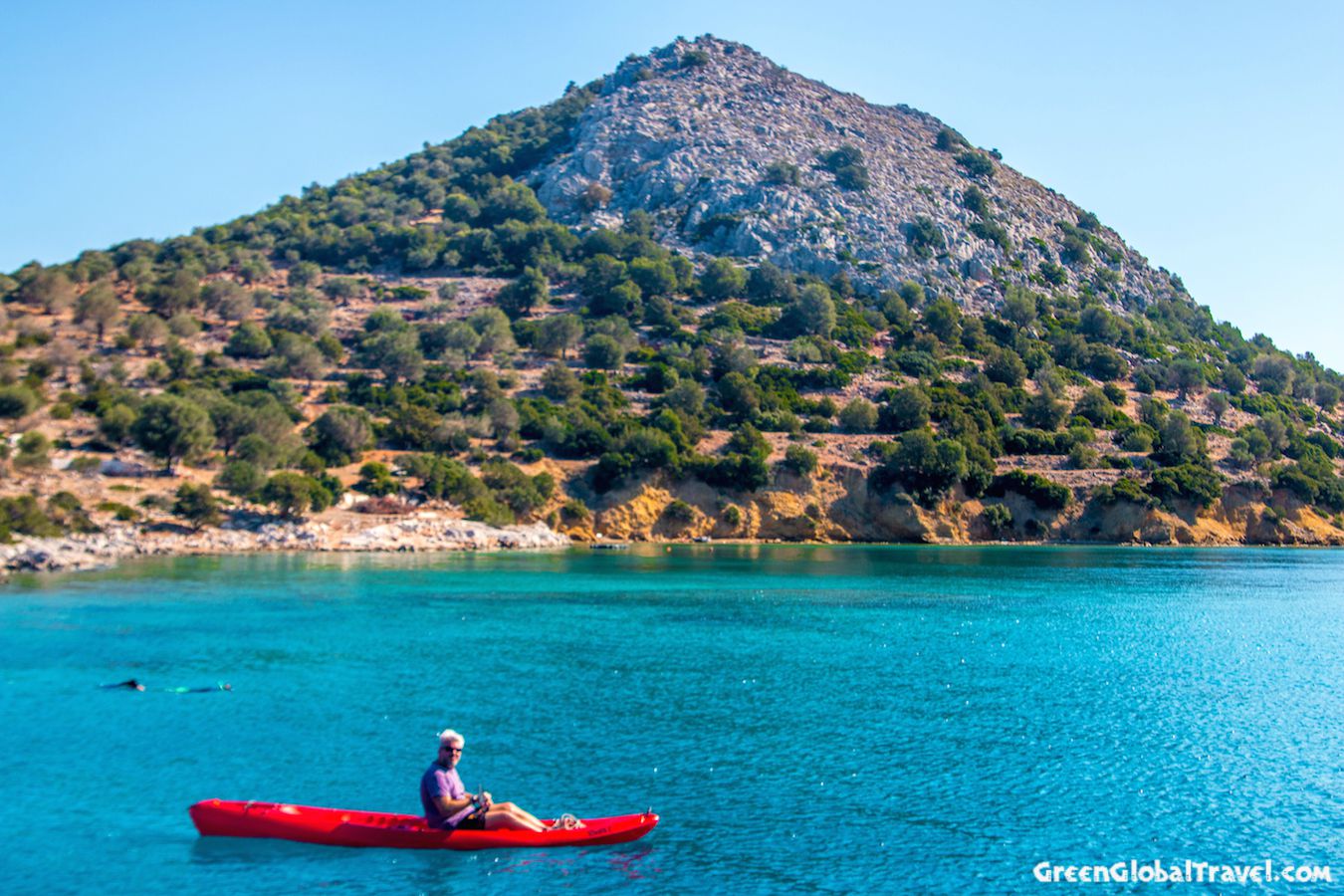 Working off the meal with a bit of kayaking around Skintos Bay.
MYKONOS ISLAND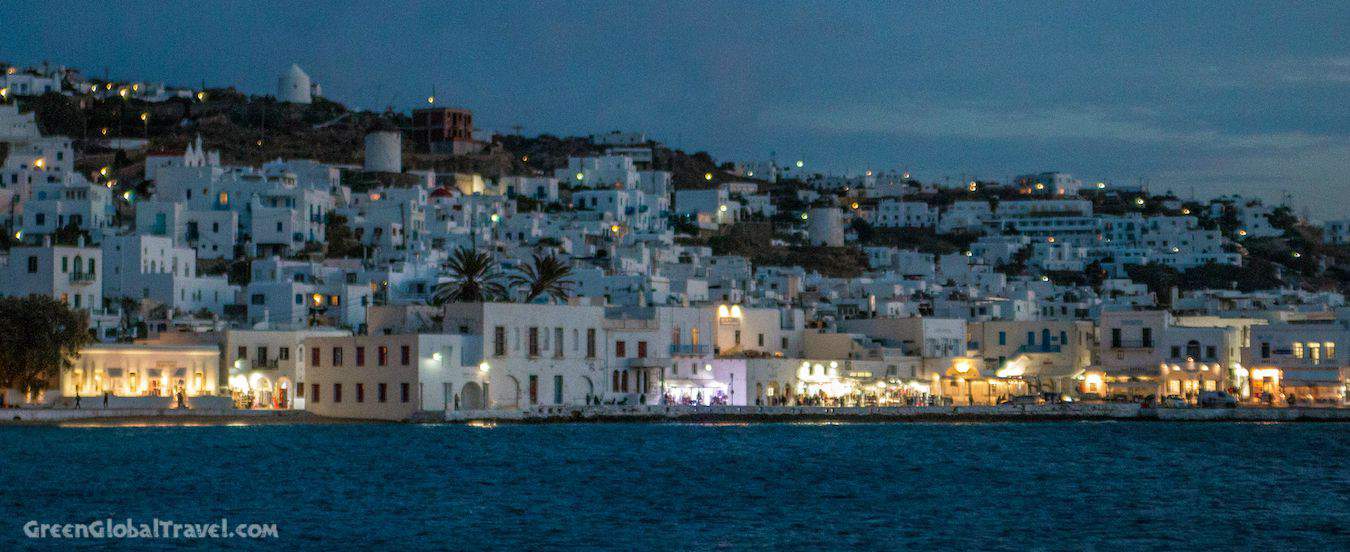 Mykonos has a reputation for being a non-stop glamorous party, with beachside bars blaring bass-thumping techno music until the wee hours of the morning.
But when we visited, just after sunset in the early Autumn shoulder season, it was surprisingly quiet. It was also chilly, earning its nickname "The island of the winds."
In Greek mythology, the island was named after its first ruler, Mykons, a descendant of the god Apollo. Mykonos was also said to have been the location where Hercules killed the Titans after having lured them from the protection of Mount Olympus.
The large rocks found all over the island were said to be the Titans' petrified testicles, which is the original source of the slang term "stones."
We only spent one night in Mykonos, mostly exploring Little Venice, where rows of fishing houses line the picturesque waterfront.
Originally owned by rich merchants and sea captains, these 18th century building have now been converted in restaurants, bars, shops and galleries. It was a remarkably romantic setting for a sunset stroll.
READ MORE: 10 Exotic Islands for Your World Travel Bucket List
MYKONOS ISLAND PHOTOS

Our friend Angie Orth of Angie Away proved a perfect Mykonos guide, having spent a lot of time there. She insisted we had to have dinner at Katerina's in Little Venice, which ultimately proved to be one of our most exquisite meals in Greece.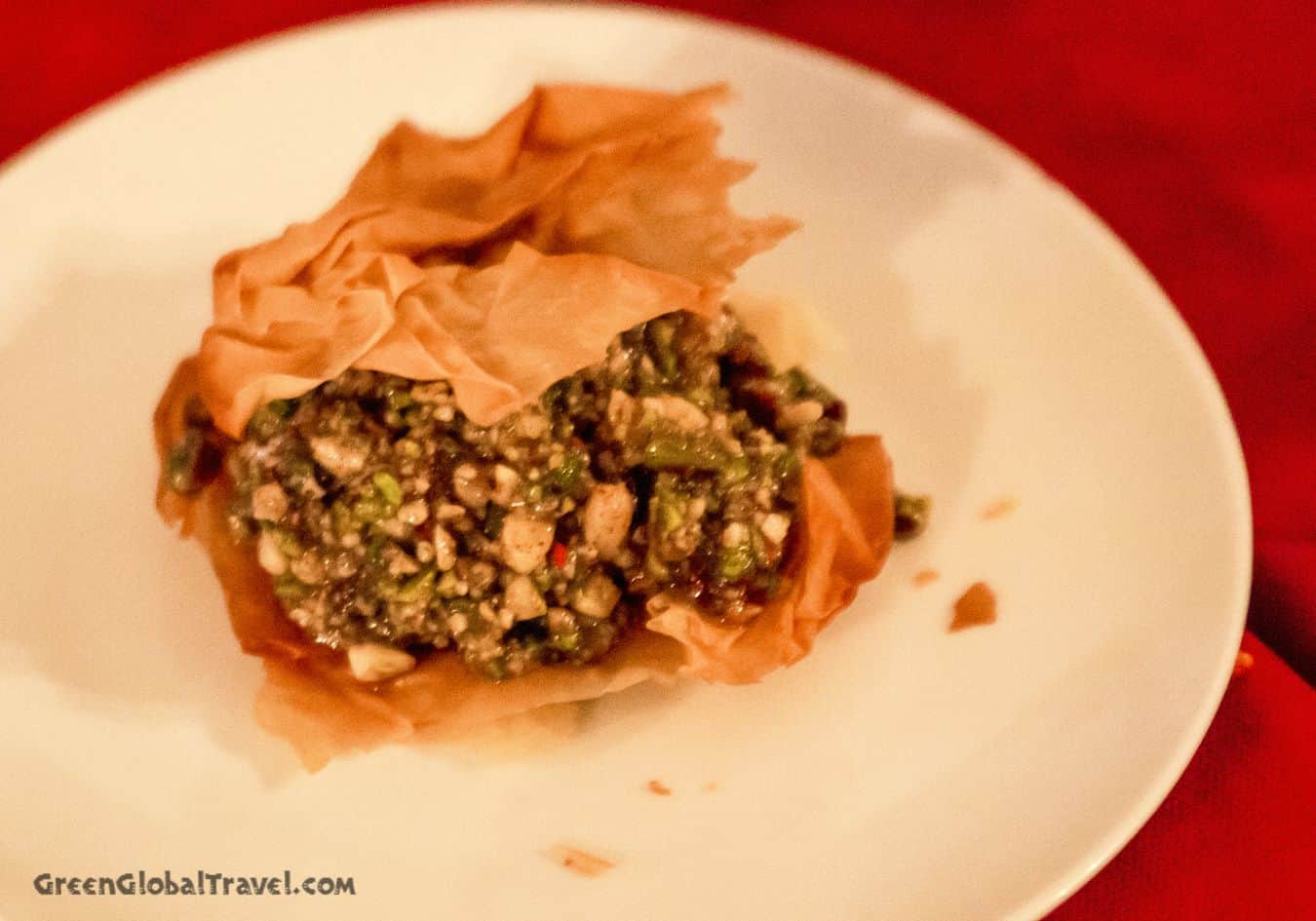 It was a magnificent Mediterranean meal, with Grilled Calamari the size of a T-bone steak, spaghetti topped with massive Langostino, scrumptious homemade Pistachio Baklava for dessert, and lots and lots of crisp white wine.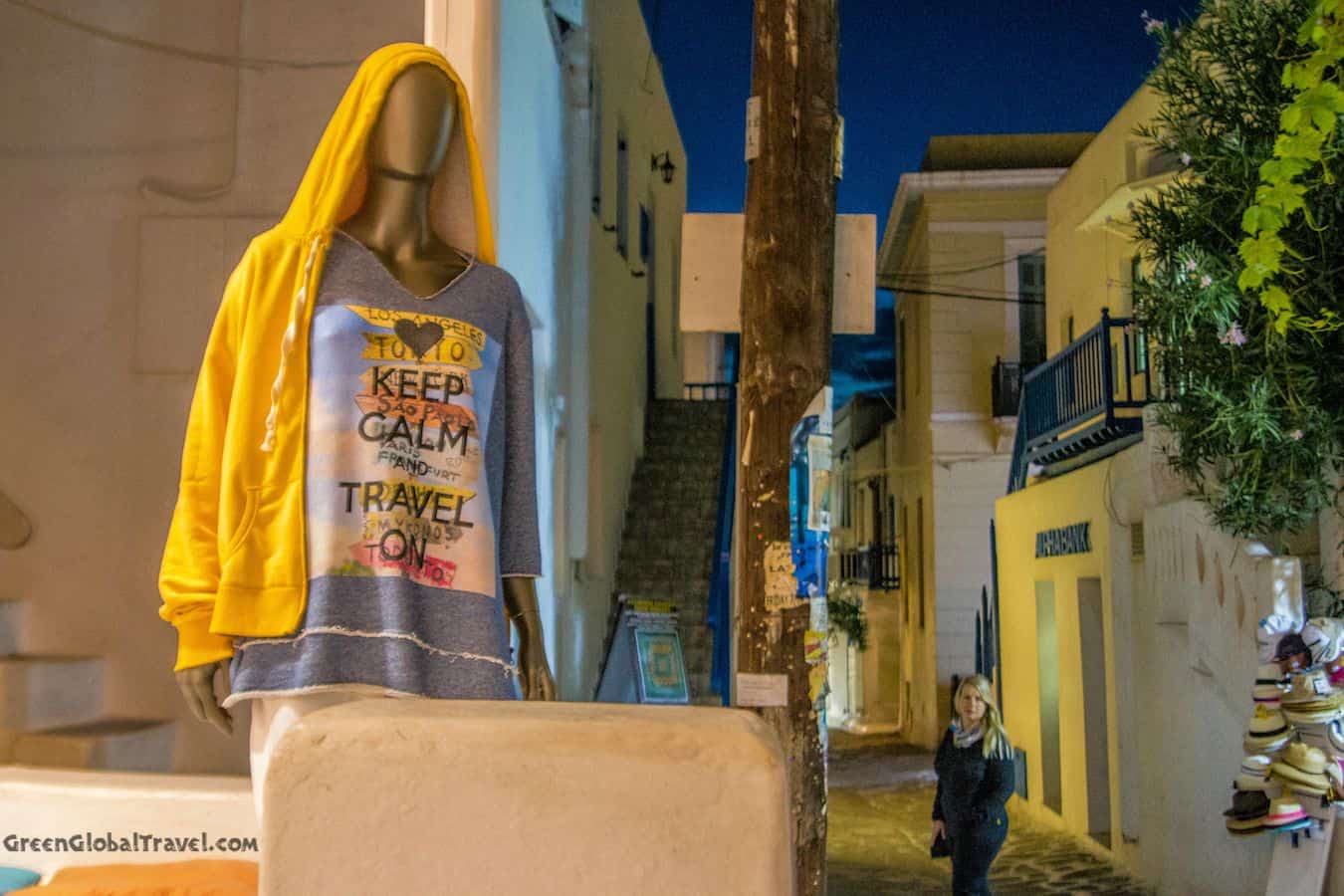 It's easy to get turned around in the winding alleyways of Little Venice, but even getting a little lost proved memorable. This t-shirt says it all!
POROS ISLAND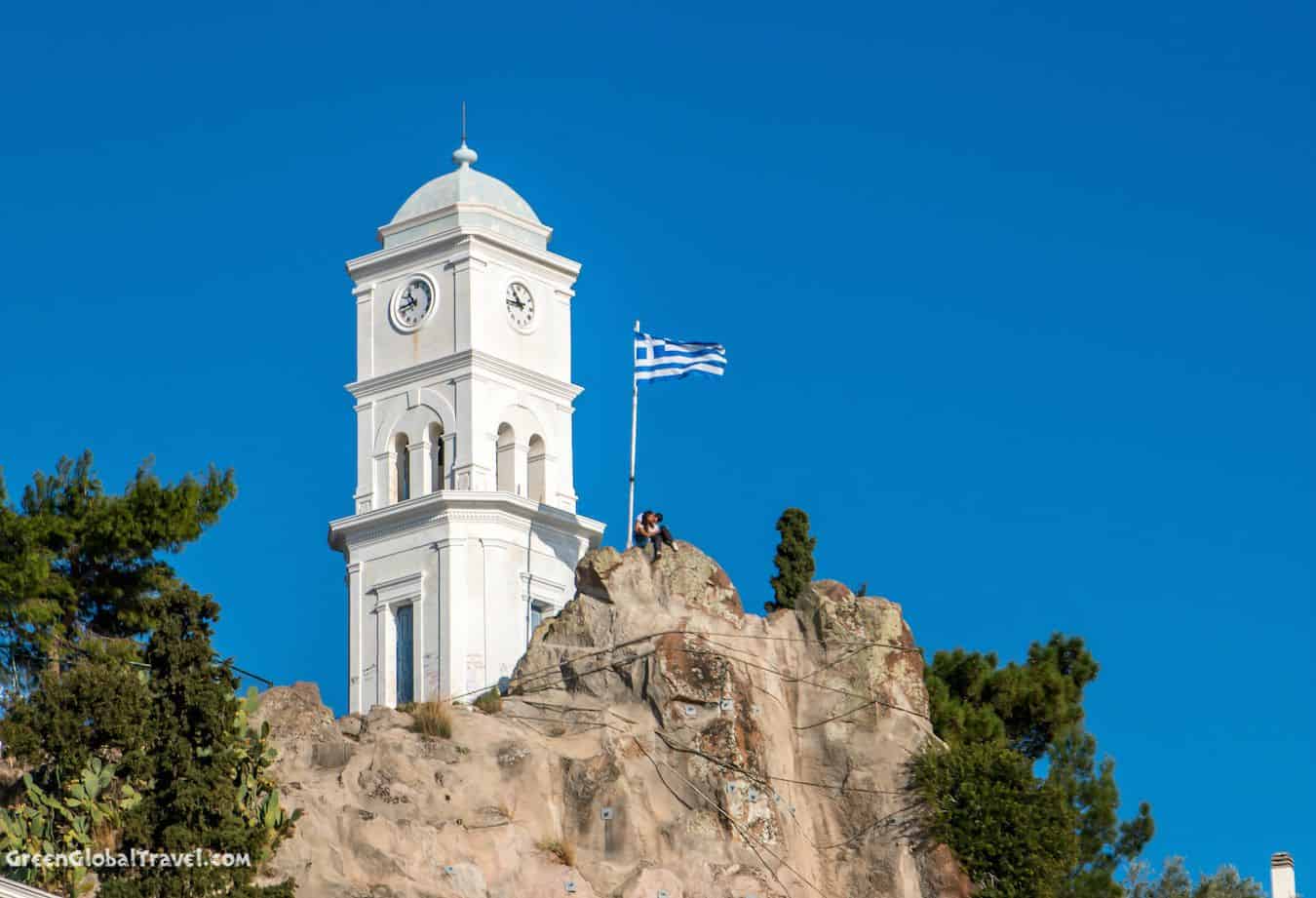 Poros, which is actually two islands (Kalavria and Sferia) connected by a bridge, is one of the smallest Saronic Islands at a mere 49 square kilometers.
Located just 31 nautical miles from Athens, Poros is separated from the Peloponnese by a slim 200-meter wide channel.
The islands offer small-town charm and a lovely waterfront lined with 2-story neoclassical buildings with terra-cotta roofs and wooden balconies.
With its forested hills and pine trees lining the shores, Poros feels a bit like a lakeside resort in the Alps.
But the lively seafront is filled with tavernas and souvenir shops, and a walk up to the iconic clock tower provides impressive scenic views.
READ MORE: 13 Small Ship Cruises for Your World Travel Bucket List
POROS ISLAND PHOTOS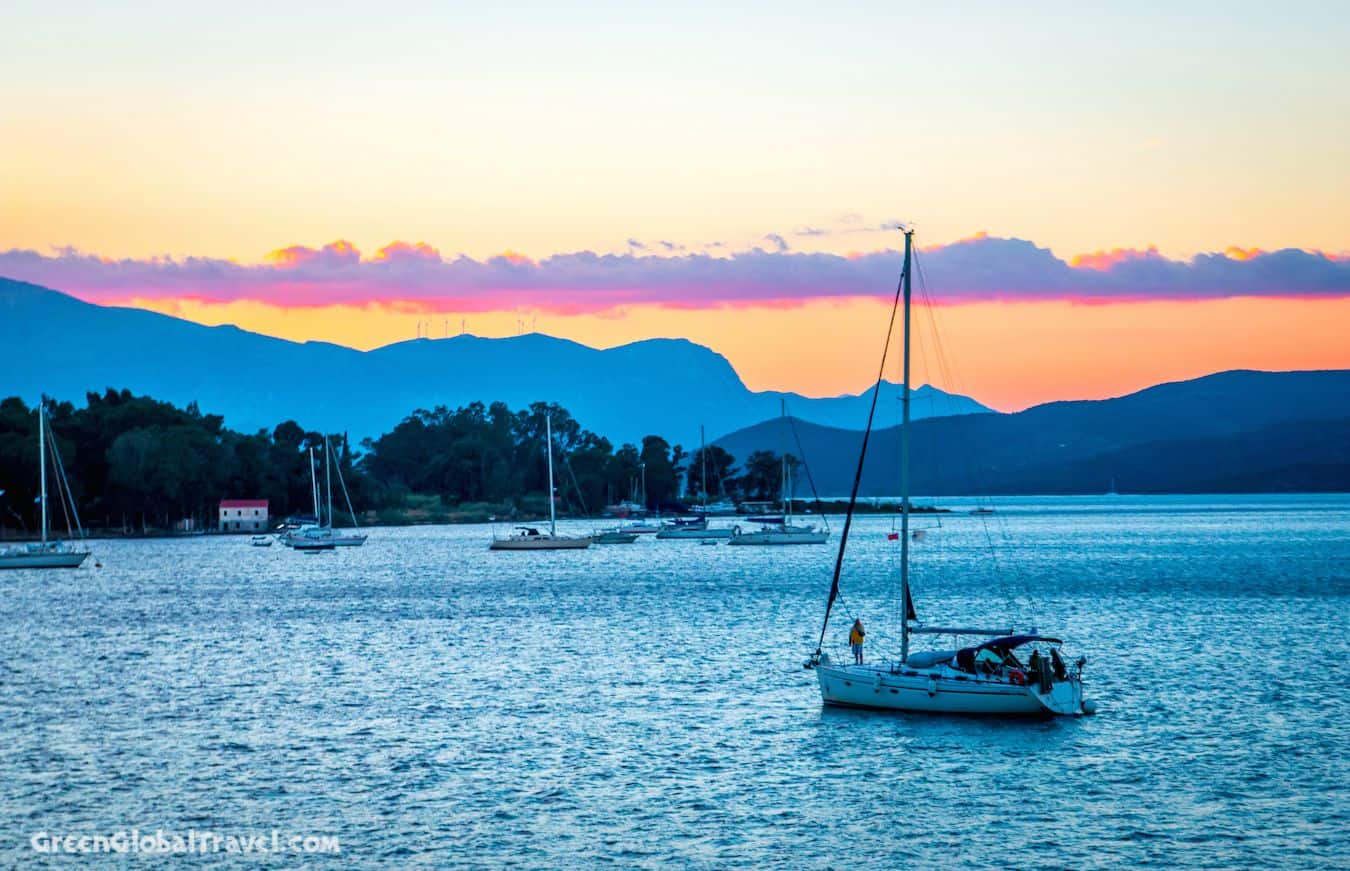 Poros is renowned for its beautiful beaches, including Nerion Beach, Love Bay Beach, Kanali Beach and Askeli Beach. But the water was too chilly for us, so we enjoyed sitting on the top deck of the Galileo and taking in the dazzling sunset view.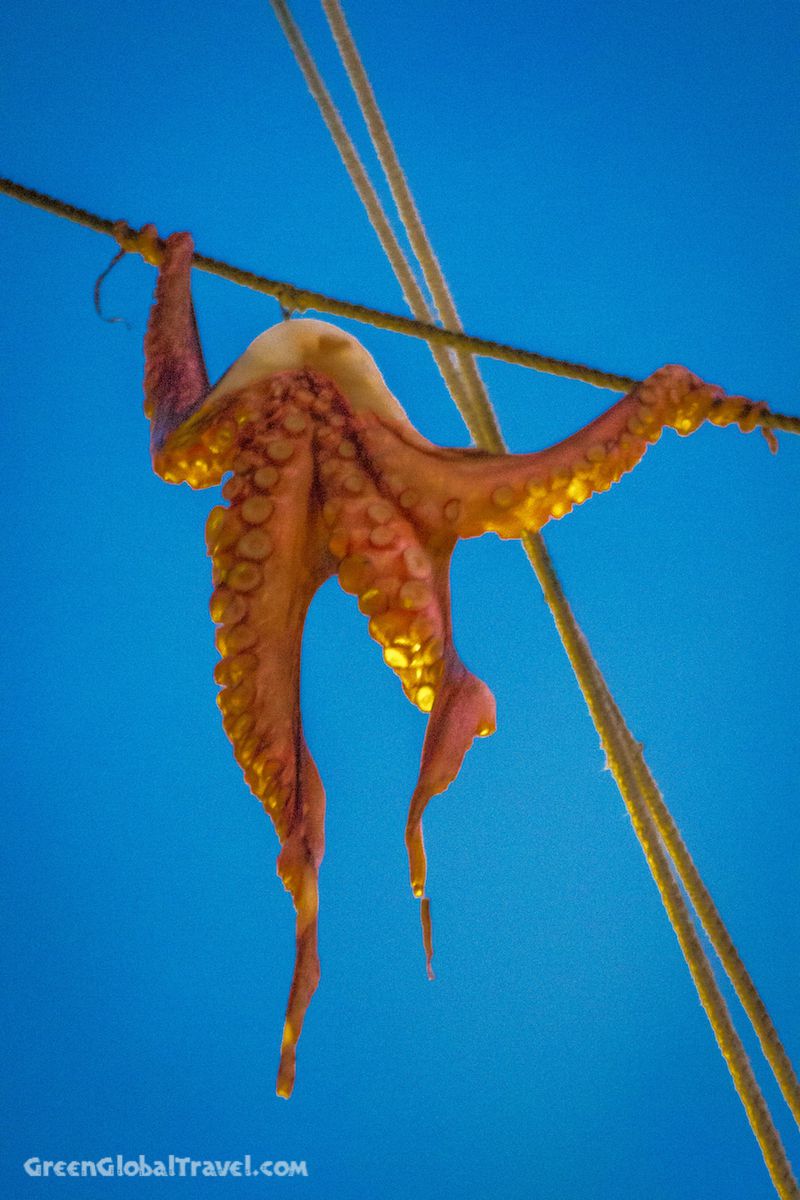 We had the sort of meal on Poros that you tell stories about for years. Massive platters of grilled fish, shrimp, octopus and shellfish were perfectly prepared, and we were surrounded by adorable kittens begging to be fed. Unfortunately, we left our camera on the boat. So instead we give you this shot of a fresh octopus for sale.
RHODES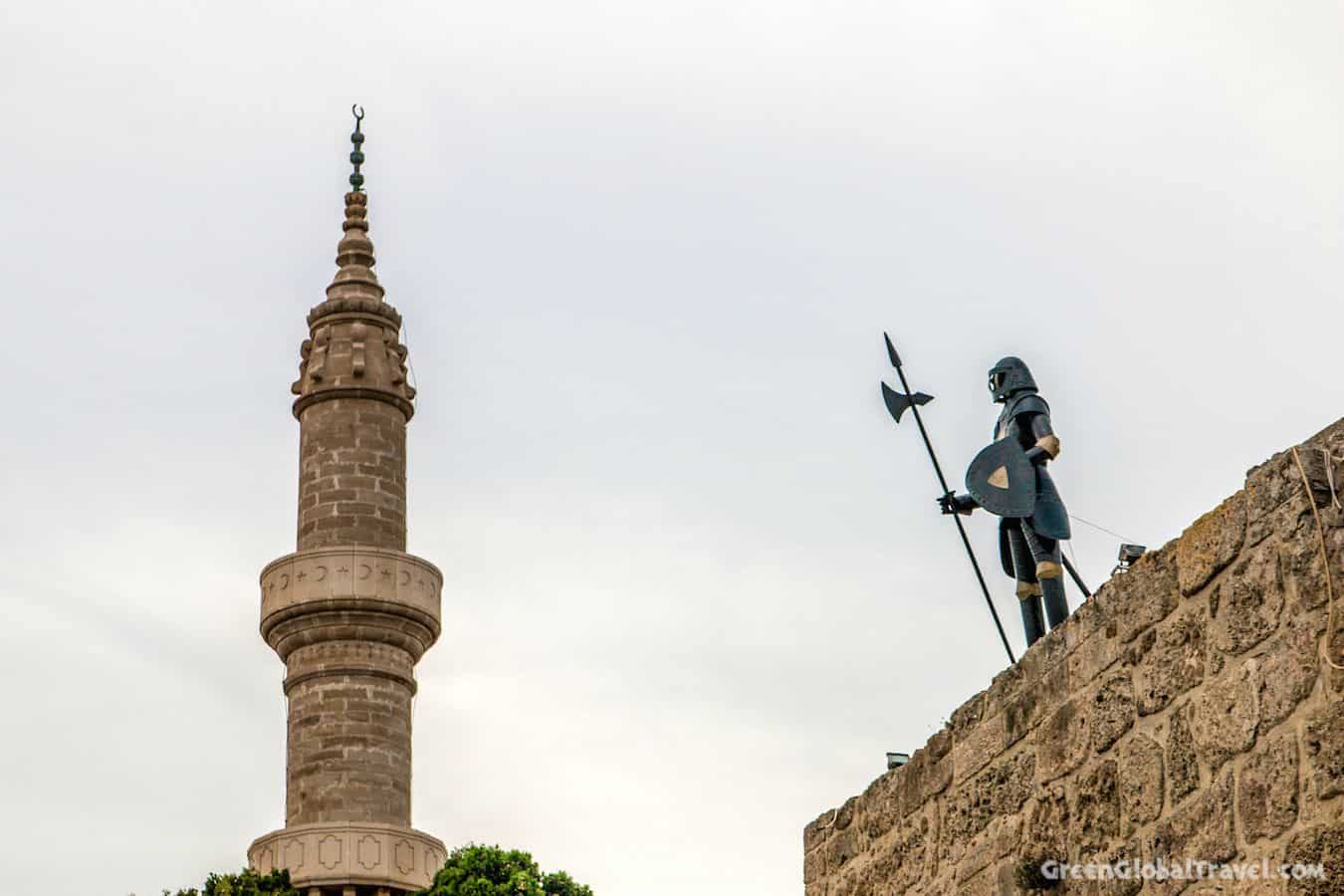 Located just off the Anatolian coast of Turkey, Rhodes is one of the most popular and unique of all the Greek Islands.
Its nickname, "the island of the Knights," is a tribute to the Knights of Saint John of Jerusalem, the most famous Roman Catholic military order of the Middle Ages, who conquered the island after a difficult 3-year campaign in 1309.
Overseen by Grand Master Antonio Fluvian de Riviere, the Knights Hospitaller (as they were known) began a 200-year process of rebuilding the existing Byzantine fortifications around the town, expanding the walls to encompass 104 acres of land.
Stretching about four kilometers, the walls are 12 meters thick, with 11 gates and a 21-meter wide moat to control access, numerous bastions and towers, and the impressive Palace of the Grand Master.
The fortress withstood numerous siege attempts by the Egyptians and Ottomans during the 15th century. But in 1522 the Turks finally conquered, and the surviving Knights were expelled (many relocated to Malta, where they built a similar fortification).
Today, the Medieval City of Rhodes is a protected UNESCO World Heritage Site, and ranks alongside Petra and Ephesus among the greatest ancient cities we've ever explored.
READ MORE: How Mass Tourism is Destroying 30+ Destinations Travelers Love
RHODES PHOTOS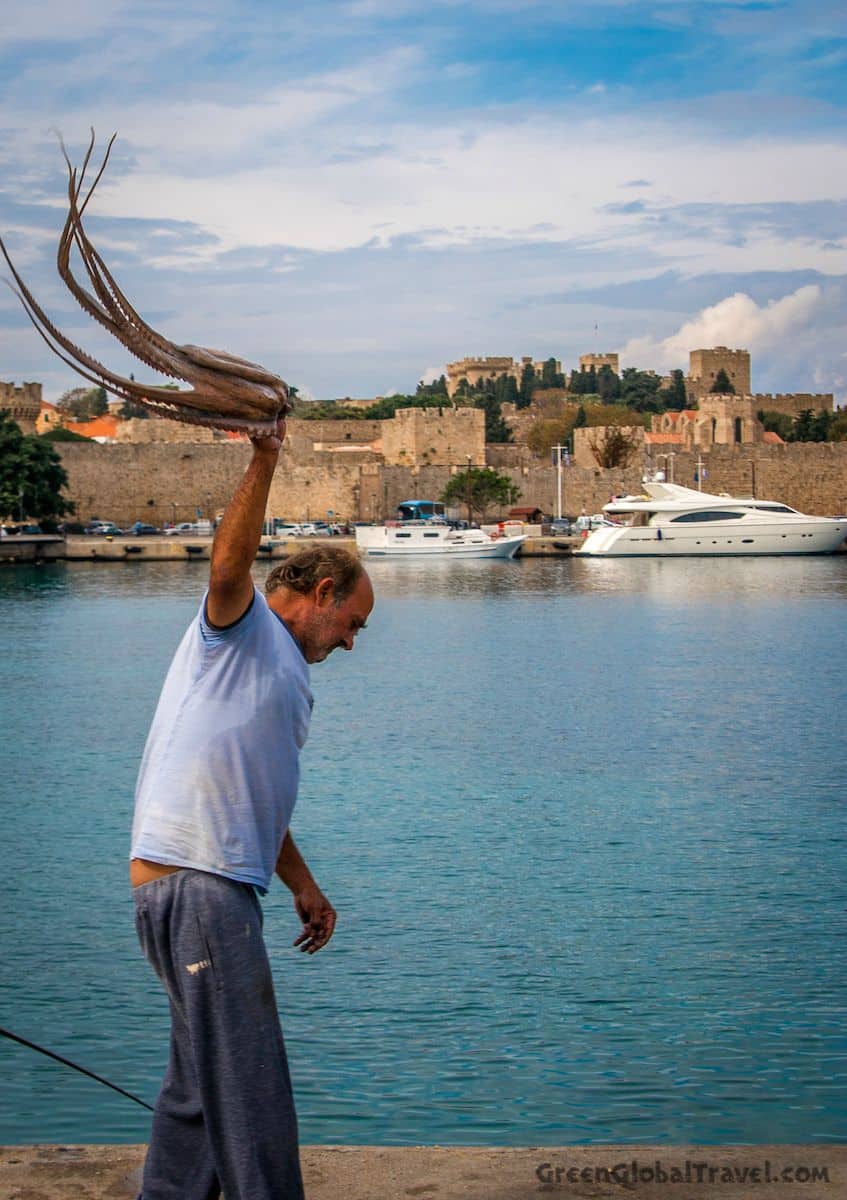 Guided tours of the Medieval City are popular, but we decided to explore at a more leisurely pace with our friends. We spotted this fisherman tenderizing his octopus catch as we made our way towards the Palace of the Grandmaster.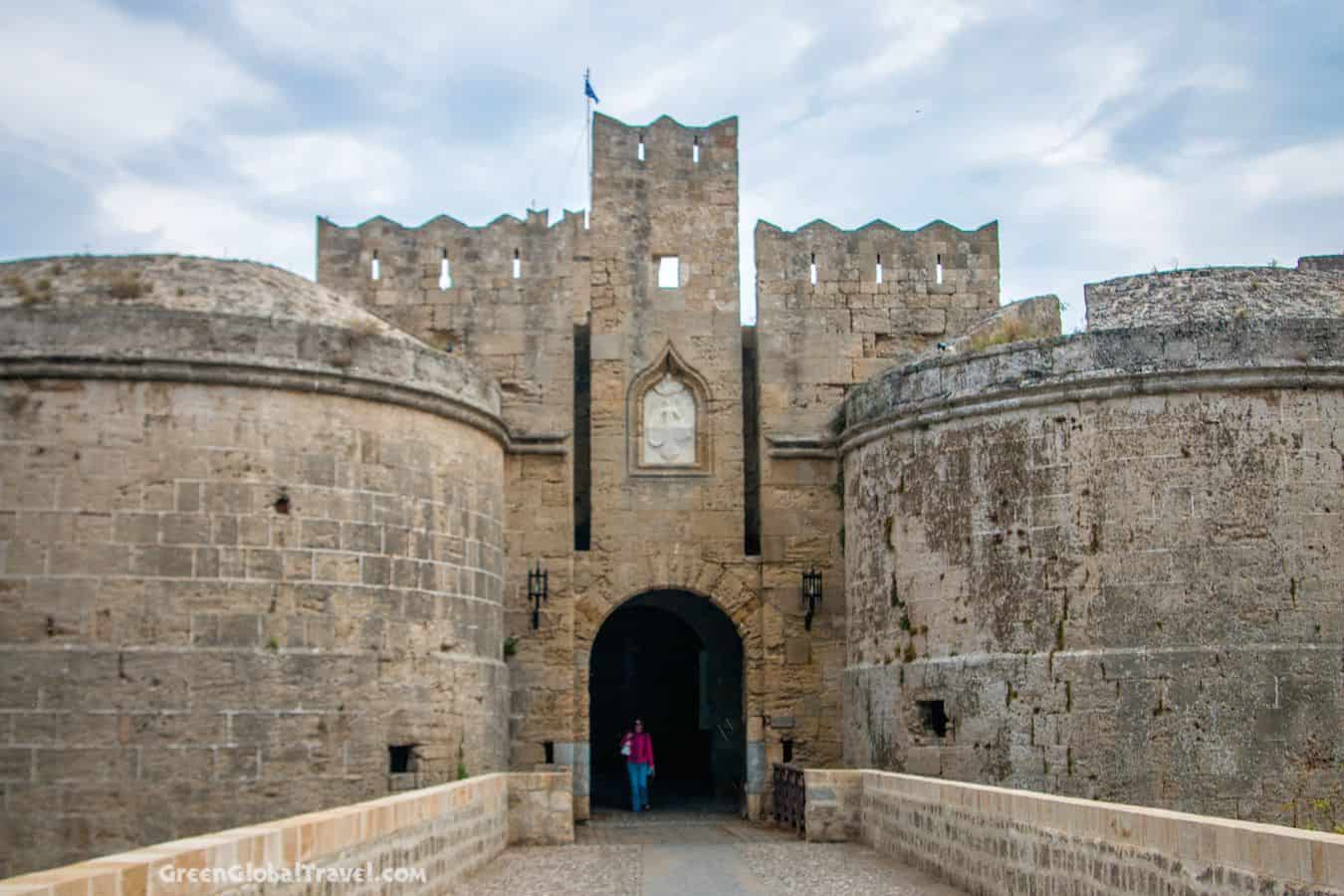 The Gate d'Amboise, located just below the Palace of the Grand Master, boasts a triple defensive belt with chemins de ronde, two round towers and a covered entrance. The Saint George bastion used cannons to control access through the gate.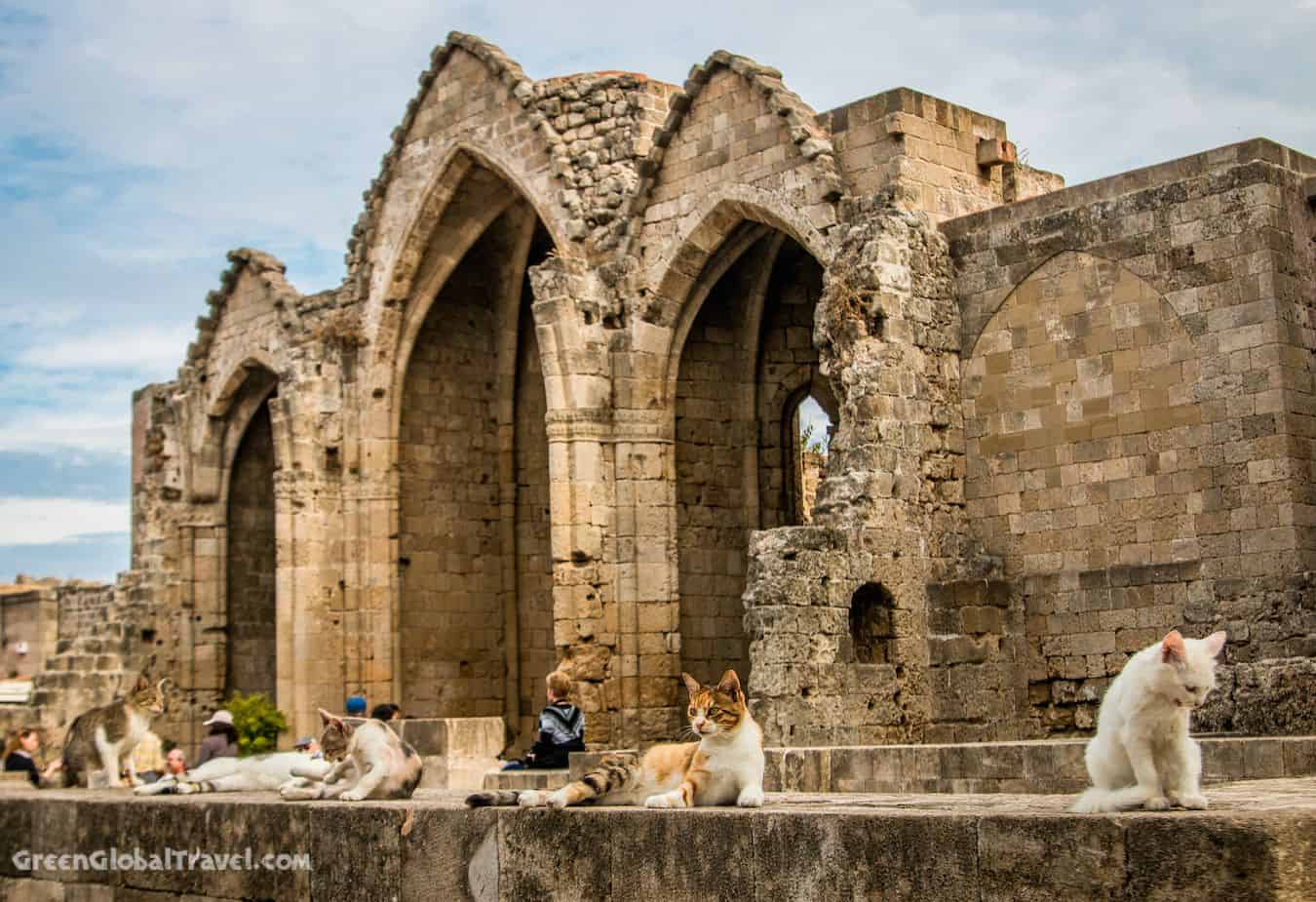 Feral cats are everywhere in Greece, but they seem to have a particular fondness for the ruins. They were surprisingly friendly… you know, for cats.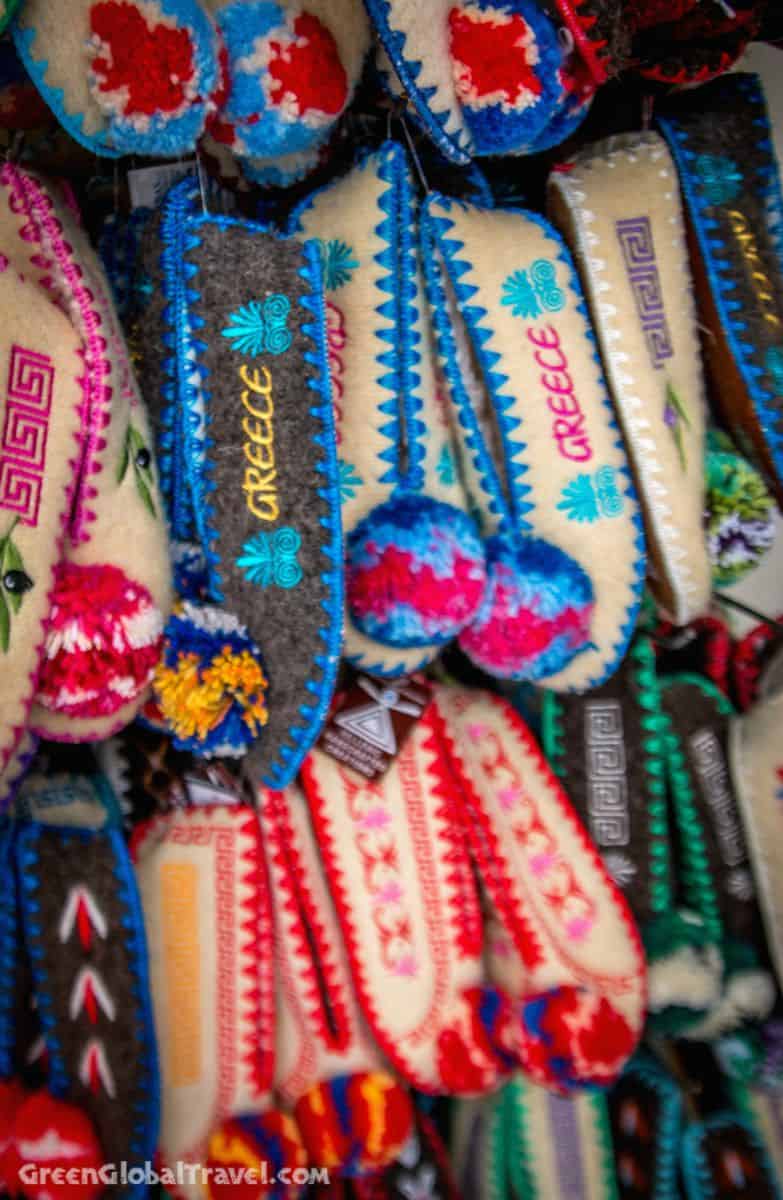 Colorful shoes on display at a souvenir shop.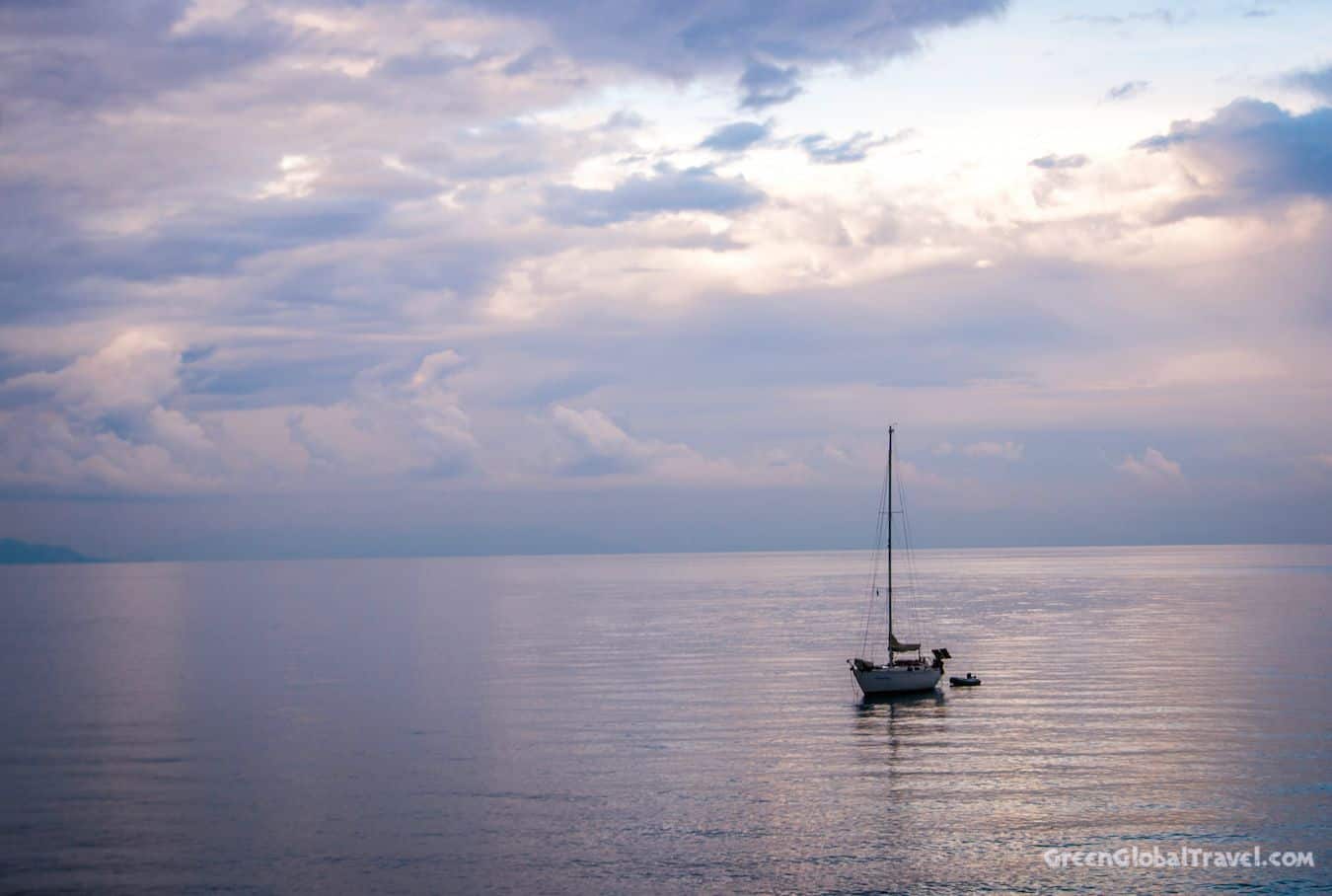 A lone sailboat floats off the coast of Rhodes at sunset.
SANTORINI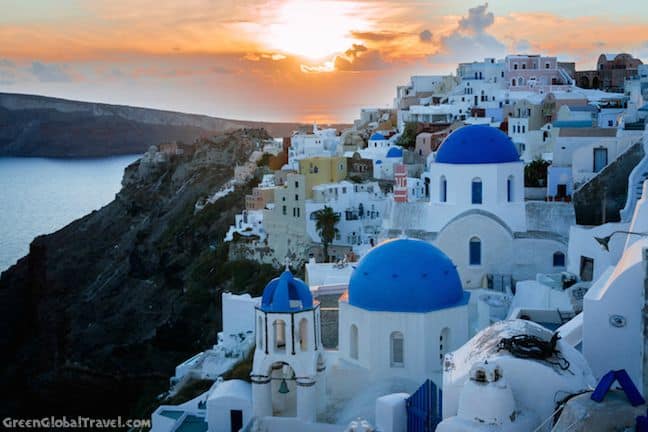 Santorini, with its stunning coastline and striking blue-and-white domed churches, is at the top of nearly every Greek island-hopper's bucket list.
And deservedly so: It has the ancient archaeological site being excavated at Akrotiri and the active volcano that created the island's stunning 150-300 meter cliffs. It has charming houses, beautiful beaches, and arguably the world's most romantic sunsets.
In short, Santorini epitomizes the Greek Islands that most travelers fantasize all their lives about visiting.
Oia (pronounced "Ia") is the most famous of Santorini's villages, but we were equally charmed by the capital city Fira, with its quiet Catholic Cathedral and cliffside cafes affording brilliant views.
If you get the chance, try to make your way to Mt. Profitis Ilias, whose 567-meter height promises a breathtaking panorama of the island.
READ MORE: 20 Santorini Photos That Will Make You Book a Trip to Greece
SANTORINI PHOTOS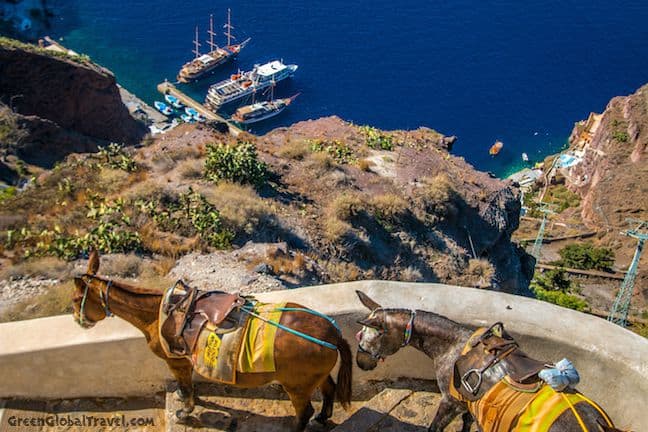 We opted to take the sky tram, but Donkeys are traditionally used to transport travelers (and their gear) up Santorini's steep cliffs. Poor Donkeys…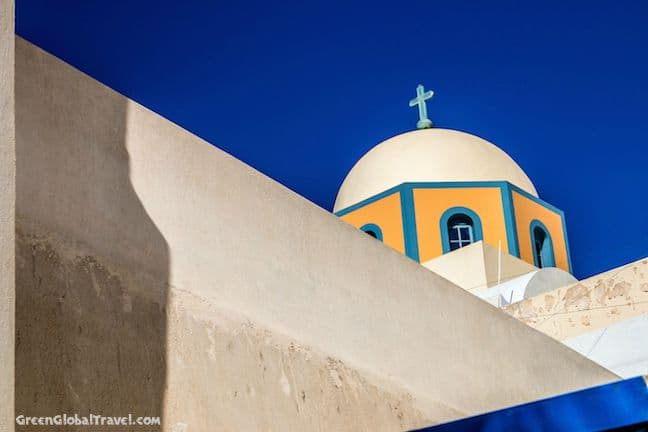 In contrast to the blue-domed white churches in Oia, this church in Fira was yellow and blue, with a white dome. And that blue sky? That's totally unfiltered.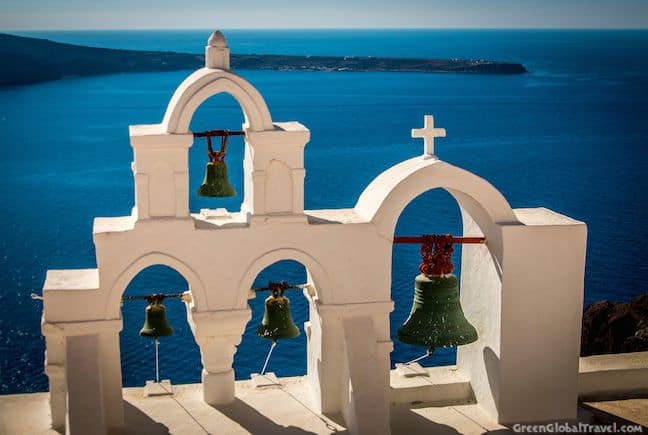 We loved these green bells atop a church in Oia, with a view of the deep turquoise waters of Santorini's volcanic caldera in the background.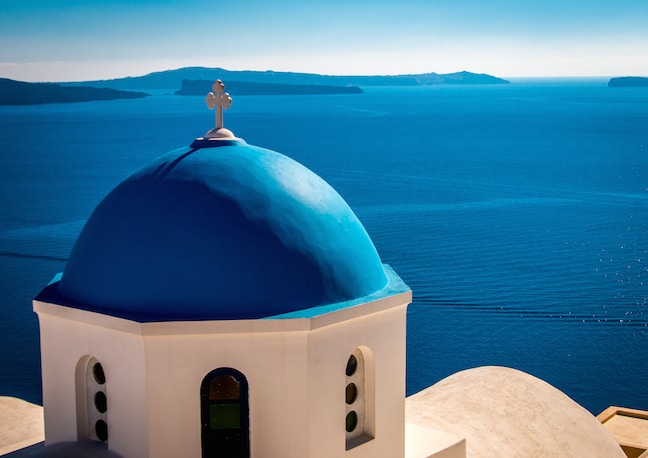 No caption needed here: The picture is worth a thousand words!
SPETSES ISLAND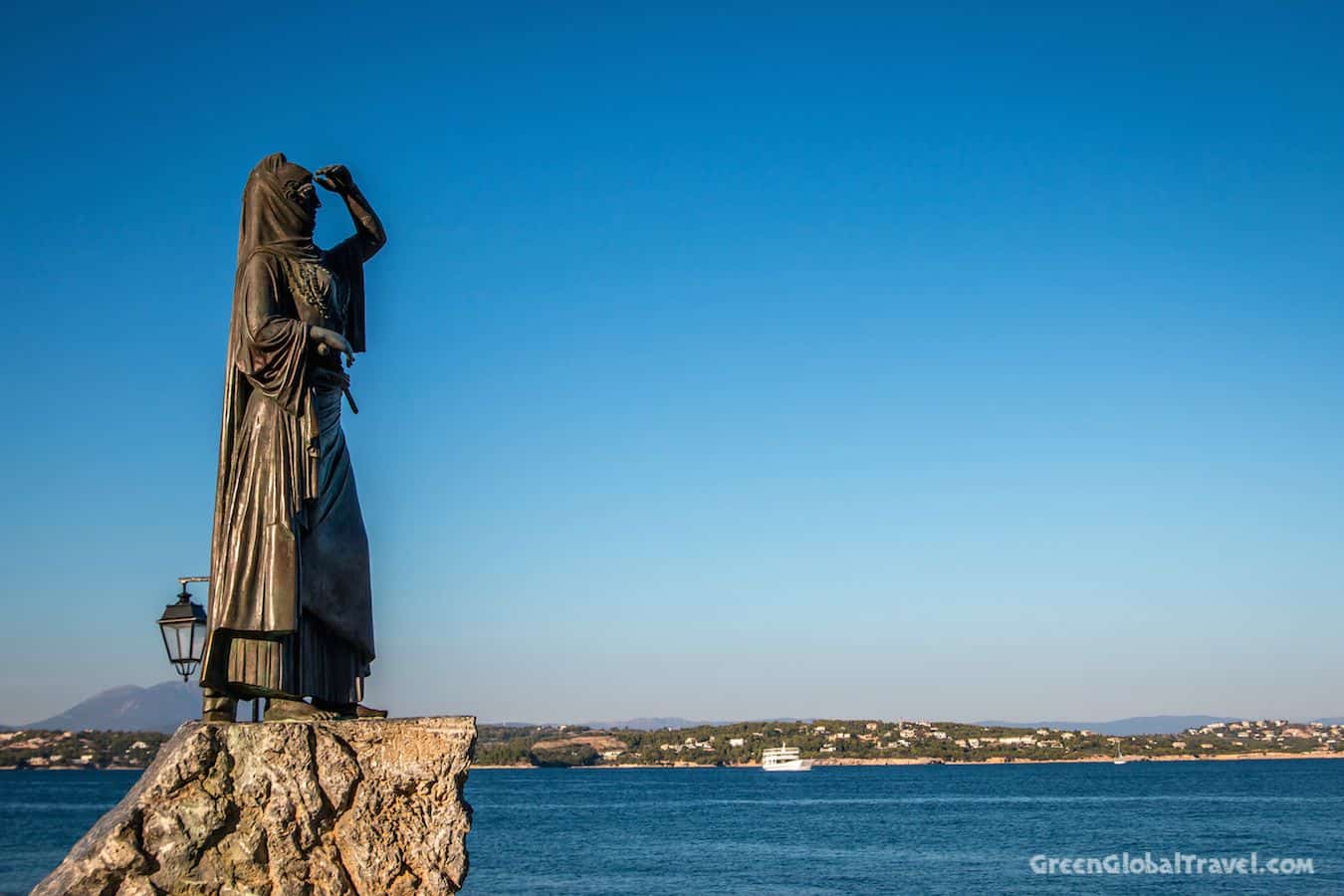 Another of the smaller, sleepier Sardonic Islands, Spetses measures around 27 square kilometers, with a total population of just over 4,000 people.
Its name is a derivation of Isola delle Spezzie– the Island of Fragrance– a nickname it earned due to the many herbs you'll find growing in the island's mountains.
Situated opposite the Peloponnesian coast of Ermionida, the island's charming waterfront is a mixture of quaint and cosmopolitan. We loved its neoclassical architecture and elevated square (known as the Dapia), which was offset by quiet beaches and picturesque bays.
There are no private automobiles allowed within the town limits, so walking, horse-drawn carriages, bicycles and mopeds are the most common forms of transport. We spent hours strolling the romantic waterfront and back alleys.
READ MORE: The Ultimate Beach Vacation Packing List
SPETSES ISLAND PHOTOS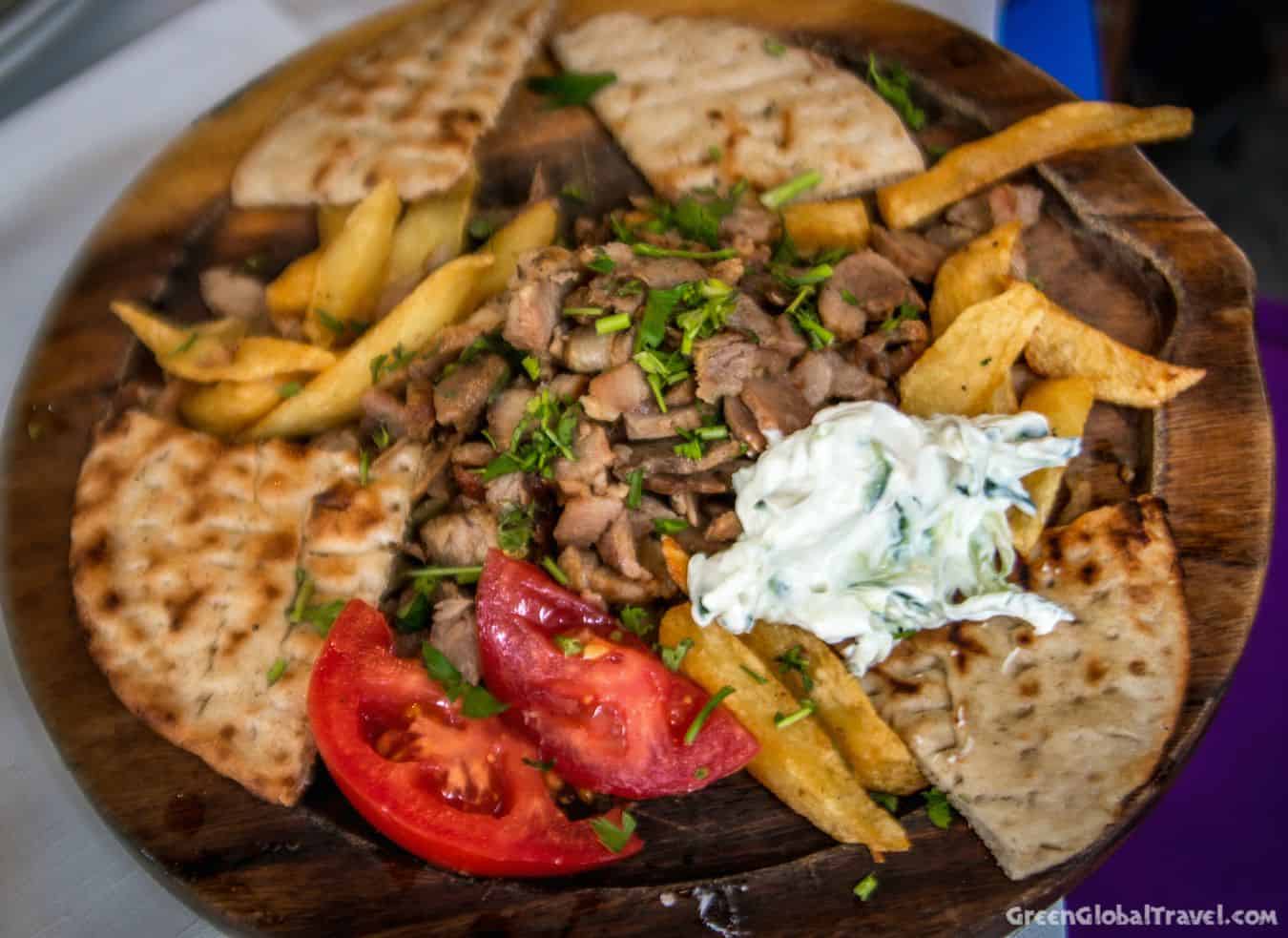 After drinking Ouzo with British travelers we met at a cozy seaside bar, we headed to Liotrivi Restaurant on a recommendation from our Galileo activities director.
The locals we encountered spoke no English, but still managed to help us find our way.
The gyros and wine were almost as spectacular as our view of the old port's bay.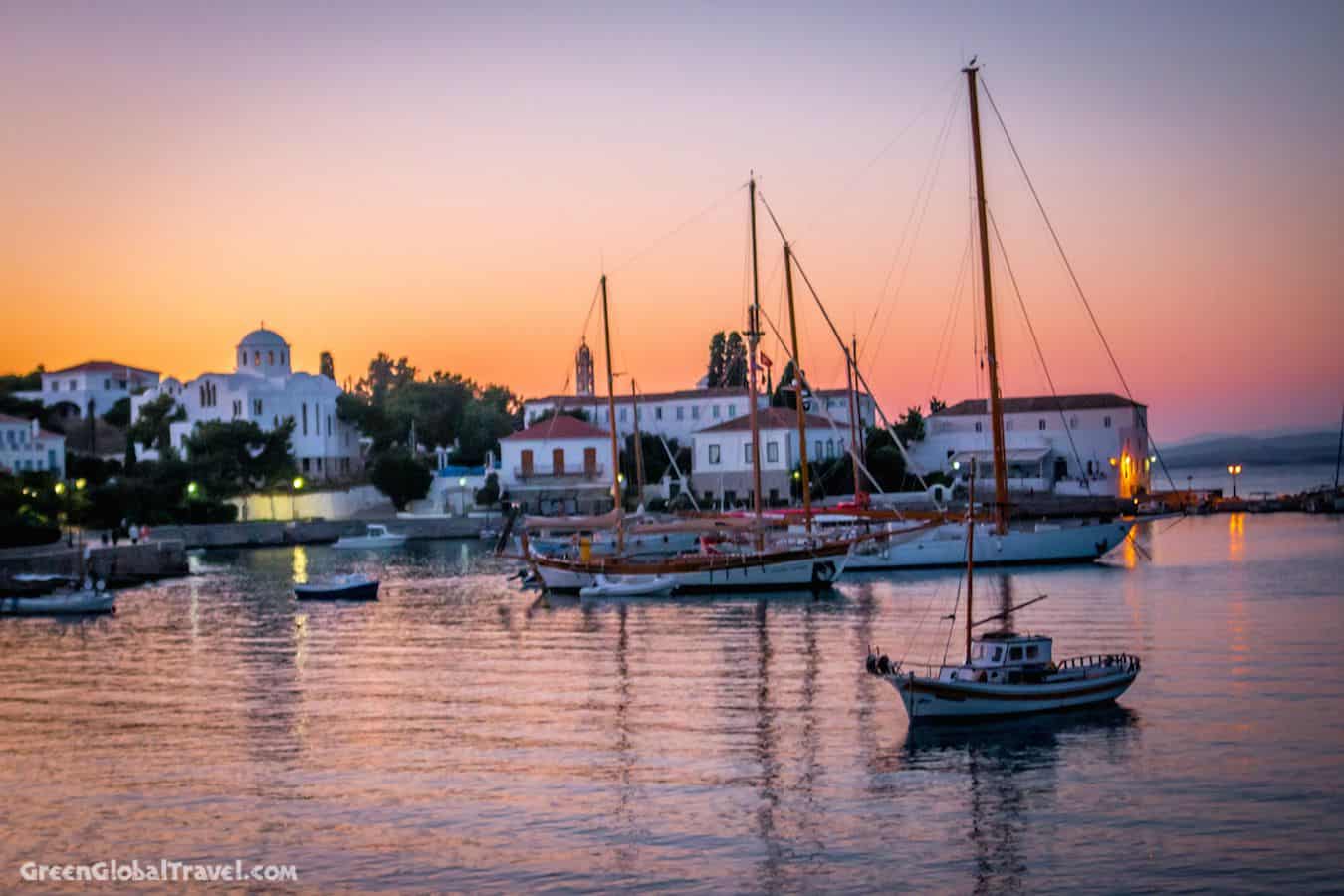 There are many things we'll never forget about Greece: The warmth of its people, the richness of its culture, the dynamic stories of its history and mythology.
But this shot captures one of my favorite aspects of the islands– the radiant colors, which require no filters.
Greece doesn't need any tricks or gimmicks to overwhelm you with its beauty. Even unfiltered, the country casts a magical spell that never lets go. –by Bret Love; photos by Bret Love & Mary Gabbett
Our trip to the Greek Islands was hosted in part by Variety Cruises and Adventure Life. But we will never compromise our obligation of integrity to our readers. Our opinions always remain our own.