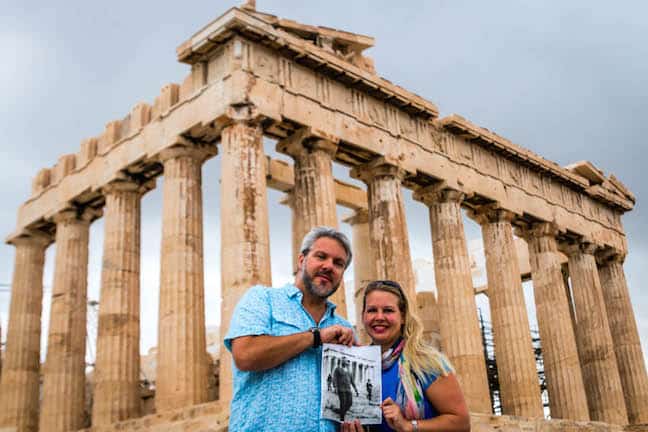 Ancestors & Expectations at the
Acropolis of Athens
Nothing is going right. My mind is numb from lack of sleep, unable to process the jarring reality that our tour of the Acropolis of Athens may not even come close to measuring up to my dreams.
It's barely 8:30AM, but already tour groups stampede up the hill towards the Parthenon. They move in tightly congested packs, pushing, shouting in a variety of languages, stopping abruptly in our path, seemingly oblivious to anything other than their guide, who leads them like a shepherd, holding aloft a sign featuring their bus number instead of a staff.
Mary follows my lead and we veer off-road to our left in order to circle around the flock, quickening our pace and scrambling over rocks, shedding layers of clothes as our body temperature rises. We pass one tour group, then another, moving like lions intent on heading off a herd of buffalo.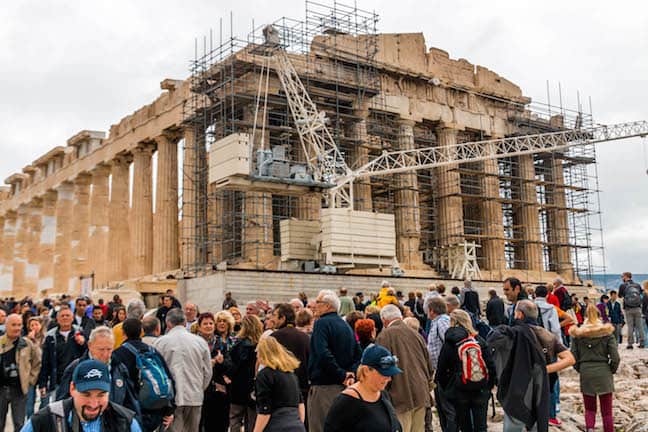 At last we ascend the steep stairs of the Propylaea, the monumental gateway that serves as the entrance to the Acropolis. As we emerge on the other side, I blink at the sight of The Parthenon before me, its entire front side obscured by scaffolding used in the restoration project that's been going on since 1975.
This is not my dream. Everything is wrong.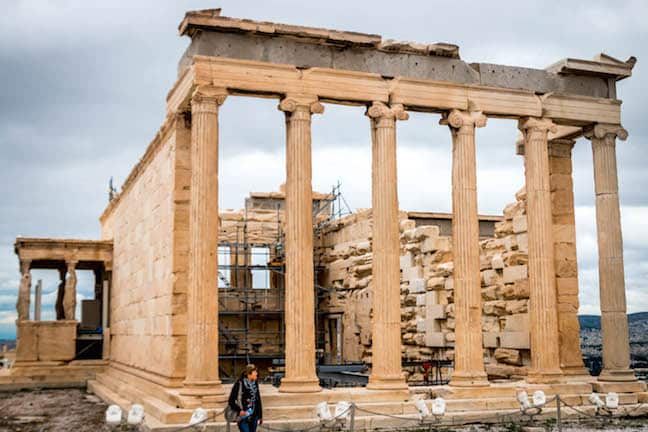 TRAVEL FANTASY VS. REALITY
It seems that there's often a disconnect between reality and our fantasies when we travel. It's easy to see glossy professional photographs of an iconic place, read the tourism board's slick brochures, and head off on an exotic adventure thinking we have some clear notion of what to expect from it.
Packaged tours are popular for this very reason, because they seem to offer us some sort of measured control over our travel experience. It's safe. It's convenient. It's practically guaranteed.
But sometimes it's in the messiest, most chaotic and unpredictable moments of our travels that we discover an experience that is completely and utterly unique to us. These are the moments that– no matter how many eloquent words you may use to wax poetic in the telling of your story– nothing you say can adequately convey the emotional impact the experience had on you, or the way it inexorably changed you.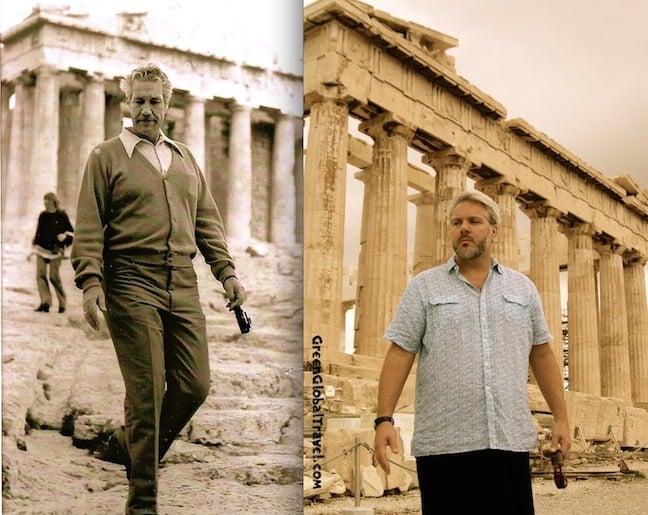 MY MOUNTAIN
The bond between my grandparents and I dates back to the day I was born, in June of 1968. My dad, drafted into the Army during the Vietnam War, went AWOL to witness my birth and shipped off to Southeast Asia 6 hours later. My mom, then 20, worked full-time as a legal secretary, so we moved in with my grandparents and I stayed home with my grandmother during the day. I'm told that, for nearly two years, I thought of Granddad as my own father.
The connection with my grandparents grew stronger as I grew up. I spent weeks with them every summer at our rustic family cabin on Georgia's Lake Hartwell. Granny would mostly tend to her garden and make grilled-cheese sandwiches, taking us to pick blackberries or to the grocery store in the tiny town of Lavonia when we'd gotten too much sun. Granddad taught us how to grill, fish, water ski and drive a boat. But my favorite memories are of sitting on the screened-in porch at night as the crickets and tree frogs sang hosannahs all around us, just talking about life, the Universe and everything.
To me he was the quintessential man's man– like Fred MacMurray, Don Draper, Gary Cooper and Johnny Cash all rolled into one. Raised in the American Southwest during the Great Depression, he had western style and drawl, with a raconteur's knack for spinning yarns that made you wish you were huddled around a campfire.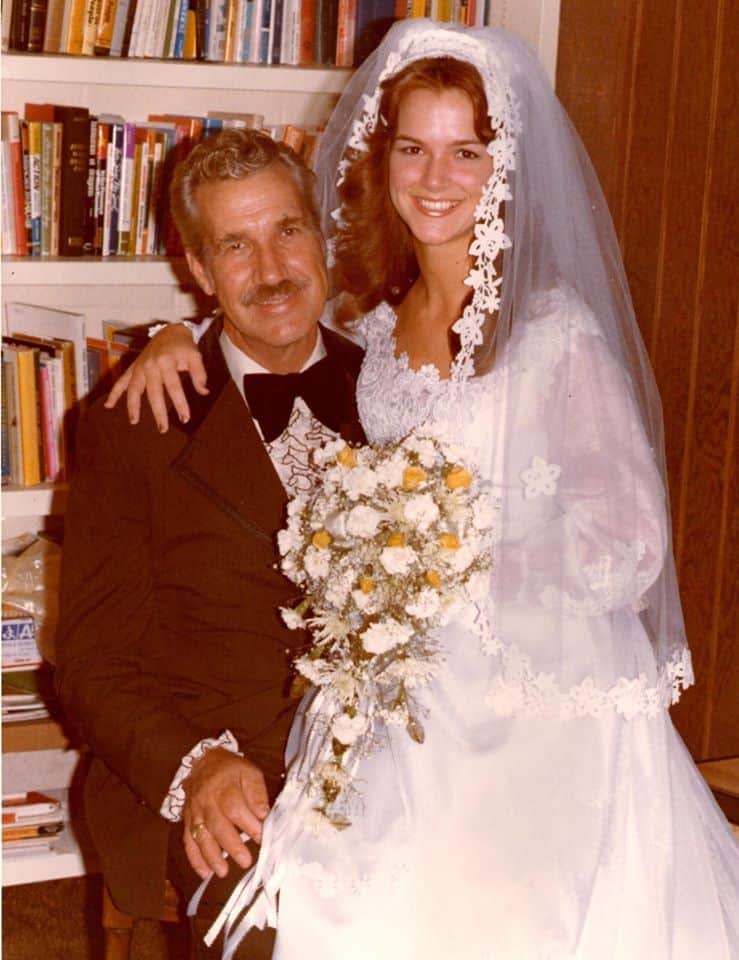 He had a deep baritone voice, a bearish personality that veered from playful to curmudgeonly, and a raspy laugh that wheezed from years of smoking. He was charming, whip-smart and handsome, with great hair and a perpetual twinkle in the eye. And he was successful, working his way up from traveling salesman to Vice President of Lincoln National Life Insurance. I wanted to be just like him.
Growing up in a lower-middle-class neighborhood in Southeast Atlanta, I didn't know anybody anywhere near as worldly as my grandparents. They watched Nature and Nova, and read National Geographic. They had every classic book you could imagine. They brought back souvenirs from New Mexico, Petrified Forest National Park and Hawaii. And they showed me photos of their adventures abroad, including two I'd eventually come to treasure: One of my grandmother on a camel in Egypt, the other (pictured above) of my grandfather at the Acropolis of Athens.
Later in my life, Granddad was there for me at times when few other people were. He and my grandmother took me in when I was homeless, helped me pay for college as I worked my way through, helped me pick out my first house, and counseled me anytime I had trouble navigating the difficulties of being a grownup. On the last Christmas before he died, during breakfast at my house, when Granddad told me how proud he was of me for blazing my own trail and becoming a professional writer, it was the single proudest moment of my life.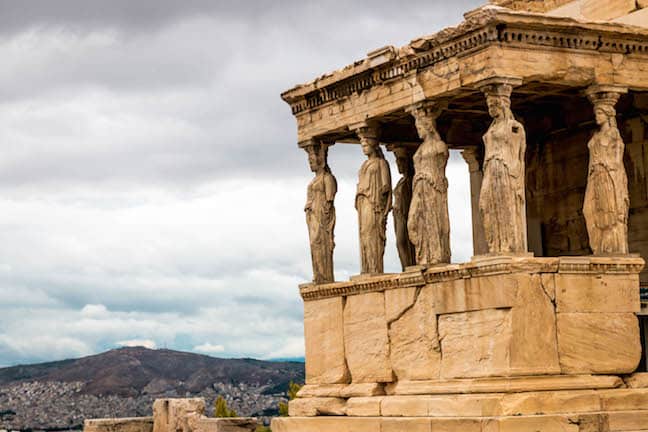 OVERWHELMED BY THE SPIRIT
All of these memories raced through my mind as we scurried past the growing throngs of tourists to see the attraction UNESCO called "a universal symbol of the classical spirit and civilization," and "the greatest architectural and artistic complex bequeathed by Greek Antiquity to the world."
I'd looked at my grandfather's Acropolis photo on my wall at home for years. I'd gazed up in rapture at this monolithic monument to Philosophy and the Arts dozens of times during the TBEX conference– from the balcony of the Amalia Hotel, from the street outside the Monastiraki Metro station, from the top floor of Savvas Restaurant. My pulse began to pound harder and harder with each step we took towards this ancient place that I knew would, in some strange way, allow me to feel closer to Granddad than I'd been since his passing in 1996.
I was determined to recreate his classic photo, as a tribute to his iconic influence on my life. So when we emerged to see that the entire front view of the Parthenon– where he had stood almost exactly 40 years ago– was marred by cranes and scaffolding, I nearly cracked. Fortunately, in addition to his hair, his gift of gab and his sense for business, I also inherited my grandfather's stubbornness.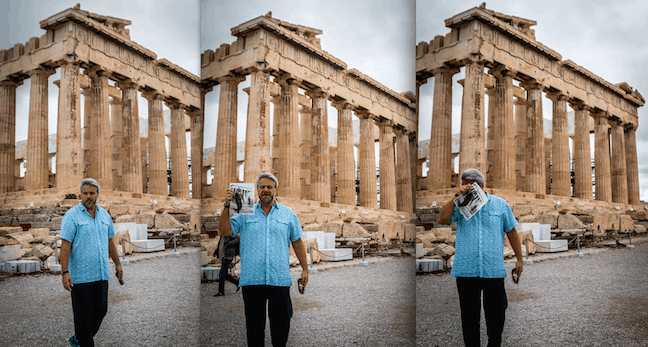 As we made our way around the summit, past the draped female figures of the Erechtheum's famed Porch of the Caryatids and toward the remains of the Sanctuary of Pandion, we realized there was virtually nobody on the backside of the Parthenon (which looked almost exactly like the front). I was ecstatic, urging Mary to get the 8×10 photo of my grandfather out of her backpack so we could get our tribute photo before the flocks of tourists arrived.
Though the angle was very different and there was no hill to descend, we did our best to recreate the 40-year-old photograph. At one point, Mary asked me to hold Granddad's picture for a few shots. As she handed it to me, I finally looked at it– REALLY looked at it, without the distraction of trying to mirror every minute detail– and immediately burst into tears.
It's impossible to explain why without telling you my entire life story. My grandfather had believed in me when no one else did, least of all myself. He taught me an old-school code of honor, integrity, commitment and loyalty that drives everything I do today. He didn't just tell me what it meant to be a man, he showed me, leading by example.
And on that day, on the top of that mountain, standing beside a temple dedicated to the goddess Athena in the 5th century BC, I knew that he would be proud of the man I'd become. I imagined him sitting atop Mount Olympus, with my grandmother on one side and Zeus and Hera on the other, looking down on me and beaming, "That's my boy!"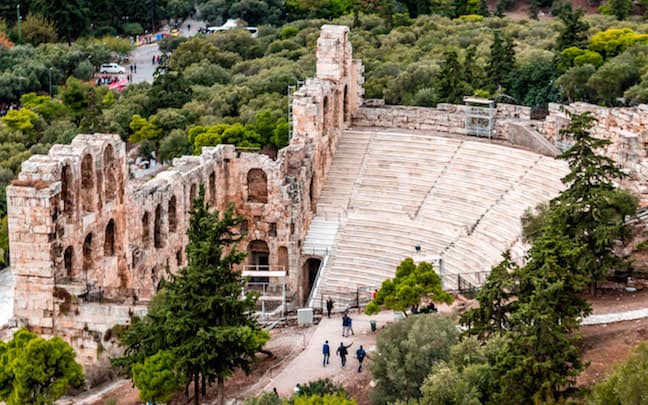 A LOVE OF HISTORY (& THE HISTORY OF LOVE)
It wasn't until after my emotional breakdown that I was really able to stop, take notice of the incredible sights around me, and appreciate the Acropolis for the world class archaeological site it truly is. I took time to savor every Ionic column, every Caryatid, every Selene horse.
I ignored the tourists, soaked in the picturesque views of the Odeon of Herodes Atticus and the city of Athens below, and spent hours exploring the impressive relics of the Acropolis Museum.
The whole time, I kept thinking about how mind-blowing this all must have been for my grandfather– the son of a Texas sharecropper– to see back in the mid-1970s. And I was overcome with gratitude for his role in my life… and the fact that I now have a life that allows me to follow in his footsteps. –by Bret Love; photos by Bret Love & Mary Gabbett
If you enjoyed our story on the Acropolis of Athens, you might also like:
Our Next Adventure: Cruising the Greek Islands
The Science of Happiness: Expressing Gratitude
45 Things I Wish I Could Tell My Younger Self
How To Be Happier: 5 Secrets To Improvising Your Life
There's Something About Mary: An Ode To Love
Family Traveling, & the Bonds We Make (or Break)