With international and even domestic travel currently at an all-time low (at least in our lifetimes), summer staycations are more popular than ever. 
For us, the best staycations are all about water.
Whether you live near a lake (as we do) or a beach, spending a day on the water, surrounded by nature, has a way of washing away the stress and/or boredom of our normal daily routines. 
But making the most of a staycation near you still requires planning and packing everything you need for a fun day in the sun.
From cabanas and hammocks to coolers, sunglasses, and fishing gear, our guide to the best beach gear and lake essentials offers plenty of excellent ideas for a staycation you'll remember. 
READ MORE: The Ultimate Beach Vacation Packing List
BEST BEACH GEAR & LAKE ESSENTIALS GUIDE
Cabanas/Hammocks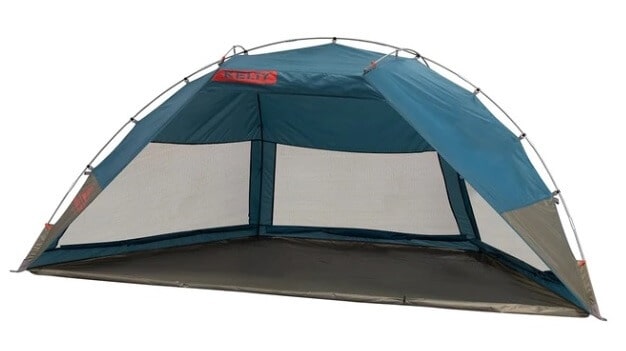 Kelty Cabana
The traditional 10′ x 10′ pop-up canopy is one of the most ubiquitous beach supplies at our favorite place in the world, Sanibel Island, Florida. But they have a lot of drawbacks, from weight and lack of side shading to limited bug protection and privacy. 
Our favorite features include the sandbags and stakes for keeping it stable even in high winds, 3 huge mesh windows for bug control and maximum airflow, and a front wall and window covers that can be toggled when you want privacy. 
We also dig the Shark Mouth duffel it comes in, which makes cross-body carrying comfortable.
Swimwear 
Body Glove Flourish Eco-Conscious Bikini
The bikini top– the Drew– is incredibly supportive and perfect for larger busts. It's actually made of recycled ripped fabric, which makes it as environmentally responsible as it is flattering to the form.
The Drew top comes in a variety of colors and stylish patterns, and ranges up a size F so that curvy ladies can look great without sacrificing support.
The bikini bottoms are low-rise, with a drawstring for a perfect fit. They range from a size XS to XL, offer better backside coverage than many bikinis, and are eco-friendly like the matching top! 

Kenny Flowers Sahara Reversible Swimsuit
If you're looking for a comfortable, versatile, ethically made women's bathing suit, the Sahara from Kenny Flowers is the perfect addition to your next beach trip. 
Vilebrequin Fames Swimwear
These shorts include fabric designed to wick moisture away from the body, plus a comfortable stretch fit so that you can be active both in and out of the water.
One of our favorite features of the shorts is a built-in loop for your keys, keeping them close to your body no matter what adventures your staycation may bring.
The only downside of these shorts is that the sizes only range from a 32 to a 39 waist, which seems really limited. But they're still stylish, easy to wash, and super comfortable!
Towels & Beach Blankets
Sand Cloud Towels
Sand Cloud's 100% Turkish Cotton beach towels are some of the softest we've ever used for drying off  after swimming or surfing.