[Updated 11/22/19] So you've only got one week in Ireland to cover the rolling green hills and narrow-lane streets of the emerald isle? No problem.
With a little energy and a LOT of driving, you'll easily knock out the southern half of the country in one epic Ireland road trip itinerary.
The most efficient way to tour Ireland by car is by spending a few days in each area and then keep moving in one direction.
We recommend flying into Shannon and trekking 2.5 hrs to Dublin. This takes you through dozens of small towns, letting you explore castles, farms and restaurants slightly off the beaten tourist path.
You'll do one giant circle, avoiding Dublin's crazy airport and making enough time to see Ireland's best places to visit.
Here's our Ireland itinerary for 7 days. Click on each link to learn more about that area and see suggestions of where to stay in Ireland:

DUBLIN
If you plan it right, you'll be in Dublin by early evening.
This should leave enough time to scope out Happy Hour, walk the festivities by the river, and wind up in Temple Bar for a fabulous serving of fish and chips (warning: the fish has skin and won't necessarily be white and flaky), all before jet lag sets in.
But rest easy: An Irish breakfast is the best jet lag cure there is. Sausage links, fried eggs, toast and butter are made fresh every day.
You may want to steer clear of the Irish pudding, unless congealed pig's blood is your thing.
Nourished and refreshed, put on some comfortable shoes, bring your best camera and your biggest appetite.
To see the most Dublin attractions, try the bus tours, or the hop on/hop off tours, which take you to the coast and back before dinner, soaking up more than you would with a map and a Rick Steves book.
Don't leave Dublin without touring the Guinness Factory. Rich in history and ending with a pint, it's pretty much the heart of the town.
Plus, that happy hour spirit kicks in at the top and you'll "watch the magic happen" with hundreds of other happy tourists overlooking the Dublin skyline.
We'll call it Ireland's best match to the Eiffel Tower.
Knock off the day by strolling the city's Trinity College, home of the historic Book of Kells, and quite often a good game of cricket.
Head back to Temple Bar for a frothy nightcap, an Irish dance show and some hearty beef pie. The next morning drive from Dublin to Cork.
READ MORE: Interview with Dublin Legends The Chieftains
Where to stay in Dublin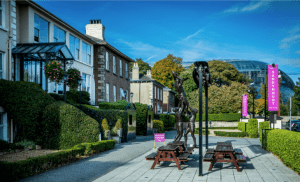 SANDYMOUNT HOTEL (Ballsbridge, Dublin) – Located in Ballsbridge, this eco-friendly budget hotel was a winner at the 2015 Responsible Travel & Tourism Awards. Amenities include free wi-fi, free parking and full breakfast (w/surcharge). Nearby attractions include Aviva Stadium and Stella Gardens. Check Rates on Booking.com.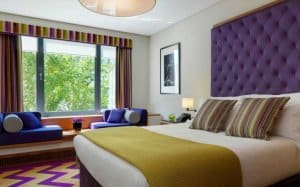 THE FITZWILLIAM HOTEL (Dublin City Centre) -This 5-star hotel in Dublin's City Centre is the epitome of eco-friendly luxury, with warm, welcoming decor. Amenities include spa services, gourmet restaurant and afternoon tea service. Nearby attractions include St. Stephen's Green and the National Gallery of Ireland. Check Rates on Hotels Combined.

CORK
Once you set out for the west coast, you've got a lot of stops to make the ride enjoyable.
If castles are your thing, make sure to see The Rock of Cashel (which is not actually a castle, but a monastery). It's got a phenomenal view of some serious greenery, plus tons of religious history.
You'll also pass through Kilkenny, where you can see the castle there, huge and sprawling. Expect hundreds of people enjoying the sunlight and ice cream stands that park in on the front lawn.
Don't feel like you need to take the tour. A simple walk of the grounds will do, and allow for this to be a quick stop.
You'll soon arrive in County Cork, housing The University College Cork. So you can expect your good ol' college town—bars, restaurants, and academic history, all within a few square miles.
Staying here puts you in driving distance to The Blarney Castle and the famous spit-slimed Blarney Stone.
There's also the quaint harbor town of Kinsale, where you can hang at the beach, enjoy fabulous seafood, and mix with some real locals… all while enjoying your pints, of course!
READ MORE: The 50 Best Travel Shoes
Where to stay in Cork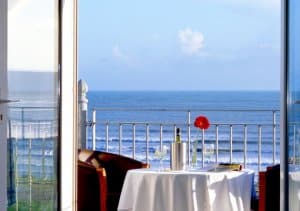 GARRYVOE HOTEL (Ballycotton Bay) – A 4-star hotel on the beach at budget travel rates? This family-owned charmer was named Best Overall Wedding Venue in Ireland, with amenities including spa tubs, sauna, indoor pool, and free wifi. Local attractions include Ballymaloe Gardens, Ballycotton Cliff walk, and Fota Wildlife Park. Check Rates on Hotels Combined.

THE RIVER LEE HOTEL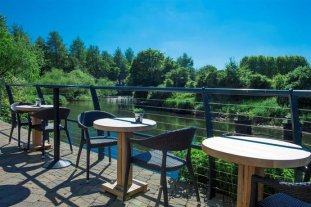 (Cork) – This luxury hotel on the banks of the River Lee is in the heart of Cork, walking distance from the English Market and St Fin Barre's Cathedral and a 15-minute drive from Blarney Castle. Posh amenities include a health club with indoor pool, full-service spa, a farm-to-table restaurant, and a terrace bistro offering stunning river views. Check Rates on Booking.com.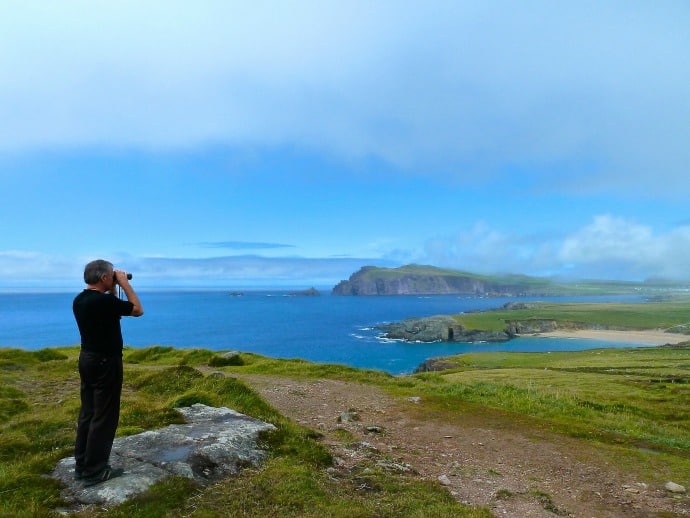 KILLARNEY/RING OF KERRY
This is where your car really comes in handy for your one week in Ireland.
Grab some ham and cheese sandwiches, get your bearings for that left side of the road, and strap in for a windy tour through the rolling mountains of southern Ireland.
Gorgeous blue water, lush green slopes, and dramatic cliffs make up miles and miles of travel after the city sights of Cork and Dublin.
You'll want to stop and explore, so don't take the tour bus for this one. Take pictures, buy trinkets from the nomads (and watch out for their live animals), and don't miss the Skellig Ring– cliffs that offer a better experience than those famous ones of Moher.
It requires a quick uphill hike, but the view is stupendous and it's usually sparsely populated.
You can find more information online, but the family who owns the Rock's avian view hasn't given it anything official. If you're keeping your eye out for it, you'll see the signs!
Give yourself a full day for Kerry. We recommend staying in Killarney, but don't spend too much energy exploring it. This is a tourist hole, with bustling factories of commercialized food and culture.
READ MORE: Top 5 Traditional Irish Bands
Where to stay in Killarney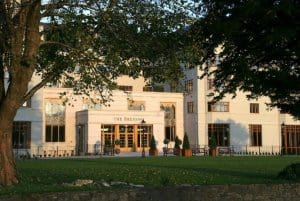 THE BREHON (Killarney) – Located in the historical district, this eco-friendly hotel offers luxury accommodations at budget prices. Amenities include a fitness center, full-service spa, indoor pool, free wifi, and more. Nearby attractions include Killarney National Park, historic St. Mary's Cathedral, and the beginning of the 133-mile Kerry Way trail. Check Rates on Booking.com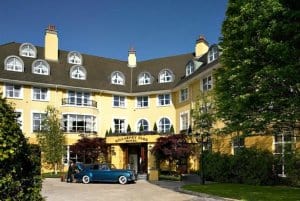 KILLARNEY PARK HOTEL (Killarney) – With its 5-star rating from Fáilte Ireland (The National Tourism Development Authority), this Leading Hotel of the World member companies Old World elegance with modern luxury. Its Town Centre location makes it central to all Killarney attractions, with amenities including gourmet restaurant, afternoon tea service, full-service spa, and more. Check Rates on Booking.com

LAHINCH/DOOLIN
The gem of Ireland's west side lands in the coastal cities of Lahinch and Doolin.
Lahinch is a beach town, with restaurants, golf courses, beaches, and amusement rides stacked on top of each other.
Just over the mountain, Doolin is quiet, sparse, and teeming with natural things to see in Ireland. Since it's best known for the Cliffs of Moher, plan to take a visit.
But know that any pictures you take will likely be dotted with all the raincoat colors of the rainbow, as hundreds of people flock there daily. You can do it on your own—no tour guide required.
The Cliffs have a huge visitor's center with information on the history behind the rocks. Give yourself about an hour and head over for a late afternoon boat ride view of the same rocks, but a completely different experience.
Taking you right up to the rocky face, this would be our choice if you do find yourself pressed for time.
READ MORE: Irish Pub Recipes for St. Patrick's Day
Where to stay in Lahinch/Doolin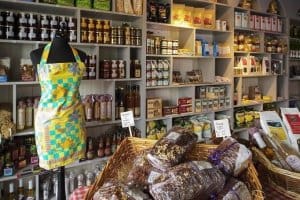 HOTEL DOOLIN (Doolin) – Located just 7km from the Cliffs of Moher, this boutique hotel in quaint Doolin village offers a great base for exploring Ireland's Wild Atlantic Way. They've won dozens of Responsible Tourism Awards, including one for their restaurant's sustainable menu. Other amenities include free wifi, parking, and a delicious cooked-to-order breakfast. Check Rates on Booking.com.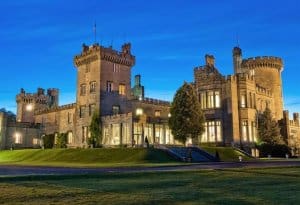 DROMOLAND CASTLE (Newmarket-on-Fergus) – Once owned by Gaelic royals, this historic castle 12km north of Shannon Airport is the perfect place to wind down after a week in Ireland. Set on the shores of a lake and surrounded by 450 verdant acres, its luxury amenities include golf and tennis courts, fishing, clay shooting, full-service spa, fine dining restaurant, afternoon tea, and more. Check Rates on Hotels Combined.com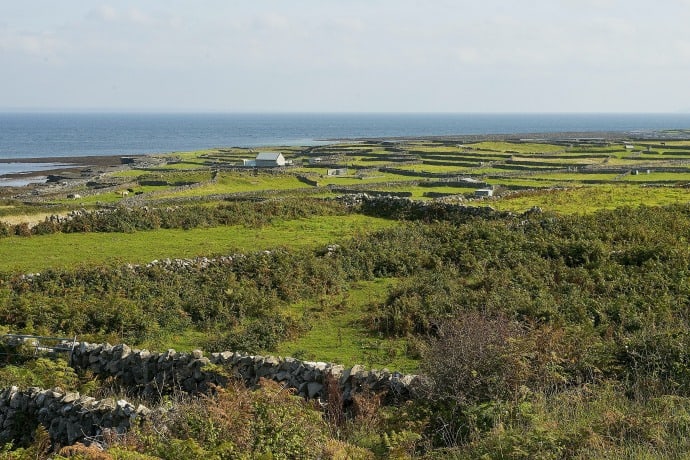 ARAN ISLANDS
That same boat will pick you up the next morning for a day out on the Aran Islands, which rank among Europe's most beautiful islands.
These three islands, barely two miles in diameter, reveal a more rustic taste of Irish culture.
Activities here include buggy rides across some seriously harsh landscape, a view of early architecture, and even a rusted old pirate ship you can explore.
You'll have to pick an island, due to the ferry system. But local guides can help you decide which one is more up your alley.
Just off the coast lies The Barrens, a natural limestone phenomenon that covers hundreds of square feet.
This dynamic landscape creates a maze-like floor plan stretching to the horizon on all sides. Ancient burial grounds are dotted throughout, and rare plants peek out from between the grooves.
Use the last of your time in Ireland to avoid the pubs, skip out on the chips, and seek out the local markets. Make a picnic of fresh cheeses, homemade breads, good protein, and cold beer.
Your waistline might regret your indulgent taste buds, but your friends who hear tales of your week in Ireland will be green with envy! –Jenni Williams
Read More: The Best Backpacks for Travelers
Where to stay in the Aran Islands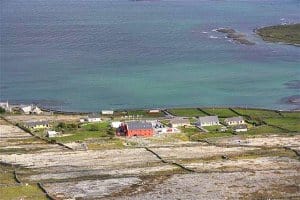 ARAN ISLANDS HOTEL (Inishmore)
Rural and quiet except for the sound of gentle waves lapping against the shore, this beachfront hotel is great for getting away from it all. Amenities include free wifi, a highly-regarded restaurant, and spectacular views of Kileaney Bay and Kilronan Harbour. Check Rates on Booking.com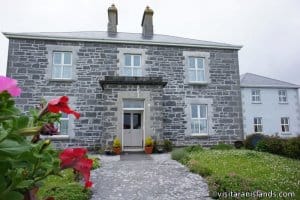 KILMURVEY HOUSE (Inishmore)
What this quaint bed and breakfast lacks in modern frills it more than makes up for with rustic charm. The owners are welcoming hosts and impressive chefs. The moderate price includes admission to the ruins of Dún Aonghasa, the most famous of the area's prehistoric hill forts. Check Rates on Hotels Combined.com
IRELAND TRAVEL TIPS & FAQS
What is the best time to visit Ireland?
The best time to go to Ireland is April, May, September, and October.
These months are the shoulder season when you are most likely to get great deals on hotels, see far less tourists, and still benefit from decent weather. Ireland in January, February, and March is fairly cold, as are November and December.
In July and August, you'll find mass tourism (particularly at the Ring of Kerry) which can take away from Ireland's charm and natural beauty.
How many square miles is Ireland?
Ireland is 32,599 square miles, which is roughly the size of the state of Indiana.
How far is Cliffs of Moher from Dublin?
The Cliffs of Moher are a little over 3 hrs from Dublin. Dublin is on the East Coast and the Cliffs of Moher are on the West Coast so you will be driving across the country. Better views and far less people will be at the Skellig Ring cliffs.
What is the drive time for Cork to Cliffs of Moher?
The drive time from Cork to the Cliffs of Moher are a little over 2.5 hrs. Cork is on the South East Coast and the Cliffs of Moher are on the West Coast.
There are plenty of rental car companies in Ireland where you can find a vehicle that fits your personal driving style and budget.
What to wear in Ireland?
A lot of what to wear in Ireland depends on what time of year you visit the emerald isle, however there are a few basics that you should have regardless of the time of year;
Waterproof shoes that are good for walking over stones and through mud.
Raincoat or water resistant jacket. It can rain at anytime of year.
Water resistant pants preferred, but not required.
Tops that can be layered for temperature control.
Warm socks (several pairs incase they get wet).
Planning a Trip to Ireland?
Check out the following services we use!
Omio for affordable European Train Tickets.
DollarFlightClub or Airfarewatchdog to find a cheap plane tickets.
Viator for a stellar day tour.
Lonely Planet for Travel Guides.
World Nomads for Travel Insurance
AutoEurope for European Car Rentals.
TrustedHousesitters we've found great pet sitters to watch our house and love on our two dogs!
Looking for essential Travel Gear? Check out these great options!
The Best Travel Clothes for Women & Men
The Best Vegan Boots for Women & Men

The Best Backpacks for Travelers
Plastic Free Products for Travelers