As frequent travelers who aren't into long-distance trekking, a good travel daypack is arguably the most important piece of travel gear we take on our trips.
After all, once we reach our destination, our carryon luggage basically stays in our hotel or eco lodge the whole time.
But the best daypacks for travel can serve multiple purposes, keeping essential items close at hand when you're on the plane, walking through the city, or hiking through the wilderness.
There are daypacks designed for almost any situation you can imagine. Lightweight daypacks for all-day carrying, day hiking backpacks designed to carry outdoor recreation gear, waterproof daypacks for watersports and hiking through rainforests, and urban backpacks for every day use.
So here we've reviewed 35 of the best travel daypacks, including bags designed specifically for women and others intended for tactical usage. Each of them includes specs, pros and cons, and our expert opinions on the best features.
READ MORE: The 40 Best Backpacks for Travelers
Best Daypacks for Travel TOC
Best Day Hiking Backpack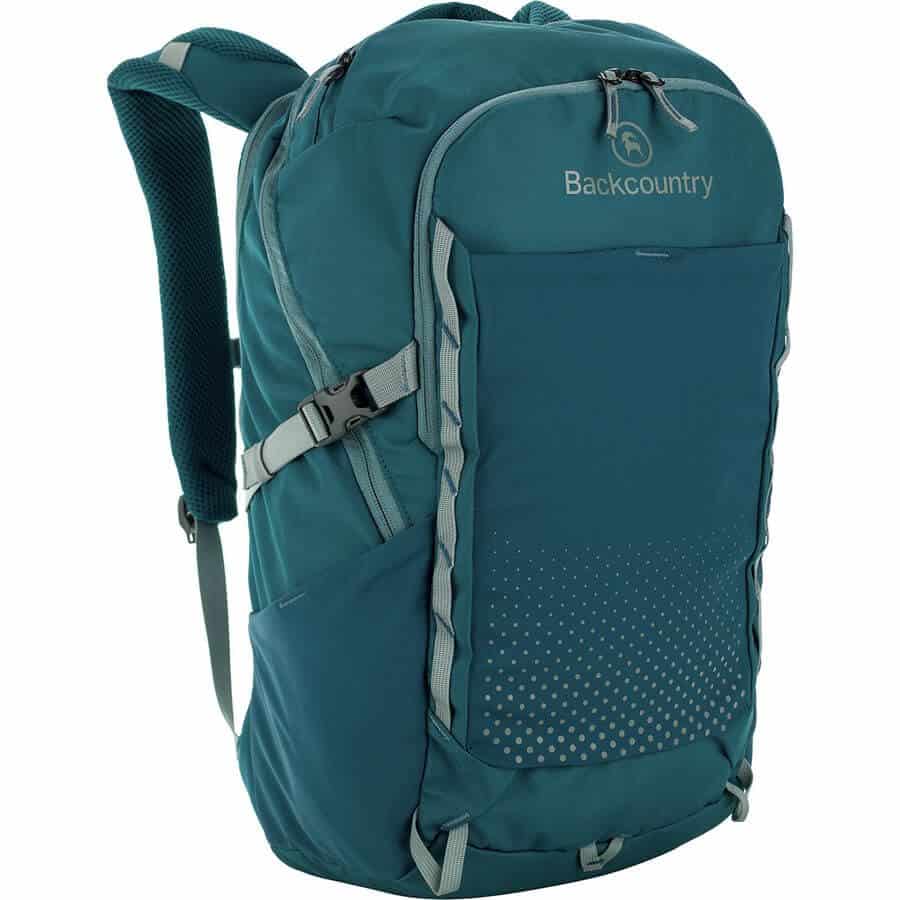 1. Backcountry 27L Daypack
The 27L Daypack from Backcountry converts easily from a trail pack to a bag for commuting through busy cities, offering tons of value in its lifetime.
It has ample organization in the main compartment, and can fit all the basics you need for a day out on the trail.
The padded hydration sleeve is one of our favorite features. The pack also has a pocket that's big enough to carry a laptop when you're not out Gorilla trekking or on other rugged outdoor adventures.
The gear loops on this day hiking backpack come in particularly handy when you're carrying trekking poles and other accessories. The adjustable, padded straps ensure comfort even when you're hiking long distances.
Pros
Padded fleece pocket for sunglasses
Versatile & durable
Cons
No waist belt to distribute load
READ MORE: The Best Hiking Trails in the World
Check Price on Amazon Check on Camelbak
Camelbak's Rim Runner daypack is really designed for comfort during hiking, and comes with its own 2.5L hydration bladder.
The hip belt has convenient pockets for storing small items, and the side gear loops can hold your trekking poles.
The high-flow water reservoir has an ergonomic handle and an on/off lever for easy use.
With the mesh back panel, the bag is easy to carry, whether you're hiking the Dolomites in Italy or going on other long treks into the mountains.
This stylish, lightweight Camelbak day pack also fits well with almost any body shape.
Pros
Weighs a little over 1 lb
Multiple organization pockets and compartments
Cons
Bladder has been known to leak
READ MORE: The Best Mountains in the World
Check Price on Amazon Check Price on REI
Whether you're heading on a day hike into national parks in the USA for wildlife viewing or doing a more arduous trek in the mountains, the Crown2 38 from Granite Gear may be just what you need.
This bag was built specifically for active travelers. The daypack is made from durable, high-quality materials, and is designed to hold plenty of gear.
It's already a very lightweight pack at just over 2 lbs, but can be made even lighter by removing the frame sheet.
The removable brain lid is hydration compatible, and the waist belt is adjustable to fit each person comfortably. But, due to the longish torso, this pack may not be as comfortable for shorter hikers.
Pros
Removable lid (not included in the weight)
Fully adjustable patent-pending Re-Fit hip belt
Cons
One-size torso makes it better for taller people
READ MORE: List of National Parks by State (An Epic Guide)
Check Price on Amazon Check on Moosejaw
The Camp Sherman from Kavu is a sturdy, yet lightweight daypack. It works perfectly both for travel days and for trail hiking.
Inside there are many different pockets and compartments for storage, allowing you to keep things organized as you travel.
The 18L capacity provides just enough space to hold everything you need for a day hike.
The shoulder and chest straps are adjustable and contoured, with ample padding. And the breathable mesh keeps your back comfortable, even during long, hot days in the desert of Wadi Rum, Jordan.
Pros
Extremely durable
Lots of pockets for organized packing
Great look and lots of options
Cons
No padding at the bottom of the laptop sleeve
READ MORE: The 25 Biggest Deserts in the World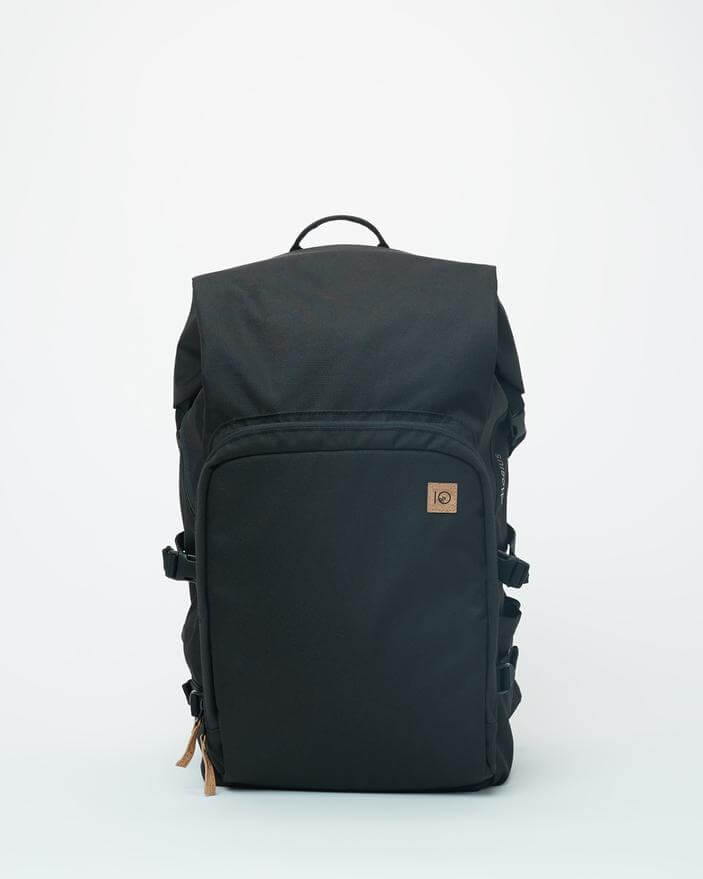 5. tentree Mobius 35L
The 35L Mobius from tentree is among the most environmentally progressive daypacks on the market. It's made from 100% sustainable materials, including BLOOM Algae Foam.
This great travel daypack also offers functionality along with the eco-friendly benefits. It has multiple pockets for storing hiking essentials, a padded 15" laptop sleeve, and a side compartment for holding your (hopefully NON-plastic) water bottles.
The Mobius works as a 4-in-1 backpack: It's perfect as a laptop day pack, a hiking day pack, a carryon bag for air travel, or a weekend backpack.
Our favorite thing about the bag is that for each purchase, tentree will make sure that 10 trees are planted. So just buying one may make you feel a bit like The Lorax!
Pros
Ethically made using recycled water and REPRIEVE polyester
Versatile and convertible
READ MORE: 30 Awesome Plastic-Free Products
The Altmont Active expandable pack from Victorinox is one of the best travel daypacks we've tested this year.
Its 32L capacity can be expanded by an extra 7L via a zippered compartment, making it ideal for everything from a day hiking in Rio Dulce, Guatemala to a weekend in Prague.
The bag's inner compartment has multiple zippered pockets. And the gear loops and cord system allow you to easily carry any hiking or travel accessories too big to fit in the bag.
This high-quality daypack is made from durable materials and is built to last for years. The bag is also lightweight and created for comfort.
Pros
Elastic loop system to carry poles and other gear
Extra 7L expandable storage
Cons
No waist belt to distribute load
READ MORE: The 100+ Best Gifts for Travelers
This inventive pack from ExtremeMist is the ultimate daypack for travelers exploring hot destinations, whether they're dry (like the secret Petra Treasury Trail in Jordan) or humid (such as the Mayan Ruins in Latin America).
The bag itself weighs a little over 2 lbs (varying between the large and small size). But it gets a bit heavier when you add water to the bladder and the Personal Cooling System (PCS).
The pack contains a 2L hydration bladder with an easy-to-access valve. Its brilliant built-in misting system sprays a light, cool mist as you walk, triggered using a wireless remote.
The Personal Cooling System comes with the pack, but is completely removable so that it can be used separately as well.
Pros
Offers hydration and mist
Wireless remote with multiple settings
Available in Large or Small sizes
Cons
May not hold all of your essentials
Can get heavy when water is added
READ MORE: My Stupid Mistake in Corcovado National Park, Costa Rica
Best Waterproof Daypack
Check Price on Amazon Check Price on REI
This 18L SkyLake from SealLine Gear is an excellent waterproof daypack perfect for small ship cruises or any other sort of water-based activity.
Made from 100% PVC-free materials, the bag is able to be rolled up and stowed away. So it's perfect for day hiking or taking on adventurous outings in places like Alaska or Antarctica.
The roll-top ensures that everything inside the bag stays dry, while the durable outer fabrics make sure that no water gets in. If it's dropped in water, the SkyLake will even float! So it's great for traveling in wet weather conditions, or for activities like kayaking and canoeing.
The backpack also has padded shoulders and a chest strap to distribute weight. The shoulder straps are breathable and can be removed easily for drybag use.
Pros
Weighs 0.8 lbs
Easy to pack away and store
Cons
Minimal organization pockets
READ MORE: The 10 Best Canoe Trips (World Travel Bucket List)
Peregrine's award-winning, versatile, and waterproof Vanga 25L dry pack is one of the best daypacks for all kinds of travel.
It especially shines during quick mountain summits. It also works perfectly for trail running, because the chest strap and waist belt allow weight to be distributed evenly.
The bag has a Hypalon-sealed roll-top. The outer silicon/PU-coated fabric makes the entire bag water-resistant, so it's great for river trips (such as cruising the Amazon or visiting Tortuguero National Park, Costa Rica).
The bag boasts a hydration-compatible back sleeve, as well as a back pouch and two side mesh pockets. The main compartment is large and spacious, able to fit all your hiking essentials.
Pros
Many pockets, pouches, and compartments
Hypalon-sealed top
Chest and waist straps
Cons
Hydration bladder not included
READ MORE: 20 Longest Rivers in the World by Continent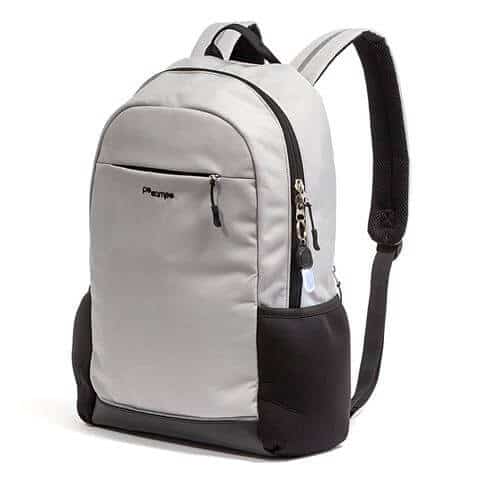 10. Po Campo Belmont Backpack
Po Campo's Belmont Backpack is not only stylish and functional, but it's also eco-friendly. The bag is constructed using waterproof bluesign® recycled fabric, and offers a host of useful features.
Originally designed for cyclists, it's arguably the best daypack for cycling tours or mountain trail rides. It comes with a built-in rain cover, blinking LED zipper pulls, and an internal padded laptop sleeve.
This backpack also features two side pockets for water bottles, and has a secret phone pocket.
Also, whenever a Belmont Backpack is sold a portion of the proceeds are donated to help deliver bicycles to schoolgirls in rural Africa.
Pros
Sales help girls in Africa safely ride to school
Padded laptop sleeve
READ MORE: Top 10 Things To Do in Asheville, NC for Nature Lovers
Check Price on Amazon Check Sea to Summit
True to its name, Sea to Summit has created a daypack that can take you from the water to the highest peaks. This dry pack is ideal for fishing trips, kayaking, or hiking in the Blue Ridge mountains.
Made from waterproof nylon and featuring a 3D mesh harness, the pack is lightweight, waterproof, and abrasion-resistant. It's also steam-sealed throughout.
The roll-top closure is non-wicking, and uses a patented Field Repair Buckle to keep the bag sealed.
The Sprint is durable enough to survive a day out on jagged volcanic rocks, and will keep your possessions safe and dry even during heavy Hawaiian downpours.
Pros
Weighs less than 1 lb
Abrasion-resistant and water-resistant fabric
Lifetime guarantee
READ MORE: The 20 Best Things To Do in Kauai, Hawaii (for Nature Lovers)
Best Lightweight Daypack
Check Price on Amazon Check Price on REI
The Speedlite from Deuter is an ergonomic, minimalist daypack weighing just 1 lb 1 oz. It's designed for active travelers, and provides the ultimate comfort while carrying it.
The bag features a hydration compatible system, which can fit a 2 L or 3 L bladder. It also has a removable waist strap, adjustable chest strap, and a V-shape design that encourages free movement.
The pack's 20L capacity is able to fit enough clothes, snacks, and other important items for a day out.
There are multiple pockets, including two stretchy side storage pockets. And there are loops on the side to hold your helmet, trekking poles, or other gear.
Pros
Adjustable chest straps
Hydration compatible
READ MORE: The Best Travel Clothes for Women & Men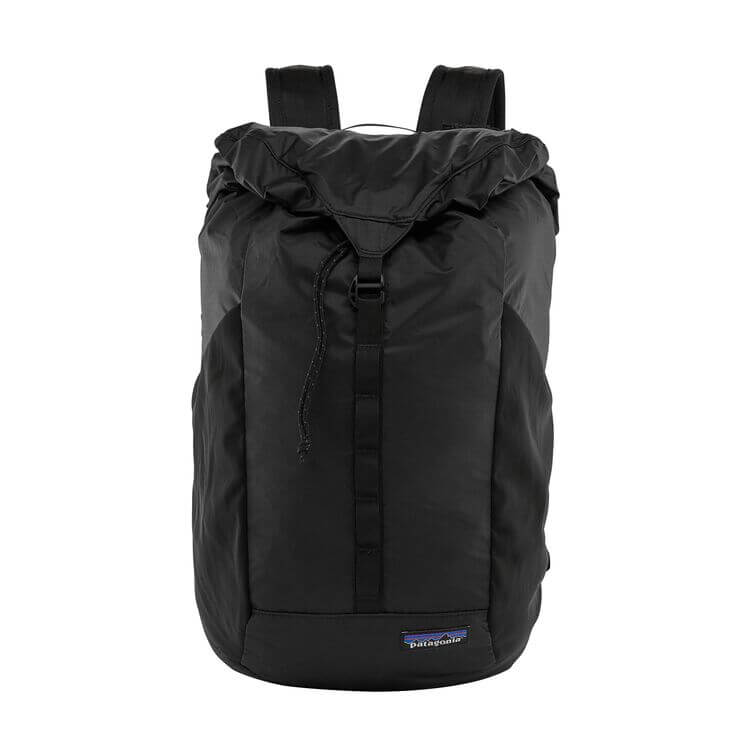 Using 100% recycled materials, Patagonia has constructed a durable, yet ultralight daypack weighing just 10.9 oz. It even packs away into a compact carry pocket when not in use!
The adjustable chest strap keeps the bag close and helps to level out your load.
The top-loader opening has a drawcord closure, and there's a zippered stash pocket inside with a key clip. There's also a top zippered pocket for storing your smaller items.
The Black Hole pack is extremely comfortable thanks to a mesh back panel and straps. And since it's made with Durable Water Repellent fabric, it repels snow and light rain and dries quickly.
Pros
Water-resistant
Made with 100% recycled nylon and 100% recycled polyester lining
Packable daypack
Cons
Not as ergonomic for all body shapes
READ MORE: The 15 Best Camping Tents for Families
The Flight 18+ from Peregrine is a very light daypack, weighing just 12.2 oz. It was specifically designed for extreme outdoor adventures, but works great for simpler travels as well.
The bag has gear loops for ice axes and trekking poles, making it great for winter adventures in cold winter climates.
Inside there's a mesh pocket and a reservoir sleeve, and the front of the bag features a stretch pocket as well. When you're done, the pack folds down to a compact size for easy packing.
The Flight 18+ also features a roll-top closure, keeping out moisture and debris. The top makes it easy to expand the usual 18L capacity to a slightly larger size, hence the name.
Pros
Hydration compatible
Lightweight, packable daypack
READ MORE: Climbing Nigardsbreen Glacier, Norway
Check Price on Amazon Check Sea to Summit
Another brilliant Sea to Summit daypack, the Ultra-Sil is an extremely lightweight backpack that weighs just 3.8 oz.
The bag packs down into its own stuff sack, which has a key ring attachment, making it easy to bring along on camping trips and other multi-day adventures.
With its 22L capacity and compression lacing system, this is an ideal dry pack for day hikes and water sports. The waterproof fabric repels rain, and the Hypalon roll-top closure keeps everything inside safe.
Double-stitched seams and high-density PU seam tape should also help to ensure the durable pack lasts for many rugged adventures to come.
Pros
Lightweight and water-resistant
Made of 30D Ultra-Sil fabric
Cons
Minimal organization pockets
READ MORE: 60+ Cool Camping Gear Reviews
The Flight 30 UltraLight Running Pack from Six Moon Designs was originally constructed with trail runners in mind.
The pack weighs just 1.6 lbs, with an optional hip belt that helps it fit snugly to the wearer's body.
This bag has multiple pockets for organization, including shoulder strap pockets. It comes with varied sizes of shoulder straps (or vest harnesses) and hip belts so that you can customize your ideal fit.
For those who want to move swiftly without the bag bouncing around, the vest harness is the best choice.
Pros
Removable hip belt
Adjustable torso length
Cons
Snug fit can cause discomfort on hot days
READ MORE: Hiking the John Muir Trail, California
Best Urban Daypack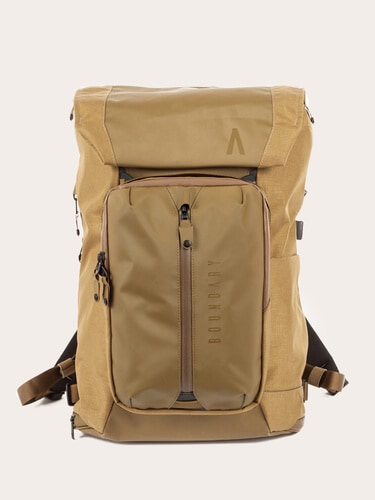 17. Boundary Errant Pack
Created by avid mountain bikers and photographers, the Errant Pack from Boundary is the perfect travel companion for those who like to capture the beauty of the destinations they travel to.
It weighs 2.1 lbs and has a 24L capacity, with optional add-ons for photography accessories and other gear. We especially love the MK-2 Camera Case, which allows for additional storage and an array of pockets and dividers to organize your camera gear.
The bag itself boasts many interior pockets to keep small items separate and easy to find. The Errant Pack also features a magnetic top closure, a padded laptop sleeve, and locking zippers.
The breathable back and harness offer comfort while wearing the pack, while top and side carry handles make it easy to carry the bag when it's not on your back.
Pros
Stylish and fashionable
Lifetime warranty
READ MORE: 10 Simple Wildlife Photography Tips
Check Price on Amazon Check on Moosejaw
Made from recycled polyester, the Dakine Canyon 20L Backpack is a top-quality urban backpack. It only weighs 1.4 lbs, comes with a removable hip belt, and has ample internal organization.
The backpack's ergonomic shoulder straps make it easy to carry all day long, and the breathable airflow back panel helps keep you cool and dry as you walk around town.
The chest strap has an integrated whistle for emergency situations, making it ideal for solo travelers.
There's also a padded 15" laptop sleeve, which can be used as a hydration pouch out on the trail, and gear loops to keep your accessories close at hand.
Pros
Made from 100% recycled materials
Fleece-lined sunglasses pouch
Cons
Hydration reservoir not included
READ MORE: NYC Christmas Windows Walking Tour
Check Price on Amazon Check Price on REI
From hustling down metropolitan streets to cycling in the countryside, the Deuter XV 2 city daypack will do the job.
Weighing in at 2 lbs, 3 oz and offering 19L capacity, this bag is perfect for every day use by students, messengers, etc.
The pack has a dedicated laptop and tablet sleeve, an organizer compartment, and a pocket for documents. It also has two side pockets, load-adjustment straps, and a removable hip belt.
The Airstripe system keeps your back cool and air flowing as you walk. And we love the fact that the materials used are all PFC-free, with less fluorocarbons making it better for the environment.
Pros
PFC-Free
Multiple pockets and compartments
READ MORE: How to Reduce Your Carbon Footprint (With Carbon Offsets & More)
Check Price on Amazon Check Moosejaw
Adding stunning designs by Swedish artists Erik Olovsson and Cecilia Heikkilä, Fjallraven has given their already-popular bags a new, more colorful sense of vibrancy.
Their Limited Edition Kanken Art laptop daypacks are perfectly functional, with the colorful art giving them a unique look you won't find on any other daypack.
The bag has a padded 17" laptop sleeve, padded shoulder straps, and a removable seat pad. It weighs 1.1 lbs and has a 20L capacity, which is great for walking tours in European cities.
These bags were originally produced for schoolchildren in 1978, so there are decades of Scandinavian quality and experience behind their build. They're also made to last for years when cared for properly.
Pros
Made from DWR recycled polyester and organic cotton
First Kånken backpacks with prints
Portion of sales goes to environment and climate projects
Cons
No pocket for water bottle
READ MORE: The 25 Best Places to Spend Christmas in Europe
Check Price on Amazon Check Price on REI
One of our favorite features on the 28L Transfer Pack from Kathmandu is the pack's removable technology pod.
This helps keep all your important items– such as chargers, power banks, and even your passport– neatly organized and easy to reach. Since it's removable, it can also be used in other bags.
The Transfer 28 is designed to be the best daypack/carry-on hybrid. Its wide zip opening makes packing and unpacking easy, while the many side and back pockets are great for items you need to access quickly.
The bag also has a built-in rain cover, and features a chest strap and hip belt.
Pros
Made using 22 recycled plastic bottles
Removable pod to hold important documents and electronics
Cons
Removable pod makes the bag top-heavy when open
Can get uncomfortable if wearing it all day
READ MORE: 20 Tallest Mountains in the World by Continent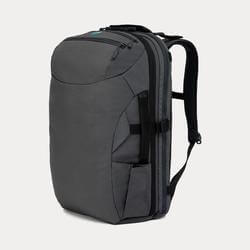 22. Minaal Carry-on Bag
For anyone taking a short weekend break, the Carry-on 2.0 from Minaal is the perfect bag.
Although the bag weighs 3.12 lbs, its 35L capacity means that this larger daypack will easily fit all of your essentials, both on and off the plane.
The aptly-named Carry-on 2.0 transforms easily from a backpack to a briefcase for business travelers. It can also be customized with other Minaal accessories.
The main compartment offers inner mesh pockets to keep things tidy. There's also a padded laptop sleeve, and the bag is compliant with most U.S. and European airline regulations.
Pros
Stowaway shoulder straps
Large capacity
Slides onto wheeled bag handles
Cons
May be too heavy to carry all day
READ MORE: Facts About the ETIAS Application for the EU Travel Visa Waiver
OGIO's Alpha Convoy 320 is made with durable CORDURA® Eco yarn, which reuses 13 plastic bottles. In our eyes, it's the ultimate backpack for inner-city day travels.
The bag weighs just 2 lbs, and features a waist strap to help with weight distribution.
The Alpha Convoy has multiple storage spaces, from the handy key cord in the front pocket to the side sleeve for your water bottle. The padded 15" laptop sleeve has a waterproof zipper, as well as an extra pocket for a tablet device.
The bag's main compartment has a zippered pocket and one large open space. Extra pods can also be added to the bag to increase its original 20L capacity.
Pros
Made from 13 recycled plastic bottles
Durable and made to last
Luggage pass-through
Cons
Water bottle sleeve is not stretchable
READ MORE: The 20 Best Vegan Boots for Women & Men
For the avid jetsetter, Solo New York offers a brilliant backpack. The Unbound is sleek and durable, but the slick style comes with plenty of substance.
Weighing 1.96 lbs and made from strong polyester, the pack offers ample space for a day trip (or as a second bag on longer trips). It's really designed for those carrying laptops and other electronics.
The four separate compartments offer organization and easy access, and the 15.6" flat-lay laptop and tablet compartment is great makes going through airport security a breeze.
The comfortable shoulder straps and chest strap make it comfy to carry, even when fully packed. It's an ideal bag for business travelers looking for a little adventure.
Pros
5-year warranty
Luggage pass-through
TSA checkpoint friendly
Cons
Front pocket is quite small
READ MORE: The 100 Best Inspirational Travel Quotes to Inspire Your Adventure
Not only does the 18L Myth Pack from STM Goods look good, but it's also created with a mixture of innovative and functional features.
Its DWR fabrics make the pack water-resistant and durable, and keep it lightweight at just 2.2 lbs.
The bag uses SlingTech technology to create extra protection for laptops, plus an Airpod pocket to store and access your headphones easily. There's also a CableREady system, which allows you to charge your devices while you're on the go.
The air channel through the Myth Pack's back panel promotes breathability, and also helps to distribute the weight of the bag.
Pros
Luggage pass-through
Fleece-lined pocket for sunglasses
Fits 15" laptop in a fleece-lined sleeve
Cons
18 L capacity doesn't offer much space for clothes, etc.
READ MORE: One Week in Ireland (The Perfect Road Trip Itinerary)
As its name implies, the awesome Array Solar Backpack from Voltaic Systems boasts a built-in solar panel that allows you to keep all your devices charged as you travel.
This solar panel connects to a battery that's strong enough to charge your laptops, smartphones, tablets, and cameras.
The bag weighs a whopping 5.4 lbs with the battery and solar panel, so it's heavier than most. But the breathable mesh back panel and ergonomic shoulder straps make it surprisingly comfy to carry.
Made from 33 plastic bottles, the pack will fit a day's essentials, along with any photography gear you want to take along. The interior also has a padded 15" laptop sleeve.
Pros
Made of 33 recycled plastic bottles
Solar panel and battery able to charge devices
Cons
Pricey
Design is bulky and heavy
READ MORE: 60 Earth Day Tips for Going Green Every Day
Best Daypacks for Women
Check Price on Amazon Check on Camelbak
Designed to fit a woman's frame, the Women's Octane 9 from CamelBak is a great women's daypack for running and hiking. It hugs the body close, preventing bouncing while you move.
The wide shoulders make it comfortably fit over ladies' torsos, while the 3D vent mesh makes the shoulder straps breathable as well.
The women's hiking daypack comes with a 2L hydration reservoir that has a leak-proof valve. But it can also hold a water bottle in the shoulder strap pocket.
Trekking poles can easily be carried on the pack. There's also a built-in whistle for safety, and the materials are reflective for nighttime running or hiking.
Pros
Designed to fit a woman's body
Pack only weighs 11 oz
Chest and waist straps
Cons
Only has a capacity of 7 L
READ MORE: 15 Female Wildlife Conservation & Animal Rights Icons
One of the best daypacks we tested for outdoor adventure sports, the OutDay 20+4 from Salomon weighs only 1.4 lbs and is designed with the perfect ergonomic fit.
It's ideal for the female athlete's body, and boasts an adjustable chest and waist strap that contains additional pockets.
The daypack's 20L capacity can be expanded to fit another 4L when you need some extra space for storage. The external gear loops makes carrying trekking poles and such a breeze.
The Outday 20+4 also features dual hydration pockets, including a reservoir sleeve on the shoulder strap.
Pros
Plenty of pockets
Extra 4 L of space
Cons
Limited use, best for single-day hikes
READ MORE: Hiking the Annapurna Circuit Trek (Why It May Be Now or Never)
Check Price on Amazon Check on Moosejaw
Perfect for everyday use and sightseeing day trips, the Sonet 24 from Gregory is arguably the best women's daypack for hiking.
The padded air mesh shoulder harness is specifically designed for the female form. Combined with the one-handed chest strap buckle, it's a great bag for ladies to take on any adventure.
The 3D foam back panel helps the bag mold to the wearer, and keeps it comfortable on long days of travel. The reflective webbing loops are great for early morning walks, and the zippered security pocket keeps your small valuables safe.
The bag also has a removable hip belt, is hydration-compatible, and weighs just 1.60 lbs. It has a total capacity of 24L, and has dedicated pockets and sleeves for a laptop, sunglasses, and smaller items. There is also a front bungee panel strapping on extra gear.
Pros
Padded laptop sleeve
Reflective webbing loops
READ MORE: The Ultimate Beach Vacation Packing List
Check Price on Amazon Check Price on REI
This cute, but durable crossbody bag from Kavu is a small day pack ideal for ladies who enjoy both outdoor exploring and browsing street markets.
One of the best things about the stylish Rope Bag is the many different pretty prints that it comes in. Made from durable ripstop materials, this daypack holds all your essentials for a fun day out.
It fits snugly to your body, so you can keep your valuables close at hand. The strap is adjustable as well, so you can adapt it for your own comfort.
There are many separate compartments, including two main pockets and two smaller pockets for cell phones, keys, and makeup.
Pros
Adjustable crossbody strap
Multiple fabrics and designs
Cons
10L capacity too small for long excursions
READ MORE: Exploring the Otavalo Market in Ecuador
Check Price on Amazon Check Moosejaw
The Yatra Everyday Pack from Sherpa is a great small pack for everyday use.
The bag weighs 1.1 lbs and has a capacity of 10L. It's compact enough for more petite ladies, but perfectly sized for a day of exploring small towns and cities.
The daypack features a fleece-lined laptop sleeve, as well as two front pockets and two side sleeves for added storage. The adjustable shoulder straps have ventilated mesh for breathability, and the bag is protected by its DWR finish.
Best of all, for every bag sold, one educational book will be sent to schoolchildren in Nepal!
Pros
Each purchase helps send books to Nepal school children
READ MORE: Tibetan Culture in Ladakh
Best Tactical Day Pack
Check Price on Amazon Check Price on REI
Made from CORDURA® fabric and using YKK® zippers, the Mystery Ranch 2 Day Assault Pack has 27L of capacity and weighs 3 lbs.
It's an incredibly durable bag, ready to go on your most extreme adventures, whether you're on safari in Tanzania or climbing ancient Mayan pyramids in Belize and Guatemala.
The padded laptop sleeve doubles as a reservoir pocket. There are also two side pockets for water bottles, and the lid has two separate compartments.
In short, there's tons of organization available in this tactical daypack, and the innovative 3-Zip design makes accessing the main compartment extremely easy.
Pros
3-Zip design in the main compartment
Fully adjustable Futura harness with chest strap
Removable hip belt
Cons
Hydration bladder not included
READ MORE: 40 Things You Should Know Before Traveling to Guatemala
The Sarcina Rally Pack from Cannae Pro Gear works efficiently as a daypack, but can just as easily be used as a weekend getaway backpack as well.
It has a fairly low profile for a tactical pack, but ultimately does the job as well as any other we tested.
The 34L capacity holds more stuff than you would think: There's space for clothes, electronics, and EDC (everyday carry) gear. The padded laptop sleeve is a top feature, as well as the side access zip into the main compartment.
The bag weighs 2.7 lbs and is made from Cordura® Nylon. Even when it's packed full, the chest strap distributes weight for surpeising comfort when you're hiking long distances.
Pros
Drawcord closure
MOLLE Attachment Points
Cons
No dedicated spot for hydration bladder
READ MORE: Things to Do in Tongariro National Park, New Zealand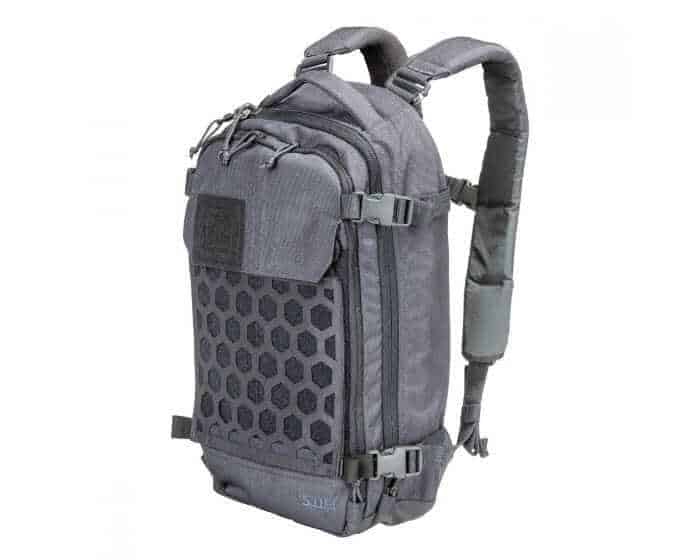 35. 5.11 AMP10 20L
Although it's a smaller tactical daypack with only 20L of capacity, the 5.11 Tactical Amp10 is possibly the most versatile we've tested this year.
It's meant to be your "All-Missions Pack," easily going from island hopping to mountaineering and even family day hikes.
The bag conforms to your body with its thermoformed ergonomic back panel, making it a pleasure to carry on your back all day.
The straps are removable and able to be used for both dual backpack carry or single sling carry. The bag can also be added to, using 5.11's Gear Set™ pouches and attachments.
Pros
Customizable
Made from water-resistant Cordura® Nylon
–by Tammy Dooley & Bret Love
Looking to book your next trip?
Check out the following services we use!
DollarFlightClub or Airfarewatchdog to find a cheap plane tickets.
Omio for affordable European Train Tickets.
Booking.com or Agoda to find a hotel deals.
Viator for a stellar day tour.
Lonely Planet for Travel Guides.
World Nomads for Travel Insurance.
AutoEurope for European Car Rentals
or Rental Cars.com.
TrustedHousesitters we've found great pet sitters to watch our house and love on our two dogs!