I was a voracious reader when I was growing up, typically reading two books a week on average.
My lower-middle class family didn't have the money to do much in the way of traveling, outside of the occasional camping trip in north Georgia. My dad worked multiple jobs just to support his family of five.
So instead I read books about adventure long before I had the financial means to start taking adventures of my own.
It was the written word that originally fueled my travel dreams, from Robert Louis Stevenson's Treasure Island and Rudyard Kipling's The Jungle Books to Ernest Hemingway's The Old Man and the Sea.
It was through Henry David Thoreau's Walden, John Muir's Our National Parks, and Ralph Waldo Emerson's Nature that I first developed a passion for the environment.
And when I finally started traveling, the work of writers such as Jon Krakauer, Bill Bryson and Paul Therouxinfluenced the way I did it.
So, for me, these inspirational travel quotes aren't just words: They are the distillation of a philosophy that continues to drive my life and work, informing pretty much everything I do. I hope they will prove equally influential for you…   –Bret Love; photos by Bret Love & Mary Gabbett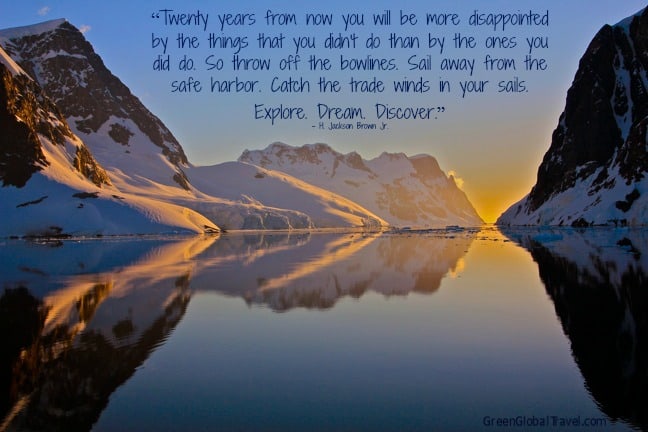 "Twenty years from now you will be more disappointed by the things that you didn't do than by the ones you did do. So throw off the bowlines. Sail away from the safe harbor. Catch the trade winds in your sails. Explore. Dream. Discover." ― H. Jackson Brown Jr.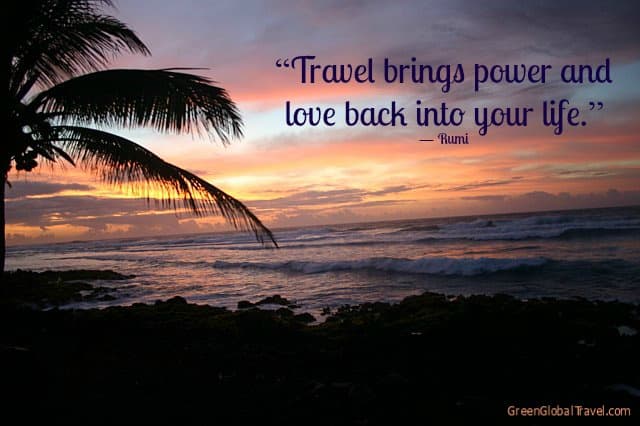 "Travel brings power and love back into your life." ― Rumi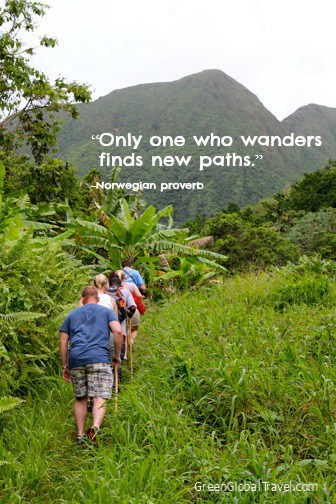 "Only one who wanders finds new paths." –Norwegian proverb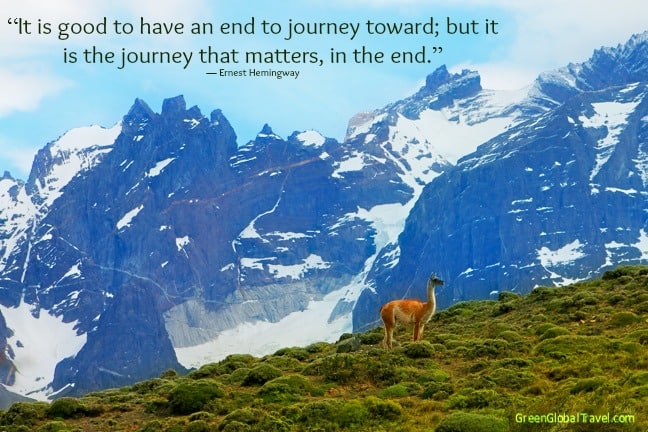 "It is good to have an end to journey toward; but it is the journey that matters, in the end." ― Ernest Hemingway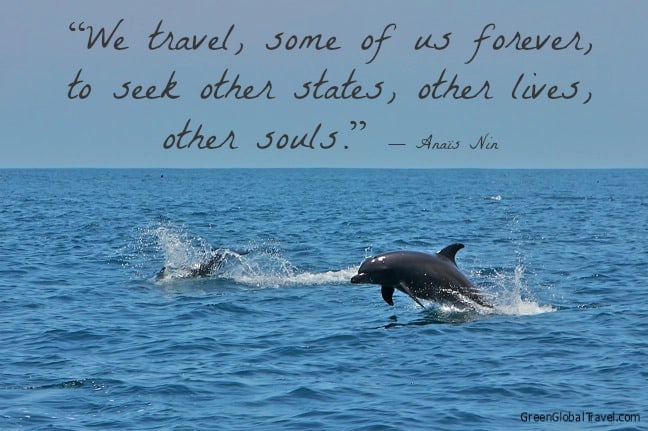 "We travel, some of us forever, to seek other states, other lives, other souls." ― Anaïs Nin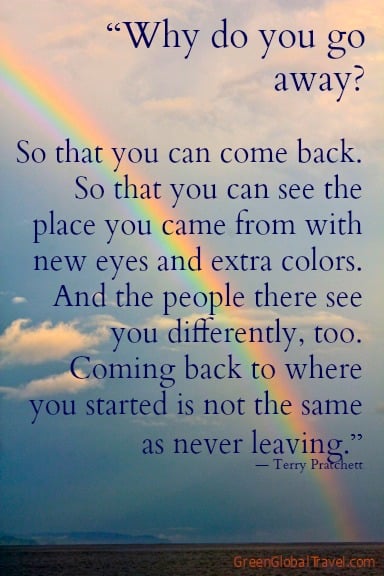 "Why do you go away? So that you can come back. So that you can see the place you came from with new eyes and extra colors. And the people there see you differently, too. Coming back to where you started is not the same as never leaving." ― Terry Pratchett
"Though we travel the world over to find the beautiful, we must carry it with us, or we find it not." ― Ralph Waldo Emerson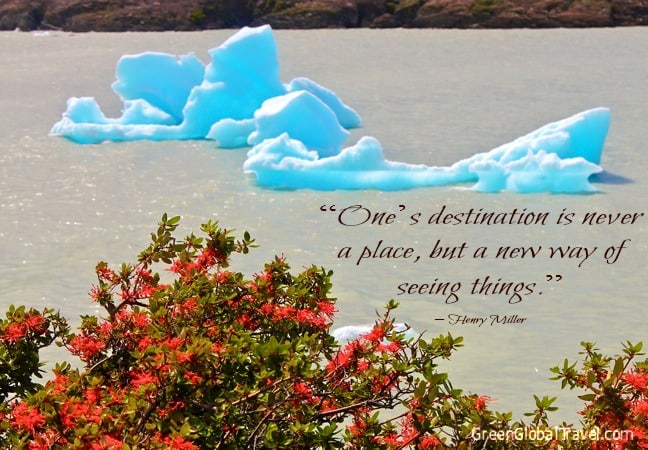 One's destination is never a place, but a new way of seeing things." – Henry Miller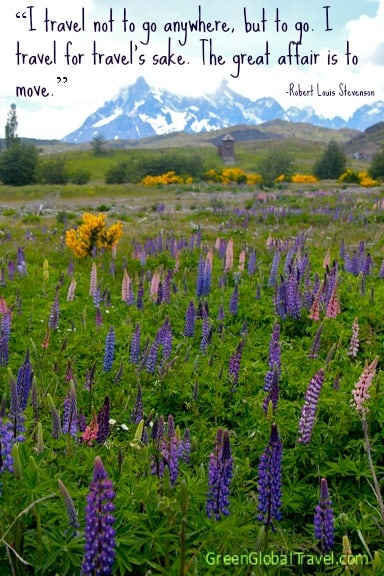 "I travel not to go anywhere, but to go. I travel for travel's sake. The great affair is to move." ― Robert Louis Stevenson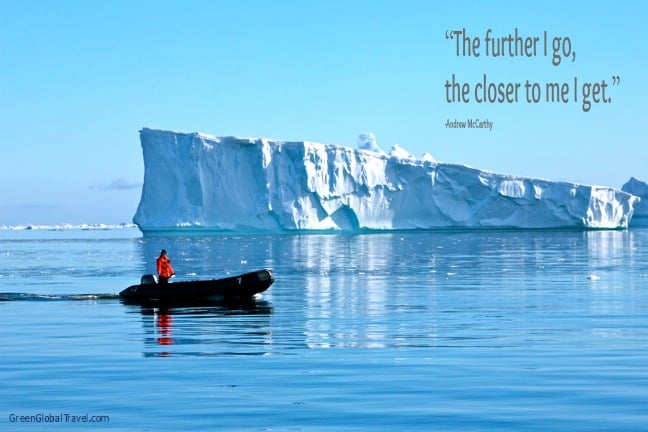 "The further I go, the closer to me I get." – Andrew McCarthy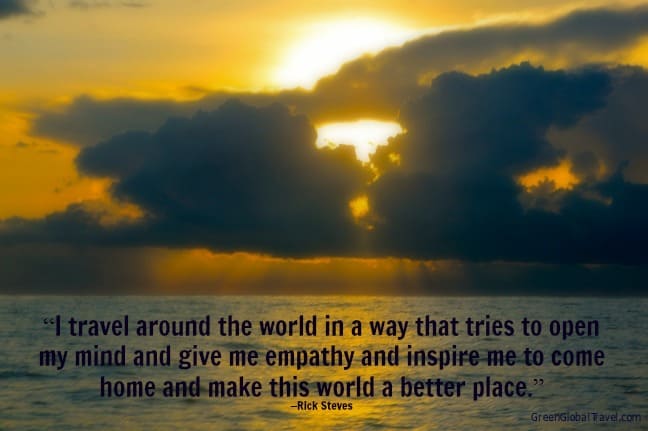 "I travel around the world in a way that tries to open my mind and give me empathy and inspire me to come home and make this world a better place." –Rick Steves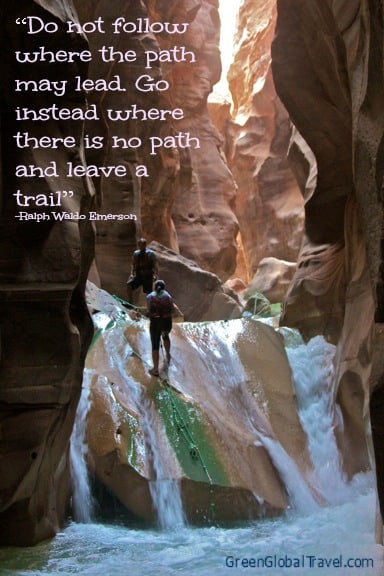 "Do not follow where the path may lead. Go instead where there is no path and leave a trail" – Ralph Waldo Emerson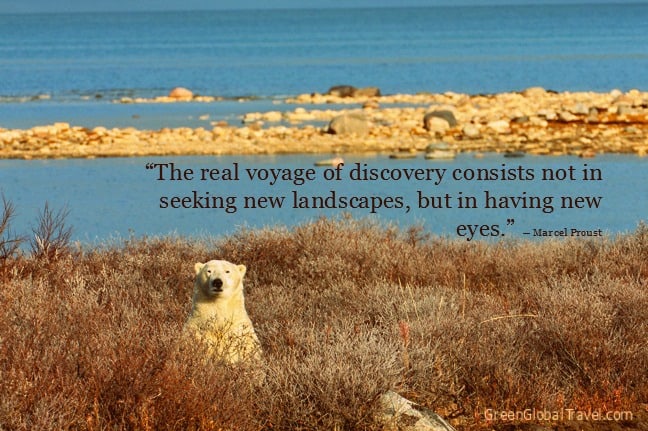 "The real voyage of discovery consists not in seeking new landscapes, but in having new eyes." ― Marcel Proust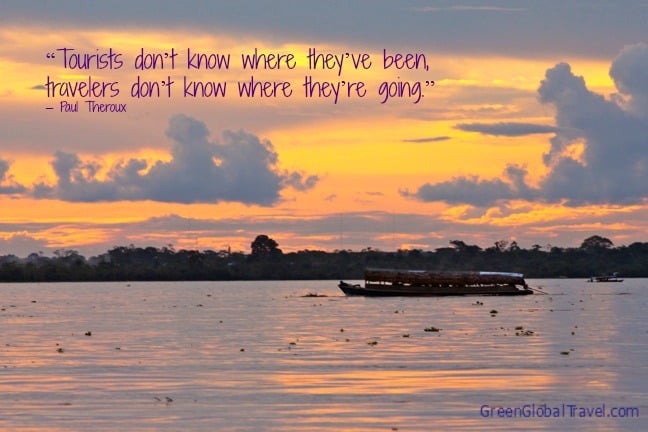 "Tourists don't know where they've been, travelers don't know where they're going." – Paul Theroux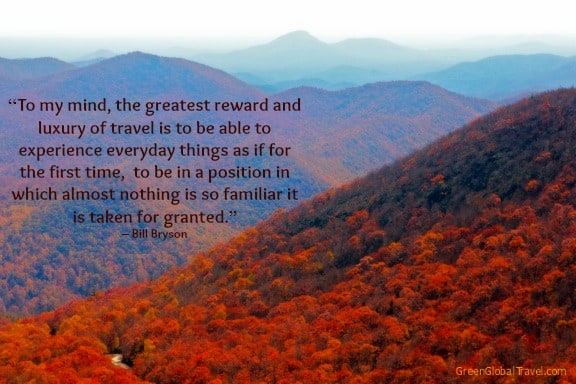 "To my mind, the greatest reward and luxury of travel is to be able to experience everyday things as if for the first time, to be in a position in which almost nothing is so familiar it is taken for granted." – Bill Bryson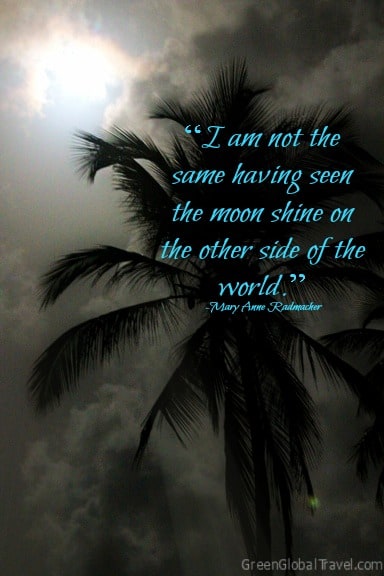 "I am not the same having seen the moon shine on the other side of the world." ― Mary Anne Radmacher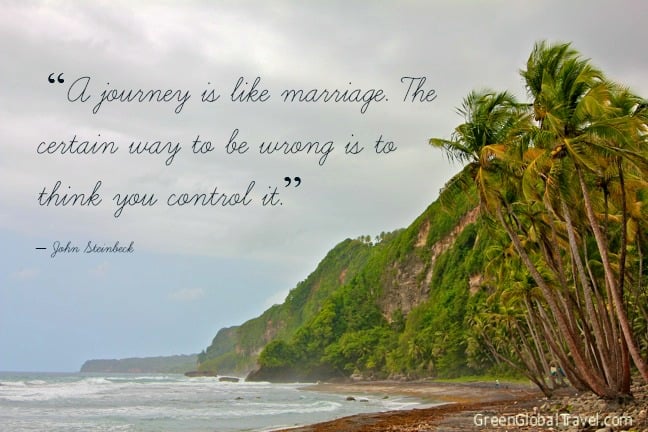 "A journey is like marriage. The certain way to be wrong is to think you control it." – John Steinbeck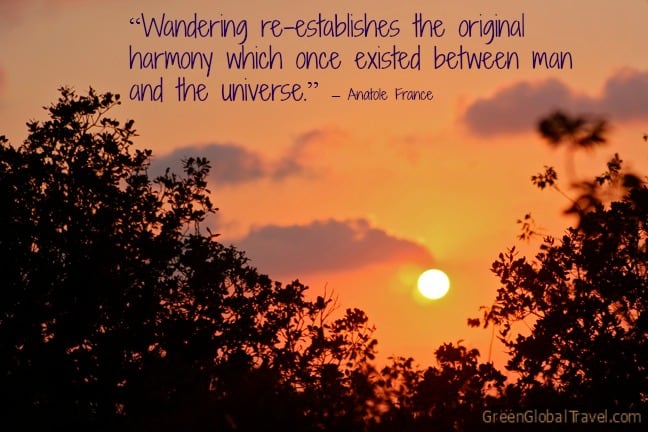 "Wandering re-establishes the original harmony which once existed between man and the universe." – Anatole France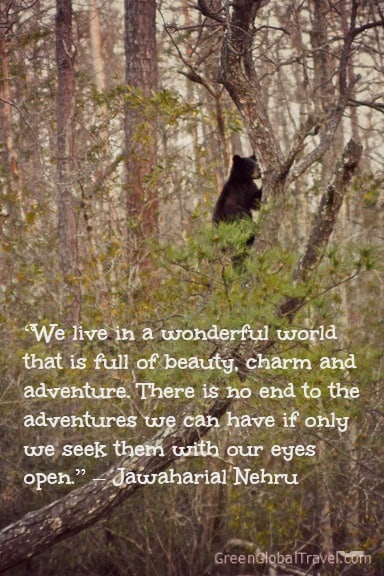 "We live in a wonderful world that is full of beauty, charm and adventure. There is no end to the adventures we can have if only we seek them with our eyes open." – Jawaharial Nehru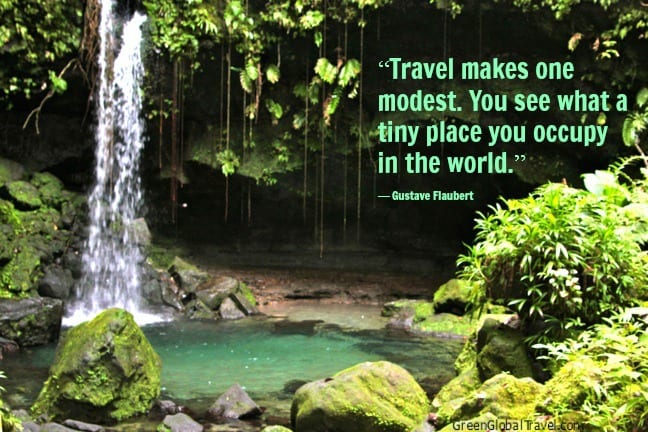 "Travel makes one modest. You see what a tiny place you occupy in the world."  ― Gustave Flaubert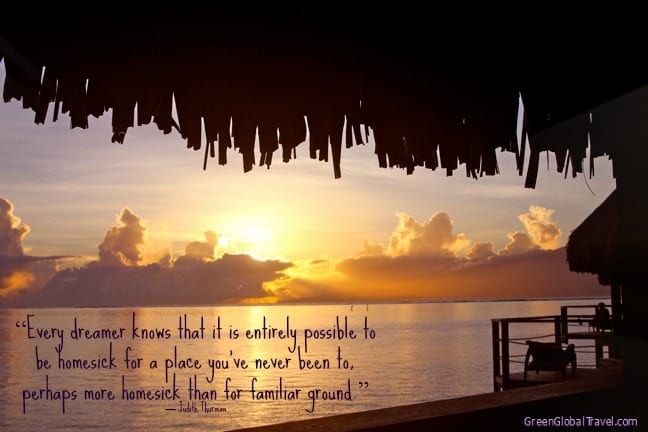 "Every dreamer knows that it is entirely possible to be homesick for a place you've never been to, perhaps more homesick than for familiar ground." ― Judith Thurman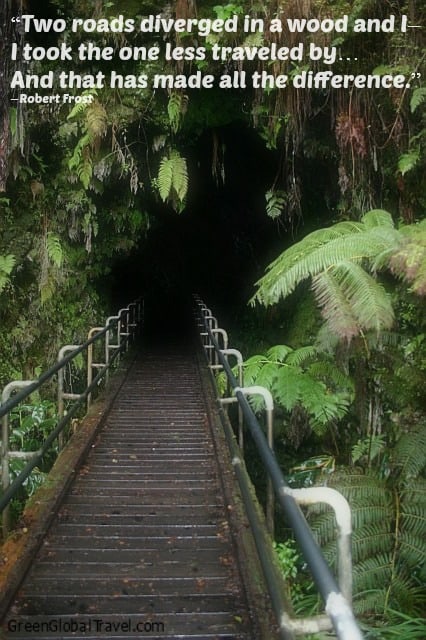 "Two roads diverged in a wood and I– I took the one less traveled by… And that has made all the difference." – Robert Frost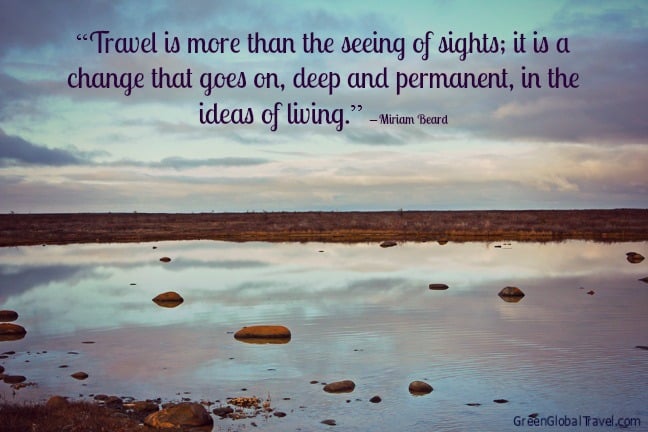 "Travel is more than the seeing of sights; it is a change that goes on, deep and permanent, in the ideas of living." – Miriam Beard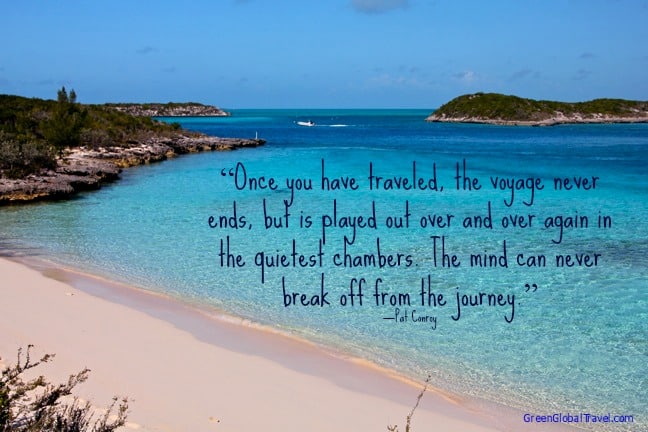 "Once you have traveled, the voyage never ends, but is played out over and over again in the quietest chambers. The mind can never break off from the journey." ―Pat Conroy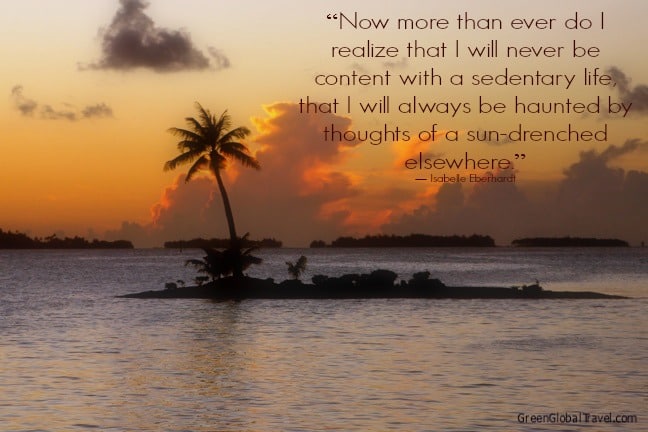 "Now more than ever do I realize that I will never be content with a sedentary life, that I will always be haunted by thoughts of a sun-drenched elsewhere." ― Isabelle Eberhardt
BOOKS WE RECOMMEND FOR INSPIRATION: CLICK PHOTO TO LOOK INSIDE ↓
If you enjoyed our Inspirational Travel Quotes, you might also like: 
INTERVIEW: Andrew McCarthy on Travel Writing, Fear & the Journey of the Soul
INTERVIEW: Henry Rollins On Occupants and Working With Nat Geo
INTERVIEW:  European Travel Guru Rick Steves on Ecotourism & Travel Writing
10 Travel Books That Inspired My Love of Adventure