There's a popular misconception that Africa is unsafe. But the safest countries in Africa pose no more risk for travelers than beloved cities such as New York, Paris, London, and Venice.
The truth is, in our experience there are just as many safe places to visit in Africa as there are on any other continent.
Major African cities such as Cape Town, Kigali, Windhoek, and Tangier boast impressive infrastructure, accommodation options ranging from budget to indulgent luxury, and rich local cultures that rival those you'll find anywhere else in the world.
Once you leave the cities, Africa's safest places are blessed with an abundance of natural beauty, from dynamic landscapes to world-renowned biodiversity. Some are very popular (such as Morocco, Kenya, Tanzania, and South Africa), but others are remote and uncrowded.
So we rounded up some of our travel expert friends to share stories about their favorite safe countries in Africa to visit. Each includes tips on staying safe based on their personal experiences there, as well as the must-see attractions and activities in the region.
READ MORE: Ladysmith Black Mambazo, South Africa's Cultural Ambassadors
SAFEST COUNTRIES IN AFRICA TOC
SAFEST AFRICAN ISLANDS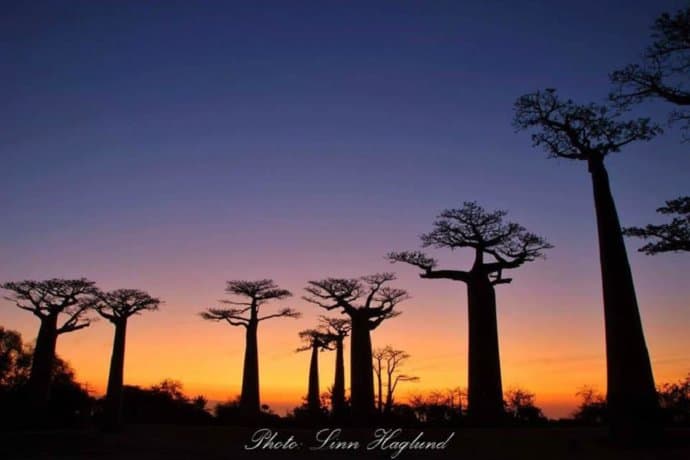 MADAGASCAR
Madagascar is misunderstood, but it's actually one of the safest places to visit in Africa.
Although locals are extremely poor and there is some crime, you're safe as long as you stay away from the capital city, Antananarivo, after dark and avoid the country's southern region. There, bandits rob tourists by stopping taxi-brousses (minibuses), which are often pointed out by corrupt drivers.
But if you go north or west from the capital, you'll find a different story. This part of Madagascar is more used to travelers. As long as you use common sense when it comes to safety, you will be fine.
Just choose the best (not necessarily the cheapest) mode of transport and watch your belongings like you would at home, and you'll enjoy exploring this off-the-beaten-path African island.
There are great people, stunning natural beauty, and incredible wildlife unique to Madagascar (including the renowned Ring-tailed Lemurs).
The famous Baobab Alley in the west is perfectly placed on the way to the Tsingy de Bemaraha Nature Reserve, which has some of the most unique geography you'll find in the country.
In the north, outside Nosy Be, you can go swimming with Whale Sharks, go Whale watching, or maybe even spot a Sea Turtle laying her eggs on the beach in a responsible way. And did I mention the adorable Lemurs?
Make sure you research the malaria season in the part of Madagascar you're traveling to before your trip, in case you need to bring malaria pills. And always drink a lot of water so you stay hydrated. –Linn Haglund of Brainy Backpackers
READ MORE: Madagascar Animals Photo Essay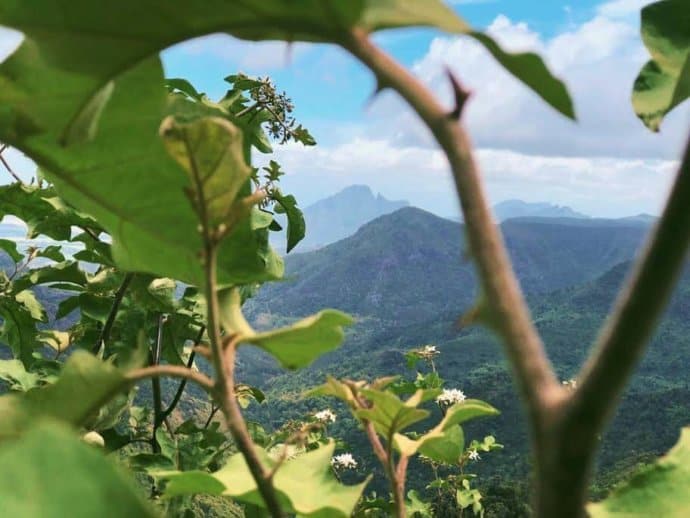 MAURITIUS
Located 1,200 off the southeast coast of Africa, Mauritius is an island nation that was colonized by the Dutch, French, and British before becoming independent in 1968.
As a result, Mauritius is a diverse nation where you'll find people of various origins and ethnicities, many of which were originally brought as slaves or indentured laborers. Today, Mauritius is rated among the safest African countries, and we consider it one of the best places to visit in Africa.
Before traveling to Mauritius, you can opt to get vaccinations, but they're not required. The risk for malaria is low and the tap water is drinkable due to several volcano-fed lakes.
Healthcare there is also highly rated: You'll find many clinics and hospitals, and some of island's resorts offer treatment on-site.
If your body isn't used to heat and humidity, make sure you wear light-colored, lightweight clothing. Also, ensure that you drink a lot of water throughout the day to keep from becoming dehydrated.
There are quite a fews things to do in Mauritius, especially for those who love nature. Most of our favorite places were in the island's southern section, including the Chamarel Waterfall, Seven Colored Earth, Black River Gorges National Park, Le Morne Brabant, and Grand Bassin.
Renting a car in Mauritius is pretty safe if you're a decent driver, as the roads and infrastructure are well-developed and regularly maintained. –Aram & Megan of MeganStarr.com
READ MORE: The Best Travel Clothes for Women & Men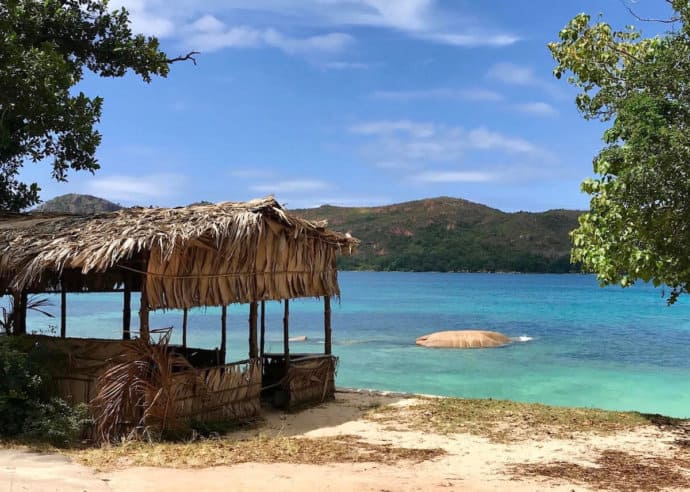 SEYCHELLES
The Republic of Seychelles is a group of 115 islands located 932 miles east of the mainland. With less than 100,000 residents, it has the smallest population of any sovereign nation on the continent. It's also widely regarded as one of the safest places in Africa to visit.
Current government advice states that most visits to Seychelles are "trouble free," and you should maintain the same level of safety awareness as you would in the US or UK.
We spent two weeks on the second biggest Seychelles island, Praslin, and found it to be incredibly friendly and relaxed. The biggest risk we encountered was not putting on enough sunscreen! Insect spray and sunscreen are quite expensive on the island, so make sure you pack your own.
The highlight of the Seychelles for us was the UNESCO-listed rainforest of Vallee de Mai. The national park at the center of the island is home to incredibly rare birds, as well as what's been tagged the "World's Sexiest Fruit," the Coco De Mer.
There are miles of white sand beaches, snorkeling, fishing, and cocktail-drinking to keep your occupied. But I would also recommend getting out to as many other islands as possible during your time in Seychelles.
Our favourite was La Digue, a land seemingly stuck in time, where there are very few vehicles and most people get around by bicycle. For more nature-themed adventures, get out to Cousin Island, a national park primarily set up to save an endemic bird, the Seychelles Warbler. –Ben Reeve of The Sabbatical Guide
SAFEST COUNTRIES IN EAST AFRICA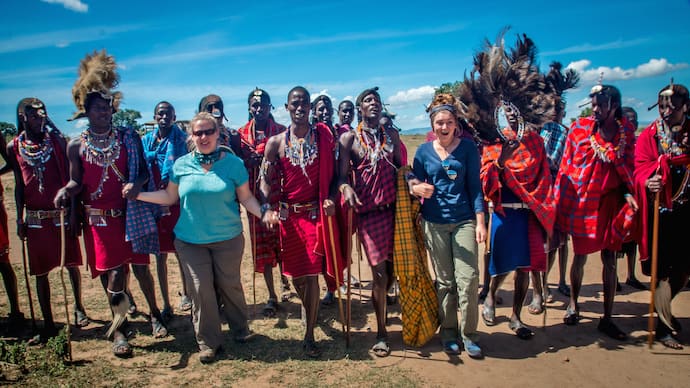 KENYA
Kenya's capital, Nairobi, wouldn't rank near the top of the list of safest cities in Africa. The current Kenya travel advisory suggests exercising caution, particularly in the neighborhoods of Eastleigh and Kibera and anywhere near the Somalia border.
But we spent 4 days in the more tourist-friendly sections of town (primarily near the airport and near/in Nairobi National Park), and never felt unsafe. Security measures at our hotels were excellent, and the local people were very friendly and welcoming.
And of course most travelers don't come to Kenya for the cities, but for its two dozen national parks and 16 national reserves.
Amboseli National Park, a UNESCO Biosphere Reserve in 1991, features vast Elephant herds, the other "Big 5" mammals, and more than 400 different species of birds.
The Maasai Mara National Reserve is where you can see the annual Great Migration, in which millions of Buffalo, Gazelles, Wildebeest, and Zebras travel 500 miles in search of water and fresh grass.
The Greater Mara area is home to an extensive array of Kenya animals, including Lions, Leopards, Cheetahs, Hyenas, and more than 470 species of birds. It's also a great place to meet the Maasai people, who own many of the area's private conservancies.
Kenya offers countless lesser-known safari destinations. Check out the remote, uncrowded Meru National Park; the mane-less Lions of Tsavo East National Park; the Rhino and Chimpanzee sanctuaries at Ol Pejeta Conservancy; and thousands of flamingos in Lake Nakuru National Park. –Bret Love & Mary Gabbett of Green Global Travel
READ MORE: Maasai Mara Conservancies: A Wildlife Conservation Model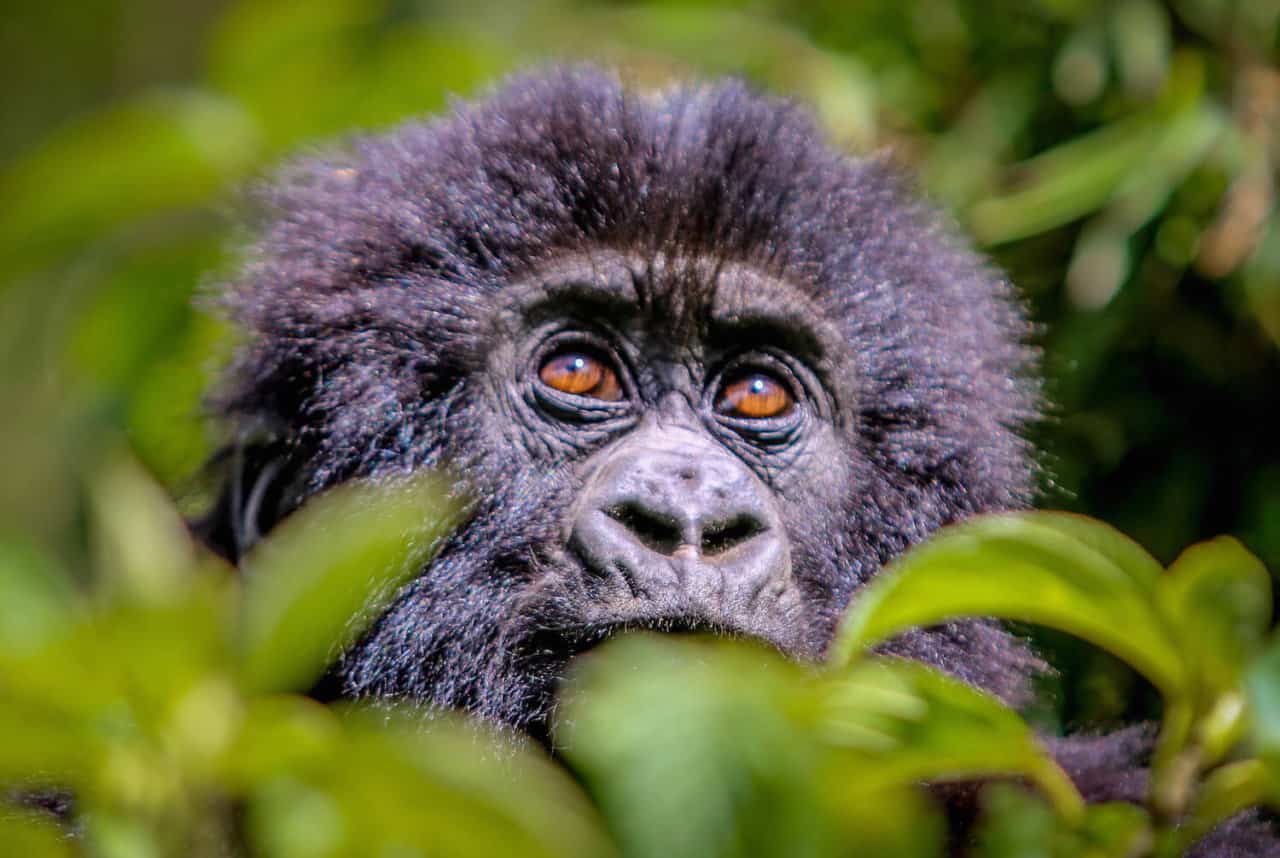 RWANDA
Surrounded by the dramatic Virunga Mountains, it's easy to see how Rwanda earned its nickname "the land of a thousand hills." Most people associate the country with its horrific 1994 genocide, but it's the breathtaking scenery that sticks with you after you visit.
President Paul Kagame (who is widely credited with ending the genocide) has his vocal critics for his iron-fisted governance. But there's no denying the fact that he has radically improved Rwanda's economy, health care, infrastructure, and security.
Most people are drawn here to see the critically endangered Mountain Gorillas, of which over 1,000 remain in the wild (more than half of which are in Volcanoes National Park).
Their conservation plight was made famous by late primatologist Dian Fossey and the Oscar-nominated biopic of her life, Gorillas in the Mist.
Rwanda has 10 habituated Gorilla families open to tourist visits, so trekking permits are limited to 80 per day. Hikes are moderate to difficult in distance and terrain, with treks ranging from 1-3 hours each way. But the rush of adrenaline when you're surrounded by mamas, babies and massive Silverback Gorillas is an experience you'll never forget.
Rwanda has other, lesser-known wildlife-centered attractions. From tracking Chimpanzees and monkeys in Nyungwe Forest National Park to a more traditional Big 5 safari in Akagera National Park, you'll essentially have these pristine places to yourself! –Bret Love & Mary Gabbett of Blue Ridge Mountains Travel Guide
READ MORE: Rwanda History at the Kigali Genocide Memorial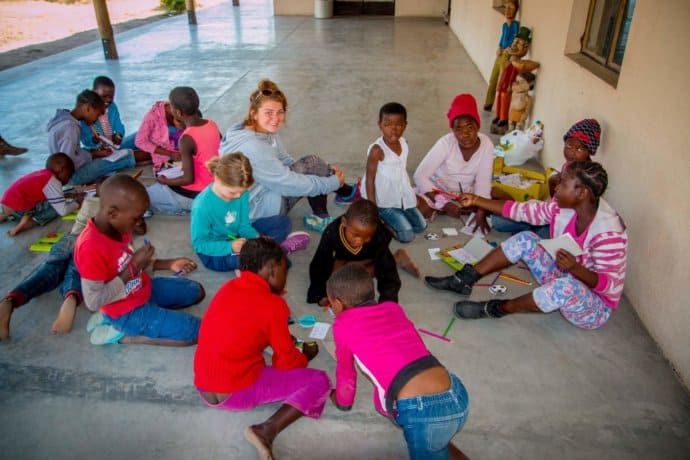 SOUTH AFRICA
South Africa was the first African country I ever visited, and I took my daughter there when she was 14 years old. So when people ask, "Is South Africa safe?" I just have to shake my head at the preconceived notions of the continent as a dangerous place.
Sure, certain parts of the country's impoverished townships may be riddled with crime, and carjacking has been a problem in Johannesburg. But as long as you take money from ATMs during the day, don't wear flashy jewelry, and don't drive in bad parts of the city, you're fine.
In the decades since apartheid ended, South Africa has rivaled Kenya and Tanzania as the most popular African safari destination. But the infrastructure of cities such as Cape Town and Durban offer plenty of options for travelers seeking more than mere wildlife-watching.
The 7,500 square mile Kruger National Park is easily the country's biggest tourism draw. It's also the rare safari destination where visitors can drive themselves and still count on amazing animal sightings. Spend a few days exploring the park and you're virtually guaranteed to see the Big 5, as well as rare species such as African Wild Dogs and Cheetahs.
If there's a complaint to be made about Kruger, it's that, with around 1.5 million annual visitors, mass tourism is becoming an issue.
KwaZulu-Natal, in the country's southeastern section, is very different. This is Zulu country, and offers excellent safari opportunities in Hluhluwe–iMfolozi Park, the wetlands of iSimangaliso Wetland Park (a UNESCO site), and numerous private game reserves. –Bret Love & Mary Gabbett of Green Global Travel
READ MORE: My Life Changing Experience in South Africa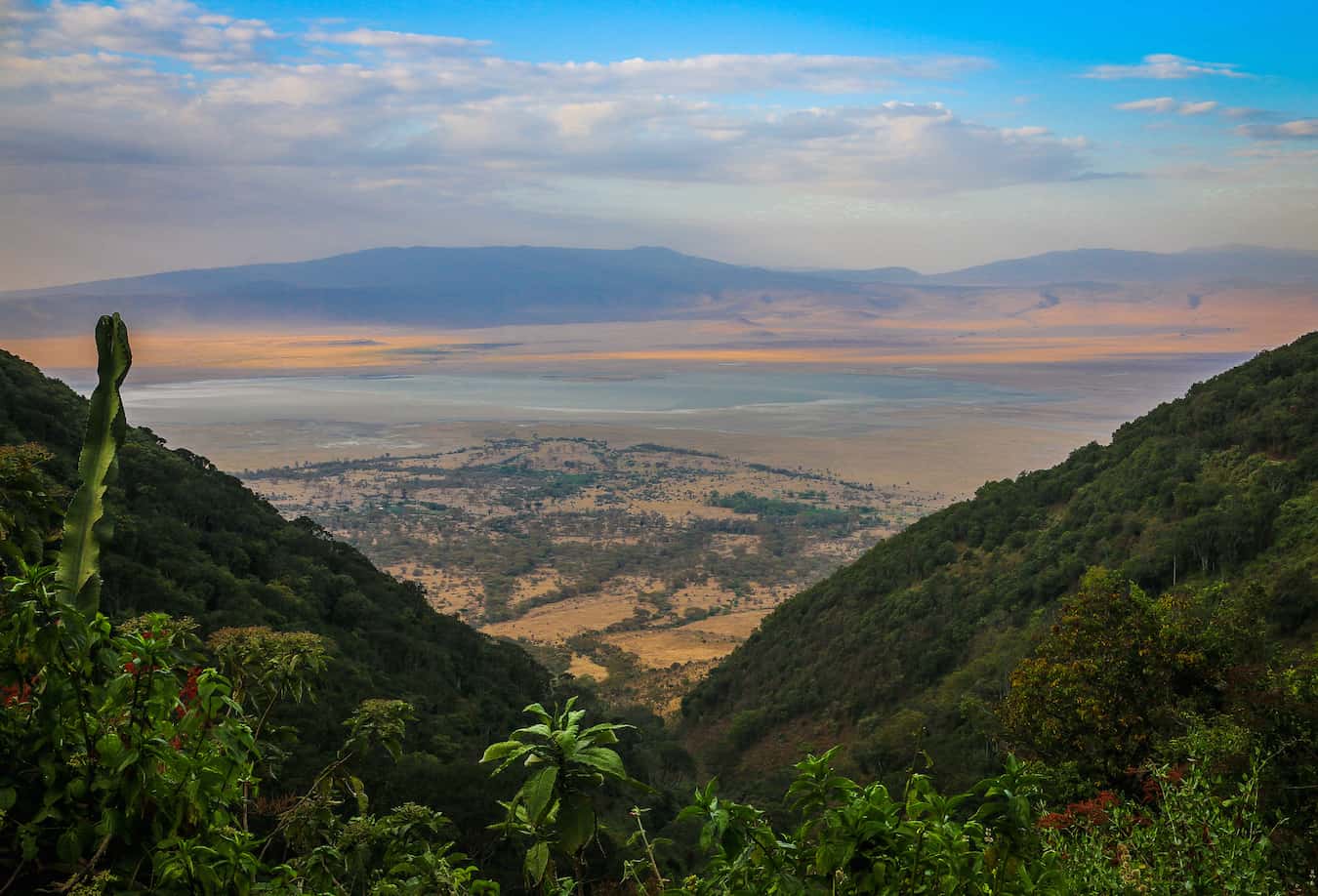 TANZANIA
Much like Uganda, Tanzania is generally considered among Africa's safest countries, except for members of the LGBTQ community. PDA is generally a bad idea for anyone here, but especially for same-sex couples. And its major cities do have areas prone to petty crime and terrorism.
However, Tanzania is one of the world's top safari destinations, and most visitors spend just a night in the city before embarking on their adventures. The easily accessible northern safari circuit encompasses many of the most beautiful Tanzania National Parks & Reserves.
There's Serengeti National Park, the starting point for the annual Great Migration. Spanning some 12,000 square miles, the Serengeti is packed with Lion prides, Leopards, and vast herds of Zebras, Impala, and Wildebeest.
There's the Ngorongoro Conservation Area, the world's largest inactive volcanic crater. Measuring 2,000 feet deep and 100 square miles wide, it's home to more than 25,000 large animals (Buffalo, Hippos, Gazelles, Wildebeest, etc.) and a dense population of Lions.
Tanzania's lesser-known parks provide excellent experiences without the crowds. The diverse array of animals at Tarangire National Park includes Lions, Leopards, Giraffes, Zebras, birds, and the country's highest concentration of Elephants. Lake Manyara National Park includes most of the Big 5 as well as thousands of Flamingos.
And whatever you do, don't visit Tanzania and miss out on the chance to visit a Maasai village to learn more about one of Africa's richest indigenous cultures. –Bret Love & Mary Gabbett of Green Global Travel
READ MORE: Embracing the Culture of the Maasai People in Tanzania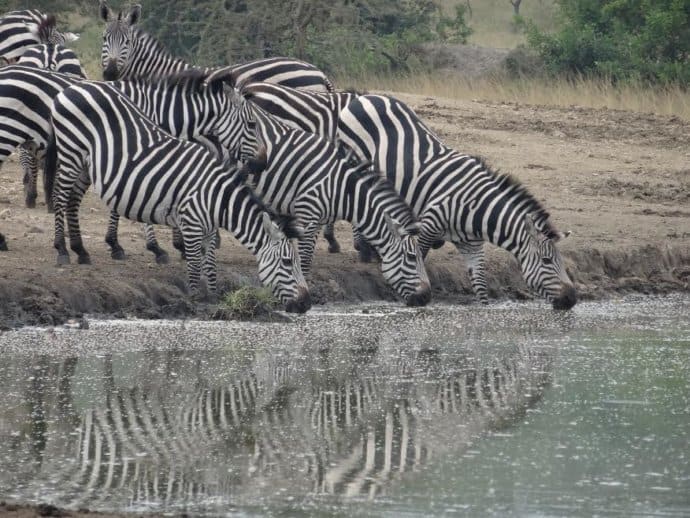 UGANDA
Uganda is a relatively safe African country in which to travel independently. In our experience, it's really friendly and welcoming. (Editor's note: This may not hold true for openly LGBTQ travelers, who should use caution if they choose to visit.)
We spent two weeks driving around Uganda and only met with one scam, which was simply being overcharged for something in a shop. Other than that, we had an amazing adventure!
While most tourists visit Uganda as part of a package tour, we found it relatively easy to explore on our own. While some of the roads are undeveloped, driving wasn't that difficult. It was easy to hire guides to accompany us through the national parks so we could view the best wildlife.
After getting a rental car in Entebbe, we drove to Kibale National Park for Chimpanzee trekking, then to Queen Elizabeth National Park for a safari. We visited Mgahinga Gorilla National Park for Gorilla trekking, then went on safari in Lake Mburo National Park.
As with driving in any foreign country, you must take precautions. You should never drive at night, because of road conditions and attacks are far more likely then. You also need to keep your doors and windows locked when driving through towns.
Rental cars in Uganda are generally equipped with a breakdown kit, and you should carry a phone with data/minutes loaded so you can call your rental car company as needed. We had a punctured tire and quickly sorted it out, despite being in a national park.
So if you're looking for a safe African country to travel around independently and see some incredible wildlife, think of Uganda! –Kate Lloyd of What Kate & Kris Did
READ MORE: How Gorilla Trekking in Uganda & Rwanda Funds Conservation
SAFEST COUNTRIES IN NORTH AFRICA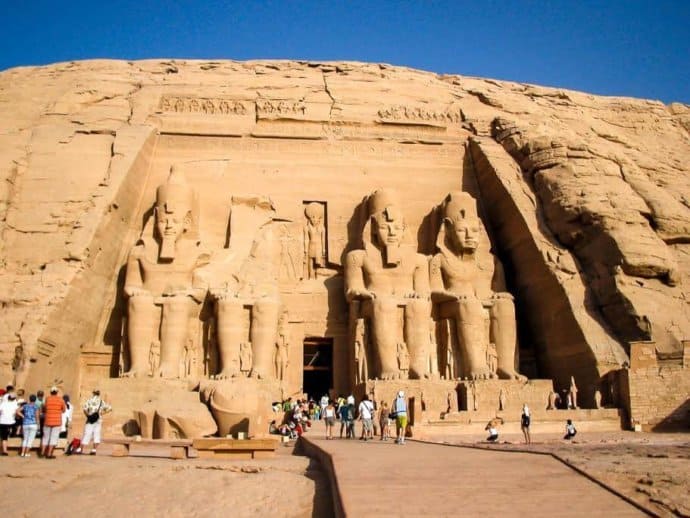 EGYPT
Egypt has always been extremely popular with tourists. But there have been security concerns in recent years, due to the Arab Spring and worries about terrorism. However, Egypt is generally safe for visitors, and the main sights have never been off limits.
You can fly directly into Sharm el Sheikh, but exploring the rest of the Sinai peninsula (including St Catherine's and the lovely Dahab) is not recommended. Western Egypt is also off limits.
Security is taken very seriously at the main attractions between Cairo and Aswan. Expect to see plenty of armed police at major sites, and to travel in a convoy (accompanied by police) with other tourists. Women traveling solo should watch out for catcalling and harassment, and it's advised to dress conservatively.
Egypt is mercifully malaria-free. But travelers should exercise the usual caution when it comes to food and drink, as stomach problems are very common. Don't eat salad, unpeeled fruit and veggies, or drink iced drinks. If you're unlucky enough to get a stomach bug, local pharmacies will dispense antibiotics.
The best things to do in Egypt need no introduction. The pyramids do not disappoint, as long as you realize that Cairo is literally on their doorstep. Ancient archaeological sites such as tombs in the Valley of the Kings and the pillars of Karnak Temple are two of Luxor's unmissable experiences.
The Red Sea offers some of the best Scuba diving in the world, especially the Blue Hole at Dahab. And down in the south of Egypt, near the Sudanese border, the magnificent Abu Simbel temple is truly worth the long trek to get there. –Emily Cole of Kids and Compass
READ MORE: The Top 5 Things to Do in Egypt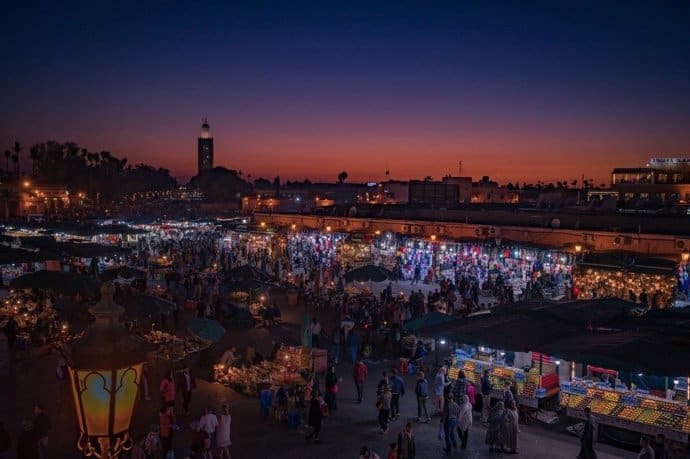 MOROCCO
Morocco is considered one of the safest places in Africa to visit, and traveling around the country is fairly easy whether you're on an organized group tour or your own schedule.
Morocco is a Muslim nation, and conservative in general as far as customs are concerned. Visitors are expected to dress and act responsibly, especially when visiting historic and cultural attractions. If you follow these general rules, traveling to Morocco is perfectly safe.
Most of the crimes that do happen in Morocco are petty things like pick-pocketing, scams, and touts that won't take no for an answer.
Dress conservatively, with no flashy jewelry or accessories, avoid carrying valuables, and only go to well-lit places at night. Solo travelers should be hyper-vigilant when traveling through more congested areas in cities such as Marrakesh.
If you're negotiating taxis or prices for other goods and services, always do it up front and agree to a final cost so there are no issues after handing over your money.
Enjoy touring around the country and see the crowded Medinas, fascinating craft markets, gorgeous palaces, the Atlas Mountains, and the famous blue garden (Jardin Majorelle) in Marrakesh.
You'll find fascinating attractions at every popular destination along the way, and you'll be safe if you follow the general rules above. –Noel Morata of Travel Photo Discovery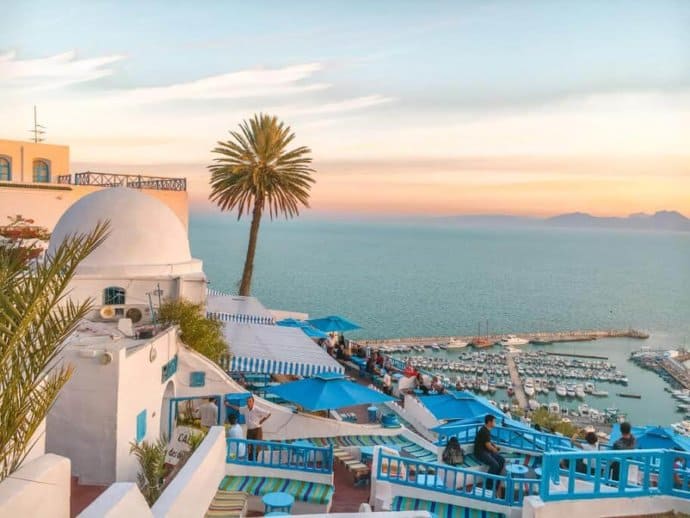 TUNISIA
Tunisia is relatively small, but there is so much to do in this beautiful North African country.
Our favorite activities included taking a camel ride on the Sahara dunes, visiting the UNESCO World Heritage-listed ruins at Carthage, watching the sunset from the rooftops of a Tunis souq, exploring the picturesque town of Sidi Bou Said, and visiting the beautiful beaches on the Mediterranean coast.
The Tunisian people are friendly and enjoy seeing tourists in their country, especially since tourism here took a massive dive in 2015. But Tunisia is safe for tourists to visit, providing they take precautions and avoid the areas near the borders with Libya and Algeria (two of the most dangerous countries in Africa).
If you're a female traveler, please remember to dress appropriately and cover your arms and legs, as Tunisia is an Islamic country.
The people here are still very conservative, and dressing inappropriately will most likely make you subject to some harassment. So try to dress modestly, as the local women do to avoid unnecessary attention.
The climate on the Mediterranean coast of Northern Tunisia is perfect during the summer. But in the middle of the country, where it is mainly desert, temperatures can get very hot. So make sure you have enough water, a hat, and sunscreen! –Catrina McGrail of 24 Hours Layover
READ MORE: The 25 Biggest Deserts in the World
SAFEST COUNTRIES IN SOUTHERN AFRICA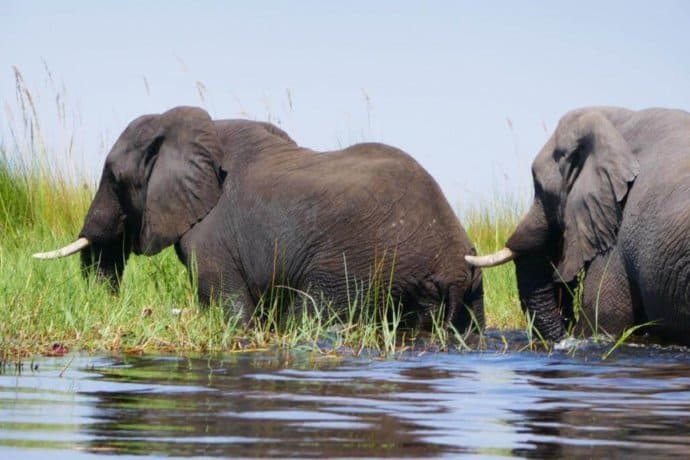 BOTSWANA
Botswana is generally considered to be one of southern Africa's safest countries, offering one of the world's most unique wildlife encounters.
Crime rates are relatively low, and most that does occur is concentrated in the capital, Gaborone. As a tourist, you'll spend most of your time in remote, sparsely populated natural areas in the north. And since Gaborone is in the southeast, there's no reason to visit the city at all.
The biggest dangers in Botswana are not posed by humans, but by wildlife, especially if you're driving. It's common to see Elephants alongside the highway, and you don't want to hit one! So it's best to avoid driving at night, if at all possible.
Of course, the most deadly animal in Africa is the mosquito. Start taking anti-malarial medication before you enter Botswana, and wear long-sleeved shirts and trousers to avoid mosquito bites while you're there.
Chobe National Park is home to the largest Elephant herds in Africa, and a safari drive here should definitely be on your itinerary. In addition to the typical drive, two other ways to experience Botswana's wildlife are on a walking safari and in a traditional dugout canoe (mokoro).
Both of these experiences can be arranged on a visit to the Okavango Delta. For something completely different, check out the prehistoric rock paintings in the Tsodilo Hills or the Makgadikgadi salt pans, which are part of the largest salt desert on the planet. –Wendy Werneth of The Nomadic Vegan
READ MORE: NatGeo Explorers Dereck & Beverly Joubert on Botswana Conservation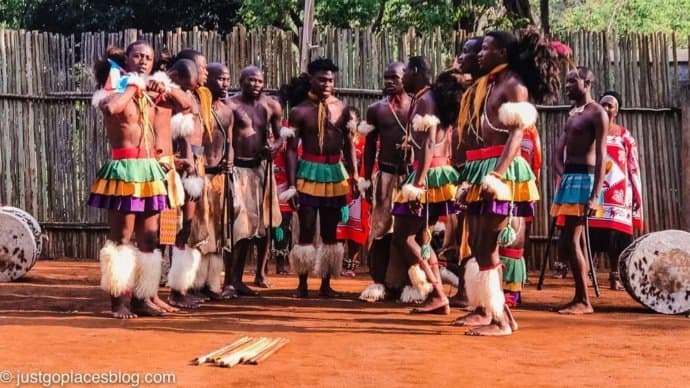 ESWATINI
The Kingdom of Eswatini (formerly known as Swaziland) is the smallest country in Africa at just 6,704 square miles, and a safe country to visit.
It is ruled by King Mswati III, who still rules in the traditional manner of royal decrees. The government of the country reflects how smaller Swazi households are organized: The King (who has been in power since 1986) is the absolute ruler, but works in concert with his mom, the Queen Mother.
Most of eSwatini is surrounded by South Africa, but the Eastern border is shared with Mozambique. You can get to eSwatini fairly easily from the South African cities of Johannesburg or Durban. The main roads in eSwatini are easy to drive.
We took malaria tablets, because there is a small risk of malaria in this part of southern Africa. Eswatini also has a high rate of AIDS. The climate is temperate. Much of the population lives in poverty.
Among the many interesting things to do in eSwatini is visit the local market of Manzini, the second biggest city in the country. There you can find everything from secondhand goods to local crafts and fruit.
Near Mbabane (the biggest city in eSwatini) you'll find the Mantenga Cultural Center, which explains the customs of the Swazi people. It's also inside a nature reserve, where you can hike. Nearby is Sibebe Rock, the second largest monolith in the world after Australia's Uluru.
Thanks to its proximity with Kruger National Park, eSwatini also has wildlife safaris that you can take for a lot less money than the cost for a comparable safari in South Africa. –Shobha George of Just Go Places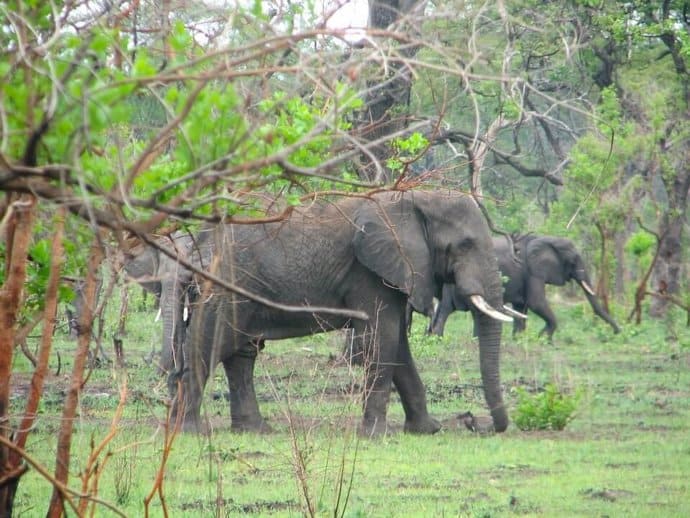 MALAWI
A landlocked nation in Southeast Africa, Malawi is known as "the warm heart of Africa." Not for its tropical climate, but for the good-natured people who call it home.
The country's tourist infrastructure isn't as developed as others in the region, so it's the perfect destination for adventurers looking for a more unique African travel experience.
Its biggest draw is Lake Malawi, Africa's third-largest lake, where you can relax on one of its many stunning beaches and enjoy water sports like Scuba diving, standup paddle boarding, and kayaking.
Malawi's tallest mountain is Mount Mulanje, which rises to 10,000 feet and rewards hikers with breathtaking views from the top of the granite mass.
To experience the country's wildlife, Liwonde National Park is the most popular safari destination, since it has several lodges to choose from. Smaller wildlife reserves like Majete and Nkhotakota also offer thrilling encounters.
Violent crime is rare in Malawi, but it's smart to take general safety precautions, such as securing your valuables and not walking alone at night (especially in cities like Lilongwe and Blantyre). There have been regular protests since the 2019 presidential election, which should be avoided.
As for staying healthy, it's important to be up-to-date on standard vaccines and take a malaria preventative, since there is a risk for the disease throughout the country all year long. –Brianne Miers of A Traveling Life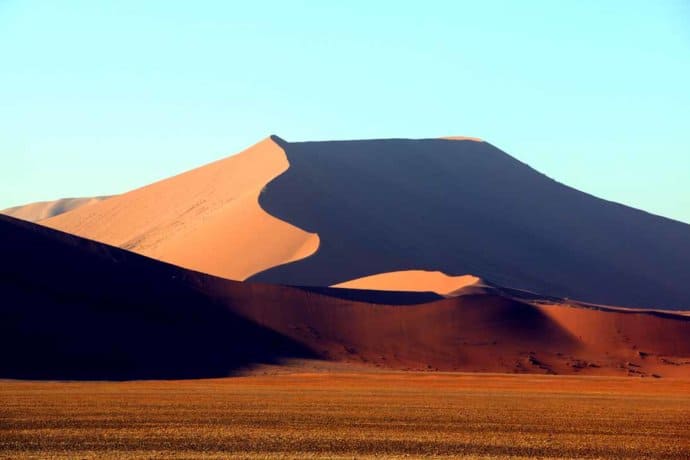 NAMIBIA
Namibia is named after the Namib Desert, which stretches 1,200 miles along the west coast of Southern Africa.
Namibia is home to incredible biodiversity, from desert animals such as Meerkats and wetlands animals like Hippos and Crocodiles to a significant Cheetah population and the world-famous Kalahari Lions.
A peaceful country that's not involved in any wars, Namibia has a low population density and very friendly people. We spent over two months on a road trip in the country, camping at over 40 different campsites without any problems.
There is, however, a lot of poverty, leading to theft, petty crimes, and occasional muggings. So never leave valuables unattended or visible in your car. And be careful walking around or taking taxis, especially in Windhoek and Walvisbay at night.
Most hazardous insect and waterborne diseases are confined to the far northwest of the country. If you visit, be sure to take anti-malarial precautions and be aware of bilharzia and tsetse flies.
In terms of things to do in Namibia, go to Etosha National Park, where you can spot 4 of the famous Big 5 safari animals (no Cape Buffalo). Visit the Namib desert for breathtaking scenery, including red sand dunes, petrified trees, dried lakes, and endless night sky.
It's amazing to explore the shipwrecks and Seal colonies of the wild Skeleton Coast, which was called "The land God made in anger" by the original inhabitants.
There are 13 ethnic groups in Namibia, and visiting living history museums to learn about their indigenous cultural traditions is a must. –Campbell and Alya of Stingy Nomads
READ MORE: The 15 Best Camping Tents for Families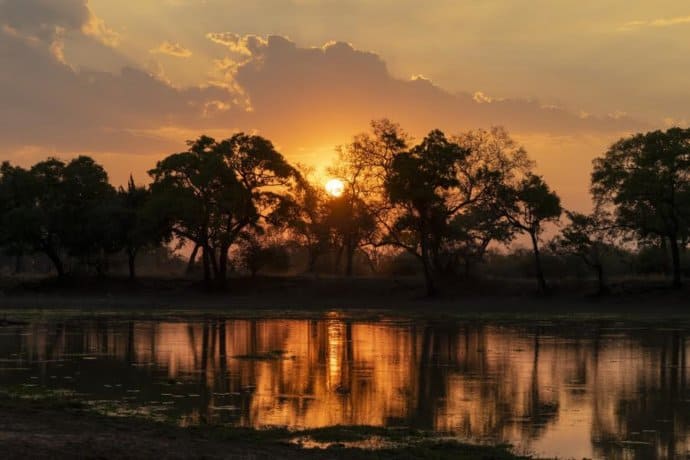 ZAMBIA
I spent a month traveling through Zambia as a solo female, and didn't feel unsafe at any point. In many instances, locals would go out of their way to check that I was OK. Zambia is currently rated level one as a security risk by the US State Department, with few major security concerns.
Like many African countries, Zambia does have health risks to be aware of. Malaria is prevalent, but can be prevented by taking malaria tablets. The country can be extremely hot, especially during the dry season (May to October). This can lead to dehydration, so it's important to drink fluids and stay in shaded areas.
Zambia's most famous attraction is Victoria Falls, which it shares with neighboring Zimbabwe. There are many ways to enjoy the falls, but one of the most unique is to swim on top of them at the Devil's Pool.
For a different perspective, take a helicopter or microlight flight over one of the world's biggest waterfalls to get a bird's-eye view of the amazing landscape. Below the falls you'll see the mighty Zambezi River, which is one of the best whitewater rafting destinations in the world.
While there are many adventurous things to do in Victoria Falls, the rest of Zambia has a lot to offer, too.
One of my favorite parts was South Luangwa National Park. It's not only famous for its thriving Leopard population, but was declared the world's first "Sustainable National Park" by the United Nations' World Tourism Organisation. –Lora Pope of Explore With Lora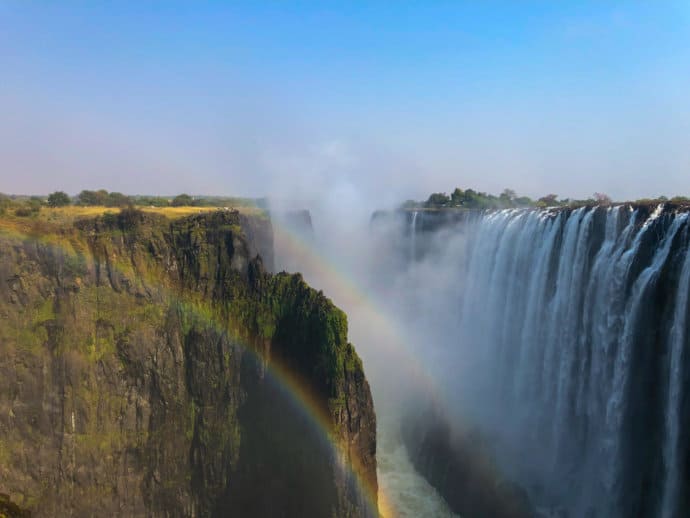 ZIMBABWE
The media may portray Africa to be a dangerous place, but Southern Africa is one of the safest regions on the continent. There you'll find a host of interesting countries rich in culture, safari experiences, and beautiful sights.
The most awe-inspiring of them all, in our opinion, is Victoria Falls. The best way to experience this incredible wonder of the natural world is to head to the Zimbabwe town of the same name, which is arguably one of the safest cities in Africa.
Here you're within walking distance of the roaring waterfalls, which are referred to by locals as Mosi-oa-Tunya, "The Smoke That Thunders." There's also a myriad of adventurous activities to consider in the area.
You can get an incredible bird's-eye view on a microlight flight over Victoria Falls, go rafting in the gorge below, swim in the Devil's Pool, enjoy a sunset cruise on the Zambezi River, go on a safari, bungee jump, and so much more. It's no wonder they call this the Adventure Capital of Africa.
The sheer volume of tourists passing through Victoria Falls makes it safer than your typical African city. However, the rest of Zimbabwe is perfectly safe as well.
As with anywhere else you travel, you should, of course, remain vigilant, and take care not to flash your valuables in public. This is especially important at night, when you should also avoid walking around alone.
Another concern in Zimbabwe is malaria, which is unfortunately a year-round risk. It's recommended to take medication, use bug spray, and wear long-sleeved shirts and trousers. The latter will also protect you against prolonged sun exposure, which can brutal in Africa.
Lastly, always remember to keep hydrated. While drinking tap water in Zimbabwe is not advisable, bottled water is readily available. –Nick from The Danish Nomads
SAFEST COUNTRIES IN WEST AFRICA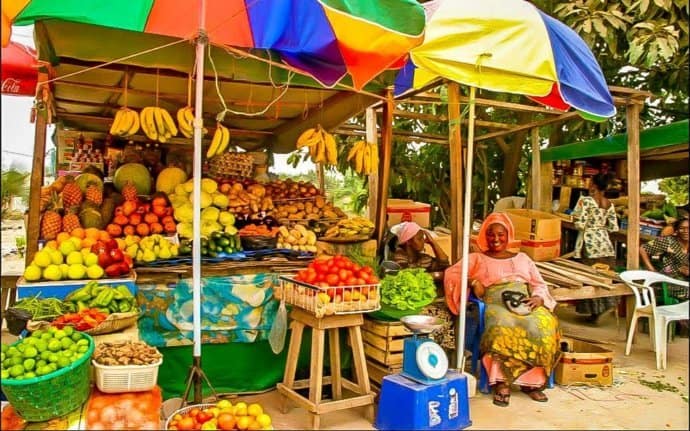 GAMBIA
The Gambia is the smallest country in mainland Africa, snaking inland from the Atlantic coast following the course of the river from which it takes its name.
The wide sandy beaches (which are never overcrowded) are a great draw to tourists, as are the 540+ species of birds. Other highlights include Tanji fishing village (where the colourful pirogues unload their catch), the Baboons of Makasutu Forest, and Kachikally Crocodile Pool.
The country is known as "the Smiling Coast of Africa," and Gambians are very welcoming. However, they can come across as a little too friendly on occasion. This is particularly true of the young men, known as "bumsters," who try to befriend tourists– especially single women– hoping to make some money by acting as a guide (or, if they're lucky, a lover).
I've found their attention can be rather overwhelming when I've been there without my husband. But, in my experience, they are an annoyance rather than a threat. I have always felt completely safe in the Gambia.
You should, of course, take the usual precautions that you would anywhere in the world. Minor scams are common. Popular beaches by the hotels are manned by security guards, as much as anything to keep the bumsters away rather than because of crime. But do be careful with your valuables if you visit one of the country's many lovely secluded beaches.
You should also check with your doctor about which vaccinations you may need. Packing anti-malaria tablets and mosquito repellent is a must, as is drinking plenty of water and using sunscreen. –Kathryn Burrington of Travels With Kat
READ MORE: The Ultimate Beach Vacation Packing List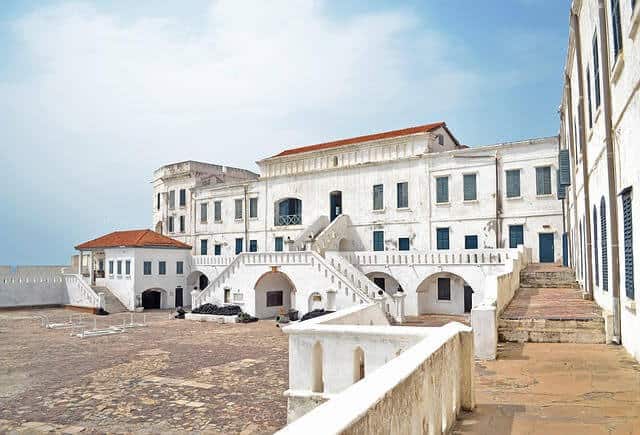 GHANA
Ghana is something of an up-and-coming travel destination in Africa, particularly on the heels of its 2019 "Year of Return" campaign, which encouraged African diasporans to visit the country and invest in Africa.
Ghana currently ranks number 44 on the Global Peace Index, due largely to their stable government and good economy.
Accra is a bustling city with lots to do, from chocolate-making workshops to visiting the Kwame Nkrumah Memorial Park and Mausoleum (the final resting place of Ghana's first President). But the area west of Accra is where the country really shines.
Cape Coast is a must-see for any Ghana visitor: The castles there were home to enslaved Africans before they were sent to the Americas.
Nearby you'll find Kakum National Park, which is home to Forest Elephants, Bongo Antelopes, and numerous primates. The seven swinging bridges that lead guests through the canopy, 30 meters above the ground, is simply stunning.
Ghana gets a lot of tourists these days, but it's important to stay alert. We recommend an anti-theft daypack to carry your phone and camera in. There's also a malaria risk in certain parts of the country, so you'll need to talk to your doctor about anti-malarial tablets before you depart. –Nicole of Nicole LaBarge Travel Blog
READ MORE: The 40 Best Backpacks for Travelers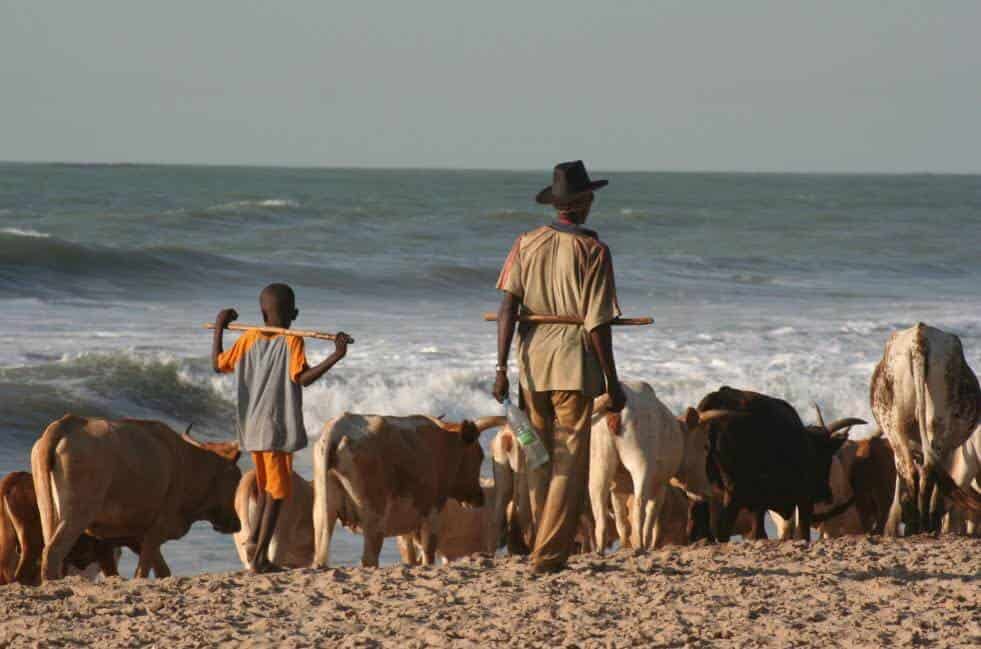 SENEGAL
Senegal is a popular destination among first-timers in Africa. It's not a dangerous country: Crime and disease levels are relatively low, it's a stable democracy, and most of its people are really friendly.
Senegal is also making great efforts to fight against malaria. The rate of outpatient cases there has fallen from 30% to less than 5% in the last few years, which is one of the lowest malaria rates in West Africa.
Obviously, you still have to take basic precautions. Dakar, the city in which most crime occurs, is not a beautiful city, so you can easily skip it. But the rest of Senegal is pretty safe. The southern region of La Casamance suffered the violence of independence rebels for decades, but the situation is calm now thanks to a peace process and a declared ceasefire.
Here are some tips for staying safe in Senegal:
Avoid traveling between April and June, when temperatures are usually high.
If you're traveling during rainy season– June-October– take precautions to avoid getting malaria (wear long-sleeves at night, use mosquito repellent, and make sure your bed has a mosquito net).
Don't walk at night in Dakar and other big cities.
Remember Senegal is a Muslim country. Although their dress code can be relaxed compared to Saudi Arabia or Jordan, you should try not to draw too much attention.
As for the best things to do in Senegal, I recommend visiting Gorée Island, strolling the colonial streets of Saint Louis, attending a dance festival in Abene, and watching life go by in lovely Carabane Island.
Also, keep in mind that virtually no one speaks English in Senegal. If you want to visit the country, you should speak some French. –Miguel of Travelsauro
READ MORE: Interview with Senegalese Afropop Icon Baaba Maal
–intro by Bret Love; photo of Rwandan dancers by Bret Love & Mary Gabbett