When we first began writing about ethical clothing and Fair Trade clothing back in 2010, sustainable fashion was still a relatively new field.
The concept of establishing fair trade relations with developing countries first gained attention (particularly in Europe) after being adopted by the United Nations in 1968.
But it wasn't until 2002, when Fairtrade Labelling Organizations International launched the first International Fairtrade Certification Mark, that early adopters started becoming more aware of the importance of ethically made clothing and other products.
When we launched Green Global Travel 8 years later, you could still count the number of widely known ethical clothing brands on one hand.
But over the last 10 years, ethical fashion has finally taken off into the mainstream, due in large part to the more widespread availability of affordable sustainable clothing.
With Earth Day this week, we thought it'd be an excellent time to highlight our favorite ethical brands and showcase some of their coolest eco-friendly clothing options.
READ MORE: The Best Travel Clothes For Women & Men
Ably Apparel has been one of my favorite sustainable fashion brands since I first started wearing their travel t-shirts, which exploded on Kickstarter a few years ago.
They use a unique technology called Filium, which allows natural fabrics to repel liquids, odors, and stains without sacrificing breathability or comfort.
This makes their eco conscious clothing water-resistant and odor-resistant, because your sweat just evaporates. It also means you can wear them repeatedly without washing.
They've expanded their line to include sustainable dresses and more, all responsibly produced abroad. Mary loves the curve-hugging fit of their sleeveless cotton/modal Catalina dress, as well as the comfortable stretch twill of their Piper jacket.
READ MORE: 60 Earth Day Tips For Going Green
Angelrox is an ethical clothing company founded by 20-year veteran fashion designer Roxi Suger, who grew up sewing with her grandmothers in Alabama.
Her feel-good designs are ultra-feminine, sustainably crafted from plant-based fabrics in a historic mill in Maine. Mary loves them because they're extremely soft on the skin, and created to flatter every woman's form no matter their shape or size.
Available in more than 20 colors/patterns and made from bamboo or beechwood rayon and spandex, their one-size-fits-all Cardi offers an intriguing twist on the classic cardigan. It can be styled numerous ways, with a hood and two deep pockets.
Their Hourglass is equally adaptable, transforming from pencil skirt or tube top to infinity scarf or hood in mere seconds.
READ MORE: The Best Travel Shoes (50 Reviews)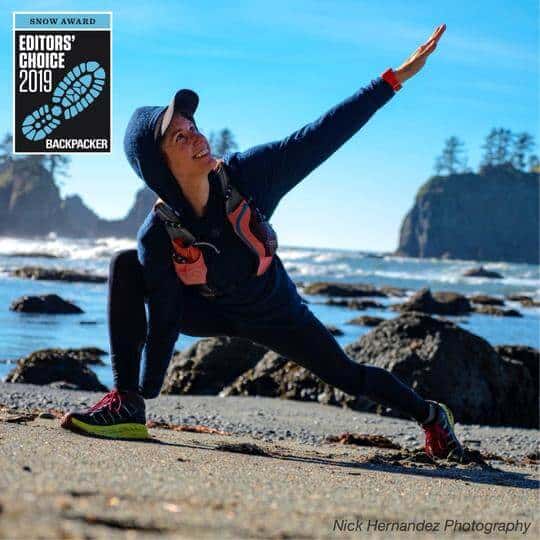 One of the first Fair Trade clothing brands we ever featured on GGT made gorgeous alpaca sweaters in developing nations.
Alpaca fibers are perfect for sustainable clothing because they wick moisture and regulate temperature naturally, and the animals have a small footprint in terms of grazing.
Launched by two former employees of Fortune 500 textile manufacturing companies, the Appalachian Gear Company uses alpaca fibers to make eco-friendly performance wear designed for outdoor adventure.
Their Women's All-Paca Fleece Hoodie is ultra-lightweight and incredibly warm, yet breathable and small enough to roll up in your carryon luggage. It's easy to see why it earned Backpacker's 2019 Editor's Choice Snow Award.
READ MORE: How to Reduce Your Carbon Footprint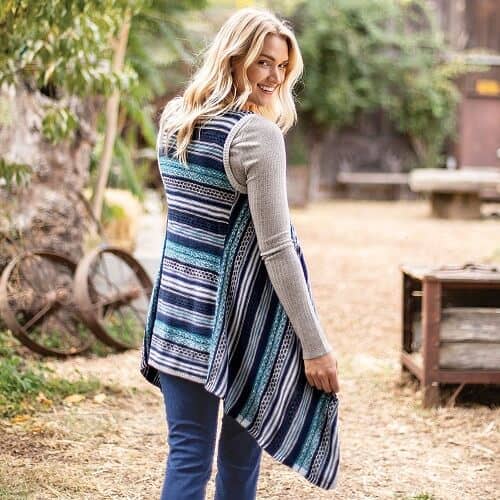 Aventura is one of our favorite Fair Trade Clothing brands we've been covering for years. We love the family-owned company's 55-year legacy, and the 14-year-old line's longstanding focus on sustainability.
As founding members of the Organic Exchange, over 75% of their clothing designs are made from organic cotton and other sustainable materials.
They also work with Fair Trade USA, an NGO that promotes sustainable livelihoods for farmers and workers and protects our planet's fragile ecosystems.
But aside from being one of the country's foremost ethical clothing companies, Aventura offers an elegant take on Bohemian fashion. The eye-catching, assymetrical design of the Kennedy Vest is a perfect example of their unique appeal.
READ MORE: Will Harris, the Future of Sustainable Agriculture
Check Price on Amazon Check Price on Cariloha
Caroliha is another new-to-us ethical fashion brand that is distinguished by their family-owned bamboo farm in the Sichuan Province of China. There, they grow some 61 million bamboo stalks to create eco clothing for women and men.
Bamboo is considered more sustainable than other textile materials because it grows fast, needs no fertilizer, and self regenerates (so you don't have to replant it).
It's also really soft on the skin, as anyone who has tried Caroliha's cozy athletic wear can attest. Their Geo Lines Carbon Legging, Cowl Neck Hoodie, and Cinch Crew top are all comfortable, breathable casual wear for workouts or hanging out.
They also make bamboo underwear, robes, towels, sheets, and more.
READ MORE: The 20 Biggest Forests in the World
Check Price on Amazon Check Price on Cotopaxi
Cotopaxi has been one of our favorite ethical fashion brands for years.
They're a certified B Corp, which requires passing rigorous ethical standards, and 1% of all annual revenues go to the Cotopaxi Foundation. It awards grants to select NGOs focused on improving the human condition and alleviating poverty.
The Teca Fleece jacket is a great example of their ethos in action. Made from 100% repurposed Polartec Micro Fleece (leftovers from other companies' runs), it's super soft and sustainable. And because of that approach, each colorway is limited edition.
The cozy jacket pairs perfectly with their Mariposa Leggings, which is made from recycled polyester and Spandex and features Polygiene® odor-control technology. Their high-waist cut looks great anywhere from hiking trails to yoga class.
READ MORE: 30 Most Comfortable Walking & Hiking Shoes for Women
Mary has been wearing Aventura's ethically sourced clothing for a few years now. But their "brother" brand, Ecōths, is a more recent discovery for us.
It's also one of the few sustainable clothing brands on this list that is exclusively aimed at the fellas.
Ecōths' western-style Waylon shirt looks great and feels cool and comfortable. The hidden microfiber patch in the front shirttail is meant for cleaning glasses & phone screens, but also comes in handy for cleaning camera lenses.
Made with breathable organic cotton with Coolmax polyester, the moisture-wicking fibers will keep sweat off of your skin.
READ MORE: 10 Simple Wildlife Photography Tips to Improve Your Photos
One of the oldest sustainable clothing companies on this list, Free Country has been a leader in outdoor recreation apparel for 30 years now.
Founded by Ira Schwartz, the nephew of New York's iconic "Fred the Furrier," the company is dedicated to getting EVERYBODY outside. So they offer inclusive sizing (2-26) and surprisingly affordable sustainable clothing.
Their Women's FreeCycle Cire Midweight Jacket and Men's FreeCycle Breakthrough Puffer are perfect examples. Both use REPREVE fiber (which is made from recycled plastic bottles), and in 2019 the company helped remove/reuse 750,000 bottles from landfills.
Both jackets are lightweight, packable, stylish, and warm, yet they're currently available for under $50!
READ MORE: 15 Ways to Reduce Waste in Your Home
Helen Jon was founded in 2012 as a line focused on crafting sophisticated swimsuits that would be "as flattering, comfortable, and chic as your favorite little black dress."
But in recent years they've expanded into elegant, eco-friendly clothing for women, all of which is made from recycled cotton and poly EcoLife yarns.
As a result, there's no water, chemical, or CO2 emissions in the manufacturing process of the yarn, which uses 75% solar power.
The creamy "Latte" color and cozy, relaxed style of their Logan Jogger pants, Beach Sweater, and Maxwell Wrap are perfect for beach resort wear, or just sitting around the fireplace at a cabin in the mountains.
READ MORE: Blue Ridge Mountains Travel Guide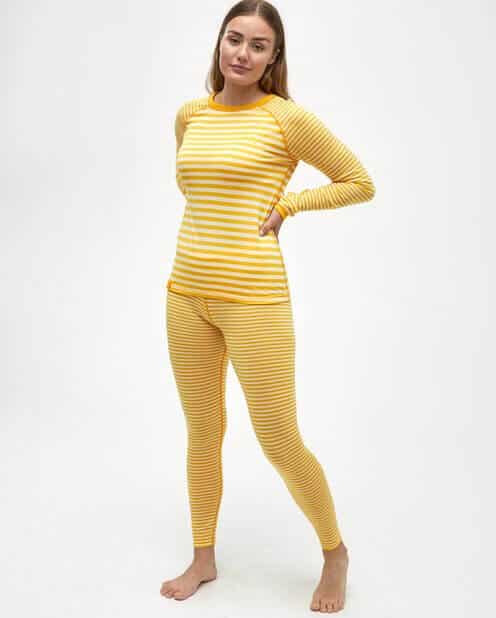 Check Price on Amazon Check Price on REI
Named after its founder, a 3-time Olympic medalist in mogul skiing, this Norway-based brand offers sustainable women's clothing made for women, by women.
They pride themselves on their Fair Trade fashion, following the regulations set forth by The International Labour Organization and the UN's Universal Declaration of Human Rights.
In terms of fabrics, they strictly avoid the use of chemicals, and only work with suppliers that have been Bluesign certified. Their clothing even uses eco-friendly water repellant technology.
We also love the look and feel of products such as the Smale Long Sleeve and Pant base layers. Made from ultra-soft, ultra-light Merino wool, they provide excellent insulation and a slim, form-fitting silhouette.
READ MORE: Climbing Nigardsbreen Glacier in Norway (He Said/She Said)
The idea for MADI Apparel came when founder Hayley Besheer learned underwear is one of the most badly-needed items at domestic violence shelters, sexual assault clinics, and other organizations.
In 2012, she got the idea to create an ethically sourced clothing line that would donate to NGOs around the world. She launched the Kansas City-based brand in 2012, with domestic cut/sew productions that created new jobs and used fair labor practices.
With a mission to be "America's Most Impactful Intimates," MADI's styles– such as the Mimi (a modest bikini) and new Pamela (a cheeky Brazilian cut)– are named after women who have had an impact of Besheer's life.
They're made from an odor resistant, moisture-wicking bamboo/rayon blend, which feels luxuriously soft to the skin. Best of all, they donate a pair of underwear for every pair purchased!
READ MORE: Preventing Gender-Based Violence in Tanzania
A leader in the outdoor recreation gear industry for 100+ years, this Swiss brand has long been ahead of the curve as far as ethical sustainable clothing.
They practice clean production initiatives including PFC-free DWR and partnering with Bluesign. They abide by strict animal welfare standards that can be traced to individual farms.
They also strive to minimize the environmental footprint of their production processes, and were the world's first outdoor brand to join the Fair Wear Foundation to ensure fair and safe working conditions in all factories where its products are made.
The Albula HS Hooded Jacket and Albula HS Pants for women offer great examples of how Fair Trade fashion and function can combine. Both feature lightweight, soft, eco-friendly material (100% recycled polyester) that stretches well and can be packed into their own pockets.
READ MORE: Top 15 Wildlife Conservationists & Animal Rights Activists
Founded in 1993 by several outdoor industry icons, Mountain Hardwear has long been considered among the best sustainable clothing brands for adventurers.
Through their parent company (Columbia Sportswear), they were founding members of the Sustainable Apparel Coalition. They use ethical, sustainable manufacturing practices that are measured and managed via a Standards of Manufacturing Practices program (SMP).
We both love their Ghost Whisperer 2 Down Hoody, which uses 100% recycled ripstop shell fabric and 800-fill RDS-certified down insulation to create a sustainable update on their best-selling hoody.
The sleek-style jacket is super warm and ultralight, stuffs down into its own pocket for easy packing, and is available for both men and women.
READ MORE: The 20 Best Mountains in the World Bucket List

Check Price on Amazon Check Price on REI
Another of our favorite sustainable fashion brands, Mountain Khakis was launched in Jackson Hole, Wyoming back in 2003.
Drawing influences from the rugged west and the genteel south, their mission was to create bold, durable, quality-crafted clothing for people who love the great outdoors.
They also use the Higg Index to measure, share, and benchmark sustainability at every stage of a product's development, as well as partnering with Bluesign and offering products made in Fair Trade Certified factories.
Their Men's Triple Direct Jacket showcases the brand's sustainability in style. It uses SeaWool insulation (made from oyster shells and PET polyester) for added warmth and features a zippered front with metal snap, rivet-reinforced pockets, and tricot-lined cuffs.
READ MORE: How Pleasure House Oysters is Restoring Chesapeake Bay
Check Price on Amazon Check on NOVICA
One of the world's largest Fair Trade companies, this ethical clothing brand is best known for its affiliation with National Geographic, which became a major investor 20 years ago.
NOVICA was co-founded in 1999 by Roberto Milk, who was inspired by his grandmothers– a missionary (who influenced his love of social causes) and an artisan (who influenced his love of handmade crafts).
By 2000, their mission to make the import/export process more fair for artists had attracted 500+ artisan groups in 7 regions around the world, from Brazil and Mexico to West Africa. Today their SCR initiatives include Women's Empowerment, Caring for Children, and more.
Their gorgeous Shekhawati Cotton Shirt comes from northern India, and is inspired by the intricate frescoes that decorate the region's palaces, forts, and temples. It pairs perfectly with their Quick-Dry Adventure Water Shorts for a cool but exotic summer look.
READ MORE: 50 Fascinating Facts About Indian Culture
Check Price on Amazon Check on Pact Apparel
When we started thinking of the best ethical clothing brands to feature in this story, Pact was one of the first that immediately sprang to mind.
Their focus has always been on making ethical, affordable eco friendly clothing. Everything they make is from certified organic cotton in Fair Trade USA-certified factories.
Pact offers everything from organic cotton bedding and bath products to a wide array of ethical dresses, hoodies, pants and underwear.
Some of our favorites include the ultra-soft women's Airplane Cardigan sweater, Fit & Flare Tank Dress, and Classic Zip Hoodie and the cozy men's Drawstring Pants and Polo.
READ MORE: The 20 Best Vegan Boots for Women & Men

Founded by social entrepreneur Safia Minney in 1991, Peopletree was one of the first ethical fashion brands to partner with Fair Trade co-ops and produce eco friendly clothing.
They were also the first fashion company to be awarded the World Fair Trade Organisation product label. In 2019 they partnered with BBC Earth to launch the "Our Blue Planet" Collection, which highlights the importance of marine conservation.
Their collections often feature organic cotton, TENCEL™ Lyocell, and responsible wool, and incorporate traditional skills such as hand weaving, hand embroidery, and hand block printing.
Their Melanie Wrap Dress, made by South India's Assisi Garments, uses 95% organic cotton and 5% elastane to create a frilly, feminine look with a side tie belt to flatter the frame.
READ MORE: Jean-Michele Cousteau on the Future of Marine Conservation
One of the sustainable clothing brands Mary and I wear regularly, Royal Robbins is named after its iconic founder. He and wife Liz were among the pioneers of the "clean climbing" ethos of the '60s, reflecting their respect for the natural world.
Though the adventurous climber and kayaker has since passed on, the clothing company he and Liz founded in 1967 remains strong.
They're members of the Sustainable Apparel Coalition and the Fair Labor Association, use the Higg Index to measure their progress, and plan to become carbon neutral by 2025.
We both love their Round Trip DriRelease line, whose eco-friendly polyester/TENCEL fabric wicks moisture, dries quickly, resists wrinkles, and feels comfy on the skin. We especially like the hoodies, whose Insect Shield treatment repels all sorts of creepy-crawlies.
READ MORE: Hiking & Kayaking the Dolomites in Italy
While most Fair Trade and ethical clothing companies are based in the US or Europe, Sherpa Adventure Gear was founded in 2003 by Tashi Sherpa and his family to help the communities and people of Nepal.
For those who may not know, the Sherpa people are one of the ethnic groups native to the Himalayas, and many of them work in the tourism industry helping climbers ascend Everest.
The small brand partners with Bluesign and has a number of sustainable initiatives. But its biggest focus is on providing economic and social stability for the people of Nepal, including employing 1,200+ locals in 2019 and providing a day of education for every product sold.
So you can feel good about buying quality outdoor clothing such as their stretchy, moisture-wicking and breathable Kalpana Hike Tight, or their impressively warm and cozy Rolpa 1/2 Zip Fleece Sweater (which makes an excellent base layer).
READ MORE: The Annapurna Circuit Trek- Why It May Be Now or Never
Launched by entrepreneur/triathlete Daniel Puddick in 2016, the UK-based Sundried specializes in affordable, eco-friendly activewear designed with athletes in mind.
The brand's environmentally conscious ethos is rooted in Puddick's love of nature. So Sundried has their low-carbon production processes audited by the Low Carbon Innovation Fund.
Their Eco Core line is made from 100% recycled plastic, while their Eco Charge line is made from recycled coffee grounds. They also offer several technical t-shirts made with their innovative Eco Tech fabric, which is a polyamide yarn that biodegrades quickly.
Though Sundried has sustainable clothing aimed at runners, cyclists, gym rats, etc., Mary loves their Core Women's Leggings and Pace Long-Sleeve Top. They're stretchy, flattering, moisture-wicking, and work great for hiking, yoga, or just chilling around the house.
READ MORE: 30 Awesome Plastic Free Products
We've been fans of this sustainable fashion brand for several years now. Not only do we dig the look and feel of their clothing and accessories, but we also love that– much like The Lorax– tentree speaks for the trees!
The Vancouver-based brand was founded by Co-Founder Derrick Emsley, who started a tree farm with his brother when he was 17 years old to help offset their carbon emissions.
In addition to creating environmentally conscious clothing, the sustainable company plants 10 trees for every product sold. They've planted over 42 million trees thus far, and have plans to plant over 1 billion by 2030.
I love the casual, laid-back style of their Men's Preston Hemp Shorts and Bowren Button-Up LS. They're made from a comfy blend of organic cotton and hemp, which save on water and waste and are ethically made in Canada.
READ MORE: 30 Facts About Deforestation & Its Effects on the Environment
Check Price on Amazon Check Prices on T-Bo
Like most people, I'd never really given much thought to the sustainability of my underwear.
That it is until a few years ago, when Pact Apparel sent us some organic cotton ones that were MUCH more comfy than the athletic boxer-briefs I'd worn for years.
But T-Bô, one of the newer sustainable clothing brands on this list (launched in 2017), specializes in affordable organic bamboo underwear for men. Which is not only more eco-friendly than other fabrics, but also has an amazing silk-like softness.
Their Must-Have Trunk, Must-Have Boxer Briefs, and Ballsy Boxer Briefs are all breathable, moisture-wicking, and hypoallergenic, with a "man-shaped pouch" to keep everything in place and a NoRollDown spandex band. They're also currently on sale at 1/2 price!
Title Nine is a new-to-us brand of sustainable women's clothing that we've quickly fallen in love with. They're named after the landmark 1972 Civil Rights law that aimed to address gender equality in public education.
The brand was born in the Berkeley, CA garage of Missy Park in 1989, with a focus on women's athletic gear. But it was a line of sports bras upon which the budding business was built.
Today Title Nine is the largest independently owned and operated retailer in the women's fitness and adventure space, run by a passionate group of women. Sustainability is the core of their ethos, from conserving and recycling resources to building clothes that are meant to last.
Mary's hourglass curves can be difficult to fit when it comes to swimsuits. But their Botanica Better 2.0 Bikini does so wonderfully, with cross-back adjustable straps that provide ample support and just enough coverage to stay on the line between sexy and salacious.
READ MORE: The Ultimate Beach Vacation Packing List
Check Price on Amazon Check Price on Toad&Co
Toad&Co is yet another ethical clothing brand that started out in a garage decades ago: This one in Telluride, CO, where a woman crafted handmade fleece toque hats for her friends in 1991.
Originally known as Horny Toad, in 1995 the line included fleece vests and jackets, opened its first store in Telluride, and relocated HQ to Chicago. By 1997 they'd formed the Planet Access Company, which provides career opportunities for adults with developmental disabilities.
In the years since they've partnered with the Conservation Alliance and the Outdoor Industry Association. They've also become increasingly eco-conscious, with their products containing a minimum of 80% sustainable fibers and certified for responsible manufacturing.
It's one of the few sustainable brands on this list that Mary and I both wear regularly. The Bluesign-approved recycled fabric of their Rover Skort and the light, moisture-wicking fabric of their Airbrush Tie Short Sleeve Shirt are great examples of easy going approach to style.
READ MORE: What is Ecotourism? (History & Principles of Responsible Travel)
Check on Amazon Check on United By Blue
Another of our favorite ethical clothing brands, United By Blue (which earned B Corp status back in 2011) follows Patagonia's model as an outdoor recreation business with a focus on conservation.
Their passion is the ocean: For every product purchased, UBB removes one pound of trash from oceans and other waterways. To date, they've cleaned up over 3.2 million pounds of garbage!
In addition, all UBB products are made in GOTS-certified factories from sustainably-sourced materials. They also design products that encourage consumers to generate less waste, including reusable coffee cups and to-go meal kits.
From their organic cotton Field Corduroy Pant and hemp/cotton River Denim Work Shirt (whose buttons are made from nuts) to their SoftHemp Socks, every item they offer is just as soft and comfy as it is sustainable.
READ MORE: 57 Sustainable Travel Tips Every Traveler Can Use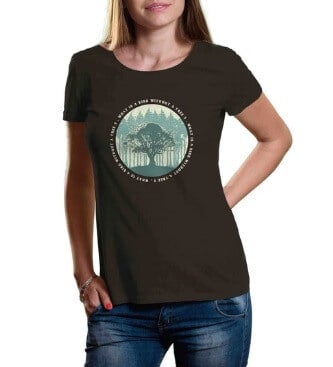 One of the newer and more affordable ethical clothing brands on this list, World Kind offers a small line of eco-friendly t-shirts for men and women.
All of them are made with equal parts ethically sourced Certified Organic Cotton and RPET (which is made from recycled plastic bottles).
Their Almost Gone Collection is our fave, paying homage to endangered species ranging from Black Rhinos and Sumatran Elephants to Sea Turtles and Sloths.
We love their commitment to being a voice for wildlife and habitat conservation, not to mention the fact that 10% of all proceeds are donated to World Wildlife Fund. –by Bret Love & Mary Gabbett