When Green Global Travel was born back in 2010, our primary mission was to learn how to live a more eco-friendly lifestyle and then share that knowledge with our readers.
We mainly focused on what we called "baby steps to going green." We wanted to show people little ways they could reduce their carbon footprint rather than pushing them to make big, sweeping changes in their lifestyle all at once.
The truth is that even now, nine years later, we're still making little changes in our own lives every day. From learning how to avoid palm oil and reduce waste to permaculture gardening, each of these changes helps to make a difference.
Another one of those changes is trying to choose more ethical, sustainable clothing and shoes.
Autumn is the unofficial beginning of boot season, and November 1 is World Vegan Day as well as the 75th anniversary of the Vegan Society. So we thought this would be a great time to take a look at 20 awesome vegan boots for women and men.
It's incredible to realize the diverse array of vegan boot styles that are available now, from hiking and winter boots to ankle boots, Chelsea boots, and work boots. Our extensive guide features reviews of a range of well-known (see: Arc'teryx, VivoBarefoot, etc.) and up 'n' coming brands.
READ MORE: The Best Travel Clothes for Women & Men
Best Vegan Boots for Women
Best Vegan Boots for Men
Vegan Hiking Boots For Women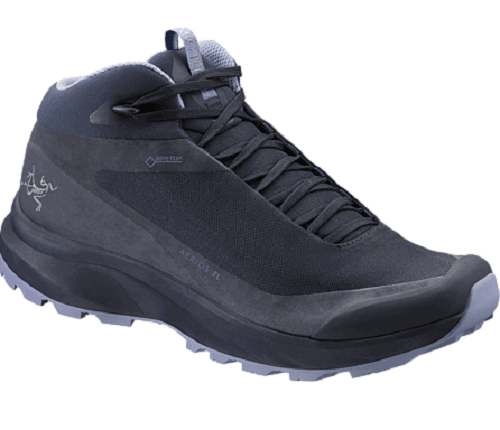 If you're looking for a great choice for women's vegan boots, start with the Aerios FL Mid GTX Shoe by Arc'teryx.
These vegan hiking boots feature a cross between the support of a traditional hiking boot and the lightness of athletic shoes.
Designed for fast and light hiking on technical trails, the Aerios FL Mid GTX Shoe moves with your foot during every step that you take.
For protection from the elements in wet weather, these waterproof vegan boots use GORE-TEX to keep your feet dry while maintaining breathability.
They're a great alternative if you're looking for a lightweight and flexible hiking boot that looks just as good off the trail as it does on.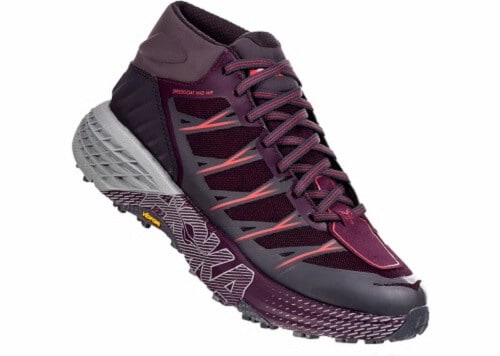 2. Hoka One One Women's Speedgoat Mid Waterproof
If you're looking for vegan boots that are equally suitable for walking around your neighborhood, trail running, or hiking in our National Parks, the Women's Speedgoat Mid Waterproof from Hoka One One is worth checking out.
One notable feature these sporty shoes have is a molded upper collar for flexibility and comfort that also provides protection on even the most rugged terrain.
The outsole features deep Vibram Megagrip lugs in order to ensure high-traction grip in rough or slippery conditions. To really ensure that you don't slip or trip, it also has a wide platform base to keep you stable.
The Speedgoat Mid Waterproof are great waterproof vegan boots for women, especially for those looking to prevent slippage in wet conditions.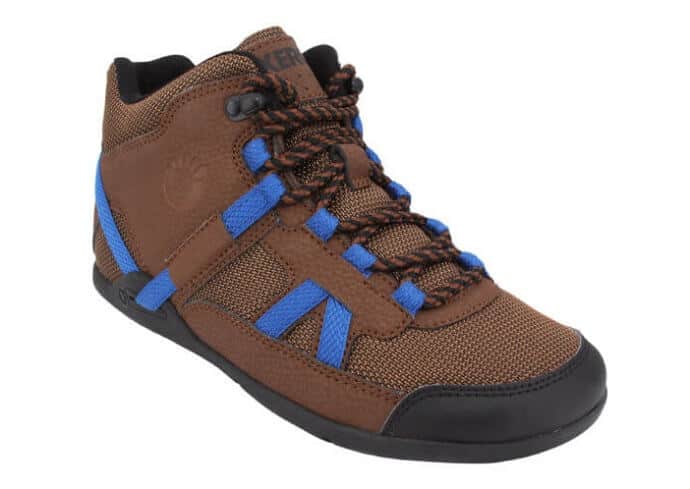 Xero Shoes' DayLite Hiker EVs are a great lightweight vegan boot choice perfect for day hikes and casual wear.
The "EV" in the name is short for "EVolution," since these boots are a new and improved version of the original design. Upgraded features of this boot include better grip with their dual-chevron tread and better durability from the Tough Tech toe bumper.
Comfortability and lightness are a trademark of this beloved brand. Weighing in at just 9.2 ounces per shoe, the DayLites are a competitive option for every day wear.
They also come with Xero Shoes' 5,000-mile sole warranty, so don't be afraid to wear these vegan hiking boots whenever and wherever you want!
READ MORE: The 50 Best Travel Shoes for Women & Men
Vegan Winter Boots For Women
Bearpaw's 12-inch classic boot now has a vegan option– their Elle Tall Vegan boot– which is treated with NeverWet technology.
So while the vegan microsuede polyester is very soft to the touch, the treatment will ensure that your feet stay warm and dry in these waterproof vegan boots.
To keep you looking fashionable, the Elle Tall Vegans are designed with a new slimmed-down construction, which creates a more refined and slimmer shape for a better fit.
Everything from the lightweight rubber outsole to the polyester blend lining is made with the intent to prevent discomfort and retain dryness. They're the perfect warm, vegan winter boots for when Jack Frost starts nipping at your nose.
The stylish Vesta Nylon Snow Boot from Cougar is another great option for cold climate wear. They're waterproof and have a temperature rated to a frigid -30ºF!
These vegan boots have a polar plush lining and a memory molded insole to ensure absolute comfort, even when the weather is anything but comfortable.
The sneaker-style anti-slip outsole gives these winter boots a sporty appeal, while the faux fur collar makes them fashionable enough to pair with either a cute skirt or a practical ski suit.
If you're looking for the ultimate warm vegan boots for winter, the Bianca from Kamik will be sure to keep you cozy.
Their faux-shearling lining and Kamik's DriDefense waterproof membranes make these boots perfect for inclement winter weather, even in places like Alaska or Antarctica.
Kamik also makes mobility a main priority, ensuring that these boots are still super lightweight and flexible.
They'll move with your every step without rigidity or resistance. Plus, the cushioned footbed will make long treks through the snow more comfortable and easy on the feet.
All in all, the Biancas are awesome vegan boots for women that will be sure to keep your feet warm and cozy all winter long.
READ MORE: Winter Adventures in Finnish Lapland
Vegan Chelsea Boots For Women
If you're looking for vegan boots that offer both style and durability, check out the Wilderness in Taupe Cold Weather Boots by OTBT.
Fashionable enough to wear every day, these vegan chelsea boots serve double duty as a street style staple that's also durable enough to stand up to your outdoor adventures.
With wool-like fabrics and water-resistant materials, these stylish shoes allow you to explore the winter elements without worrying about your feet.
The durable high-grip rubber sole and double gore design on these vegan winter boots will keep you steady whether you wear them for a night on the town or a day in the wilderness.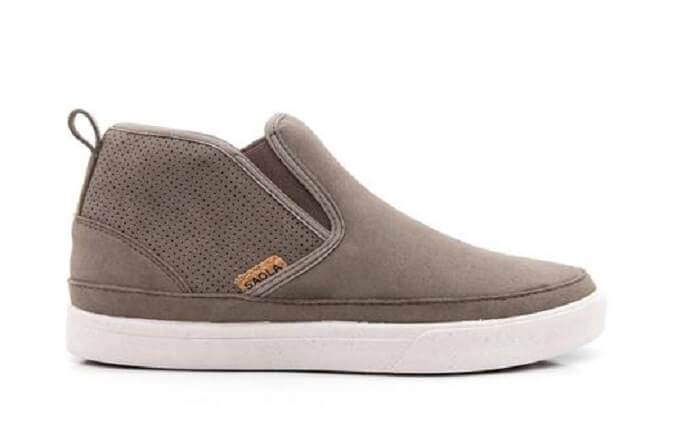 The Saola Tahoe is a trendy, slip-on vegan sneaker/boot hybrid. They offer a great balance of comfort and style, with a very feminine look that can easily be dressed up or down.
Pair them with your favorite jeans and a flannel shirt for a fun, cozy look at the lodge, or with joggers and a thermal as the perfect outfit for your more active adventures.
Regardless of where you wear them, the Tahoe feels super light on the feet. The outsole is created with algae foam, while the insoles are made with cork, providing a soft cushion to each step.
Light enough to pack in your carryon luggage, these are great vegan chelsea boots you won't want to leave behind on your next winter vacation.
READ MORE: The World's 25 Best Eco Lodges
Vegan Ankle Boots For Women
Arcopedioco's Luana Boot is a relaxed vegan ankle boot you can wear all year round.
Made from Lytech, a faux suede that is 100% free of animal products, these cute boots are lightweight and breathable, so you can feel good about looking good in them.
The Luana puts your feet first, using side goring to ensure a fit that remains flexible to the shape of your foot.
The slight wedge of the sole gives these boots an elevated trendy look, while also creating a soft cushion to walk on.
With a twin arch system in the sole, these boots are a fashionable choice for just about any travel outfit you care to pair them with.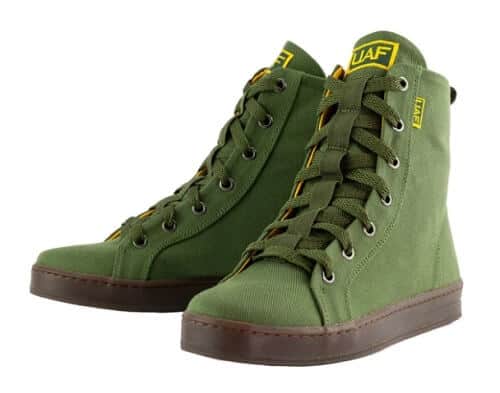 11. Combat Flip Flops Weekender
Check Price on Combat Flip Flops
The Weekender boot by Combat Flip Flops offers a unique style that evokes a cross between combat boots and Converse All-Stars.
Not just made for the weekend, these vegan ankle boots are perfect for daytime, nighttime, school, travel, or just about any event where casual kicks are considered cool.
What makes them such a versatile boot is that they're soft around the ankle and extra durable around the toe and heel. So they're both long-lasting and comfortable to wear.
The minimalist design of these vegan canvas boots can remain low-profile, or be folded over at the top to reveal a contrasting color for an extra pop of style.
Bearpaw's Elle Short are 8-inch vegan waterproof boots that are especially made to keep you warm and dry.
The microsuede polyester upper is treated with NeverWet, an extra protective measure to ensure that your feet stay cozy and dry in any and all weather conditions you may encounter.
The comfort footbed and rubber outsole double up to protect your feet from watery, icy, and snowy paths while retaining grip, even on slippery, uneven terrain.
One feature of these Bearpaw boots we love is the slim fit construction, which prevents any cold from entering the boot and keeps your feet nice and cozy.
READ MORE: Polar Bear Photos from Churchill, Manitoba
Vegan Hiking Boots For Men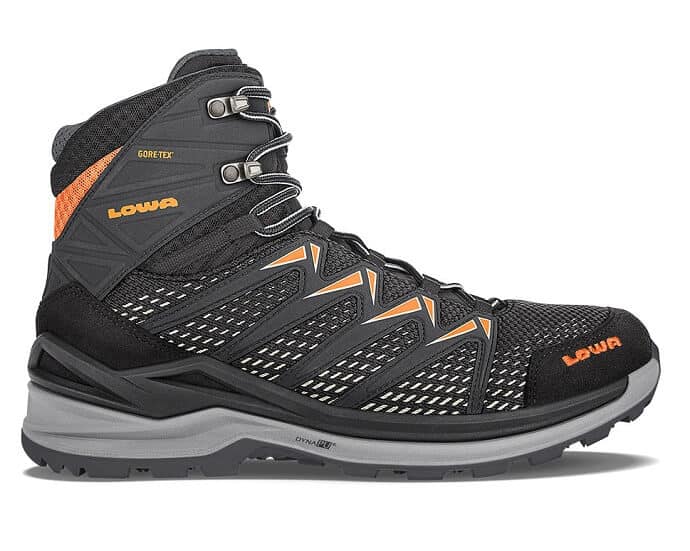 13. Lowa Innox Pro Gtx Mid
Lowa's Innox Pro Gtx Mid boots are a step up from their previous version. The brand cut down the weight and streamlined the design of the vegan leather boot for the Pro edition, creating an stable and durable boot suitable for trekking and other athletic endeavors.
The boot's midsole is injected with DynaPU for an enhanced rebound and cushioning of each step, along with MONOWRAP, which provides added stability and support.
The Innox Pro Gtx Mid is ideal for fast and light traveling, but it doesn't skimp on the stability you needed from strong hiking boots.
The Pros are really just as comfortable as an athletic shoe, but with the support and weatherproofing of a hiking boot. They're perfect whether you're just doing a small part of the John Muir Trail or hiking the Annapurna Circuit.
14. Vivobarefoot Magna Trail Mens
The Magna Trail from Vivobarefoot is a high-performance, lightweight hiking boot available in both men's and women's styles.
These multi-terrain vegan boots are designed to give you "the most with the least," meaning that they let you feel the ground beneath your feet in order to reconnect you with nature.
The boot is so light (just 12 ounces), it almost feels like walking barefoot. Yet the Pro5 protection layer is five times more resistant to punctures than other shoes, so you won't have to worry about damaging your feet on the roughest paths.
Another cool feature is the 3.5mm-thick removable thermal insole. The insole combines Vivobarefoot's Outlast thermal regulator, reflective foil, and insulating foam to guarantee warmth even in the most extreme weather conditions.
Check Price on Amazon Check Price on Xero Shoes
Xero Shoes first made a name for themselves with their trail hiking and running shoes. Now they've enhanced their design to create high-top vegan hiking boots, the Xcursion.
The Xcursion is fully waterproof and ready to take on your next water-adjacent adventure. In order to guarantee 100% protection from water, the inner liner is waterproof-sealed and the outer mesh has an additional water-repellent inner membrane.
Xero Shoes designed these to feel like a "barefoot boot," going with you wherever you may want to explore while still retaining the grip and support of a typical hiking boot.
With waterproof protection and a lightweight feel, the Xcursion is also compact enough to fit into a backpack for just about any type of outdoor adventure.
READ MORE: 20 of the World's Biggest Waterfalls (World Travel Bucket List)
Vegan Winter Boots For Men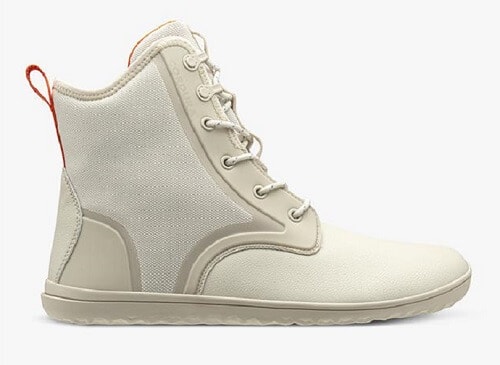 16. Vivobarefoot Scott II Utility M
The Scott II Utility Mens by Vivobarefoot is a lightweight vegan winter boot made from sturdy Cordura fabric, with a synthetic leather vamp for increased durability.
The inside lining is a recycled RPET textile, giving plastic waste a second life.
The soles of these boots have a unique concave hexagonal design, called "hex-flex," which maintains traction, grip, and flexibility over wet, cold, or muddy terrain.
The Scott II Utility boots are a great option to consider whether you're exploring the great outdoors or doing a NYC Christmas walking tour. These sleek, stylish winter boots will also keep you visible with each step due to their extra reflective detailing.
READ MORE: 25 Awesome Plastic Free Products
Vegan Ankle Boots For Men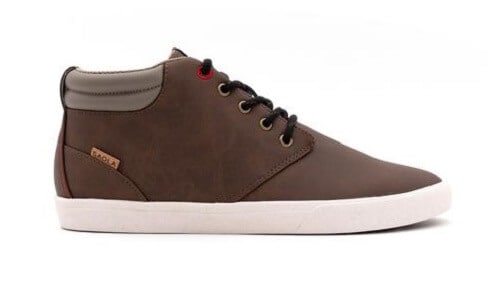 17. Saola Niseko
The Niseko from Saola is a cool mid-top boot option for men. Influenced by street style, these vegan boots can easily adapt from a chill daytime vibe to a swanky night out on the town.
Made with algae biomass, the algae foam outsole makes these boots lightweight and easily packable, so you can travel with them just about anywhere.
While these shoes may look and feel like they're made of suede, they were actually created with recycled PET from plastic bottles.
In every pair of these vegan ankle boots, 3 to 4 recycled bottles were used to make the uppers. Saola also ensures that all the Niseko's features are high quality and built to last.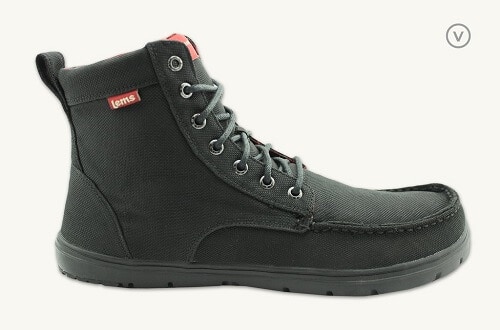 If you're searching for a lightweight, minimalist, traditional looking boot, check out the Black Boulder Boot from the Colorado-based brand, Lems.
While their name makes it sound like these boots would be dense and heavy, the Boulder Boots can actually fold up and be packed into a small daypack.
But their extreme flexibility doesn't diminish their durability. The boots' outsole is made with air-injection rubber to protect against any rough terrain you may encounter along the trail.
These vegan boots are a great fit for anyone searching for a classic style, but with a more modern emphasis on light weight and an eco-friendly manufacturing process.
READ MORE: 40 Green Travel Tips (The Ultimate Guide to Sustainable Travel)
Vegan Work Boots For Men
The Ultra Mid vegan work boots from Bogs are a great choice for any guy who frequently finds himself in messy conditions.
These classic insulated boots were originally intended to help farmers stay safe and dry. But they have since emerged as a favorite among many men whose work requires them to deal with unfavorable terrain.
The 7mm waterproof Neo-Tech insulation allows these work boots to keep you comfortable in temperatures down to -40°F.
Other features include the easy-on pull handles for quick access, and an internal midsole with rubber sponge to remain cushioning throughout a long day's wear.
The Bogs Ultra Mid is a great pair of vegan waterproof boots that will keep you powering through hours of hard work, regardless of what it is you do.
20. Kamik Shelter V
Working outdoors in the winter months? Make the most of it by choosing a pair of vegan work boots such as Kamik's Shelter V.
These vegan winter boots will shield your feet from any inclement weather conditions, since they're 100% waterproof and are temperature rated to -40°F.
The mid-rise boot also features an orange fold-down safety collar for additional visibility in all elements, which is awesome if you're working in harsh conditions.
To keep you safe from slick surfaces without added bulkiness, the bottom of the boot is made of RubberHe, a material that is 50% lighter than natural rubber. It also provides improved traction as well. –Emma West & Bret Love, main image by Pexels from Pixabay