It's probably no surprise that we're not the kind of people who believe in disposable fashion. I'd estimate more than 50% of our closet is filled with clothes we've had for 5, 10, or 20+ years.
But when it comes to shoes, our ecotourism and outdoor recreation-focused lifestyle tends to lead to a lot of wear and tear.
I've had hiking boots fall apart on my feet while trekking through the desert in Jordan. I've had hiking sneakers covered in buffalo dung while trekking to see Mountain Gorillas in Rwanda. Just last week I had walking shoes that came apart in the washer after years of use.
As a result, I'm always on the lookout for comfortable men's shoes, especially versatile styles that can work equally well on the trail, city walking tours, or for dinner at a nice restaurant.
These days, more and more people are wanting to get outdoors while maintaining adequate social distance. So we thought this would be a great time to check out 25 of the most comfortable walking shoes and hiking shoes for men.
Read on for our unbiased reviews of men's walking shoes from beloved brands such as Garmont, Keen, and Vans, as well as men's hiking shoes from Lowa, Oboz, Vasque, and more.
READ MORE: 30 Most Comfortable Walking Shoes & Hiking Shoes For Women
Comfortable Mens Walking Shoes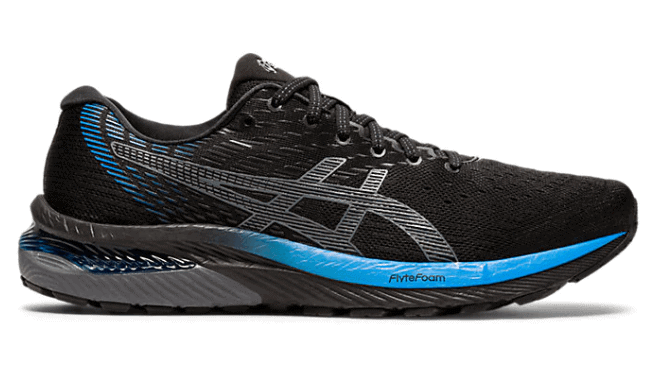 Asics Gel-Cumulus 22
The Gel-Cumulus 22 is a perfect example of a comfortable walking shoe (or running, if that's your thing) whose versatility makes it an especially great choice for travelers.
They're ultra-lightweight (10.1 ounces) due to the FLYTEFOAM mid-sole, with shock-absorbing GEL cushioning technology that ranks them among the best shoes for long distance walking.
The Ortholite X-40 sockliner puts an extra bit of bounce in your step, while also wicking moisture and helping your feet breathe during outdoor activities.
Other fantastic features of these great long distance walking shoes include an AHAR (ASICS' High Abrasion Rubber) outsole for added flexibility and comfort, and areflective material designed to enhance safety and visibility at night.
READ MORE: NYC Christmas Window Displays Walking Tour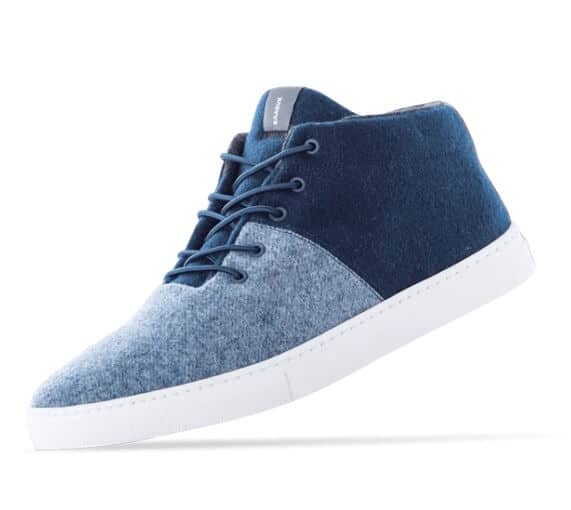 BaaBuk Sky Wooler Sneakers
Baabuk's Sky Wooler sneakers are a stylish pair of shoes suited for any type of weather.
As their name implies, the shoes are made with sheep's wool, which helps with regulating the temperature of your feet. It also helps to keep out water, while allowing for great breathability.
The Sky Woolers have a no-tie design that creates a more fashionable look, but still keep your shoes securely on your feet.
They come in a variety of different colors, including blue jeans (pictured), black, cream, and orange, gray, and yellow.
READ MORE: The 50 Best Travel Shoes for Women & Men

Columbia Men's Vitesse Outdry
Check Price on Amazon Check Price on Columbia
Lightweight, versatile, and waterproof. These are the types of features we look for when considering the best men's walking shoes for travel.
But Columbia's Vitesse Outdry sneakers are also a great choice for daily wear, including hiking, trail running, and any other outdoor activity you care to take on.
The mesh shoes are guaranteed to keep you dry even when walking through puddles. But despite their waterproof technology, they're incredibly breathable.
They also include a cushion to keep your feet comfortable every time you wear them, with excellent tread that makes them perfect for any hiking trail you may want to explore.
READ MORE: The Best Travel Clothes for Women & Men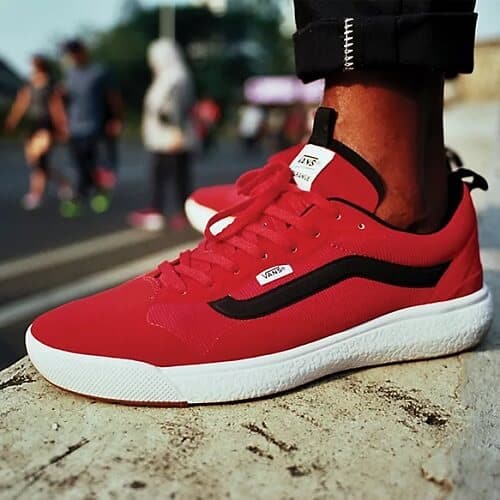 Vans UltraRange EXO
Check Price on Amazon Check Price on REI
The UltraRange EXO shoes from Vans has everything you would want in walking shoes for men.
The EXO in the name refers to the fact that these shoes have a sort of exoskeleton, which secures your heel while giving your feet the support they need.
The shoes also have an all-terrain grip, a comfortable midsole that doesn't weigh you down, and a very breathable fabric that keeps your feet comfortable even when the weather is warm.
The stylish UltraRange EXO shoes come in a wide variety of colors. You can choose from red, white, black and white, green sulphur, turtledove, jade green, black, black with a marshmallow pattern, and the iconic Vans checkerboard pattern!
READ MORE: The 40 Best Backpacks for Travelers

Florsheim's Fuel Knit Plain Toe Oxford
Check Price on Amazon Check Price on Florsheim
These men's casual walking shoes from Florsheim boast an attractive exterior made with a breathable knit and smooth leather.
The Fuel Plain Toe Oxfords have an EVA midsole and Flexsole Technology, making them flexible and comfortable enough to wear all day long.
These swanky shoes work for casual, sporty, and formal settings, and come in three colors. The Indigo color features blue leather and a blue knit that's speckled with white.
The Scotch color is a classy brown that would look great for any formal setting. Their last color is a gorgeous Gray, which has navy speckles on the knit.
READ MORE: The 35 Best Daypacks for Travel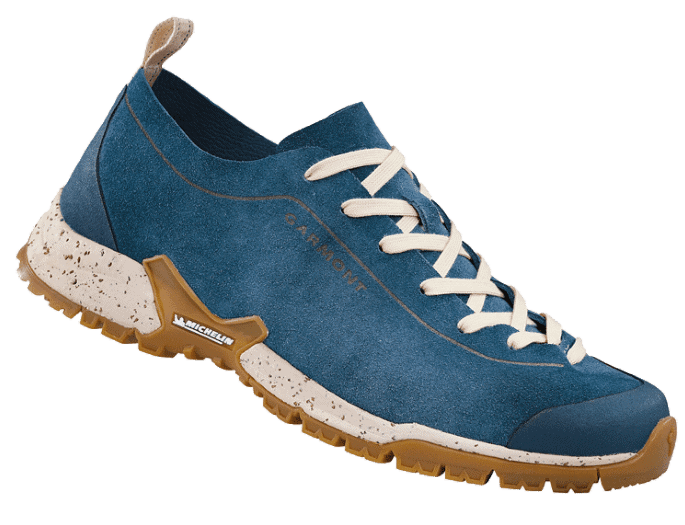 Garmont Tikal
Check Price on Amazon Check Price on REI
The Tikal shoes from Garmont are some of the best men's casual walking shoes for travel we've tested.
They have a unique footbed that's made of cotton and coconut to provide maximum comfort for your feet.
The shoes come with a uniquely designed Michelin sole to help stabilize you, as well as absorb shock and allow you to propel forward better.
The Tikals were specifically created for trails, traveling, and everyday wear. Their Anatomically Directed Design makes them some of the most comfortable men's walking shoes for travel we've tested this year.
READ MORE: The 125+ Best Gifts for Travelers

Keen Austin
Check Price on Amazon Check Price on Keen
The Austin shoes from Keen Footwear are stylish and comfortable men's leather walking shoes that are great for daily wear.
The leather Keen uses is water-resistant and durable, so they'll hold up on your adventures no matter what type of weather you may encounter.
These shoes have a removable footbed that provides comfort and arch support where you need it most. It also uses an eco-friendly technology to naturally remove odor without any chemicals.
The Austins come in five different colors, including brown, black, gray, brindle, and cherry mahogany.
READ MORE: The Best Fair Trade & Ethical Clothing Brands for 2020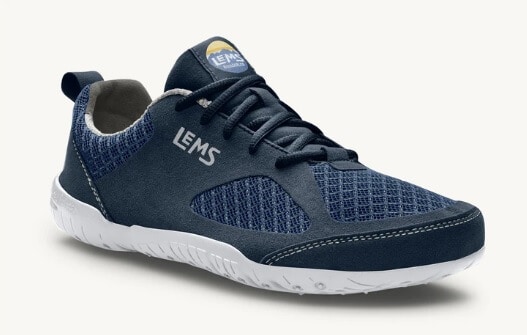 Lems Primal 2
Check Price on Lems Check Price on REI
In the Primal 2, Lems offers one of the most comfortable men's walking shoes on the market in a minimalist style.
These shoes are made with vegan-friendly materials that are better for the planet, and include a wide toe box for added comfort.
The Primal 2 shoes help to correct posture and align your spine by placing your feet flat. They're also extremely lightweight, which makes them fantastic walking sneakers for men.
They come in an array of colors, including slate, eclipse, black, and brown. The unique but understated design is stylish enough to wear for just about any occasion.
READ MORE: The 20 Best Vegan Boots for Women & Men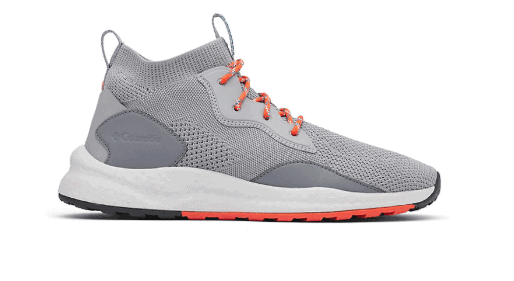 Columbia Men's SH/FT Mid Breeze
Check Price on Amazon Check Price on Columbia
These mens hiking sneakers from Columbia are versatile enough to fit all of your needs. They're comfortable enough for your next trail run, yet stylish enough to wear for a night on the town.
The knit on the Mid Breeze Shoe allows for excellent breathability, with SH/FT foam to keep you on your feet comfortably for much longer than the average men's shoe.
They offer excellent arch support, which helps to keep the pressure off of your back. Plus, they're extremely lightweight, which makes them easily packed for travel and outdoor adventure.
READ MORE: The Best Carryon Luggage for Travelers
SUAVS The Legacy & The Zilker
Suavs offers some of the best walking shoes for men, including the Legacy and Zilker shoes. Both include a unique knit design that feels so comfortable, it's almost like you're wearing socks!
Both of these eco-friendly shoe styles are breathable, have moisture-wicking insoles, and were created with 100% post-consumer recycled thread. They're vegan-friendly and super flexible, bending easily with your foot's natural movement.
The Zilker shoes come in black, green, gray, blue, and red. The Legacy shoes come in black, brown, and green, and feature a rubber toe cap perfect for rainy weather.
Both of these models rank among the most comfortable men's shoes for walking, standing all day, or casual outdoor adventures.
READ MORE: 15 Ways to Reduce Waste & Move Towards Waste-Free Living

Vans ComfyCush Sk8-Hi
Check Price on Amazon Check Price on REI
The ComfyCush Sk8-Hi shoes from Vans are even softer and have more cushion than their classic surf/skate shoe.
Made with canvas and suede, these sporty shoes are moisture-wicking and offer fantastic arch support to ensure maximum comfort.
In addition, they're so lightweight you may forget you're even wearing shoes. They're a great fit for casual walking shoes, everyday shoes, and of course skateboarding!
These shoes come in three colors– black with white accents, black with yellow and black spots, and black on black.
READ MORE: 30 Awesome Plastic Free Products
Hiking Shoes For Men

Chaco Torrent Pro
Check Price on Amazon Check Price on Chaco
If you're looking for great men's waterproof walking shoes, Chaco's Torrent Pro capably handles rugged terrain and water while giving your feet full protection.
These vegan-friendly shoes offer closed-toe protection to protect your feet from bumps and abrasions, and are made with synthetic overlays.
The Torrent Pro shoes are great for casual day hikes or lengthy treks over rocks and water, and come in colors including hunter green, black, navy blue, navy/gray, and port red.
READ MORE: The 10 Best North Georgia State Parks for Hiking & Camping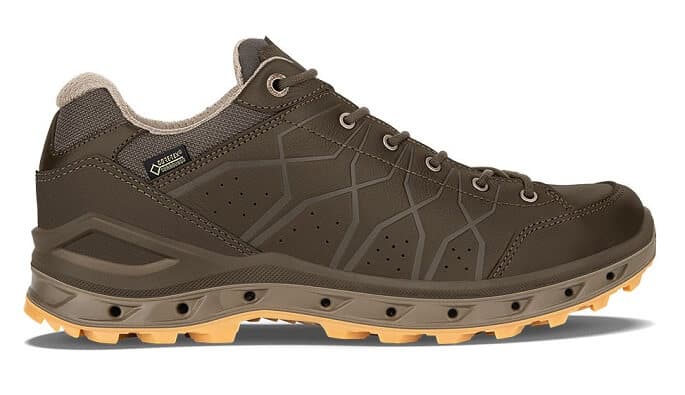 Lowa Aerano GTX Lo
Check Price on Amazon Check Price on REI
The Aerano GTX Lo shoes from Lowa are extremely versatile hiking shoes that are equally appropriate for the outdoors or for everyday wear.
They're breathable as well as waterproof, which makes for a wonderful hybrid shoe.
The rugged soles provide enough sturdy traction for many different types of terrain, so you can walk on wet or uneven surfaces without worrying about slipping.
The Aerano GTX Lo shoes come in two colors– a rich espresso brown and a dark navy– both of which are fashionable enough to be worn dressed up for a night on the town.
READ MORE: The Best Hiking Trails in the World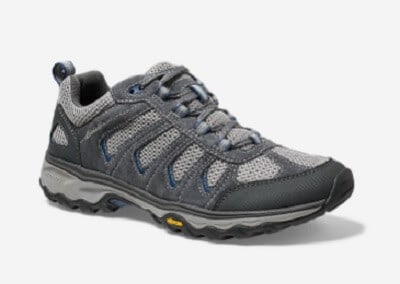 Eddie Bauer Lukla Flux
Eddie Bauer was one of the first clothing brands GGT ever worked with, when they co-sponsored our winter trip to Chilean Patagonia and Antarctica back in 2012.
Their new Lukla Flux hiking sneakers are wonderful for summer adventures, with moisture-wicking properties that make sweaty feet a thing of the past.
They have an impressive amount of arch support and a removable EVA footbed to keep you comfortable for hours.
The polyester mesh is breathable enough to keep you cool even on the hottest days. The shoes are also reinforced with suede to keep them looking great even after lots of wear and tear.
READ MORE: 30 Antarctica Animals You Can See on an Antarctica Cruise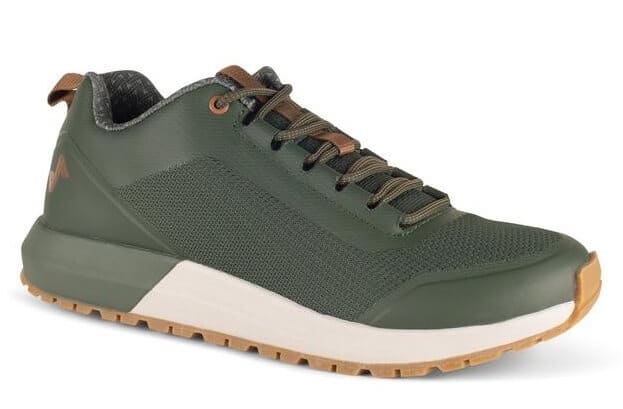 Forsake Shoes Men's Cascade
Check Price on Amazon Check Price on Forsake
These quick-drying men's lightweight hiking shoes from Forsake are a great choice for your next adventure in the mountains.
The vegan-friendly Cascade shoes offer all of the comfort any man would need. But they're also extremely rugged and can stand up to the most rugged terrain.
They're extremely breathable, and have a moisture-wicking mesh lining to ensure your feet stay dry even in inclement weather.
While the Cascades have a "Peak-To-Pavement" tread on the bottoms for grip, they're also stylish shoes for a casual walk around town.
READ MORE: The 15 Best Camping Tents for Families

Garmont Santiago Low GTX
Check Price on Amazon Check Price on REI
These men's trail hiking shoes from Garmont are excellent for anyone that loves camping and exploring the great outdoors.
A comfortable alternative to men's GORE-TEX hiking boots, the waterproof Santiago Low GTX shoes include a heel lock in order to prevent slipping and blisters.
The asymmetrical cuff was designed to provide better stability and comfort while hiking, while the GTX sole offers great grip for slippery and uneven surfaces.
They come in two colors– forest green and dark brownz- which both look fashionable enough for daily wear. These are very good hiking shoes for men who love the trail.
READ MORE: 60 Cool Camping Gear Reviews

Hoka One One Men's Toa GTX
Check Price on Amazon Check Price on REI
The Toa GTX shoes from Hoka One One are some of the best men's waterproof hiking shoes we'e tested this year.
These men's hiking sneakers are lightweight, durable, and breathable, offering stability in all sorts of terrains.
The Toa GTX has a very responsive cushioning that makes even the longest hikes more comfortable, as well as formidable ankle support.
The hiking shoes come in 3 different color schemes, including black olive and orange, black iris and blue, and phantom. Our pick for the best hiking sneakers of 2020, these shoes look just as good as they feel on your feet.
READ MORE: Hiking the Secret Petra Treasury Trail in Jordan

Keen Steens Vent
Check Price on Amazon Check Price on Keen
Designed to tackle everything from rugged caves to waterfalls, the Steens Vent shoes from Keen are some of the best hiking sneakers around.
They're made with durable, waterproof leather and– as the name implies– vented for breathability so you can hike all day long without your feet becoming soaked in sweat.
They also include an EVA insole to provide added comfort for your feet, with eco-friendly materials to keep odor away rather than harsh chemicals.
For our money, these are some of the best men's casual hiking shoes on the market.
READ MORE: The World's 20 Biggest Waterfalls (By Continent)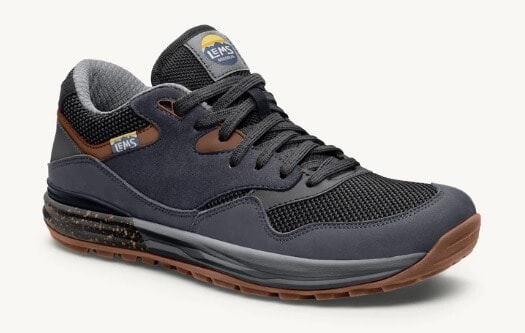 Lems Trailhead V2
Check Price on Lems Check Price on REI
Great hiking shoes for men can sometimes be difficult to find, especially if you want something stylish enough that you can also wear them regularly when you're NOT on the trail.
Luckily, Lems has solved this issue with their Trailhead V2 shoes, whose tread is equally great for uneven trails and solid pavement.
The firm cushioning will keep your feet comfortable for hours out on the trail, while the design uses durable construction that will last you for years of hikes.
The Trailhead V2s have a cool, retro '90s running sneaker style, and come in colors ranging from sequoia and stormy night, to onyx, sage, and redwood.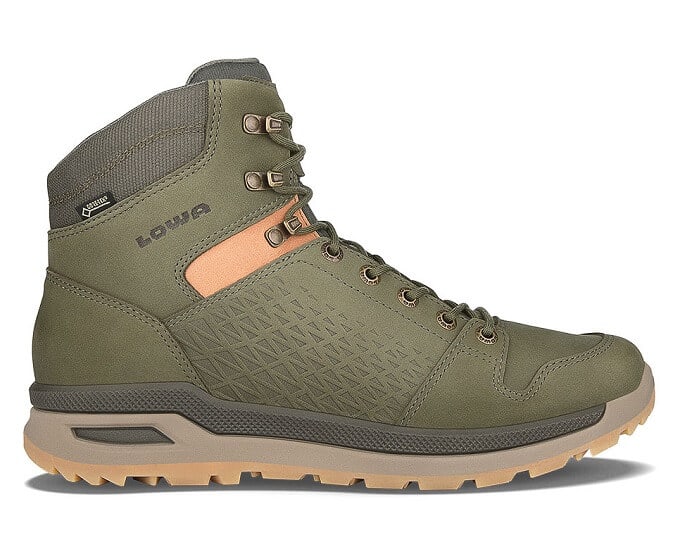 Lowa Locarno GTX Mid
Check Price on Amazon Check Price on REI
The Locarno GTX Mid shoes from Lowa are wonderful waterproof men's hiking boots featuring a high top length that gives your ankles the ultimate feeling of support.
There are numerous features that make these some of the best hiking boots for men we've tried this year. They're breathable, so your feet won't sweat. They're surprisingly lightweight, which makes them great for long days out on the trail.
They also offer great rebound and shock absorption, so your feet can stay comfortable for hours on end. And the outsole features a close-to-ground feel that aids with stability as you move.
Lowa's Locarno GTX Mid hiking boots for men come in four different colors, including brown, gray, black, and green.
READ MORE: Kayaking & Hiking the Dolomites in Italy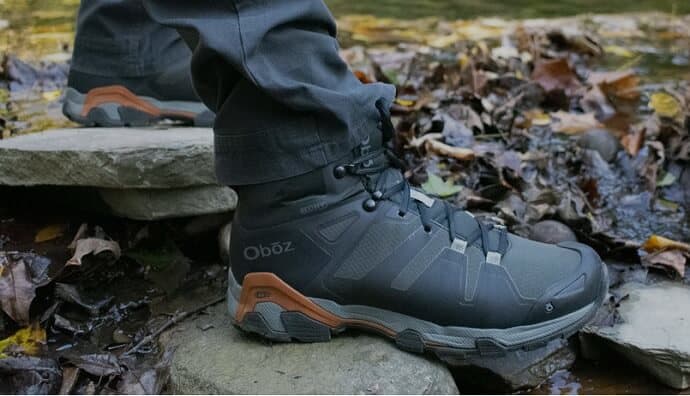 Oboz Arete
Check Price on Amazon Check Price on REI
Whether you're a casual day hiker or a serious backcountry trekker, the Arete from
Oboz
is one of the top hiking boots for men.
These lightweight hiking boots include a waterproof membrane and excellent ankle support to keep you safe while exploring. They even have an EVA Super Skin to protect you from stone bruising!
With all of these protective measures, you might think the shoes would feel stiff and inflexible.
But the tough-as-nails Oboz Aretes are impressively comfortable due to the cushioning soles, which make them equally suited to casual, everyday wear.

Tecnia Plasma 5
The Plasma 5 hiking shoes from Tecnica are modern looking, low-top hiking shoes created with comfort in mind.
They're lightweight, yet also give enough ankle support to keep you safe on even the most rugged landscapes.
The bottom of the shoe grips all sorts of terrain, from rocky to wet and slippery ground. They come in two color schemes, blue and gray or black and orange.
One of the more unique features of the Plasma 5 is that you can also create your own custom-fit shoes in-store. Their C.A.S machine allows for an even more precise fit for those walkers/hikers with arch and heel issues.
READ MORE: My Stupid Mistake Hiking Corcovado National Park, Costa Rica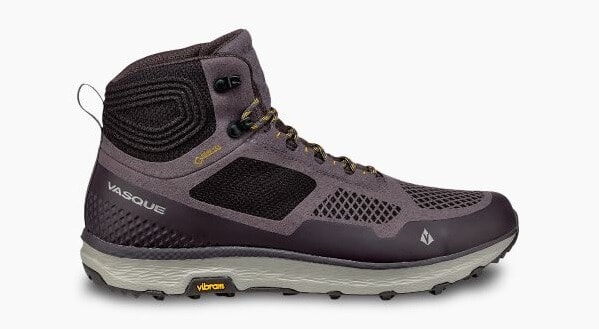 Vasque Breeze LT GTX
The Breeze LT GTX from Vasque is one of the best men's lightweight hiking boots of 2020, with a design that's really built for speed and agility.
The waterproof GORE-TEX technology keeps your feet dry, while the outsole provides exceptional traction on any hiking trail.
The high-top cut gives these boots optimal ankle support for many different types of terrain, and the soles offer all-day comfort that allows you to hike longer without your feet getting tired.
They come in 7 stylish color schemes, any of which would make a great gift for hikers.
READ MORE: The Best Gifts for Campers, Hikers & Nature Lovers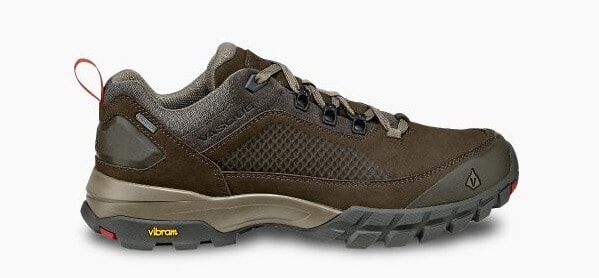 Vasque Talus XT Low GTX
Check Price on Amazon Check Price on REI
The Talus XT Low GTX from Vasque is another one of the best waterproof hiking shoes for men. These shoes are rugged and can withstand all types of terrains and weather conditions.
The GORE-TEX technology not only keeps away water coming in from the outside, but also removes moisture from sweat on the inside. So you can be certain that your feet will be dry no matter how bad the weather gets.
Stability issues will also become a thing of the past with the Talus XT Low, as they're built with all of the ankle support and stability you could want.
These attractive hiking shoes come in a classy brown/olive color to keep you looking sleek both on and off the trail. –Bret Love & Ari Lentini