I've done some truly dumb things before on my travels, from letting a street hustler scam me out of $40 in New Orleans to getting chased by a camel in Jordan's Dana Biosphere Reserve for getting too close.
What happened in Corcovado National Park, Costa Rica was one of those "fool me twice, shame on me" situations that makes you feel like an idiot in retrospect for your sheer ignorance/hubris.
But if I'm being honest, I blame the whole thing on some advice I got from respected National Geographic photographer Peter Essick.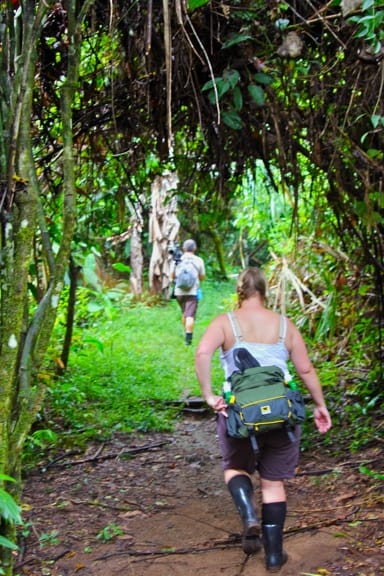 When I interviewed Essick (who's considered among the top nature photographers in the world), I asked him for tips on improving one's nature/wildlife photos.
He responded, "The first one is to have a good tripod. In my photography workshops, I get people who have $10,000 worth of cameras and a $79 tripod. That's the first thing that will improve your nature/landscape pictures quite a bit."
I'd recently gotten a Manfrotto 293 3-Section Carbon Fiber Tripod to review, and had been disappointed with the quality of our jungle photos in the past. So I was anxious to follow Essick's advice when we hiked from our lodge to Corcovado National Park's San Pedrillo Ranger Station. But I ultimately came to regret including the tripod when we started packing for Costa Rica.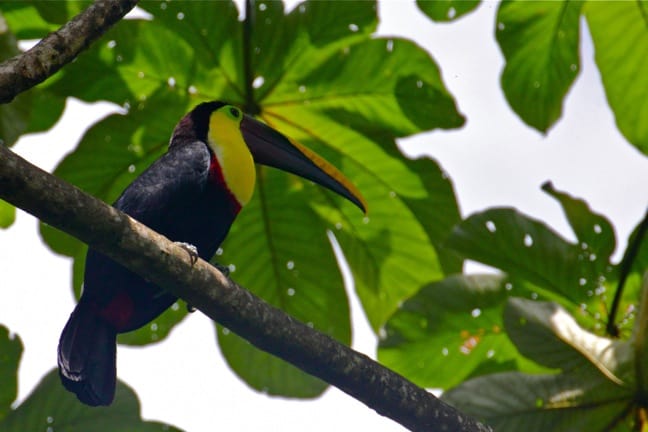 CORCOVADO NATIONAL PARK
Located on Costa Rica's remote Osa Peninsula,  Corcovado National Park has been referred to by National Geographic as "the most biologically intense place on Earth in terms of biodiversity." At 164 square miles, it's the largest national park in Costa Rica, the largest primary forest on the American Pacific coastline, and one of the few remaining large areas of lowland tropical rainforests in the world.
It's also one of the most pristine nature sanctuaries we've ever visited, with varying ecosystems (ranging from montane forest and cloud forest to prairie and mangrove swamp) providing a home for more than 500 tree species and a dizzying array of wildlife (including the endangered Baird's Tapir, the rare Harpy Eagle, Jaguar, Puma, and all four Costa Rican Monkey species).
In short, it's a veritable Garden of Eden for nature-lovers like us.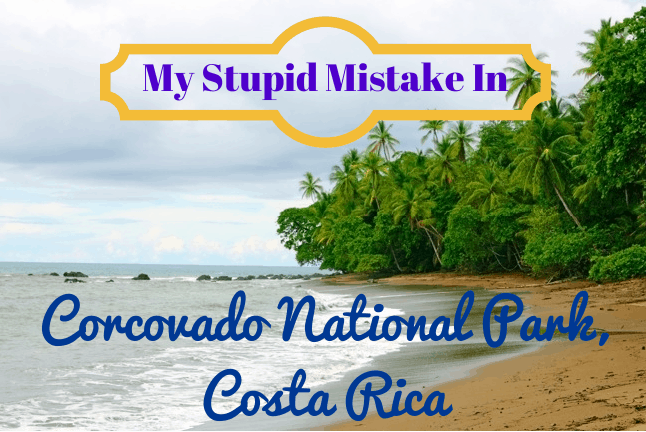 INTO THE WILD
The problems began right from the get-go. We'd planned to start our hike at 7AM in order to avoid the hottest part of the day (keeping in mind that "hot" in the rainforest is a hundred-and-Hades degrees, with humidity around 6000%). But we woke up to the sort of intense tropical deluge that makes you think about building an Ark, and cooled our heels until after 9AM waiting for a break in the downpour.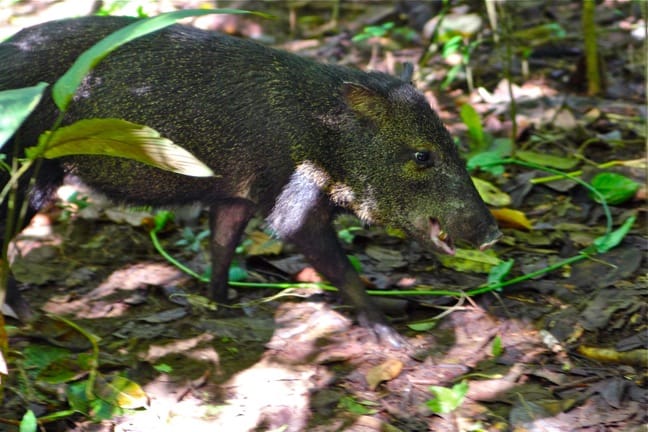 At this point we questioned whether the hike was worth it, knowing the slog through the mud would be anything but pleasant. And then we asked ourselves, "How often are we gonna be within walking distance of Corcovado National Park in this lifetime?" I ultimately decided it was time to buck up and carpe the diem. That was my first mistake.
The hike was slow-going: We stopped before we even set foot off the Casa Corcovado Jungle Lodge property to take photos of a Chestnut-Mandibled Toucan perfectly posed in the treetops. This involved setting up the tripod, attaching the long-range lens to the camera, getting the angle and composition just right, and then packing everything up again. I was drenched in sweat before we even got to the park.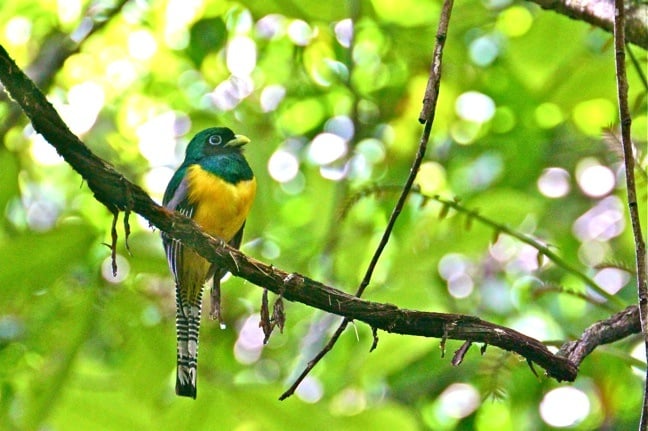 We traipsed through muddy jungle that squelched every time we took a step, eventually making our way onto a picturesque beach strewn with rocks. I stopped frequently to photograph  things– a Mangrove Hawk here, a scenic vista there– then double-timed it to catch up with Mary and our guide, Freddy Cruz.
To speed things up, I left the camera and 500mm lens attached to the tripod, using it as a walking stick. This was my second mistake.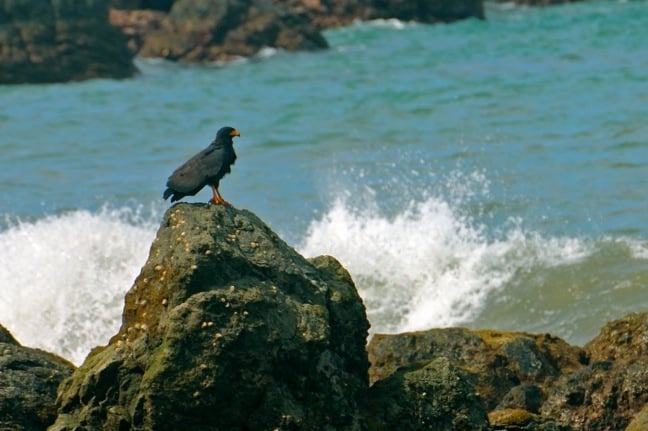 THINGS FALL APART
At this point, a brief bit of history is in order: In 2012, when we visited the Peruvian Amazon, I made the mistake of not drinking enough water, suffering a mild heat stroke that left me feverish and delirious, with bodily fluids coming out both ends.
Being a learn-from-my-experiences type of guy, I've taken copious water and hydration tablets with me on every single hike since. Unfortunately, between the 8 bottles of water, hydration tablets, extra camera lenses and snacks in my backpack and the camera gear in my hand, I was carrying at least 40 pounds of extra weight. And, at 240 pounds, I'm not exactly a tiny man to begin with.
Compound that problem with walking in mud and deep sand, crossing a rushing river, and the insane heat and humidity of a post-rain tropical jungle, and you can probably imagine where this story is heading…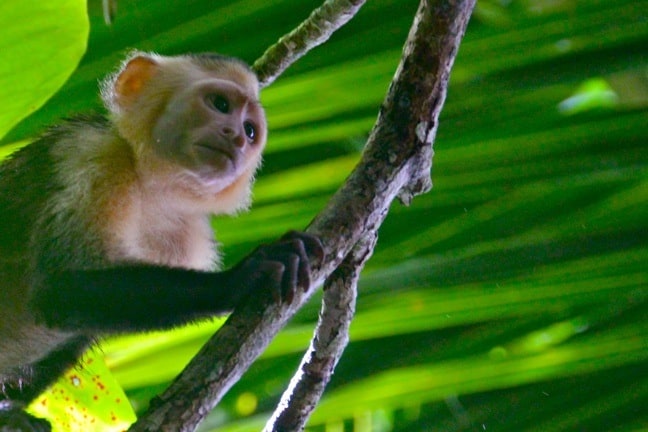 After crossing the river, I spotted a White-Faced Capuchin low in the trees, less than 20 feet from us. If you've never seen monkeys in the wild, the little buggers are fast and not prone to sitting still. I'd already missed shots of Costa Rica's Capuchins twice because I was too slow getting my camera gear together. So this time I was determined to get the shot.
Since he was right above me, I lifted the camera gear (tripod included) up, not even bothering to take off the backpack. The light was low. The monkey was quick. My flash malfunctioned. My glasses steamed. My eyes filled with sweat. I cursed in ways that would make a sailor blush. Following along as the monkey leapt through the treetops, I snapped the shutter over and over until he disappeared from sight.
It took a few minutes to realize that mistake #3– holding 20 pounds of camera gear above my head for 15 minutes,  like I was John Cusack at the end of Say Anything– would bring a world of hurt into my day.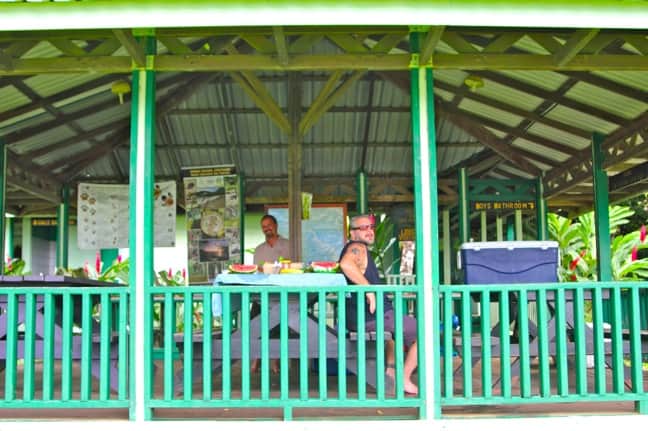 THE BIGGER THEY COME…
As soon as I put the camera gear down, I knew something was wrong. I felt dizzy and lightheaded. No matter how deeply I breathed, my brain didn't feel like it was getting enough oxygen.
Mary gave me bottles of water with electrolyte tablets in them, but no matter how much I drank I couldn't fight off the feeling of dehydration. When I sat down to take off my boots to cross the river, I couldn't get my fingers to work properly to pull of my socks. And when I stood up again, Freddy had to hold onto me to keep me from falling as the blood rushed to my head.
When we got back to the San Pedrillo Ranger Station, I collapsed onto a bench. Feeling nauseous, I barely touched my lunch. We had to cancel our planned afternoon walk to a nearby waterfall. I was so weak from heat exhaustion, we had to wait for a boat to take us back to Casa Corcovado.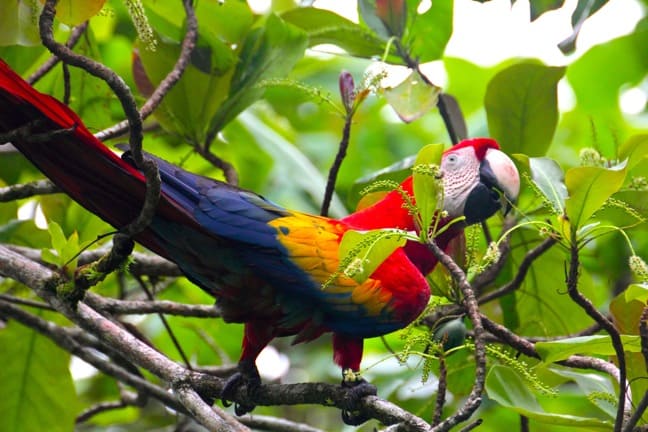 LESSONS LEARNED
I felt embarrassed and emasculated by my failure, but a dip in the lodge's fresh water pool helped cool my body temperature down enough that I was able to think clearly again. We spent the rest of the day relaxing, as I was determined to make the hike to the Sirena Ranger Station the next day.
It proved to be an eventful morning, with beautiful weather and wonderful wildlife sightings ranging from a Lesser Anteater and a pack of Collared Peccaries to a Curassow (a crazy-looking Turkey-like bird) and a family of Howler Monkeys with babies in tow. At the end of our hike, an elderly guide pulled us aside conspiratorially and told us he knew where we could find a Baird's Tapir. One by one we took turns weaving 20 yards through sharp sawgrass to watch it sleeping in its den.
It felt like some sort of cosmic Karma reward for my suffering the previous day.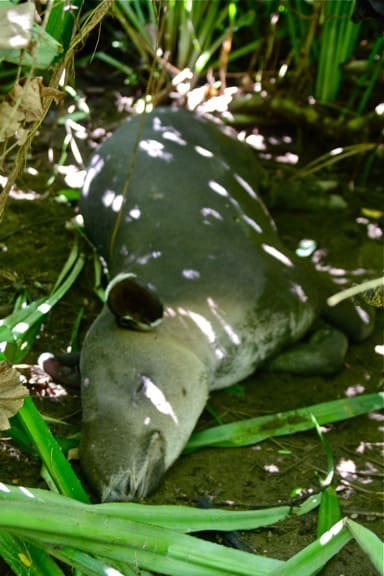 In retrospect, I've probably told the story about working myself to the brink of heat stroke in my quest to get a photo of a hyperactive monkey far more than I have the story about our special moment with a special animal that looks like a cross between a pig, a donkey and a rhinoceros.
For some reason, it seems easier to share the downsides of travel than it is to share its joys and blessings, almost like showing battle scars from hard-fought victories. There are probably not a lot of people on the planet who can relate to the blissful joy of seeing a rare species sleeping in the comfort of its den. But I guess everybody can relate to making stupid mistakes they later regret.
Fortunately, this time my idiotic decisions ultimately had a happy ending.  –by Bret Love; photos by Bret Love & Mary Gabbett
If you enjoyed our story on Corcovado National Park Costa Rica, you might also like:  
COSTA RICA: Scuba Diving Caño Island
COSTA RICA: Stone Spheres at Finca 6 Archaeological Site
PHOTO GALLERY:  40 Amazing Costa Rican Wildlife Species
COSTA RICA: The Journey To Corcovado National Park
COSTA RICA: Tortuguero National Park
COSTA RICA: Casa Corcovado Jungle Lodge