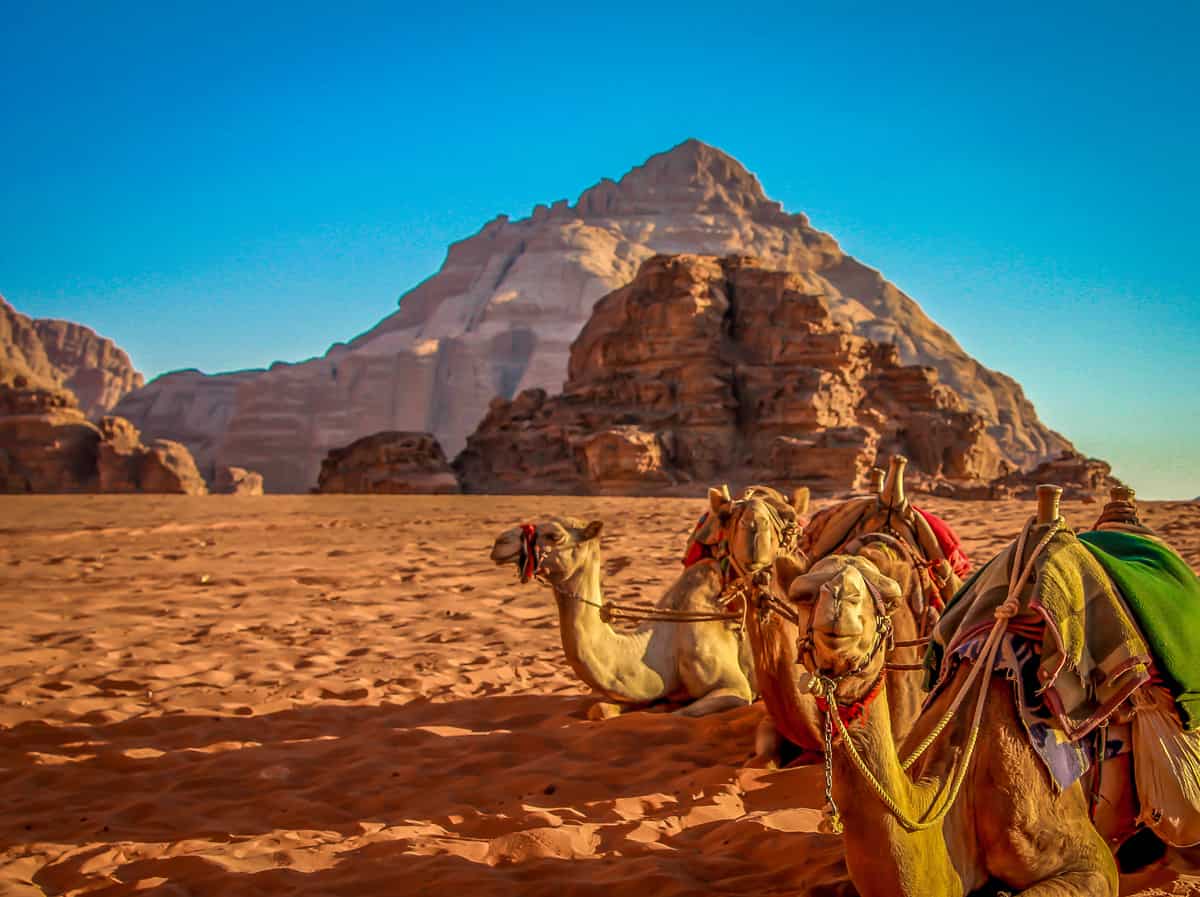 Located at the crossroads of the Middle East, Jordan borders Syria, Saudi Arabia, Palestine, Israel, and Iraq. The region is best known for its ancient history, rich cultures, and sprawling desert. But there are countless other reasons to travel to Jordan.
But ecotourism in Jordan is a budding industry thanks to a network of nature reserves overseen by the Royal Society for the Conservation of Nature (RSCN). There are currently 10 of these protected areas in the country, four of which have been added over the past five years.
Despite being a relatively small country (34,495 square miles) in a tumultuous region, over 2 millions visitors still travel to Jordan each year. Many of these are international travelers who see the democratic country as a safe, stable haven from the conflicts that plague its neighbors.
The tradition of hospitality has been associated with Jordan for centuries. Roman legionnaires made Jordan their home around 2000 years ago, building cities and monuments that remain standing today. In recent years, there has been an influx of refugees fleeing Palestine, Syria, and Iraq. The result offers a fascinating mix of cultures that is unlike any other Middle Eastern country.
Check out our extensive ecotourism-focused guide on travel to Jordan:
Things To Do In Jordan
Jordan's Royal Society for the Conservation of Nature was established in 1966 under the patronage of Her Majesty Queen Noor (born in the US as Lisa Najeeb Halaby), with the late King Hussein as Honorary President.
This independent NGO is devoted to the conservation of the nation's natural resources. With the motto of "Helping Nature, Helping People," their mission includes:
Setting up protected areas to safeguard the best wildlife and scenic areas
Breeding endangered species to save them from extinction.
Enforcing governmental laws to protect wildlife, control illegal hunting
Raise awareness in environmental issues through educational programs.
Socio-economic development of rural communities.
Promoting the sustainable use of natural resources.
As a result, Jordan's extensive network of nature reserves offers some of the best ecotourism destinations in the Middle East. They've also made a number of important conservation achievements, including captive breeding and re-introduction of the Arabian Oryx, Gazelle, and Nubian Ibex.
Of course there's also several thousands years of human history to be explored, the bustling street markets of cities like Amman, and charming villages where connecting with locals is as easy as walking down the street or greeting a shopkeeper. No matter where they come from, everyone who travels to Jordan is "most welcome."
1. Jerash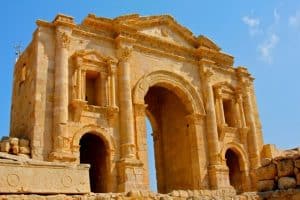 Located 30 miles north of Amman, Jerash is one of the best-preserved Roman sites in existence. Human occupation dates back over 6,500 years, but the city's golden age came under Roman rule after it was conquered by General Pompey in 63 BC. Today the city is filled with the well-preserved remains of ancient temples, theatres, plazas, and fountains. At the Hippodrome, you can still enjoy the chariot races and gladiatorial battles that crowds gathered to watch in ancient times.
2. The Dead Sea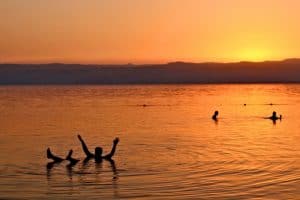 The Dead Sea is one of Jordan's best-known natural attractions. Solidified salt crystals form on its shore, giving the coastline an other-worldly appearance. Rich in magnesium, sodium, and potassium, the Dead Sea is known for its healing properties. The high salt content means that the sea is unusually buoyant, allowing visitors to relax and float in its waters effortlessly. It's also a stunning place to watch the sunset.
3. Wadi Mujib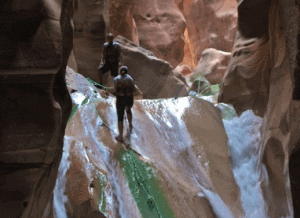 Located near the Dead Sea, Wadi Mujib is an expansive canyon that stretches from 1,312 feet below sea level to over 2,900 feet in elevation. It's home to a broad variety of plants, birds, and animals. Only the Siq Trail can be tackled without a guide, as the others are more difficult. For adventurous hikers, there are three wet trails in the reserve, which involve wading through waist-deep water at times and climbing up/down small waterfalls.
4. Ajloun Forest Reserve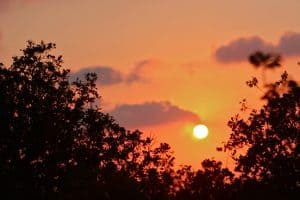 Located in the northern highlands, Ajloun Forest Reserve is greener and and cooler than other parts of Jordan. The hilly landscape looks Mediterranean, covered in oak and pistachio trees. The reserve was established to reintroduce Roe Deer, which were extinct in the wild. It's now home to a mix of Middle Eastern and European species, including Badgers, Foxes, Hyenas, and Jackals. Check out the visitor center for info on the hiking trails, some of which are self-guided.
5. Dibeen Forest Reserve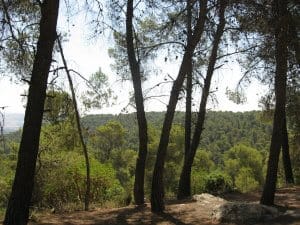 Located near Ajloun, the 3.3 square mile Dibeen Forest Reserve is one of the last pine-oak forests in the Middle East. It's also the driest and southernmost forest of its type. In addition to acres of Aleppo Pine, Palestine Oak, Greek strawberry, and Pistachio trees, the reserve is home to at least 17 endangered species, including the Persian Red Squirrel and Grey Wolves. One of Jordan's newest nature reserves, Dibeen was established in 2004.
6. Dana Biosphere Reserve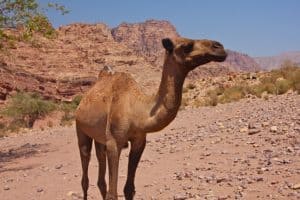 Located in south-central Jordan, Dana Biosphere Reserve is renowned for its biodiversity. It contains four bio-geographical zones, which can be explored via hiking trails. Dana is home to a variety of animals, including endangered species such as Sand Cats, Syrian Wolves, Lesser Kestrels, and Tailed Lizards. The Dana Trail is a beautiful 14 km walk that starts in the village and crosses various rugged terrains. Just watch out for roaming camels!
7. Azraq Wetland Reserve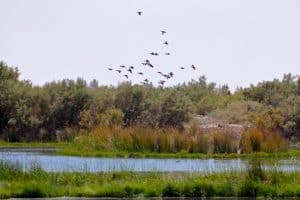 The Azraq Wetland Reserve is Jordan's only wetland reserve. Located in the middle of the desert, this unexpected oasis is a joy to visit, with lush greenery and ponds providing a refreshing break from the harsh environment. Attempts to conserve the reserve's waters are ongoing, as over-pumping has resulted in depletion. Thanks to the efforts of the RSCN, birds and indigenous fish species have increased here in recent years.
8. PETRA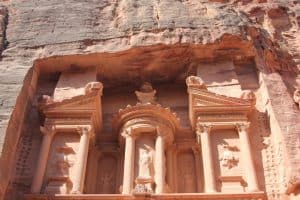 Established around 300 BC as the capital city of the Nabataeans, Petra was the center of the region's caravan trade because it allowed them to control the region's water supply. They used their wealth to construct amazing monuments and tombs that mix Greek and Egyptian influence. Get there early to avoid the crowds, and make time to climb the 500-step secret trail that takes you to a stunning viewpoint overlooking the famous Treasury (a.k.a. Al Khazneh).
9. Wadi Rum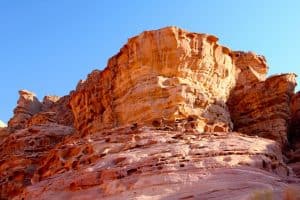 The desert of Wadi Rum, a.k.a. "the Valley of the Moon," is a barren, alien landscape punctuated with massive rock formations. To be fully immersed in the desert, including magical sunsets and camel treks, visit a local Bedouin camp. We'll never forget being serenaded by local musicians there while dining on one of our best meals in Jordan. You can stay overnight in tents, but we chose to sleep outside under the stars.
10. The Red Sea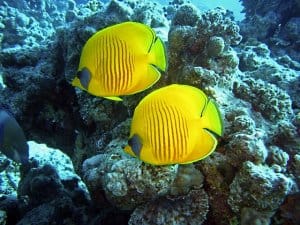 We wound down our exploration of ecotourism in Jordan by making our way southwest to the city of Aqaba, on the shores of the Red Sea. Technically an inlet of the Indian Ocean that divides Africa from Asia, this is the world's northernmost tropical sea. With its extensive shallow shelves, it's a great place for Scuba diving, especially for beginners. It's also home to remarkably diverse marine life that includes over 1,000 invertebrate species and 200 soft and hard corals.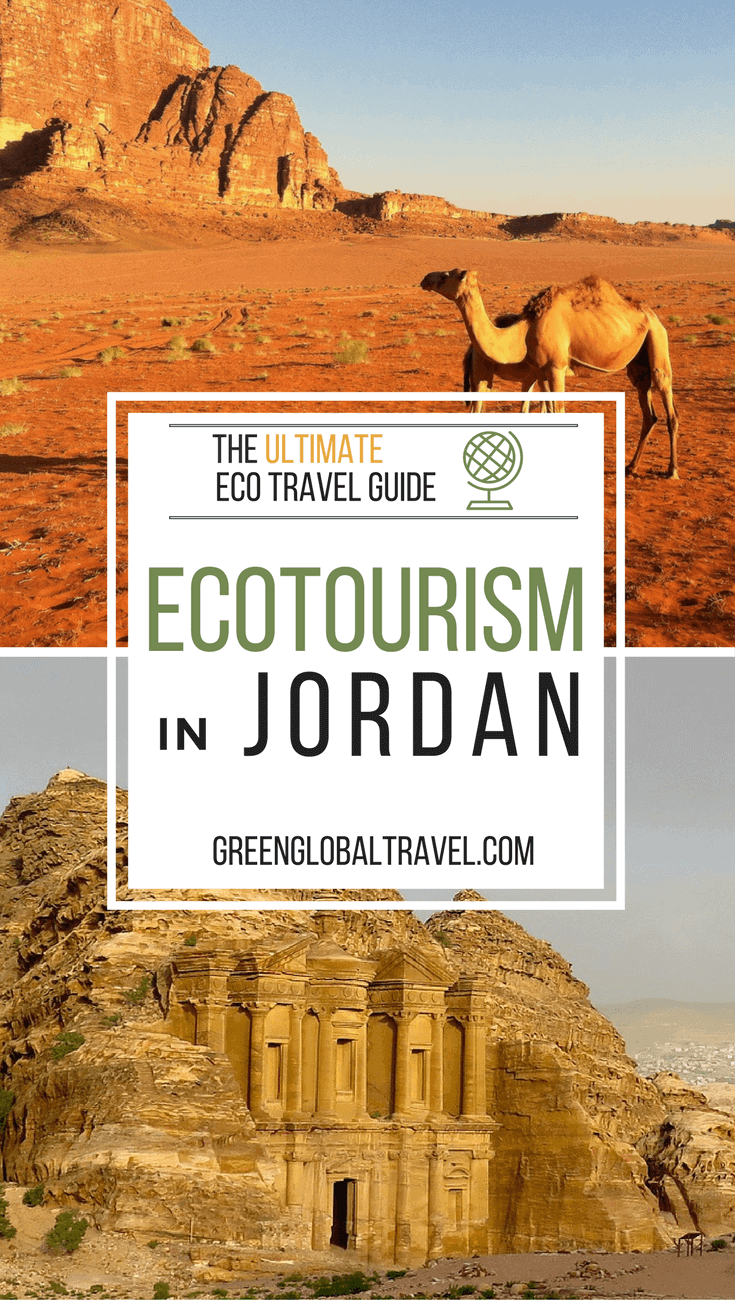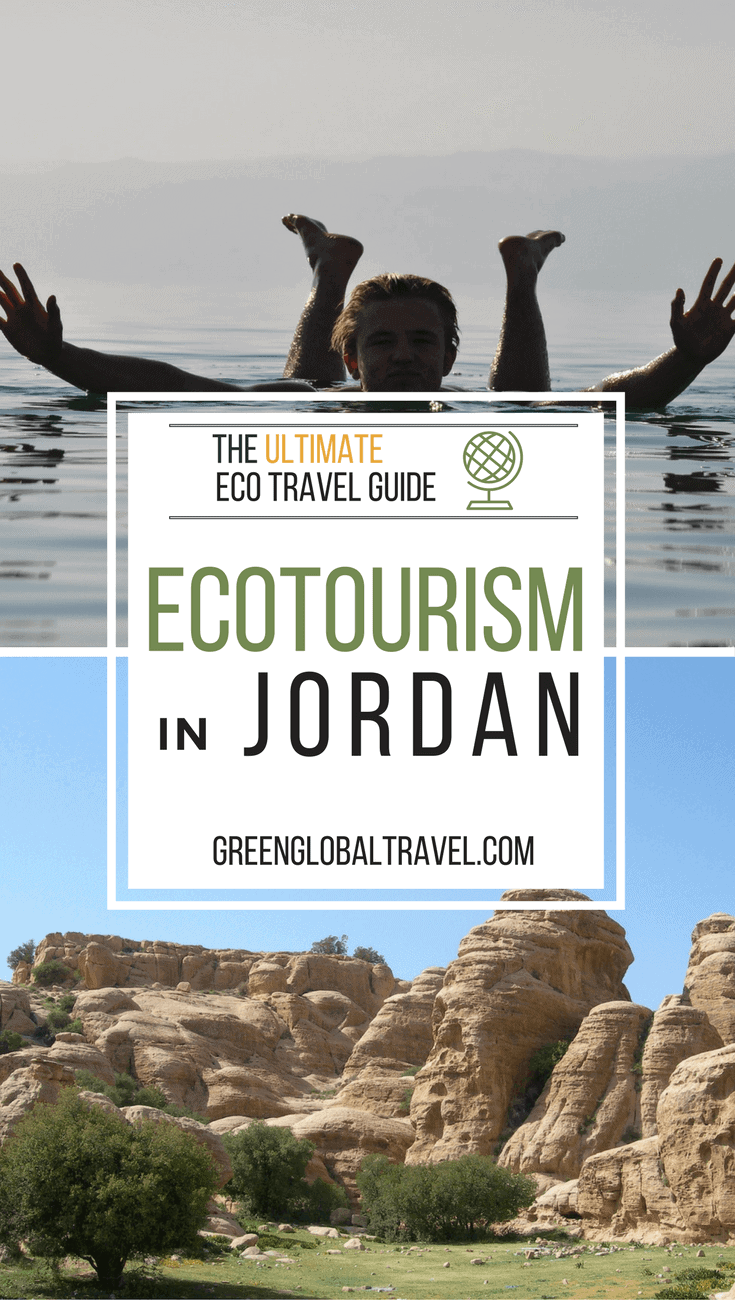 Where To Stay In Jordan
Disclaimer: Green Global Travel uses affiliate links within our articles. When you check prices, read reviews, or book your stay via our links, we receive a small commission that helps us keep cranking out awesome content. Thanks in advance for your continued support!

Below you'll find our affiliate links to the Hotels and Eco Lodges that we recommend. You can:
The numbers next to the hotels correspond to the attractions on our list above. To see the hotel locations, click on the map and check the "Where to Stay" layer.

Ajloun Forest Reserve Cabins
(Ajloun #1, #4, #5)
Constructed in 2012 and set in the heart of a pristine nature reserve, these deluxe cabins boast terraces that offer stunning views of the north Jordanian mountains. If you listen closely at night, you might hear cackling Hyenas echoing through the hills.

Compare Rates


Read Reviews


Check Rates


Azraq Lodge
(Al Azraq ash Shamālī #7)
Formerly a British military hospital, this simple, spartan lodge offer 1940s-style rooms with picturesque views of the Azraq Basin mud and sand flats. The kitchen gets rave reviews because it's run by local women preparing traditional homemade recipes.

Compare Rates


Read Reviews


Check Rates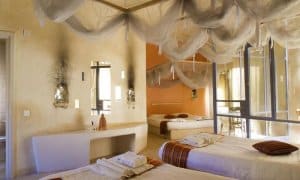 Feynan Ecolodge
(Dana Biosphere Reserve #6)
Located inside the Dana Biosphere Reserve, this award-winning eco lodge is frequently ranked among the best in the world for its numerous sustainability initiatives. The restaurant is exceptional, and sleeping on the roof was a once-in-a-lifetime experience.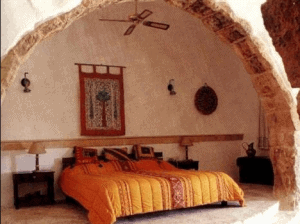 Hotel Taybet Zaman
(Petra – Wadi Musa #8)
Located near Petra, this charming hotel was once the bustling village of Taybeh. The mayor suggested turning it into a tourist hideaway, run in partnership with the local community. Its authentic Bedouin-style rooms combine traditional and modern, while the pool is sublime and the restaurant exquisite.

Compare Rates


Read Reviews


Check Rates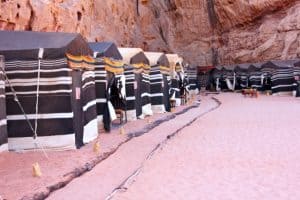 Captain's Desert Camp
(Wadi Rum #9)
If you've ever dreamed of camping in the Wadi Rum desert, Captain's Camp is the perfect place to do it. Traditional Bedouin tents, local musicians on drums and oud, delicious Middle Eastern food, rousing 4X4 sunset tours, morning camel treks, and sleeping under the stars. These are memories we'll treasure forever!

Compare Rates


Read Reviews


Check Rates


Kempinski Hotel Ishtar
(Dead Sea #10)
We don't often indulge in 5-star luxury resorts, but this one on the shores of the Dead Sea was the perfect place to wind down our exhilarating 10-day Jordan adventure. After floating in the salty sea, cool off in their gorgeous infinity pool or treat yourself to some pampering from their impressive day spa.

Compare Rates


Read Reviews


Check Rates

Culture & Food In Jordan

Jordanian Food
According to traditional Bedouin hospitality, home cooking is more valuable than dining out. Meals are often a community affair, with immediate and extended family present. Still, street food vendors are common in Jordan, and finding traditional dishes to such as Falafel and Shawarma to sample is easy.
Mezze– small plates similar to tapas– are ubiquitous in Jordanian cuisine, where they're usually set out before the main entree. Typical dishes include Baba Ghanoush (eggplant with various spices), Fattoush (a salad with toasted Pita used like croutons), Hummus, Kibbeh (minced meat and bulgur), pickled vegetables, and Tabbouleh (tomatoes, finely chopped parsley, mint, bulgur, onion, and spices).
If there's one dish you simply must try when you travel to Jordan, it's Mansaf, the country's official national dish. The traditional recipe combines lamb, rice, almonds, fermented yogurt, and fresh herbs to delectable effect. Many Jordanians pour the fermented yogurt over the platter, use their fingers to roll pieces of lamb and rice into a gooey ball, then gobble it down. But using Pita bread to grab the stick dish is not uncommon.
When visiting Jordan, the locals' love of tea quickly becomes obvious. Tea is the national drink of Jordan, and it's usually a strong, sweet brew served without milk. It's traditionally made by boiling loose leaves with a few spoons of sugar, and mint is often added for flavor. Sometimes the simple act of pouring the tea seems like an art, as worthy of appreciation as the tea itself!

Jordanian Arts & Culture
Due to its location at the intersection where Africa, Asia, and Europe meet, the culture of Jordan is remarkably diverse. Traditional Arabic and Islamic influences abound, particularly in the food, music, and clothing styles. But there's also a significant Western influence, particularly in the bustling metropolis of Amman. European and American music, movies, and fashion are extremely popular in the cities.
In 2000, King Abdullah declared that all government employees would be given Fridays and Saturdays off. He wanted them to have time to indulge their interests and become involved in cultural activities. The Jordanian government now encourages regular cultural festivals.
The Jerash Festival of Culture & Arts takes place every summer, offering an array of dance, musical, and theatrical performances. The country also boasts a number of cultural centers that incorporate theatres and exhibition spaces, such as the Royal Cultural Center in Amman.
The arts scene in Jordan is flourishing, and the number of female artists is growing quickly. The Jordan National Gallery of Fine Arts has a contemporary collection that features work by Jordanian and other Arab artists.

Recreation in Jordan
Football (a.k.a. soccer) is the most popular sport in Jordan, both at a community and a professional level. Fans often take to the streets to celebrate after a victory. Many of the people we met there were also passionate followers of various European clubs.
On the coast southwestern coast, watersports such as swimming, Scuba diving, sailing, and windsurfing are popular pastimes. This is particularly true in Aqaba, a seaside resort town on the shores of the Red Sea.
Travel to Jordan offers plenty of opportunities for outdoor adventures, particularly in and around the nature reserves. The newly created Jordan Trail is a continuous route stretching across the entire length of the country, offering over 370 miles of trails for around 36 days of exploring diverse ecosystems. The desert of Wadi Rum has emerged as a popular destination for rock climbing, attracting climbers from around the world keen on tackling its difficult routes.
Fun Facts About Jordan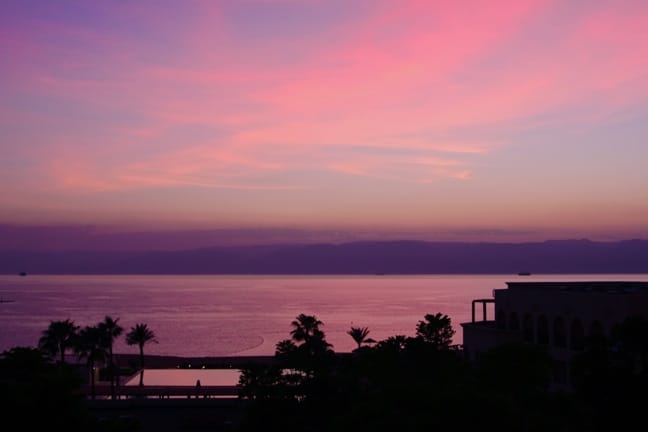 3 Fantastic Photo Opportunities
The crystallized salt formation along the shores of the Dead Sea are fascinating, and the sunsets there are stunning.
The Desert Castles east of Amman are impressive ruins in the Umayyad province of Bilad ash-Sham, most of which can be visited in a day.
The Treasury, in Petra, is one of the New Seven Wonders of the World. When it's lit by candles at night, the effects are positively breathtaking.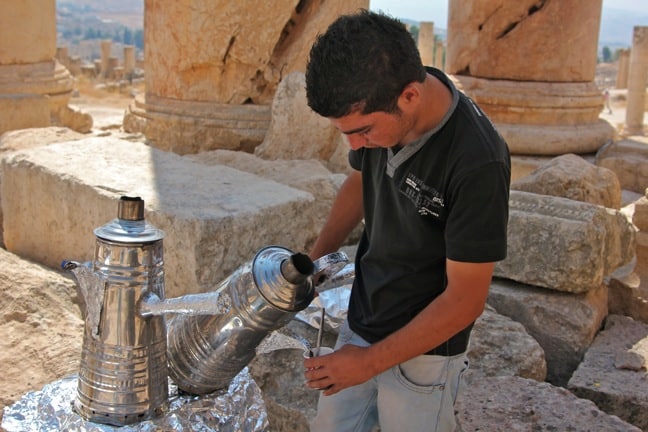 Only in Jordan
"Ahlan wa sahlan! Welcome!" This is the typical greeting that you will hear in Jordan. Say "Shukran" in response to thank them.
The rare Black Iris is the national flower of Jordan, and can be found on display across the country.
Bethany Beyond the Jordan is believed to be the site where Jesus came to be baptized by John around 2,000 years ago.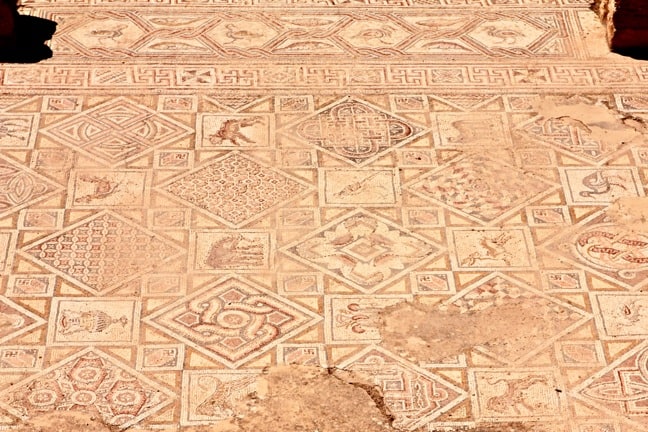 Fun Facts About Jordan
Jerash is home to well-preserved ruins from the Roman Empire, as well as incredible Byzantine mosaics.

Established in 312 BC, Petra one of the oldest cities in the world. It's home to over 800 carved tombs.
Unlike neighboring countries, Jordan does not have any oil.
At 1318 feet below sea level, the Dead Sea is the lowest point on earth.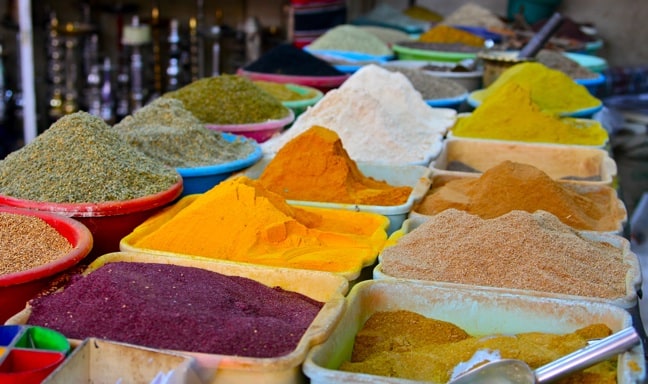 Jordan Travel Tips
Capital: Amman
Language: Arabic (official), English
Population: 6.87 million
Area: 34,286 square miles
Currency: Jordanian dinar
Timezone: AST UTC/GMT +2hrs
Calling codes: +962
Electric voltage: 230 volts (European-style sockets)
Climate: Jordan typically has long, hot, dry summers and short, cool winters. Around 70% of their annual rain falls between November and March. January is the coldest month, with temperatures ranging from 41-50ºF. August is the hottest, ranging from 68-100ºF and up.
Airports: Amman and Aqaba are Jordan's two main international airports. Marka International Airport in East Amman mainly offers charter flights to nearby Middle Eastern countries, as well as internal flights to Aqaba.
Tourist Board: http://www.visitjordan.com/

Safety
Jordan is very safe. Borders with Iraqi, Syria, and Israel/Palestine are army-patrolled, so always keep your passport handy.
Jordan is relatively liberal for a Middle Eastern country. But when you travel to Jordan, dress moderately and respect local preferences for not flaunting PDA or homosexuality.
Transportation
Jordan is easy to explore via rental car, JETT bus or minibus, or taxis. All taxis in Amman have meters: Insist drivers turn it on before moving. If there's no meter, negotiate rates in advance to avoid scams.
Money
The currency rate is fixed at JOD 0.708 per US dollar, but taxes vary widely. Most upscale businesses accept US dollars. Many stores have limited change, so keep some 1 and 5 dinar notes on hand at all times.
Tipping
Tipping 10% is standard. If a charge has already been added (which is common), consider tipping anyway, as the worker will likely not receive that percentage.
Stories About Jordan
The secret hidden hiking trail– rarely taken by tourists– that leads to stunning views from above the Treasury.
Our misadventures while hiking the Dana Biosphere Reserve & climbing waterfalls at Wadi Mujib.
Photo Gallery: The History & 2000-year-old Ruins of the Ancient Roman City of Jerash.
A review of Nature Reserves created by Jordan's Royal Society for the Conservation of Nature, including Ajloun, Dibeen & Azraq.
A tale of misadventure in one of the Middle East's most popular and historic tourist attractions.
Photo Gallery– Camping, camel trekking and Arabic music at Captain's Camp in the Wadi Rum Desert of Jordan.
A recipe for the traditional lamb and rice dish known as Mansaf, the official national dish of Jordan.
Observations on Jordan's culture of hospitality from an American perspective.
Our review of Captain's Desert Camp in Wadi Rum, Jordan– an authentic cultural experience where you can eat, drink & explore the desert with local Bedouins.