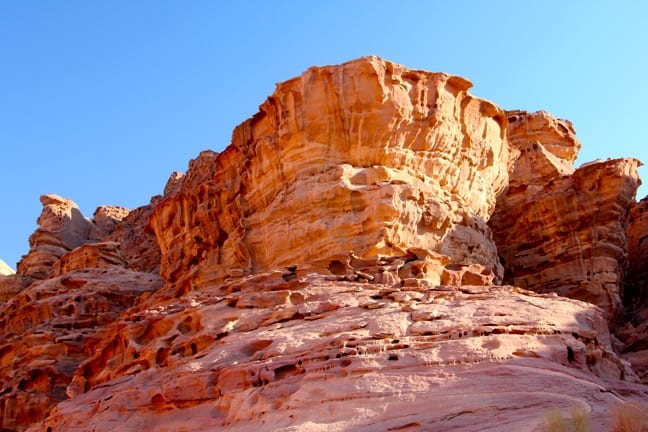 Jordan Photo Gallery
Wadi Rum Desert Camping & Camel Trekking
Wadi Rum, which is also known as The Valley of the Moon, is among Jordan's most popular tourist attractions. The UNESCO World Heritage Site was first settled around 8000 BC, and its vast, barren desert has appeared as an alien landscape in films such as Red Planet and Prometheus. But the region is perhaps best known for its connection with British officer T.E. Lawrence, who was based there during the Arab Revolt of 1917-1918. Honestly, it didn't appear to have changed much in the 50 years since director David Lean's film Lawrence of Arabia was shot there.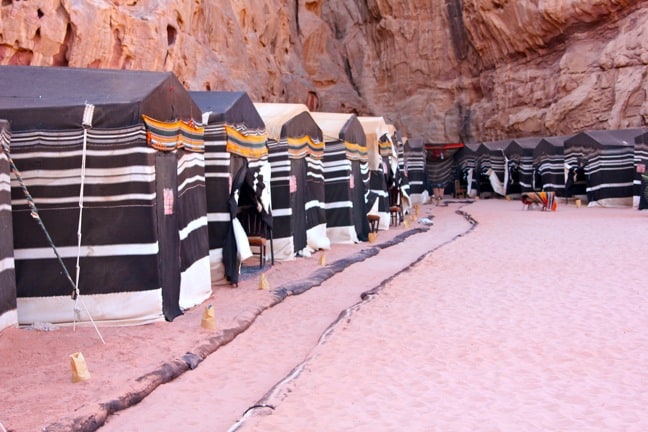 Located in the middle of the Wadi Rum desert, surrounded by striking sandstone and granite rock formations (including Um Infous Mountain), Captain's Eco Desert Camp gave us an opportunity to experience a taste of the life local Bedouins have led for thousands of years. The camp was mostly empty when we arrived around 4PM. The few people who were around were mostly napping in the shade of the communal lounge area, trying to escape the brutal heat of the afternoon sun.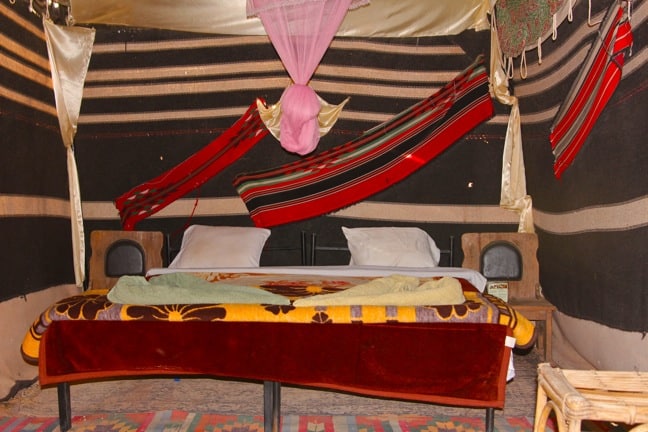 We were led to our small Bedouin tent, with a queen sized bed, seating area and walls woven from goat's hair. The heat inside the tent was stifling, and I began to grow concerned: Mary's not what you'd call a camping gal, and I have trouble sleeping when I'm hot. But we decided not to worry about it, instead grabbing our camera gear and going to rendezvous with our guide, Ali, and our Captain's Camp Bedouin guide Hasan Zawaideh. It was time for our personal guided tour of the Wadi Rum desert!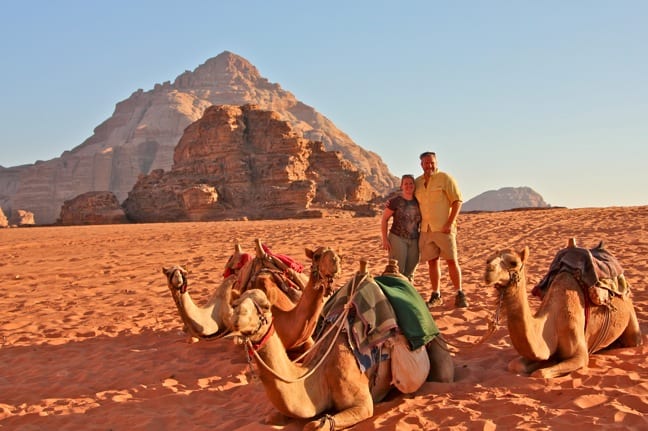 Though it lacked the ancient ruins of Jerash or the picture postcard views of the Dead Sea, touring Wadi Rum was one of my favorite experiences during our 10 days in Jordan. Hasan was quite the cool character, cranking killer Bedouin music on his 4×4's stereo and driving over sand dunes with such wild abandon, it felt like our own private desert rollercoaster. We talked a little bit about Hasan's family and Bedouin tradition, but mostly we just soaked in the spectacular views as the sun slowly began to set over the desert.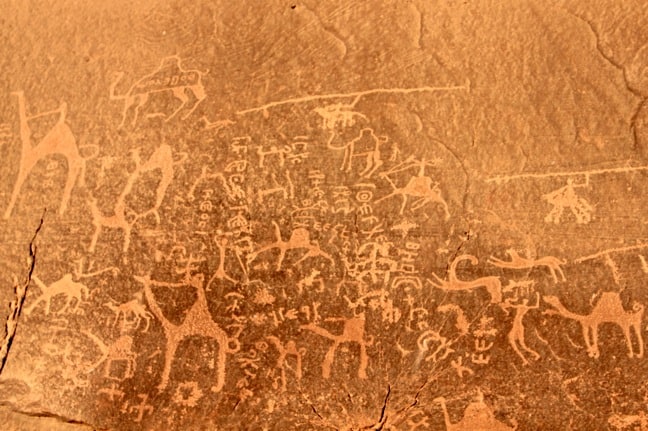 One of our most memorable stops was at a massive boulder set along the side of a sheer cliff. Even from a distance, you could see the incredible mural of petroglyphs carved into the rock at the top. I scrambled up the boulder to get a closer look at the ancient graffiti, some of which has been traced back to the Nabataean people, who occupied the area from 37 AD until they were conquered by Roman Emperor Trajan around 100AD. The setting sun cast a stunning light on the figures of camels, hunters and 4-legged prey, and Thamudic inscriptions (which included directions and tribal names).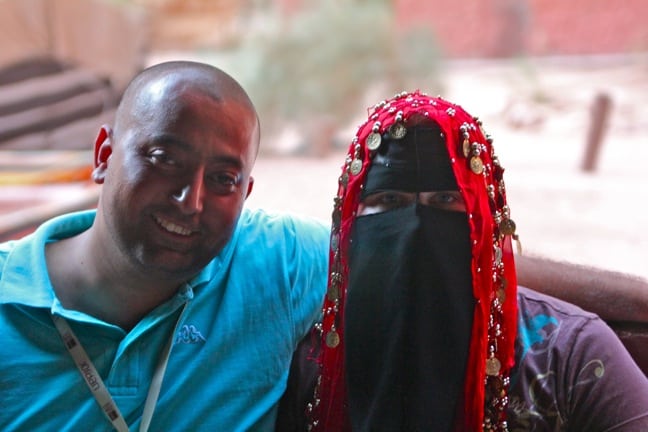 It felt like we were racing the clock in an effort to get to our final destination before the sunset, but we made a quick pit stop at a Bedouin encampment, where we were treated to some delicious Bedouin tea with mint. Ali seemed particularly amused as Hasan encouraged Mary to try on a traditional hijab, which is considered to be an expression of modesty for Muslim women, and insisted I take this picture of the two of them together. Apparently, it was VERY hot under the veil…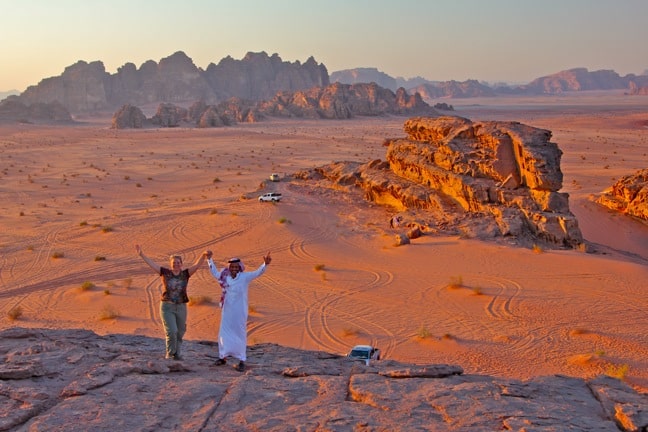 Hasan hit the gas, actually catching air as we zipped over sand dunes, laughing and fishtailing our way to our final stop. To describe it as "the middle of nowhere" would be an understatement: There was nothing but desert and mountains on all sides of us, and maybe a half-dozen other tourists to be seen. We scrambled 75 feet up a rock cliff and were treated to this spectacular view. It was overwhelming to realize that GGT had brought us here to Jordan, and Mary and I took a long time to soak quietly in the moment and celebrate the remarkable blessings in our lives.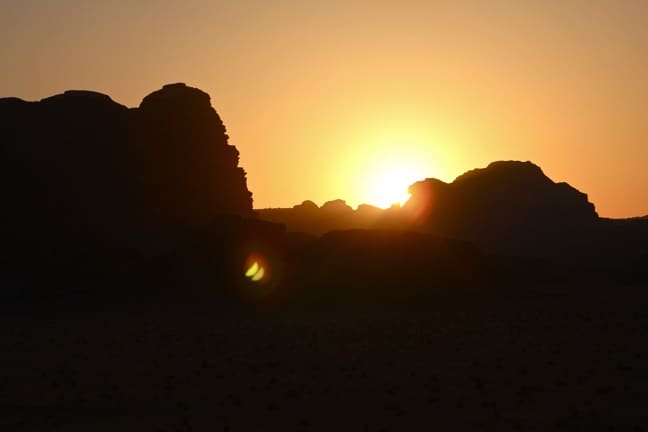 It was easily among the most beautiful sunsets we'd ever seen.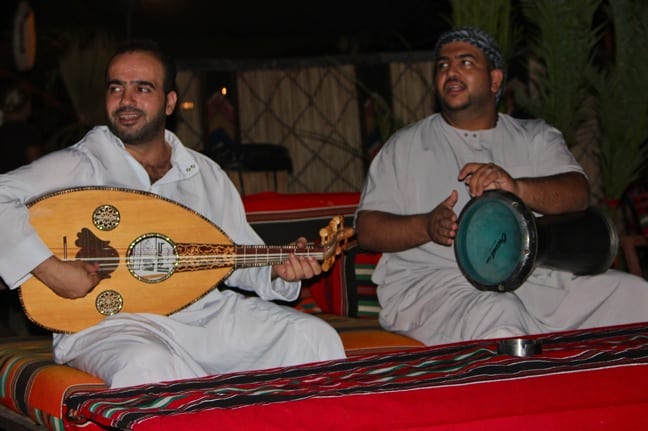 The celebration continued back at Captain's Camp. The lounge/dining area was lined with enough futon-style couches, tables and carpets to accommodate hundreds of people. But despite the fact that a busload of Europeans had come in just for dinner, there were perhaps 50 people, most of whom sat in the square at the center. Here, musicians Fadi Zou'bi (on oud, an Arabic lute) and Mohammad Bdaireer (on goblet drum, which is alternatively known as darabuka, doumbek or tablah) serenaded us with traditional Arabic music, with Zou'bi's melodic voice casting an enchanting spell over the audience.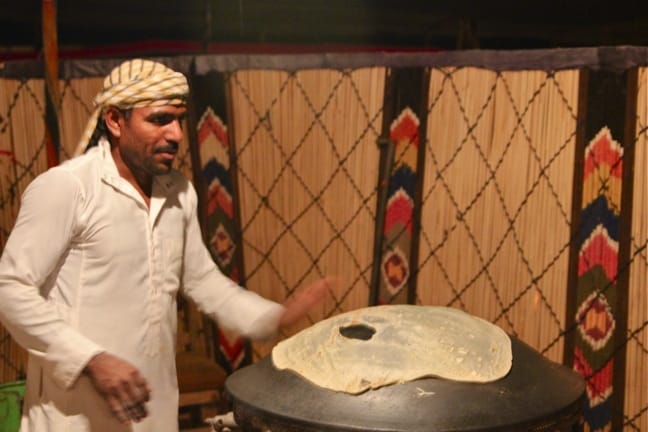 Soon it was time for dinner, a buffet-style Bedouin feast that included all the mezza you could possibly want as well as freshly grilled lamb and chicken kebabs. We were particularly enamored of the Bedouin bread made by the gentleman pictured above, who would flatten it out like pizza dough by hand before putting it on the grill to bake. We used the delicious spongey bread to sop up everything, often mixing hummus, kebabs and salad to make our own gyros. Needless to say, we both wound us going back for seconds.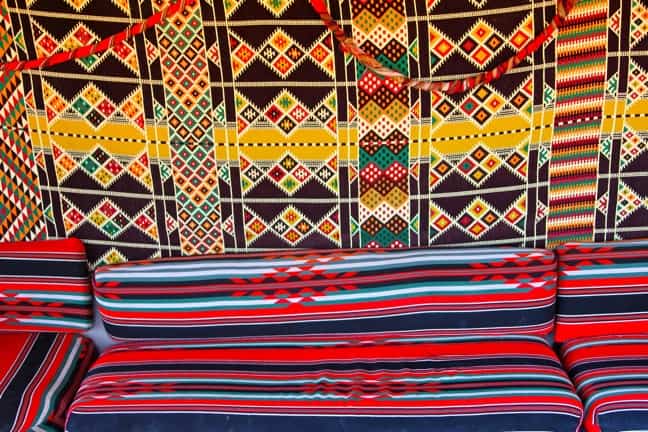 Even after all the lights/power in the camp were switched off at 10PM, it was still too hot in the tent. So, for the second time in Jordan, we took our blankets outside to sleep on the cushy couches. With no "civilization" around for miles, the stars overhead were impossibly bright, and eventually we woke up cold, retreating to the warmth of our tent. Though it wasn't the soundest sleep we've ever had, the experience of sleeping under the stars in the middle of the desert is something everyone should do at least once in their lives. As my daughter would say, it was magical!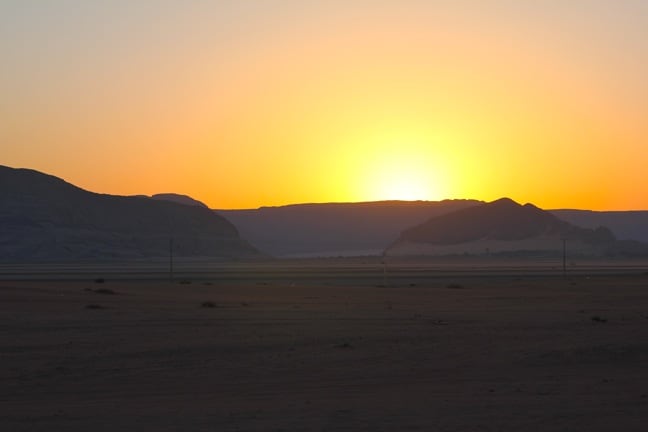 We were up before the sun the next morning for one of my most eagerly anticipated experiences in Jordan: A Wadi Rum Camel Trek. Our guide, Shaaban, spoke little English and we spoke no Arabic, but we somehow found ways to communicate that made the trip both fun and funny. He helped us mount up on our respective camels with no trouble whatsoever and, before we knew it, we were striking out across the desert for an early morning ride.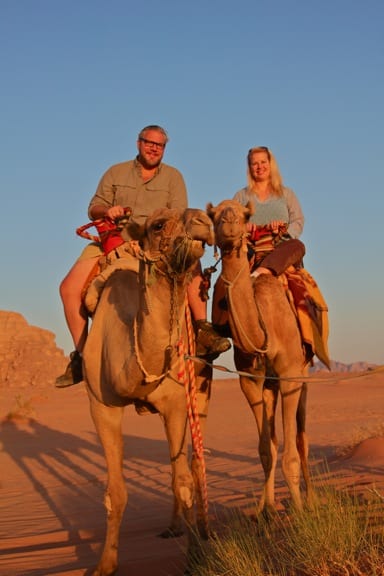 After our run-in with an ornery camel in Dana Biosphere Reserve, I was prepared for a challenging ride. But the only issue I had with Zaki, the big fella they saddled me with, was the fact that he wanted to eat every single piece of grass he could find. Zaki seemed to be the favorite among all the guides at Captain's Camp, and it was amusing to see how much Shaaban favored him over the camel Mary was riding: Zaki got hand-fed constantly, while Mary's camel got nada. Sad Mary camel…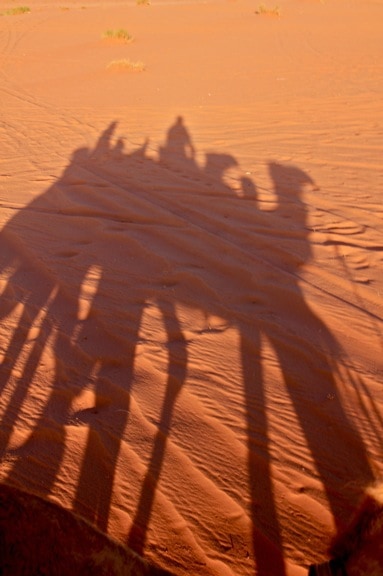 Along the way, Shaaban pointed out the camel-training track nearby, where we could see camels being prepared for racing. Cars would drive alongside the camel on an ovular track, with the handlers yelling to urge them on. According to Shaaban, Zaki was the biggest, fastest camel in the Captain's Camp collection, so I was honored to have him as my trusty steed.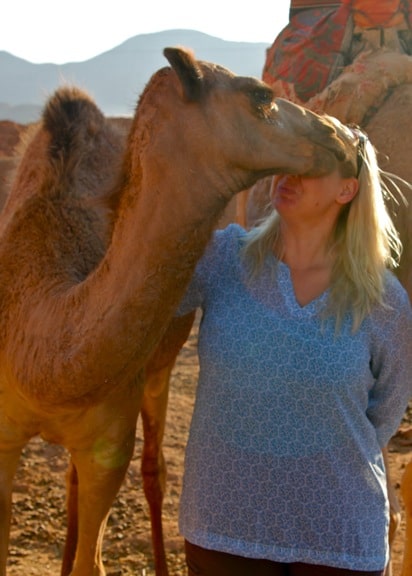 Bedouins spend so much time with the camels that they essentially become part of the family. It was hilarious to watch Shaaban chastising Zaki's impressively persistent camel kid, Gamal, who seemed intent on tagging along for our trek. Eventually he went back to camp and waited for us, and lovingly gave Mary her first-ever camel kiss upon our return.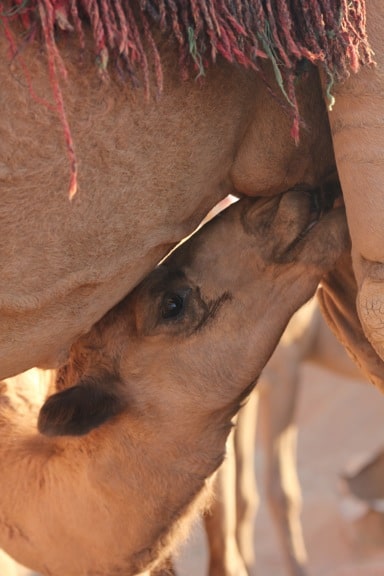 As adorable Gamal began to suckle milk from his mother's teat, we were overcome with a sense of melancholy at having to leave Captain's Camp for the next stage of our journey. Though we'd been excited to visit Wadi Rum, we had no idea how impactful the emotional resonance of our visit would be. There's something about exploring this vast expanse of wilderness that touches you in a very primal manner, connecting you with an ancient Bedouin way of life that really hasn't changed much over the last thousand years. Given the opportunity, we'd gladly have spent more time there. But instead, we made our way to the next leg of our incredible Jordan journey… –by Bret Love, photos by Bret Love & Mary Gabbett
If you enjoyed reading about Wadi Rum Desert Camping & Camel Trekking, you might also like:
JORDAN: Ancient Ruins of Jerash
JORDAN: Dana Biosphere & Wadi Mujib
JORDAN Nature Reserves: Ajloun, Dibeen, Azraq
JORDAN: The Middle East & Our Culture of Fear