[Updated 11/3/2019] I cried tears of joy when we visited Jordan's ancient city of Petra, not long after we ascended a secret trail to a cliff looking down on the world-renowned Petra Treasury.
I don't care how many times you've read about this expansive "rose-red city half as old as time" (as poet John William Burgon once described it).
Nothing can truly prepare you for the intense emotion and wide-eyed wonder of seeing this immense archaeological wonder in person.
From the first moment I laid eyes on Al Khazneh (a.k.a. the Treasury)– stopping dead in my tracks to marvel at a tantalizing glimpse from between the sheer sandstone cliffs of the Siq– I was mesmerized by the majesty of this otherworldly desert dream.
But that was not why I wept openly at the morning climax of our private-guided Petra tour…
READ MORE: Ancient Archaeological Sites (World Travel Bucket List)
PETRA TREASURY TRAIL & TOUR TOC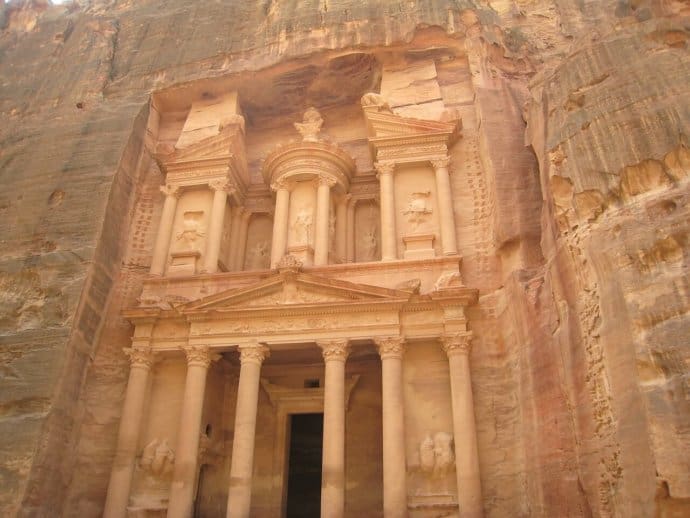 PETRA TREASURY (A.K.A. AL KHAZNEH)
Petra is easily the #1 tourist attraction in Jordan, attracting around 600,000 visitors a year. The capital of the Nabataean Arabs is also one of the most famous ancient ruins in the world, and was declared a UNESCO World Heritage Site in 1985.
So we intentionally tried to visit Petra just after sunrise in an attempt to avoid the crowds, thinking we'd get there before the huge groups of Petra tours arrived.
We failed, miserably. By the time we'd paid our Petra entrance fee and made our way down to the Treasury, there were already hundreds of people milling about and posing for photos.
I was strangely disappointed by this inauspicious beginning to our Petra day tour. But I had heard tales of a secret hidden hiking trail– rarely taken by tourists– that led to stunning views from above the Petra Treasury.
I wish I had a picture of the incredulous look on the face of our private guide, Ali Abudayeh, when I told him we wanted to make the arduous trek.
To get there we'd have to climb more than 500 steep stairs, after walking 14 kilometers in the Dana Biosphere Reserve the previous day and another 3 km just to get to the Treasury.
"Are you sure?" he asked, clearly concerned. But if we were game, then so was he.
We stopped briefly to hear an elderly Bedouin musician playing haunting Arabic music on a one-stringed lute. Then we made our way down a street lined with Roman-style façades carved into the richly colored rock while Ali told us more about the history of Petra.
READ MORE: Ecotourism in Jordan: The Ultimate Jordan Travel Guide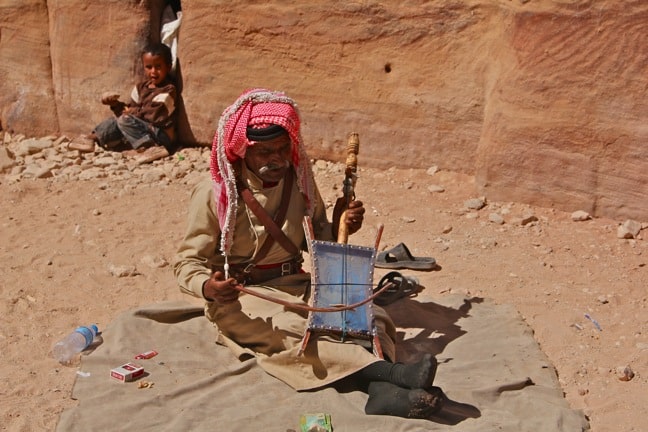 PETRA HISTORY OVERVIEW
Established sometime around 300 BC as the capital city of the Nabataeans, the ancient city of Petra was the center of the region's caravan trade thanks to their ability to control the region's water supply via dams, cisterns, and water conduits.
With the wealth resulting from selling this water to travelers, they constructed elaborate monuments and tombs boasting a mixture of Greek and Egyptian influences.
After the Nabataeans were conquered by the Romans around 100 AD, Petra gradually began to decline. Over centuries, countless archaeological treasures were stolen from the tombs and some structures collapsed due to flooding, erosion, and weathering.
Petra remained unknown in the Western world until it was "rediscovered" by Swiss explorer Johann Ludwig Burckhardt in 1812. His mission to visit Petra involved a bit of trickery: He dressed as an Arab and convinced his Bedouin guide to lead him to the lost city.
Word gradually began to spread about this wonder of the ancient world, which is consistently ranked among humanity's greatest archaeological discoveries.
But holidays to Petra didn't really become popular until the city's carved sandstone facades were featured in the 1989 film, Indiana Jones and The Last Crusade. The site was also included in Smithsonian Magazine's list of "28 Places You Should Visit Before You Die."
READ MORE: Camping With Bedouins in Jordan's Wadi Rum Desert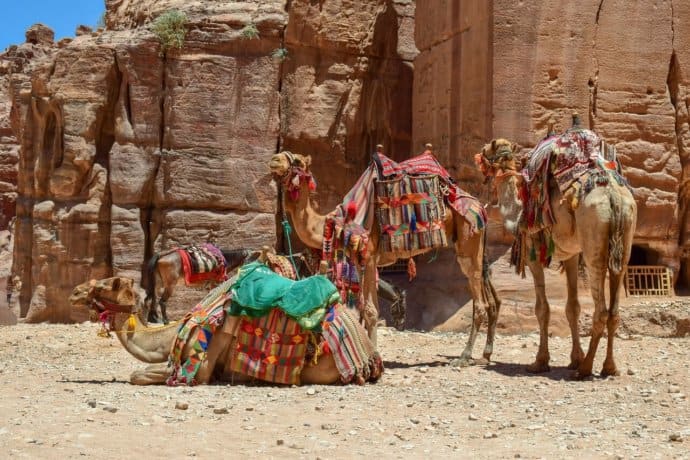 FINDING PETRA'S SECRET TRAIL
Today, Bedouins are the only ones allowed to live within the boundaries of Petra, camping in caves all around the ancient city at night and hawking their various wares to visitors by day.
They've been here for centuries. The women of the region were famously enlisted by T.E. Lawrence (a.k.a. Lawrence of Arabia) during the Arab Revolt to help repel an attack on the city. They ultimately devastated the Turkish and German forces here in the middle of the desert.
Many Petra tour guides rent Bedouin pack mules to carry visitors through the vast city. But unfortunately the donkeys couldn't go where the hidden trail would take us.
The secret trail to the cliffs above the Treasury is unmarked and rarely traveled– we saw less than a half-dozen other tourists during our climb.
Its base is located directly across from the first of several Royal Tombs: If you reach the Amphitheater, you've gone too far.
Look for a roughly 6 x 6-foot, heart-shaped hole in the rocks, then clamber up, through, and over it to find your way.
READ MORE: The 25 Biggest Deserts in the World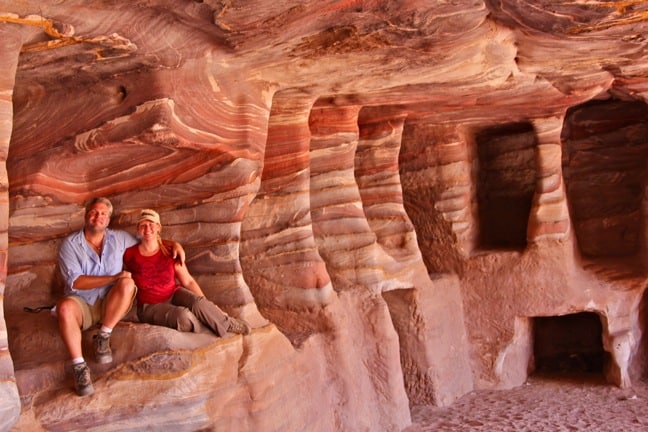 OTHER HIGHLIGHTS OF PETRA TOURS
There are a number of other incredible sights you'll see on the way up to and after the hidden trail, some of which were not marked on any Petra maps we found.
The Painted Room
The first one you'll see is known as the Painted Room, which boasts some of the most colorful rock striations we've encountered.
These koka (burial chambers carved into rock) were a common form of burial for wealthy people in the Nabatean Kingdom, which flourished in what is now Jordan between the 4th century BCE and circa 106 CE.
These stunning burial chambers line the hills all around Petra, and many were once lined with priceless archaeological relics.
READ MORE: Review of Captain's Desert Camp in Wadi Rum, Jordan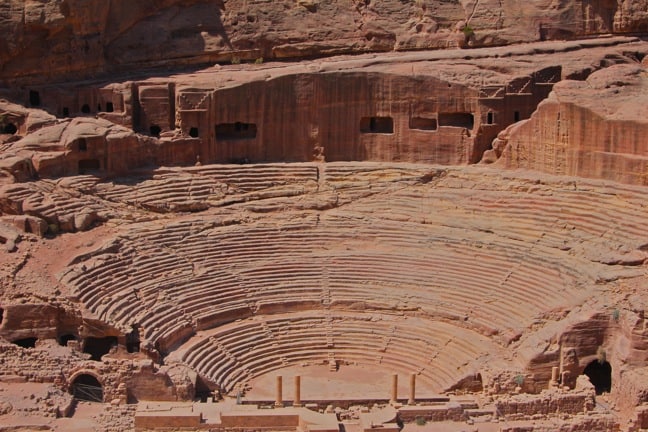 The Amphitheater
Our hike provided us with an incredible bird's-eye view of the Amphitheater, a massive open-air theater carved into the foot of the mountain called en-Nejr.
Located right below the High Place of Sacrifice in order to give attendees the best possible view of the elaborate tombs surrounding it, the monument was built during the reign of King Aretas IV (4BC-AD27), with parts later reconstructed by the Romans.
Here, up to 4,000 people would crowd in three sections of seating (accessed by seven staircases) to watch poetry recitations and theatrical performances.
It was impossible not to feel the energy of the past resonating throughout the hillside.
READ MORE: Exploring Jordan's Ajloun, Dibeen & Azraq Nature Reserves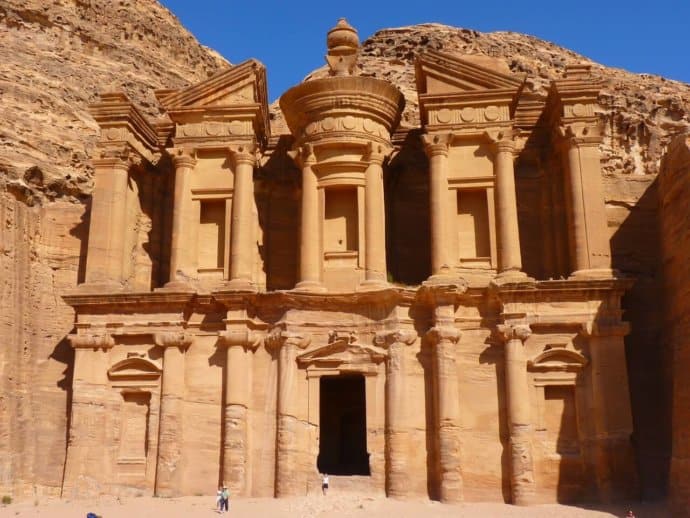 The Petra Monastery
I wouldn't say we saved the best for last, but the Monastery was easily the second most impressive attraction we saw during our Petra day tour.
Fortunately Ali rented some donkeys to get us up the 700+ steps, as we would never have made it otherwise after our grueling morning climb. Our legs were so tired from all the hiking of the last two days, and my hiking boots were literally falling off from all the wear and tear.
Measuring 154 feet wide by 158 feet tall, the Petra Monsatery ranks among the largest monuments the in Nabatean city. It's built on the same Roman model as Al Khazneh, but instead of bas-reliefs it has five niches that were once home to massive statues.
Built during the early 2nd century AD during King Rabel II's reign, the hall was originally used as a religious meeting place.
When we visited it was still possible to enter and see the Christian crosses that were later carved into the rear wall, from which the building gets its name (which is Dayr in Arabic).
READ MORE: The Best Vegan Boots for Women & Men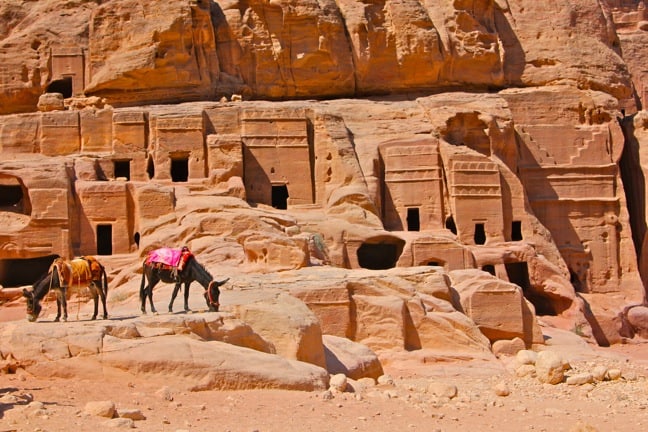 The Royal Tombs
As we climbed higher, gradually working our way around the entire base of the mountain, we passed monument after monument that looked strikingly similar to the Treasury.
Built over the course of about 70 years in the first century AD, the Urn, Silk, Corinthian, and Palace tombs (collectively known as Petra's Royal Tombs) were all in varying states of ruin.
The erosion of the centuries was much more evident here than it was at the Treasury. But the Roman-inspired Nabatean architecture remained remarkably impressive nonetheless.
We looked up to see a lone Bedouin man sitting atop his donkey on the summit as the desert sun crept higher into the sky.
Finally, as the heat inched towards its midday peak, we reached the beginning of the 500-step staircase that would lead us to the Treasury overlook.
READ MORE: The Ancient Roman Ruins of Jerash, Jordan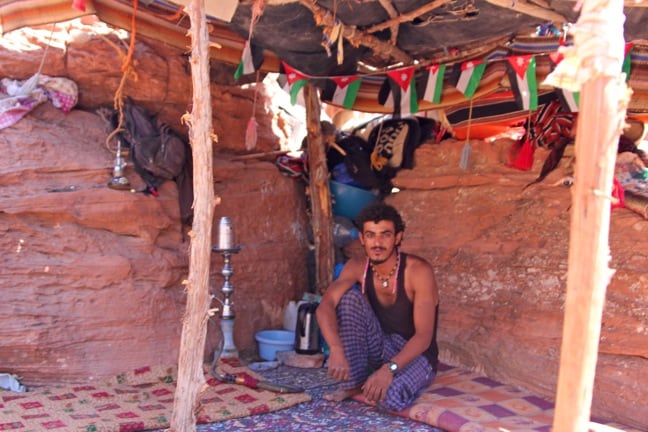 THE HOSPITALITY OF PETRA'S BEDOUINS
I'll spare you the gory details of our exertion, but you can do the math. We climbed over 500 steep rock stairs, in nearly 100-degree temperatures, after hiking around 4 km that morning and 14 km through the rocky desert the day before.
We were exhausted, but there was stunning scenery along the way, including a herd of goats resting in the shade of a sheer rock cliff several hundred feet above the valley floor. And we knew the exceptional view that lie waiting for us at the summit, which encouraged us to press on.
When we finally reached the top of the stairs, completely exhausted and somewhat dehydrated, even Ali did not seem quite sure of which way to go to see the Treasury.
He admitted that, despite guiding hundreds of visitors through the city of Petra, he'd only climbed this route a few times. If people don't specifically ask, guides as a rule do not mention the hidden trail.
As we slowly worked our way around the summit, we saw only one other hiker. What we did see was a donkey, a small Bedouin tent, and a young Bedouin man starting a fire to boil some delicious tea. His name was Mahmoud, and he'd grown up in Petra, sleeping in the caves at night.
Mahmoud's family led tourists up to the Petra Monastery by donkey, but he seemed content with manning his hospitality tent. He catered to the rare Petra tourists who, like us, made their way to one of the most beautiful spots we've ever seen in our travels.
READ MORE: Why I'd Prefer to Forget Visiting the Dead Sea, Jordan
THE TREASURY FROM ABOVE
As I shrugged off my heavy backpack and settled into position at the edge of the cliff high above the Treasury, this is the awe-inspiring view that greeted my weary eyes.
As Mahmoud handed us steaming hot glasses of black tea with sage and Ali proposed a toast to our health, those eyes suddenly welled up with tears.
I'd dreamed of travel to Petra for over 20 years– ever since seeing Indiana Jones & the Last Crusade as a boy. So I was simply overwhelmed by the beauty of this ancient archaeological site.
It wasn't so much the aesthetic appeal of the monument itself that made me cry, but the significance of this Petra tour highlight in our personal and professional lives.
Mary and I have sacrificed so much in the pursuit of this crazy travel blogging dream of ours. We've invested so much of our time and energy, blood, sweat, and tears, into building Green Global Travel to be something we could be truly proud of.
There are inevitable moments in the ongoing struggle when you start to wonder if it's all worth it.
But in that moment– when our passion for ecotourism and responsible travel took us halfway around the world, to the heart of the Middle East, to a sight very few people ever see (whether because they don't know it exists or are unwilling to make the climb)– it absolutely was.
READ MORE: A Story About Love (& How Green Global Travel Was Born)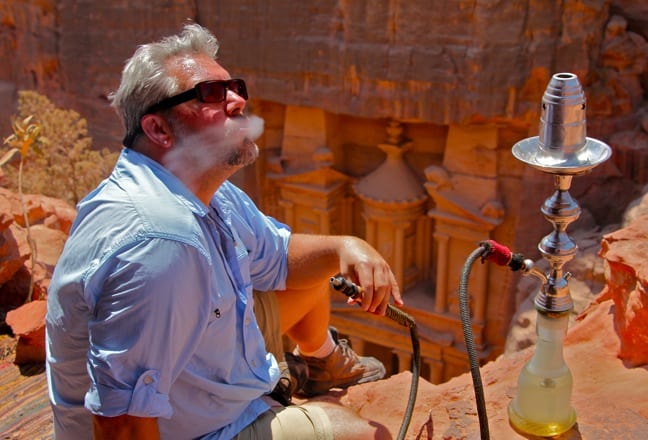 ON TOP OF THE WORLD
Most Jordan tours include trips to Petra. But for us reaching the top of that mountain was a symbolic moment, reminding us that it truly does pay to work hard, pursue your passions, and dream big.
I've been to dozens of hookah bars and restaurants over the years, and have never before had the urge to try it. But suddenly, at that place and time, it felt like the thing to do.
Mahmoud loaded his bowl with fragrant, fruity "Hubby Bubbly" and passed it over to me. Mary and I sat there on top of the world, drinking Bedouin tea, smoking a hookah, and savoring the peace and tranquility of knowing we were exactly where we were supposed to be.
This vida loca we've chosen for ourselves doesn't always offer moments of crystal-clear metaphysical clarity. But our arduous trek up a secret hidden trail in the ancient city of Petra gave us a rare gift.
It not only rewarded us for our willingness to venture down the road less traveled, both in Jordan and in life. But it also confirmed that this insane path is precisely the one we're supposed to be on.
And that, to quote poet Robert Frost, has made all the difference!
READ MORE: The 100 Best Inspirational Travel Quotes
HOW TO GET TO PETRA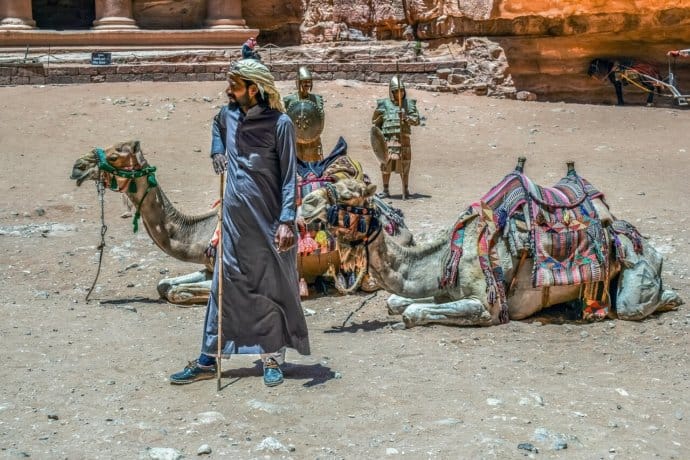 From Amman to Petra
To get from the Jordanian capital of Amman to Petra, you have a couple of options.
If you want to self-drive, there are a number of car rental companies close to Queen Alia International Airport. Jordan car rental will cost you around $35 per day on average.
If you take the Desert Highway, it's a 3-hour drive to Petra. But the more scenic route down Kings Highway will take about 4 hours. Once you get to Petra, there's a free car park for visitors near the entrance of the city.
JETT Busses depart from Abdali Station in Amman at 6:30 AM and arrive around 10:30 AM, giving you until 4 PM (or 5 PM in the summer) to tour Petra before the bus leaves.
Buses to Petra cost around $15. Just make sure you're on time, as there is only one bus per day. You can also take local buses, which run from 9 AM to 4 PM. But you may be waiting a while, as they won't depart until they're full.
Many local and international tour operators offer day trips to Petra. They will handle your transportation and lead your tour of Petra, but they will be more costly.
From Wadi Rum to Petra
If you don't have a rental car, a bus or taxi is the best way to get from Wadi Rum to Petra. Either will take about 3 hours.
Buses to Petra from Wadi Rum leave around 8:30 to 9 AM and cost $11. Taxis run all day if you can catch one, but most will cost you around $55.
From Aqaba to Petra
If you're looking to get to Petra from Aqaba and want to drive yourself, you can rent a car at the Aqaba Airport for around $35. It will be a 1 hour and 50 minute drive along the Desert Highway.
Taxis are also available in Aqaba. As with other locations, prices will be steep, but negotiable.
The JETT Bus departs from Aqaba at 8:30 AM and leaves the Petra Visitors Center at 4 PM. The trip will take about 2 hours and cost $17 for a one-way ticket, or $30 for a return ticket.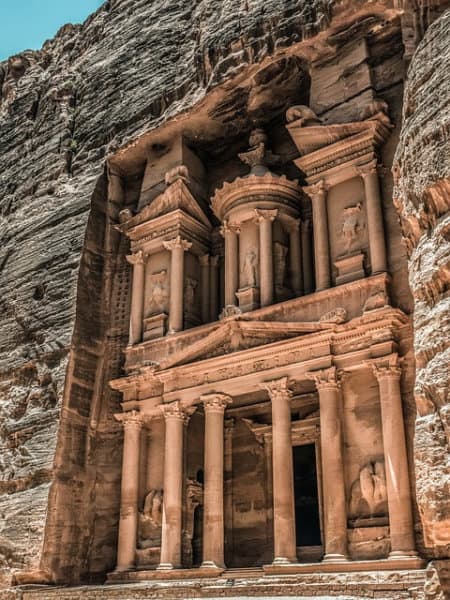 PETRA FACTS
PETRA LOCATION: The southwestern corner of the Hashemite Kingdom of Jordan, around 240 km south of Amman and about an hour east of Jerusalem.
PHONE: (009) 623-215-7093
OFFICIAL WEBSITE: https://www.visitpetra.jo
PETRA HOURS: Open 6 AM to 6 PM during the summer and 6 AM to 4 PM in the winter.
PETRA ENTRANCE FEE: If you have accomodations in Jordan, a one-day Petra ticket is around $70 US. Two days in Petra costs around $78, and three days costs $75. Children under 12 enter free.
PETRA BY NIGHT: Tickets cost around $24, and are offered every Monday, Wednesday & Thursday. Tourists visiting Petra on a day trip from other countries (and do not spend a night in Jordan) pay $127.
TOTAL AREA: The city of Petra encompasses 101.9 square miles.
DATE BUILT: Unknown, but estimated to be as early as 4th Century BC.
PETRA TOURS:
PETRA TOURS FROM ISRAEL:
See more Petra Tours from Get Your Guide or Viator
PETRA WEATHER (BEST TIME TO VISIT PETRA)
When deciding the best time to visit Petra, the biggest thing to take into consideration is the weather.
As you can imagine from a city that is located in the desert, Petra weather can get extremely hot, with high temperatures sometimes reaching over 100° F in the summer. But it can also surprisingly cold in the winter, with low temperatures dropping to around 59° F.
To avoid the sweltering heat of summer or the low temps of winter, going in the spring or fall months (March to May and October-November) would be your best option. Days will still be warm, but Petra by night is considerably cooler.
If you do go during this time, bring a light jacket for evenings. And if you're willing to take on the often intense heat of summer months, wear light clothing that will protect you from the sun. Also make sure to bring sunblock and plenty of water.
Because of the more tolerable weather, less chance of rain, and beautiful wildflowers that grow during the spring months, Petra will be more crowded then.
The best time to tour Petra if you want pictures with fewer crowds is right as the city opens at 6 AM, when most tour groups have not yet arrived.
PETRA FAQ
What is Petra famous for?
Named one of the new seven wonders of the world, Petra, Jordan, is most famous for its elaborate architecture that's carved into red sandstone. It was given the nickname "the Rose City" after the blushing color of the rocks.
Perhaps most recognizable from the beloved action film Indiana Jones and the Last Crusade, the most distinguished rock-cut façade is the 2,000-year-old Treasury. This intricate architectural landmark is believed to have been used as a royal tomb.
The Petra Monastery is another one of the most notable monuments in Petra, but it's a somewhat hidden gem requiring a difficult but rewarding 700-stair climb to view.
There are dozens of other massive tombs located in the ancient city of Petra. Along with the city's impressive water conduit system and rich archaeological history, they make this world wonder a place hundreds of thousands of people visit each year.
Why was Petra built?
Petra was originally established as an important trading post for myrrh, frankincense, and various other spices by the Nabateans, who largely controlled caravan trade in the surrounding regions.
Eventually Petra became the capital city of the Nabatean Kingdom, and grew to a population of around 20,000 inhabitants.
Recent research has led some historians to believe that the city was built to align with the sun. The Nabateans may have given special importance to solstices, equinoxes, and other celestial events.
Why is Petra called "the Lost City"?
After the Romans took control of Petra around 100 AD, the region's trade decreased and priceless treasures were stolen. Soon earthquakes caused damage to the city, resulting in its abandonment.
The city was considered "lost" and remained empty for centuries before it was rediscovered by Swiss explorer Johann Ludwig Burckhardt in 1812.
Is it safe to travel to Petra?
The city of Petra is a very safe travel location. Tours to Petra are extremely popular, with many Bedouin people relying on the tourism industry for their income. So there is a great respect for visitors there.
In general, Jordan is the safest country in the Middle East. Its government is highly invested in protecting the city due to its historic value and the considerable economic benefits of the large number of people that visit Petra each year.
Realistically, the biggest threat during your Petra tour is the heat. So make sure to drink more water than normal in order to stay hydrated, and wear plenty of sunblock to protect you from sunburn.
The Best Petra Hotels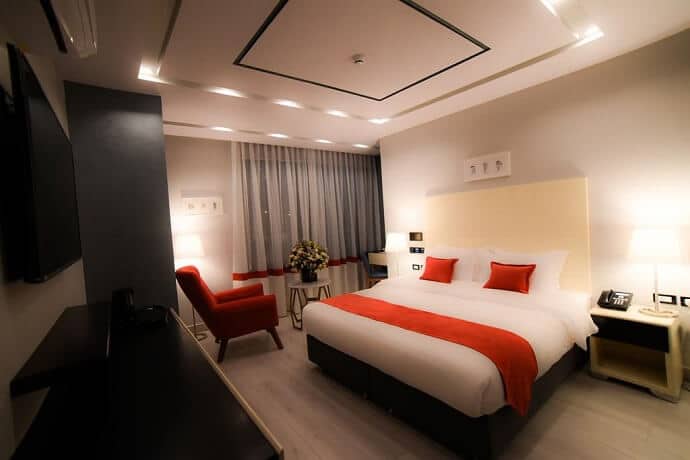 Opened in 2019, the Petra Boutique Hotel is a 4-star hotel near Petra in Wadi Musa, just two minutes away from the Visitors Center.
They offer spacious rooms that can hold up to four adults and one child. All are decorated with modern furniture, and offer LED Smart TVs and free Wi-Fi.
There is a complementary halal or breakfast buffet in the Petra Sky Terrace restaurant, where you can delight in delicious food while enjoying the picturesque view.
Most attractive to tourists is the hotel's airport shuttle and 24-hour front desk service, which offers currency exchange services for guests.
Check Rates for the Petra Boutique Hotel on Booking.com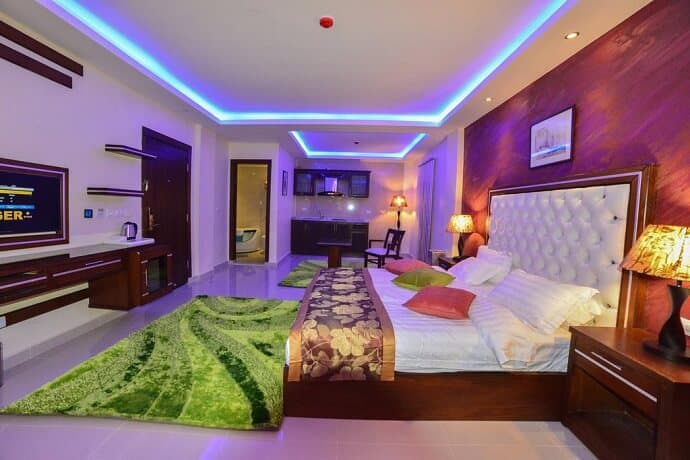 Just a five-minute drive from the main gate, the P Quattro Relax Hotel is another Petra accommodation that's located in Wadi Musa's city center.
Their rooms can fit a family of three, and feature luxurious modern décor along with a tiled floor (and, of, course Wi-Fi). If you're traveling in a larger group, connecting rooms are available.
Airport shuttle services and airport pickup are also available, along with bike and car rental at the hotel. Guided tours are also offered here, including a special discount rate for the Petra by Night event.
If you're looking to relax, this Petra hotel features a gorgeous landscaped garden as well as an indoor pool and Roof Terrace. There you can enjoy both a hot and cold buffet, as well as a selection of à la carte dishes from the Petra Quattro Restaurant.
Check out Rates for the P Quattro Relax Hotel on Booking.com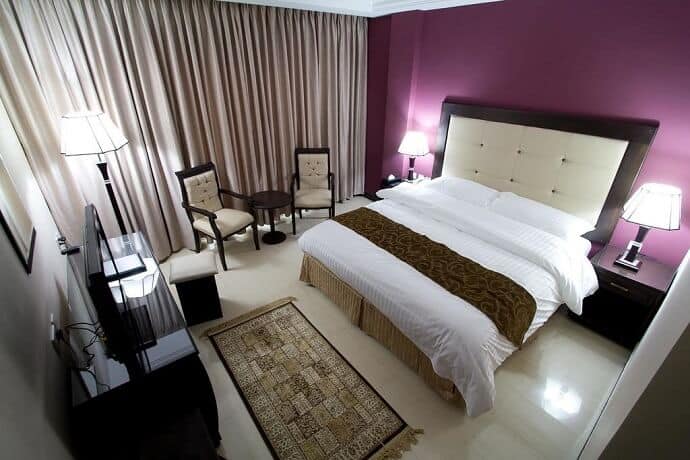 Not only one of the best hotels in Petra, the Petra Moon is also among the most convenient. It boasts a prime location just 300 feet from both the entrance gate and the Jett bus station.
The hotel has a wide range of room sizes and configurations, offering twin/double rooms, triple bedrooms, and even family bedrooms that can hold up to five people. The rooms are all soundproof and feature extra-long beds, free Wi-Fi, and satellite TV channels.
Along with the seasonal outdoor pool, there's plenty to explore at the Petra Moon Hotel, including a beautiful rooftop garden as well as horseback riding and hiking trails available to guests.
The Petra Moon Hotel also offers guests a shuttle to and from Amman and Aqaba.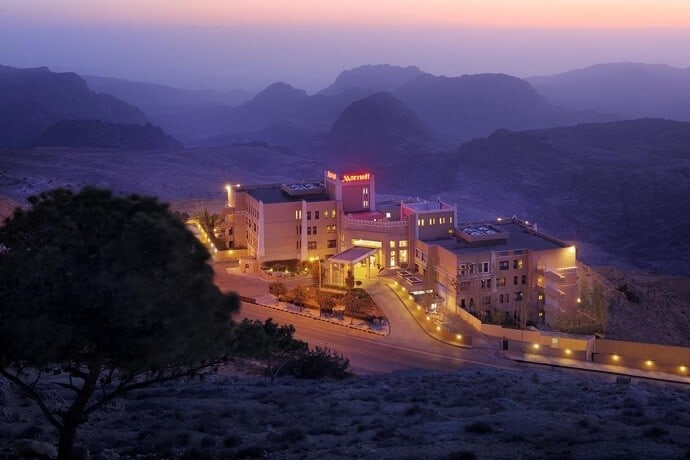 Wondering where to stay in Petra if you prefer international hotels with loyalty rewards programs?
The Petra Marriott Hotel is only two miles from the ancient city, and offers spacious rooms, many of which come with a breathtaking view of the surrounding mountains and valley.
Amenities here include a full-service spa offering Turkish baths, saunas, and massages, as well as plenty of dining options (including everything from Middle Eastern specialties to homemade pizza and pasta).
Along with its appealing scenery, the hotel is a certified partner of Jordan's Royal Society for the Conservation of Nature, and helps to conserve the country's rich biodiversity.
Check out Rates for the Petra Marriott Hotel on Booking.com
–by Bret Love, with additional reporting by Christina Maggiatas; photos by Bret Love & Mary Gabbett unless otherwise noted
Traveling to Petra, Jordan?
Check out the following services we use!
DollarFlightClub or Airfarewatchdog to find a cheap plane tickets.
Booking.com or Agoda to find a hotel deals.
GAdventures for a multi-day tour of Jordan
Viator for a stellar day tour.
Lonely Planet for Travel Guides.
World Nomads for Travel Insurance.
TrustedHousesitters we've found great pet sitters to watch our house and love on our two dogs!
Looking for essential Travel Gear? Check out these great options!
The Best Travel Clothes for Women & Men
The Best Vegan Boots for Women & Men

The Best Backpacks for Travelers
Plastic Free Products for Travelers