GO GREEN TIP #114
How to Build a Permaculture Garden
A permaculture garden differs from other modern farming techniques because its focus is on more than merely growing food.
Permaculture practitioners seek to find balances between the give and take of nature– animals included– and the needs of humanity. From sustainable homes and renewable energy sources to food forests, the permaculture movement is about much more than gardening.
However, creating your own permaculture garden is not a bad way to start down the road to sustainable living. It was how my wife Emma and I began, and how we like to introduce and share the practice.
So here, I'm going to walk you step b y step through the process and show you how you can start your own permaculture garden.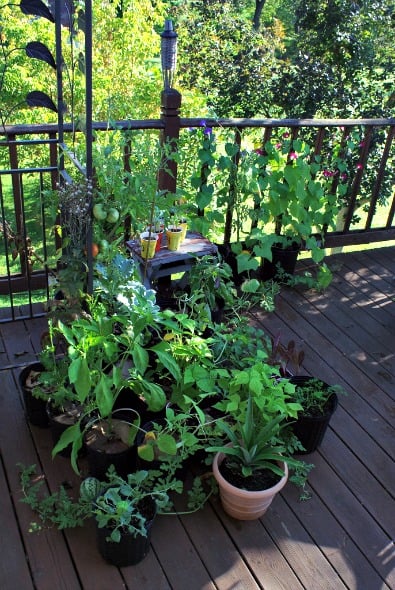 Step 1
: Observe— Get to know the space you'll be working with.
A daily kitchen garden, which is essentially what we're making, should ideally be as close to the stove as possible. They're best when located near our outdoor patios and seating areas, where we're likely to spend time. Some of it may even be inside, as pots on the windowsills and/or the corners of our breakfast nook.
We start by observing before we take the shovels to soil or the soil to the pots. Rather than bending the land to our will or leaving that edge of the patio empty, we seek to adapt to the space we have and the opportunities it is providing. First we need to know what the different areas of our garden are like.
Where is it sunny? Shady? Does water congregate at a certain point? Are there areas it doesn't reach? Is there a drip line? Are there existing plants? Spots for human use? Is wind/cold an issue? What elements might be advantageous or problematic? For now, just use your basic knowledge to think it through.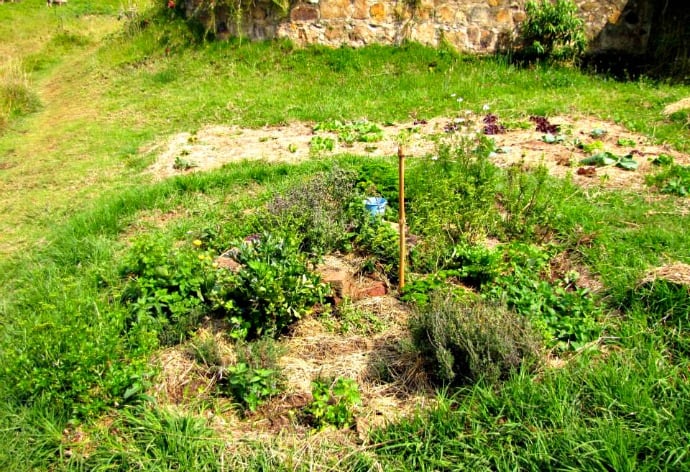 Step 2: Plan– Use your observations to design and fill the space wisely. 
Most importantly, we want to build permaculture gardens that make sense.
Rather than starting a plot in the back corner of the yard, we want to put our garden nearby. That way we'll still be willing to slip out for some fresh salad greens even if it's raining, and we notice that some cucumbers are just about ready without even having to leave the house.
This all starts with sketching out our planting space, noting our preliminary observations so that we can choose appropriate plants for each microclimate.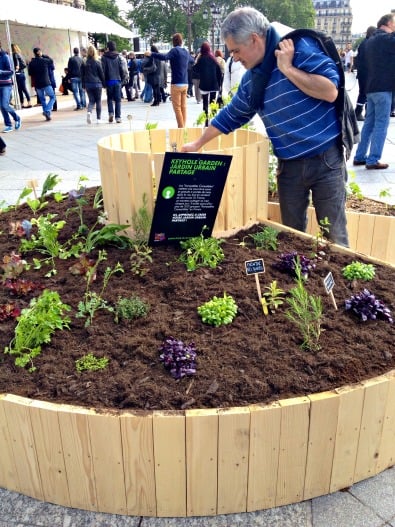 You wouldn't grow a cactus in a swamp. Likewise, we shouldn't try to grow our food plants in places where they don't fit naturally.
Your permaculture garden will also benefit from maximizing the space you use, including the vertical and the garden bed layout. Planting in rows is extremely wasteful, as the dip between every row is empty.
We can use keyhole garden designs to create more planting area per square foot. We can also have hanging pots of dangling tomatoes and planters of green beans that careen up the patio post.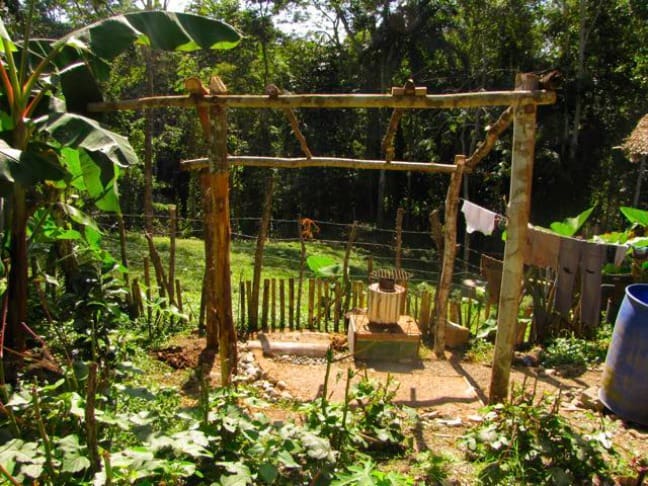 Step 3: Gather— Collect all the things we need as locally as possible.
We always try to use what's free and conveniently on site, as opposed to spending money and transporting our resources. This includes acquiring our seeds and plants as well as gathering the materials needed for creating our permaculture garden, such as soil, mulch, trellises, borders and so on.
This is much easier than it seems. Spring is usually a great time to capture fallen leaves, twigs, and limbs that have decomposed over the Winter. It's the perfect time to start piling up our grass clippings for making mulch.
Old corners of garden beds, forgotten potted plants, and so forth can all serve as rich earth for new garden bed construction. Hold on to things like bottles and cans that might make good upcycled planters, or spare pieces of wood that can be converted into cool garden borders.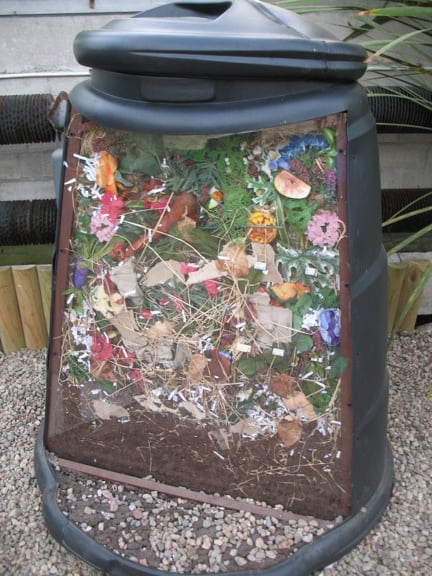 Hang on to boxes, newspapers, and anything biodegradable to help with making compost, seedling pots, and mulch. Lastly, harvest a load of seeds and cuttings from the farmer's market or your friends, replanting everything from potatoes and melons to tomatoes, peppers, beans, and so forth.
We often collect things right in our backyard (or even the neighbors') so that we're saving funds and not sending useful bio-material to the dump. For that matter, why not ask local stores and cafes for their coffee grounds, boxes, old newspapers, or unused flyers?
Most of the seeds we want can be gotten from the food we eat. The rest— such as small fruit trees— can be purchased with all of the money we've saved on materials.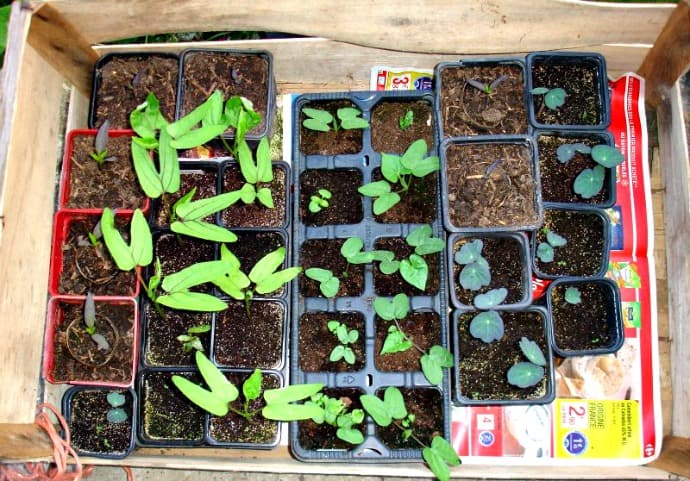 Step 4: Start early— Get seedlings going before the beds are ready.
Before building the beds, we plant our seeds and get our cuttings rooted. It takes a anywhere from two weeks to a month before most things can handle being planted into our permaculture garden. With annual plants it's a good idea to space out sowing the seeds so that not everything fruits at the same time.
If ever there was an excuse to splurge for some quality organic potting mix, now is the time! We'll begin making our compost at home, using kitchen scraps and yard waste. But the whole process is much more enjoyable when you invest a little money on getting good soil right from the beginning.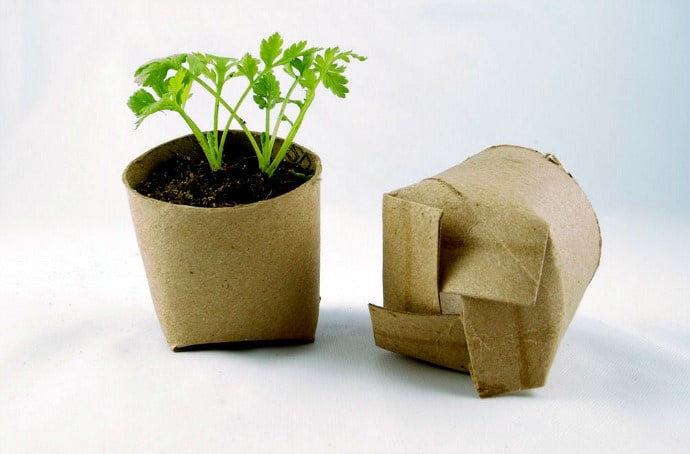 My wife Emma always keeps an eye out for old newspapers and cardboard toilet rolls to use for seedling pots. When the time is right, she can plant these free, biodegradable pots directly into the soil, which will help to ease the shock of transplanting. We're also reducing waste by making it into something useful.
Another important tip for your permaculture garden design is to look for perennial versus annual plants. Perennial plants are less energy intensive, both for the environment and for the gardener. They require less maintenance and produce more food in the long run.
Unfortunately, most of our supermarket vegetables come from annual plants, which is partly why the modern agricultural system is failing.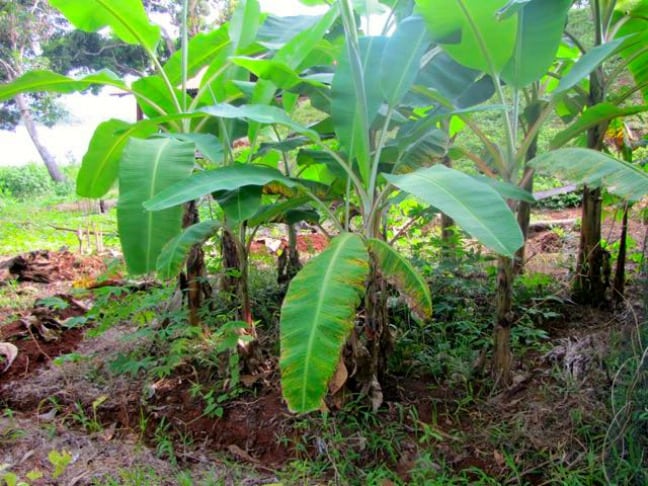 Step 5: Build— Create a diverse garden environment.
This is where all your observation, planning, and material gathering starts to become a true permaculture garden. This is the point when the theoretical idea literally becomes a living, breathing place. We become stewards of the earth.
For our practice, we use either no-till or "one-dig" systems. This means that, rather than turning the soil each year as is traditionally done, we simply begin our beds by layering atop what's already there. This helps to to preserve the microorganisms in the soil. Tilling eventually creates a barren landscape, because the process of plowing the land clean year after year depletes the soil life.
Instead, we continually build and feed our soil. We mulch it so that it doesn't dry out in the sun or get pounded in the rain. This creates a great habitat for soil, and ultimately breaks down into plant food. We never walk on the bed because our footprints pack the soil and kill the tiny animals living within, and plants appreciate a nice, loose soil in which they can spread out those new roots.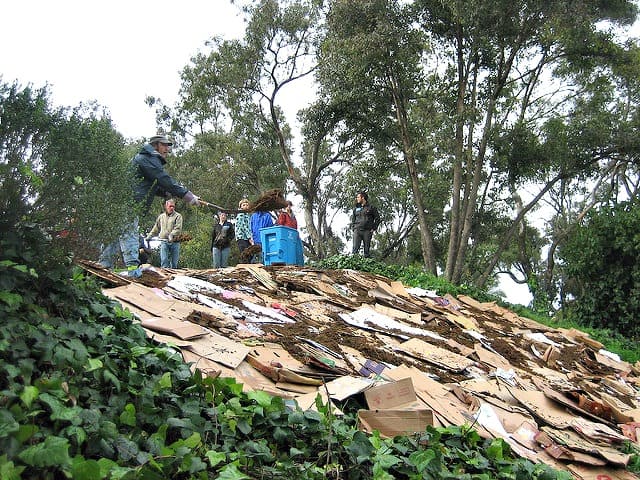 3 Types of No-Till Beds That Are Fun and Interesting to Make
Sheet mulching is a method of applying layer upon layer of mulch material, as if we were building a lasagna.
Start with something nitrogen-rich– such as manure, food scraps, and fresh grass clippings— and spread it right on top of the existing lawn. Next, add a layer of wet cardboard boxes (or several layers of wet newspapers), which is a carbon element and also a great weed preventer.
Then add a layer of topsoil, a layer of shredded leaves, and some straw or dried grass. Keep each layer at about one to two inches thick. This will gradually break down and build new soil, getting richer as we continue to pile new layers on it over time.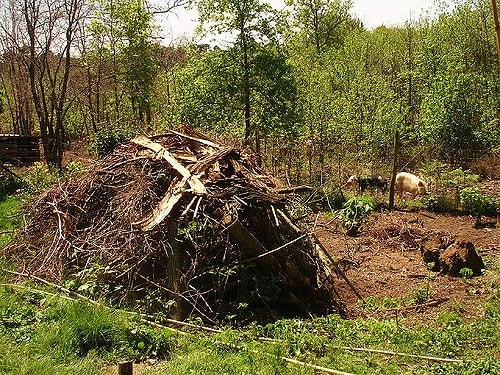 Hugelkultur is a mound of earth laid over decomposing wood.
Collect limbs, branches, and/or leftover firewood, and stack them a couple of feet high. Fill any gaps with packed leaves, fresh compost, and other decomposable items.
The mound should be covered with a few inches of soil, which should then be mulched with leaves, straw, or dried grass (but watch out for seeds). This bed will provide fertility for years as the wood inside breaks down slowly, providing the plants on the hugelkultur with amazing food.
Compost/worm buckets are a simple way to compost directly in your permaculture garden.
First, drill holes into the bottom half of a lidded five-gallon bucket, and then dig a hole that that half of the bucket can fit into. Use the soil from digging the hole to create a raised planting ring that covers up more of the bucket. Mulch the ring until only the top of the bucket remains visible.
Put in a 2-inch bed of shredded paper, cardboard, or wood shavings, and add kitchen compost to it daily. Throw in some worms to supercharge the system. They'll eat the organic material and naturally fertilize the bed. When the bucket is full, you'll have a super-rich vermiculture compost for the garden.
Put several of these buckets close together to make a big bed and full-scale composting system. But be sure to use the lids in order to protect the worms from birds and too much rain.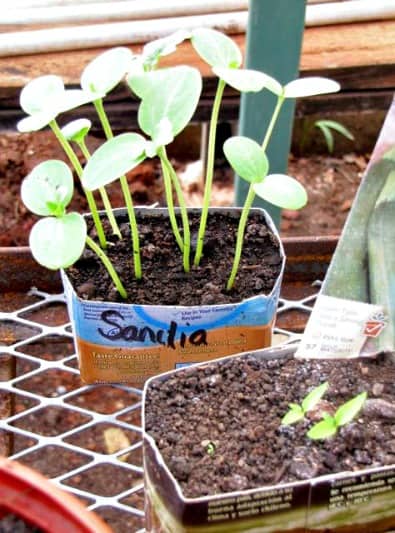 Step 6: Planting– Put the plants in their new homes and let them mingle.
After about a month of tender love and care, the little plants should be ready to relocate into their new beds. Clear a hole about twice the size of your biodegradable plant pot and fill the edges with whatever high quality soil or compost mix there is.
By now, we've found out what kind of environment each thing we are growing likes, which plants get along with each other, and where in our garden might best suit them all. We are not planting in rows, and we're mixing what grows. This is how we can take advantage of building our permaculture garden to suit the existing environment as opposed to trying to bend nature to our will.
With the plants in, the work becomes a lot easier. Our mulch– which we'll keep adding to via grass clippings and lawn debris– will prevent weeds as well as keep the moisture from evaporating. Mulched beds can operate on less than a quarter of the watering that normal gardens require.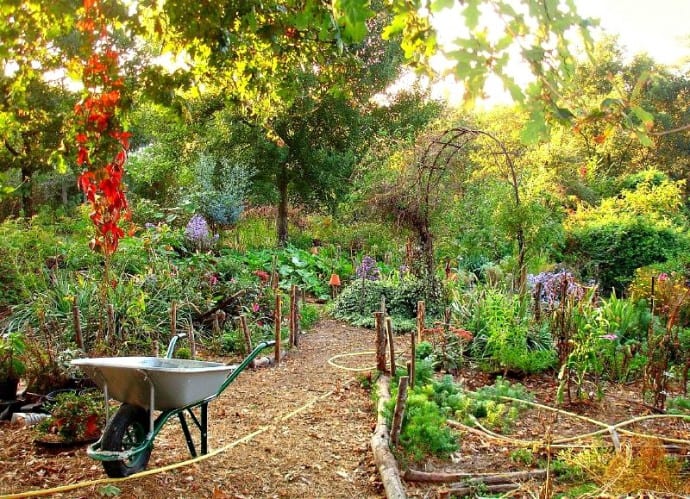 Step 7: Enjoy— Make the garden a place to relax, not to toil.
By this point in the operation, I've usually fallen deeply in love with my permaculture garden. I know the characteristics of each bed. I know how given groups of plants are supposed to interact, and which ones are struggling or thriving.
I've also designed in little stumps or benches that we can sit on and watch the garden grow. I've put in a pond or two for frogs to enjoy, built little rockeries for lizards to hide amongst, and included a quirky insect hotel for added biodiversity.
My own permaculture garden is filled with pieces of my personality, including a special bed for pizza toppings (garlic, tomatoes, and basil make great companions). Everyone who visits me will undoubtedly visit the garden. It feels like a friend who's worthy of introduction and sharing.
Then, when the harvests come– which is, of course, the whole point of our permaculture garden– everything we've grown is healthy and organic. But it also just tastes different, as if were meant for me… And that's because it was!  –Jonathan Engels, photos by Emma Gallagher unless otherwise noted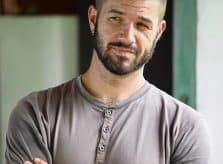 Jonathon Engels is a traveler, writer & teacher who's been living abroad as an expat since 2005. He's worked in nearly a dozen countries, and visited many others in between. He's currently on a slow travel trip from Central America to Patagonia, volunteering his way throughout the journey. He's a regular contributor to One Green Planet as well as Permaculture News, which focus on helping to keep the world green and clean. He's also the founder of The NGO List, a compilation of grassroots NGOs seeking international volunteers. His work can be found at Jonathon Engels: A Life Abroad, and his current whereabouts and goings-on are available on his personal blog.
If you enjoyed our Permaculture Garden Guide, you might also like:
GO GREEN TIP #108: Using Permaculture Principles in Travel
GO GREEN TIP #99: How to Make a DIY Vertical Garden 
GO GREEN TIP 97# : DIY Rainwater Harvesting Tips
GO GREEN TIP #91: How To Attract Birds To Your Garden
GO GREEN TIP #87: How To Compost At Home
GO GREEN TIP #82: DIY Aquaponics- The Future of Green Gardening
Sustainable Agriculture: Is Will Harris' White Oak Pastures the Future?