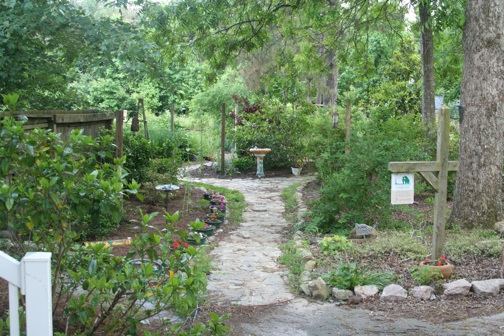 Create Your Own DIY Wildlife Habitat
For far too long, we've invested too much time, money and energy (both ours and the planet's) in striving for perfectly manicured lawns. But we never stopped to consider whether making our yards look like competition-level golf courses was truly green.
As it turns out, the domestic use of fertilizers and weed-killers (not to mention excessive watering) is gradually taking is toll on the planet, creation pollution and run-off that poisons our water supply.
As water problem around the world continue to grow worse due to Global Warming, perhaps it's time we should consider a more eco-friendly alternative?
The National Wildlife Federation offers great tips on turning your backyard into a Certified Wildlife Habitat, and it's actually a lot easier than you might think. The essential ingredients include:
• Provide food, including shrubs & trees bearing nectar, pollen, seeds or fruit, as well as other supplemental feeders.
• Provide water, whether via natural springs or man-made bird-baths or ponds.
• Create cover in which wildlife can hide from people and predators, such as shrubs, thickets or brush piles. This also provides a place in which various creatures can safely raise their young.
• Let your garden truly go green, reducing chemical use and turf grass and mulching and composting to create healthier soil.
Once you've made these changes, you can submit an application to officially certify your yard or garden as an official wildlife habitat.
The benefits of doing so include a personalized certificate, a free National Wildlife Federation membership (including a subscription to their award-winning magazine and 10% off all NWF catalog purchases), a subscription to their quarterly e-newsletter (which includes information on gardening and attracting wildlife), and your name listed in NWF's National registry of certified habitats.
Of course, the greatest gift of all is simply the joy of knowing you're doing something positive for the planet. To get started, visit the National Wildlife Federation website for more info! –Bret Love
If you like our story on creating a DIY Wildlife Habitat, you may also like:
GO GREEN TIP #74: Water for Birds
GO GREEN TIP #84: Coffee Compost
GO GREEN TIP #86: Mushroom Growing Guide
GO GREEN TIP #108: Using Permaculture Principles in Travel
GO GREEN TIP #99: How to Make a DIY Vertical Garden
GO GREEN TIP 97# : DIY Rainwater Harvesting Tips
GO GREEN TIP #91: How To Attract Birds To Your Garden
GO GREEN TIP #87: How To Compost At Home
GO GREEN TIP #82: DIY Aquaponics- The Future of Green Gardening