One common misconception people seem to have about growing food is that we need a lot of space in which to do it. In reality, we don't even need a yard!
Urban and small suburban patio gardens are springing up everywhere these days, and they can be incredibly productive.
Within the permaculture practice, small spaces are usually the most intensely fruitful production zones, because they get more attention. Plus, the microclimates within them are most readily recognized and matched with the right plants.
In other words, small gardens tend to get more care, and more care means more food.
Small spaces are also fantastic jumping-off points for getting into home food production. All too often, people dig up the back corner of their yard, make a big garden, and by the end of the season see it gone to weeds.
That's because 1) it's not easily accessible in the far reaches of the backyard, and 2) a big garden can feel overwhelming, particularly for beginners.
The beauty of gardening in a small space is that it tends to be convenient to our everyday lives. In the windowsill above the sink where we wash dishes, on the balcony where we eat breakfast, on the patio next to the front door, etc.
These small spaces are ones we notice and pass frequently, so it's easy to quickly care for a couple of plants as we head off to work. Also, with three pots here, a small raised bed there, maybe a vine climbing up the balcony railing—these are small, manageable chunks.
Yet just one good tomato plant can provide 10 to 20 pounds of tomatoes. A couple of squash plants will give most people more zucchini than they know what to do with.
A few green bean vines crawling up some railing can provide a couple of side dishes a week. And a mess of mixed salad greens will happily grow behind a sunny window.
In short, almost all of us have got the room to plant something somewhere. So maybe it's time to dip our toes in the pool of self-reliance and see what ripples we can cause.
With many of us spending a lot more time at home these days, it's the perfect time to grow our own food!
READ MORE: What is Permaculture Gardening? (Design & Principles)
How to Grow Food in Small Spaces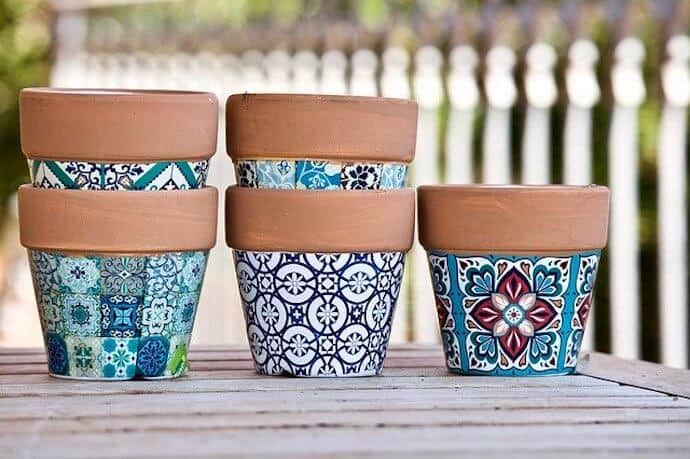 Types of Gardening in Small Spaces
As we've already touched on, small spaces can come in many shapes and sizes.
We might be talking about a windowsill. We might be thinking the corner of a patio. It could be a tiny backyard or a concrete entranceway to an apartment.
Regardless of what area we're working with, if there's sun to be soaked up and access to water, there's the potential to cultivate some food.
Here's a look at some of the most popular options for doing so…
READ MORE: Top Foods to Buy Organic (& When it's Not Necessary)
Container Gardening Ideas
For those without a yard, container gardening is usually the easy route to growing food at home.
In this case, rather than having a garden, we grow our food in pots. Not only is this possible, but– with the right stuff cultivated– it can be highly productive.
First things first, collect some planting containers:
Nurseries will often give away old ones.
Planting boxes can be a good project for wood pallet enthusiasts (just make sure the pallet is safe for use).
Check with friends and family to see if they have extras.
You may have some sitting around, tucked behind a shed or in the garage.
Get creative and upcycle old wheelbarrows, buckets, drawers, etc.
Once you have your growing receptacles, all you need to do is find a sunny location for them.
Remember that, on a sunny summer day, it's nice to sit in the shade and look at your plants in the sun, particularly if they are full of fresh produce!
READ MORE: Do It Yourself Pallet Projects: & Simple Designs
One of the more engaging small space gardening tricks is reassessing where and how we grow our crops.
Because people often envision gardens as spreading horizontally over the ground, we forget that plants don't necessarily have to be grown that way.
We can increase the production potential of our surface area by taking advantage of the vertical space above it.
There are several ways we can utilize vertical space as opposed to area.
Climbing vines
Hanging baskets
Vertical growing boxes (another good wood pallet project)
Shelves
Again, it's important to remember that most of our plants will need lots of sun. For those of us in the northern hemisphere, that means a somewhat south-facing (southeast or southwest is fine) area is best.
Also, we need to make sure that our vertical plants aren't blocking sunlight from those plants that are growing on the ground.
READ MORE: How To Make a DIY Vertical Garden
Small Vegetable Garden Ideas
A small vegetable garden– just a few square yards' worth– can be incredibly productive. And this kind of garden can be done without any actual yard. That's how those amazing rooftop gardens happen!
Even if you don't have a backyard to till up, there might be some great small garden options still available for you:
Wicking beds, often made out of repurposed IBC totes, are wonderful because they water themselves and are great for ways to save water. Wicking beds do really well for growing leafy vegetables.
Straw-bale gardens are a way to grow a lot of food on any surface. The bales go through a short conditioning sequence, watering them for three days, then adding nitrogen (blood meal, manure, compost, or fresh urine) and water for about seven days.
This initiates the bale's decomposition. They work well with root, fruiting, and leafy vegetables. The decomposed straw will provide great compost for next year.
Square-foot gardening is a super-efficient way of approaching raised garden beds. Instead of just planting whatever, wherever, whenever, square-foot gardens are beds divided into square-foot sections.
Veggies are cultivated carefully, with precise timing and spacing, so that they're always providing food.
READ MORE: How To Make a DIY Rainwater Harvesting System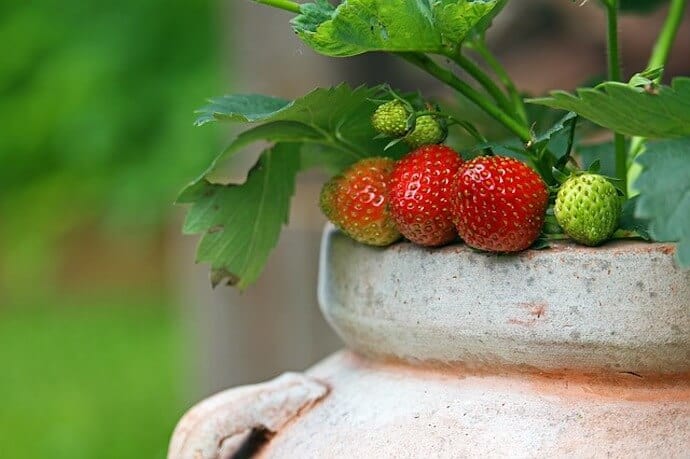 Tips for Gardening in a Small Space
Gardening in a small space is different from those Cadillac gardens of yesteryear.
But they can yield just as much food (and sometimes even more!) than large gardens. It's just a matter of designing well and being open to bucking convention.
We don't need long rows and tillers. We just need to utilize what space we have and go from there, adjusting our methodology to fit the situation.
Small Space Garden Design
The key to a small-space garden design is recognizing where potential lies. We're going to need a good amount of sunlight, so that's the crucial (and perhaps most challenging) part.
Grow lights can be used, but they will require extra energy. By and large, those sunniest spots—including patios, windows, and/or balconies—need to be reserved as garden space.
The other obstacle is how to fill the spaces we have, top to bottom, with food. Walls can be helpful for providing shelter, capturing heat, or propping up a trellis.
Posts and rails can become built-in garden stakes. Eves can hold hanging baskets. Shelves can be installed to support extra containers of salad greens or radishes. Window sills are great for housing small pots.
Adding value to these designs is recognizing that not all food-producing plants are vegetables. Lots of citrus trees can be grown in pots, as can blueberry bushes, strawberries, and habañero peppers.
Many garden herbs—including sage, rosemary, thyme, oregano, chives, and mint—are perennial and will provide fresh flavor for years. Passionfruit, grape, and/or kiwi vines are beautiful additions to a patio garden or balcony.
READ MORE: Permaculture Design (12 Steps to a More Productive Garden)
Best Plants for Small Herb Garden
Everyone knows that herbs flavorful and medicinal additions to meals, with lovely aromas and colors.
But they're also instrumental in attracting pollinators (such as bees and butterflies) and repelling pests (ticks, fleas, and mosquitoes). Consequently, having an herb garden near (or even in) the kitchen, or by an outdoor sitting area, is a great idea.
Just about any herb is a good one to include, but it's important to be aware of a few things. Some herbs, such as mint, are very prolific growers and will take over your garden if you're not mindful.
Other herbs have specific proclivities, such as rosemary's penchant for drier soil. Many herbs are perennial, meaning they can live for multiple years. But others, like basil and cilantro, will die in cold weather.
Here are some tips and suggestions:
Grow invasive plants (mints, especially) in a pot so they don't take over the herb garden. Given the chance, they will!
Be sure to include plenty of perennial herbs, such as rosemary, sage, winter savory, chives, thyme, and tarragon. Many will grow year-round in the continental US.
Some annual and biennial herbs—like cilantro and dill—will replant themselves if allowed to flower, die, and drop their seeds.
There are some less popular herbs worth considering. Bay leaf is a nice tree to include, can be kept small. Lavender is great for pollinators, as well as a mood enhancer. Summer savory, sorrel, and arugula are all great additions to salads.
READ MORE: Are GMO Crops the Future of Food? (Intro to Plant Biotech)
Best Vegetables for Small Garden
The permaculture way is more about letting the vegetables pick the grower rather than vice versa. In other words, we have to cultivate the things that work best for our specific situation, based on the climate, space, sun, etc.
Growing really thirsty plants in the desert is going to mean much more work and failure for the grower. Similar, planting tropical trees in Minnesota will be problematic every winter. So, the first rule of what to plant in your garden is to start with what works.
After that, there are some worthwhile considerations for planting a small garden versus a large one.
For that matter, there are some important points for any situation, such as Don't grow anything you don't like, Timing is everything, and Plant appropriate amounts of stuff.
The last point is a good place to start with plants for small gardens:
• Cultivate high-yielding vegetables: A carrot plant will give you just one carrot, and an onion plant will give you just one onion. But a squash plant will provide dozens of squashes, and a tomato plant dozens of tomatoes.
If there's space for only one pot, choose wisely. Think squash, tomato, pepper, green beans, eggplant, peas, snow peas, cucumbers, etc.
• Cultivate leafy greens. Though thirsty plants, greens are easy to grow and something that we can pick and eat daily, as opposed to pulling the entire plant up at once.
This makes them easier to care for (because they get checked on regularly) and useful throughout much of their life.
Think kale, chard, arugula, mache (corn salad), lettuces, collards, mustard, endive, spinach, etc.
• Use square-foot garden beds. Having a four-bed rotation leaves room to grow all of the typical garden fare for the entire growing season.
This includes root veggies, sweet corn, and other items that might seem overly ambitious in a container garden.
That said, even having just one 4′ x 4′ square-foot garden can be a fun and bountiful experiment for beginning gardeners.
READ MORE: Eco Friendly Gardening Tips for Spring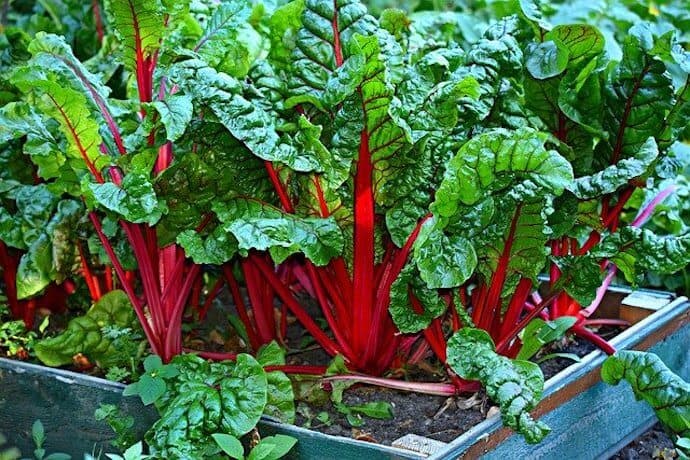 You've Gotta Plant Something If You Wanna Pick It
Spring is obviously the best time to start a garden, but it's possible to do it in the summer or autumn as well.
The most important thing to remember is that nothing is going to happen until you sow the seeds! Would-be gardeners have to put their plants in the ground (or start their container gardens or vertical gardens) before they can begin harvesting fresh veggies.
Once you take that first step, gardening becomes a great, rewarding, occasionally perplexing adventure that can lead a person to love and respect food in ways they didn't even know was possible.
With the world currently in upheaval, quarantined for coronavirus, our food chain's future somewhat in question, has there ever been a better time to start relying on ourselves a little more for our next meal? It certainly sounds like a pretty tasty proposition to me… –Jonathon Engels, lead photo by lukasbieri via Pixabay